Homemade Cat Treats are super simple to make and super fun for your cat! Dill loves this 3 ingredient salmon cat treat recipe, and they were even featured in Family Circle Magazine. Dilly is famous now! And he seems to think these are the best cat treats ever.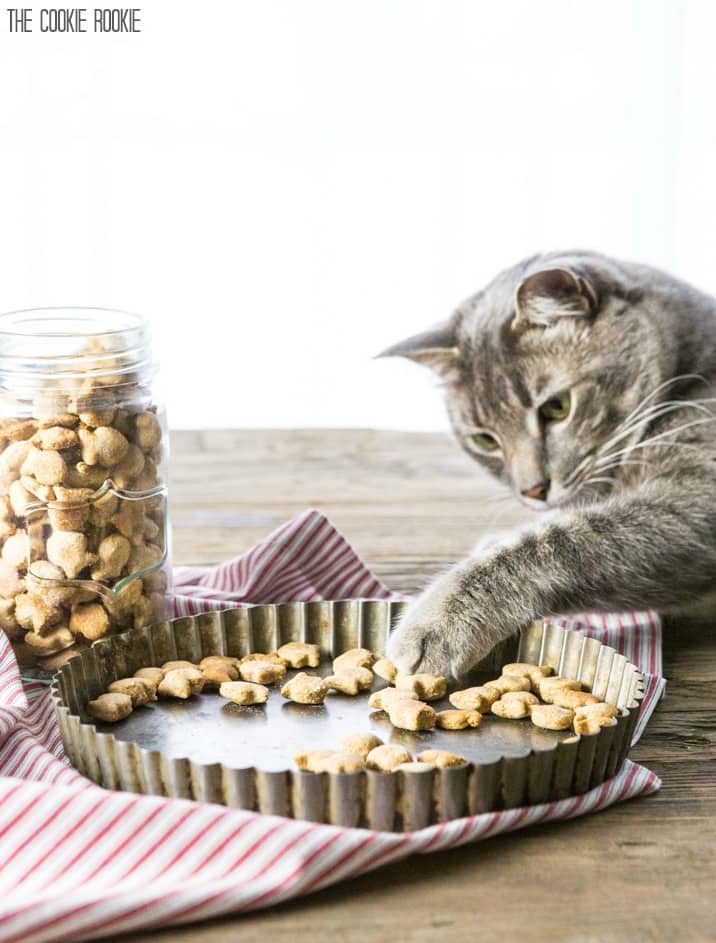 Homemade Cat Treats Recipe
Homemade cat treats are such a fun thing to make, and your cat(s) will absolutely love you if you give them these tasty salmon cat treats!
Usually, Scout gets all of the attention as far as treats are concerned. If you know Scout, you know she has a true love for food. We have had a couple close calls where we accidentally left the pantry open and she cleaned us out…resulting in 1 am emergency vet visits. But those stories are for another day.
Today is all about DILL! Our sweet gray tabby is my main squeeze, and he deserves some tasty cat treats too! I never knew I was a cat person until Pat gave me Dill for my 30th birthday. The rest is history. To show my love for sweet Dilly, I made him these salmon cat treats and he absolutely loves them!
This homemade cat treats recipe only has 3 ingredients and I love that! I only want to feed him the best cat treats, and I know exactly what's in these: salmon, egg, and flour, nothing more.
Give your cat the BEST cat treats to show your love. Your cats will go crazy for this simple homemade cat treats recipe!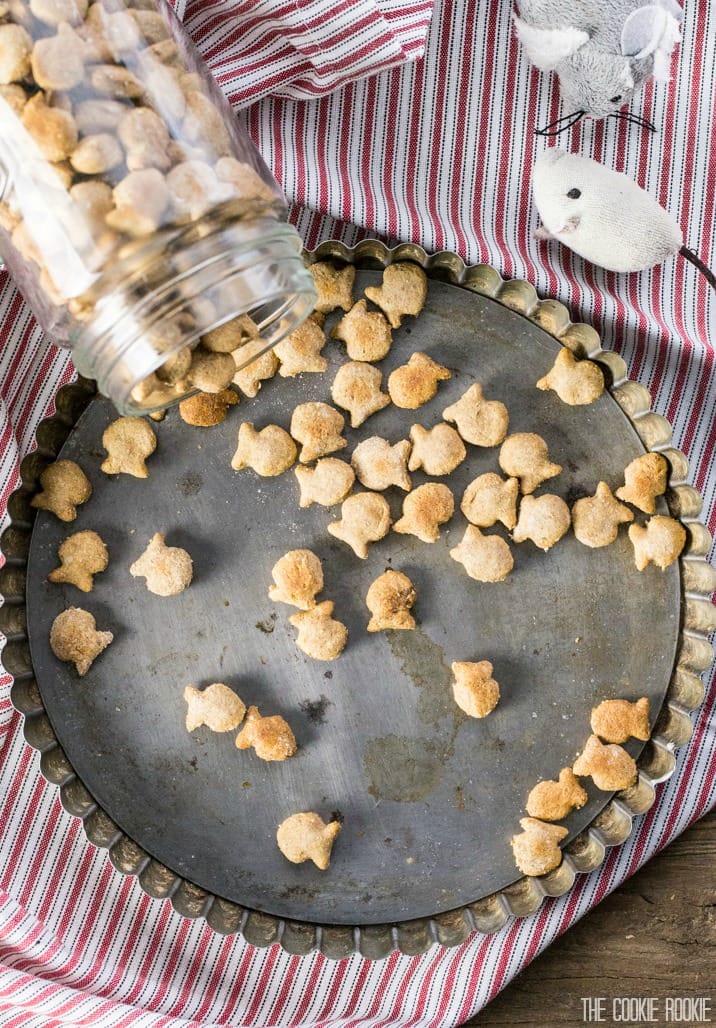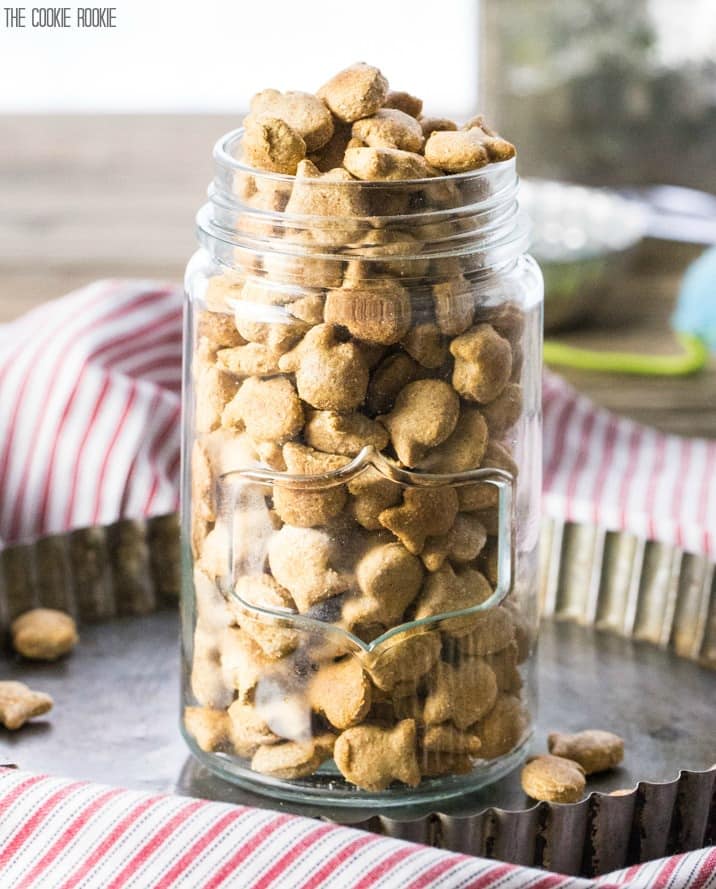 The BEST Cat Treats for Your Little Balls of Fur
Dill is a sweet mama's boy who comes running to the sound of his name, bites way too much, and stole our hearts immediately. He loves his big (BIG) sister Scout and keeps us laughing. He doesn't have a big appetite for food, but treats are a different story. Boy loves treats.
We all adore our pets, they're part of our families! And while we may not be able to show our love with big home cooked meals the way we do with the rest of our family, we can still show our love through food by making delicious homemade cat treats for them. These 3 ingredient salmon cat treats are filled with only good, real ingredients, so I feel great about feeding these to Dill.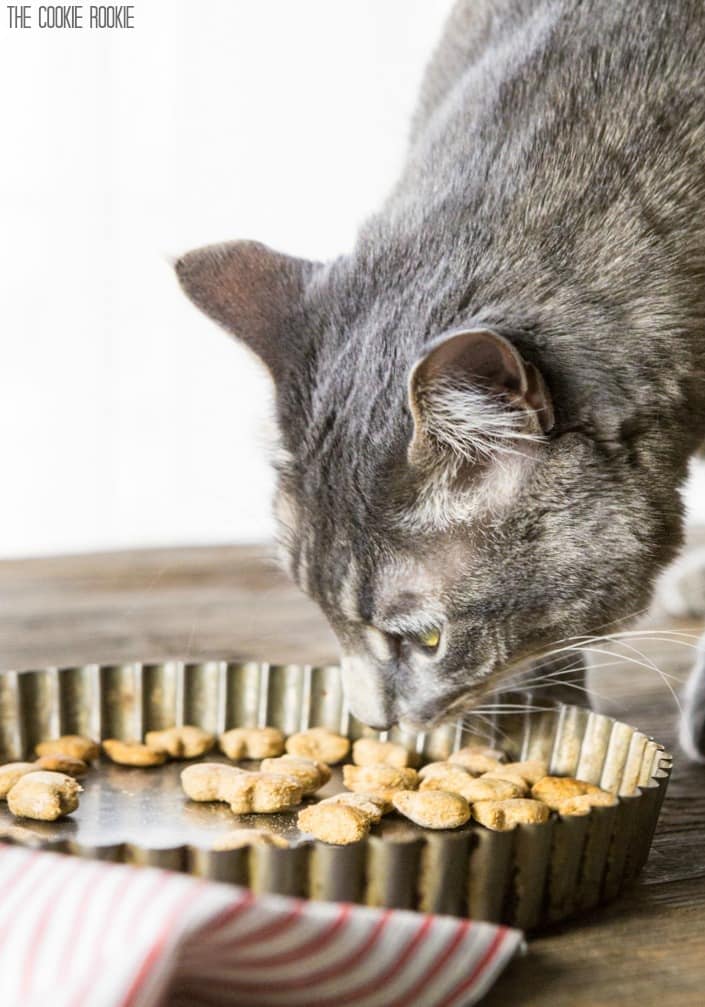 How to Make Cat Treat Recipes
This homemade cat treats recipe only contains 3 ingredients, so it's pretty simple to make! The idea of making cat treats might be new to a lot of you, but it's an easy process, no different really from baking something for humans. I mean you COULD eat these treats, but it's certainly not my preferred flavor. My point is that it's just regular ingredients, REAL FOOD, baked into tiny little treats for your cat.
How to Make Salmon Cat Treats:
Pulse the canned salmon in a food processor and chop finely
Combine salmon, egg, & flour in stand up mixer until it forms a dough
Roll out dough to 1/4 inch thickness on a floured surface
Use a cookie cutter (I recommend a 3/4 inch cutter) to cut into pieces
Put the treats on a baking sheet & bake at 350°F for 20 minutes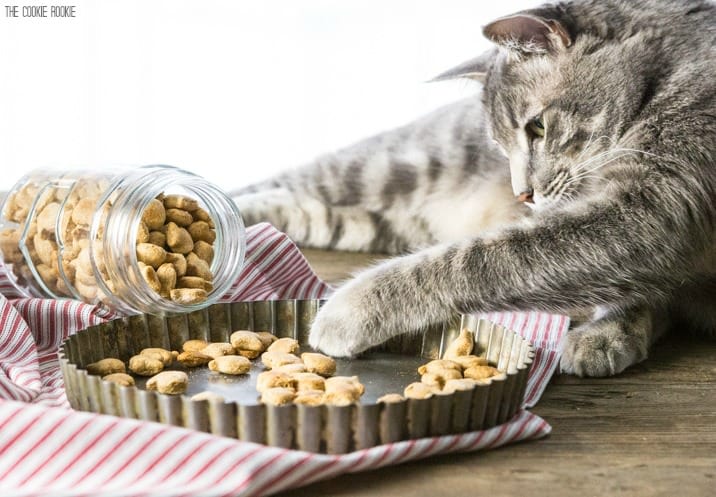 Salmon Cat Treat Recipe featured in Family Circle
I'm SO excited to have these treats printed in the August 2015 edition of Family Circle Magazine along with some other awesome pet treat recipes! It's such an honor. Dill was beyond excited to see his name in print!! Thank you Family Circle!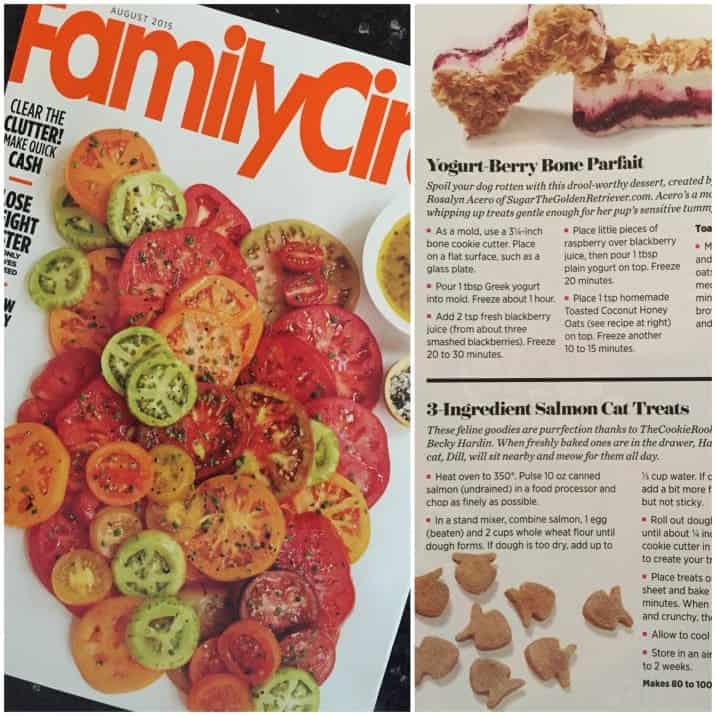 How long do homemade cat treats last?
If you store these cat treats properly in an airtight container, they will keep for a couple of weeks.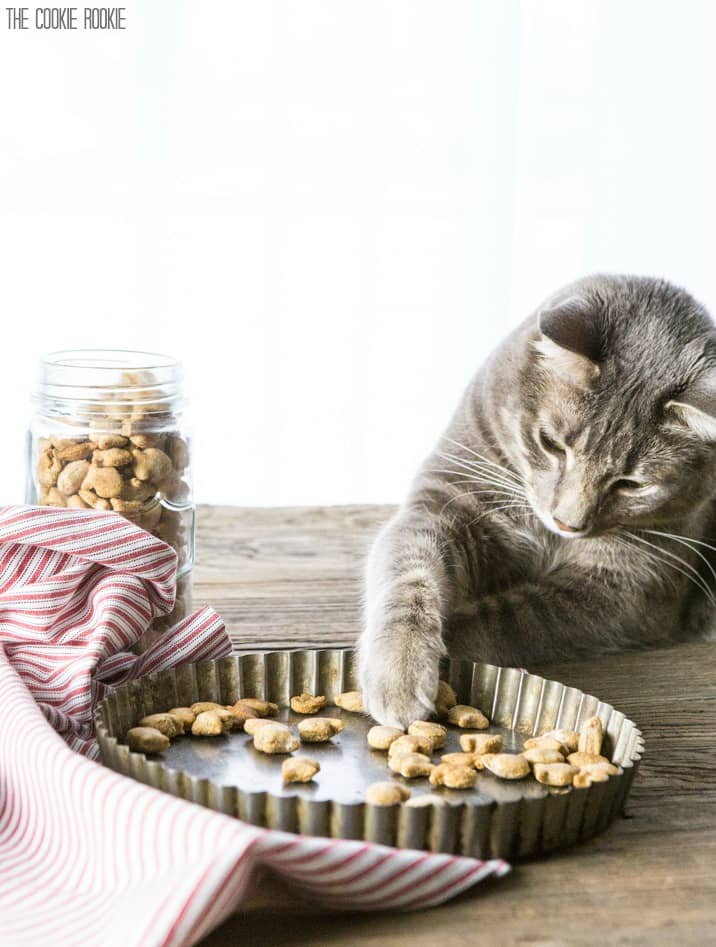 I hope your little balls of fur enjoy these homemade cat treats as much as Dill does! He loves the salmon flavor and can't seem to get enough of them. I love being able to bake something for him too.
See the recipe card below for full details on how to make homemade cat treats. Enjoy!
If you want to make something special for your pups too, try this Peanut Butter Dog Treat recipe, these oats and apple pretzel dog treats, or this puppy ice cream!