Homemade cat treats are such a fun thing to make, and your cat(s) will absolutely love you if you give them these tasty salmon cat treats! You only need 3 ingredients to make these, and they're super healthy and nutritious for your beloved pet.
What's in these 3-Ingredient Cat Treats?
You only need 3 ingredients to make these healthy homemade cat treats. And you might already have them all in your pantry!
Salmon: Use canned salmon for this recipe, or another canned fish.
Egg: Beat the yolk and whites together before combining with the flour.
Flour: I recommend using whole wheat flour for these nutritious cat treats.
I love that these are real food ingredients, so I know my cat, Dill, is getting the best of the best!
It was such an honor to have this cat treats recipe printed in the August 2015 edition of Family Circle Magazine.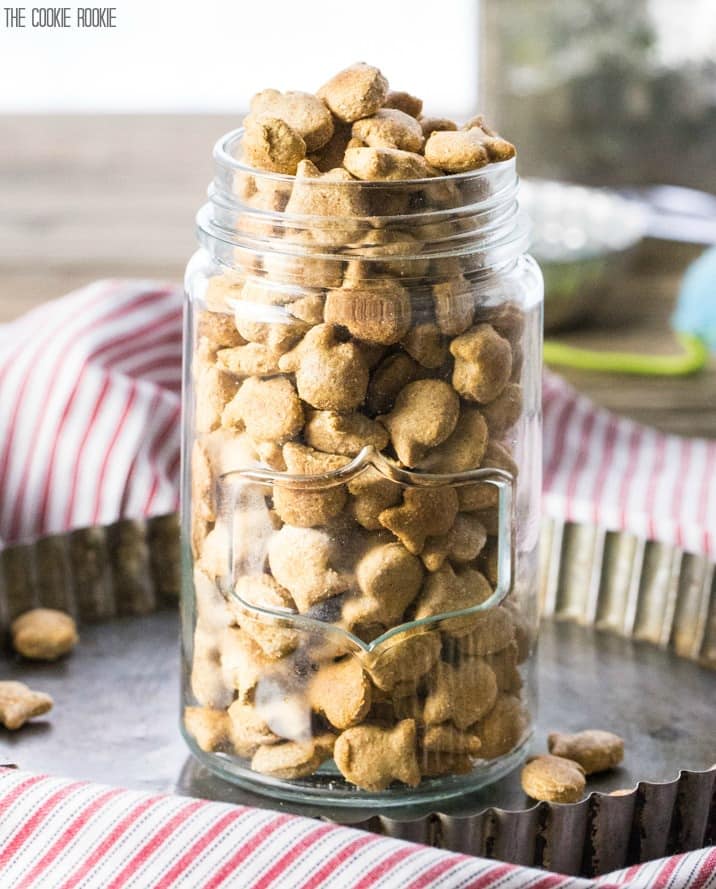 Can I use another fish for these treats besides salmon?
Any canned, oily fish will work in this recipe, and your kitty will thank you for being so creative. Try tuna, mackerel, or even canned shrimp! You can also substitute canned chicken.
Where can I find the goldfish cookie cutter?
If you want the goldfish shaped cutter I used, Here's my affiliate link to get one. If you prefer, use any cookie cutter that is about 3/4-inch.
How can I fix dough that is too dry or too wet?
Add up to 1/3 cup of water to the dough if it's too dry. If it's too wet or sticky, add in a small amount of flour until you get the right consistency. It should be tacky but not sticky.
How can I tell when the cat treats are done baking?
They should be slightly brown and crunchy on the outside.
How to Store Homemade Cat Treats
Let the treats cool completely before storing. Scoop them into an airtight container, like a mason jar, or resealable bags. Store them at room temperature or in the pantry, for up to 2 weeks.
They'll be ready to hand out to your furry friend any time they need a treat. And these are healthy enough for them to eat (many) every day, so you can feel good about spoiling them!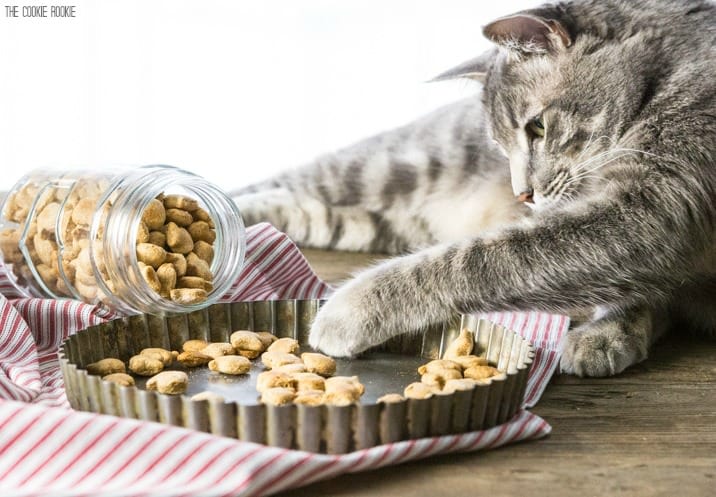 If you make this recipe be sure to upload a photo in the comment section below or leave a rating. Bonus points if you share a picture of your cats! Enjoy! You can also jump to recipe.