Oat and Apple Dog Pretzels are a cute and simple pet treat that you can make for your pup or for a homemade gift for friends. Treat your pet to these cute and easy treats! They deserve it!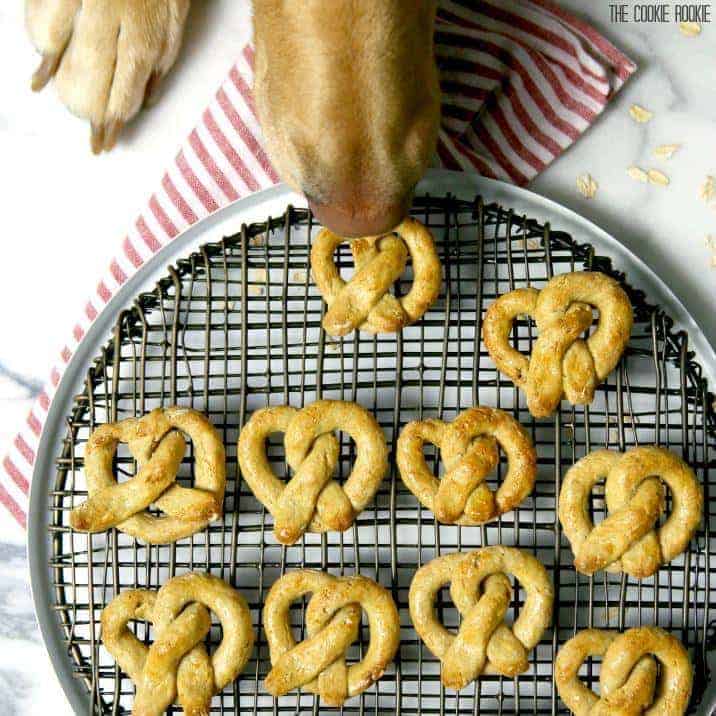 Homemade Dog Pretzels
I've been blessed with many great loves in my life. I have a fabulous husband, amazing parents, the best brother and sister in law, the cutest niece and nephew in the world, and even a mostly sweet cat.
But then there is Scout. Scout, my 120 lb. yellow lab pony dog. One of the great loves of my life. The absolute sweetest, largest, best dog in the world.
I've made homemade dog treats for her before, but I thought it was time to make her something new. She deserves it!
These simple pretzel treats are made with only 4 ingredients!! It's nice to know exactly what you're feeding your dog. Making your own treats at home is one way to do that!
Why you will love this recipe!
Quick and easy: It only takes about 20 minutes to make a batch of these treats before they get baked in the oven.
Healthy: You know exactly what is going into these pretzels. Healthy ingredients and no added fat or sugar.
Make ahead: These doggie snacks have a great shelf life, so feel free to make a double batch!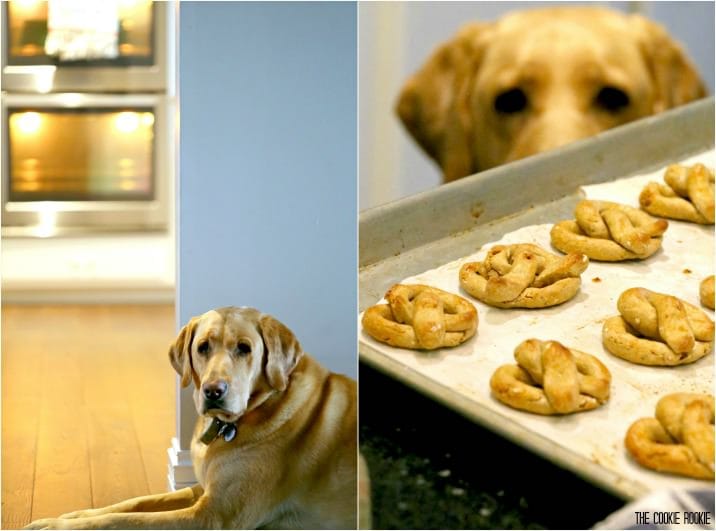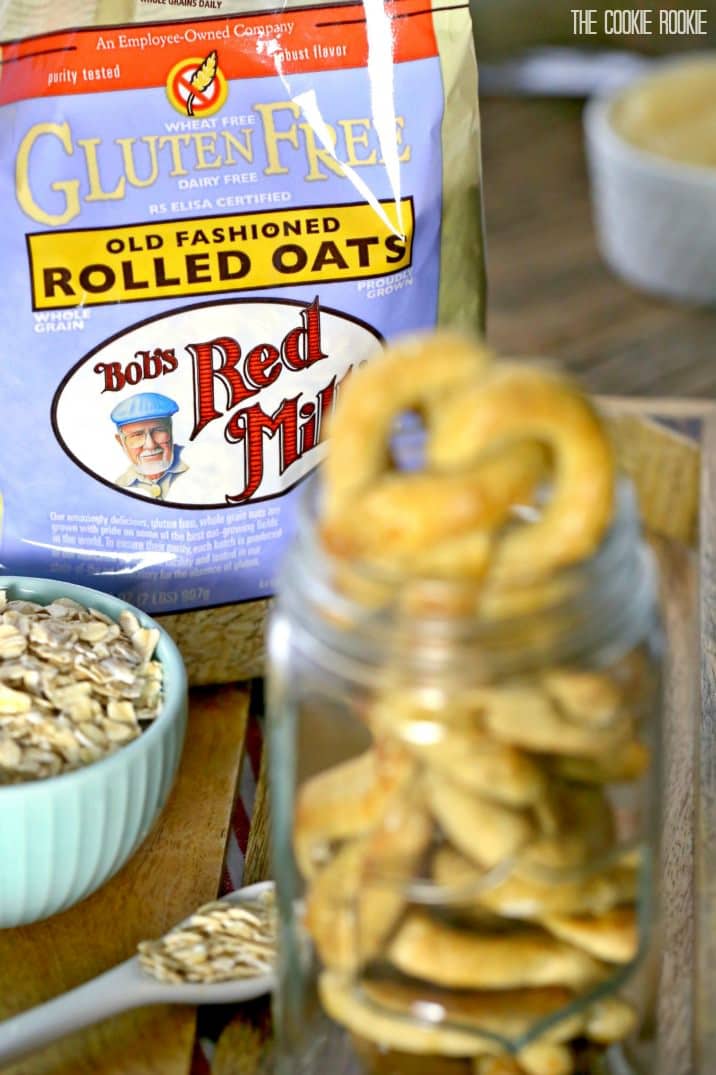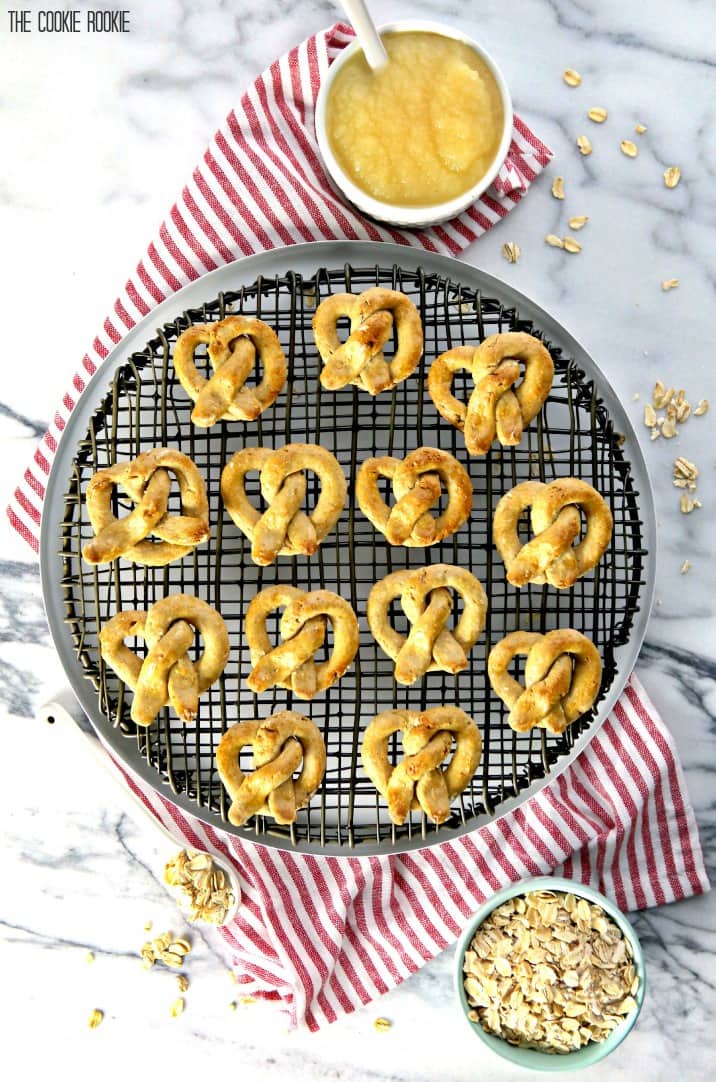 How to make
Be sure to scroll down for the full recipe!
Combine the ingredients in a large bowl, setting aside some of the beaten egg.
Roll pieces of the dough into long tubes.
Make a pretzel shape with each tube.
Place on a baking sheet and brush with the remaining beaten egg.
Bake until golden brown and crispy.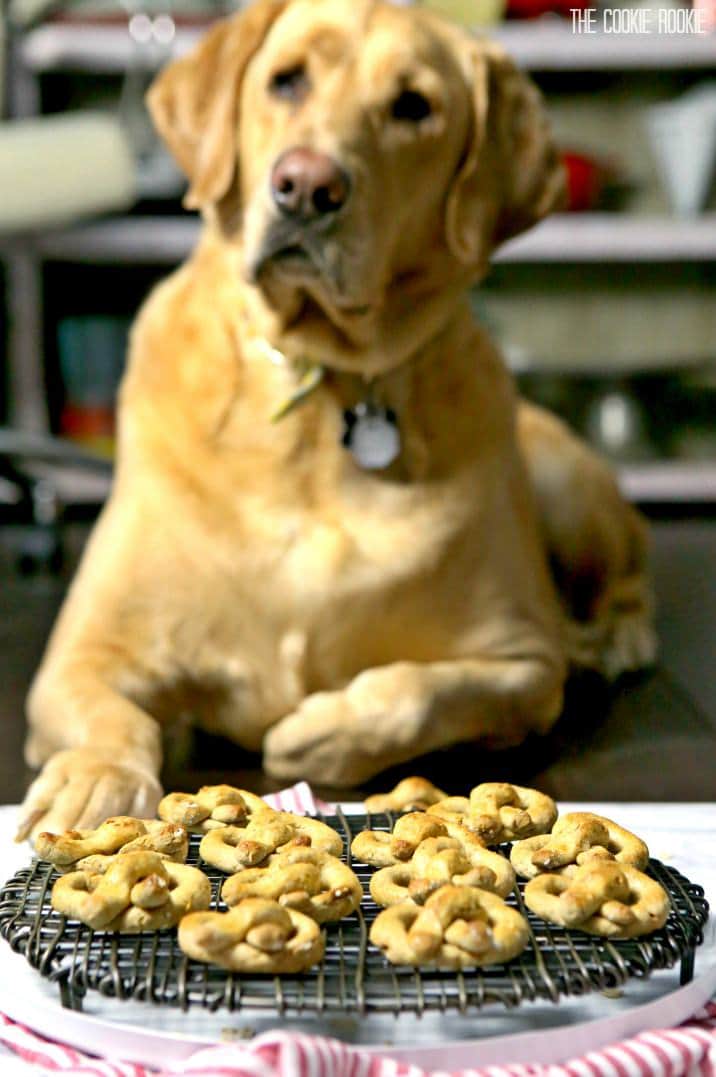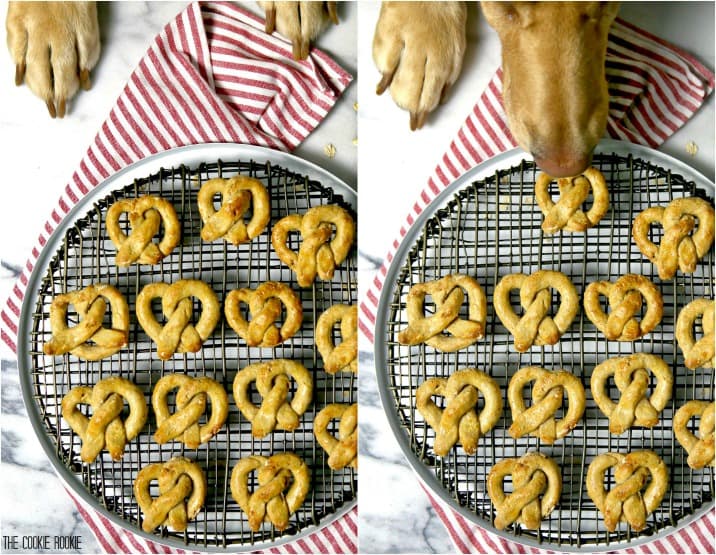 How long do they keep?
These pretzel treats will keep well well for up to 2 weeks. Let them cool completely and keep them stored at room temperature in an airtight container to keep them fresh. Preferably place in a high cupboard where inquisitive noses can't reach!
Why make treats yourself?
I love making homemade treats, and Scout for sure loves them! Made with simple everyday ingredients, they are less processed than store bought and contain natural ingredients that your pup will love. They're also kinder on the wallet!
What's in pretzel dog treats?
These treats are made with 4 simple ingredients:
Oat flour
Rolled oats
Egg
Unsweetened applesauce
That's it! They are around 90 calories each, so perfect for a treat after or during a walk.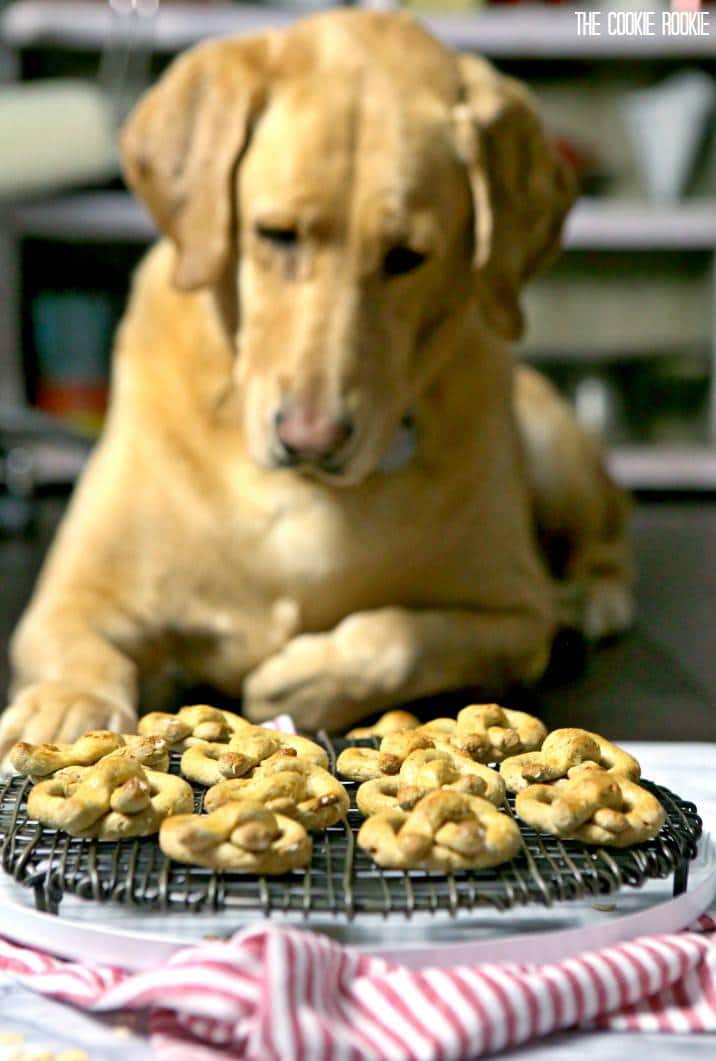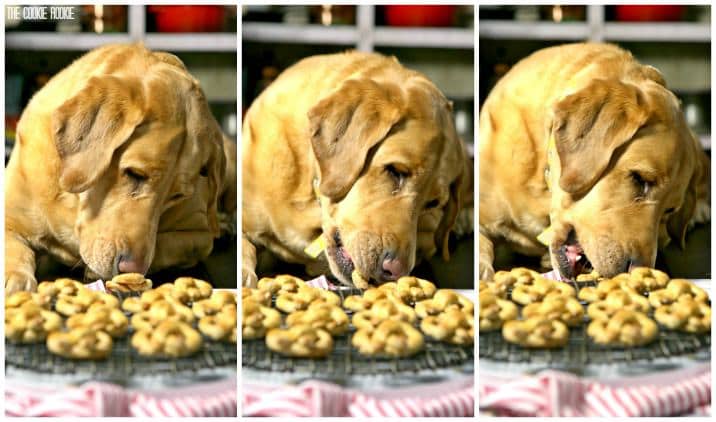 Recipe Notes and Tips
These pretzels are a treat and are not meant to replace your dogs' meals.
Allow the treats to fully cool before giving them to your furry friend.
I use gluten-free flour and oats. Just like humans, dogs can be sensitive to gluten, so I like to air on the side of caution.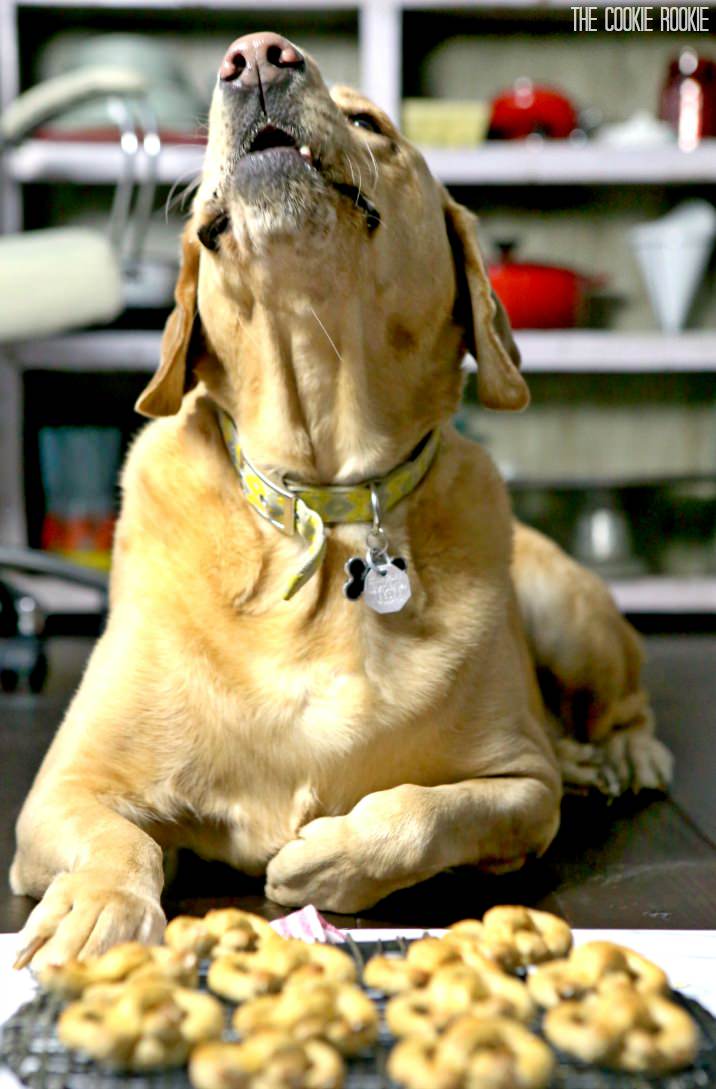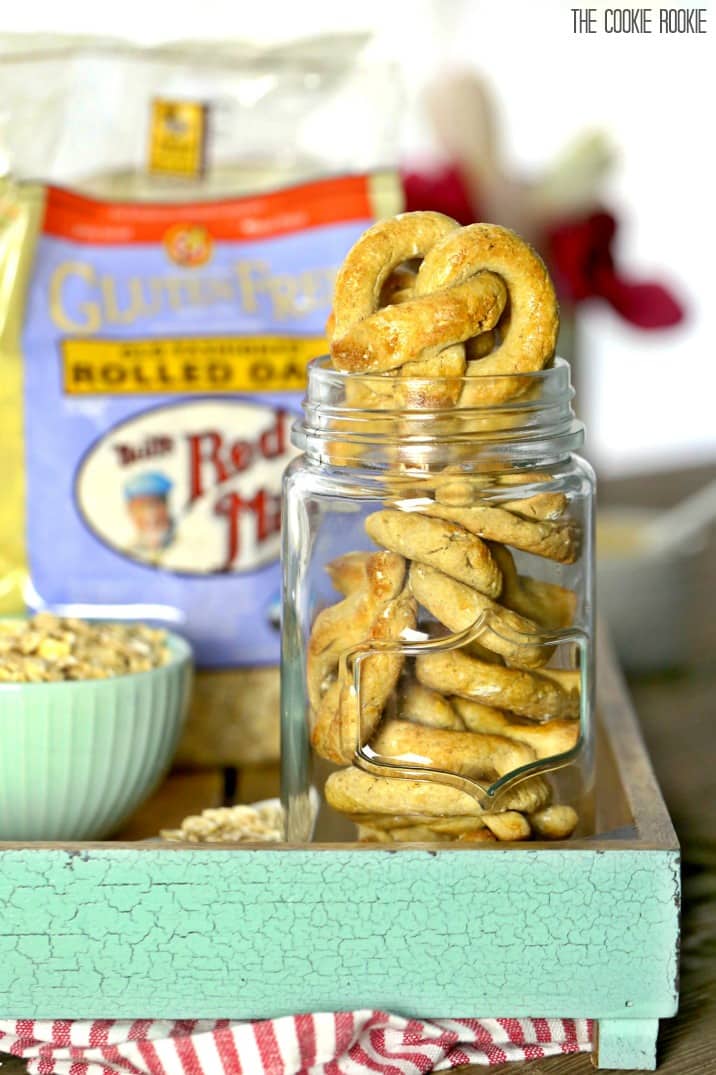 Hope all those deserving pups out there enjoy these baked oat and apple pretzel dog treats as much as Scout does!
More Pet Treats