Dog ice cream is the perfect treat for your furry friend! When the weather gets hot, treat your puppy to some homemade dog ice cream so they don't feel left out. This easy recipe has all the right ingredients (peanut butter, yogurt, and bacon), so they can enjoy their own bowl instead of watching you eat yours!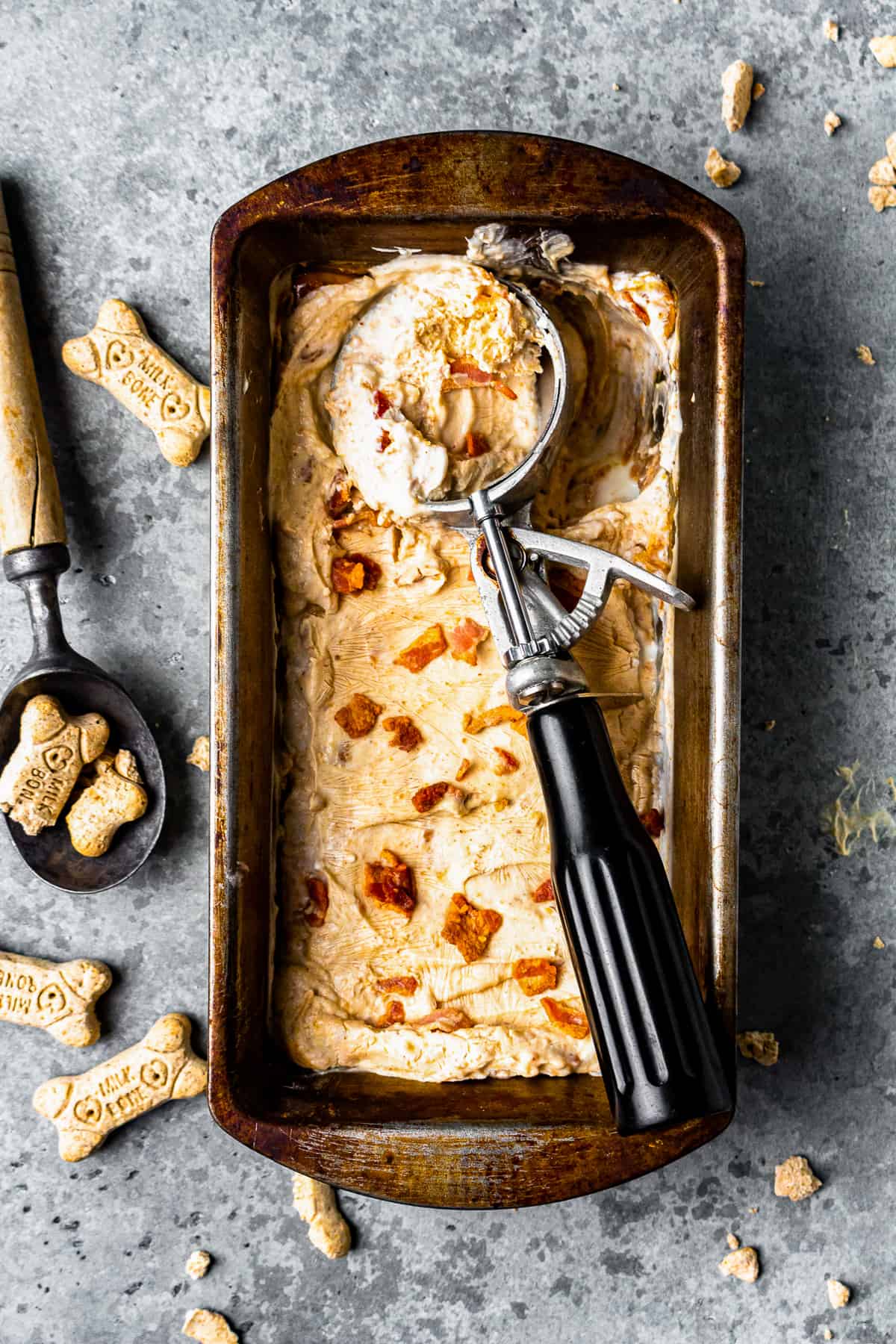 Puppy Ice Cream
This homemade dog ice cream recipe with yogurt, peanut butter, and bacon is just the thing for your favorite friend!
A while ago, I made my best sous-chef (my Yellow Lab, Scout) some homemade Peanut Butter Dog Treats. Since then, I've been brainstorming ideas for other dog-friendly treats to make for her.
This puppy ice cream was a huge success for her. She especially loved the bacon! This ice cream freezes really well, so I have more waiting for her in the freezer. She'll thank me once the summer heat rolls in.
Why You'll Love this Dog Ice Cream Recipe:
EASY: Making homemade dog ice cream is SO easy. You only need two ingredients (3 if you want to add the bacon), and a few minutes to prep.
GOOD FOR DOGS: This recipe is made only with ingredients that are safe for dogs to eat, so no need to worry about feeding them this treat.
CUSTOMIZABLE: Consider this ice cream a base recipe. Add other things your dog loves, or make doggie ice cream sandwiches!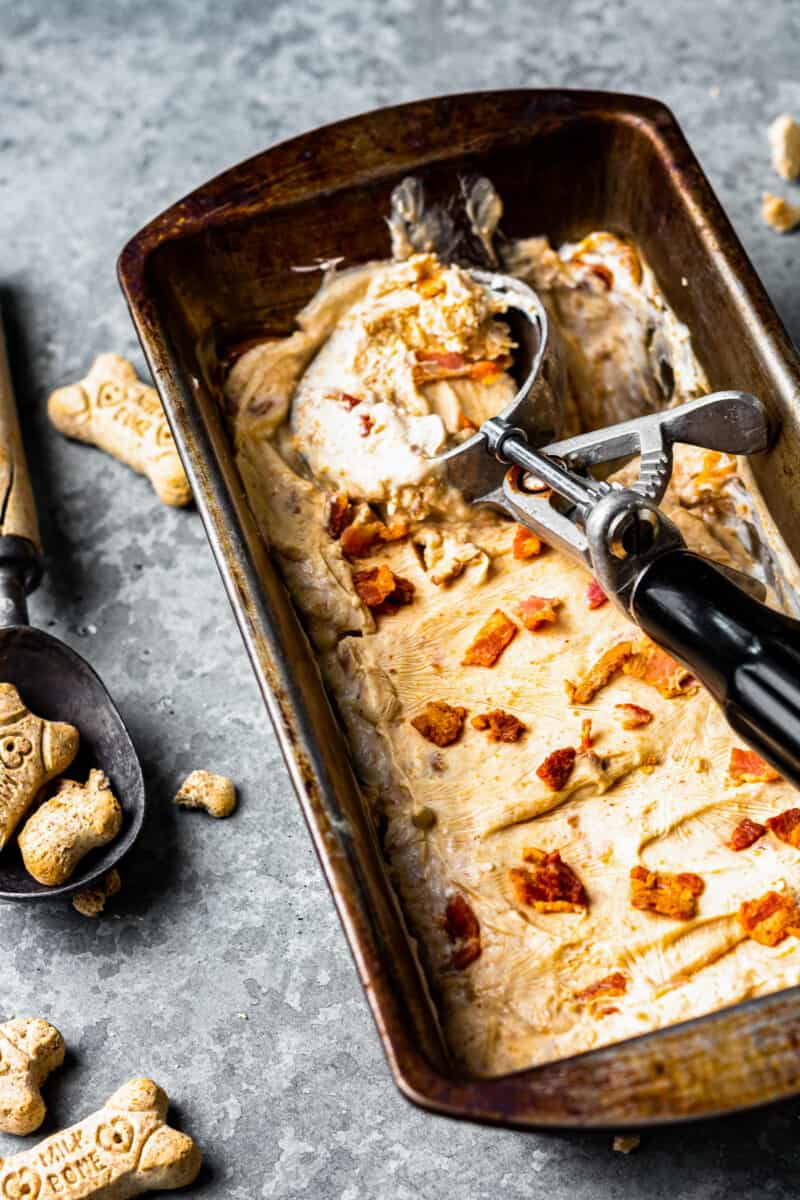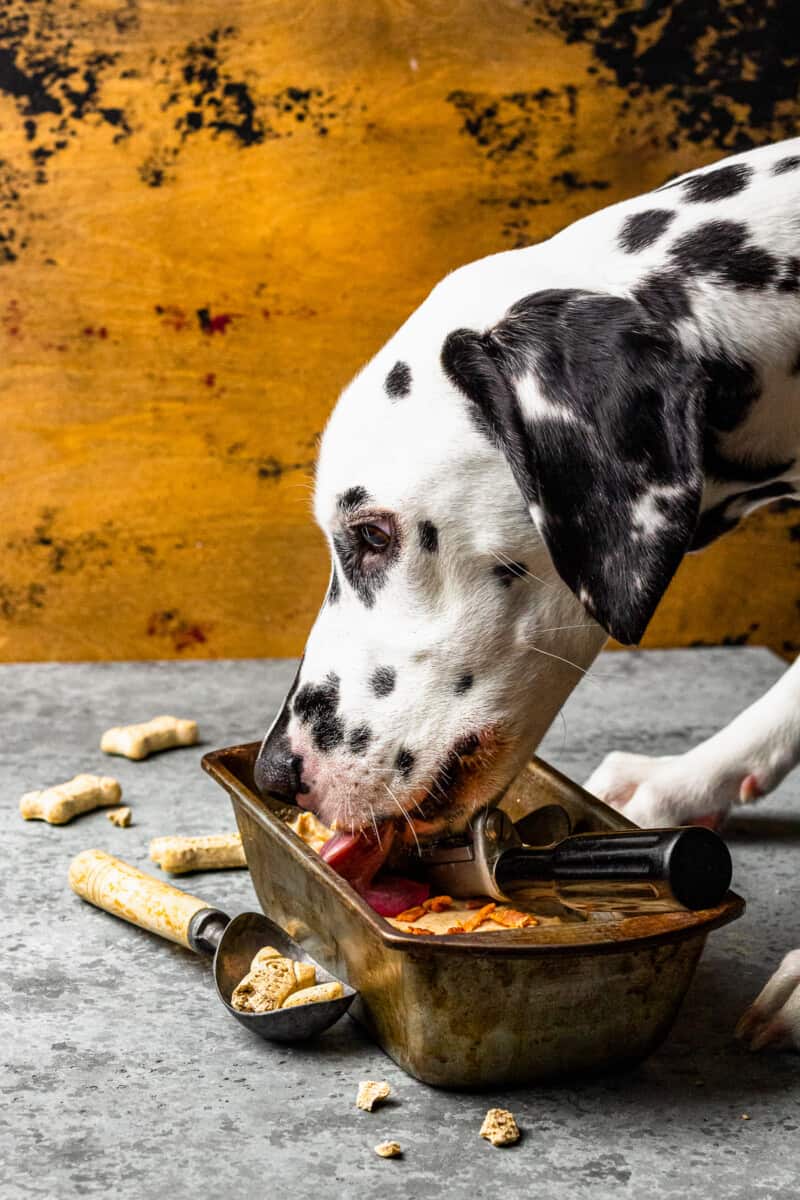 Ingredients
Peanut Butter: Go for a creamy version instead of chunky, and natural ingredients instead of processed. I used Smuckers Natural.
Plain Yogurt: I recommend using Greek yogurt because it has significantly less lactose than regular yogurt.
Bacon Bits: This ingredient is optional, but your dog will love it!
Trademark note: In the spirit of transparency, please note that Smucker's is a proprietary brand that I want to acknowledge and give credit to.
How to Make Dog Ice Cream
You can jump to the recipe card for full ingredients & instructions!
This is such a simple and quick recipe, there are hardly any steps!
Combine the peanut butter, yogurt, and bacon bits (optional ingredient).
Freeze until it becomes firm, or the desired texture. It's fine for them to eat it whether it's frozen or not.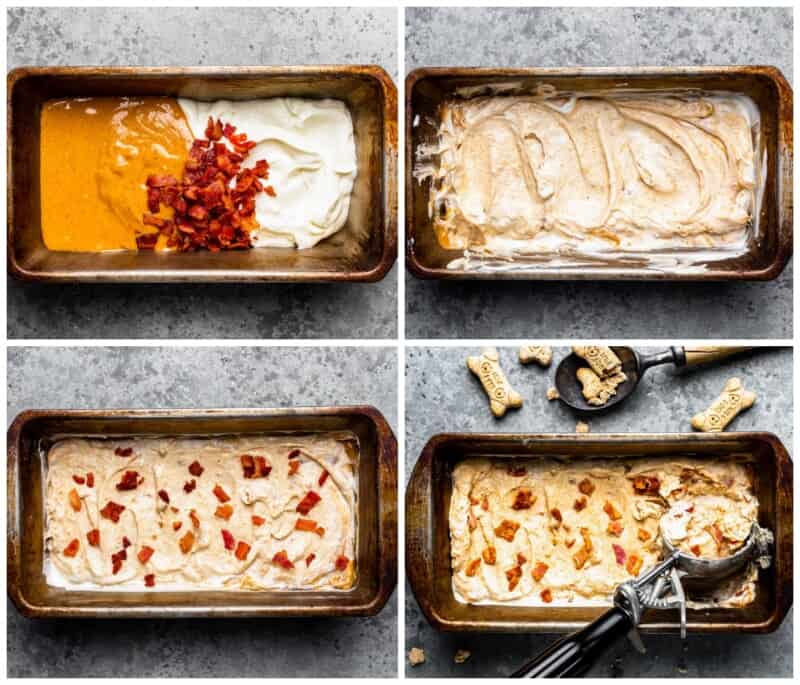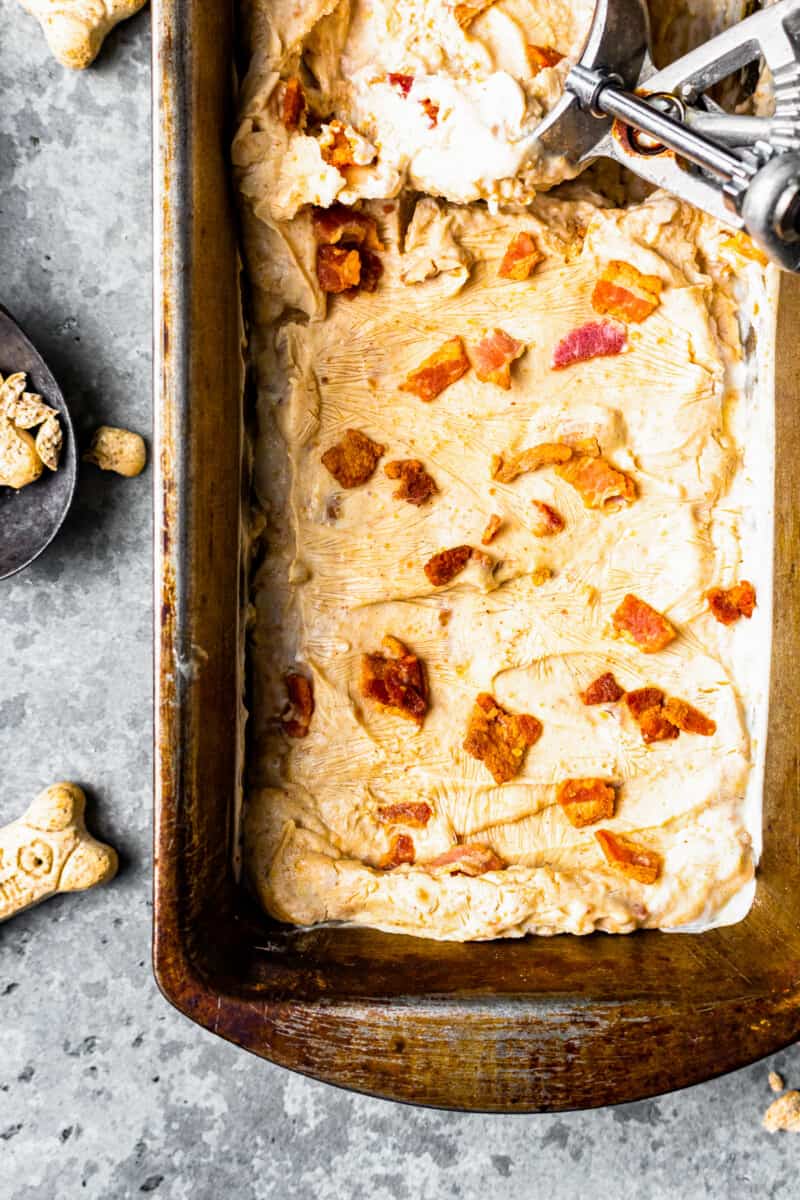 Can dogs eat ice cream?
Dogs should not be fed regular "human" ice cream. They have different digestive systems than us, so they can't digest dairy very well. Sugar, chocolate, and too much lactose can cause problems including gas, bloating, constipation, diarrhea, or vomiting.
But that's why we have this delicious doggie ice cream recipe, so they can enjoy it too!
Can people eat this puppy ice cream?
This recipe uses real food ingredients, yogurt and peanut butter, so it's definitely safe for humans to eat too. So if your kids find their way to it, or you just REALLY want to taste it too, all will be fine!
How much should I give to my dog?
It depends on the size and weight of your dog. I recommend starting with 1/4 cup, and then increasing the amount for bigger dogs.
What other flavors can I add to dog ice cream?
You can add other ingredients based on what your dog likes and what they can digest well. Some fruits are okay for dogs to eat, so bananas or strawberries might be a good option to try.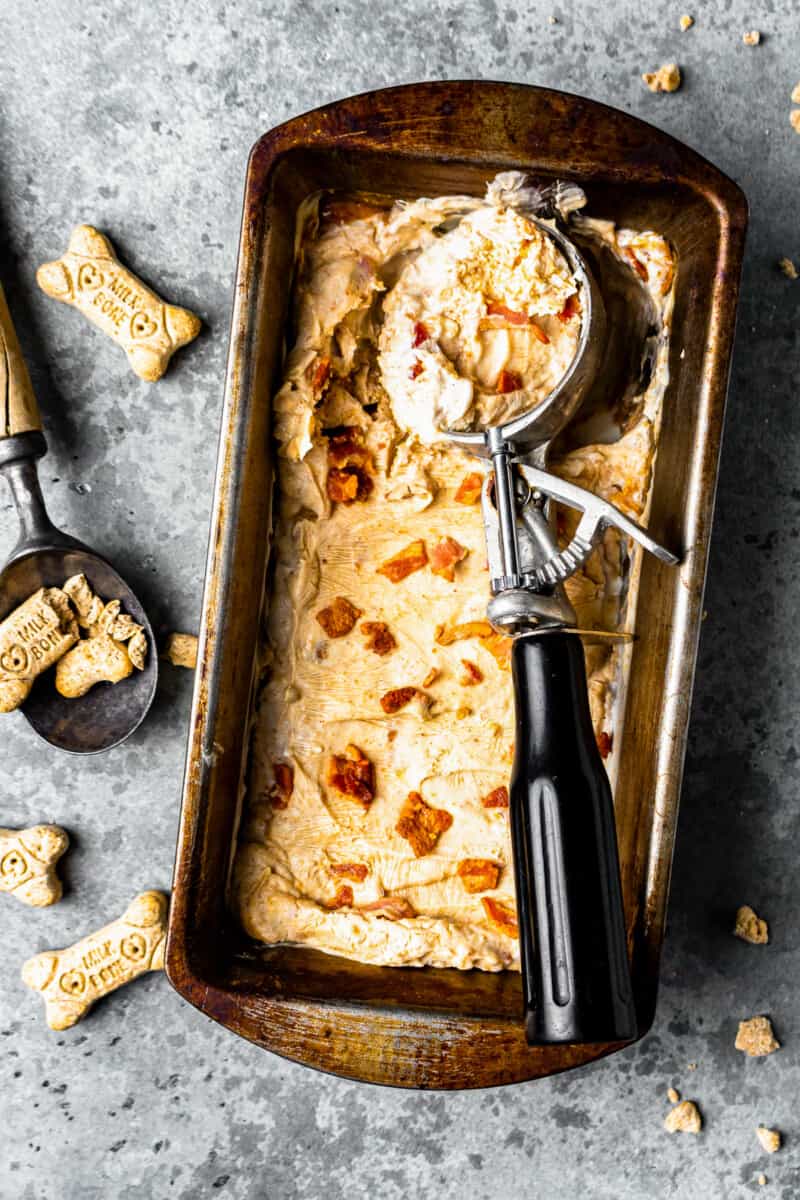 Tips!
These ingredients are safe for dogs to eat, but I always recommend keeping an eye on your pup after feeding them something new to see how they react to it.
This ice cream lasts up to 8 weeks in the freezer. So make a big batch and save it, so your furry friends can enjoy this treat for a long time.
You could add a splash of chicken broth to enhance the flavor.
Make sure to avoid giving your dog any sweetened dairy products. Greek yogurt for dogs is good, thanks to its high protein and low lactose content.
How is this different than regular ice cream?
Besides the ingredients, this dog ice cream recipe is softer and easier to scoop than other frozen treats. That makes it a great choice for dogs that tend to scarf treats whole or for senior dogs with limited teeth. Overall, it's just easier to eat and digest!
How do you make puppy ice cream sandwiches?
Add in some Peanut Butter Dog Treats and make an ice cream sandwich! Scout is a fan, without a doubt!
To make an ice cream sandwich for dogs, place a scoop of this dog-friendly ice cream between two dog treats, scrape the excess off the sides, and freeze again to help them set.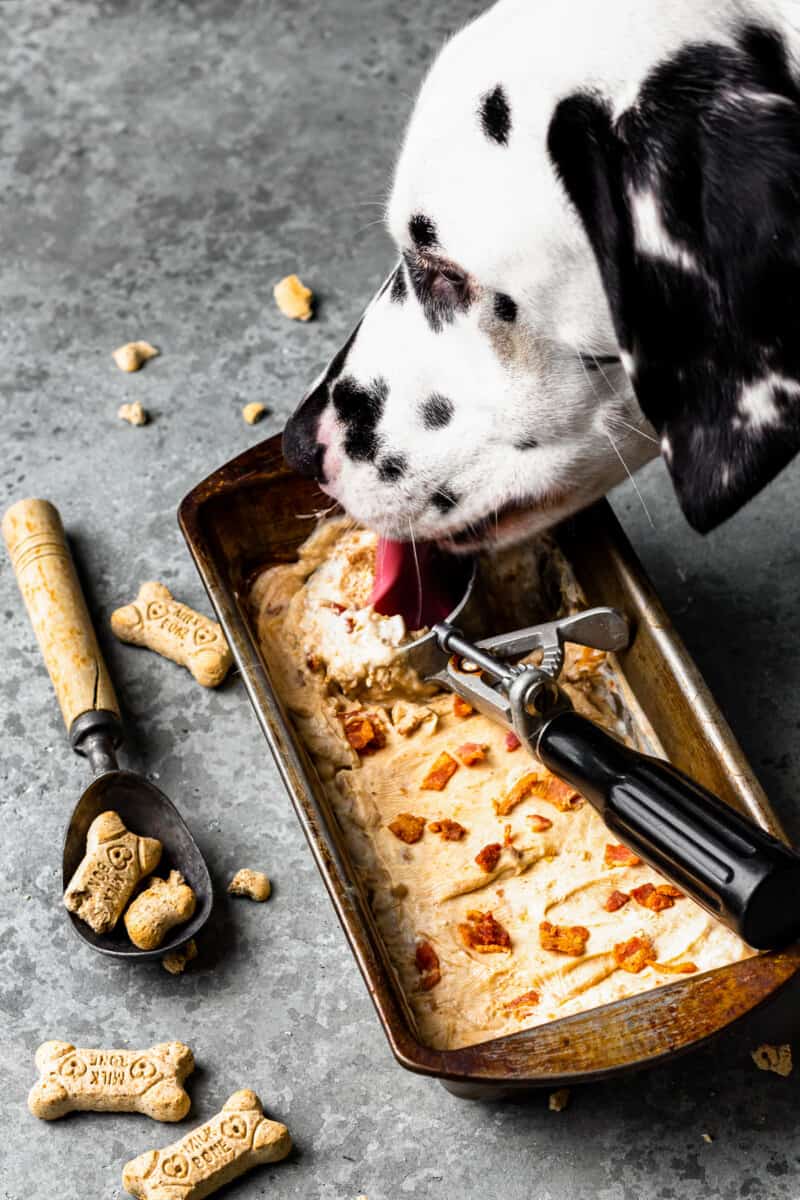 Your pup is absolutely going to LOVE this homemade dog ice cream! So you won't have to worry about them watching you and begging for a bite of yours when dessert time comes around. Everyone gets a treat!
If you make this recipe be sure to upload a photo in the comment section below or leave a rating. Enjoy! You can also jump to recipe.