Banana Split Dump Cake is the BEST DESSERT EVER! This easy dump cake recipe is thrown together in minutes with just 8 ingredients. A tasty banana split cake made with banana pudding, fresh fruit, and cake mix for an easy dessert. It's sure to be an instant crowd pleaser!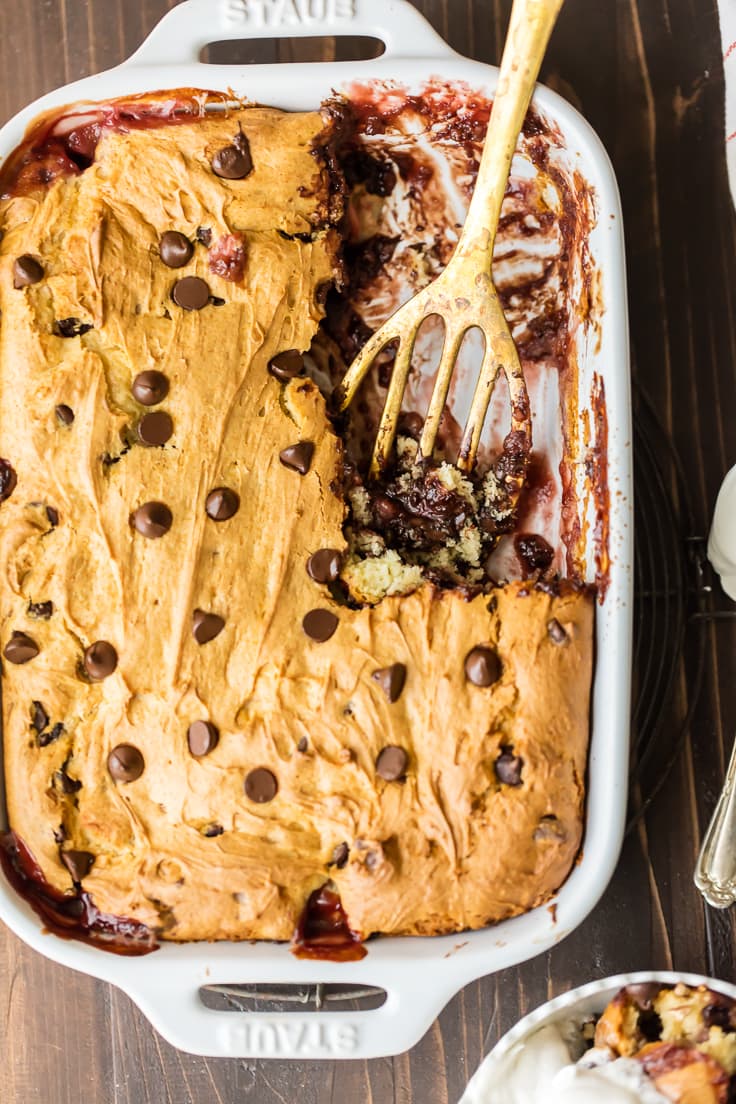 Banana Split Dump Cake
Dump cakes are so easy and so delicious. This banana split cake recipe is one of my favorites, and I just know you're going to love it!
Let's be honest, how many of us have time to cook every single recipe from scratch? Sure, there are always those one-of-a-kind chocolate chip cookie, bundt cake, or pie crust recipes that HAVE to be followed word for word and passed down through generations, but sometimes simple recipes made quickly with store-bought ingredients are the perfect fix for your sweet tooth!
I have a soft spot for dump cakes, and this Banana Split Dump Cake recipe is my personal favorite! It is BEYOND easy, thrown together in minutes, and sure to please. It's gobbled up at parties, family get-togethers, or even just a Wednesday night in with my husband. It doesn't get easier or more delicious than this!
This is one of those recipes that's hard to mess up, and it's just as hard not to eat it all at once! Add this dessert to your summer favorites, add whipped cream or a little bit of ice cream, and enjoy!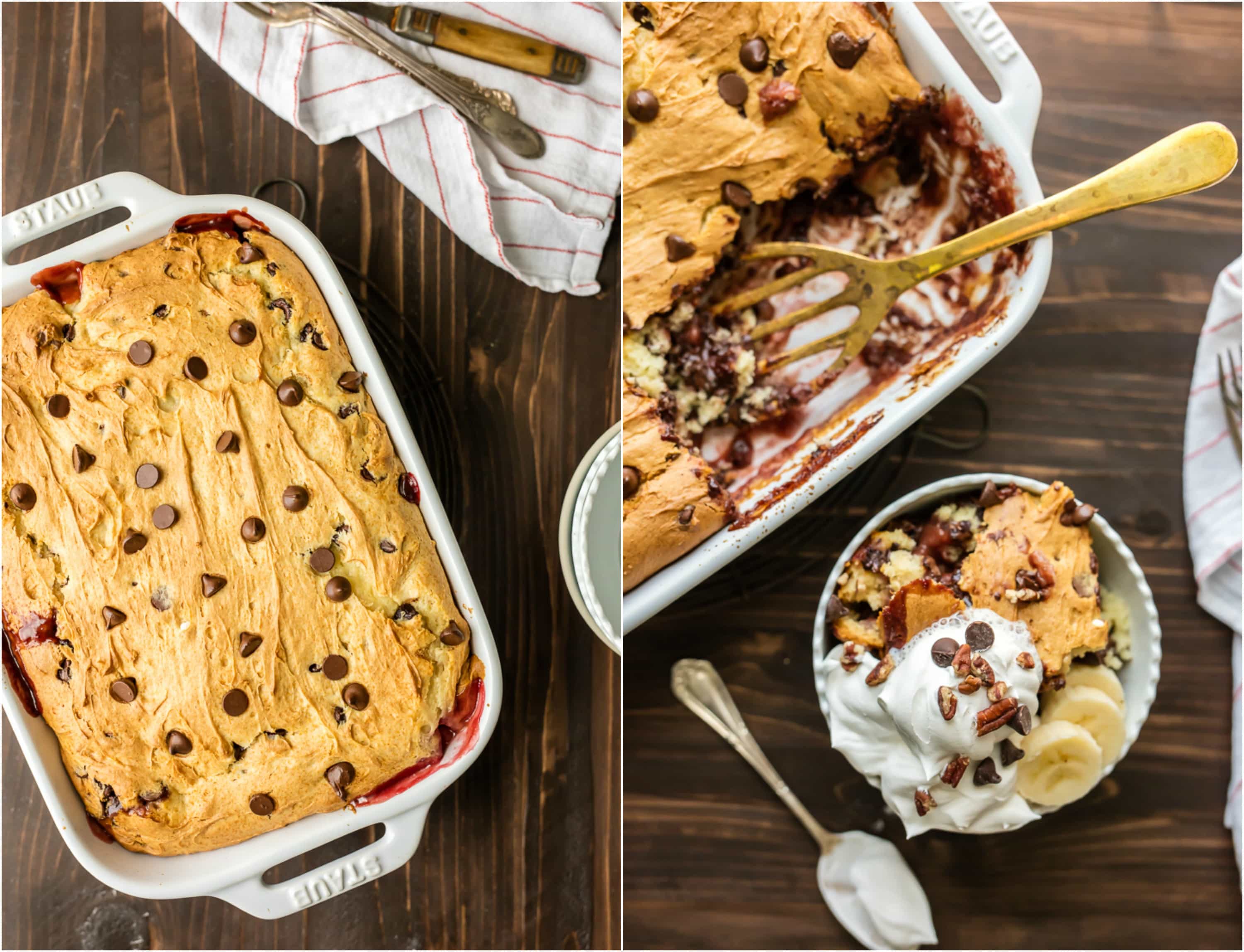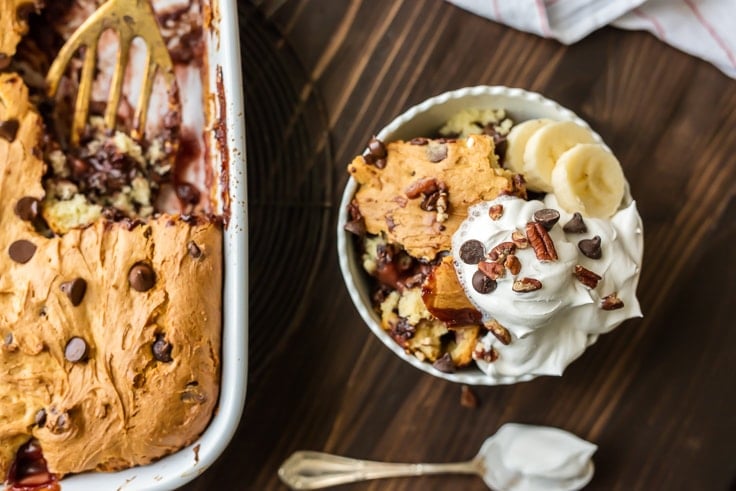 What is a dump cake?
A dump cake is similar to a cobbler, where you have a layer of fruit or other filling, covered by a layer of cake. Essentially, you place the filling along the bottom of the baking pan, then dump cake mix on top of it, bake, and eat!
It's like the easiest form of cake making there is, and it always tastes amazing! Kind of hard to go wrong with this.
Banana Split Cake
The secret ingredient to keeping this Banana Split Cake recipe super moist and delicious is Banana Cream instant pudding! The pudding is mixed with white cake mix, making the perfect flavor combo. It comes out not too sweet, not too bland, and most importantly, it's SO EASY. What more could we ask for from a dessert?!
I crave this sweet, flavorful dump cake recipe year-round. Luckily for us, it only has 8 ingredients and has about 10 minutes of prep time. Win, win!
Banana Pudding Dump Cake Ingredients:
White Cake Mix (just grab a box from the store and you're good to go!)
Instant Banana Cream Pudding Mix
Chocolate Chips
Skim Milk
Fresh Strawberries
Bananas
Pineapple
Sugar
And don't forget the whipped cream for serving. And ice cream…banana split cake calls for a side of ice cream!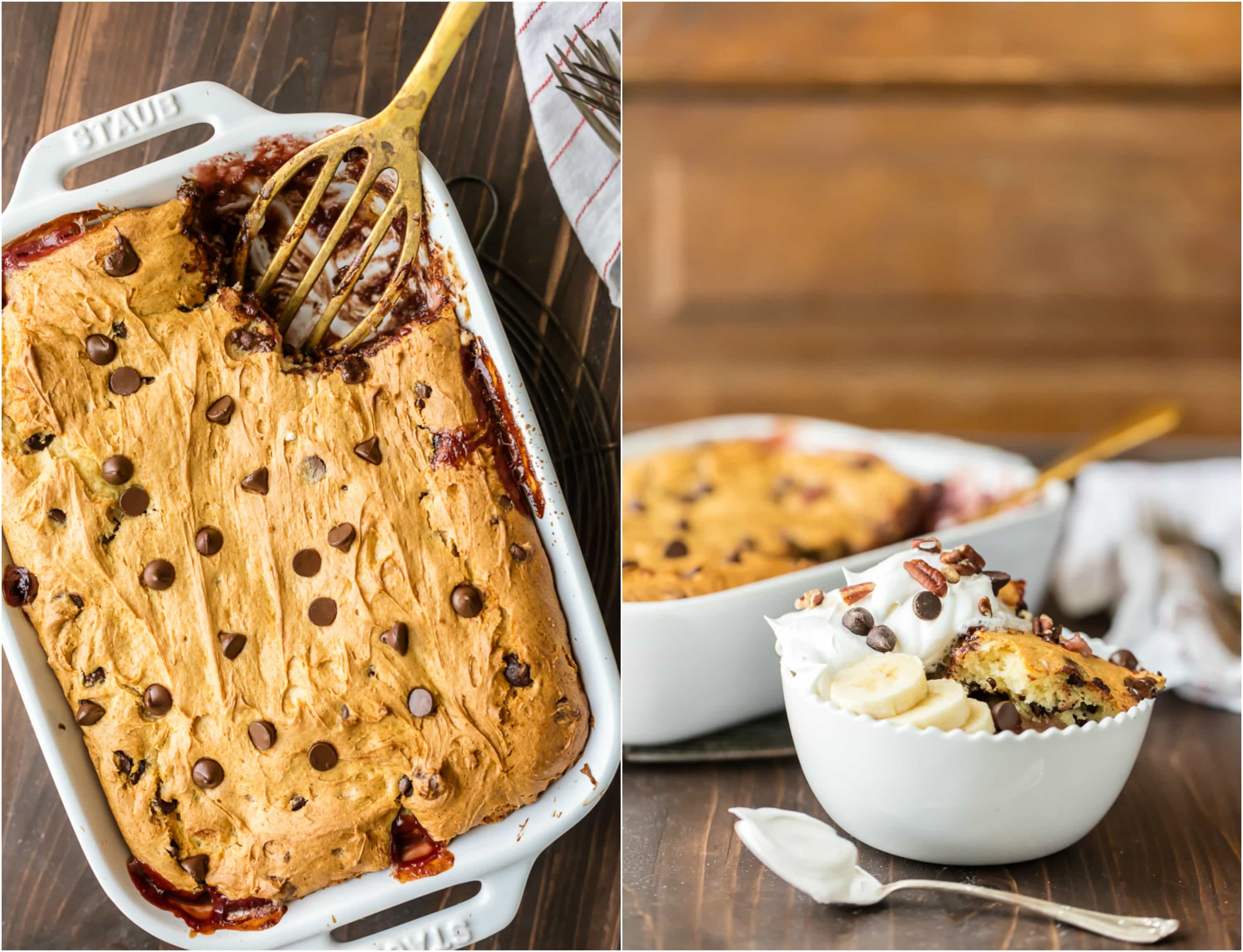 How to Make Dump Cake
The bottom layer of this banana split cake recipe is a mix of fresh strawberries, pineapple, and banana. Each bite tastes like a fun and fresh banana split, in cake form. Fun baking at its finest!
Let me show you how simple it is to make!
Start by preheating the oven to 350°F and spraying your baking dish (use a 9 x 13 dish) with non-stick spray.
In a mixing bowl, combine the banana pudding mix with skim milk. Then whisk in the cake mix until everything is fully combined (it will be pretty thick).
Stir in the chocolate chips.
In a separate bowl, combine strawberries, bananas, pineapple (if you use canned pineapple, make sure to drain it first), and sugar. Let the mixture macerate for at least 5 minutes.
To make the cake, pour the fruit mixture into the bottom of the baking dish in a thin layer. Then pour the cake and pudding mixture on top, spreading it into a smooth layer.
Bake for 45-60 minutes at 350°F (use a toothpick to check for doneness; it should come out clean).
I love serving this cake warm, topped with whipped cream and extra slices of banana. But you can add ice cream, other fruit, or even serve it chilled.
How to store dump cake?
To store any leftovers, let the cake cool completely. The easiest way to store it is to cover the baking dish with plastic wrap or aluminum foil, and then refrigerate it. When ready to serve again, you can serve it cold, or pop it back in the oven to reheat. You could also reheat individual pieces in the microwave, and it tastes just as good (and it's a lot easier).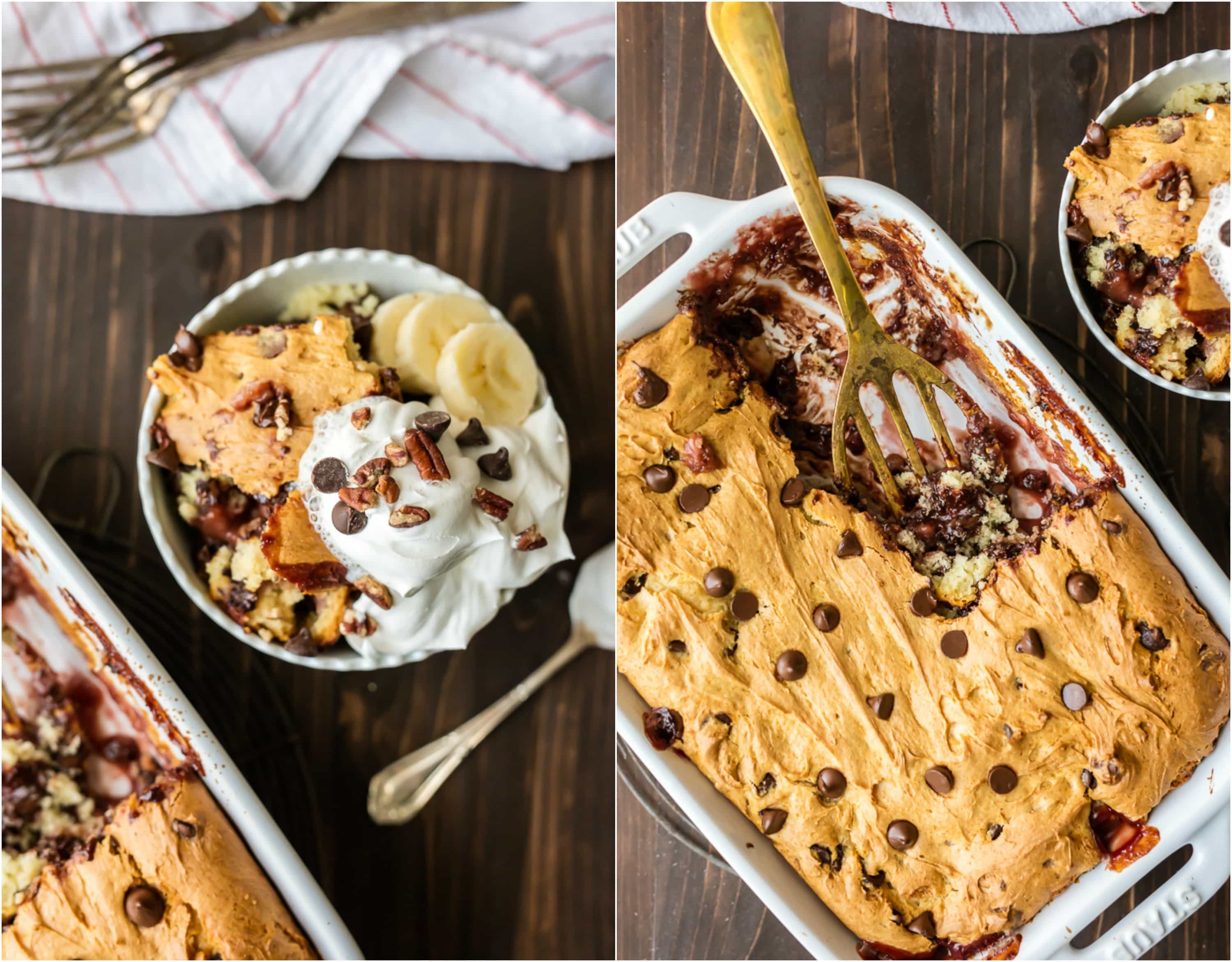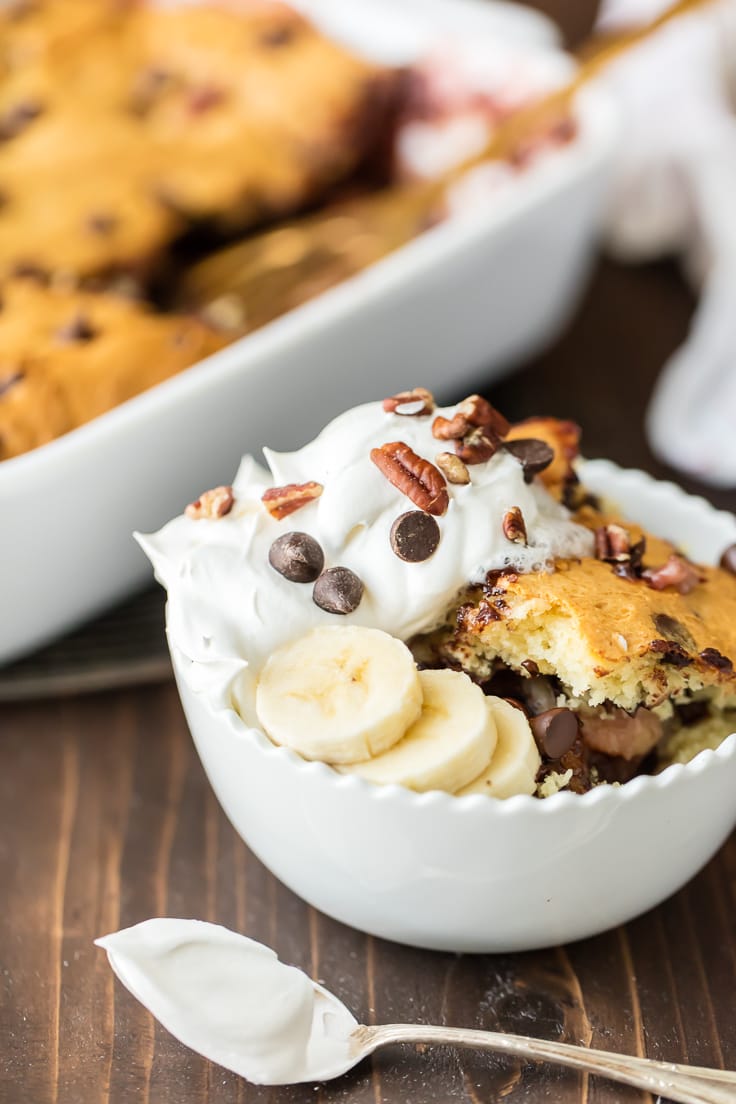 I hope you enjoy this Banana Split Dump Cake recipe as much as we do! This is such a great dessert to take to a potluck, because you'll look like a total star and people will eat it up immediately. You don't have to tell them it's made with cake mix! It can be our little secret.
If you like this recipe, try our other easy cake recipes: