These loaded chocolate chip cookies are the thing of dreams! These giant cookies are easy to make and makes a huge batch too! Topped with chocolate and peanut butter chips, these cookies just like Mom used to make!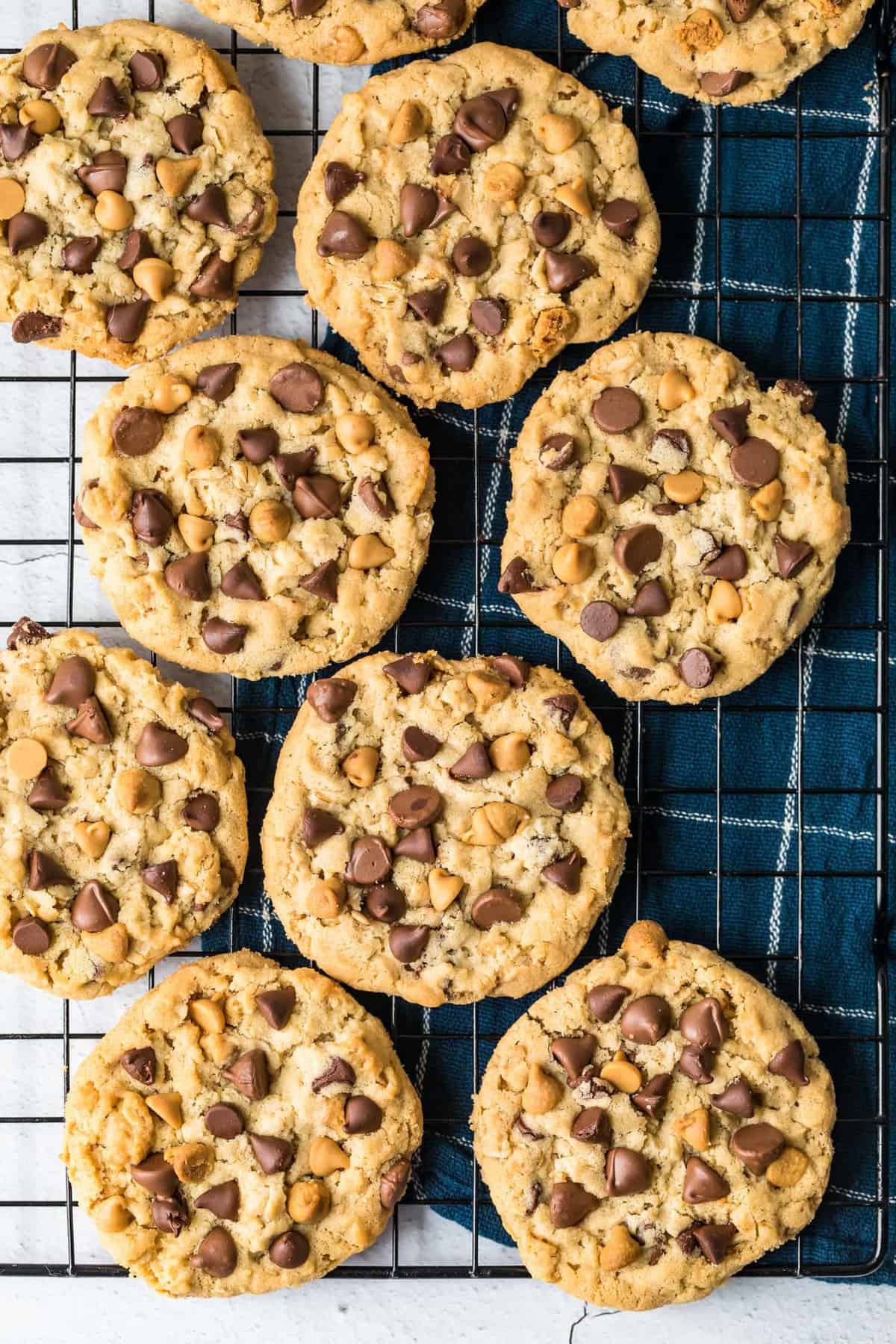 These cookies are seriously delicious, I really can't wait for you to try them! These giant cookies are so perfect and loaded with toppings for a truly indulgent treat!
How to Make This Loaded Chocolate Chip Cookies Recipe (Giant Cookies)
Heat oven to 350°F and position the oven rack to the middle position. Line 2-3 large baking sheets with parchment paper.

In the bowl of a stand mixer, combine granulated sugar, brown sugars, butter and oil. Mix on medium speed 3 minutes. Scrape down the sides after each minute. Add egg and vanilla and beat another 1 minute. Again, scrape down the sides.

While the sugar mixture is mixing, whisk together flour, table salt, coarse salt and baking soda in a large bowl.

Turn off the mixer and add the flour mixture. Turn the mixer to low and mix just until no flour is visible. Do not over-mix or the cookies won't be as tender.

Add the Rice Krispies, oats, coconut, chocolate chips and peanut butter chips. Mix just until incorporated.

At this point, the dough can be placed in an airtight container and refrigerated up to two days. If refrigerating, remove the dough from the fridge 1 hour prior to using.

When ready to bake, use a 2"-diameter scoop (2 tablespoon sizto scoop the batter for each cookie. Place 2"-3" apart on a baking sheet.

Add extra chocolate and peanut butter chips to the top of the cookies, if more baking chips are desired.

Bake 14-16 minutes, rotating the cookie sheet after 7 minutes.

Transfer the giant cookies to a cooling rack and repeat the baking process until all cookies are baked.

Enjoy!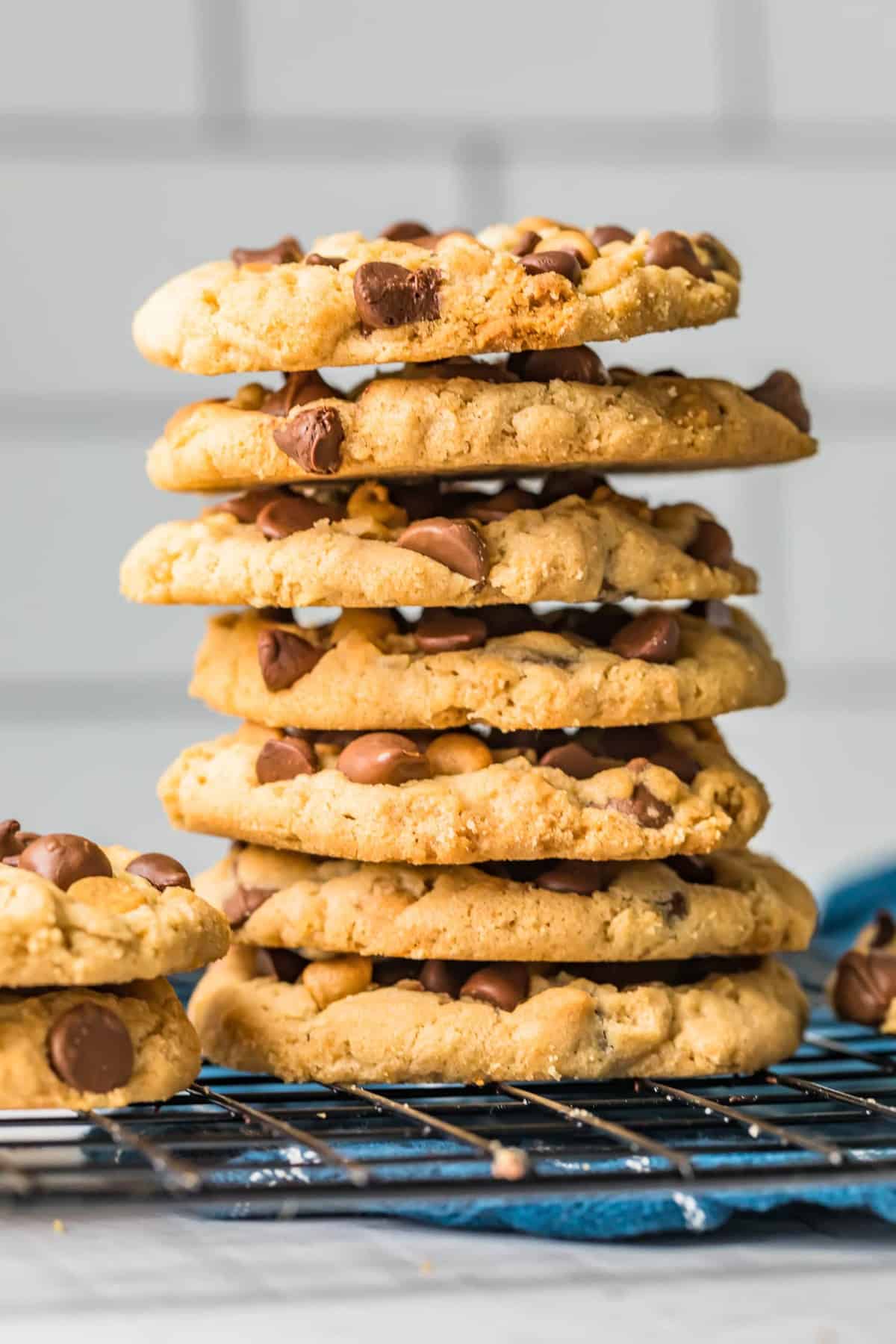 Easy Giant Cookie Recipe
These giant cookies come together so quickly and easily and I love that this recipe makes a huge batch of 60! They are perfect to take to coffee mornings and cookie exchanges or whip up a batch before you entertain guests! i promise these will be a huge hit!
Loaded Cookie Recipe
Each of these cookies is loaded with two types of chocolate chips and peanut butter chips and each bite is just heaven sent! They are a huge hit with the whole family, and I wouldn't be surprised if they don't last for long! They are perfectly chewy and loaded with flavor!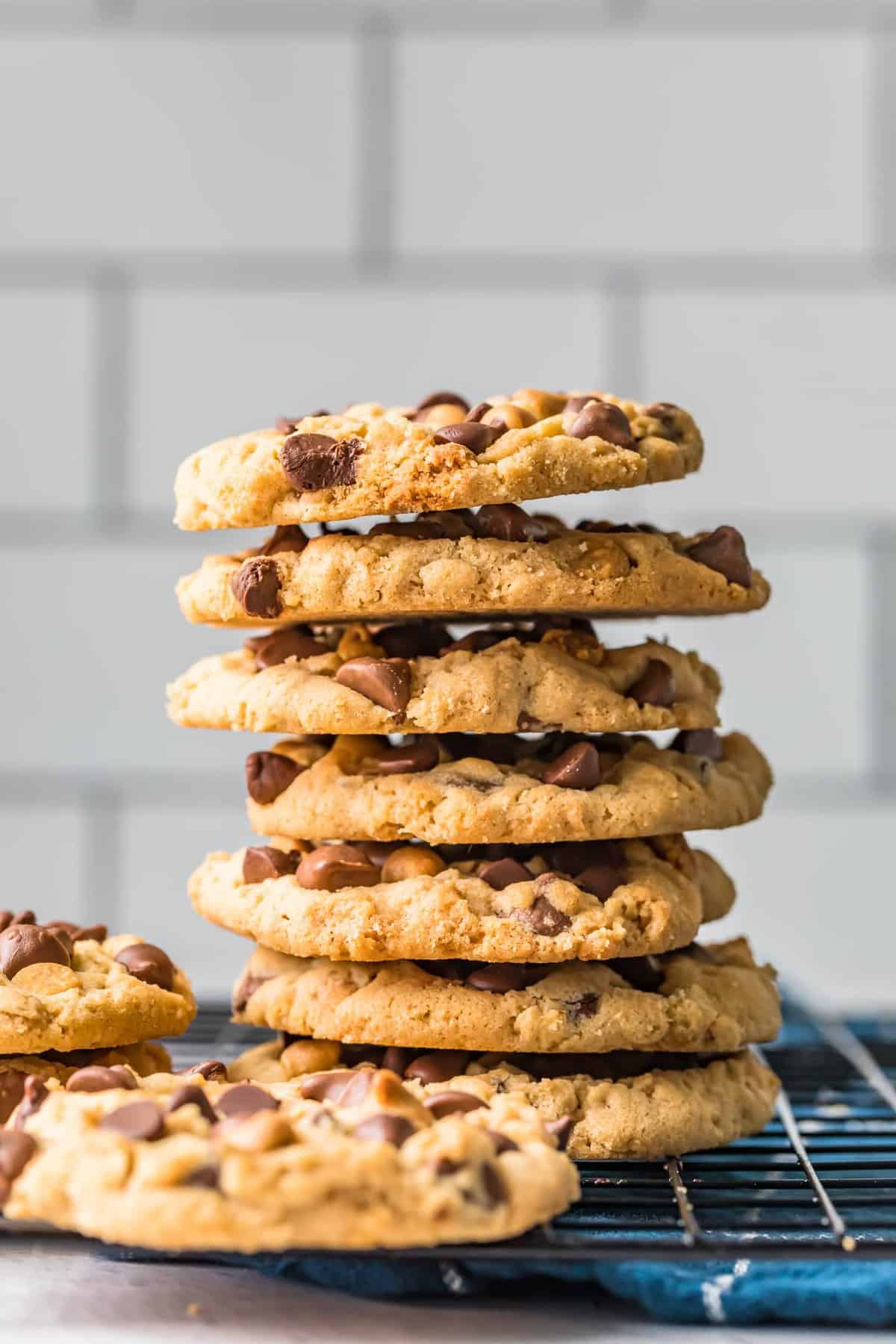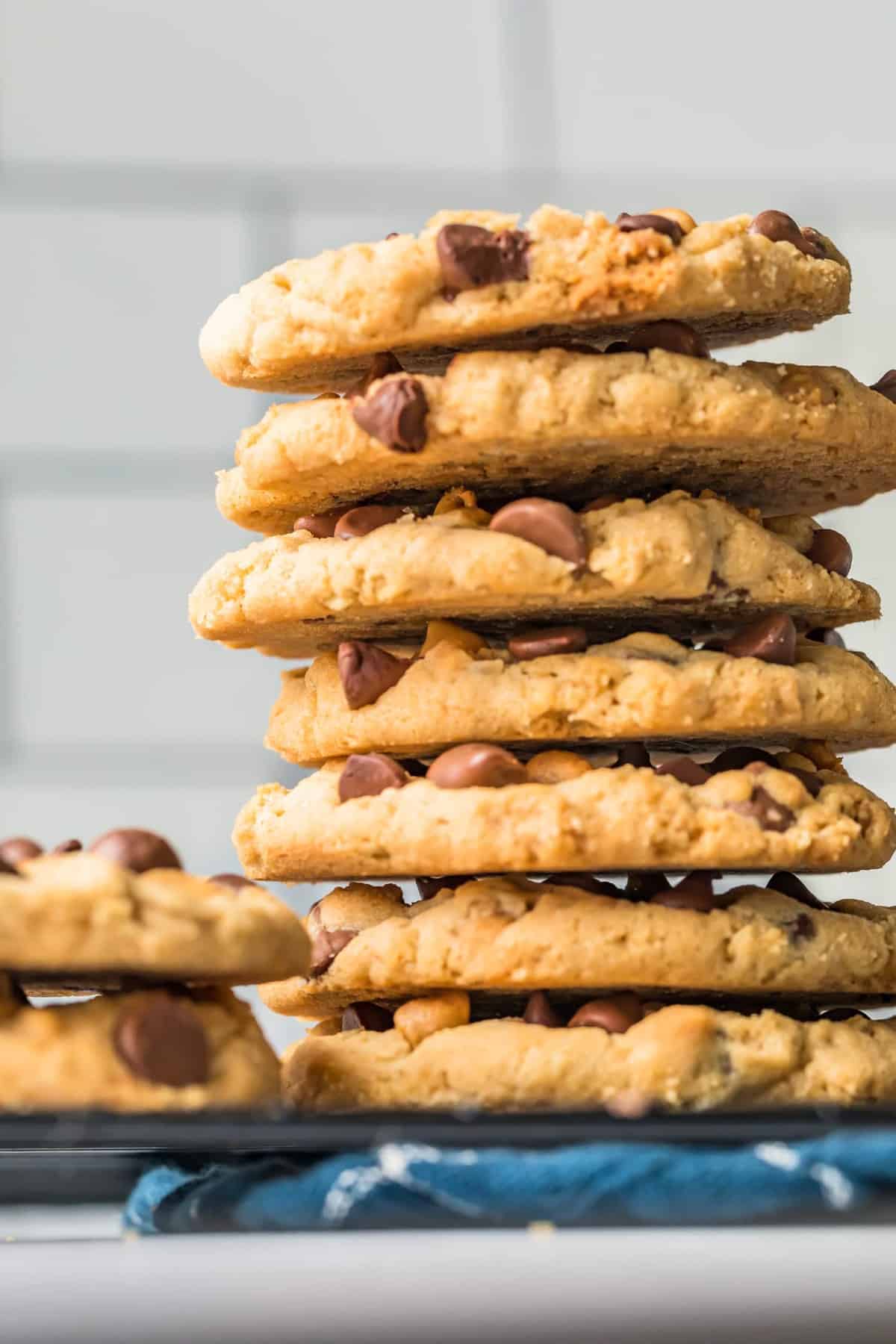 How do you store these giant cookies?
These cookies will keep in an airtight container up to 3 days (if they last that long!) You can also freeze the cookies and they will last up to 6 months. Place the cookies in a double layer of zip-lock style, gallon-size bags and remove the air, defrost them at room temperature.
Top Tips to Make Giant cookies
Bake the cookies in a pre-heated oven for the best results.
If you don't have a stand mixer, you can mix the dough by hand in a large bowl.
Let the cookies cool on a rack before serving.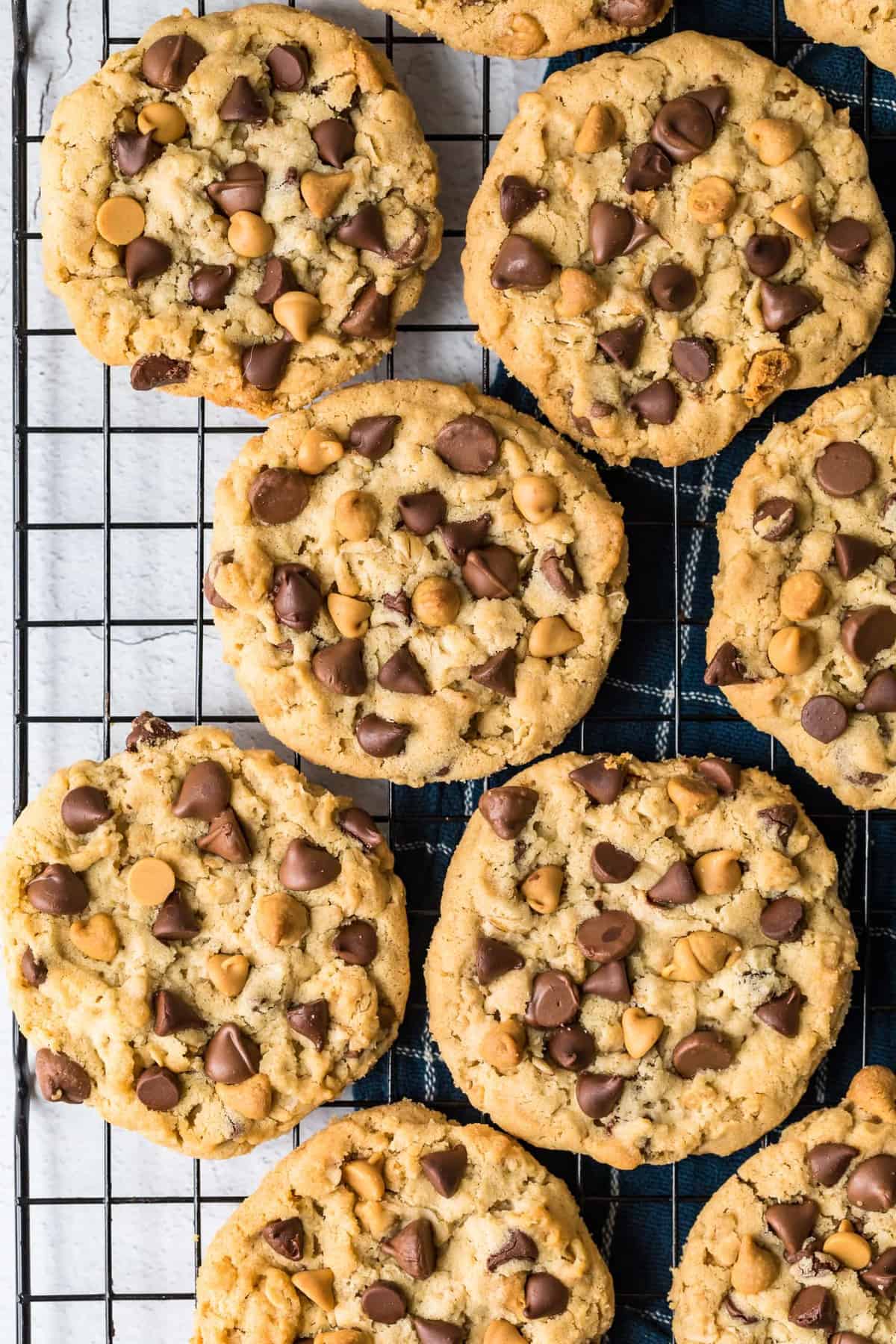 Be sure to check out these other delicious cookie recipes!