This Homemade Pie Crust recipe is so much easier than you'd think! Making pies from scratch adds an extra-special touch, and the crust is usually the hardest part. Not anymore! I'm showing you how to make pie crust so you can make the perfect pie every time!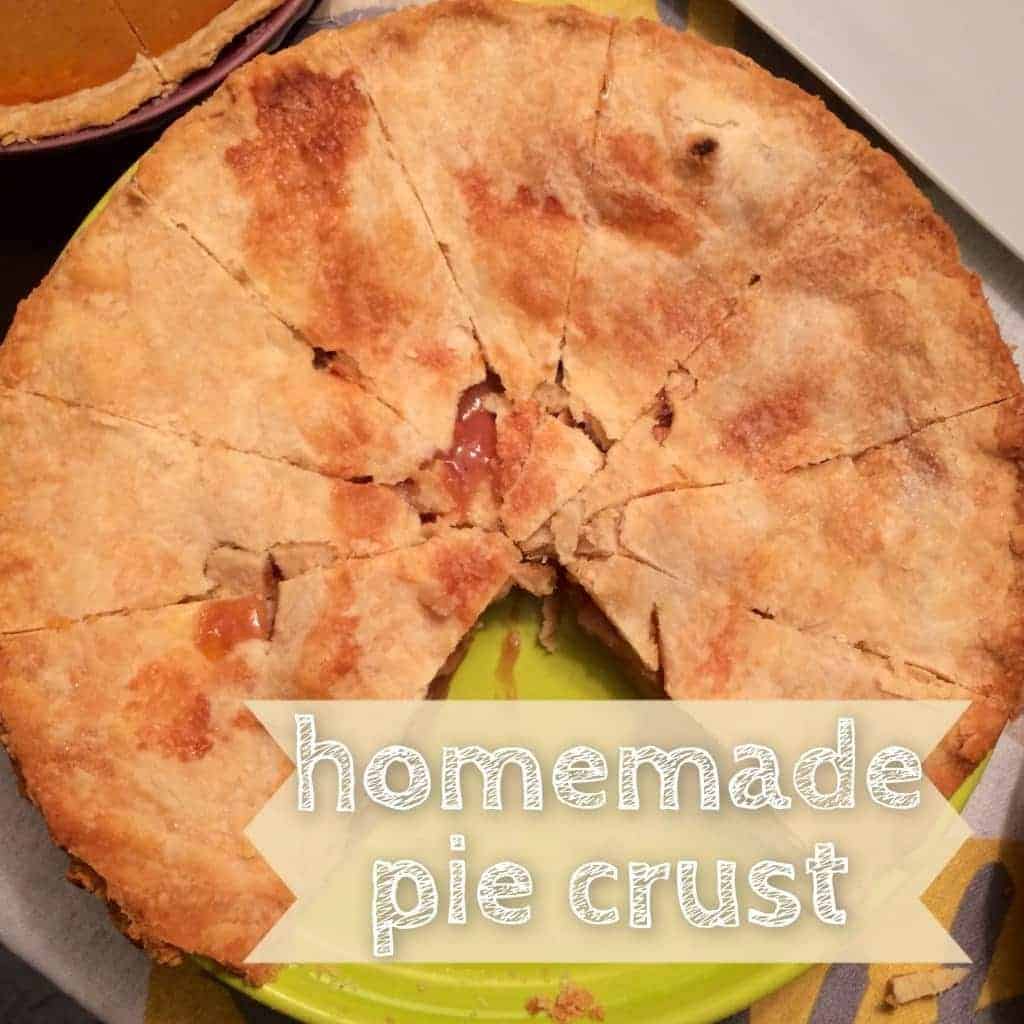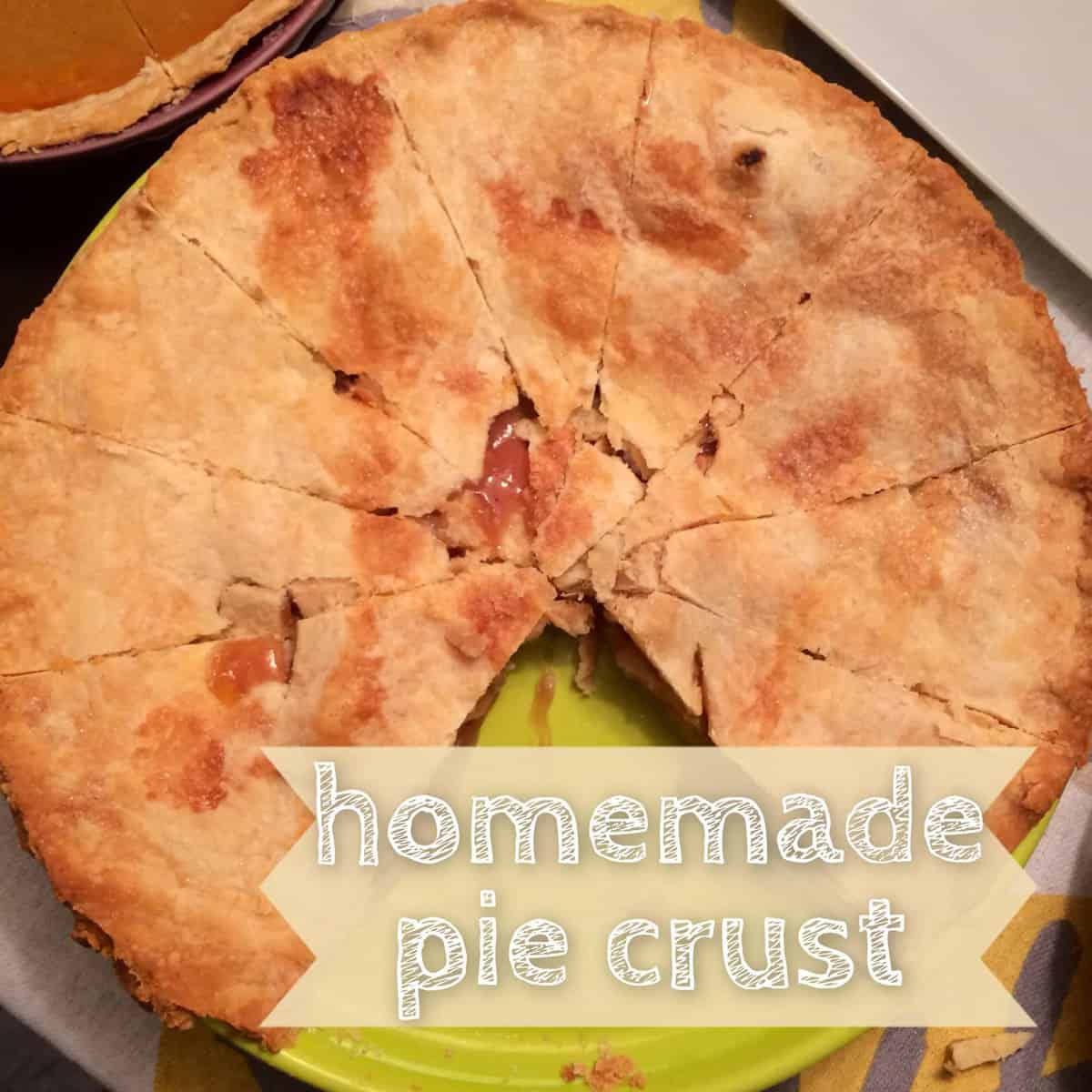 Homemade Pie Crust
Homemade Pie Crust is easy enough for anyone to make…even me! Learn how to make pie crust so you can make all your pies from scratch!
I love pies. I love them for any occasion, all year round. I love pumpkin pie, apple pie, chocolate pie… absolutely any kind of pie. I'm not picky here! To me, it's one of the best desserts!
Making pies always intimidated me, mostly because of the crust. I could throw together some kind of filling, but I'd always use a pre-made crust instead of making my own. How are you supposed to make a homemade pie crust?!
It seems complicated, and I always heard stories about soggy, tough crusts, but I'm lucky enough to have a family that knows how to bake. And they've shared this pie crust recipe with me, along with lots of tips to make sure I get it right.
Now I can pass it on to you! I'm going to be making all the Thanksgiving pies, now that I can make a pie crust from scratch. I'm pretty impressed with myself.
Learn how to make pie crust with this easy, Homemade Pie Crust recipe. It's the best way to start those holiday pies!
Why you'll love this Homemade Pie Crust Recipe:
Know what's in it: Knowing the ingredients in your pie crust helps you avoid additives and control the flavor elements.
Be proud of yourself: If you're going to go to the trouble of making a homemade pie, do it up right by also making a homemade crust!
It tastes so much better: Crust is crust, right? Not so fast–a homemade crust has real flavor to enjoy!
Homemade Pie Crust Ingredients
We keep it really simple with this recipe. You don't need much to make a good crust! All you need is:
Flour
Shortening (I prefer Crisco)
Salt
Cold water (it's important to use COLD water)
Kitchen tools you'll need for this recipe:
Handheld dough blender (also called a pastry cutter)
Dry measuring cups
Pie pan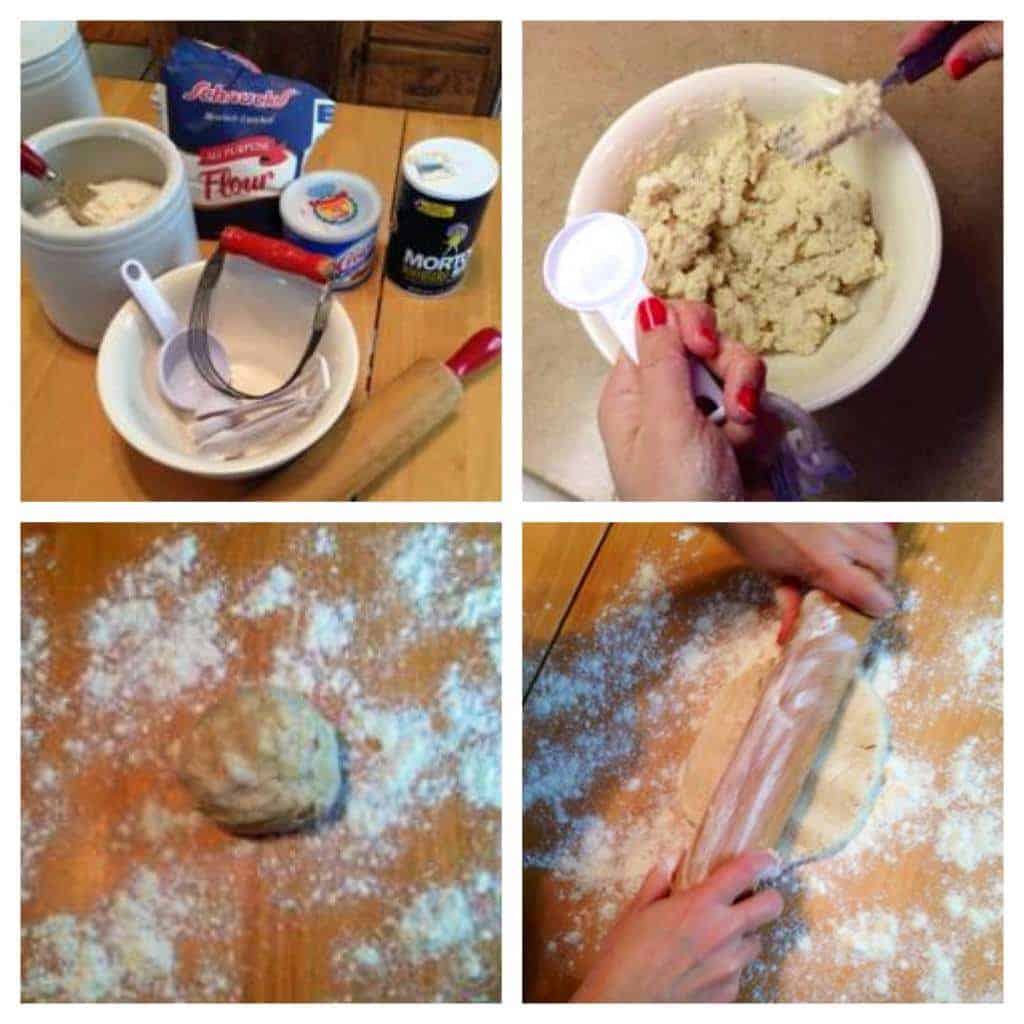 How to Make Pie Crust
Be sure to see the recipe card below for full ingredients & instructions!
Here's the step-by-step process with some pictures thrown in to help illustrate.
Mix flour and salt together thoroughly and then mix in the shortening. Sprinkle 1 tablespoon of ice-cold water and gently toss with a fork. Repeat until the whole flour mixture is moist. (It usually takes me 7-8 tablespoons of ice-cold water for a double crust pie recipe).
Now comes the fun part: Get your hands in there and form the dough into a ball.
Sprinkle flour on the counter. Roll out the dough, starting from the center and working your way out to the edges.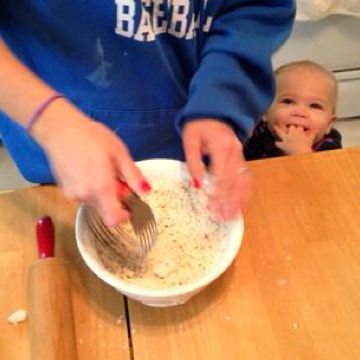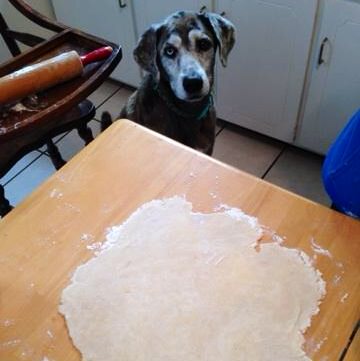 Continue to roll from the center outward until it is large enough to fit into the pie pan. *See the tips below for specifics.
Press dough slightly in the corners of the plate, and cut off extra dough from the edges with a knife.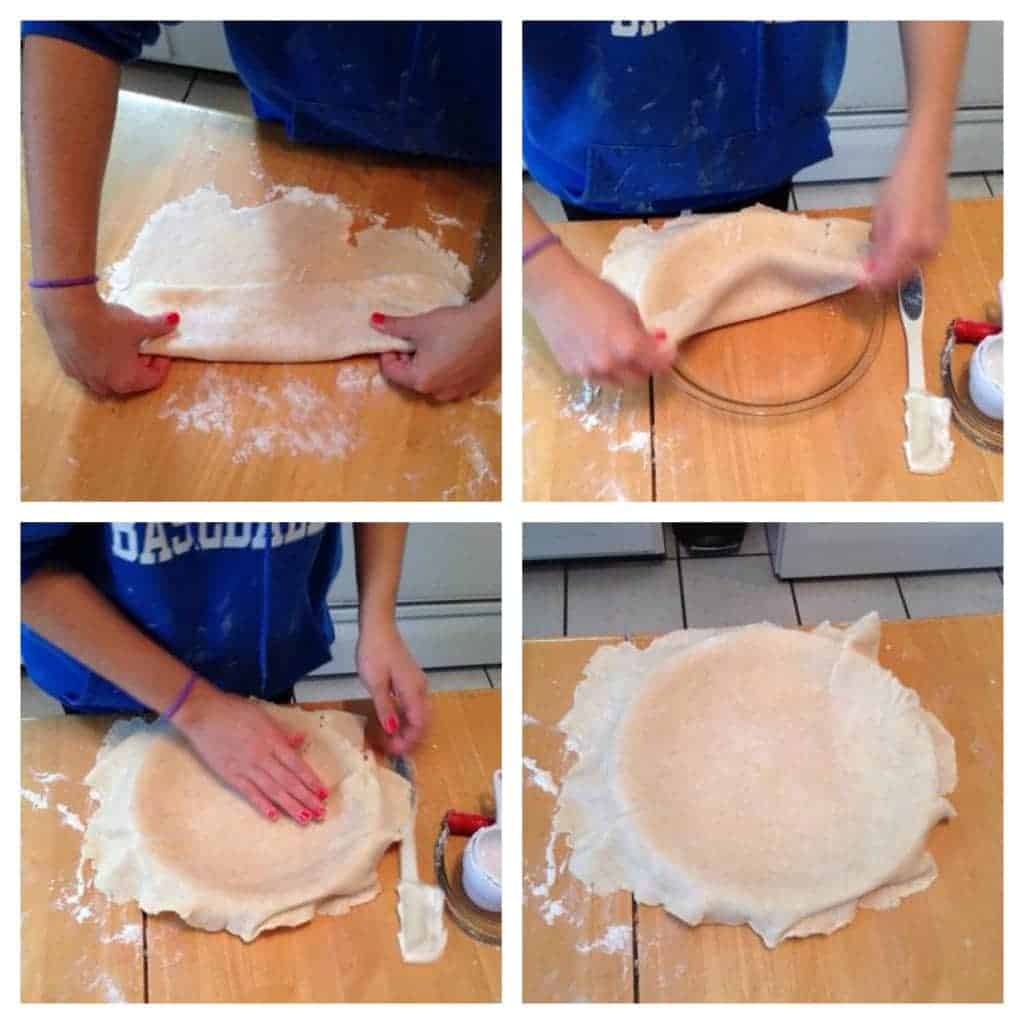 For aesthetics and texture, I press my two thumbs together around the edges to make little ridges.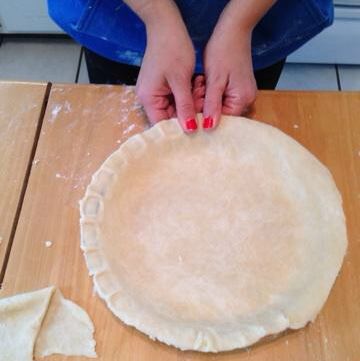 How to Make a Double Pie Crust
Roll up the 1/3 remainder of the dough, and repeat the steps of rolling out the dough starting with putting flour on the counter.

Placed the rolled dough on top of the filling, and then press down the two crust edges together, making ridges with your thumbs.

Dip a fork or a pastry bush into milk and dab it on the top layer of the crust a few times. Sprinkle sugar or cinnamon-sugar on top of the milk. (This will give it a brown look once it is baked and make it look very warm.)
Cut a few vent holes and your pie ready to bake!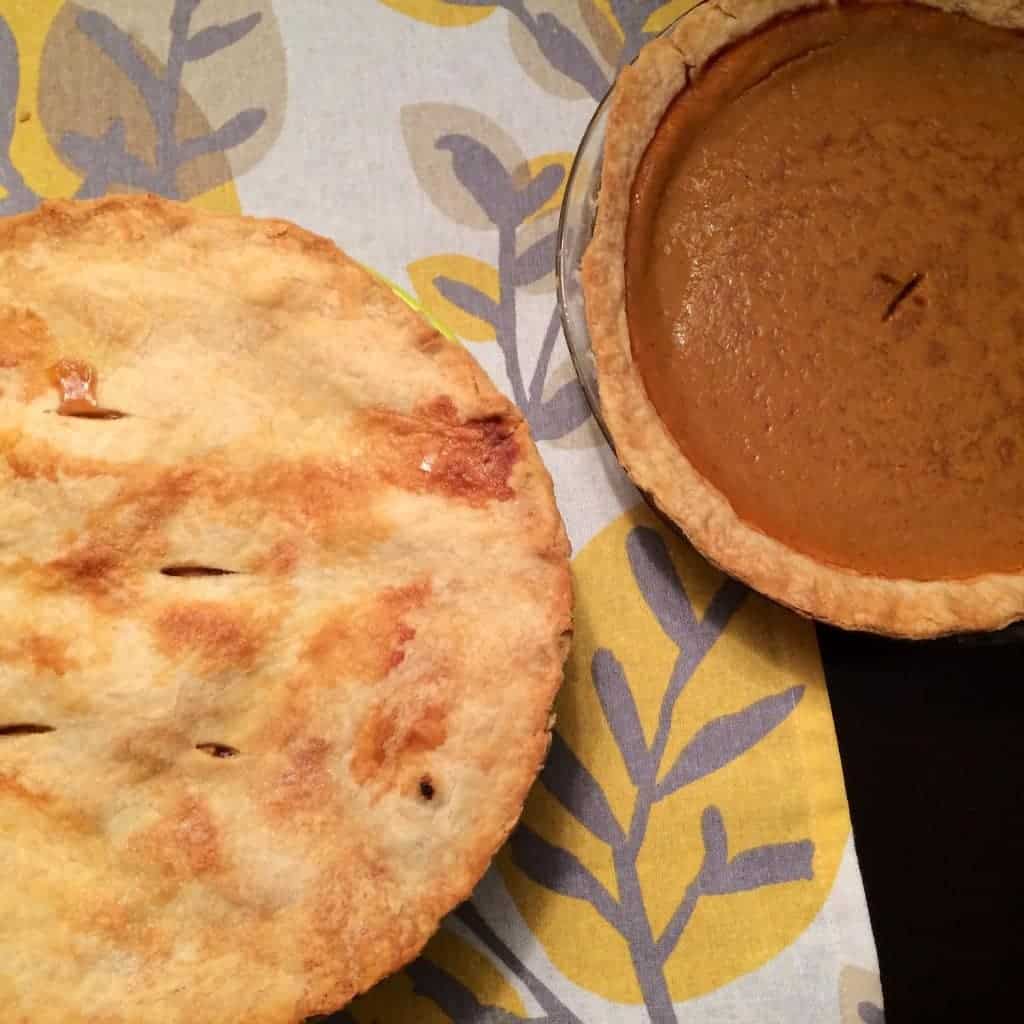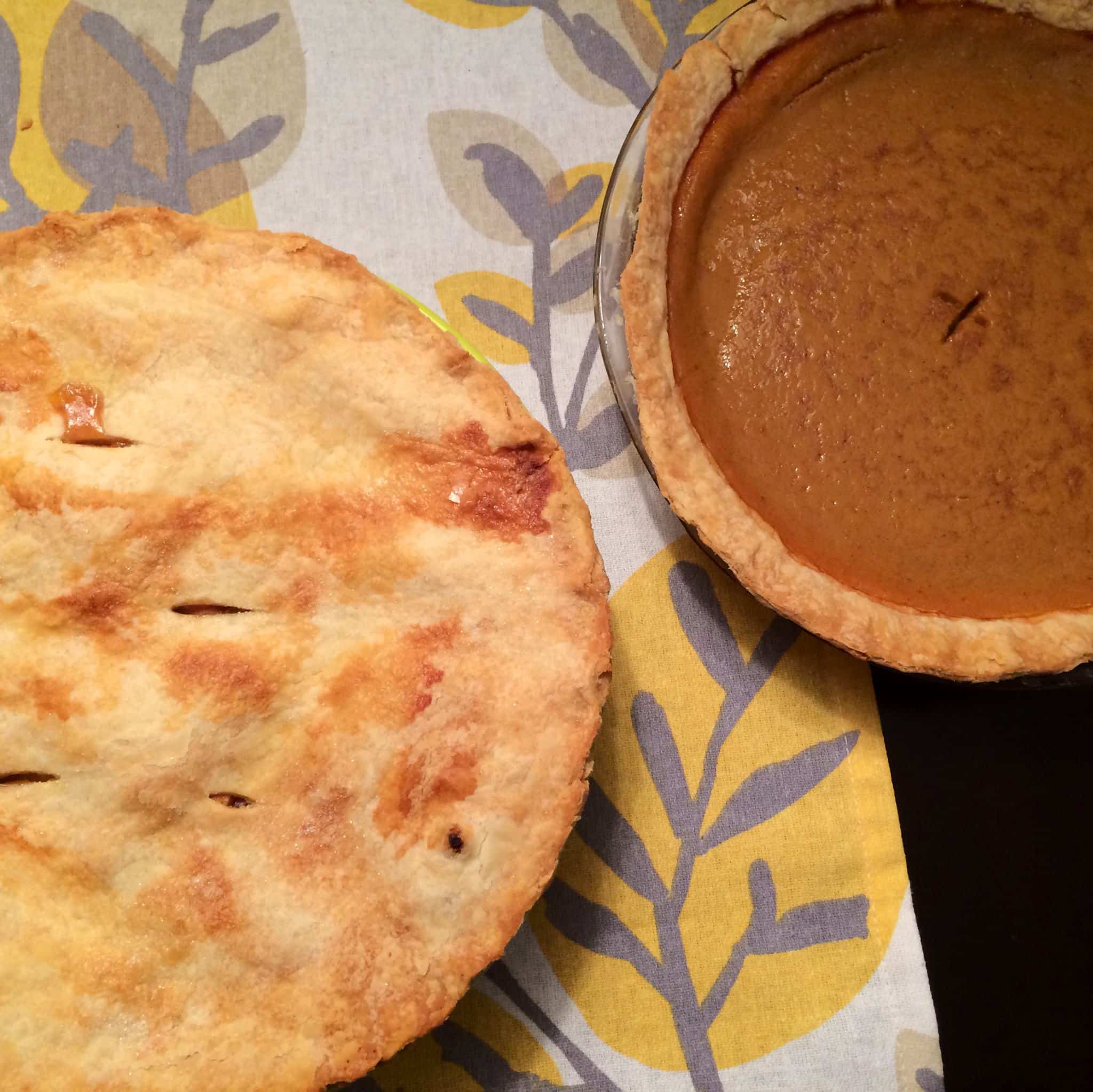 Homemade Pie Crust Recipe – Top Tips
Here are a few quick tips to help you make the best Homemade Pie Crust. They include a few things I've learned along the way, and a few things that have been passed down from those who know better than I do.
Don't skimp when it comes to mixing in the shortening, or else it will be harder to roll out the dough. I use a handheld dough blender to really get in there and mix well. The shortening should be in very tiny pieces (pea size or smaller) by the time you're done mixing.
Use ice-cold water for this recipe–no warm water. Warm water can melt the fat (shortening), which will leave you with a not-so-flaky crust. We want flaky pie crust!
Place flour on a clean counter to create a dough-friendly workspace when rolling out the dough. I also put a bit of flour on my rolling pin, and a bit on top of the dough.
Start rolling at the center, and work your way out to the edges.
When the dough reaches about half the size you want, flip it over and then continue rolling. I do this to make sure it doesn't get stuck to the counter by the time I'm done.
I just press my thumbs around the edges of the pie crust as an easy way to "crimp" it. You could also press a fork into the dough, or pinch the dough.
I use milk and cinnamon sugar to coat the top of my double pie crust. It gives it a nice browned look. You could also use an egg wash (egg + water).
Should I Prebake the Pie Crust?
The answer depends on what kind of pie you're making! My rule of thumb is this:
If your pie filling is not cooked, don't prebake the crust. Just fill it and bake the entire pie according to the recipe.
If your pie filling doesn't need much cooking time, then you should prebake the crust. In that case, bake the pie crust for 10 minutes at 450°F, fill it, and continue with baking according to the recipe.
Basically, if your pie isn't going to be in the oven long, you'll need to bake the crust first so it is fully cooked. But if your pie recipe calls for a longer baking time, don't bother with prebaking! Prebaking also creates a crisper crust surface, which helps keep custard-type fillings from soaking into the crust.
How do I Keep the Dough from Sticking as I Roll It?
The secret to keeping the dough from sticking is the flour. Dust the surface, dust the rolling pin, dust your hands, and dust the dough with flour as you proceed through the steps.
Flour keeps the dough from sticking. Just make sure, though, not to overdo it. Too much flour can make you end up with a biscuit instead of a pie crust!
How Do I Keep the Crust from Burning?
If the crust is browning before the rest of the pie is done, you can use a commercial crust protector. Its a metal cover that leaves the center of the pie exposed, so it can continue to bake.
You can also tent the outside edges of the pie with foil to accomplish the same thing.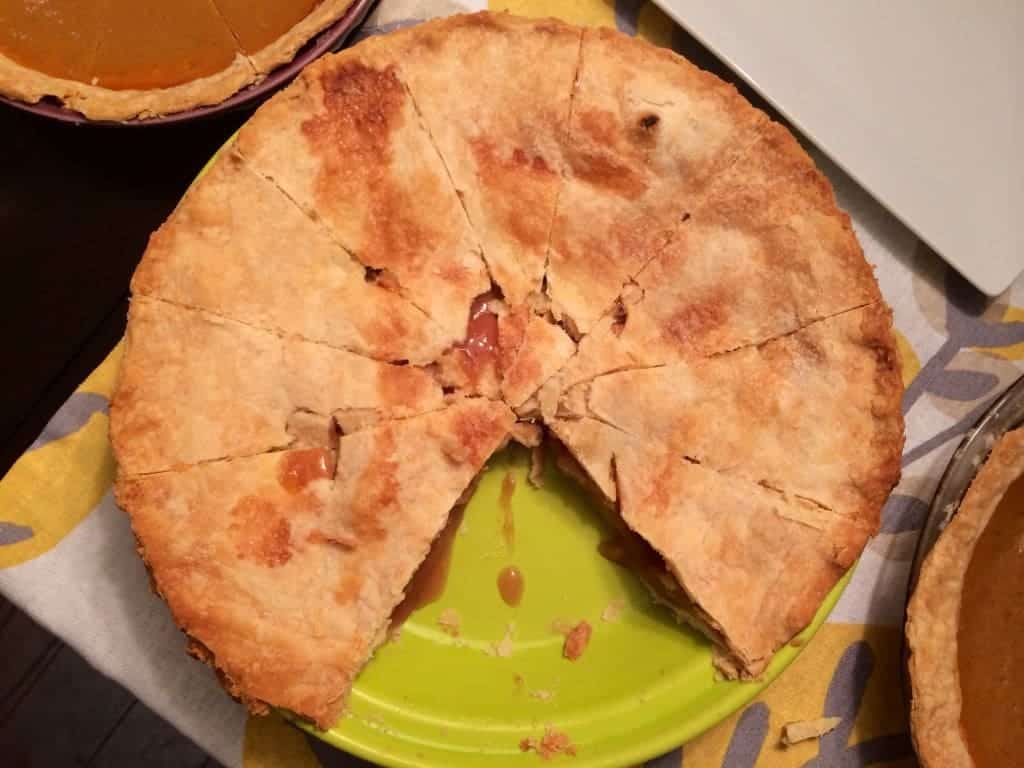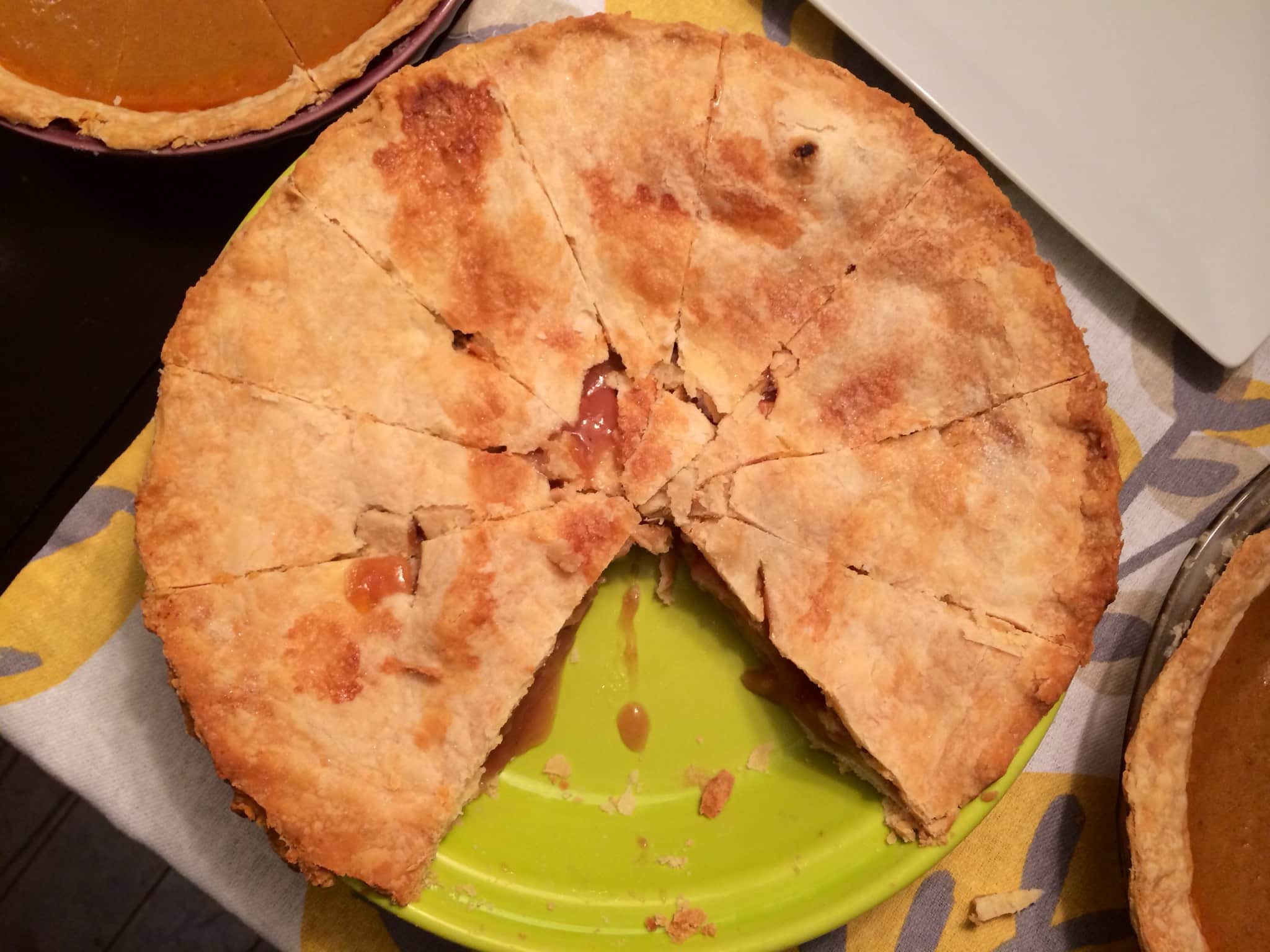 Once you master this Homemade Pie Crust recipe, you'll be making pies left and right! You'll use any excuse to bake a fresh pie because it's so easy now, and when people find out you made the crust from scratch, they're mighty impressed.
Here are some of our favorite pie recipes. You can use this Homemade Pie Crust as a base: