This easy homemade pie crust recipe will take any pie up a notch or two! Learn how to make pie crust from scratch and see how simple it is. You'll love this flaky, tender crust, and you can use it with any recipe you like.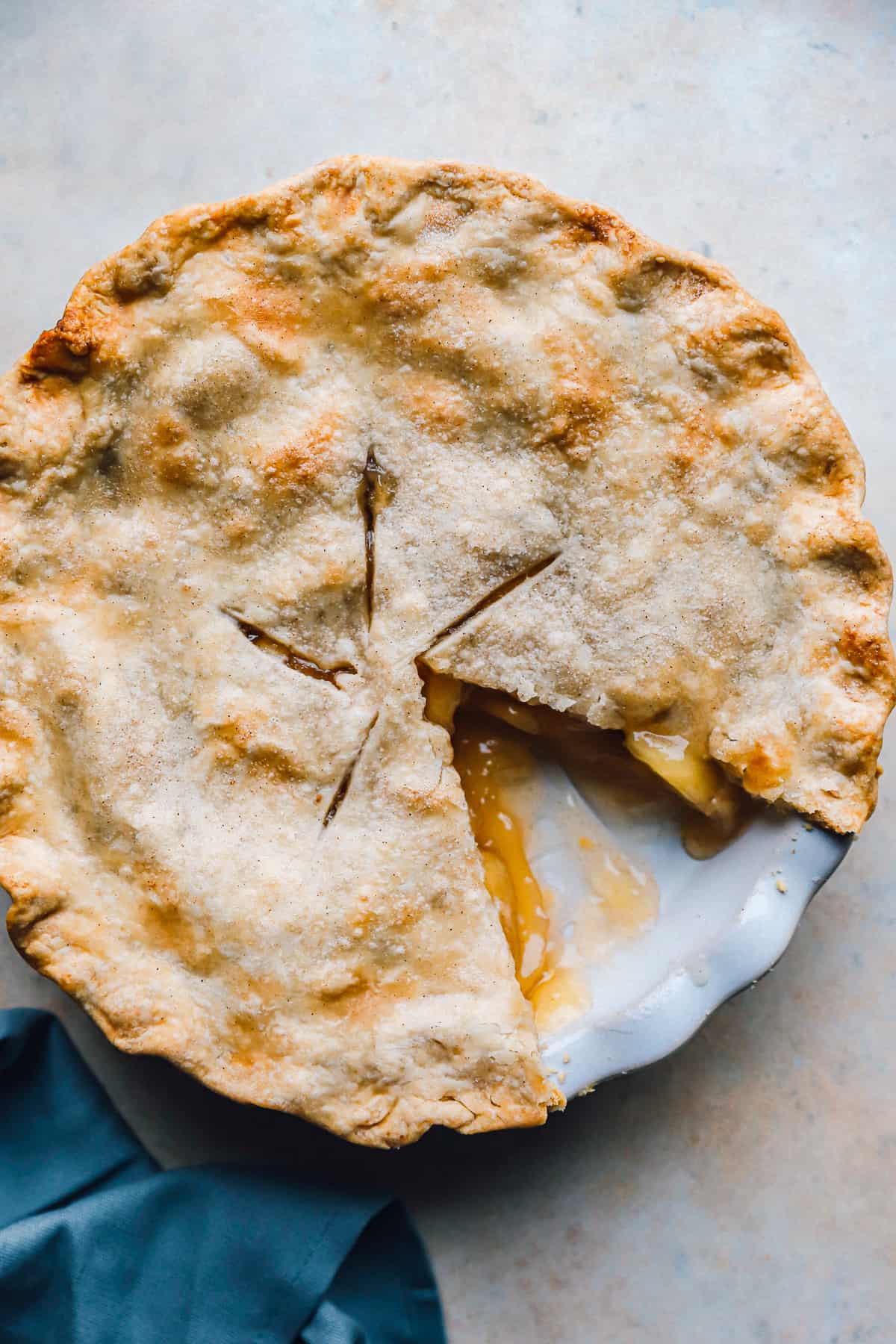 How to Make Pie Crust
This homemade pie crust will make you feel like a professional baker right at home! Don't let dessert-time intimidate you, you've got it covered. Bake up any pie you love with the freshset crust to make it perfect.
Once you learn how to make a pie crust from scratch, you'll wonder why you didn't do it sooner. Use this to start off your favorite pumpkin pie, apple pie, or any pie really. You can even make a double crust with this recipe.
Why you'll love this Homemade Pie Crust Recipe:
From Scratch: This recipe is made completely from scratch, for the freshest and most delicious crust you'll ever taste.
Easy: Don't let that scare you though–this is actually quite easy to make! Once you make one, you'll be making your own crust for every pie you bake.
Flaky: The texture is perfectly flaky and tender, not dense or chewy. It's great for any filling you choose!
All you really need for a great pie crust is 3 simple ingredients: flour, fat, and water (the addition of salt here creates a better flavor). What could be simpler than that?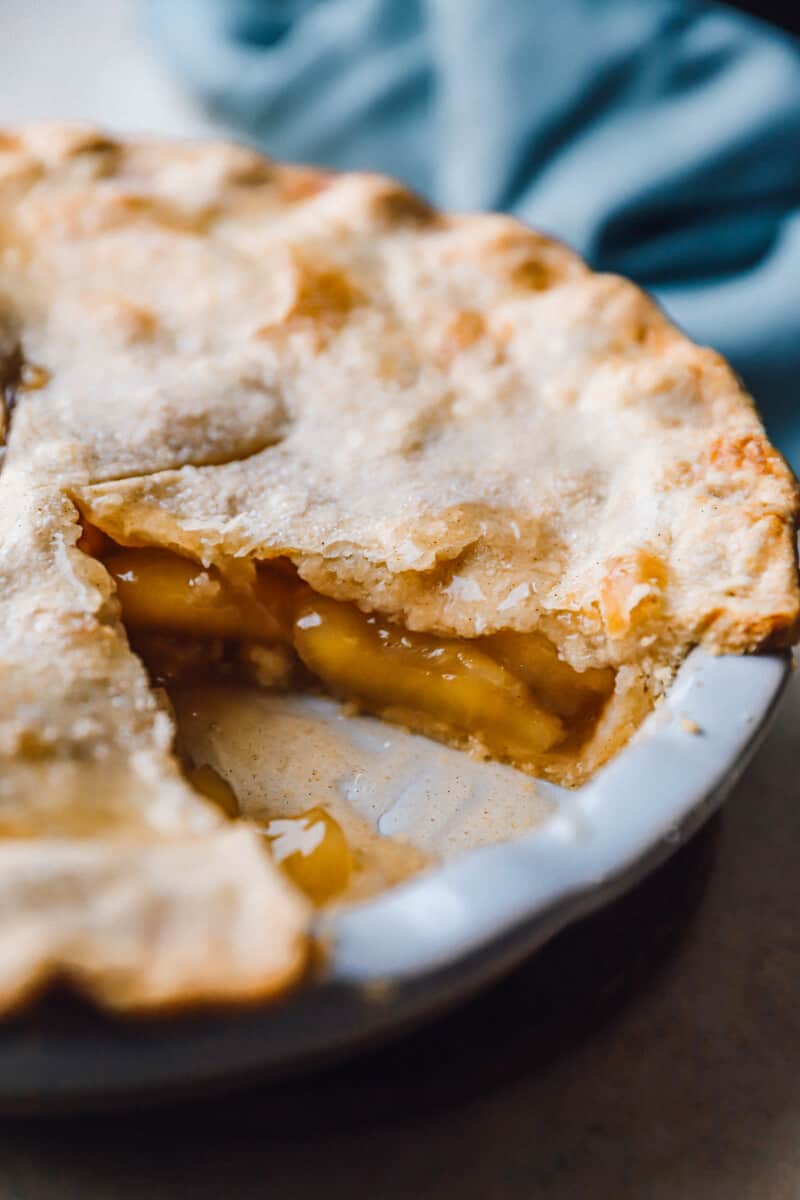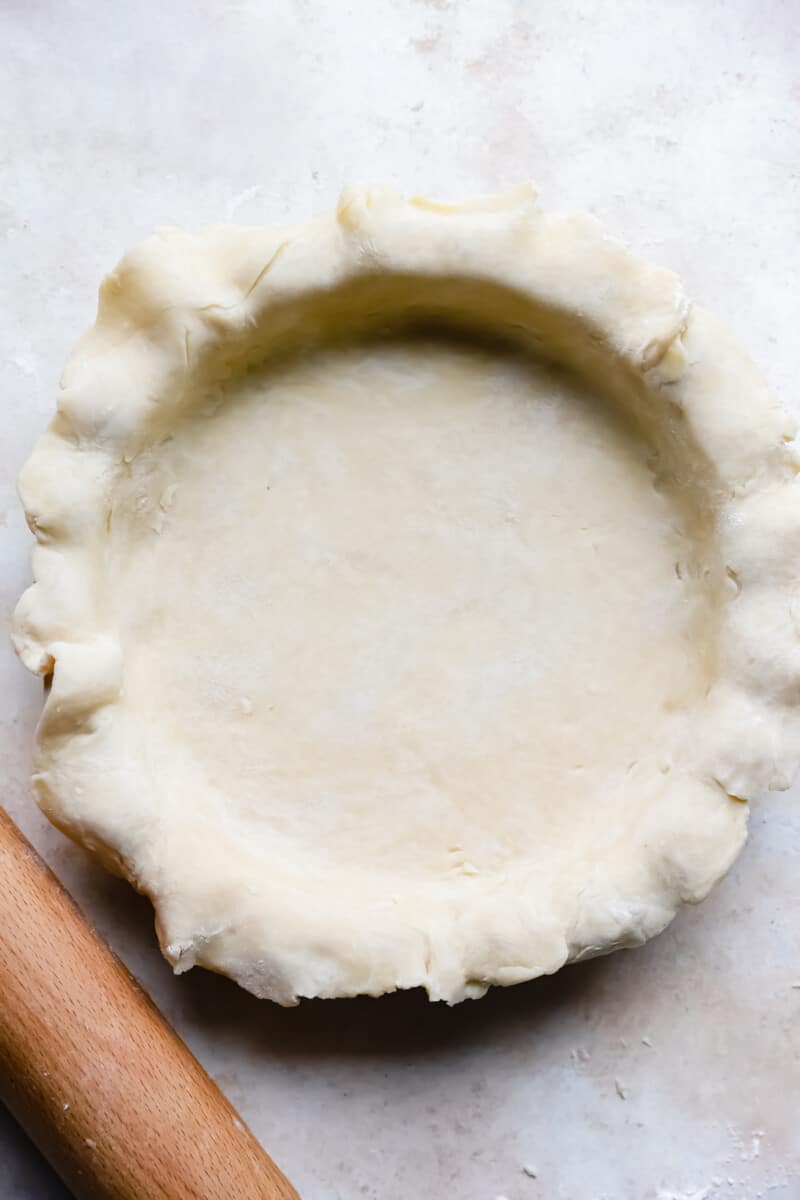 How to Make Pie Crust from Scratch
You can jump to the recipe card for full ingredients & instructions!
Mix the flour and salt, then add in the shortening. Use a small amount of water to moisten the mixture.
Form the dough into a ball, then roll it out until it's large enough to cover the pie plate.
Center the dough in the pie plate, trim off extra, and finish the edges as you please (a simple crimp is easy to do).
After that, all you have to do is fill and bake the crust according to instructions for your favorite pie recipe!
Pie Crust Ingredients
Flour: Use all-purpose flour for this recipe.
Shortening: I prefer shortening for my pie crust because it has a higher melting point than butter, which means it's going to cook more evenly as it bakes, and it's easier to roll out. It makes a really tender, moist, but still flaky crust, and it helps the crust to hold its shape.
Water: Your water should be ice cold, not lukewarm. If it's too warm, it'll melt the shortening as you're bringing the dough together.
Salt: Just a little bit for flavor.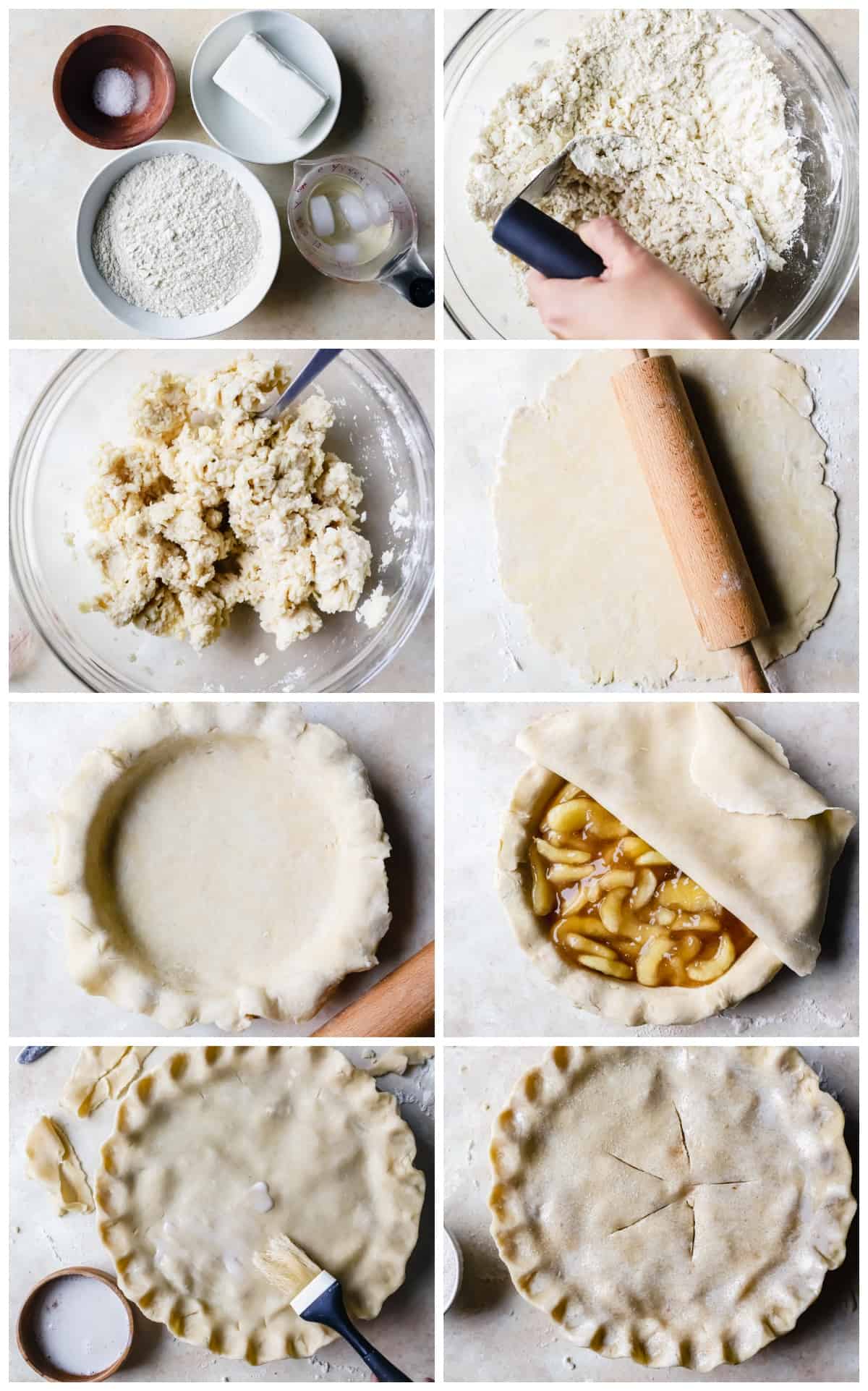 Should I pre-bake the pie crust?
The answer depends on what kind of pie you're making. Just fill it and bake the entire pie according to the recipe you're following. A general rule of thumb: If you're using a filling that doesn't need to be baked (or doesn't need to be baked long), you'll bake the crust before filling it. Otherwise bake it after filling.
How do I keep the dough from sticking as I roll it out?
The secret to keeping the dough from sticking is the flour. Dust the surface, dust the rolling pin, dust your hands, and dust the dough with flour as you proceed through the steps. Flour keeps the dough from sticking, but make sure not to overdo it, or it'll get too dry.
What's the best thickness for pie crust?
Roll out the dough to about 1/8 inch thickness. This makes it thick enough to hold up the filling, but not so thick that it overtakes every bite of pie.
Should pie crust be chilled before baking?
For best results, chill the pie crust dough before baking. So once the dough is made and shaped, keep it in the fridge. This will prevent the shortening from melting too quickly while baking.
Be sure to use this homemade pie crust recipe to start off all your Thanksgiving pies! It'll really take them up a notch to create the best flavor and texture. That little extra step will surely impress guests or anyone who tries it. And if you are looking for a gluten-free pie crust recipe, I recommend the one from Mamaknowsglutenfree.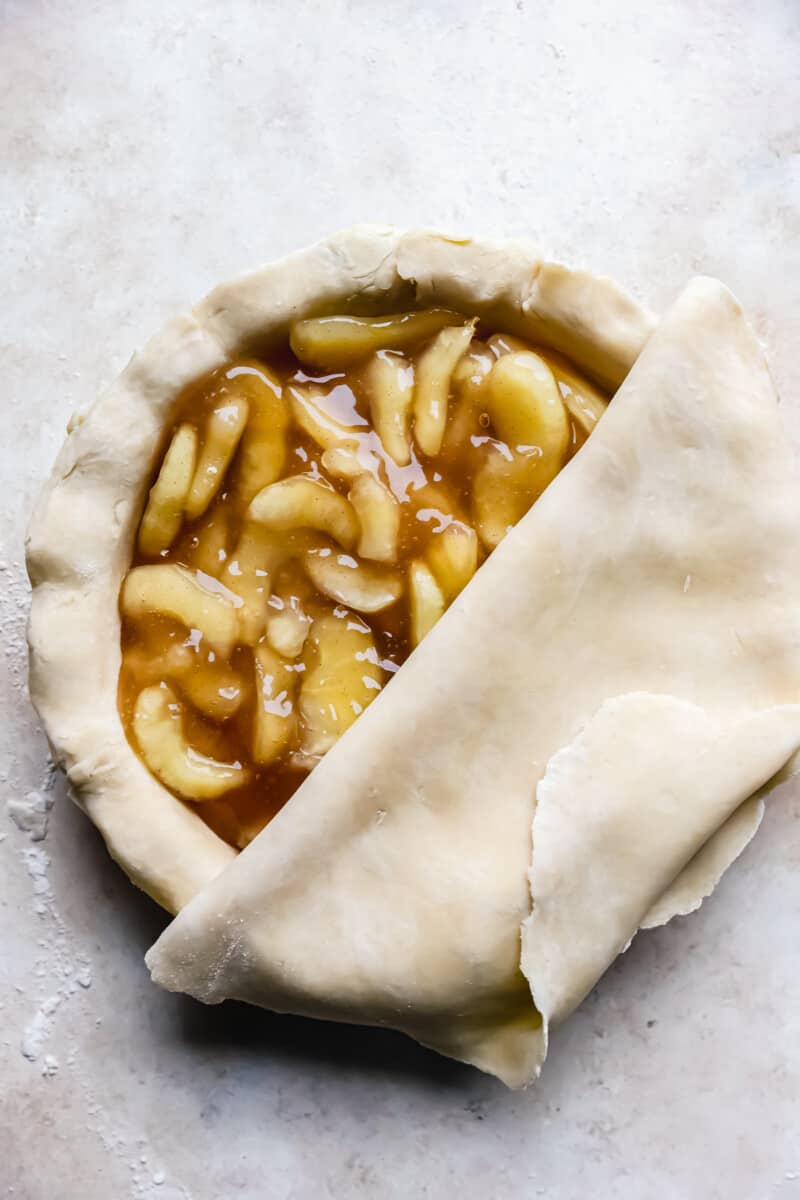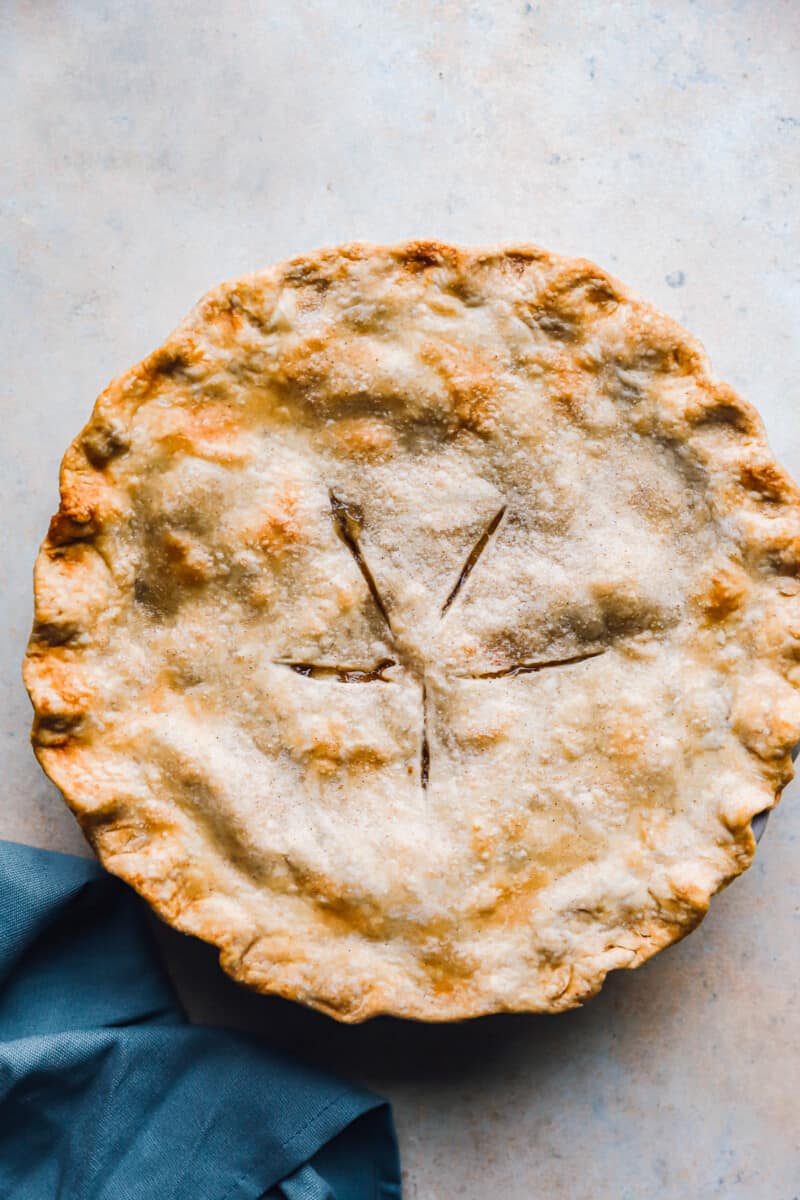 Make Ahead Instructions
You can make the dough, roll it into a disc covered in plastic wrap, and keep it in the refrigerator for up to 3 days. Then roll it out, shape it into the pie plate, and finish your pie recipe.
Freezing Instructions
If you want to make the pie crust further in advance, follow the same instructions above (make it, shape it, wrap it tightly), and store in the freezer up to 3 months.
When ready to use it, thaw it in the refrigerator overnight.
Double Pie Crust Instructions
If you want to make a double pie crust, just increase the ingredient amounts slightly (as shown in the recipe card). You'll set aside about ⅓ of the dough for the top.
When you're ready to place it, cover the pie filling and press down around the edges to seal.
Be sure to cut vents in the top to let air out, so the filling doesn't ooze out as it bakes.
I like to brush the top with milk, an egg wash, or cinnamon sugar to finish it off.
Tips to Make the Perfect Pie Crust
Don't skimp when it comes to mixing in the shortening, or else it will be harder to roll out the dough. I use a handheld dough blender to really get in there and mix well. The shortening should be in very tiny pieces (pea size or smaller) by the time you're done mixing.

Place flour on a clean counter to create a dough-friendly workspace when rolling out the dough. I also put a bit of flour on my rolling pin, and a bit on top of the dough.

To finish to edges: press your thumbs around the edges of the pie crust as an easy way to "crimp" it. You could also press a fork into the dough, or pinch the dough between your fingers.

I use milk and cinnamon sugar to coat the top of my double pie crust. It gives it a nice browned look. You could also use an egg wash (egg + water).

Ingredients and dough should be kept cold/chilled through this whole process. If things start getting warm, put it in the fridge to chill before continuing.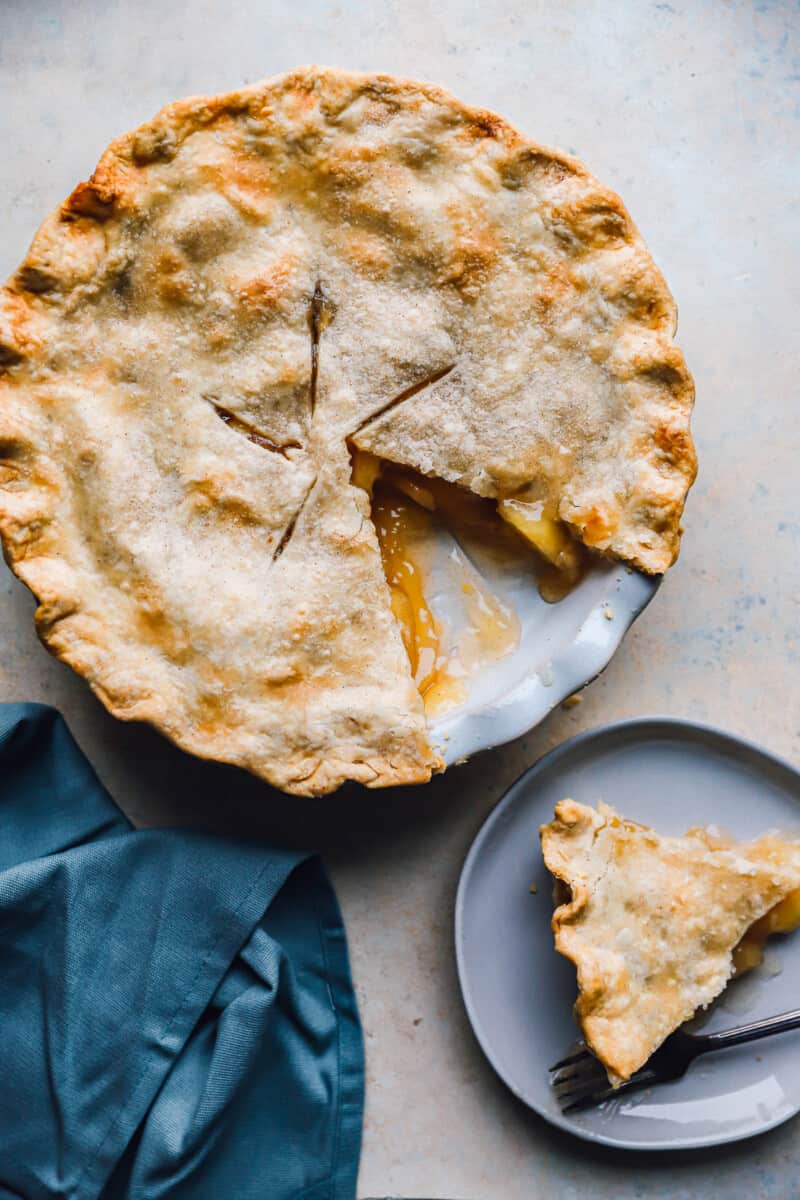 Nothing could be easier than making this homemade pie crust, and you'll notice the difference it makes to your favorite dessert. It's flaky, tender, and oh so delicious!
If you make this recipe be sure to upload a photo in the comment section below or leave a rating. Enjoy!