This Korean Beef Bulgogi recipe features strips of tender, marinated steak that are briefly cooked, then served with a flavor-packed sauce in a bowl of rice, green onions, and sesame seeds. Once the beef has marinated, it only takes about 5 minutes to cook. This authentic dish couldn't be easier to make!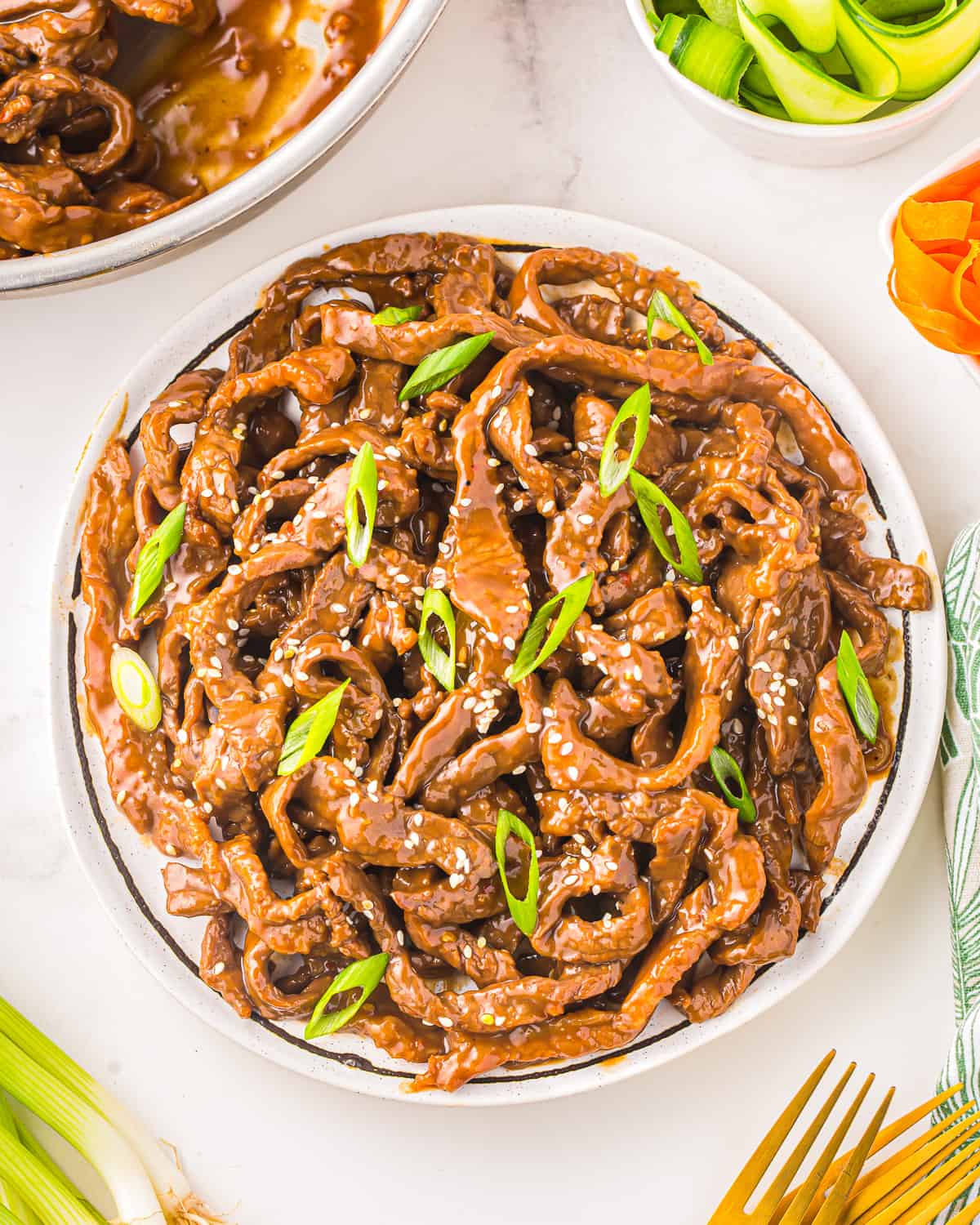 What's in this Korean Bulgogi Recipe?
Thin-cut slices of steak are marinated in a sweet and savory sauce, then cooked to perfection for an authentic Korean BBQ taste.
Steak: I used thin-cut beef bottom round steak, but you can use flank steak or eye round if you prefer.
Soy Sauce: Adds a salty umami element to the dish.
Brown Sugar: Adds a touch of sweetness to the sauce and marinade.
Sesame Oil: Adds a nutty flavor.
Garlic + Ginger: Classic Asian spices that add a balanced flavor to the dish.
Red Pepper Flakes: Makes the dish a little bit spicy.
Cornstarch: Thickens the bulgogi sauce.
Sesame Seeds: Adds a bit of crunch!
Pro Tip: Cut the steak into strips against the grain for the most tender result.
Variations on Bulgogi Beef
This Korean bulgogi marinade and sauce pairs well with a wide variety of proteins, like chicken, pork, tofu, mushrooms, or seafood. Try it with thinly-sliced chicken breasts, pork belly, extra-firm tofu, shiitake mushrooms, shrimp, squid, or octopus.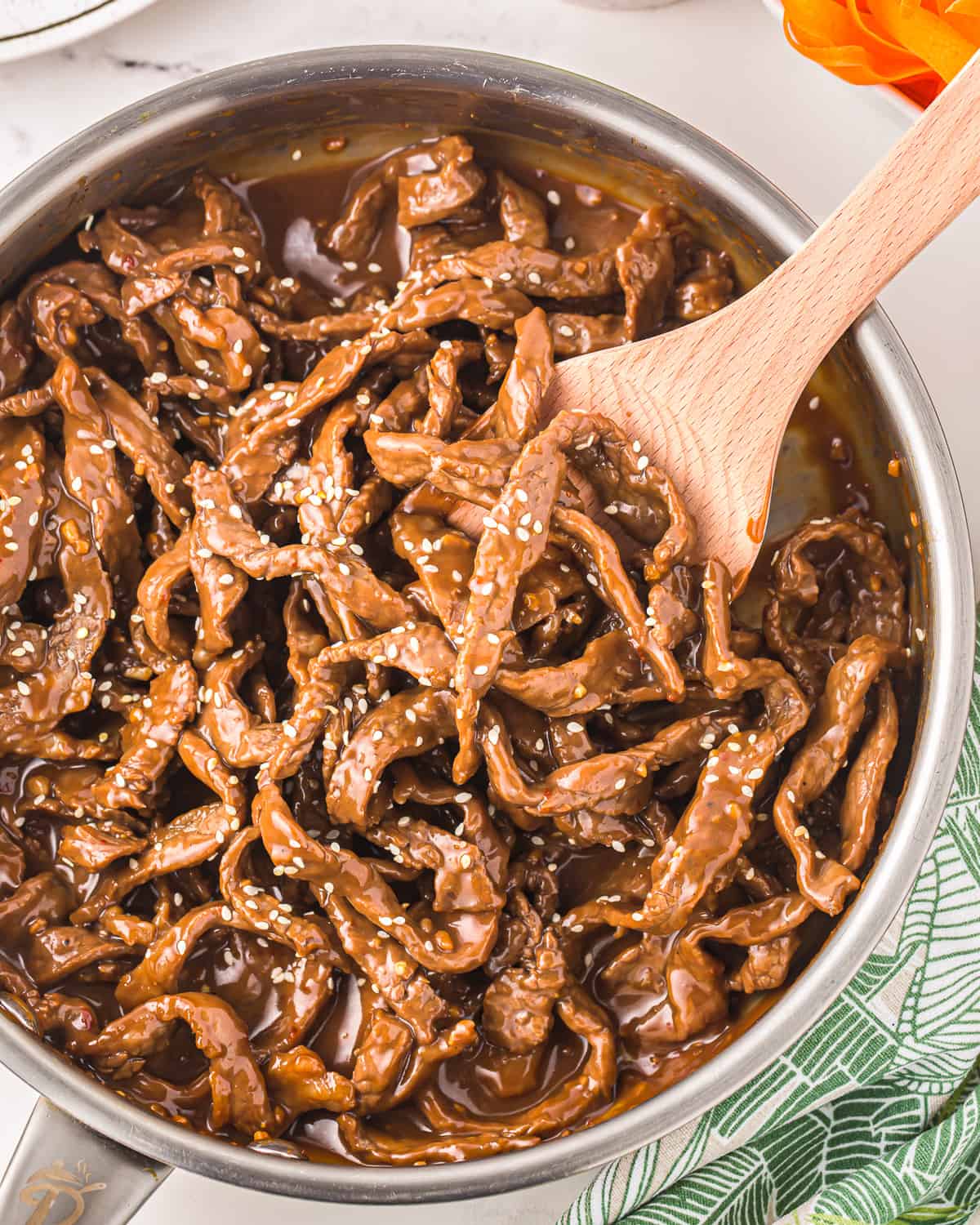 What is bulgogi?
Bulgogi is a dish made from thin marinated slices of beef, grilled on a barbecue or stir-fried on the stovetop.
Why is it called beef bulgogi?
Bulgogi is the Korean word for "fire meat". This refers to how the beef is traditionally cooked on a barbecue.
What is bulgogi supposed to taste like?
This dish should be tender, juicy, and filled with sweet and savory flavors.
Is bulgogi sauce just Korean BBQ?
The sauce used for this dish is essentially Korean BBQ sauce.
What is traditionally served with Bulgogi?
This dish is usually served with white rice or lettuce leaves, and side dishes like kimchi.
How to Store and Reheat
Store leftover beef bulgogi in an airtight container in the refrigerator for up to 4 days. Reheat in a skillet set over medium-low heat or in the microwave in 30-second increments until warmed through.
How to Freeze
Freeze Korean bulgogi in an airtight container or Ziplock bag for up to 2 months. Let thaw overnight in the refrigerator before reheating.
Serving Suggestions
Make beef bulgogi bowls by serving the cooked protein over a bowl of white rice and topping it with vegetables (like thin slices of cucumber and carrots), pickled radishes, and a fried or poached egg. You could also use this meat as a filling for lettuce wraps, tacos, or sliders (I love using Hawaiian rolls!) Add a side of our refreshing Asian cucumber salad for a complete meal.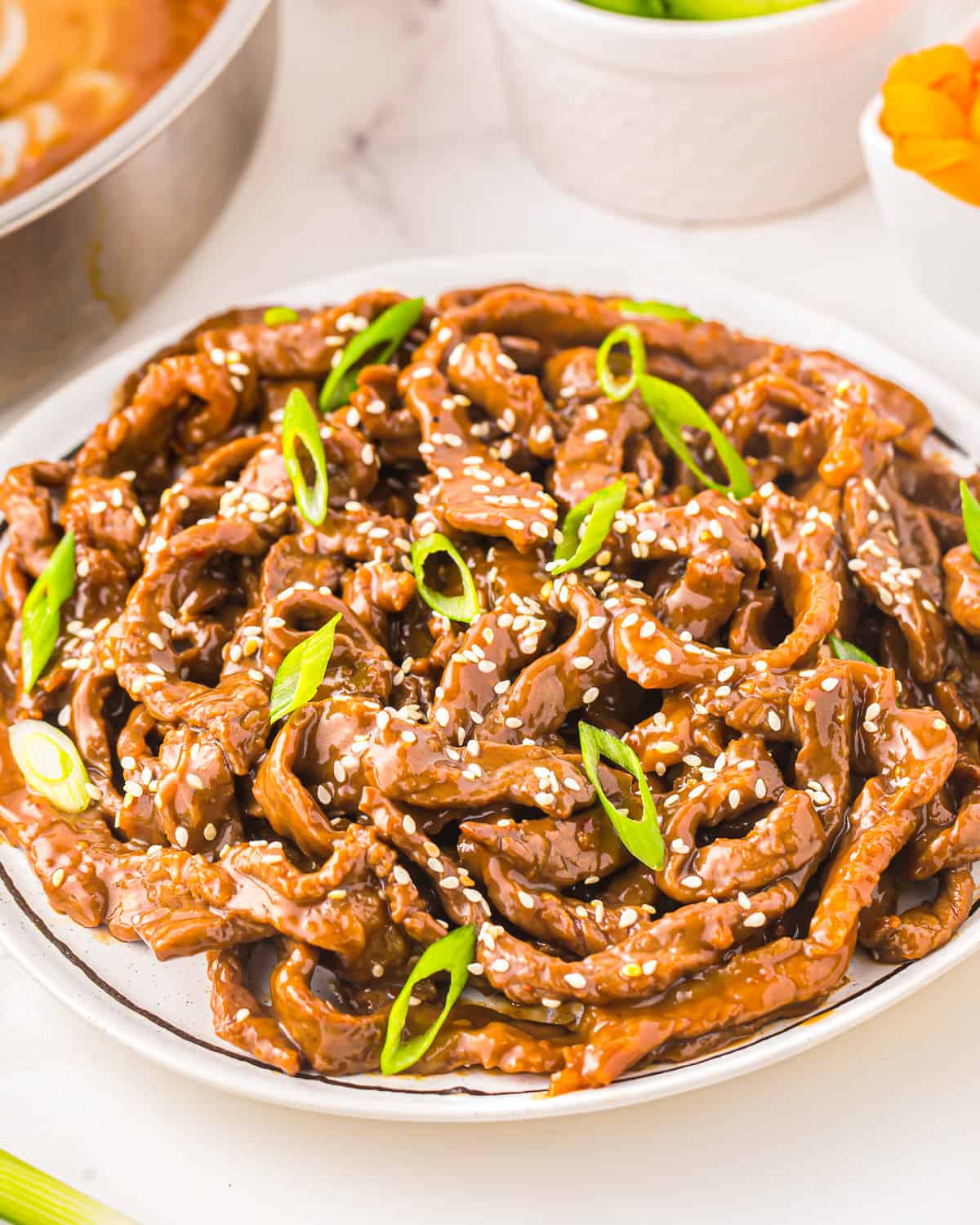 More Korean BBQ Recipes We Love