Prepare the perfect copycat version of PF Changs Lettuce Wraps with this simple, stress-free recipe. You can make these tasty appetizers with simple ingredients, such as ground chicken, grated ginger, and more.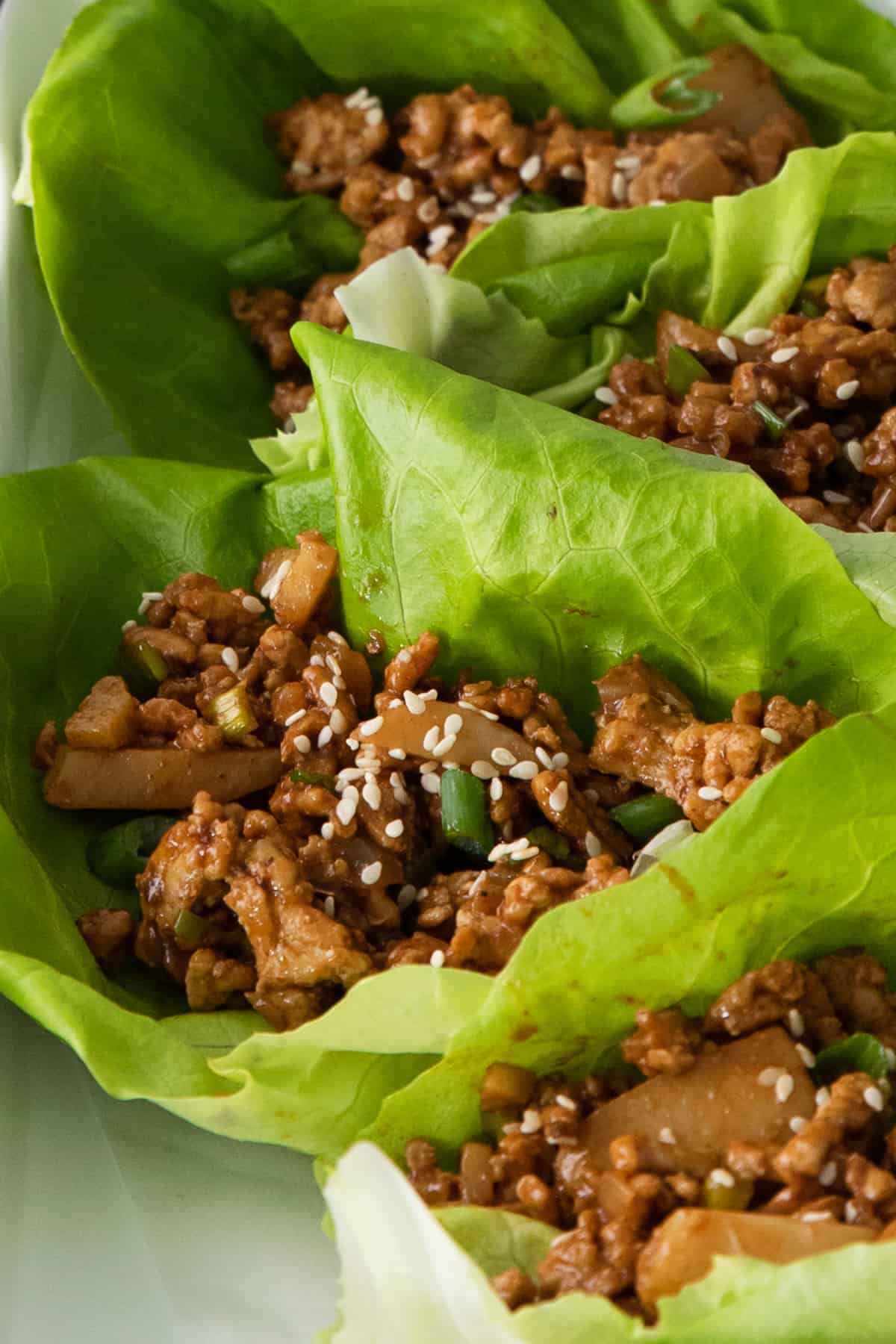 Copycat Chicken Lettuce Wraps
When you go to PF Changs, do you always make sure to get an order of their incredible lettuce wraps? If so, you need this fun and simple PF Changs Lettuce Wraps recipe in your life. Learn how to prepare a flavorful dish at home using simple ingredients, such as hoisin sauce, soy sauce, ground chicken, and butter lettuce.
Why You'll Love this Lettuce Wraps Recipe:
EASY: The recipe is so simple that you'll look forward to making these copycat PF Changs Lettuce Wraps regularly.
TASTY: You'll fall in love with the incredible taste of these delicious lettuce wraps.
PERFECT FOR ALL OCCASIONS: You can make these lettuce wraps when hosting friends and family or prepare them specifically for yourself!
Trademark Note: In the spirit of transparency, I want to note that this is a copycat recipe for a product from a trademarked brand. PF Chang's is a proprietary brand that I want to acknowledge and give credit to.
These PF Changs Lettuce Wraps are a huge hit. You can prepare them with fresh, flavorful ingredients at home.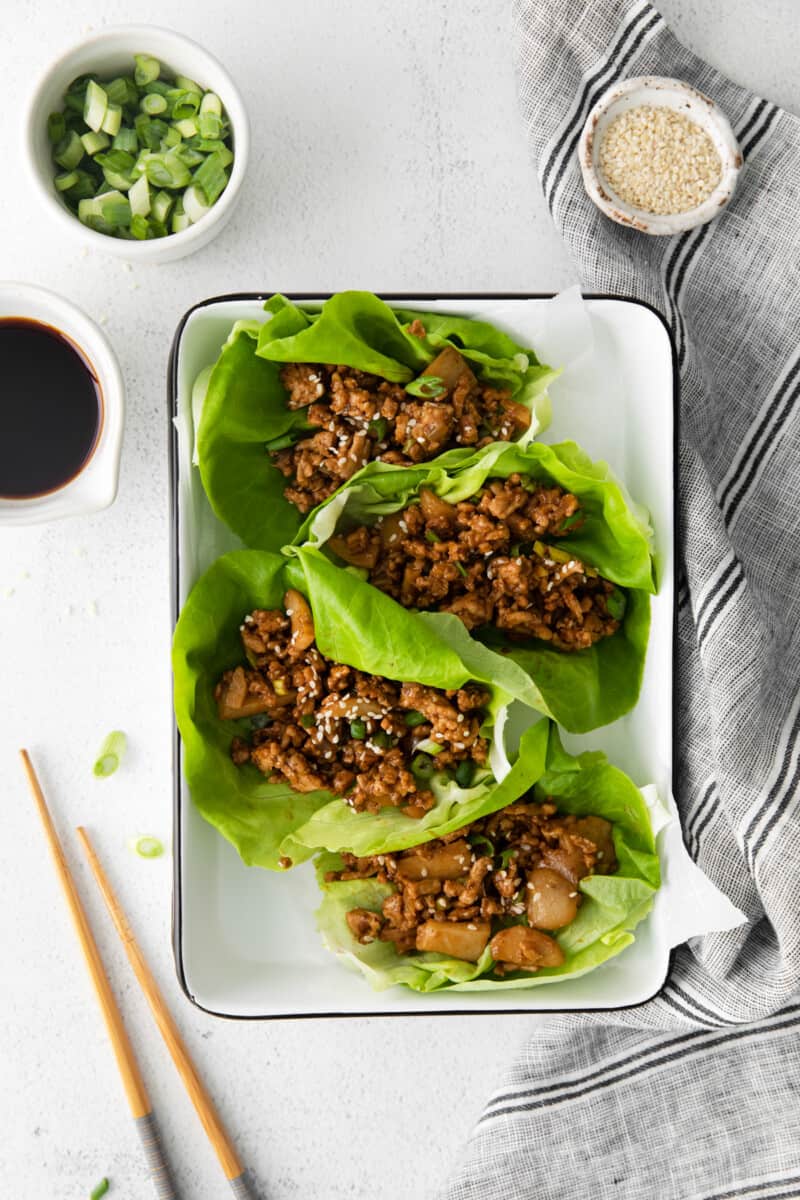 How to Make PF Chang's Lettuce Wraps
You can jump to the recipe card for full ingredients & instructions!
Whisk your soy sauce with vinegar, corn starch, hoisin, and sriracha before setting it to the side until you're ready to use it.
Put sesame oil in a pan and then add your ground chicken, breaking it up into pieces and cooking for about seven minutes.
Add your garlic, ginger, and onion into the pan and continue to saute for about four minutes.
Put the sauce in the pan with the chicken, stirring until you've coated your chicken.
Toss in the water chestnuts and green onions.
Fill your pieces of butter lettuce with a spoonful or two of the chicken mixture.
PF Chang's Chicken Lettuce Wraps Recipe Notes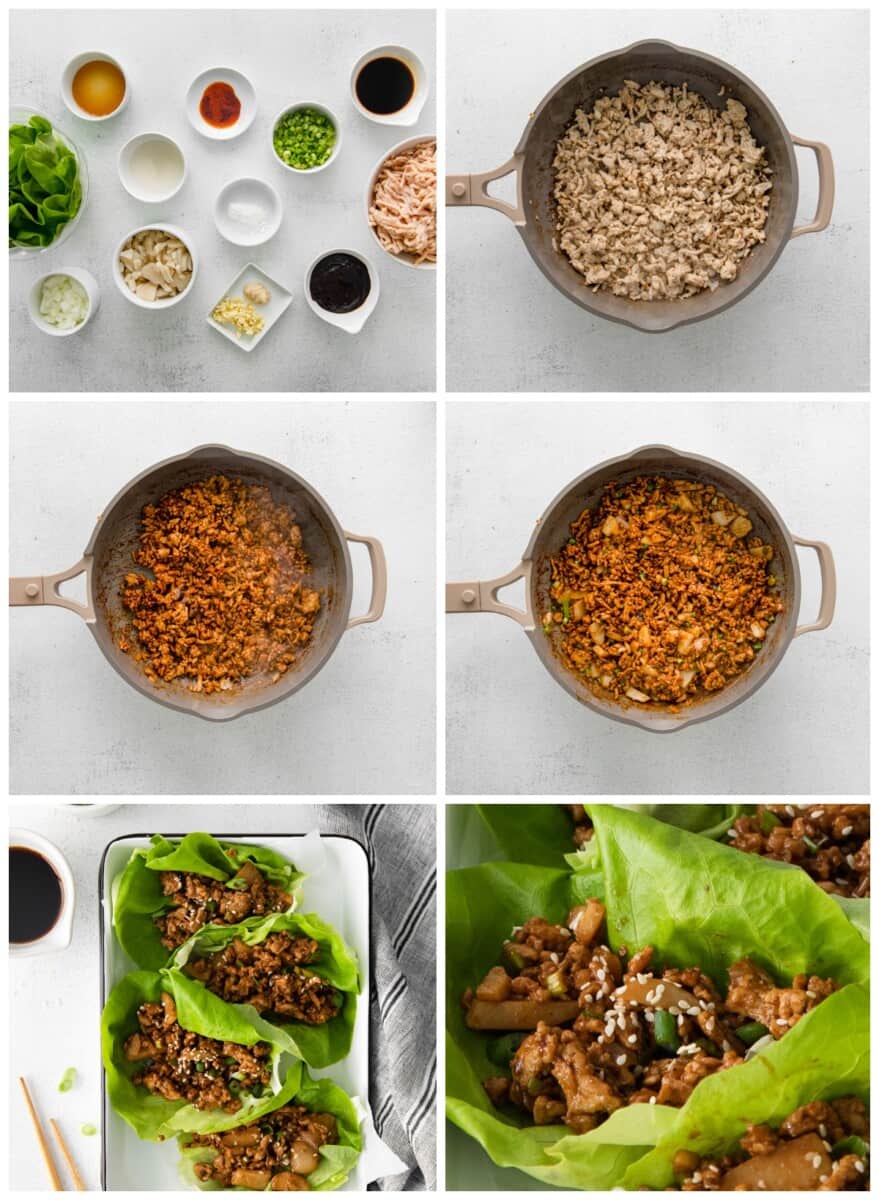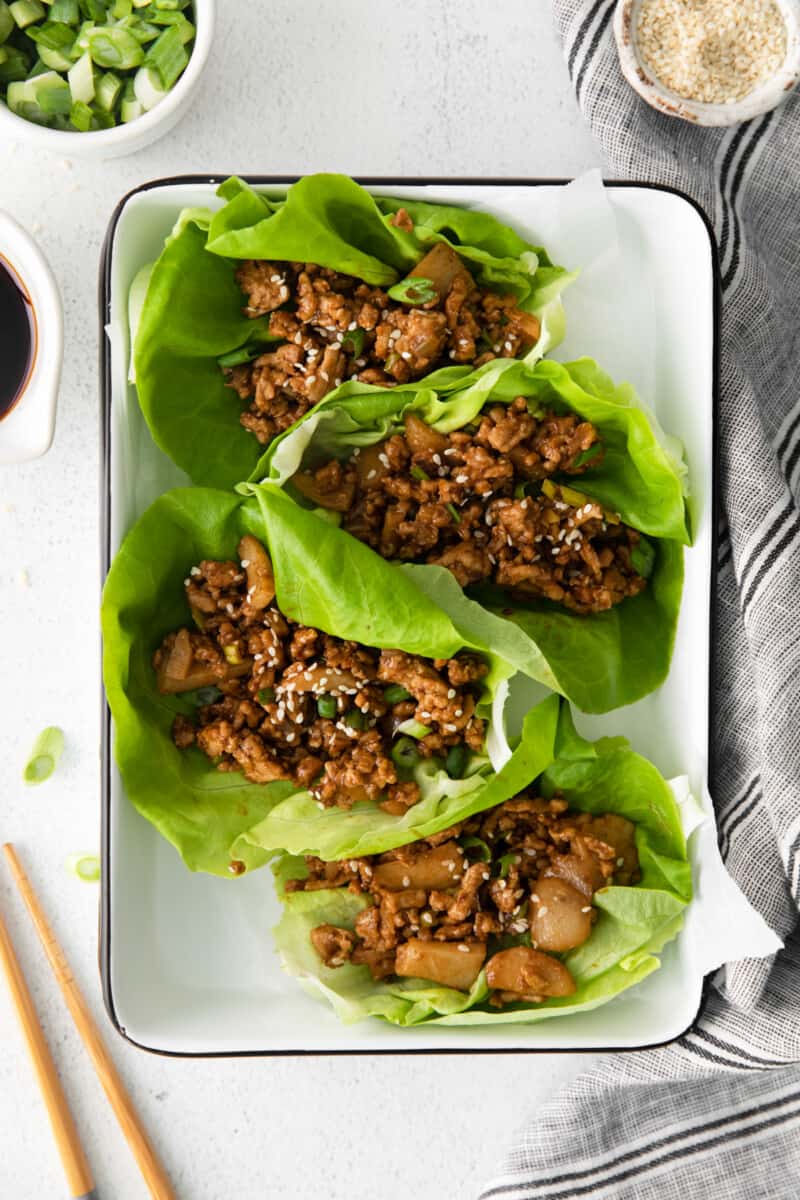 What are lettuce wraps?
Lettuce wraps are a flavorful food consisting of seasoned and sauteed meat wrapped in butter lettuce for a healthy and refreshing taste.
Can I use another kind of meat in lettuce wrap filling?
Yes. Instead of ground chicken, try ground turkey, pork, or beef. If using beef, make sure to drain any excess fat before adding the sauce.
What lettuce is best for lettuce wraps?
It's best to use butter lettuce because of its soft, light texture and large size that makes it easy to use for wrapping the meat.
How long do lettuce wraps last?
Store the meat in an airtight container separate from the lettuce for up to 3 days. Assemble the wraps as you plan to eat them.
Serving Suggestions
The wraps can be a meal in themselves, but you can also add an easy side as well.
These wraps make a great addition to your healthy menu plan. They are easy to make and full of flavor thanks to the Asian inspired spices.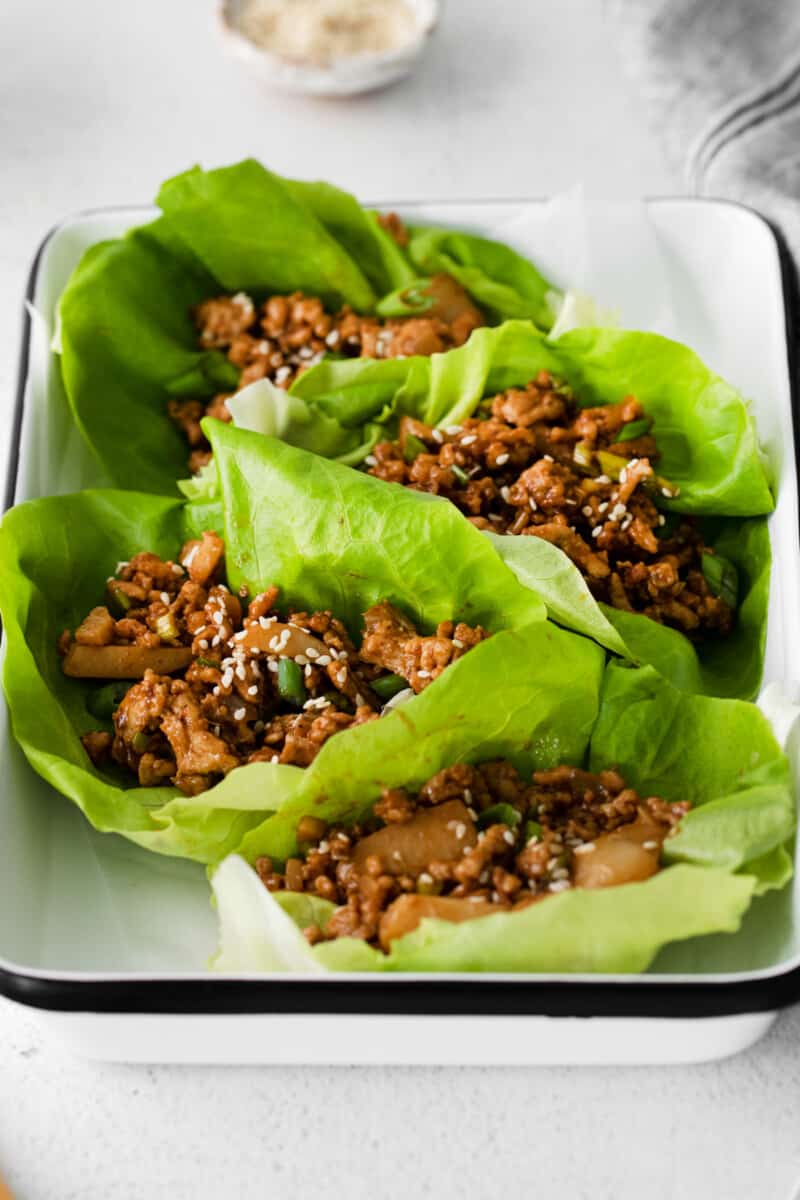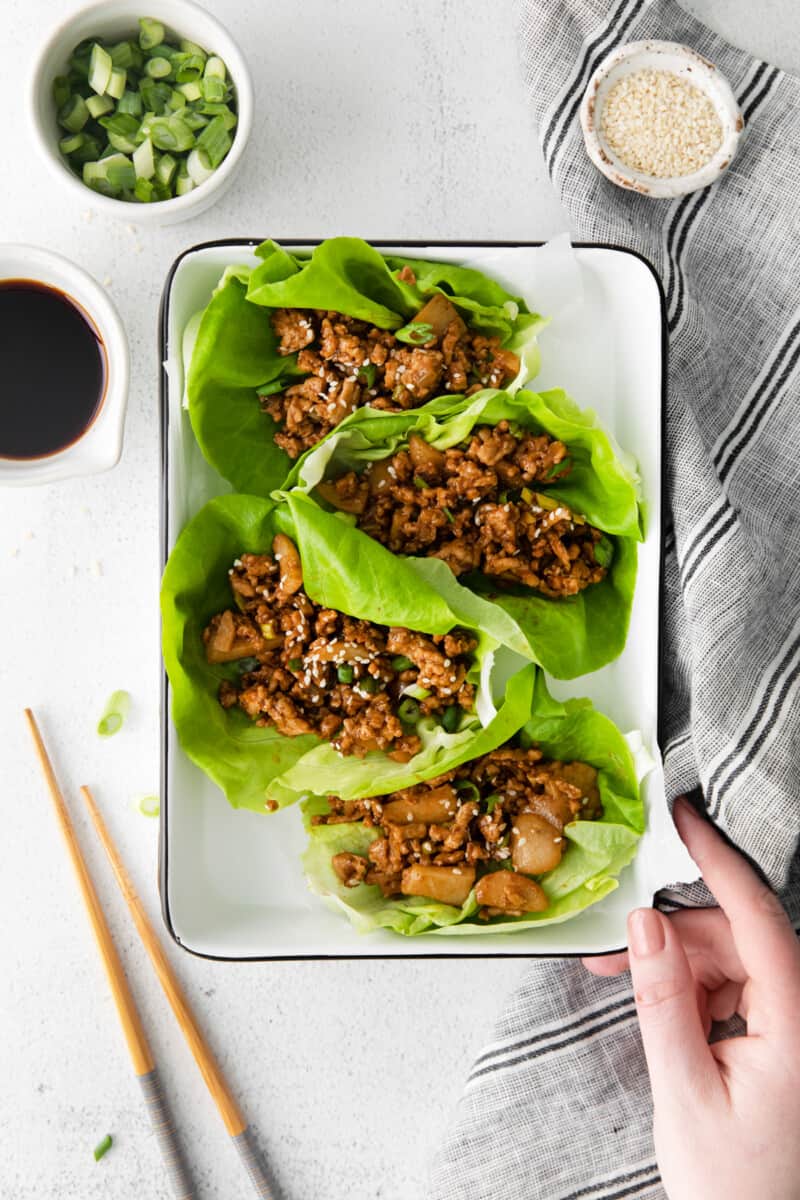 Tips!
If you want to make the dish a bit spicier, add more sriracha to the ground chicken.
Be sure to drain your water chestnuts and then dice them into small pieces before you use them in this recipe.
If the cornstarch starts settling into the bottom of your sauce mixture before you get the chance to use it, give it a good mixing to fix it.
Enjoy the delicious taste of these PF Changs Lettuce Wraps. You can make them with ease in less than 30 minutes!
How can I make these lettuce wraps vegetarian?
Instead of using ground chicken, you can use firm tofu or any other meat alternative, including vegan meat crumbles.
What can I use instead of water chestnuts?
If you don't have water chestnuts, some of the best alternatives to use include Jerusalem artichokes or white turnips, both of which have a similar taste and consistency.
Can I double this recipe?
Yes! If you need to feed a crowd, feel free to double the recipe.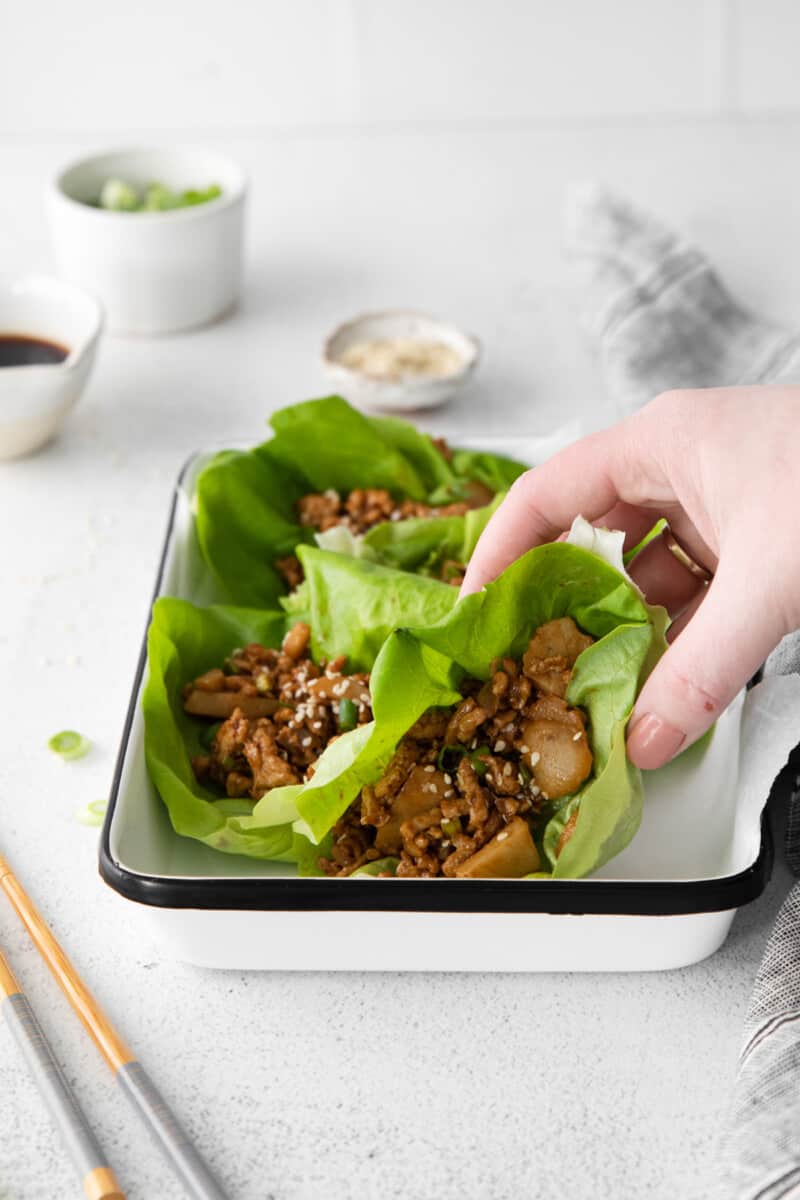 This copycat PF Changs Lettuce Wraps recipe will blow you away. It's so simple and will leave you with the tastiest wraps you've ever tried.
If you make this recipe be sure to upload a photo in the comment section below or leave a rating. Enjoy! You can also jump to recipe.