Make your own homemade Hawaiian Rolls from scratch with this copycat recipe, instead of buying them from the store. They're fresh, fluffy, and so delicious! These Hawaiian sweet rolls are the perfect thing to serve with any dinner.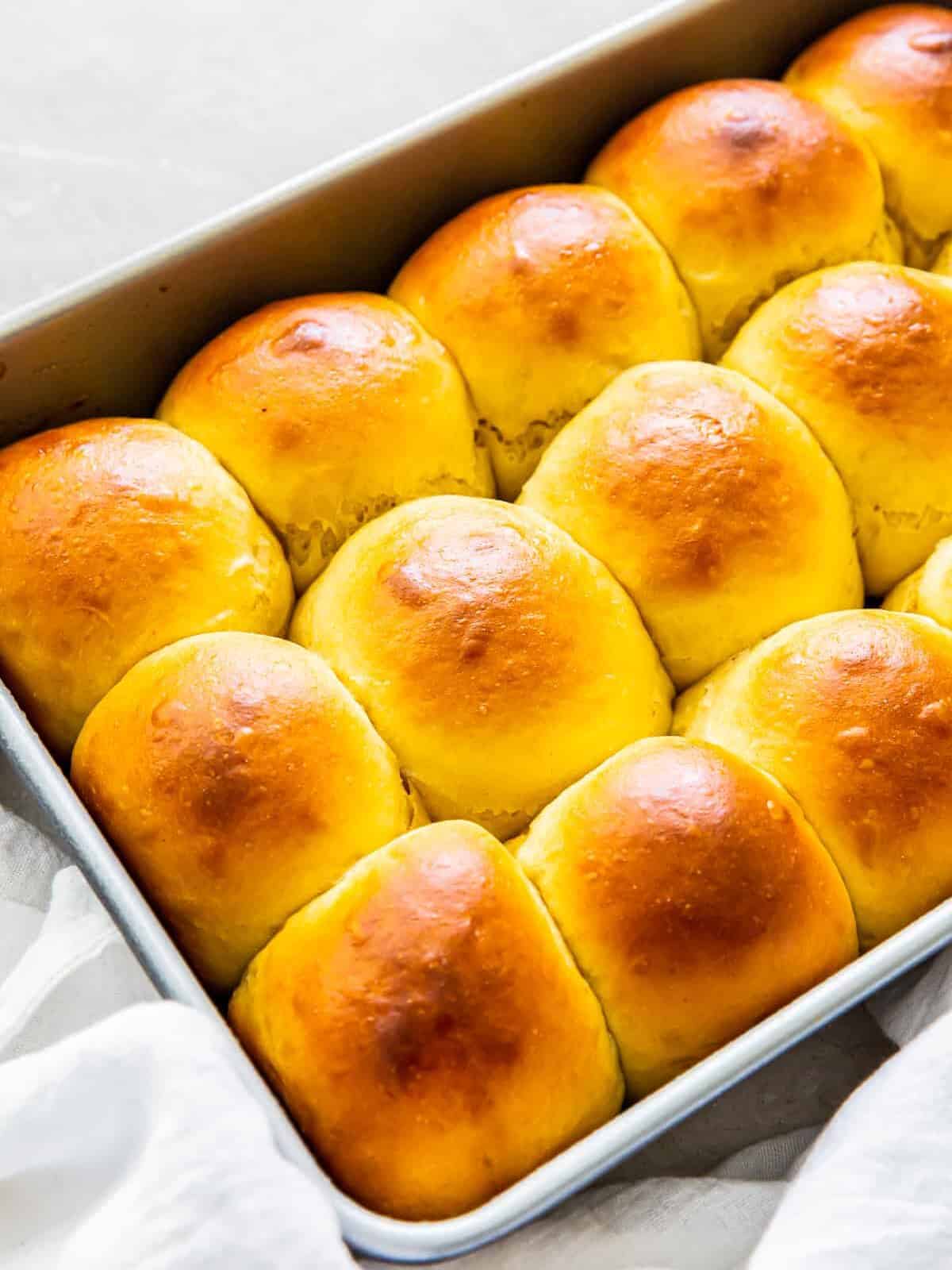 What's in this Hawaiian Rolls Recipe?
The secret to Hawaiian bread rolls is that delicious sweetness that makes them so addicting. Here we're adding brown sugar and pineapple juice straight into the dough to get the perfect flavor.
Buttermilk: Adds moisture, tenderness, and a subtle tangy flavor to the rolls.
Unsalted Butter: Provides richness, flavor, and helps to keep the rolls soft and moist.
Instant Yeast: Acts as a leavening agent to help the dough rise and create a light and airy texture in the rolls.
Pineapple Juice: Adds sweetness and a hint of tropical flavor to the rolls, giving them their distinct Hawaiian taste.
Brown Sugar: Enhances the sweetness of the rolls and contributes to the golden color of the crust.
Kosher Salt: Balances the sweetness and enhances the overall flavor of the rolls.
Vanilla Extract: Adds a subtle hint of vanilla flavor to complement the sweetness of the rolls.
Eggs: Contribute to the richness and tenderness of the rolls, as well as provide structure and help with browning.
All-Purpose Flour: Forms the structure of the dough and provides the necessary gluten to give the rolls their soft and chewy texture.
Water: Combines with the reserved egg white to help create a glossy crust on top of the rolls.
Pro Tip: When using instant yeast there's no need to proof it in water or milk beforehand. Just make sure to check the expiration date!
Variations on Hawaiian Sweet Rolls
There are tons of ways to change up these rolls to be sweeter or more savory. Try some of these variations:
Add slices of ham and Swiss cheese to each roll before shaping them for a savory take.
Crumbled cooked bacon and finely grated cheddar cheese can be added to the dough before shaping the rolls. This combination will give you a savory and indulgent treat.
Place a small piece of pineapple and a cube of your favorite cheese (such as cheddar or mozzarella) inside each roll before shaping them. The pineapple adds a burst of sweetness, while the cheese adds a creamy and savory element.
Add minced garlic and a combination of your favorite herbs (such as rosemary, thyme, and parsley) to the dough while kneading. This will infuse the rolls with a savory and fragrant flavor.
Add shredded coconut to the dough while kneading, and top the rolls with a sprinkle of coconut before baking.
After shaping the rolls, brush them with melted butter and sprinkle a mixture of cinnamon and sugar on top. This variation will give you deliciously sweet and aromatic rolls.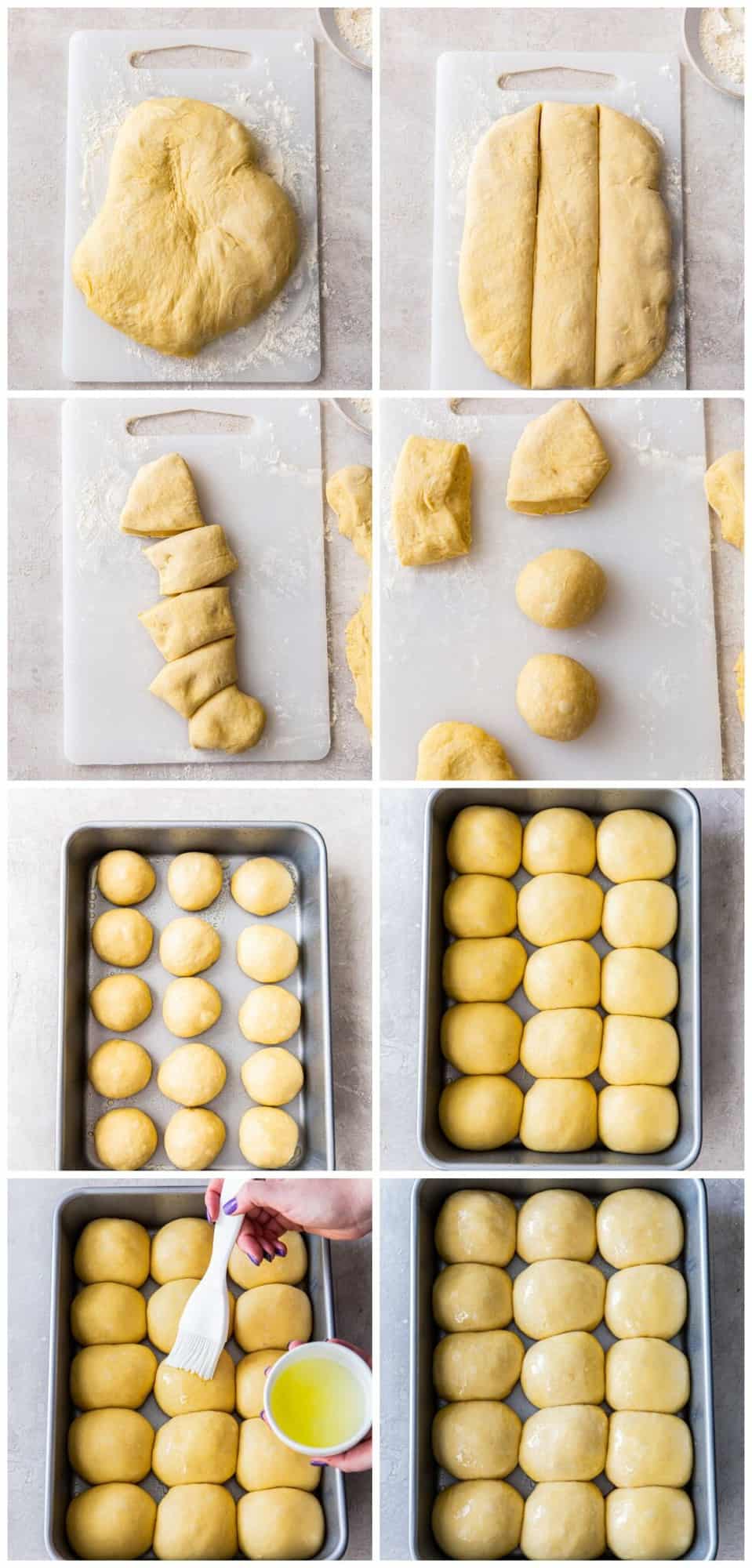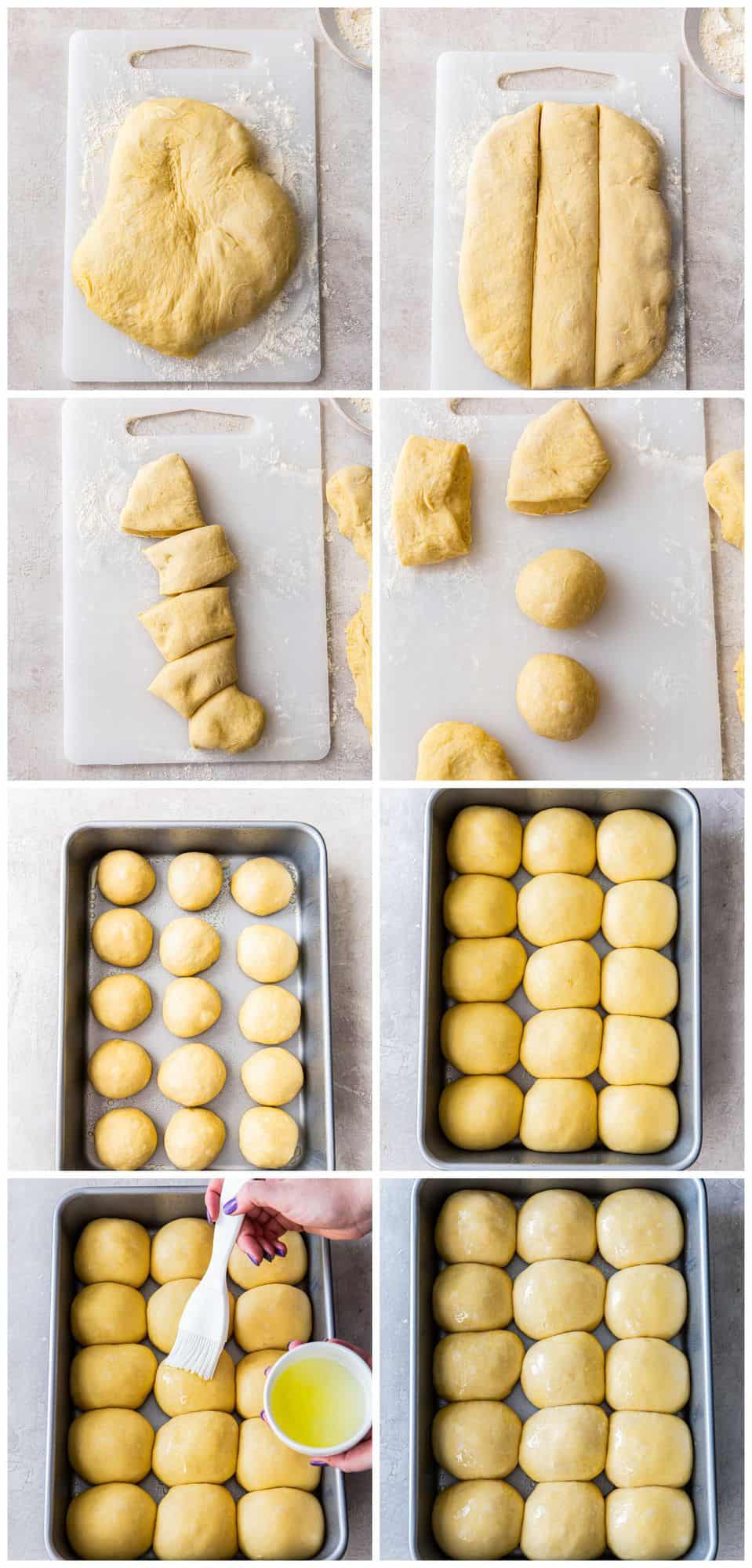 Can I make the dough ahead of time?
Yes, you can prepare the dough in advance and refrigerate it overnight. Simply cover the dough tightly with plastic wrap or transfer it to an airtight container. When ready to bake, allow the dough to come to room temperature and rise before shaping and baking the rolls.
Can I use active dry yeast instead of instant?
Yes, you can substitute active dry yeast for instant yeast, but there are a few adjustments. You will need to proof the active dry yeast in warm liquid (follow the package instructions), and you may need to allow for a longer rising time due to the slower activation of active dry yeast.
Why are my rolls dense?
Dense or heavy rolls are usually caused by not kneading the dough long enough. Be sure to knead the dough until it is smooth and elastic. If your dough is properly kneaded, it should slowly spring back when pressed with one finger. If it springs back too quickly, it is under-kneaded. If it does not spring back at all, it is over-kneaded. The same tips can be used to tell if the dough has been proofed enough. Too springy means under-proofed and not springy enough means over-proofed.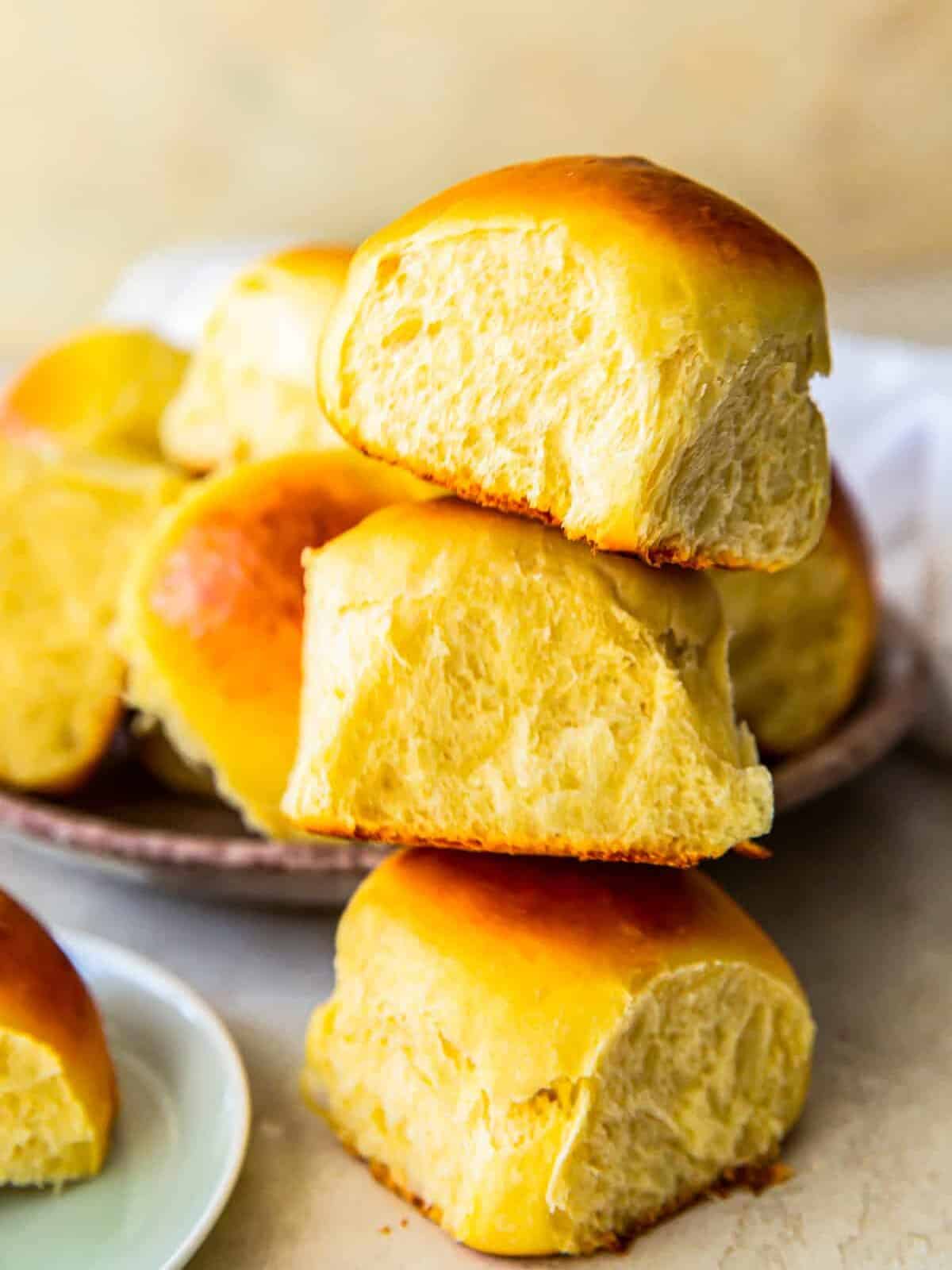 How to Store
These sweet rolls will go fast around the dinner table, but if you have any leftovers, be sure to save them. Keep them in an airtight container or resealable bag and store them at room temperature for 2-4 days or in the refrigerator for up to 1 week.
How to Freeze
You can freeze the dough before baking, or freeze fully baked rolls.
Freeze the dough after step 8 for up to 3 months. Let thaw at room temperature for at least 1 hour before baking.
Freeze fully baked rolls in a single layer on a lined baking sheet until solid, about 1-2 hours. Transfer to an airtight container or Ziplock bag to store for up to 1 month. Let thaw overnight in the refrigerator before enjoying.
Serving Suggestions
These rolls go with absolutely everything. They pair well with any meal, from roasted chicken to pulled pork or turkey. I love serving them on holidays with a bit of honey butter, but they are just as good for everyday meals.
Top them with butter and Parmesan to create a riff on garlic bread, or use them to make ham and cheese sliders, meatball sliders, turkey sliders, cheeseburger sliders, or breakfast sliders.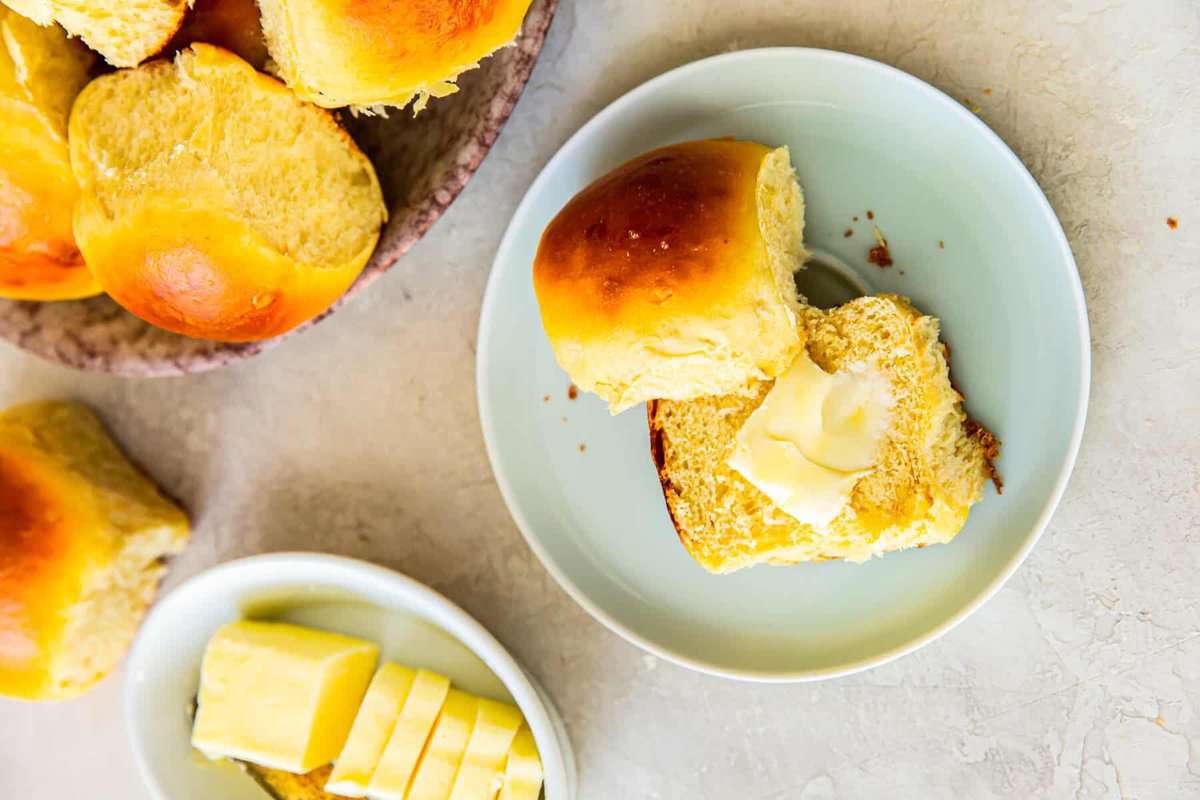 More Roll Recipes We Love