Baked Korean Hot Wings (Gochujang Wings) are spicy, sweet, and savory! The concentrated flavor comes from a sticky Korean-inspired glaze as well as a marinade made with bold ingredients like gochujang, soy sauce, honey, and more. Spice up game day with these baked hot wings!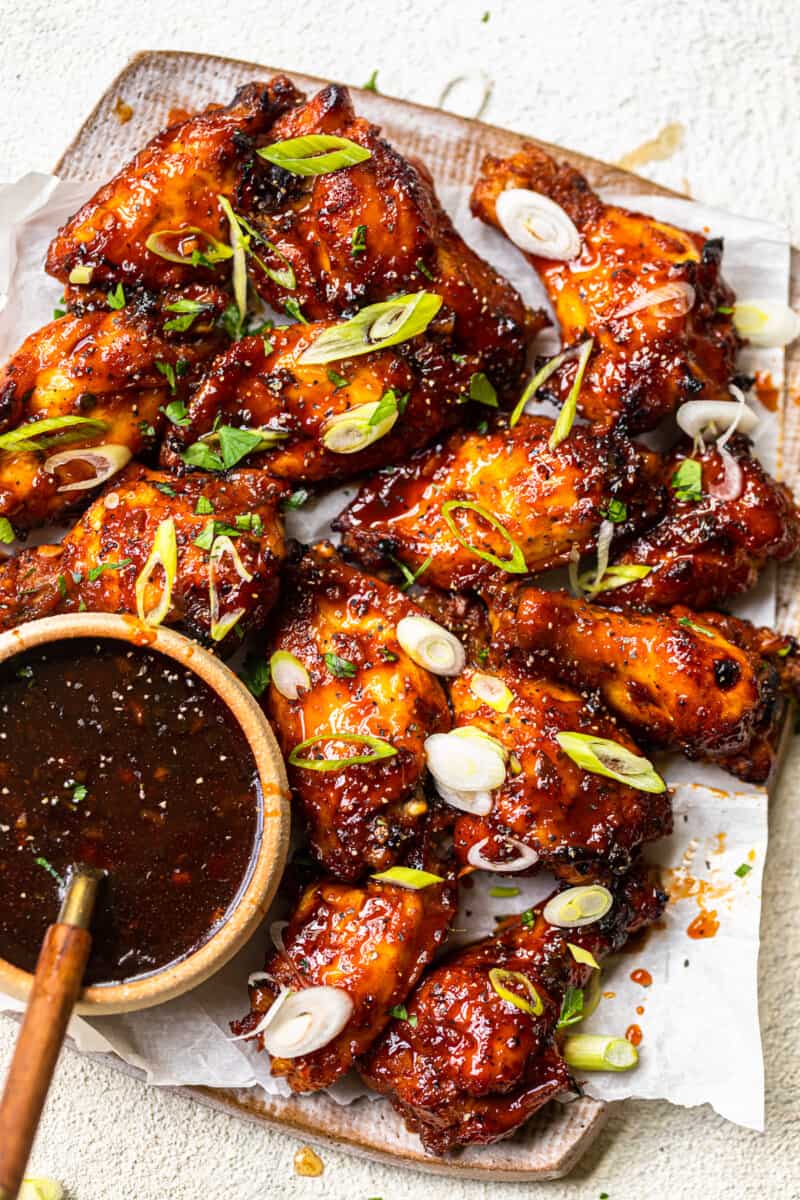 Baked Korean Chicken Wings
Baked gochujang chicken wings are a delicious way to spice up your usual appetizer game! The marinade and glaze are a celebration of bright, bold, Korean-inspired flavors. Gochujang is the star of this recipe – providing a wonderful balance of spicy and sweet in each bite.
Not only do these wings feature complex flavors, they're baked to crispy yet juicy perfection. If you're looking for an easy dinner or appetizer recipe that's bound to impress, make these easy baked wings!
Be sure to try this gochujang-filled Korean BBQ Chicken along with the most delicious Korean BBQ Sauce!
Why You'll Love this Gochujang Chicken Wings Recipe:
FLAVORFUL: Thanks to gochujang, sesame oil, fresh ginger, and more, these Korean wings certainly pack a flavorful punch!
HOMEMADE: Customize the heat and sweetness of these baked wings with a completely from-scratch marinade and glaze.
GLAZED: Glazed wings are the BEST, especially when the sticky, sweet, and spicy glaze is this richly flavored.
These gochujang wings aren't your typical baked wings! Whether you serve them as an appetizer on Super Bowl Sunday or for a weeknight family dinner, these wings always make a big impression.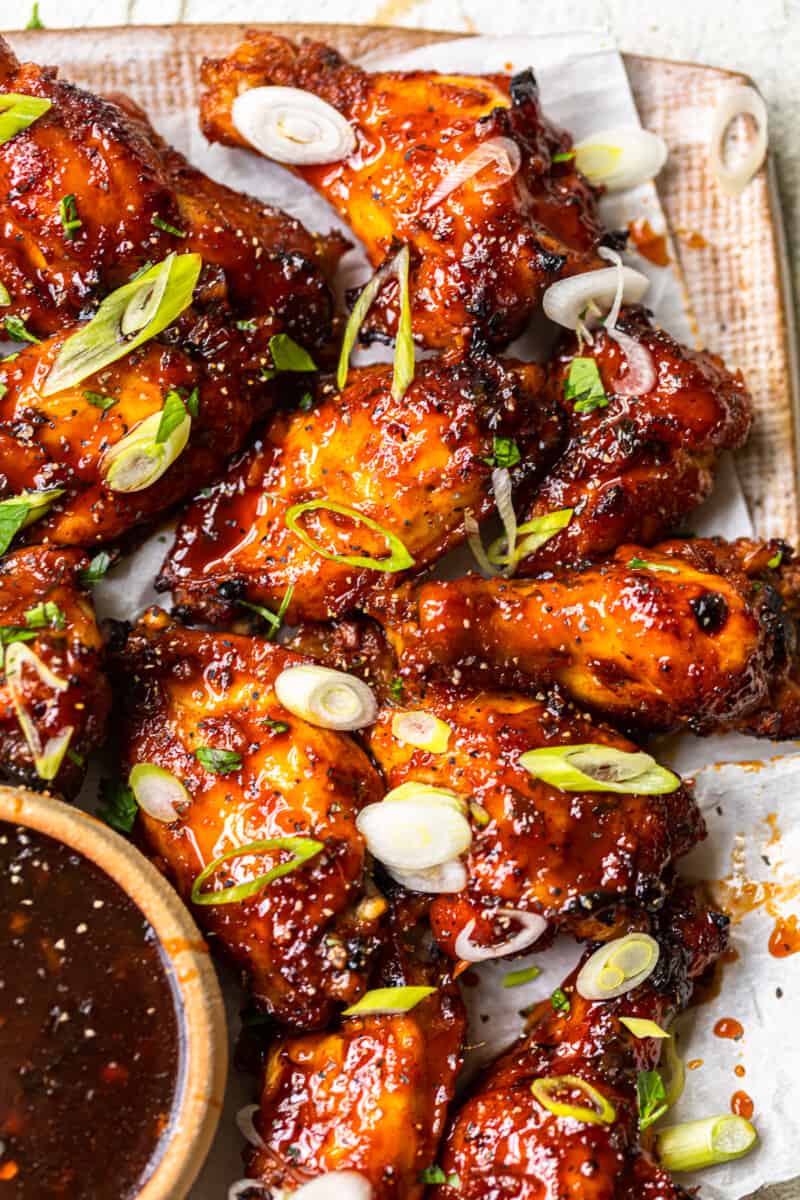 How to Make Baked Korean Hot Wings
You can jump to the recipe card for full ingredients & instructions!
Make the marinade.
Marinate the chicken wings.
Bake the wings.
Make the glaze.
Brush the glaze onto the wings.
Continue baking the wings to caramelize the glaze.
Let the wings cool, serve, and enjoy!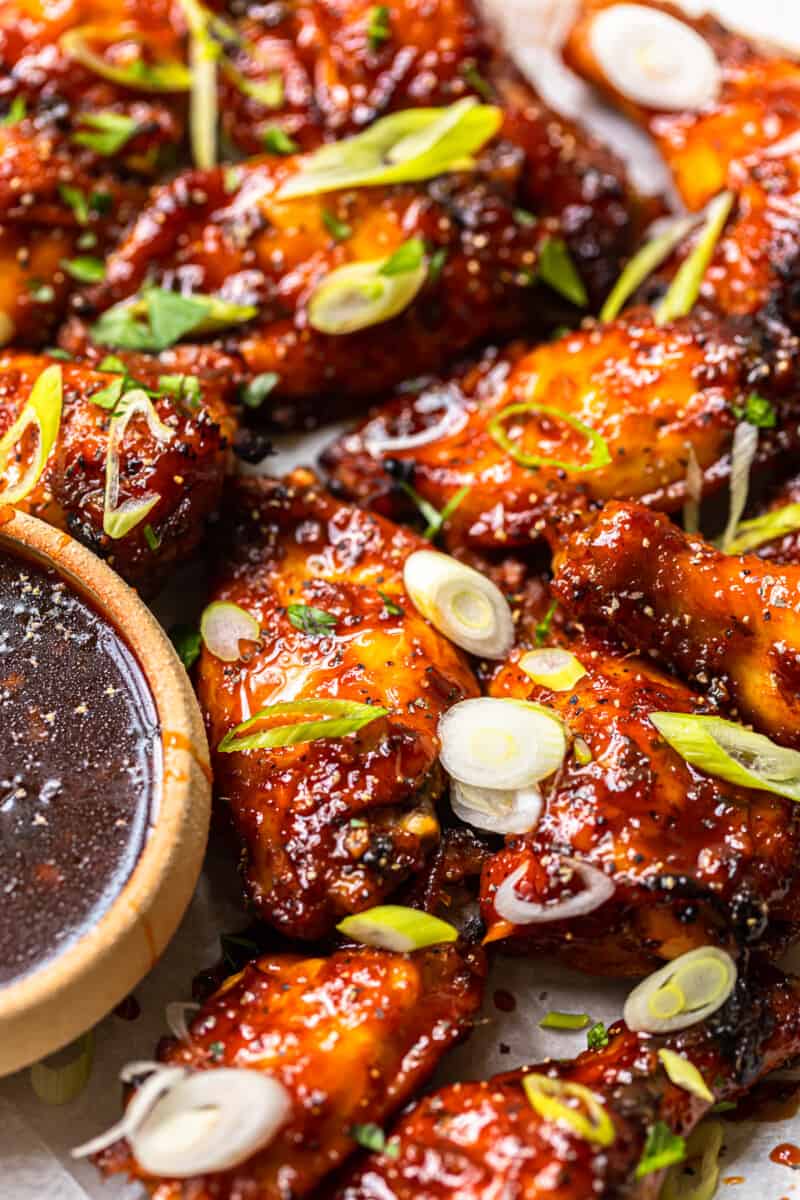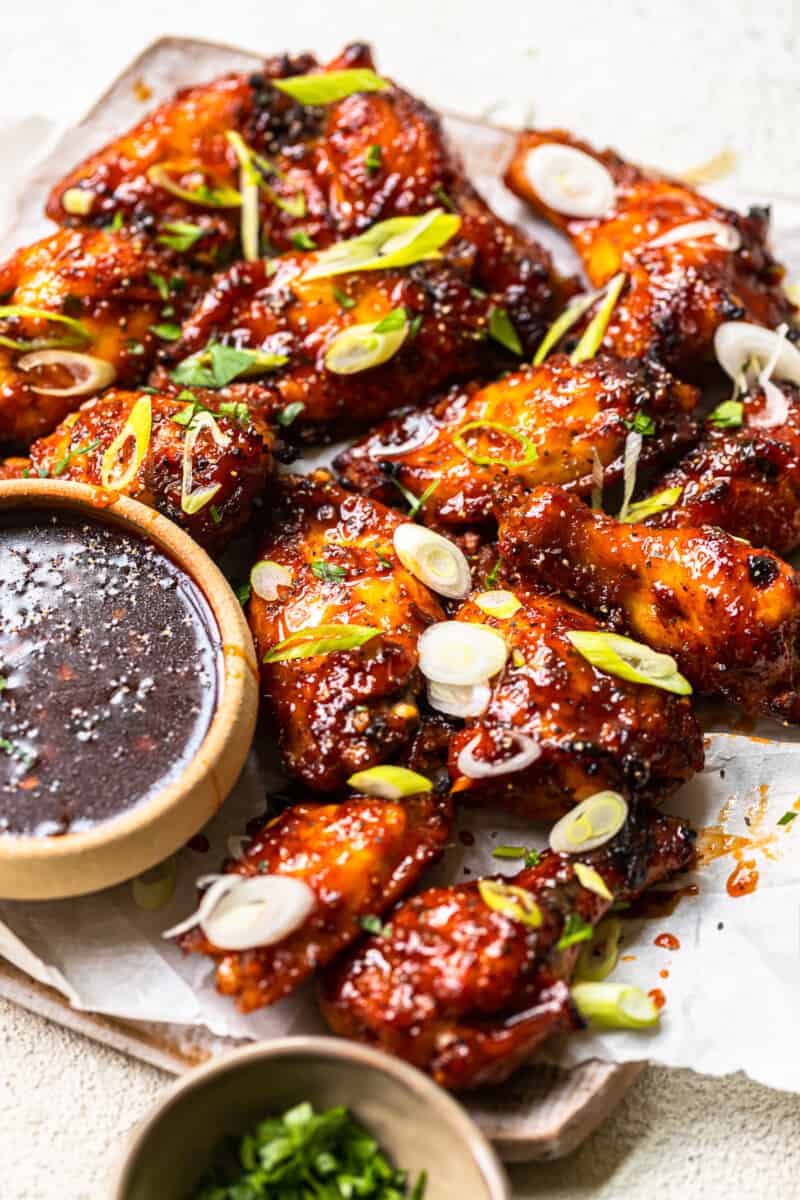 What kind of wings are best for this recipe?
Both drums and flats are delicious in this recipe!
Can I use frozen chicken wings?
Yes. If using frozen chicken wings, let them thaw in the refrigerator first.
What is gochujang?
Gochujang is a Korean red chili paste with perfectly balanced spicy, sweet, and savory flavors.
How long can these wings marinate?
Marinate these wings for at least 1 hour and up to 8 hours (overnight) – any longer and they can become slimy.
How do I know the wings are cooked through?
This foolproof recipe always yields perfectly cooked wings! Chicken wings are cooked through when a meat thermometer inserted into the thickest part of a wing reads at least 165°F.
Serving Suggestions
If you're serving these wings as an appetizer, they're good to go! If these are the main course, consider serving with:
Fresh celery or carrot sticks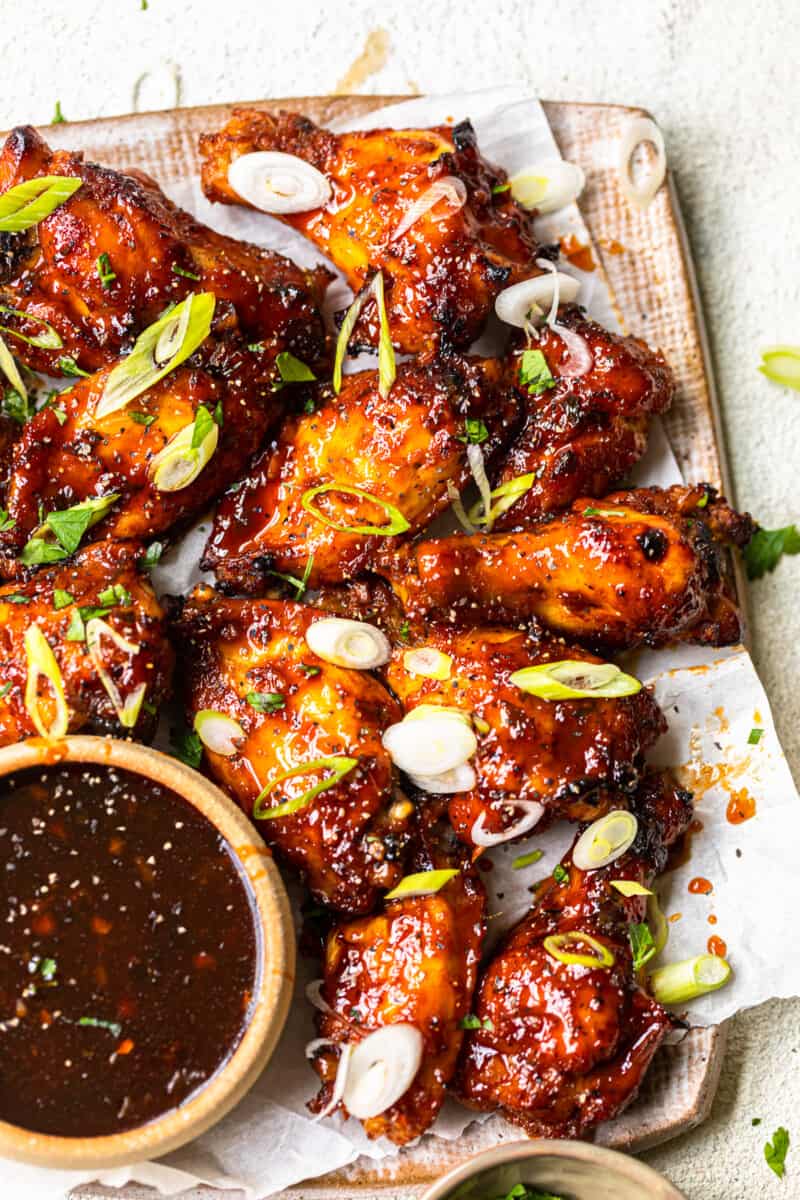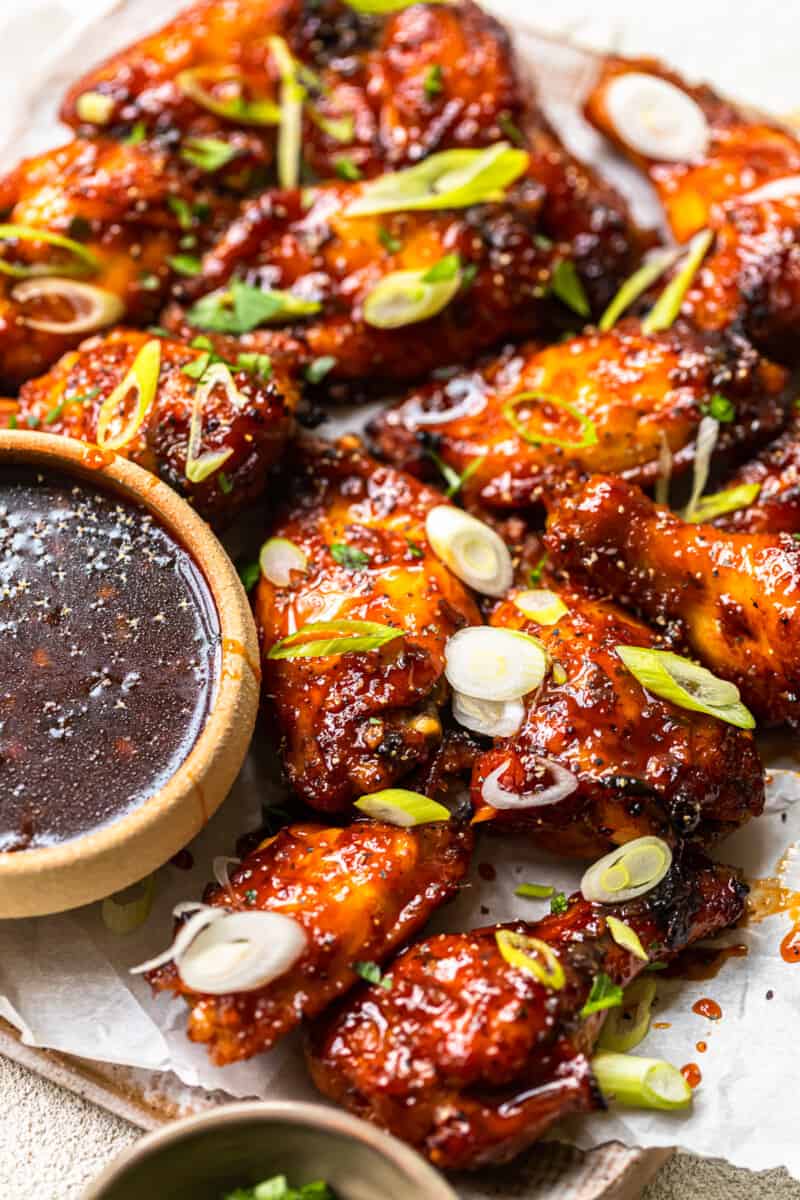 Tips!
For even spicier wings, add more gochujang or red pepper flakes to the marinade.
Like all chicken wings, these wings are best enjoyed fresh. Try not to make these too far ahead of time!
For evenly baked wings, rotate the pan after 20 minutes of baking.
After increasing the temperature for the final 10 minutes, keep an eye on the wings to make sure they don't burn.
If the glaze becomes too thick, remove it from the heat.
Impress everyone at the cocktail party with these crazy flavorful wings!
What can I use instead of honey?
Instead of honey, use an equal amount of agave in the marinade and glaze.
How spicy are these wings?
These baked wings certainly have a kick, but they're not overwhelmingly spicy.
Where can I buy gochujang?
Typically, gochujang is in the Asian section of your local grocery store. You can also order it online or find it at your local Asian market.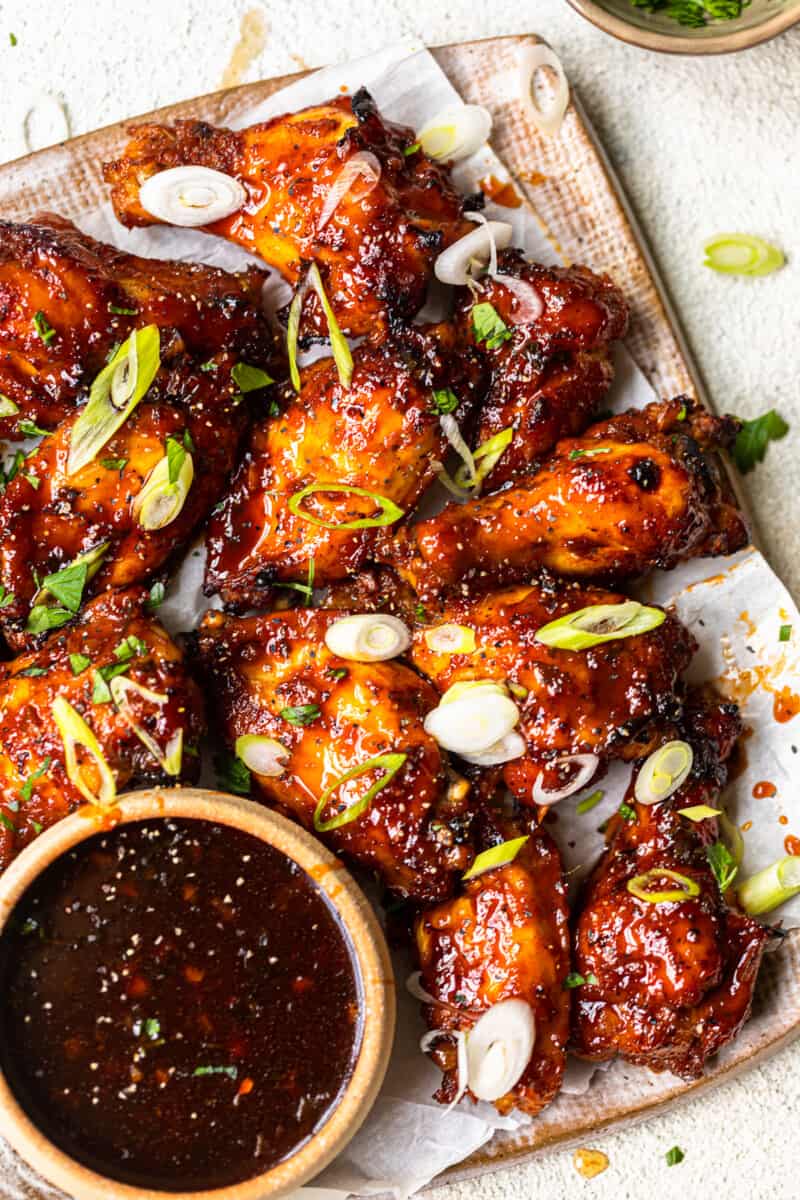 These baked chicken wings with bold Korean-inspired ingredients are mouthwatering! Make these baked chicken wings as an appetizer or dinner and be ready to impress.
If you make this recipe be sure to upload a photo in the comment section below or leave a rating. Enjoy! You can also jump to recipe.