This is the best chocolate cake recipe ever, topped off with light and creamy chocolate frosting. Make this homemade chocolate cake and icing from scratch for birthdays, holidays, or any time you need the perfect dessert!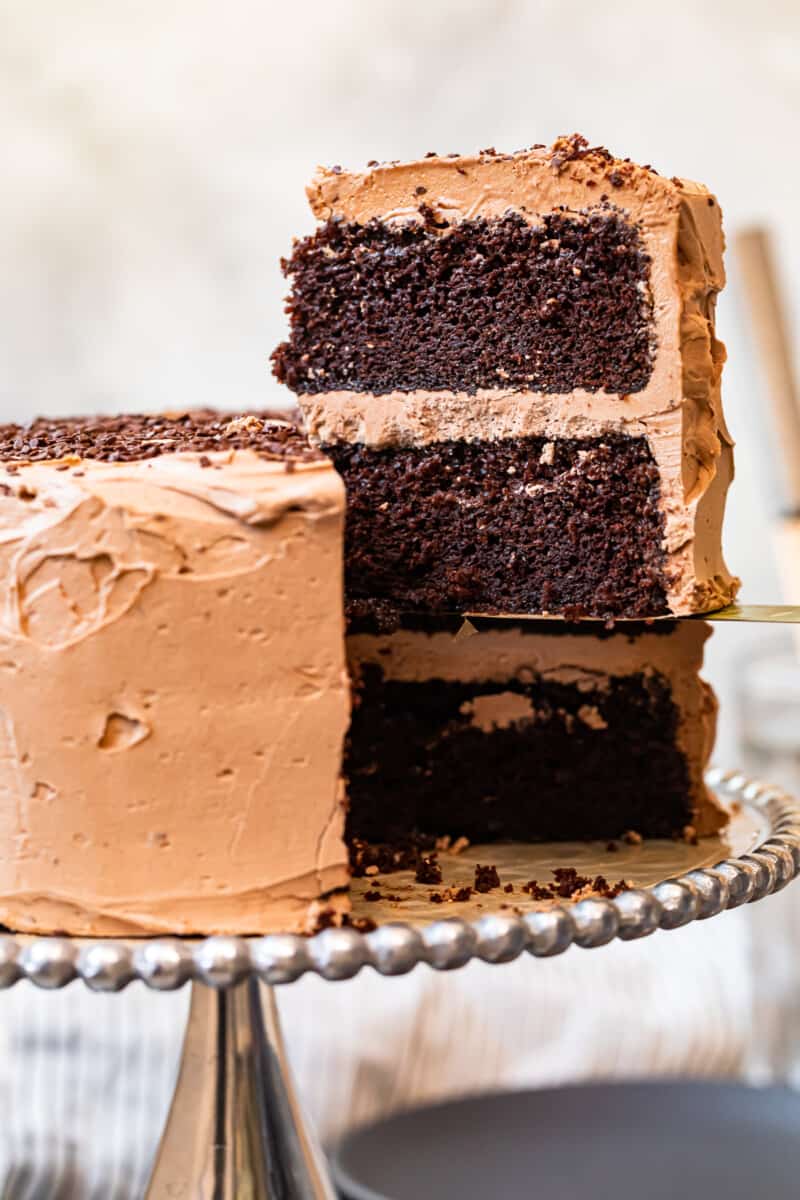 Our Favorite Chocolate Cake with Miracle Chocolate Frosting
It's my birthday today! Let's celebrate with this perfect chocolate cake.
This is the best chocolate cake recipe, one of my favorites! It's rich and chocolatey, light and moist, and it's simple enough to serve for any occasion.
Learn how to make chocolate cake from scratch and make your own homemade chocolate frosting to go with it. You can use it to make all different types and cake sizes.
Why you'll love this perfect chocolate cake recipe:
BEST EVER: This chocolate cake with chocolate frosting has the most perfect flavor, and it never disappoints.
FROM SCRATCH: This homemade cake and frosting is made completely from scratch!
ANY CAKE, ANY SIZE: Take your pick! Bake a layered cake, bundt cake, or cupcakes, all with this one recipe.
This chocolate cake is one of my favorites for birthdays, Valentine's Day, or any family celebrations!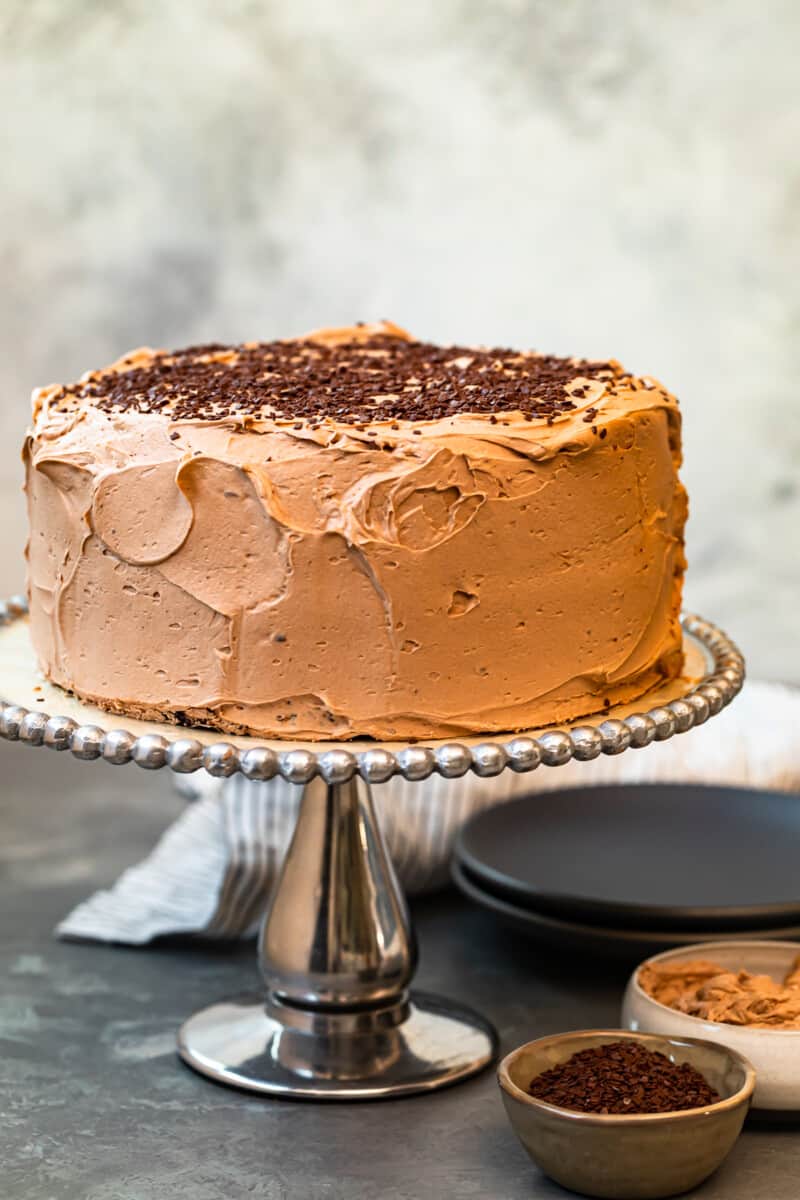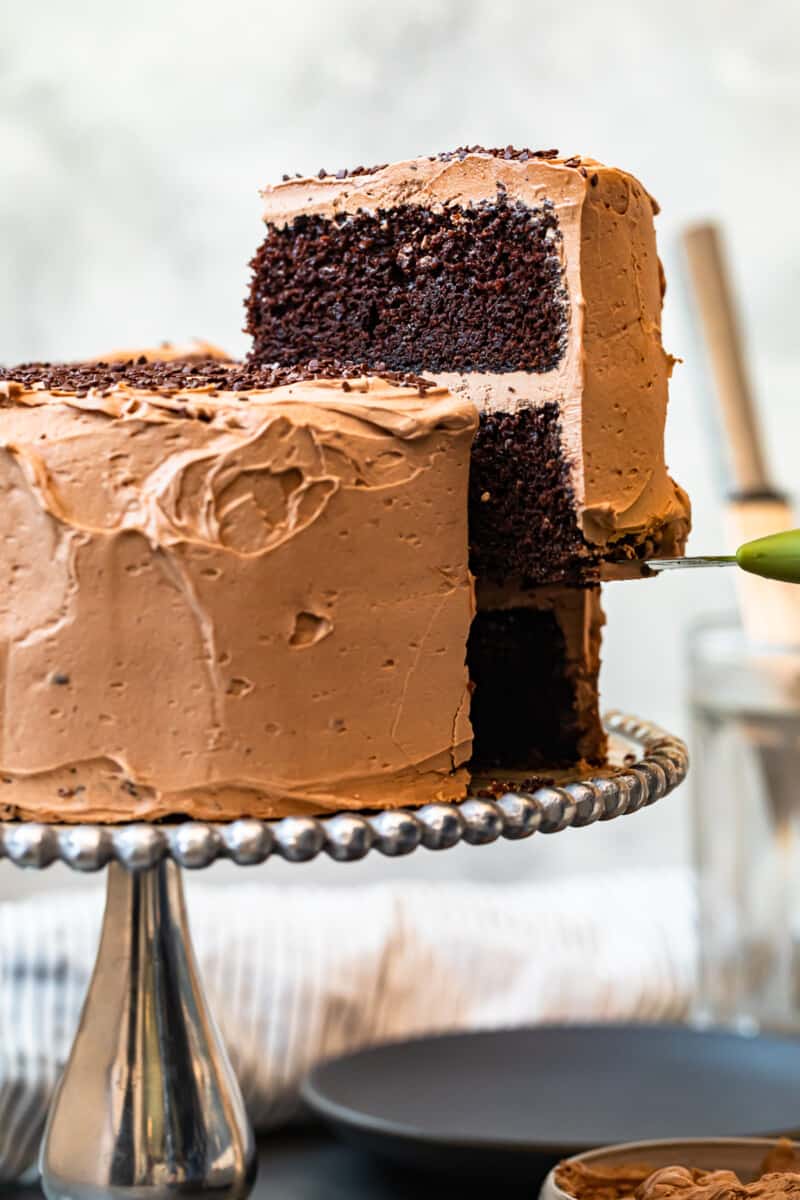 How to make Chocolate Cake with Chocolate Frosting
You can jump to the recipe card for full ingredients & instructions!
Begin by combining frosting ingredients (without the butter or chocolate) in a saucepan on the stove. Cook and whisk until it becomes thick.
Transfer it to a bowl and cover tightly with plastic wrap. Set it aside to cool for 2 hours.
Preheat oven and prepare cake pans.
In a stand mixer, combine dry ingredients. Then add in the wet ingredients and beat just until combined. (Don't overmix!)
Pour batter into cake pans and bake at 350F. (See below for baking times.)
While the cake cools, finish making the chocolate frosting.
Beat butter in the stand mixer until it becomes fluffy, then add in the cooled milk mixture from earlier.
Continue beating until everything is combined, and becomes light and fluffy.
Add in the melted chocolate and beat until incorporated.
Frost the chocolate cake once it has cooled, slice, serve, and enjoy!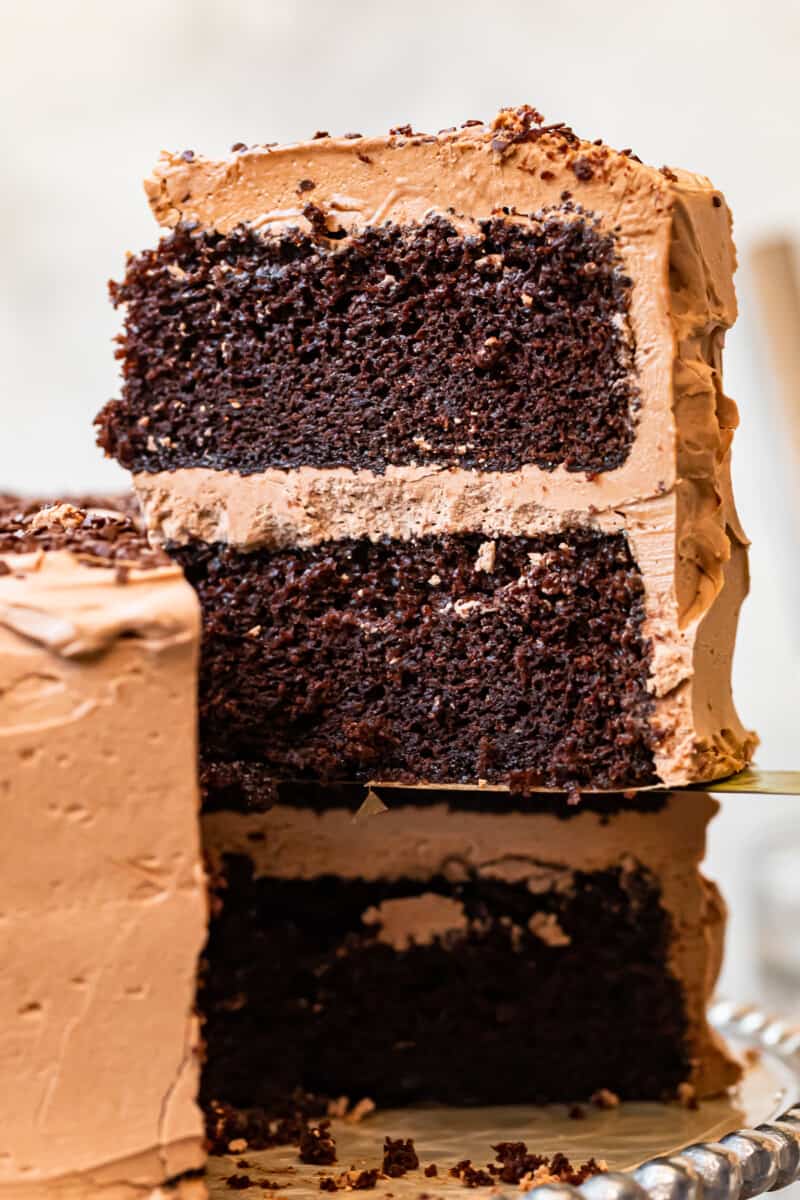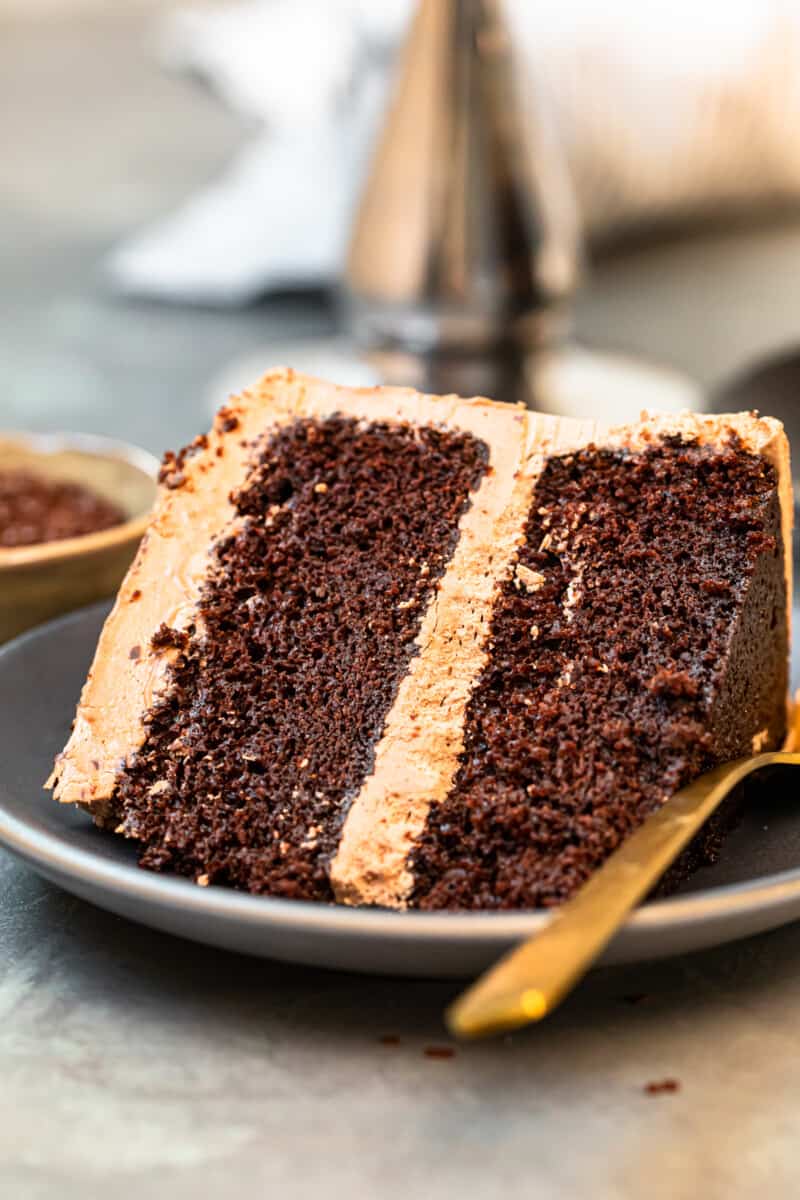 Cake Pans and Baking Times
One of the great things about this chocolate cake recipe is that you can use it to make a few different types and cake sizes. You don't have to go looking for a new recipe every time!
All cakes should be baked at 350F.
Rectangular Cake: Use a 13×9-inch cake pan and bake 30-40 minutes.
2 or 3 Layer Cake: Use 8-inch cake pans and bake 25-35 minutes.
Bundt Cake: Use a 12-cup bundt cake pan and bake 45-55 minutes.
Cupcakes: Use regular or mini cupcake/muffin tins. Makes 22-24 regular-sized cupcakes. Bake 18-25 minutes.
When should I serve this chocolate cake?
I love this cake because it works for any occasion. Making it from scratch means you do need to plan for this recipe, but I'll use any excuse to make it.
It's the perfect chocolate birthday cake, it's always welcome on holidays, and it will certainly impress guests at dessert time.
What does adding coffee to chocolate cake do?
Because coffee and chocolate are so similar, adding coffee just enhances the chocolate flavor. It makes it much richer, but doesn't leave a bitter coffee flavor behind.
Brew fresh coffee to mix in or use espresso powder. You can also skip the coffee if you prefer, and just use boiling water instead.
How do I store leftovers?
After baking, frosting, and serving the cake, you can store leftovers at room temperature or in the refrigerator.
Room Temperature: Store at room temperature up to 3 days. The best way to store it is using a cake stand and cover. You can also slice it up and store in airtight containers.
Refrigerator: To store longer than a few days, it's best to refrigerate the cake. Refrigerate it uncovered for 15-20 minutes so the frosting hardens. Then wrap it with aluminum foil or plastic wrap. You can also freeze it.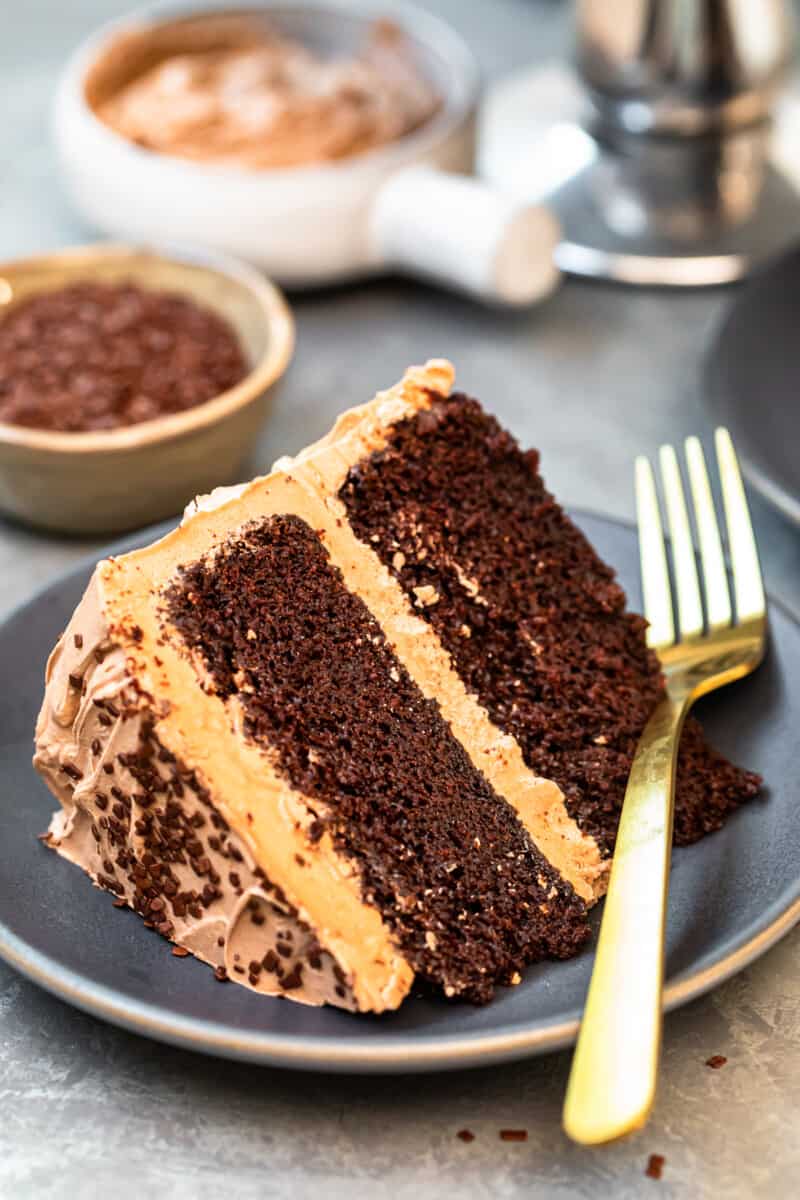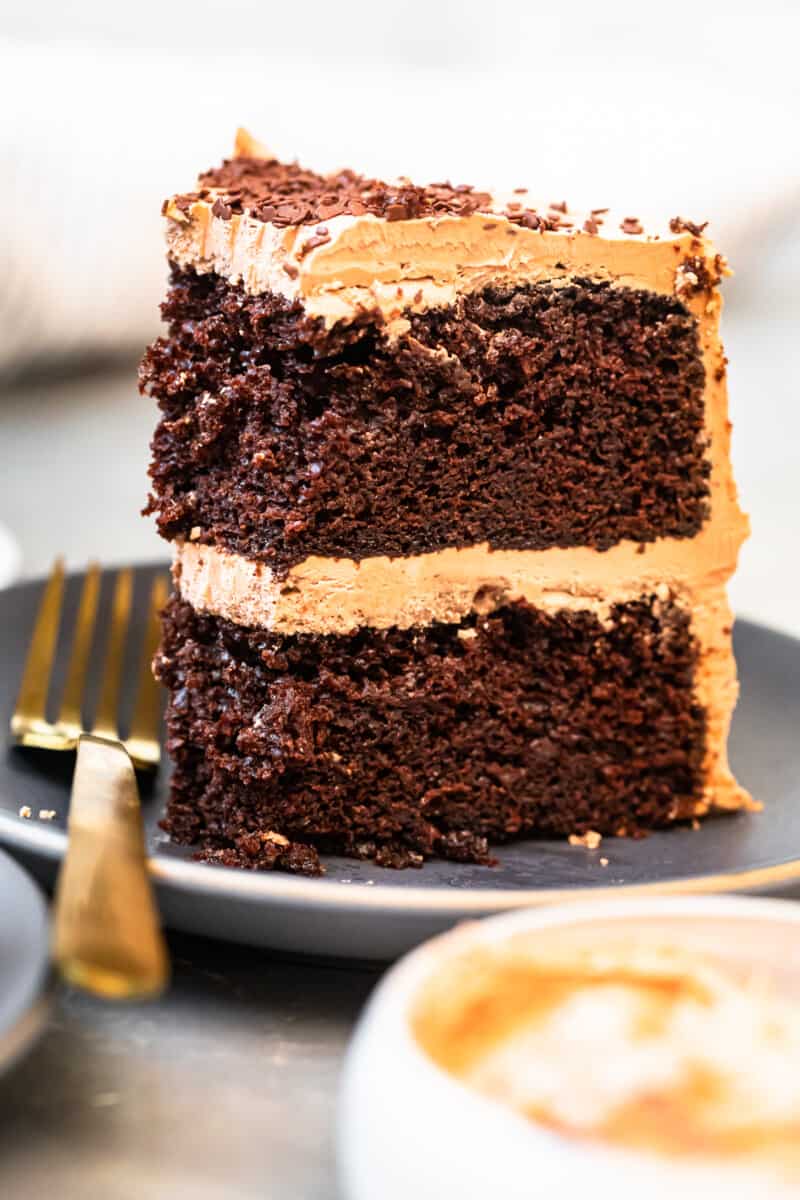 Tips!
Baking a cake from scratch takes time, so plan ahead for this recipe.
Start making the chocolate frosting first, and let it cool while you bake the cake.
I like adding coffee to this recipe for the flavor boost, but you can use boiling water instead.
To make sure it's done, stick a toothpick in the center of the cake. It should come out clean.
Let the cakes cool in the pan for 10 minutes before taking them out.
You can use a different frosting here if you prefer.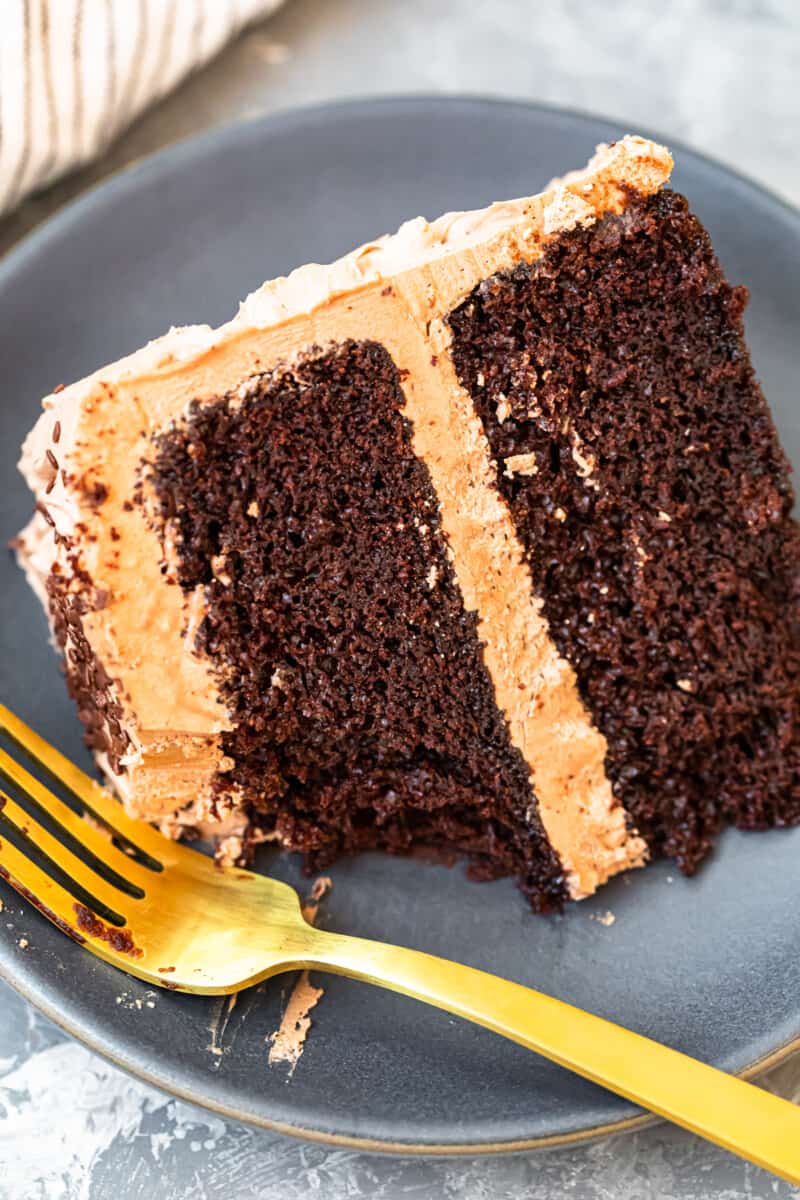 Make the best chocolate cake with chocolate icing from scratch for any occasion. Everyone will love this rich and delicious chocolate dessert!
If you make this recipe be sure to upload a photo in the comment section below or leave a rating. Enjoy! You can also jump to recipe.