Velvet Chocolate Cake with Chocolate Ganache Icing is EVERYTHING I need for a Christmas dessert! This moist and amazing Chocolate Cake Recipe is velvety smooth, virtually fool proof, and sure to please everyone you love. This Chocolate Bundt Cake is my very favorite chocolate cake on the planet!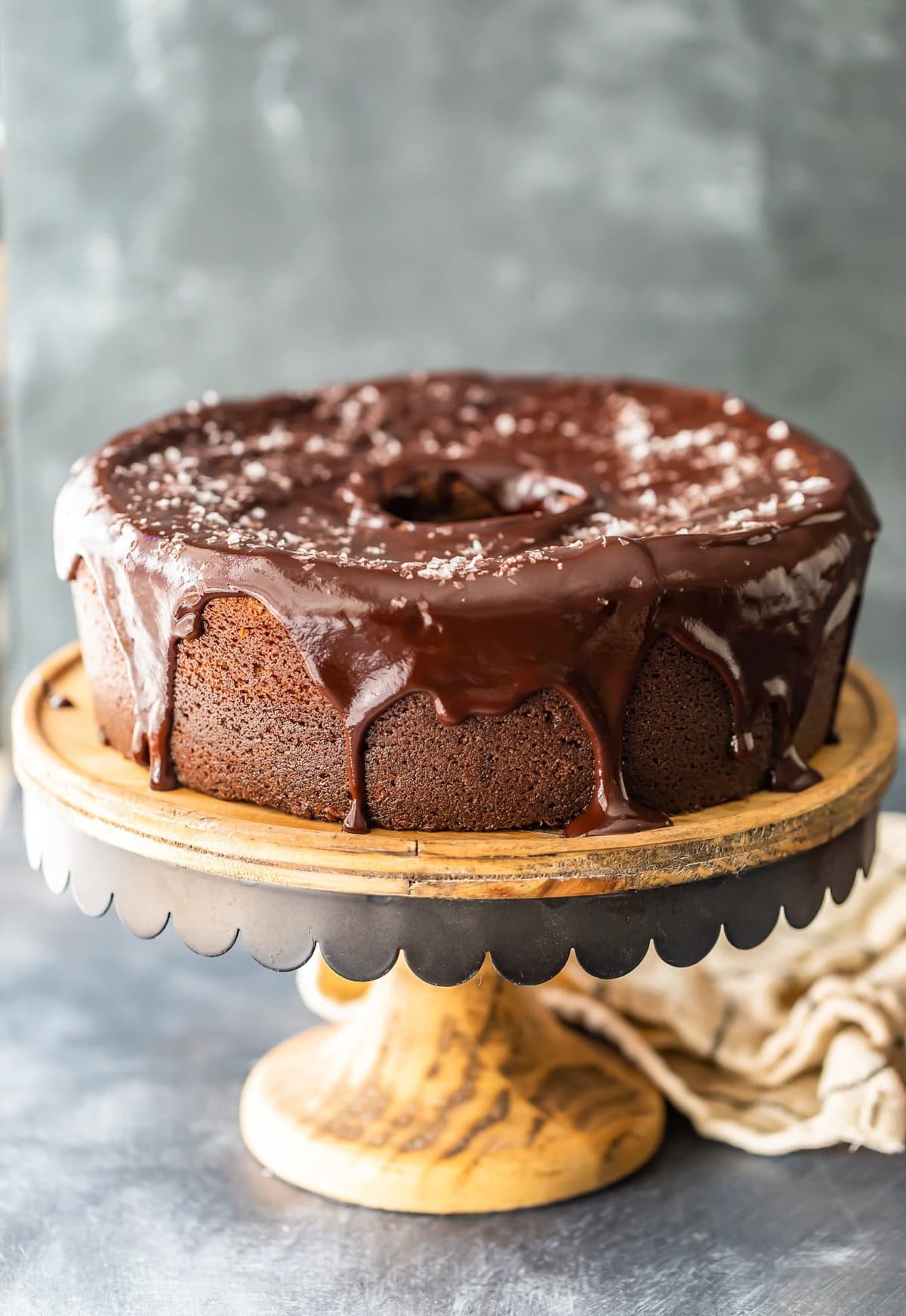 Chocolate Cake Recipe
If you want the BEST chocolate cake recipe, then look no further. Top off this chocolate bundt cake with a delectable chocolate ganache icing, and you've get the perfect dessert!
There's nothing quite like a chocolate cake. It's simple, it's classic, it works for any occasion, and it's sure to please even the pickiest eaters. It's just all around one of the best desserts, which is why it's important to have an amazing chocolate cake recipe up your sleeves.
This rich, velvet-y chocolate bundt cake is perfect in every way. The cake is so moist and delicious, and it's topped off with a smooth chocolate ganache icing.
Sprinkle it with a bit of sea salt to finish it off, and voila! You've got the BEST chocolate cake ever. Trust me, your taste buds are about to be blown away.
I love this velvet chocolate bundt cake for any occasion (birthdays, special events, parties, or just because…), but it's a real favorite for the holidays. It makes a great Christmas cake, or a special dessert for Easter or Valentine's Day. I mean really, you'll want to eat it every chance you get!
This Velvet Chocolate Cake recipe is the PERFECT cake for all occasions. Topped off with a Chocolate Ganache Icing, it's sure to please everyone who tries it!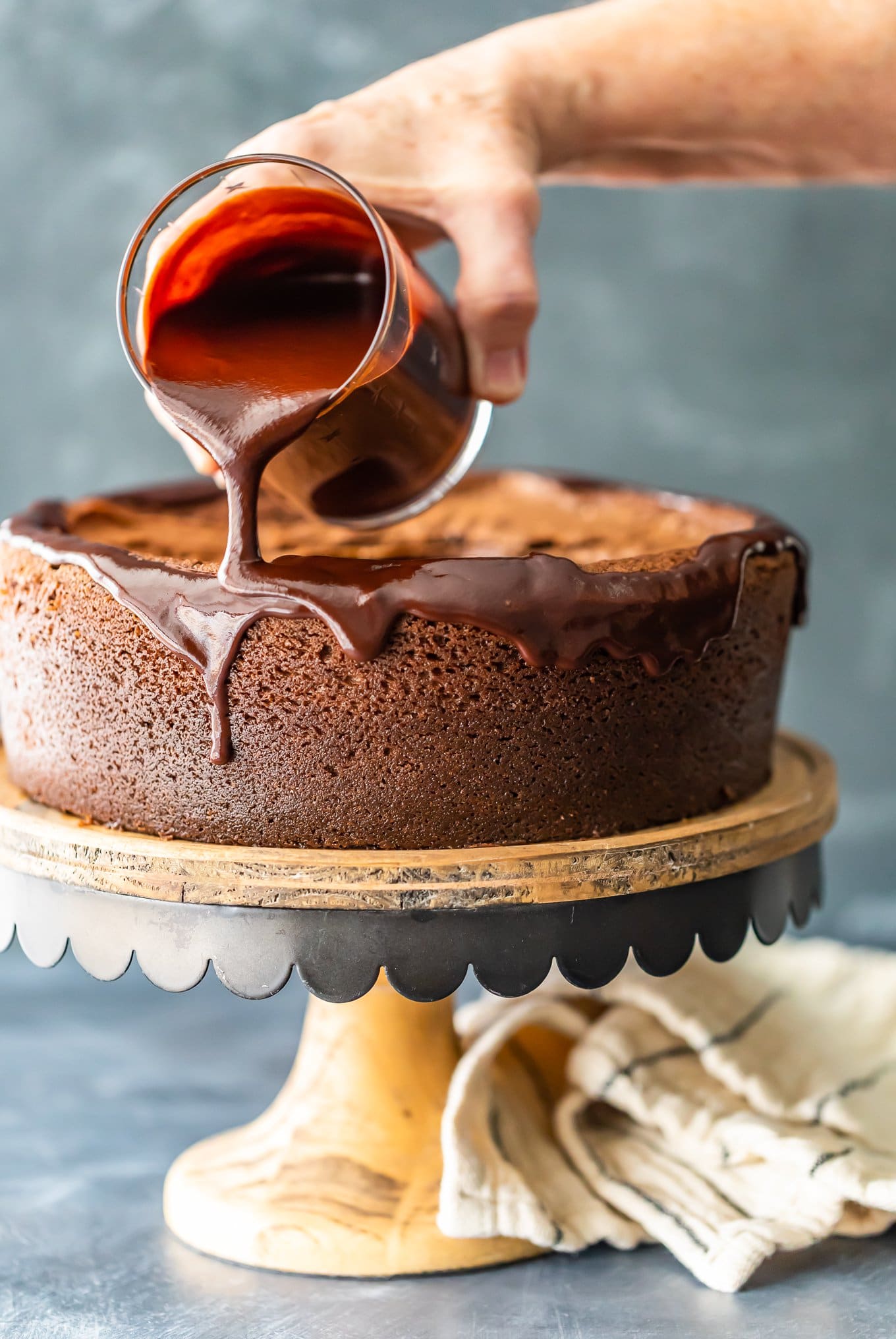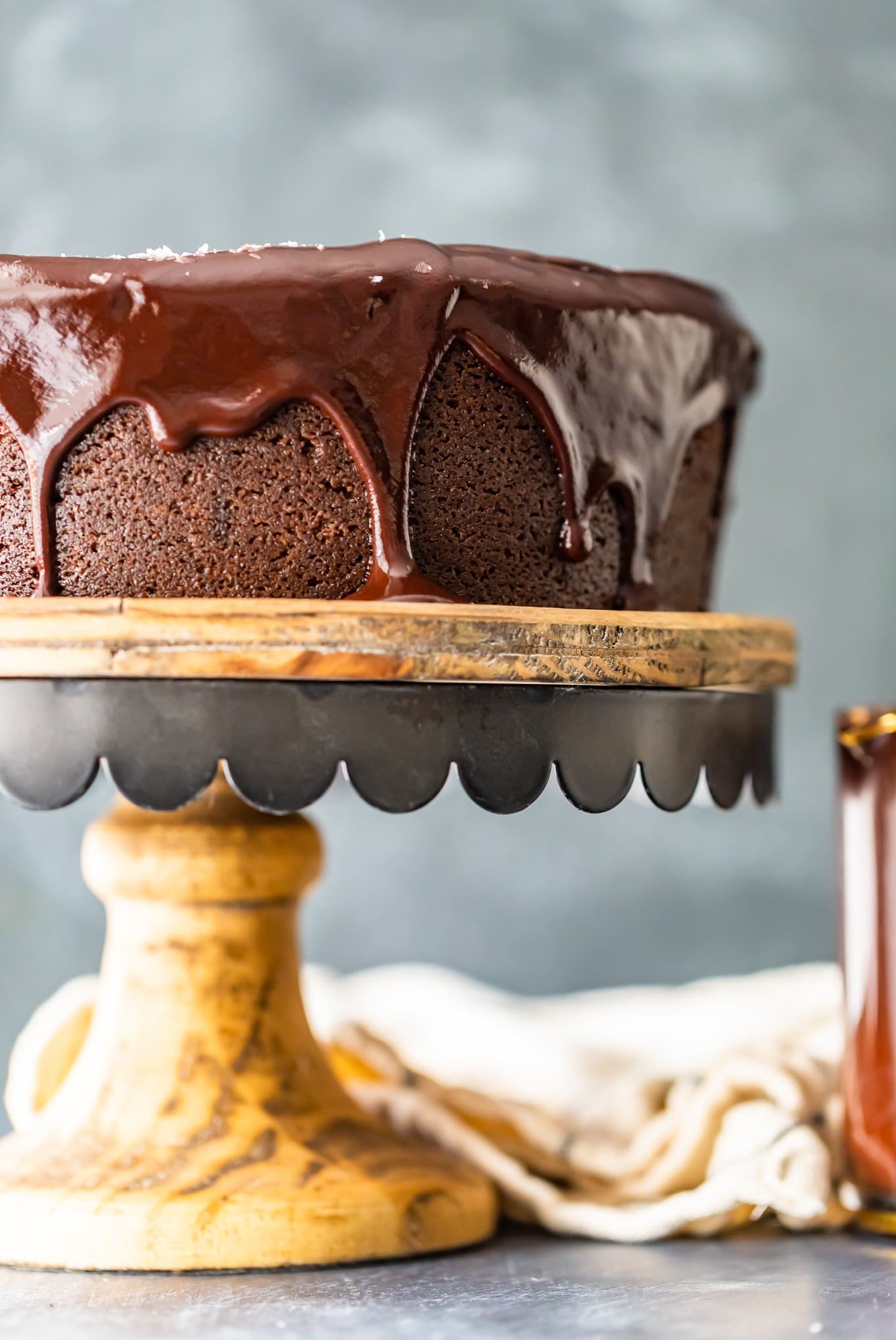 Chocolate Ganache Icing
Sometimes it's the frosting that really makes the cake. In this case, I'm torn. On one hand, the chocolate bundt cake is absolutely delicious on its own, with or without the icing.
But on the other hand…well, this chocolate ganache icing is just to die for! I'm not opposed to eating it without the ganache, but I'm not sure I can resist slathering it on if it's up to me. I'll let you decide.
The chocolate ganache icing is made up of just semisweet chocolate morsels, unsalted butter, and heavy cream. That's it! It's so simple, so pure, and SO delicious.
How to make chocolate ganache icing:
You can jump to the recipe card for full ingredients & instructions!
Heat the heavy cream in the microwave, just until it starts to bubble.
Add in the chocolate morsels and stir every 15 seconds until the chocolate melts.
Then stir in the butter until fully mixed.
Easy as that! Just pour it over the cake once it has cooled then sprinkle a bit of salt on top. It is seriously SO good. I can't explain how amazing this chocolate cake recipe is. You just have to try it yourself!
Chocolate Bundt Cake
I'm planning to make this chocolate bundt cake for Christmas because it is undeniably good. I love that it's just a classic dessert, but the absolute best version it could be.
This really is my favorite chocolate cake recipe! It might be the chocolate ganache icing, or it might be the sea salt sprinkled in to add a tiny bit of contrast to the rich, sweet chocolate. Whatever it is, I think it's perfect for the holidays!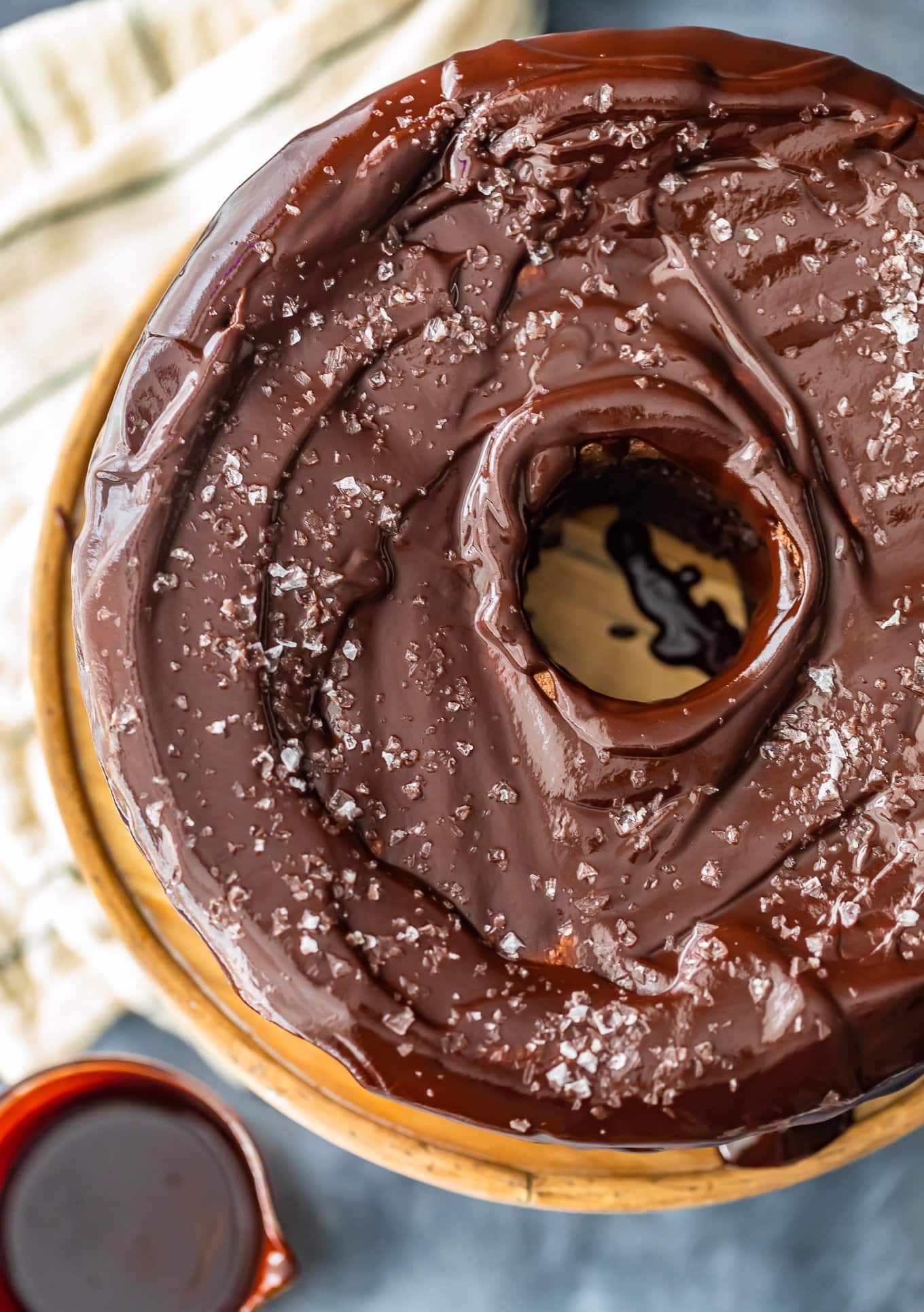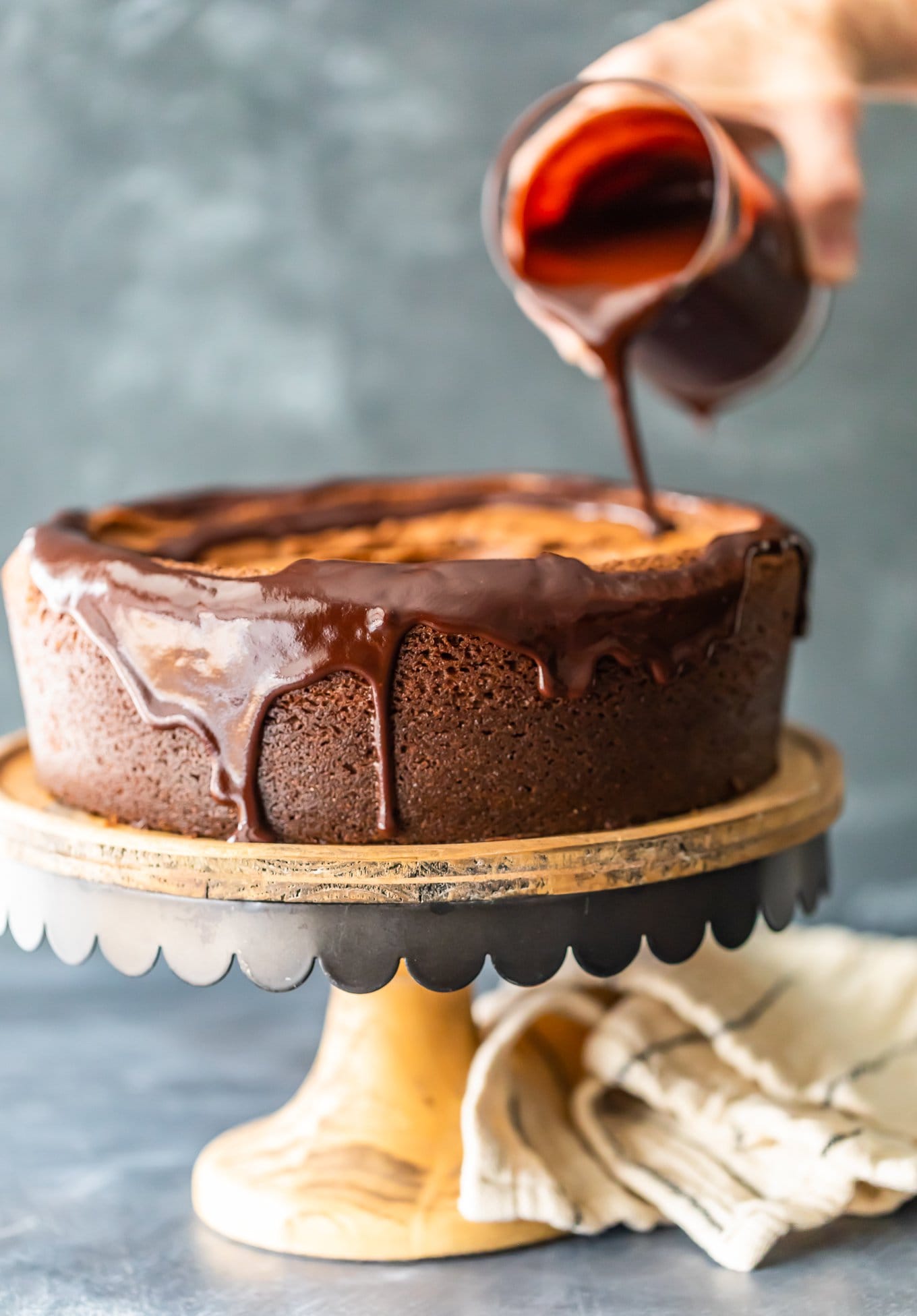 How to Make Chocolate Cake
No one said making the BEST chocolate cake ever meant it would be difficult. Trust me, you can make chocolate cake from scratch without having a breakdown in the kitchen.
Start by preheating the oven to 350°F and preparing the cake pan, then get to baking!
You can jump to the recipe card for full ingredients & instructions!
Melt the chocolate morsels by heating in the microwave and stirring until smooth.
Sift together the flour, baking soda, and salt in a mixing bowl.
In another bowl, beat the butter and brown sugar together, then add in the eggs and mix one at a time.
Next, mix in the melted chocolate, and then the flour mixture and sour cream (details for this step are in the recipe card).
With the mixer on low speed, slowly add in hot water, and then the vanilla.
Spoon the cake batter into the prepared cake pan, then bake at 350°F for 55-65 minutes.
Let the cake cool in the pan for about 10 minutes, then remove it from the pan and let it cool completely before icing.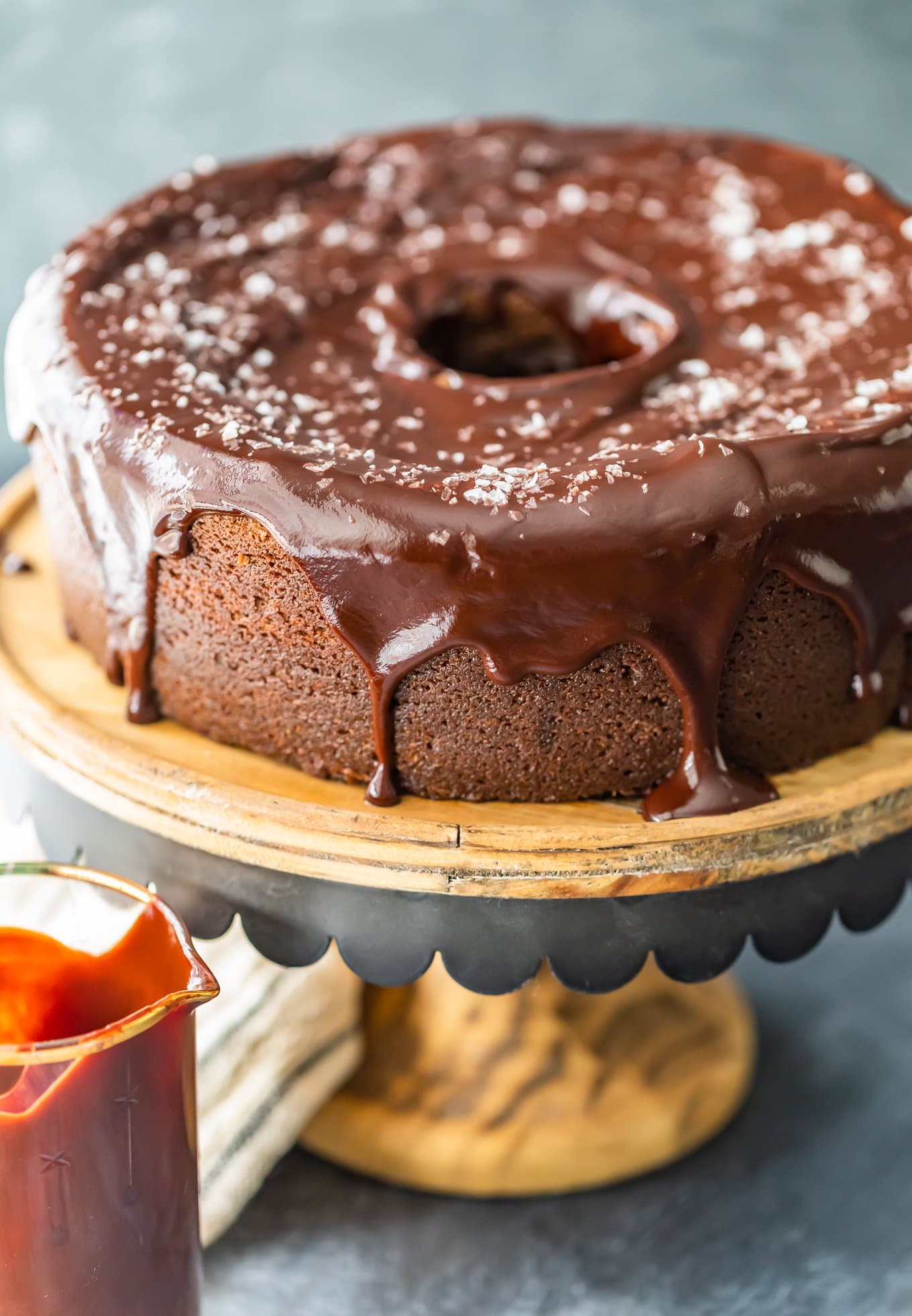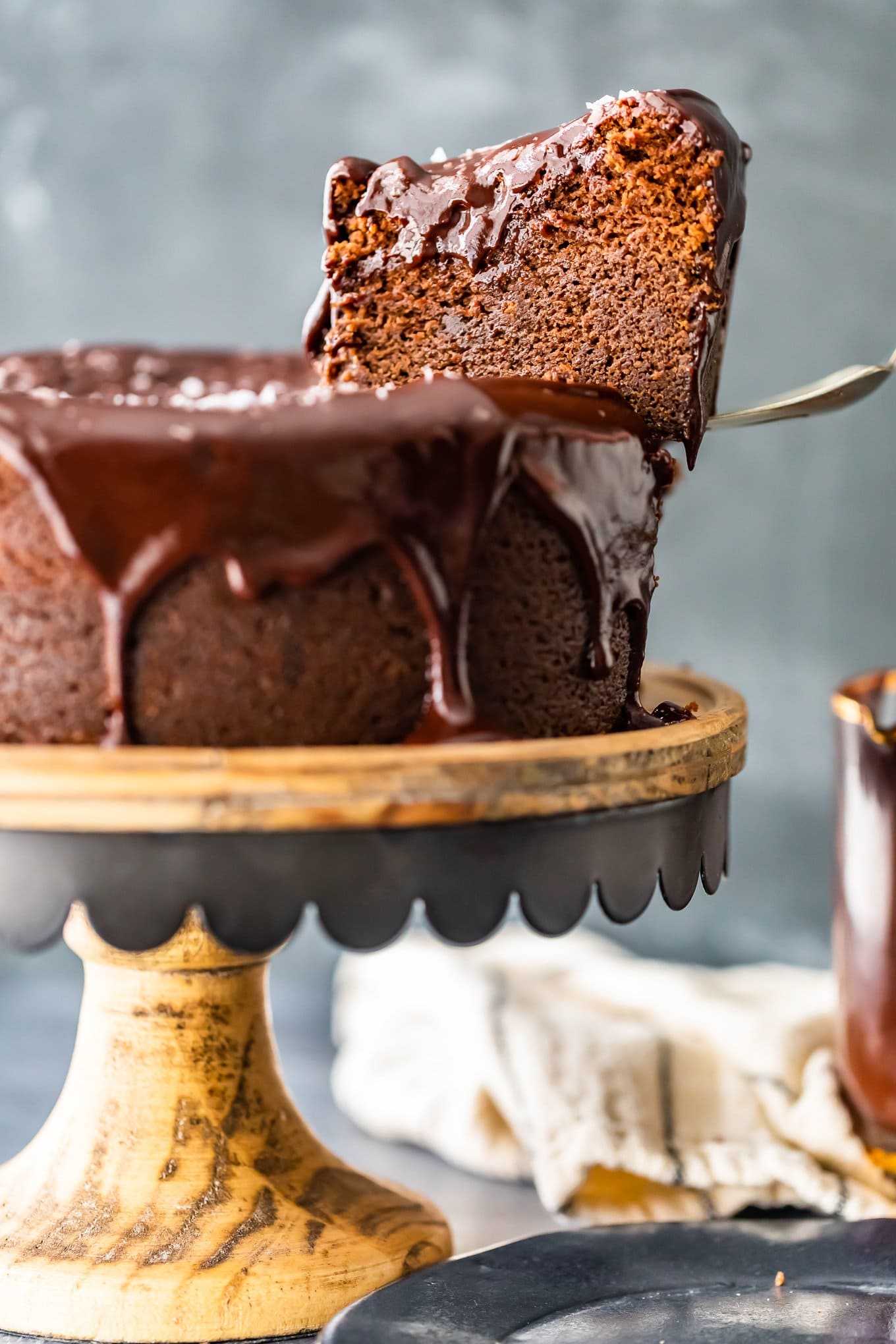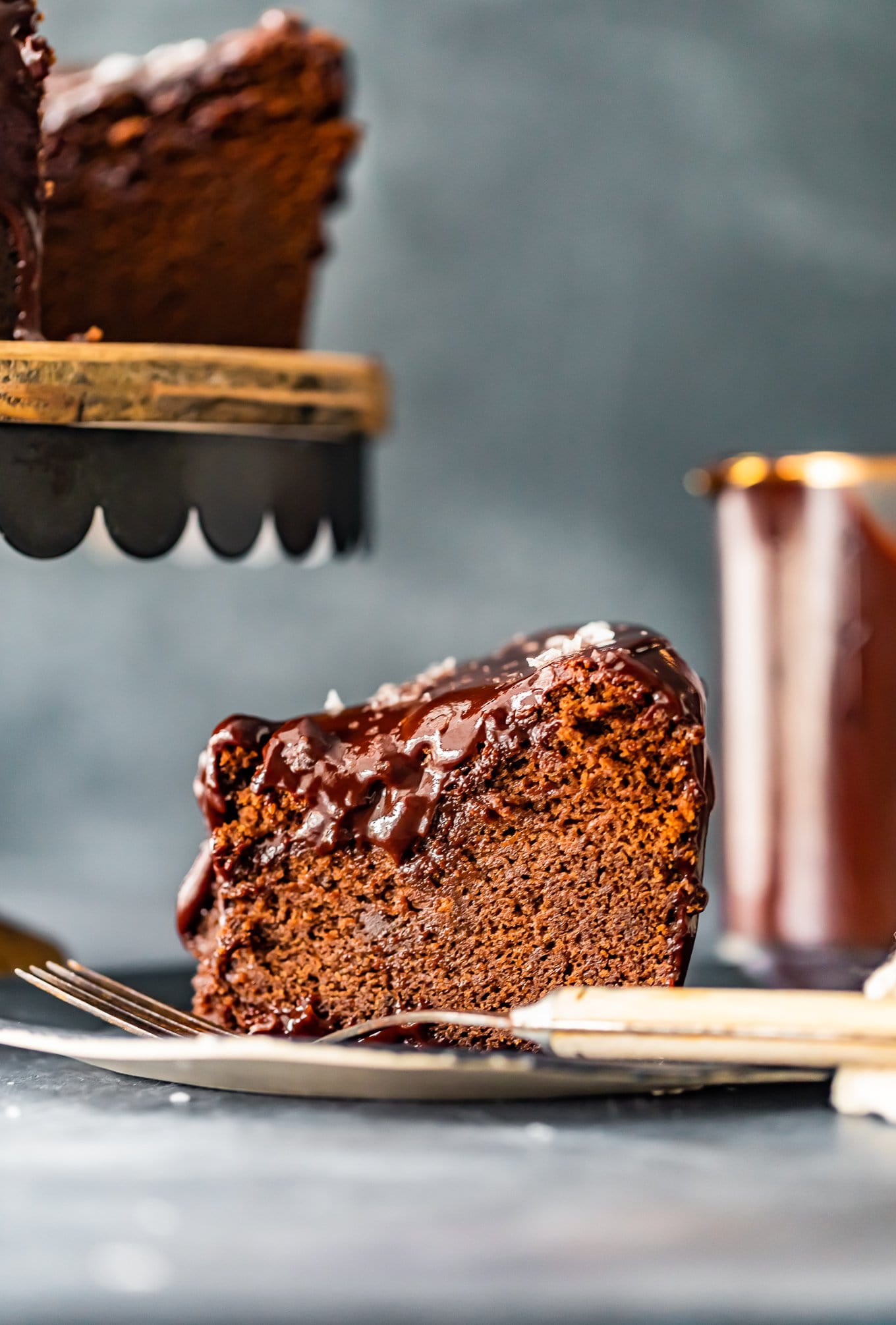 How to Serve Chocolate Cake
And now comes the fun part: eating! The thing I love about this classic chocolate cake recipe is that you can serve it however you like.
The flavor is just incredible, so you really can't go wrong. Of course I prefer it with the ganache, but that's not the only way to eat it. Here are a few serving suggestions!
Pour the chocolate ganache icing over the cake after it has cooled, and sprinkle with sea salt.
Skip the icing and just sprinkle with sea salt for a super simple flavor.
Add a scoop of vanilla ice cream and let it all melt together. Yum!
Dust the cake with powdered sugar and top with a dollop of whipped cream.
Serve with fresh berries and drizzle the ganache on top.
So many ideas, and like I said, you can't go wrong!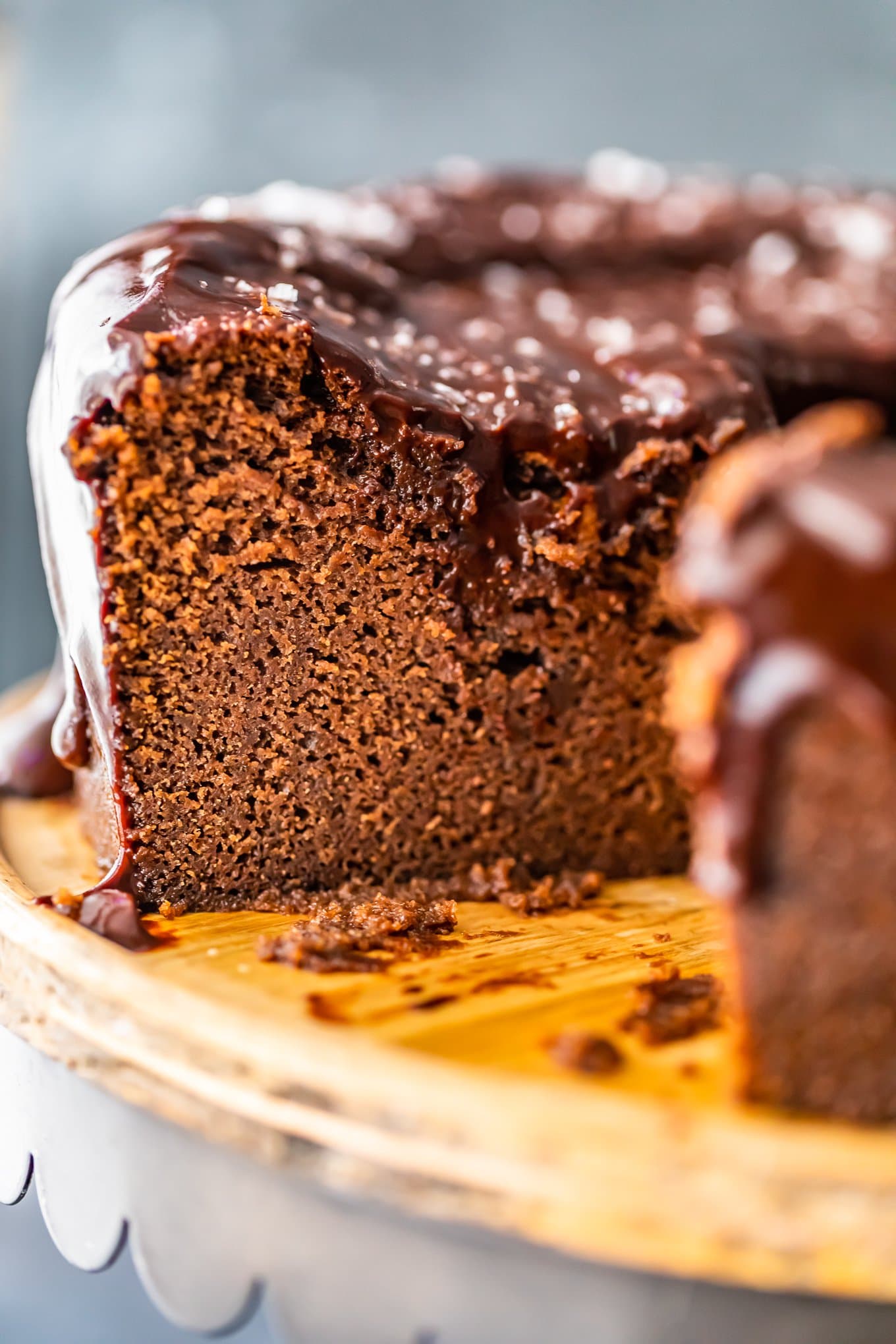 This Velvet Chocolate Cake recipe is truly a favorite for me, and I think it will be a favorite for you too. Can't go wrong with a classic chocolate bundt cake!
If you like this chocolate bundt cake recipe, try these other amazing cake recipes:
If you make this recipe be sure to upload a photo in the comment section below or leave a rating. Enjoy! You can also jump to recipe.