This German Chocolate Cake recipe serves up the most sumptuous chocolate treat. A delicious coconut pecan frosting adorns a rich and moist cake, that's nothing short of show stopping!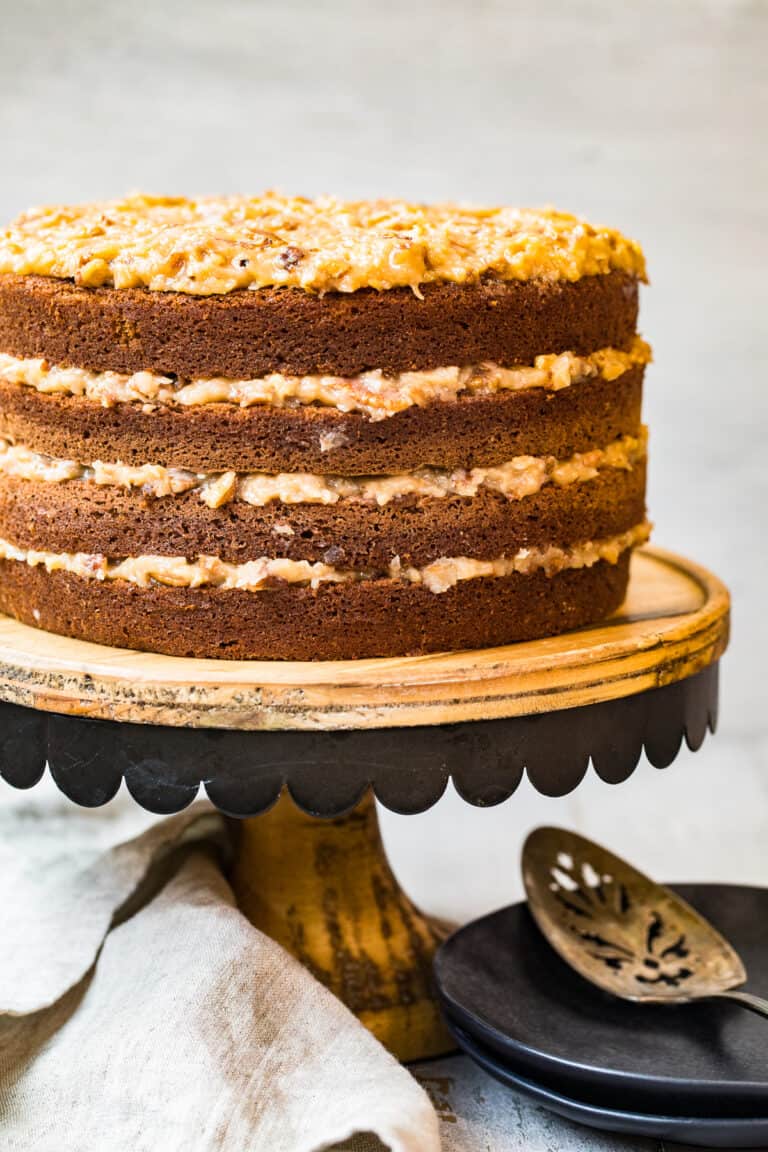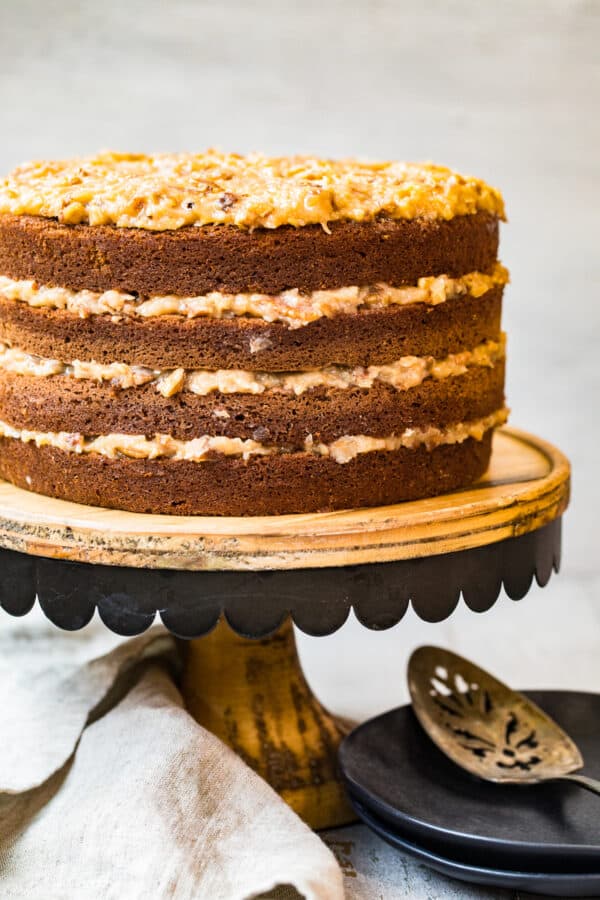 Moist, rich chocolate cake with layers of gooey coconut pecan frosting, this German Chocolate Cake recipe is pure heaven! It looks as good as it tastes, even novice bakers can whip this up with ease. Great for parties, birthdays, Valentine's Day, Wednesdays, any days really!
Looking for more cake recipes? Why not also try my Black Magic Chocolate Cake and my Velvet Chocolate Cake Recipe!
Why you'll love this German Chocolate Cake recipe
A dreamy, creamy filling. Made with toasted pecans, shredded coconut and vanilla, this easy frosting goes so well with chocolate!
A moist and chocolaty cake. Melt in the mouth chocolate cake layers made with buttermilk, sour cream and sweet German's chocolate.
It looks as good as it tastes. This beautiful 4 layer cake is perfect for parties and decadent desserts!
How to make this German Chocolate Cake recipe
Be sure to see the recipe card below for full ingredients & instructions!
Make the frosting base- In a heavy bottomed pan, whisk together all your frosting ingredients, except for the lemon juice, coconut and pecans. Cook for 10 mins. Then add your remaining frosting ingredients and stir well.
Make the cake batter – Melt your chocolate, whisk your eggs and mix in your wet ingredients. In another bowl mix your dry ingredients then mix your dry and wet mixtures together, folding in your whipped eggs.
Divide your batter – Pour your batter into prepared cake pans.
Bake – In an oven at 350F, bake the cakes for 20-35 mins.
Layer – Cut your cakes so you have 4 layers, spread your frosting between each layer and on top of the cake.
Serve and enjoy!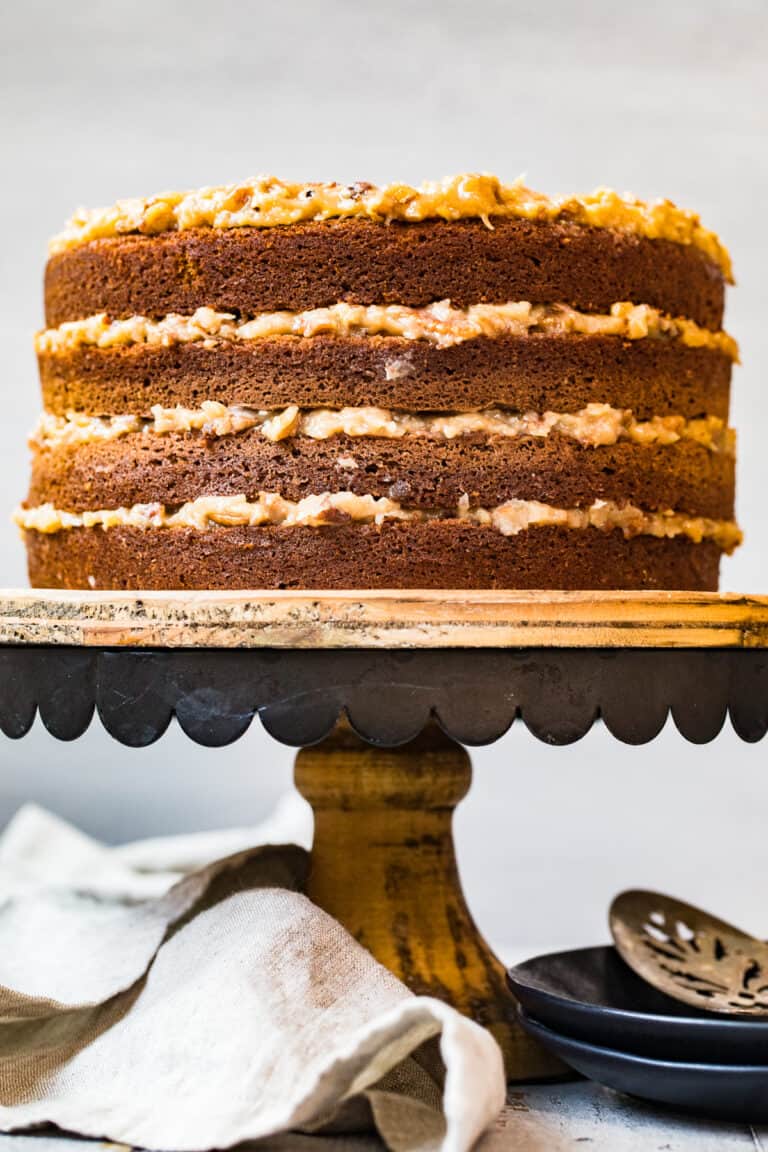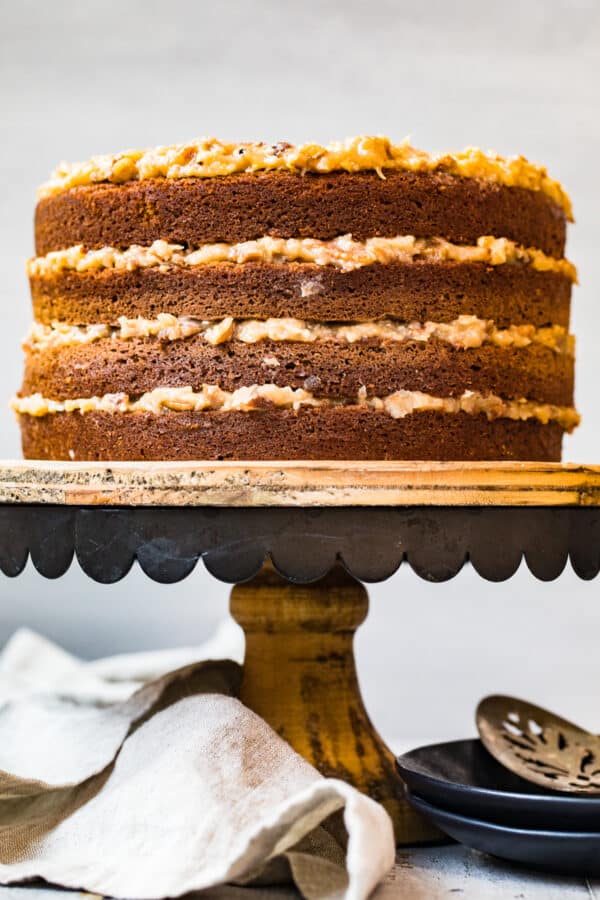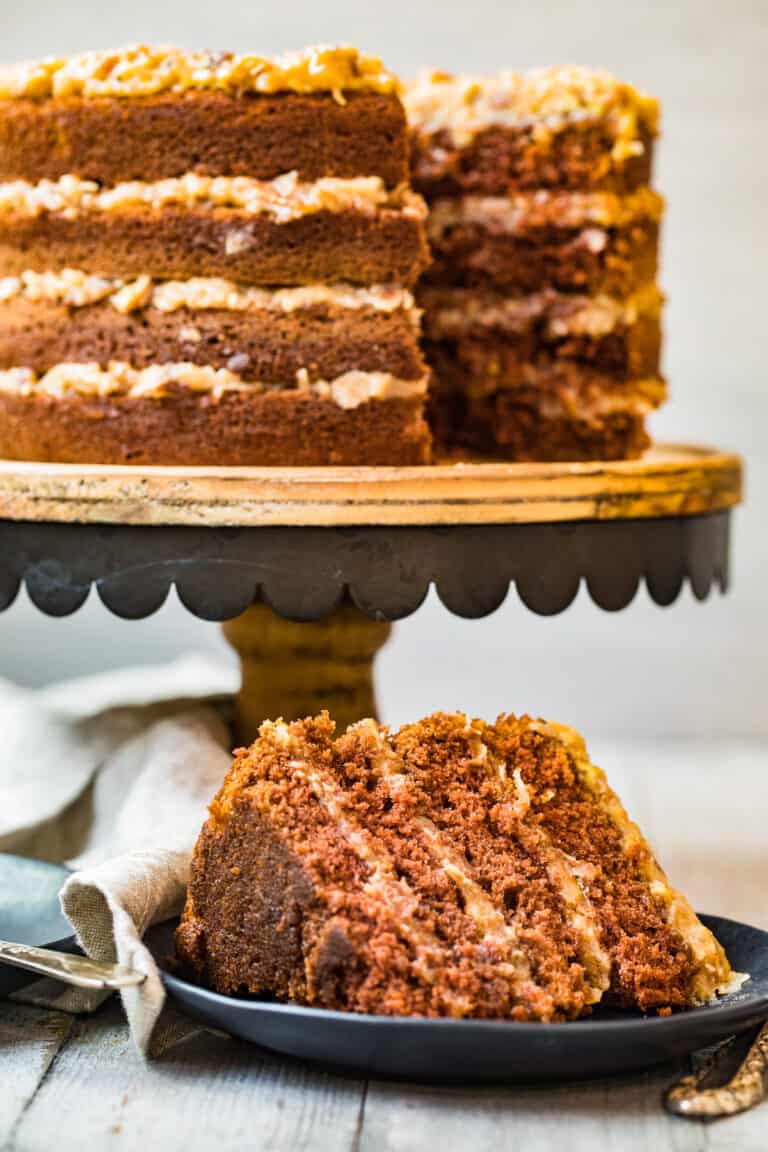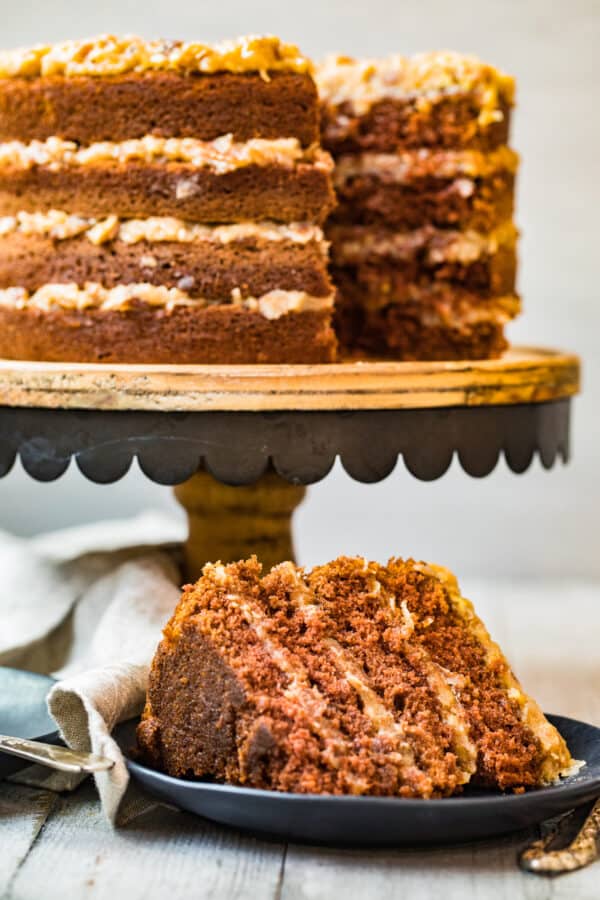 What makes German Chocolate Cake different?
German chocolate cake is made with German sweet chocolate, whereas a cake like devil's food cake is made with unsweetened chocolate.
While the standard chocolate cake is chocolate all the way through, sometimes, with icing on top and sides, German Chocolate Cake takes amps thing up! It has layers layers of flavored frosting between the layers of chocolate cake — making for a very moist and so satisfying!
Can I make this recipe ahead of time?
You can make the cake, coconut frosting frosting at least one day in advance. This way, the cake is really easy to put together!
The frosting can be placed in a covered container in the fridge. Remove it from the fridge about an hour or so before you're ready to frost your cake. This will allow the frosting to come to room temperature and will be easier to frost.
You can bake the cake, let them cool and cut into 4 layers. You can then wrap them in plastic wrap and place each layer in a ziplock freezer bag. Freeze for up to one month.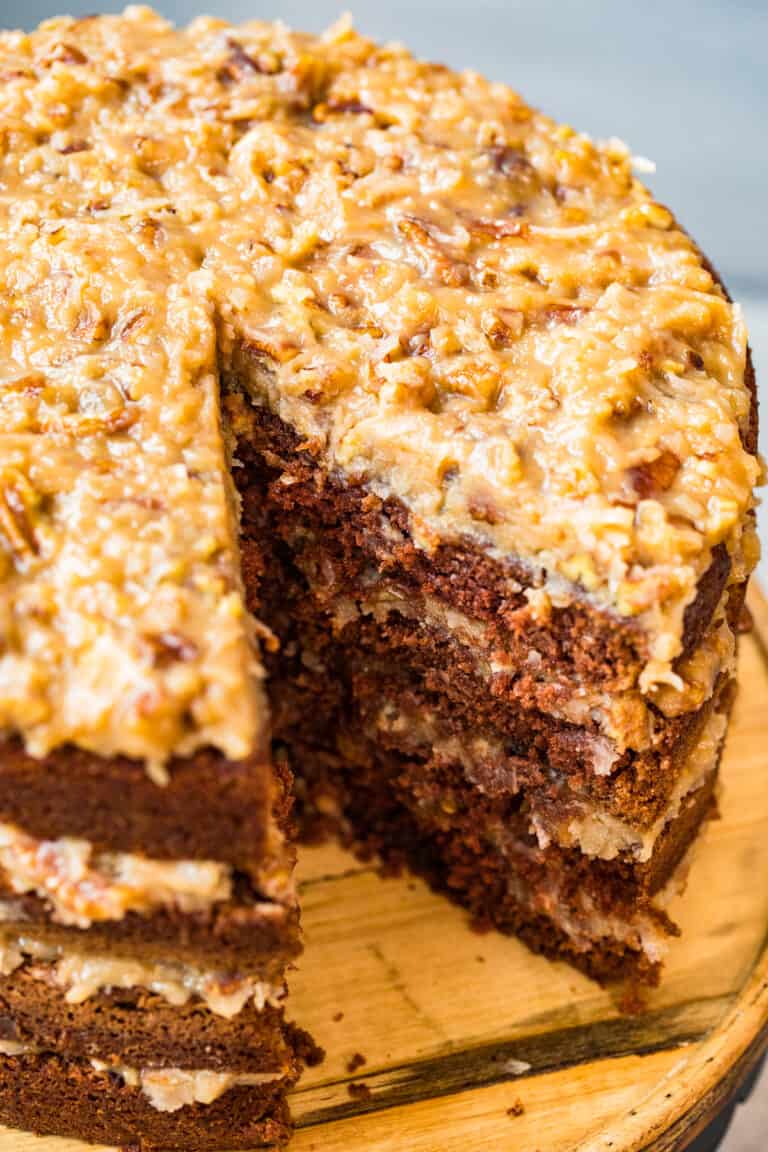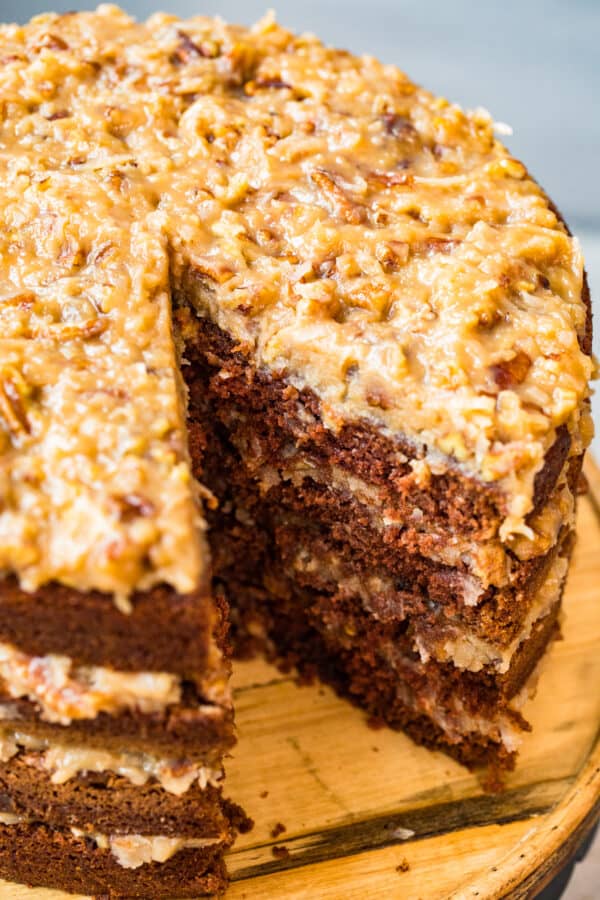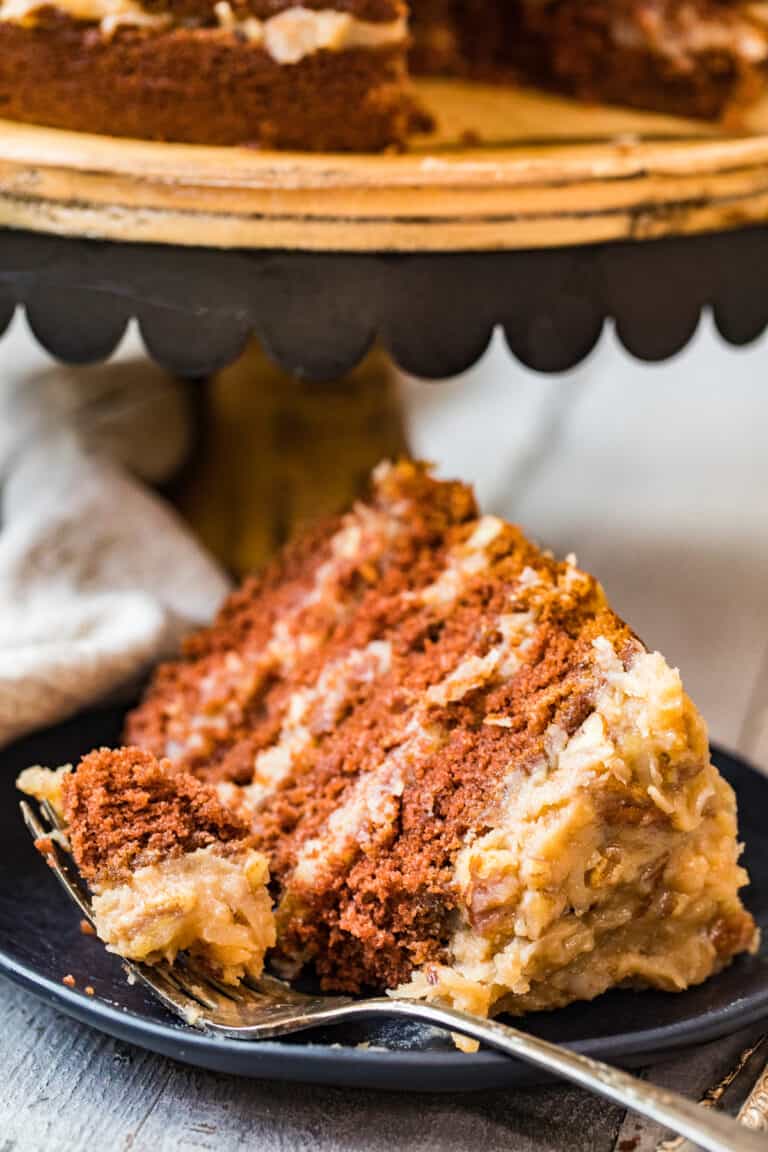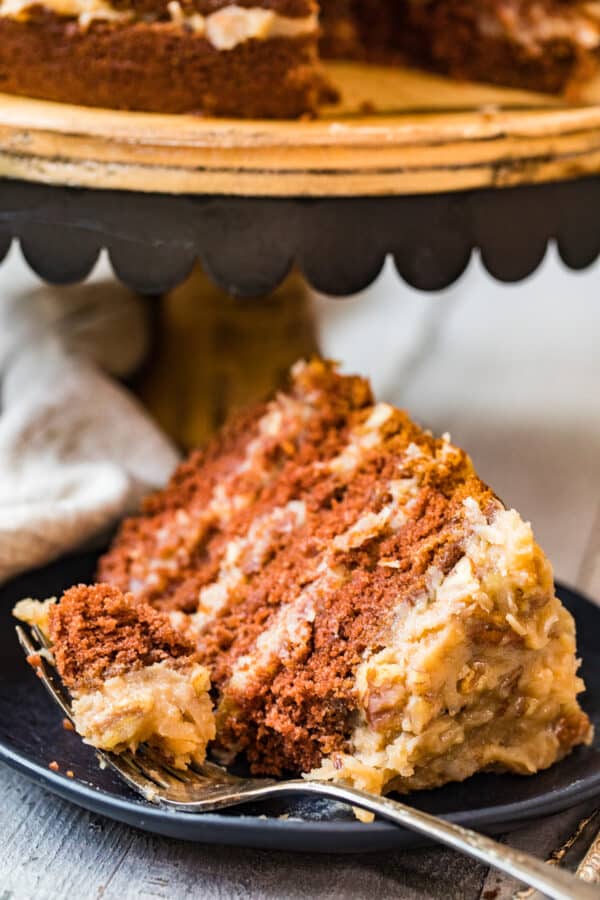 Storing German Chocolate Cake
If properly wrapped, freshly baked German Chocolate Cake will last for about 1 to 2 days at normal room temperature.
Wrap tightly with tin foil or cling wrap then refrigerate to extend the life of the cake.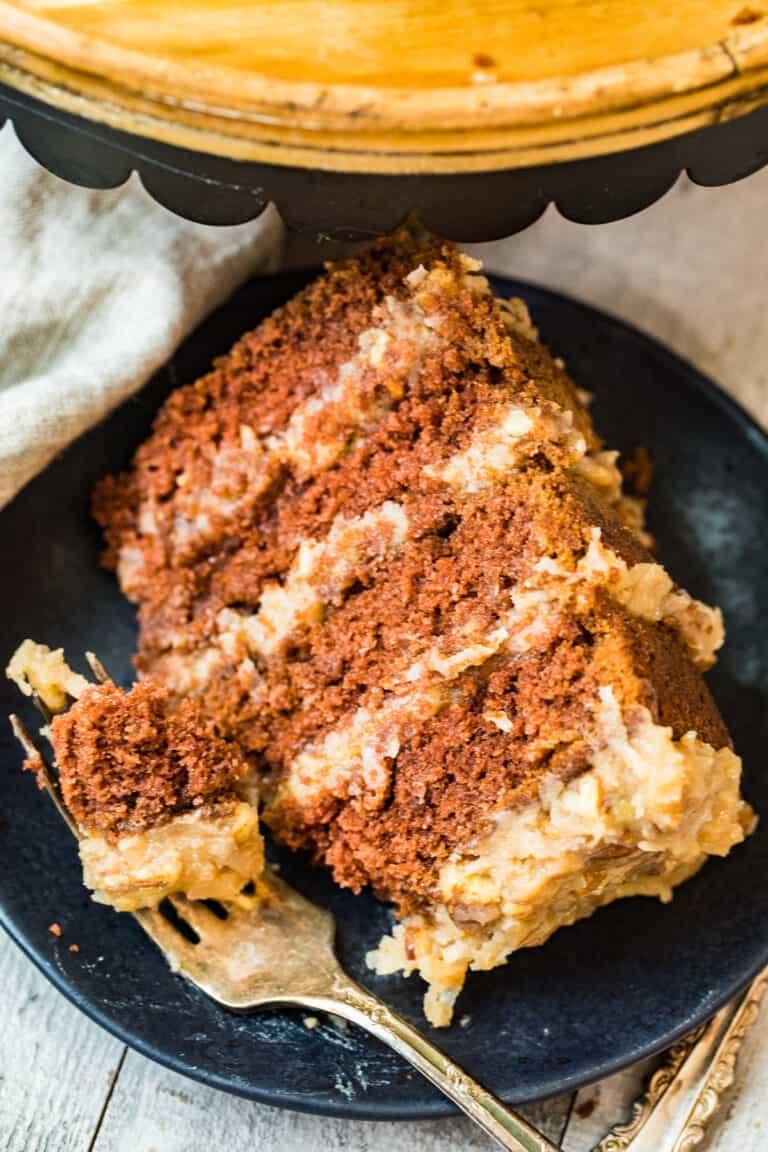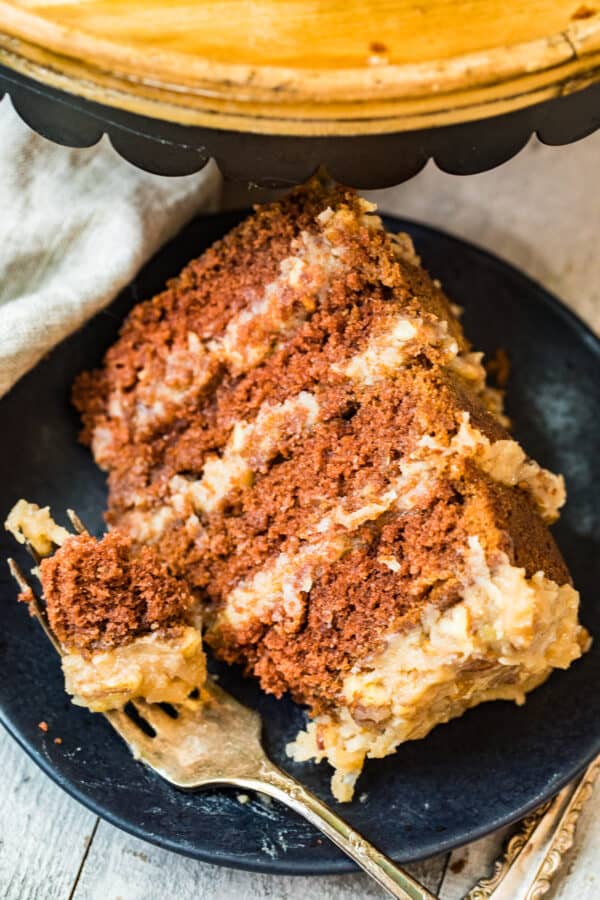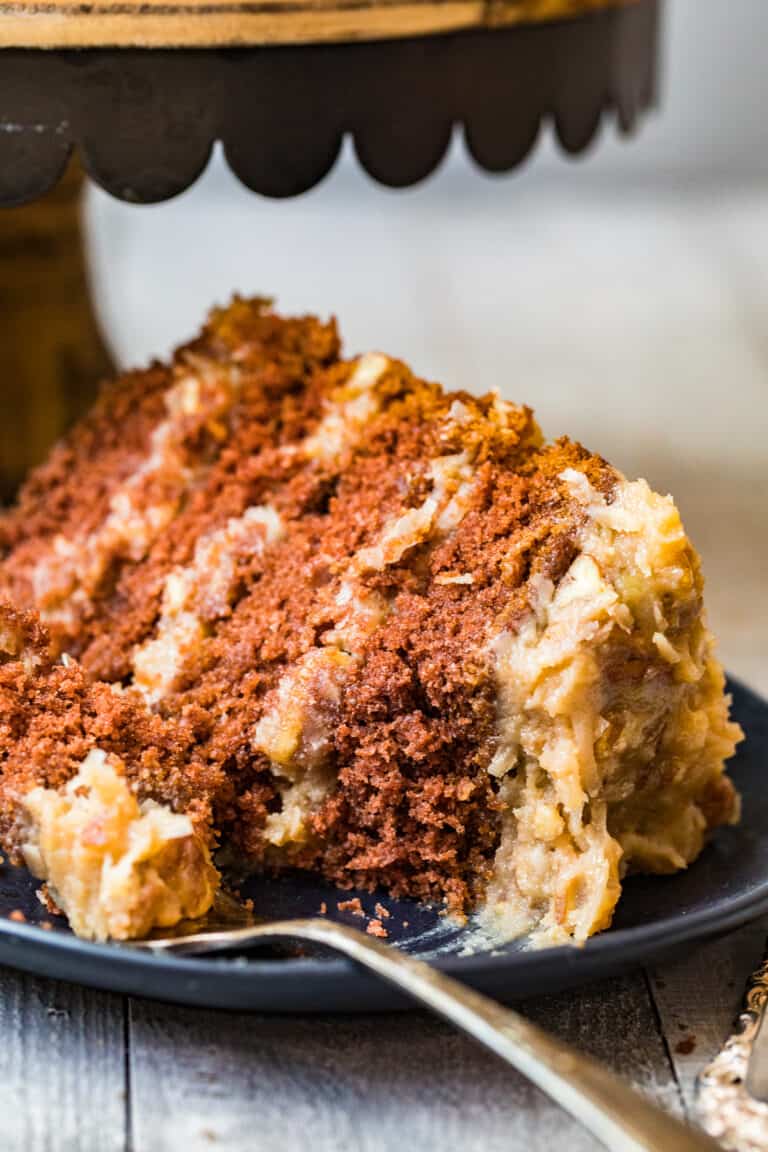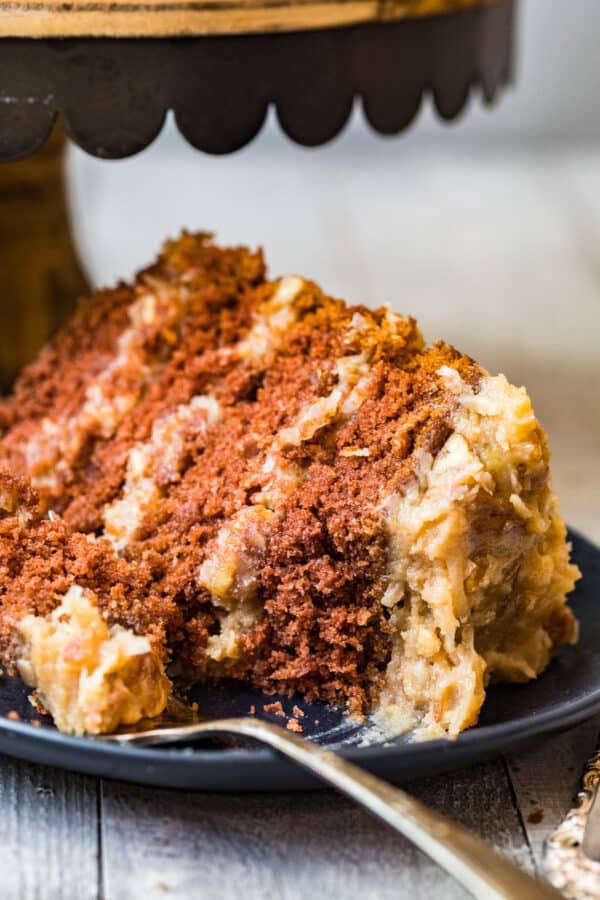 Tips!
Use a preheated oven.
Make sure to spray your pans with non stick and – if you like – lay down parchment paper in the bases.
Use room temperature ingredients.
If you don't have buttermilk, add 1 tablespoon white vinegar to 1-cup milk, stir and let stand 10 minutes.
This recipe makes one 8 inch, 4 layer cake.