Homemade Brownies from Scratch just might be the ultimate chocolate dessert recipe. This EASY Homemade Brownies Recipe can make any day better and satisfy any sweet tooth. These are truly the best ever brownies you will ever taste, and they will stay in your family for generations to come. If you've wondered how to make brownies from scratch, this recipe is for you. They're super dense, moist, rich, and perfect!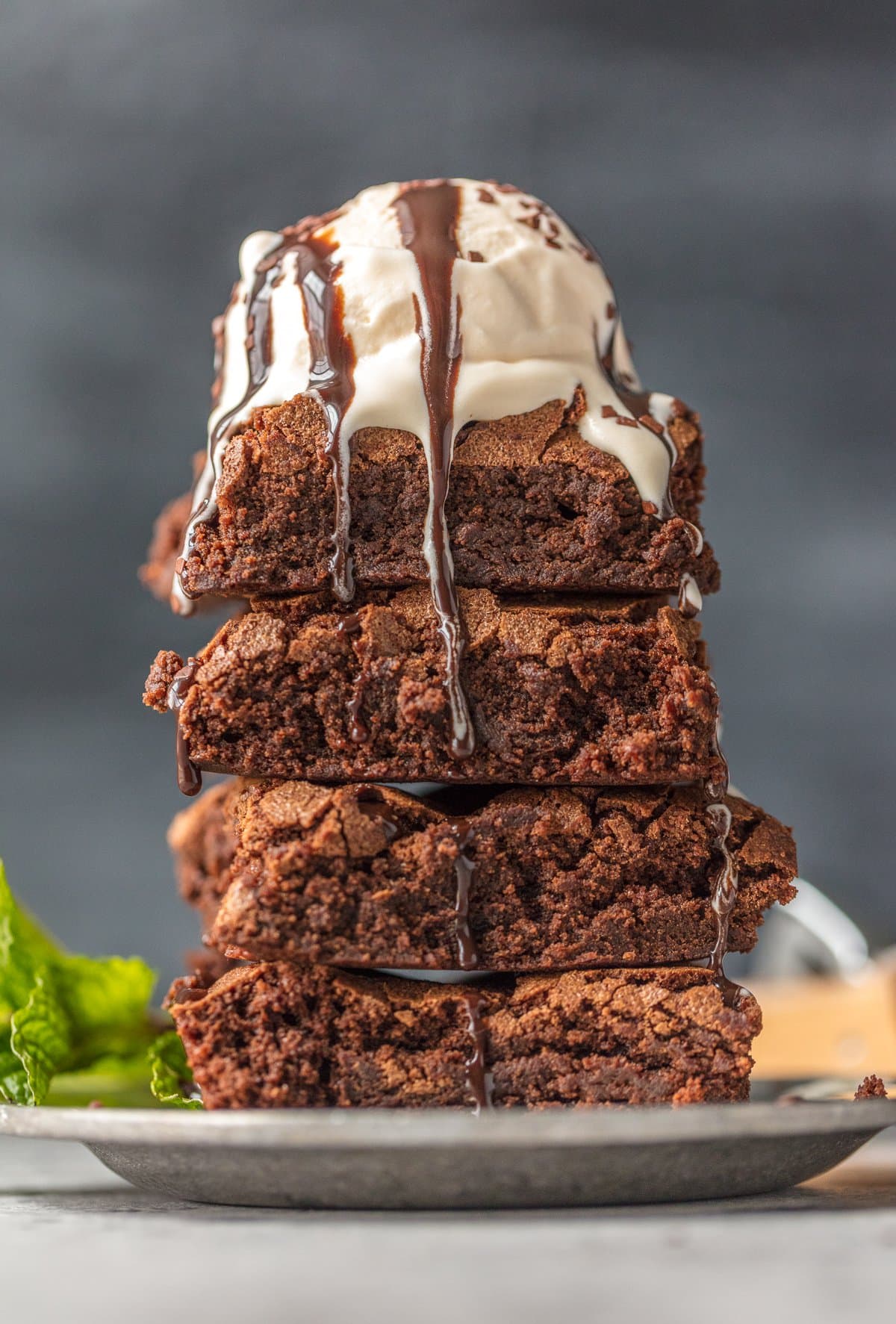 Homemade Brownies Recipe
This Homemade Brownie recipe makes the most amazing fudgy brownies you will ever taste. Box Brownie Mix is fine, but these Homemade Brownies from Scratch will be the BEST EVER BROWNIES you've tasted!
Homemade Brownies from Scratch can make any day better. I'm a big believer that everyone needs a killer brownie recipe for any and every occasion.
If I had to choose one dessert to eat every single day, it would be amazing brownies. There's just nothing better than a thick chewy brownie. I'm a huge chocolate lover, and there are simply never enough brownies!
Sure you can make brownies from a box (and that's honestly what I've always done), but once I got this easy homemade brownie recipe from my Mom, I've never looked back.
THIS IS THE BEST BROWNIE RECIPE I'VE EVER TASTED! No shame in brownies from a box, but I have a feeling that once you learn how to make brownies from scratch, you won't be going back to that either. Prepare yourselves to become Betty Crocker!
I had always used Brownie mix and never given much thought to how to make brownies from scratch…but all that changed with this easy brownie recipe.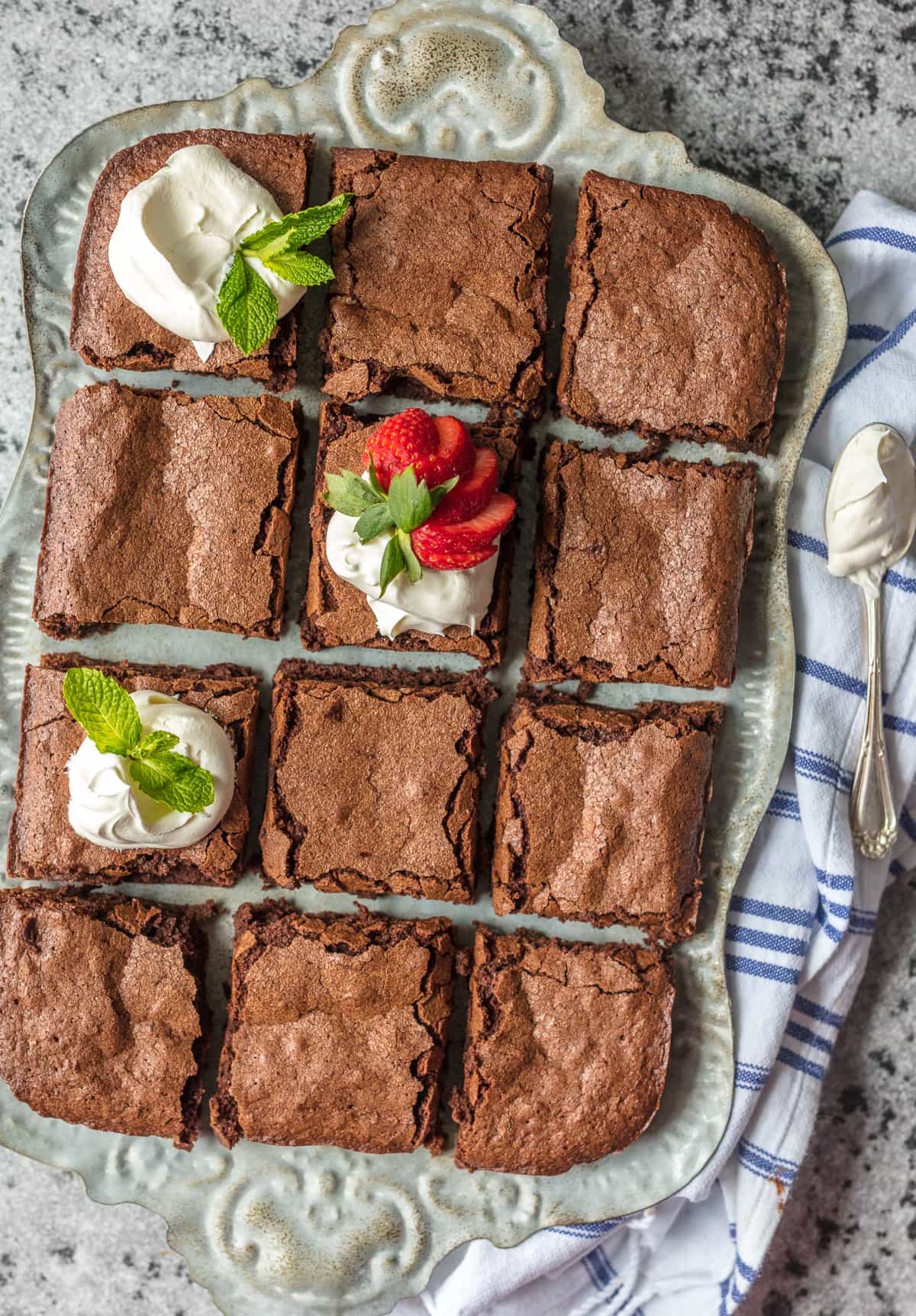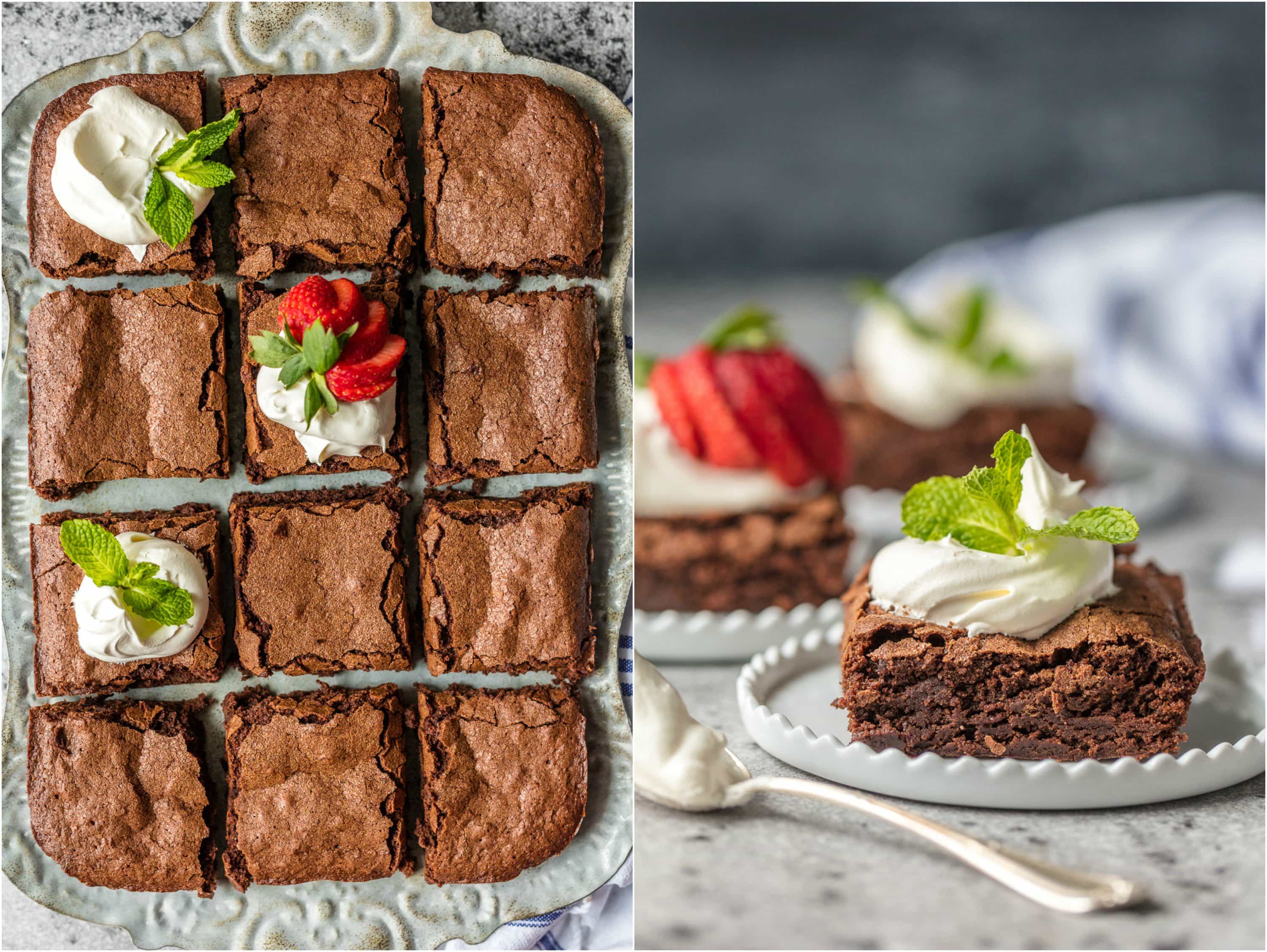 Homemade Brownies FAQ
Making brownies from scratch has a lot of ins and outs. There are so many little details to consider, and every recipe is different. Here are answers to a few questions you might be wondering while you learn how to make brownies!
Can you substitute eggs in Homemade Brownies?
Yes! If you prefer a lower cholesterol version, you can swap applesauce or bananas for the eggs. Simply use 1/3 cup applesauce as a swap for 1 egg. Another eggless baking recipe we love are our Applesauce Chocolate Chip Cookies!
How do I make these brownies from scratch more cakey? What about more chewy?
The amount of eggs in the recipe is what makes the brownies either more cakey or more chewy. Basically:
To make brownies more chewy, use less eggs.
To make brownies more cakey, use more eggs.
I think the combo we have in these easy brownies from scratch is perfection, but you can play around with it and make it your own! One more egg will make things much fluffier, while the recipe as is will give you a denser, chewier brownie.
If cake is more your thing, be sure to check out our favorite Brownie Cake!
How can I soften a hard Brownie?
If you accidentally leave a brownie out and it becomes too hard…DO NOT FRET! We don't want a single brownie crumb to go to waste. Here's my favorite trick to soften those hardened brownies: Wrap the brownie in a moist paper towel and microwave for 30 seconds. It works like a charm!
How long do these Homemade Brownies from Scratch keep?
Brownies stored in an airtight container should be great for 3-5 days at room temperature. One great tip for keeping them extra moist is storing the brownies in an airtight container between layers of wax paper.
Quick Tip for Making Homemade Brownies and keeping them fresh:
When you store your brownies as explained above, slip a slice of bread into the top of the container before closing. The moisture from the bread should give your brownies a few extra days of soft, chewy perfection. If you notice the bread getting stale, simply replace it. Done and done!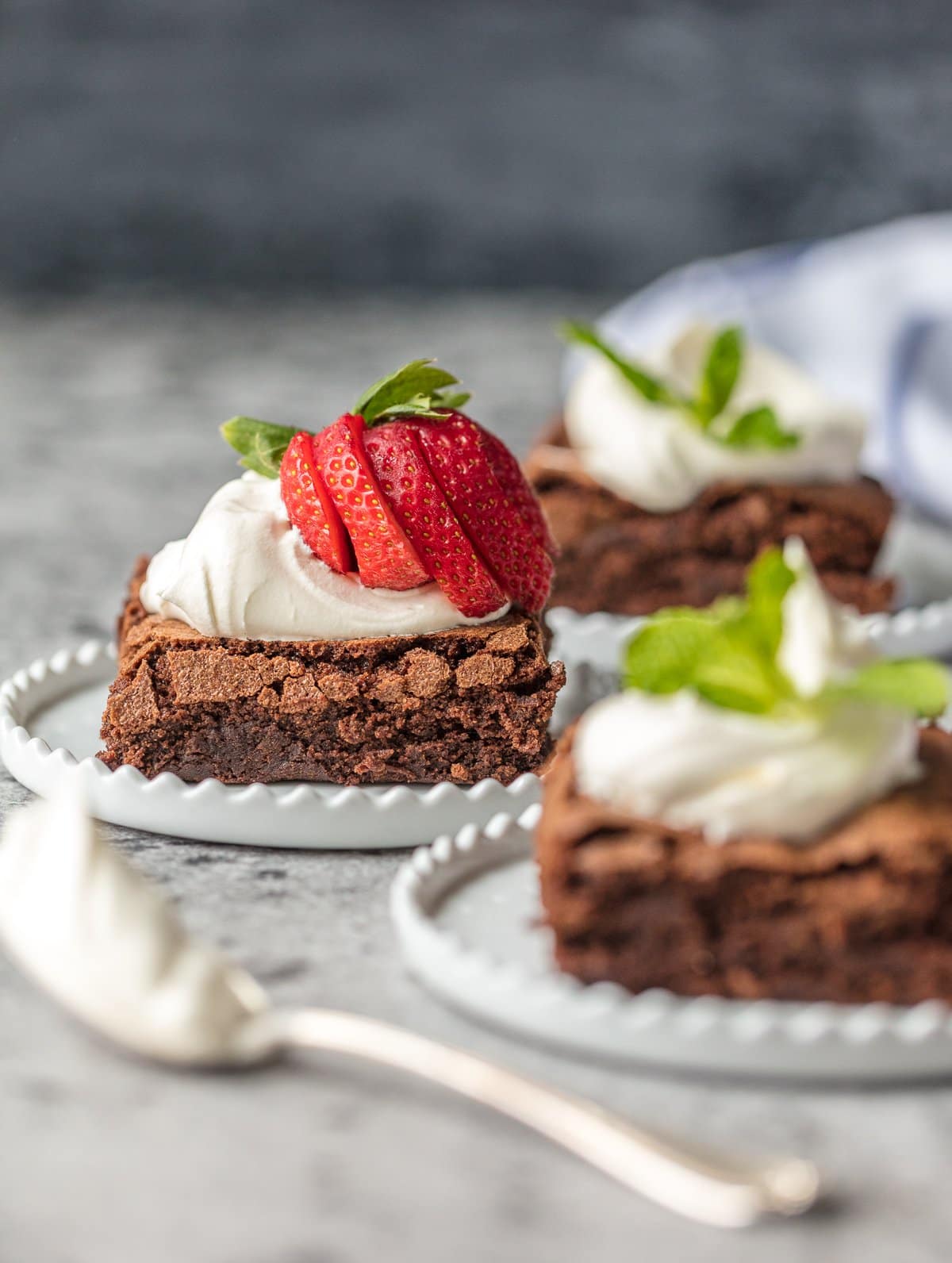 Best ways to serve Homemade Brownies from Scratch
Let's be honest, there's no wrong way to serve these delicious and easy homemade brownies! They're just SO good.
If you just want a simple little addition, serve the fresh brownies with a bit of whipped cream.
If you're really in the mood for a treat, serve them while they're still warm and top them with vanilla ice cream…and a little chocolate sauce for good measure!
Since you're eating the best brownies ever, go all out. I think the best way to end any long day is with a glass of red wine and one (or three) of these best ever brownies. Topped with ice cream. You get the idea.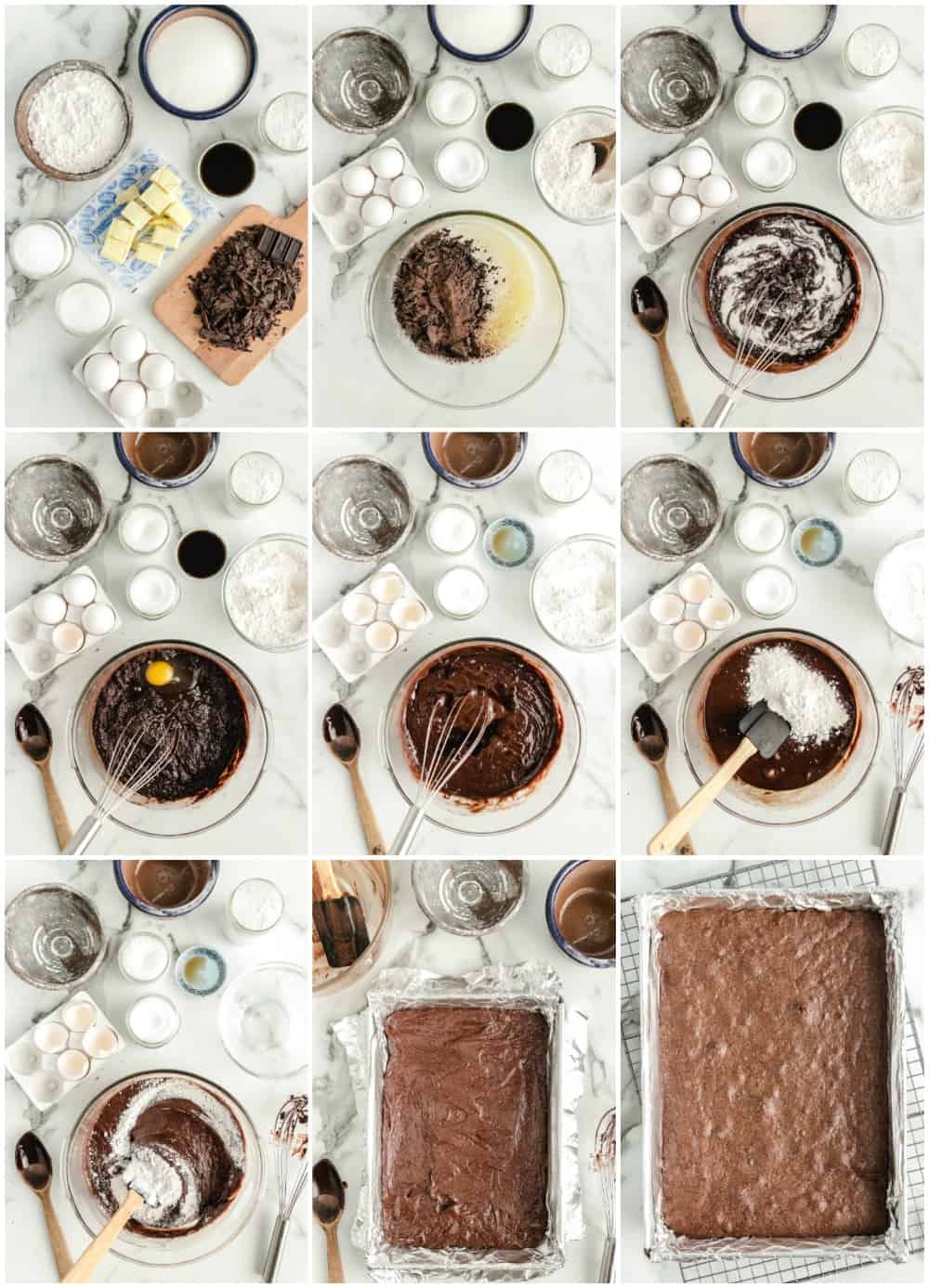 If you like this caramel brownies recipe, try some of our other favorites brownies: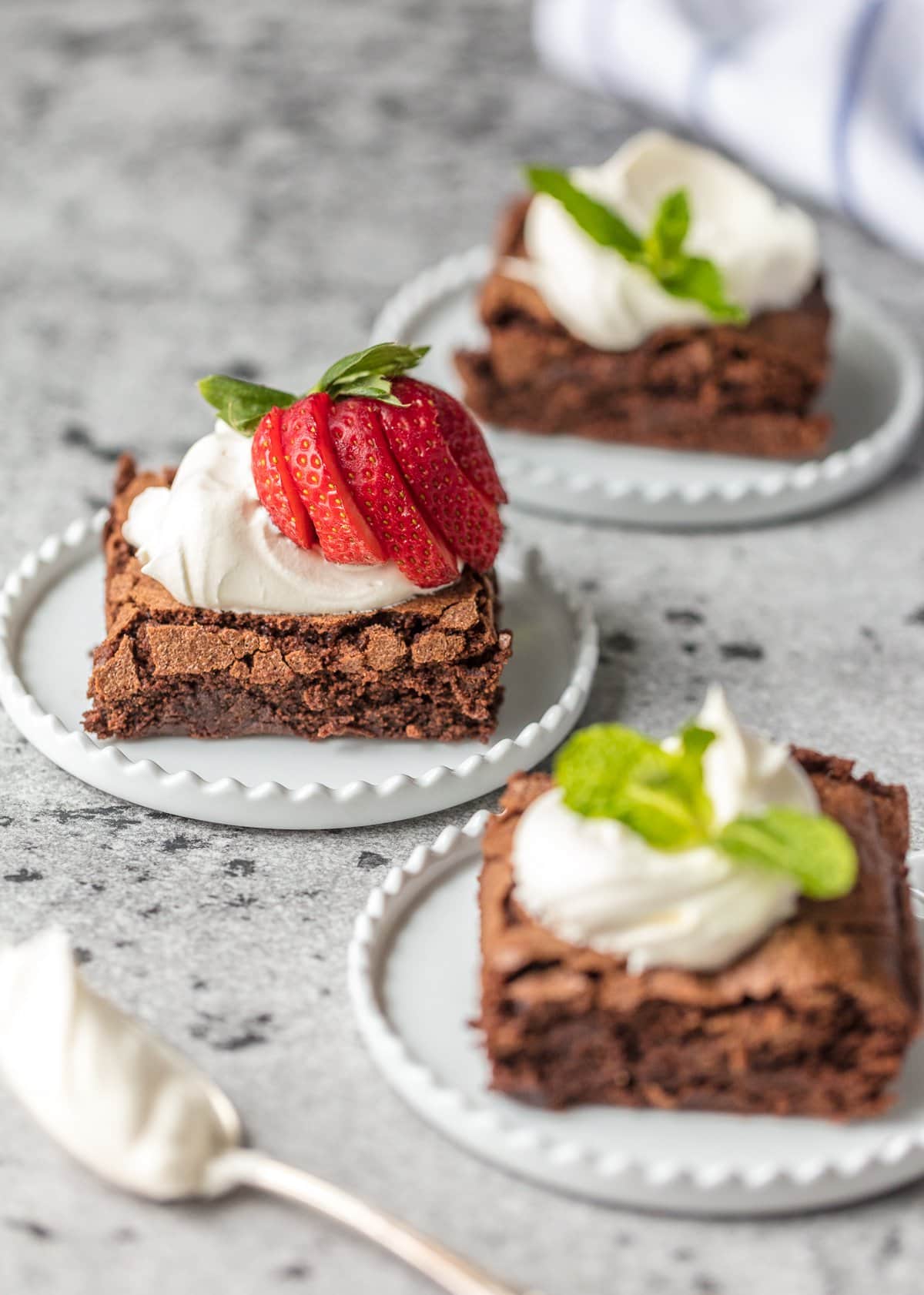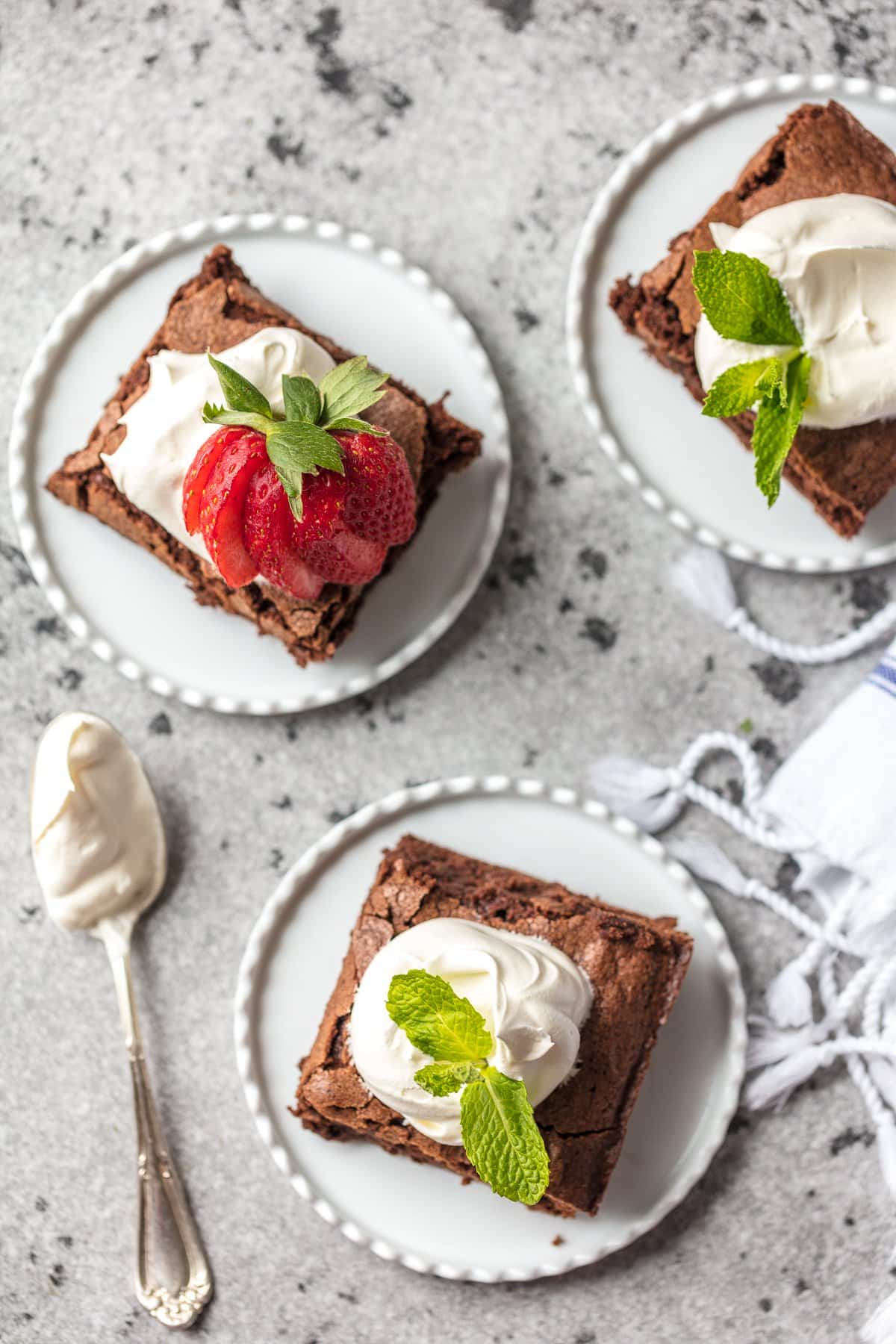 Best Homemade Brownies from Scratch
These easy homemade brownies from scratch are so simple, but you can keep that as our little secret. So grab a bowl, heat up one of these brownies for a few seconds, and top with some ice cream. Close your eyes, dig in, and enjoy. And then repeat tomorrow…and the next night.
If you love chocolate as much as we do, these Brownies from Scratch are a MUST have recipe to learn and make again and again. Your family and your stomach will thank you.
What's in this homemade brownie recipe?
Cake Flour
Baking Powder
Unsalted Butter
Unsweetened Chocolate
Salt
Granulated Sugar
Eggs
Vanilla Extract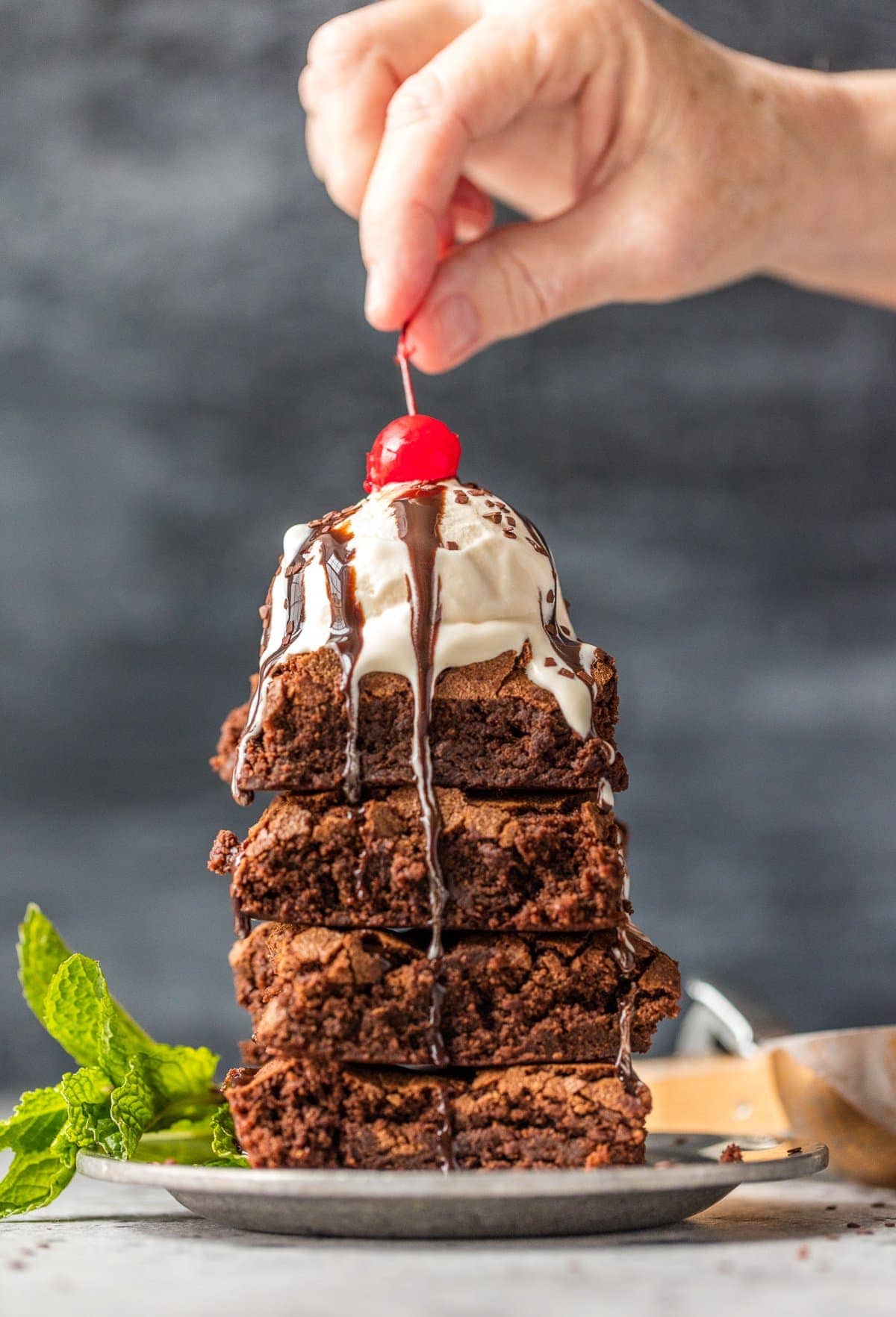 I can't wait for you to try these out. I'm confident you'll agree that they are the best ever brownies! So chocolatey and moist. Yum!
Watch the VIDEO and see the recipe card below for full details on How to Make Brownies from Scratch. Enjoy!
Looking for more chocolate recipes? Here are some of our favorites!