Make up a batch of homemade oat milk in a few minutes with just a few basic ingredients. This plant-based milk has a creamy texture, and is a great healthy and vegan alternative to dairy milk. Use this oat milk in any of your favorite drinks and recipes–it's so great to have on hand in your fridge!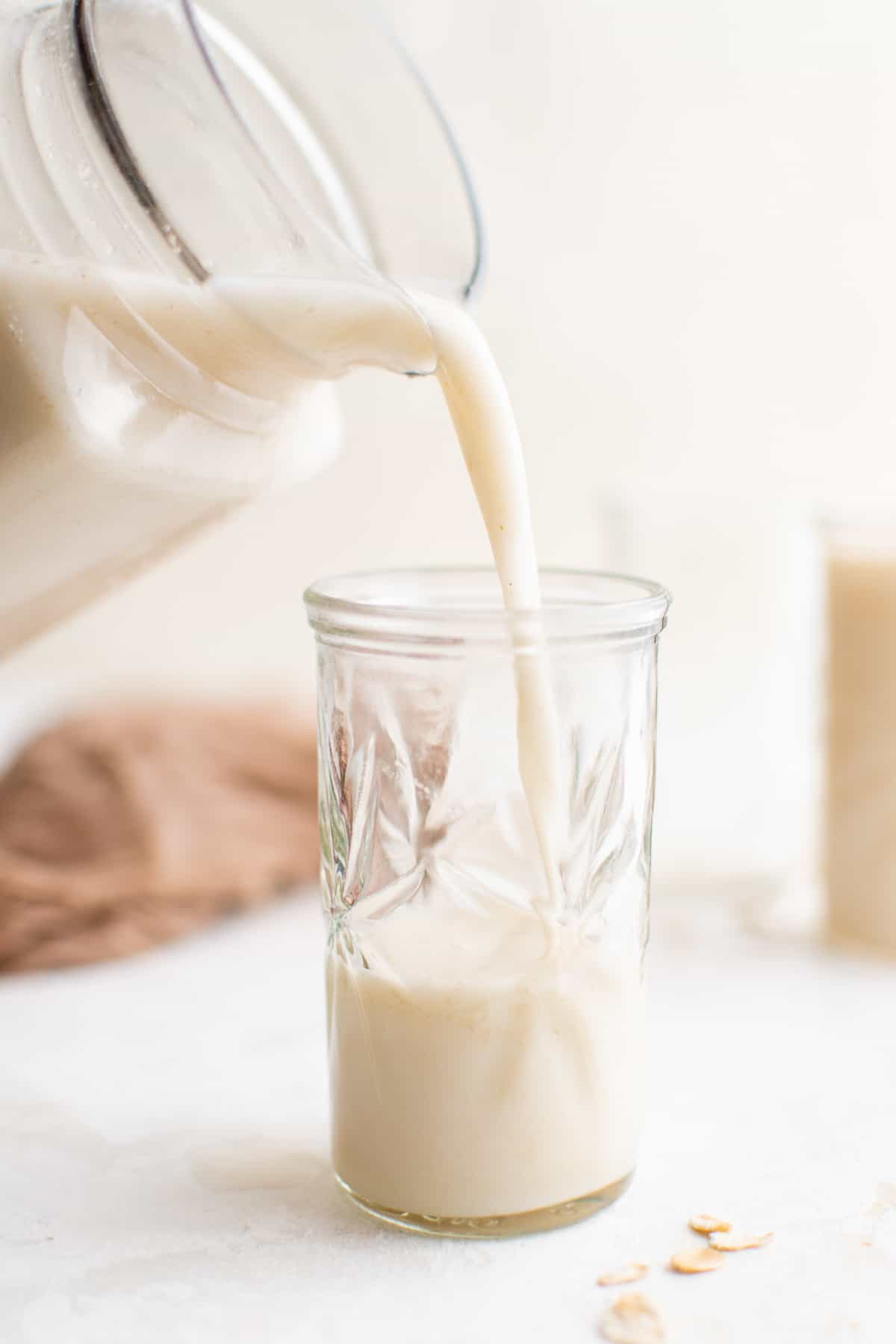 DIY Oat Milk
Oat milk is a great alternative to dairy milk, and guess what, it's super quick and easy to do it yourself!
This homemade oat milk recipe is so great to have on hand in your fridge. It has a creamier texture compared to other plant-based milks and its neutral flavor means that it's super versatile and can easily replace dairy milk in pretty much any recipe.
Make up a batch and thank me later!
Be sure to try my Honey Almond Milk Flat White and Cereal Milk Breakfast Smoothie too!
Why You'll Love this Oat Milk Recipe:
BUDGET FRIENDLY: Making your own oat milk is way more affordable than buying it from the store. Buy a big bag of oats and have at it!
HEALTHY:

Oat milk is full of the good stuff!

It's high in protein and it's a good source of calcium as well as antioxidants. It's lower in fat and calories compared to dairy and nut milks.
QUICK AND EASY: It takes no more than 10 minutes to make a batch of this milk and you just need oats, water, and a pinch of salt.
This homemade oat milk recipe is a wonderfully simple recipe and you will use it in so many recipes! Ditch the store-bought and whip this up instead!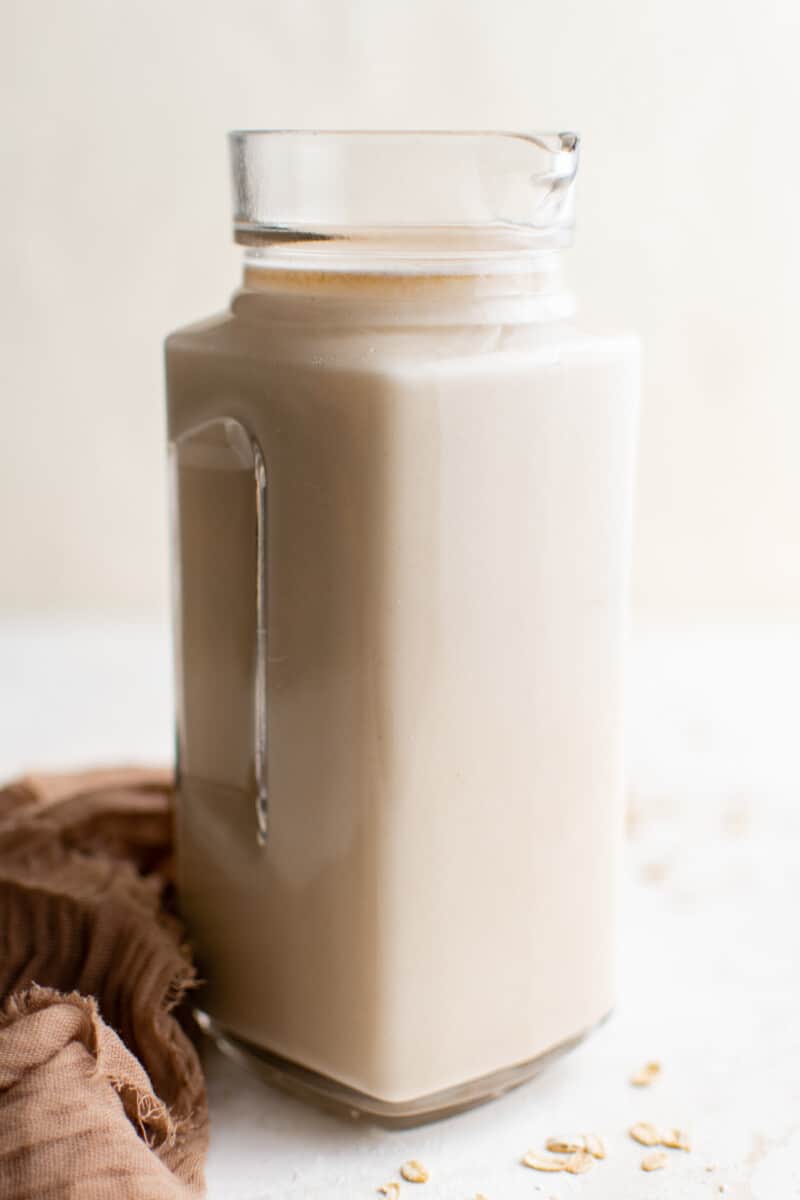 How to Make Oat Milk
You can jump to the recipe card for full ingredients & instructions!
Put the oats, iced water, and salt in a blender.
Blend for 30 seconds.
Blend in a sweetener if using.
Strain the milk and discard the pulp.
Store in a sealed container in the fridge.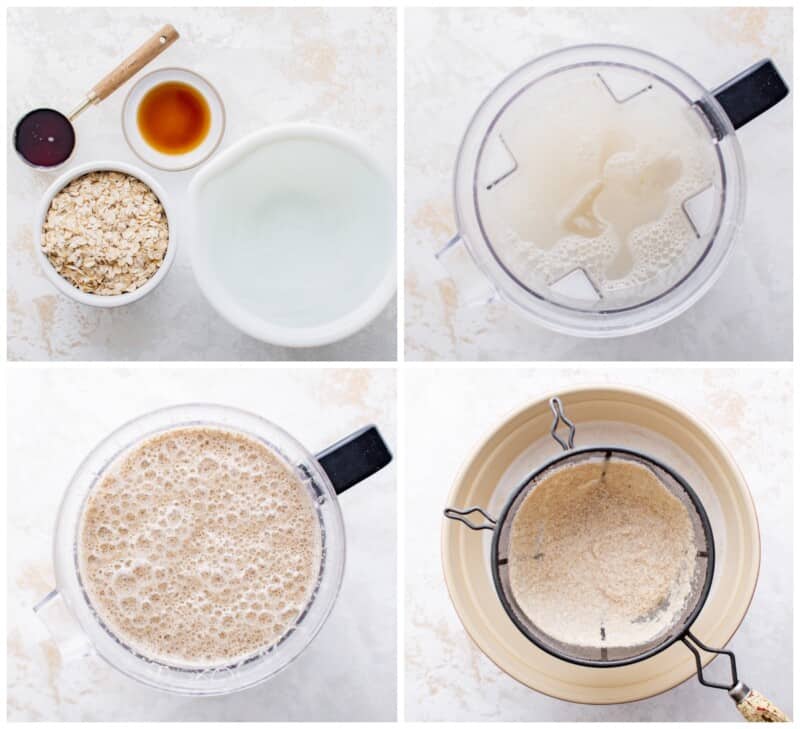 What kind of oats should I use?
Rolled, old-fashioned oats are best. Avoid quick-cook or instant oats which can lead to slimy oat milk.
How can I prevent slimy oat milk?
Use rolled, old-fashioned oats and super cold ice water.
Does oat milk need to be refrigerated?
Yes. Use immediately or store in a sealed container in the refrigerator for up to 5 days.
Is oat milk gluten-free?
To ensure this oat milk is gluten-free, use certified gluten-free oats.
I always have a bag of oats in my pantry, so it's great to know that if I run out of milk I don't need to get to the store. It's so easy to make up your own homemade oat milk!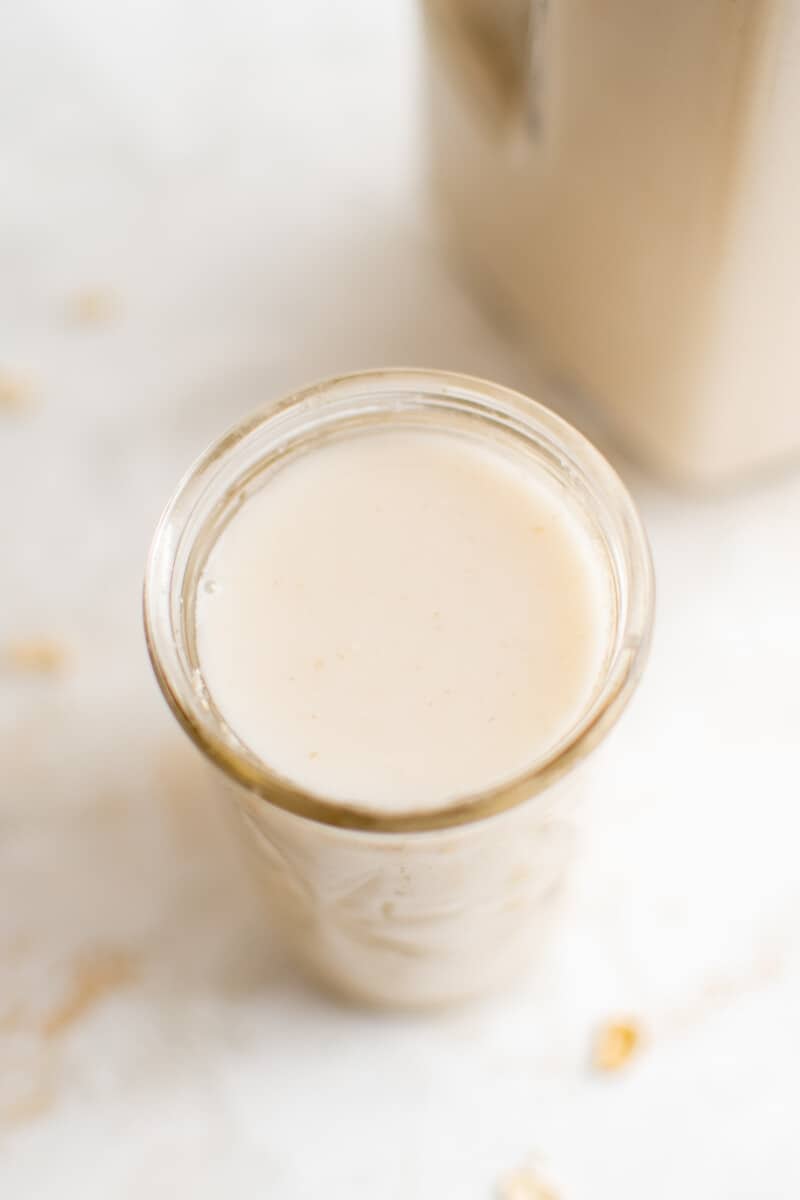 Tips!
This recipe makes about 6 cups of oat milk. The recipe is easily doubled.
Be sure to use iced water for this recipe for the best results.
If you don't have a large blender, you can blend it in batches in a smaller one.
Oat milk has a fairly neutral flavor compared to other plant-based milks and it makes a great allergen-friendly alternative to dairy and nut milks.
How can I use oat milk?
Oat milk can be used in pretty much any place you would use dairy or other vegan milks. And it's a great addition to any coffee drink you're fond of. Try it in any of these recipes, just swap the milks in a 1:1 ratio:
Can I make oat milk without a blender?
A blender produces the best results, but you can make this in a food processor as well. You can make it by hand, but it is some effort, you will have to grind the oats down in a pestle and mortar til very fine, then mix with the cold water and salt.
Can I heat homemade oat milk?
I don't recommend it, as it can thicken and congeal when heated.
Trust me on this, this homemade oat milk is just as good as store-bought and it's super easy to make! This recipe might just change your life!
If you make this recipe be sure to upload a photo in the comment section below or leave a rating. Enjoy! You can also jump to recipe.