Broccoli and Cheese Soup is a winter time favorite, but we're taking it up a notch by adding gnocchi into the mix! This cheesy broccoli gnocchi soup is so easy and so delicious. It'll warm you right up all season long!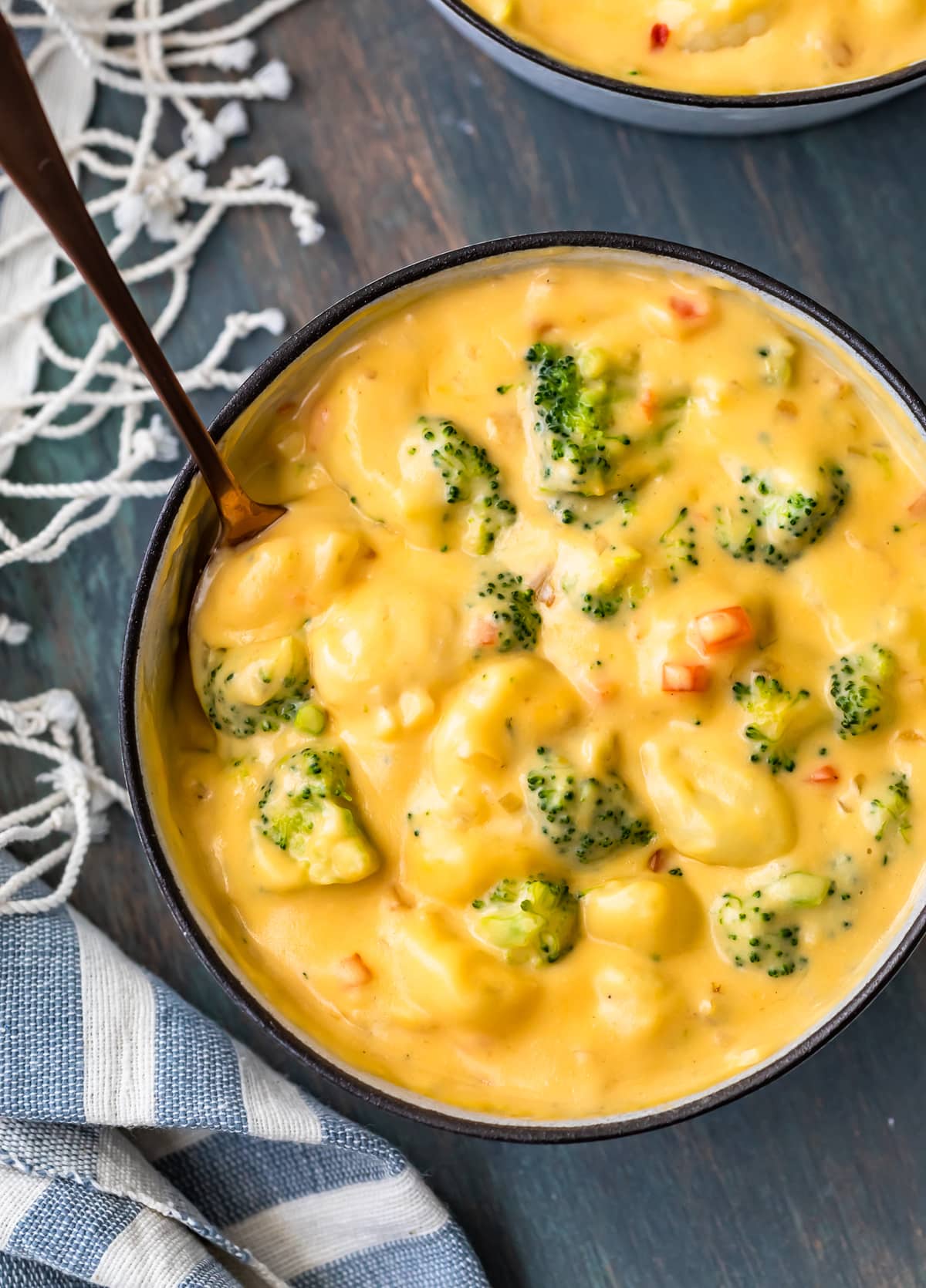 Broccoli and Cheese Soup with Gnocchi
This broccoli and cheese soup recipe with gnocchi is so cheesy and so filling. Broccoli Gnocchi Soup is a new winter favorite!
Cold weather calls for soup, so with the snowy season in full force, I thought it was time to share some more soup recipes. This Cheesy Broccoli Gnocchi Soup recipe is a new favorite!
Everyone loves a classic broccoli and cheese soup (my go to is this Crockpot Broccoli Cheese Soup recipe). Broccoli, lots of veggies, cheese…what's not to love? Sometimes the simple addition of something unexpected is enough to take a traditional recipe and turn it into something new and fun! That ingredient for this soup is gnocchi.
This Broccoli Cheddar Soup with Gnocchi is all kinds of fun. Just toss in those little doughy dumplings and you've got a new soup that's extra filling and extra tasty! I'm going to be curling up and chowing down on this soup until winter is over.
Indulge in soup season with this Broccoli and Cheese Soup with Gnocchi. Easy, cheesy, and tasty!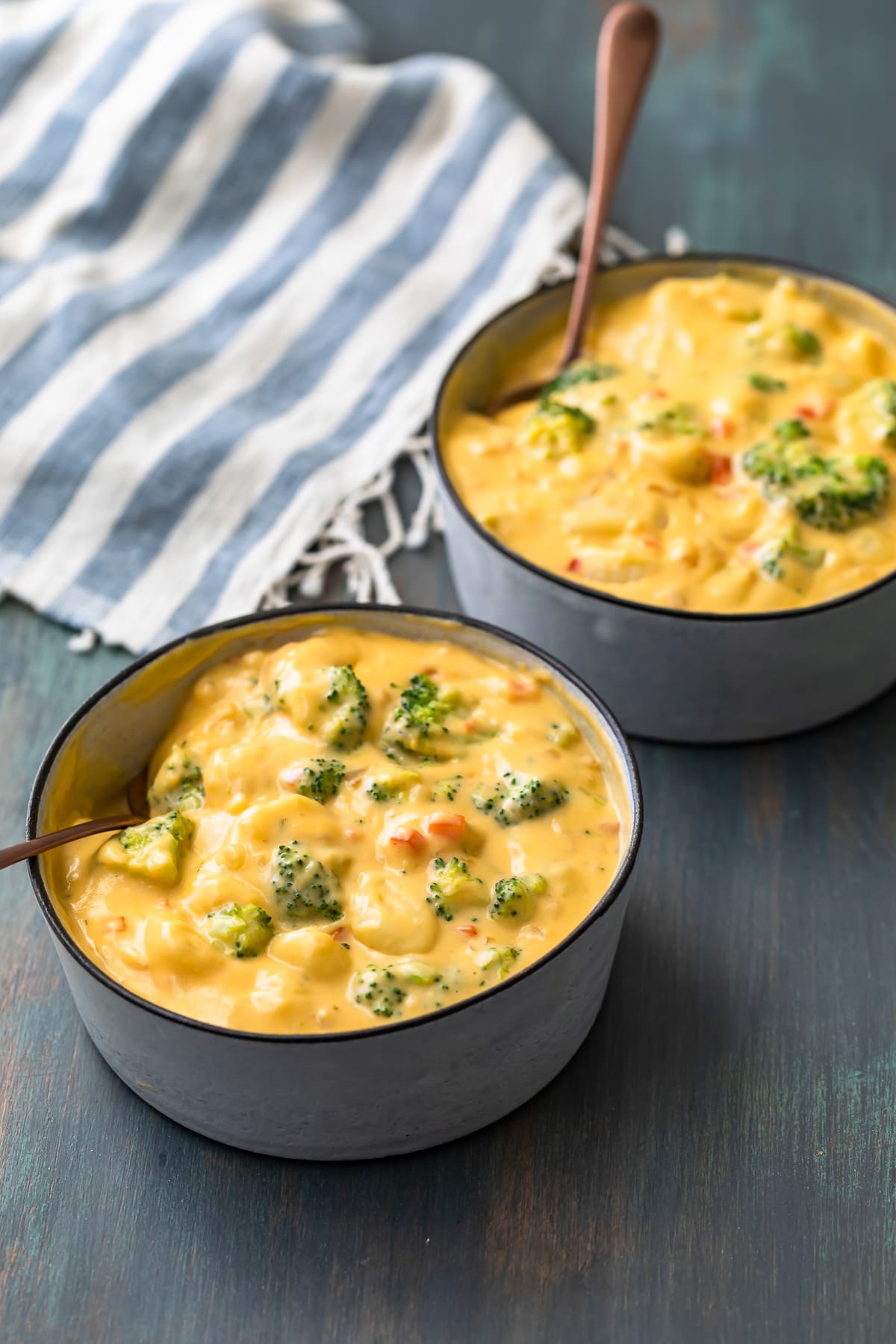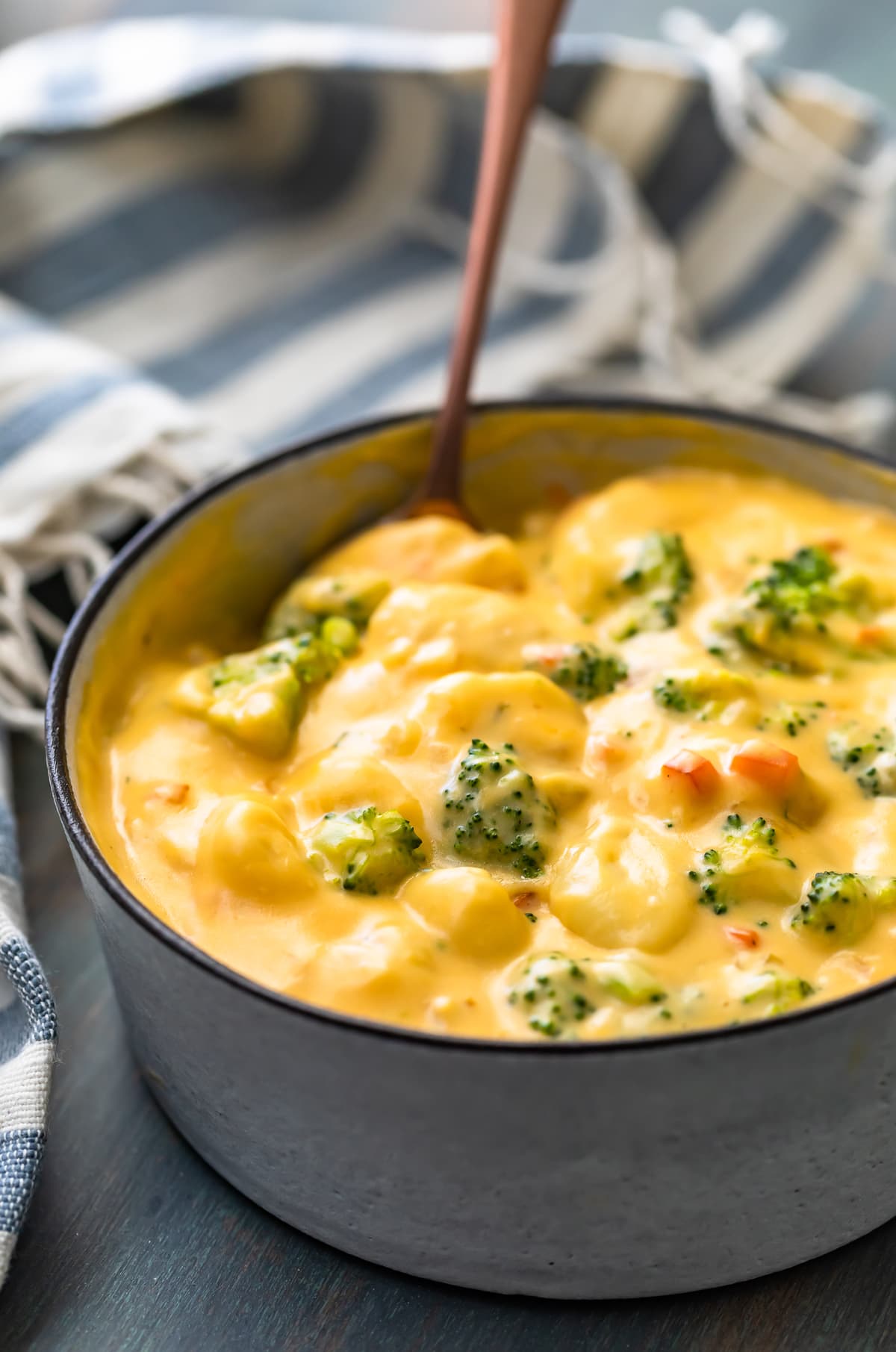 Broccoli Cheese Gnocchi Soup Recipe
This broccoli and cheese soup recipe is just FILLED with all the good stuff. Cheddar cheese, broccoli, lots of vegetables, and of course the gnocchi. It wouldn't be complete without the gnocchi!
If you like gnocchi soup (like this Olive Garden copycat Chicken Gnocchi Soup), then you will absolutely love this recipe. I love the way the gnocchi gets submerged into all that cheese. When you take a bite, it is sooooo good. This is such a great comfort food!
What's in this Broccoli and Cheese Soup recipe?
Broccoli
Cheddar Cheese
Gnocchi
Carrots
Onion
Fennel (optional but recommended!)
Garlic
Chicken Broth
Flour
White Wine (choose something dry)
Half and Half
Red Pepper Flakes
Bay Leaf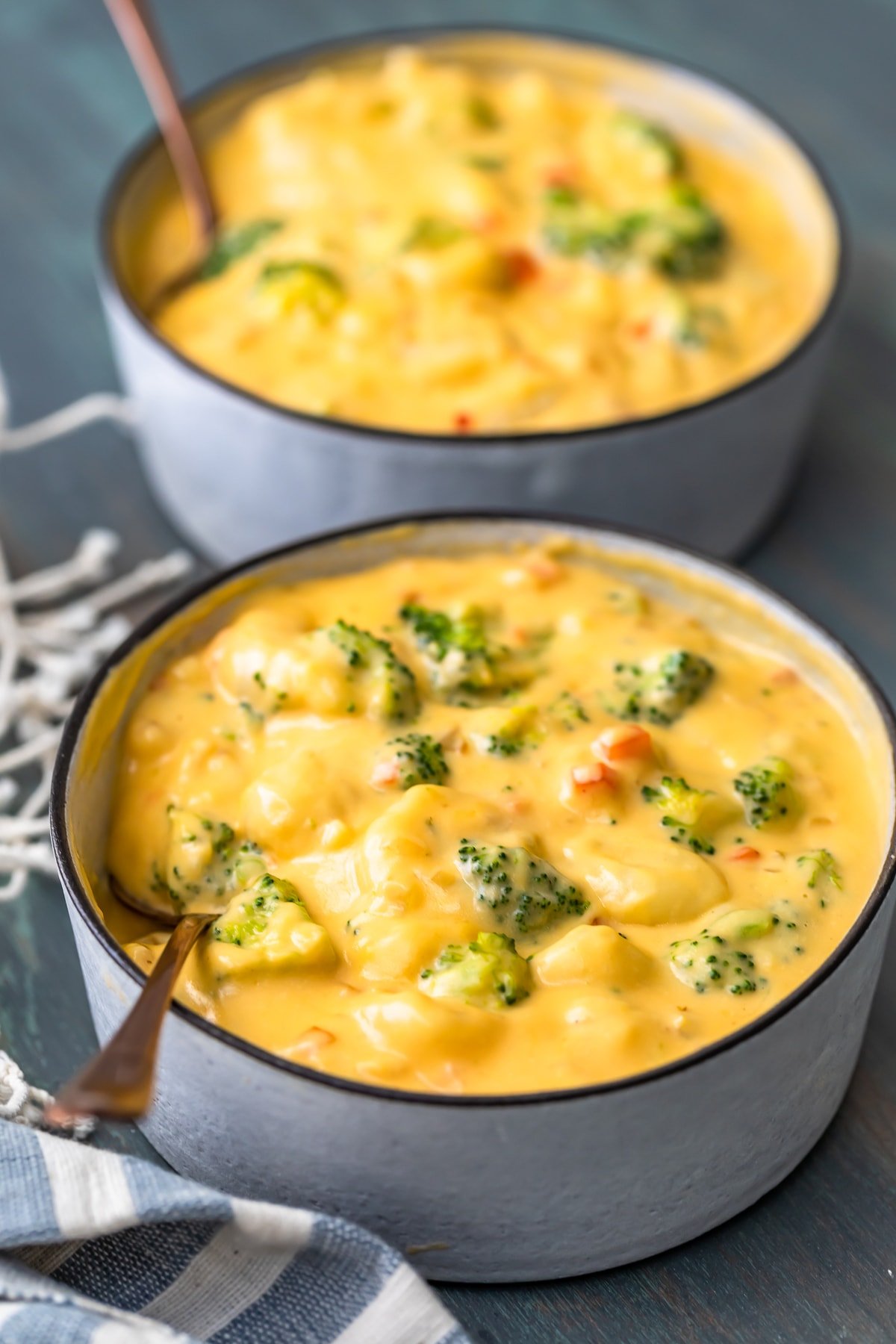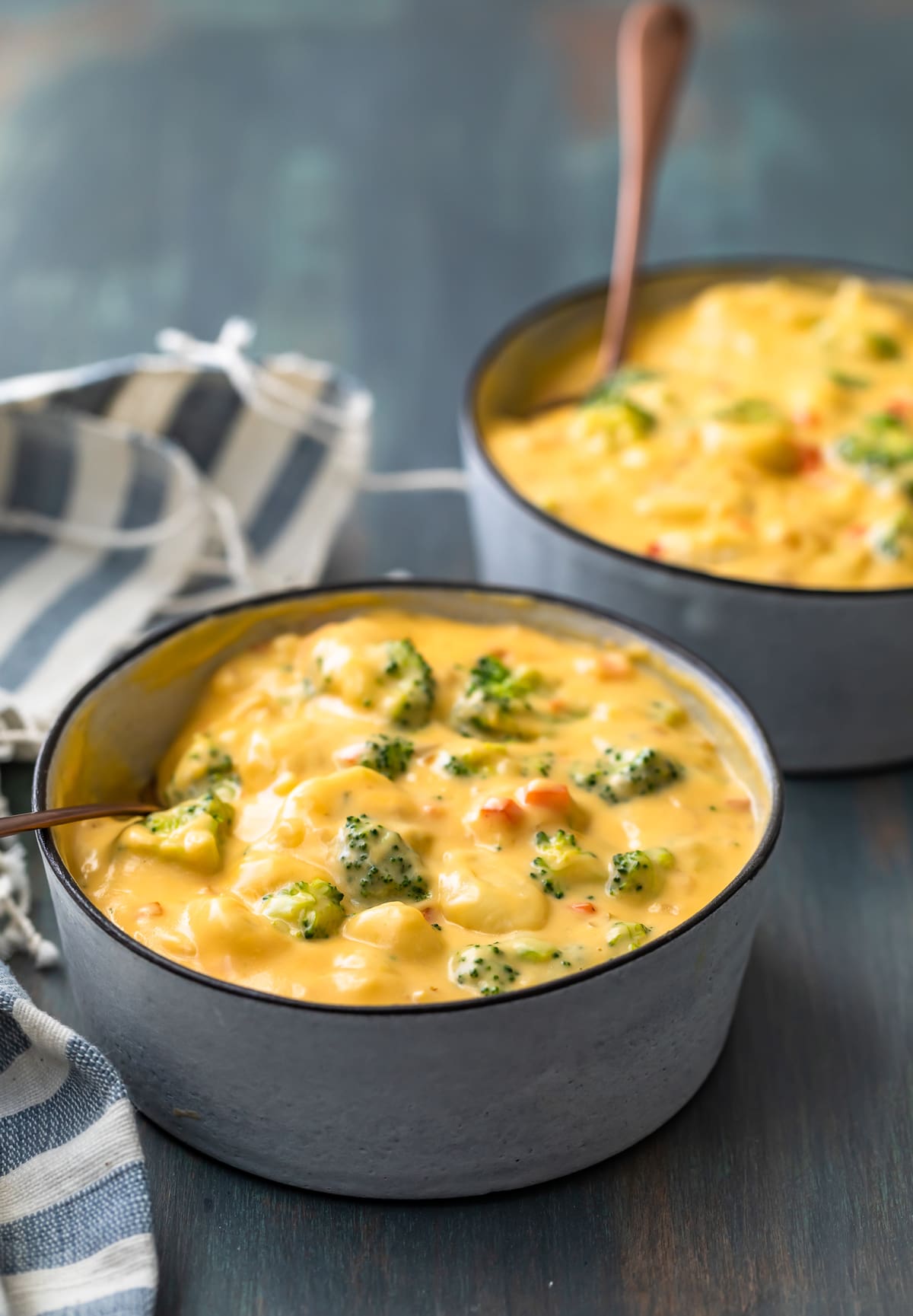 How to Make Broccoli and Cheese Gnocchi Soup
To begin, cut the broccoli into bite-sized florets, and then blanch the broccoli (check the recipe card for details on how to do this).
Next, cook the gnocchi according to package instructions, drain, rinse, and set aside.
Heat butter and oil in a dutch oven or large pot. Then add in the carrots, onion, and fennel, and cook for 4 minutes. Add in the garlic and cook another 30 seconds.
Sprinkle flour over the vegetables, then cook until the mixture starts to brown. Then gradually pour in the chicken broth.
Stir in the blanched broccoli, and then whisk in the wine and half-and-half. Then add in the red pepper flakes and bay leaf.
Increase the heat and bring the soup to a boil, then reduce the heat again and let it simmer for about 10 minutes.
Once the vegetables have softened, stir in the cooked gnocchi.
Remove soup from heat and stir in the cheese.
Serve the gnocchi broccoli and cheese soup while it's hot! I always serve it with some baguette slices for dipping. Check the recipe card below for more detailed instructions.
How to Store Leftovers
This soup will be best if made when you intend to eat it. However, you can easily store leftovers in the refrigerator, and reheat it another time. If you do have leftovers to reheat, bring it to just a simmer in a saucepan. Keep the heat very low, and whisk slowly to prevent the soup from separating.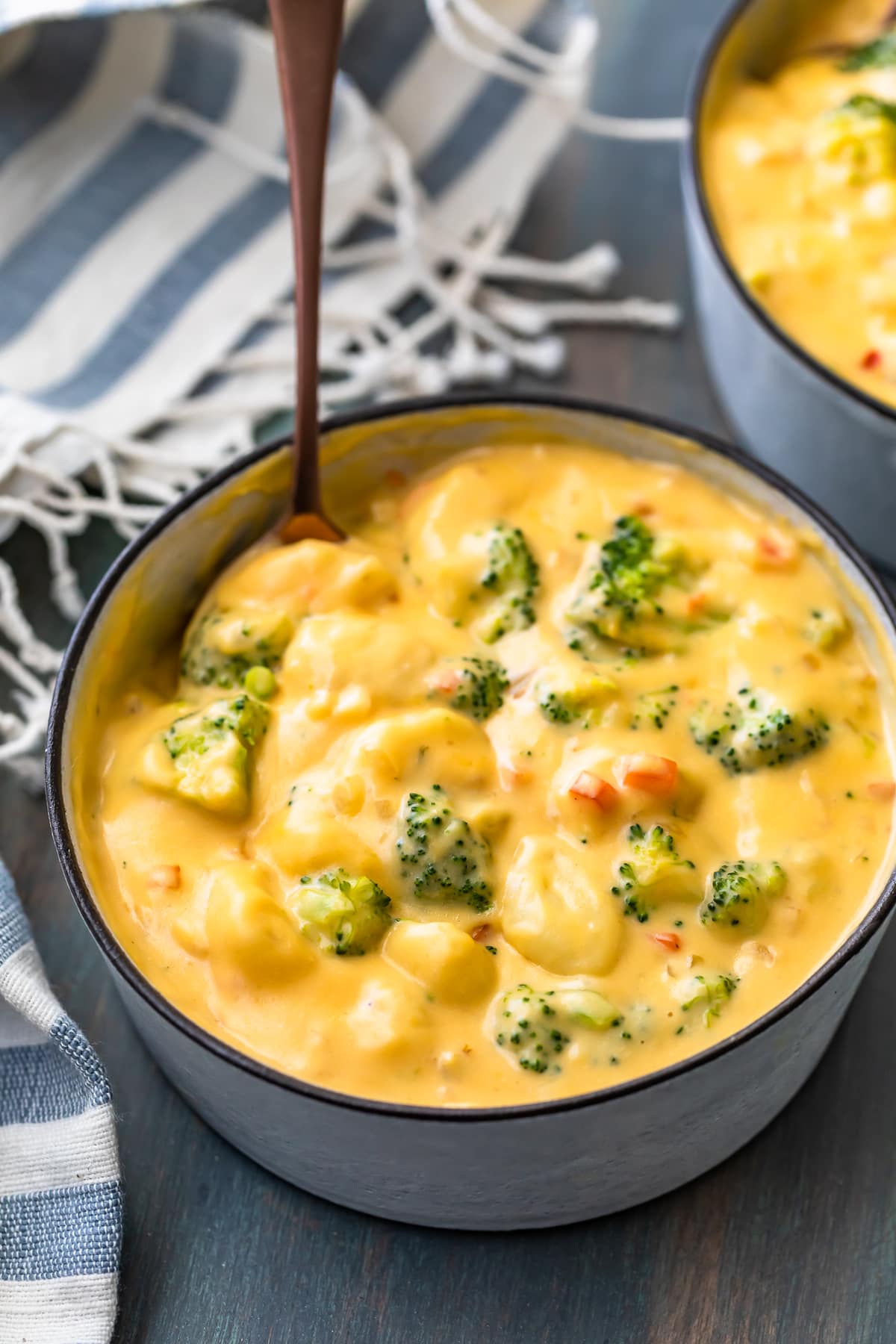 Easy Soup Recipes
You can never have enough soups, which is why I'm always sharing easy soup recipes! Soup is one of the things I love to eat most during the winter, so I like to keep lots of recipes on hand. I need something different every week to make sure I never get tired of eating it!
Try this classic broccoli cheese soup too!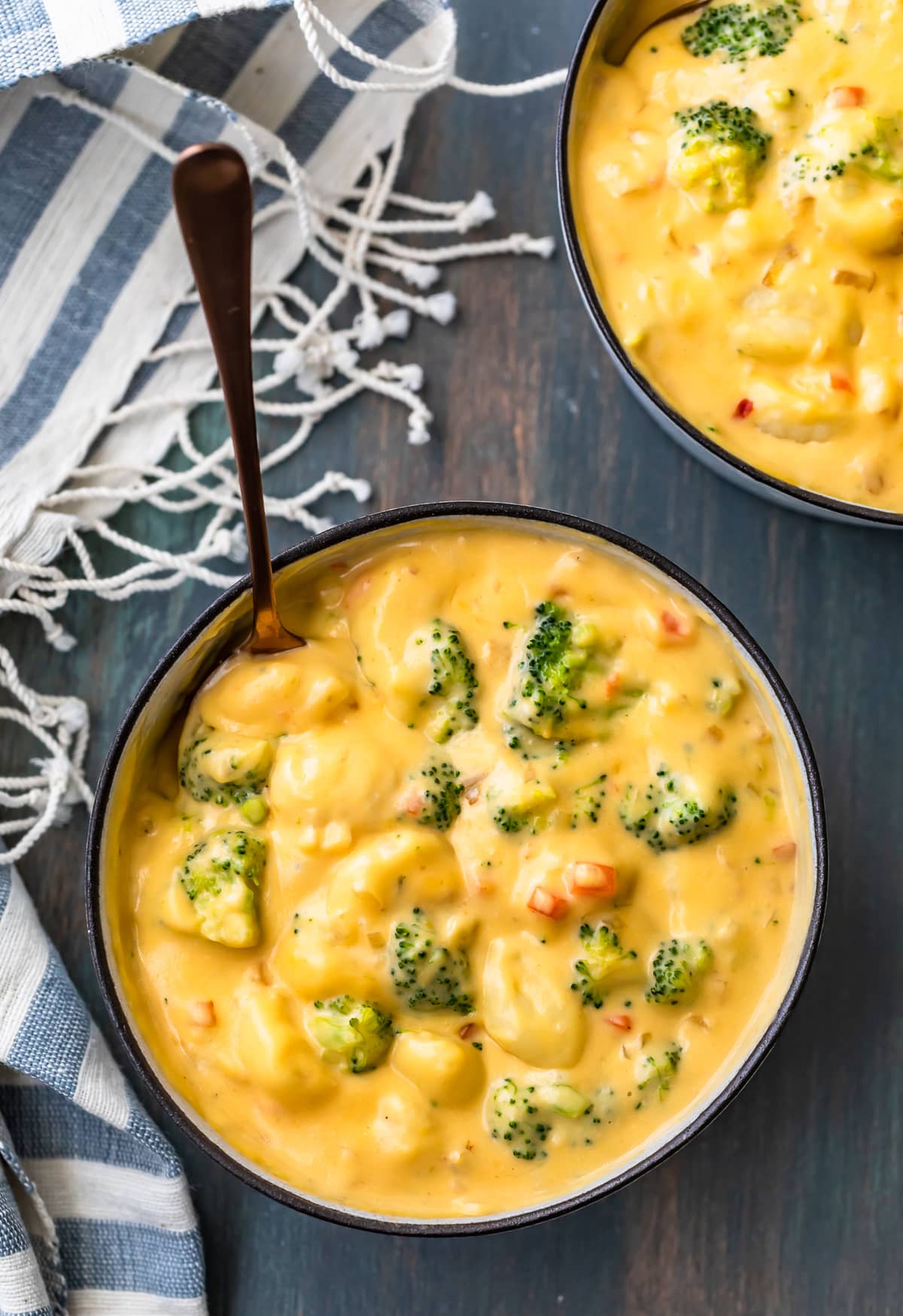 Make this cheesy broccoli gnocchi soup recipe right away! You will absolutely love it. There's no such this as too many broccoli and cheese soups!
See the recipe card below for details on how to make Broccoli and Cheese Gnocchi Soup. Enjoy!
If you like this recipe, you'll love these recipes too: