No Knead Dutch Oven Bread is such a simple way to make homemade bread. Making no knead bread in a Dutch oven is just so easy, it's completely changed the way I think about baking bread! This rosemary bread with sea salt is simply perfect and tastes amazing. If you're looking for an easy bread recipe, this is it!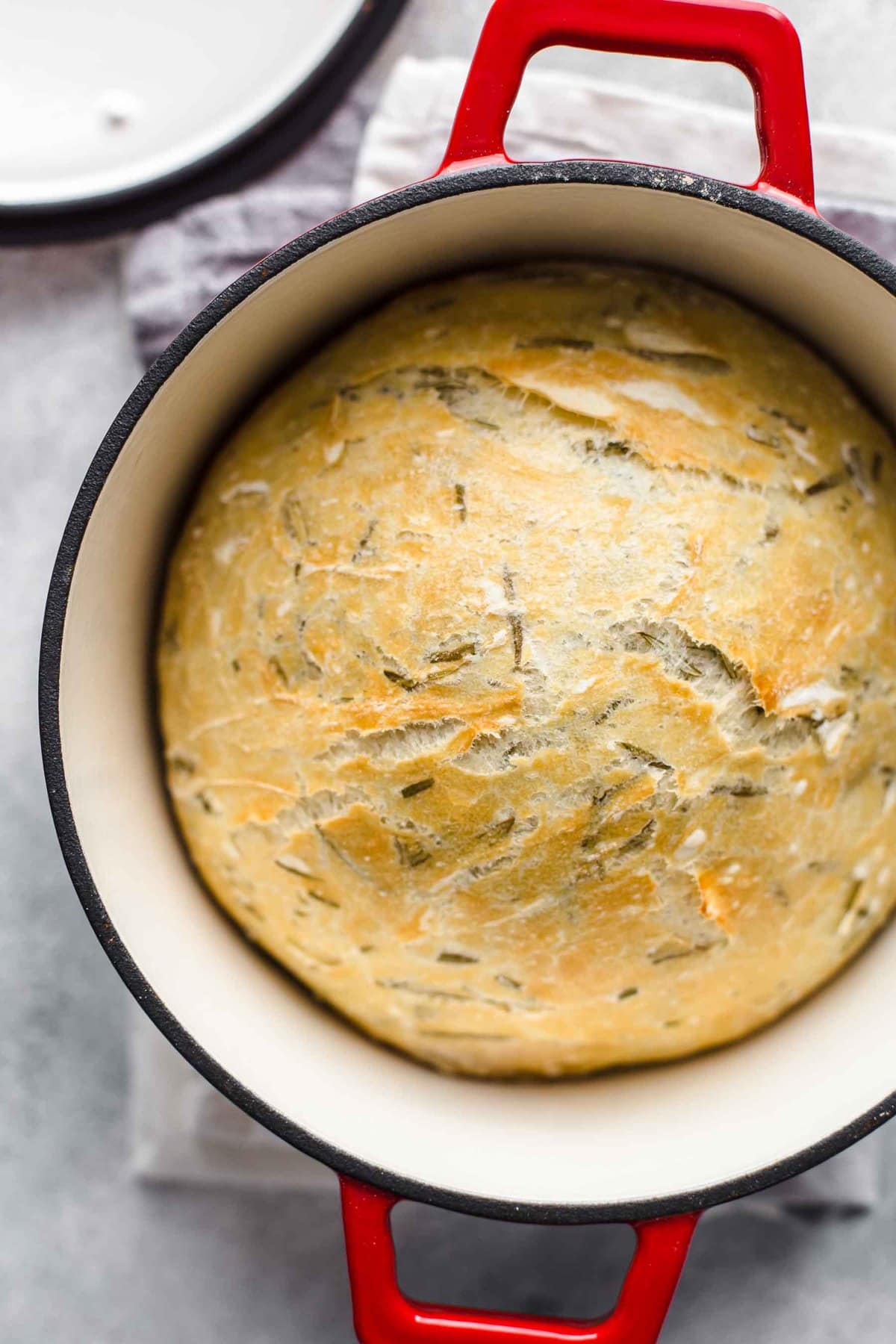 What's in this Rosemary Bread Recipe?
This no knead Dutch oven bread recipe couldn't be easier. I'm using my 4½-quart Dutch oven (Cherry Red, it's a beaut!) for this recipe. All you need to make this rosemary bread is all-purpose flour, water, yeast, sea salt, and fresh rosemary. Simple, fresh, delicious!
All-Purpose Flour: Gives the bread structure.
Sea Salt: Enhances the natural flavor of the bread.
Fresh Rosemary: Adds a fresh, herbaceous flavor.
Active Dry Yeast: Helps the bread rise!
Water: Adds moisture to the bread.
Pro Tip: If you don't have fresh rosemary, you can use 2-4 tablespoons of dried.
Variations on Dutch Oven No Knead Bread
You can flavor this delicious bread with just about any fresh herbs and spices you like. Sage, thyme, oregano, basil, dill… the possibilities are endless! You can also fold in up to ½ cup of freshly shredded cheese. Parmesan or mozzarella would go great with rosemary!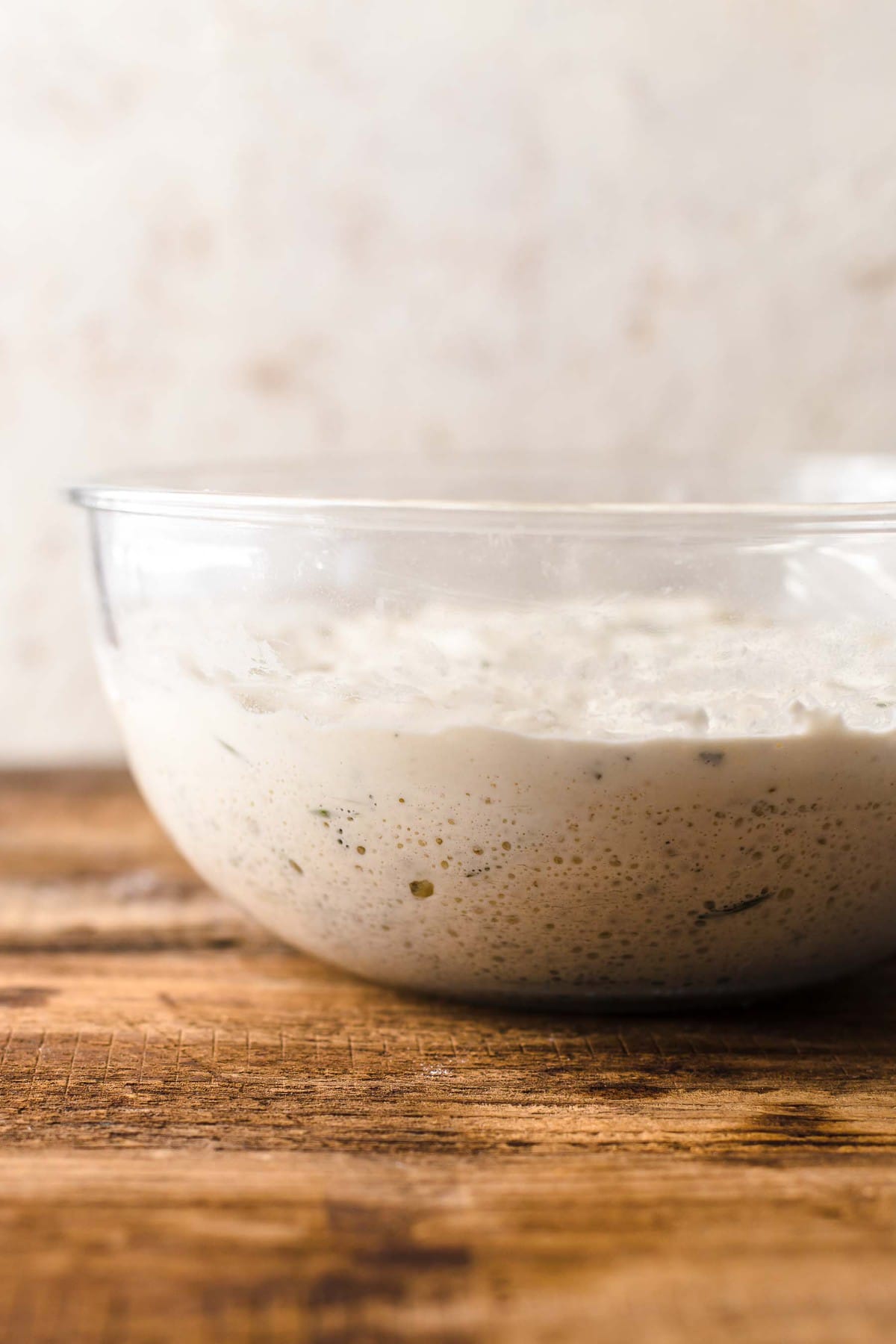 Why is no knead bread better?
This no knead bread recipe is better because it is very hands off and doesn't require a lot of guessing. With a kneaded bread, you may be left wondering if you over or under-kneaded it. This no knead recipe takes all that guesswork out!
Do you grease a Dutch oven for bread?
No! This could cause oil to polymerize onto the surface of the Dutch oven, which is harmless but doesn't look nice. Always place the bread directly in the dry oven or on a piece of parchment paper.
Do you bake bread covered or uncovered in a Dutch oven?
You should start baking with the lid on to trap moisture and help get a good rise, then remove the lid towards the end of baking to help get a crisp crust.
How do you know when Dutch oven bread is done?
The loaf should be nice and browned on top and the crust should look crisp. If you gently tap on the bottom of the loaf with your finger, it should sound hollow. The proper internal temperature for baked bread is 195-210°F.
Why is my Dutch oven bread so hard?
Hard bread can be the result of too little moisture, too much rise time, or baking in too hot of temperatures or for too long. Make sure to measure your flour using the spoon-and-level method to avoid adding too much, and check your oven temperature with a thermometer to ensure it is correct.
Why is my no knead bread gummy?
If your bread is gummy and dense, check your oven temperature. Gummy bread is usually the result of the crust forming before the bread inside has had a chance to fully expand. Turn down the oven temperature if needed!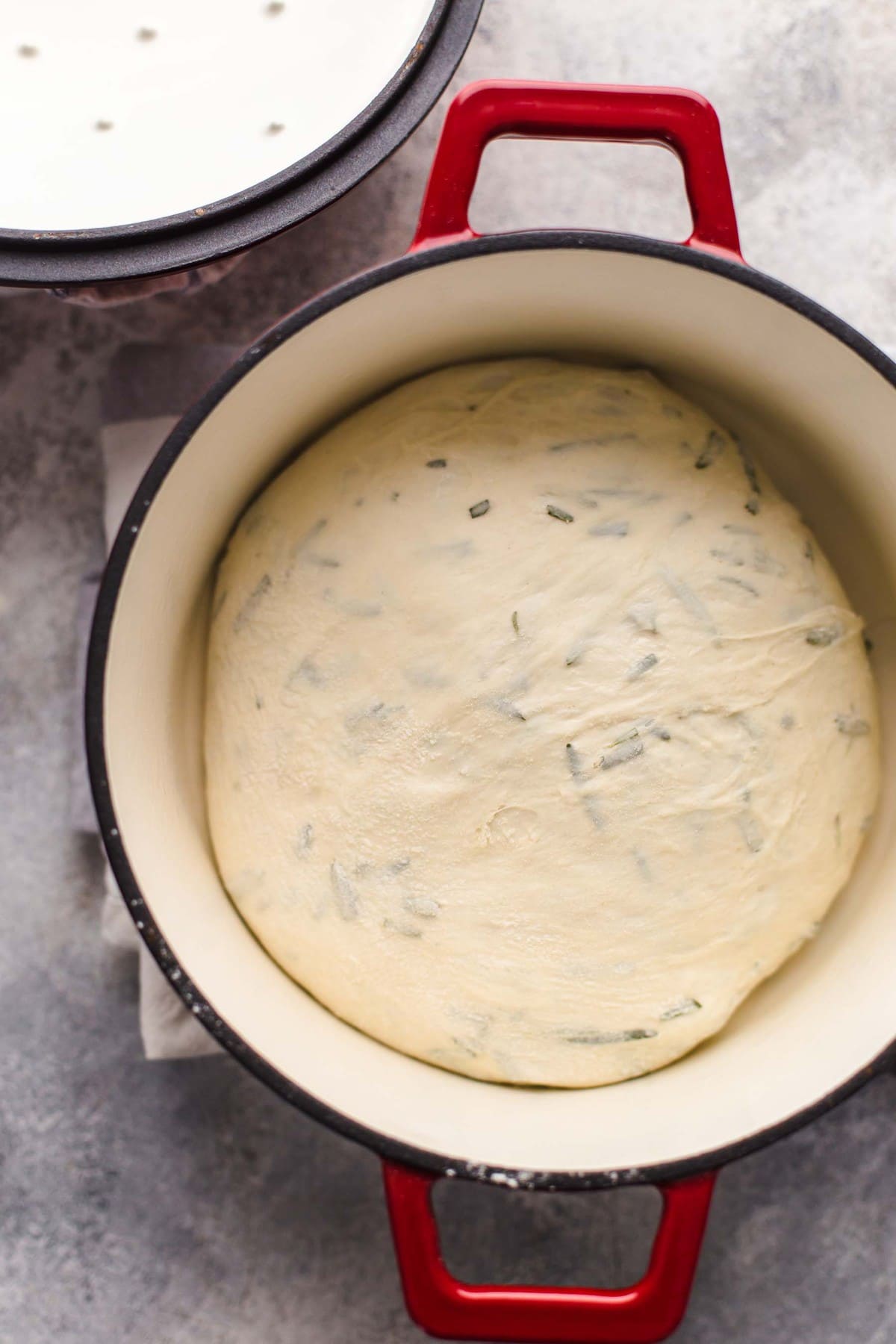 How to Store and Reheat
Store leftover no knead Dutch oven bread in an airtight container at room temperature for up to 3 days. I do not recommend storing homemade bread in the refrigerator.
How to Freeze
To freeze this rosemary bread, cut it into individual slices, then freeze in an airtight container or tightly wrapped in plastic wrap. It will keep for up to 3 months. Remove individual slices and thaw in the refrigerator or microwave before enjoying.
Serving Suggestions
Serve this delicious no knead Dutch oven bread simply with some butter, vegan butter, or olive oil. It's great for eating with your favorite dips, such as Caprese dip, tomato goat cheese dip, pizza dip, bacon spinach dip, crab dip, or cheese fondue. You can also use it to make goat cheese crostini or tomato bruschetta!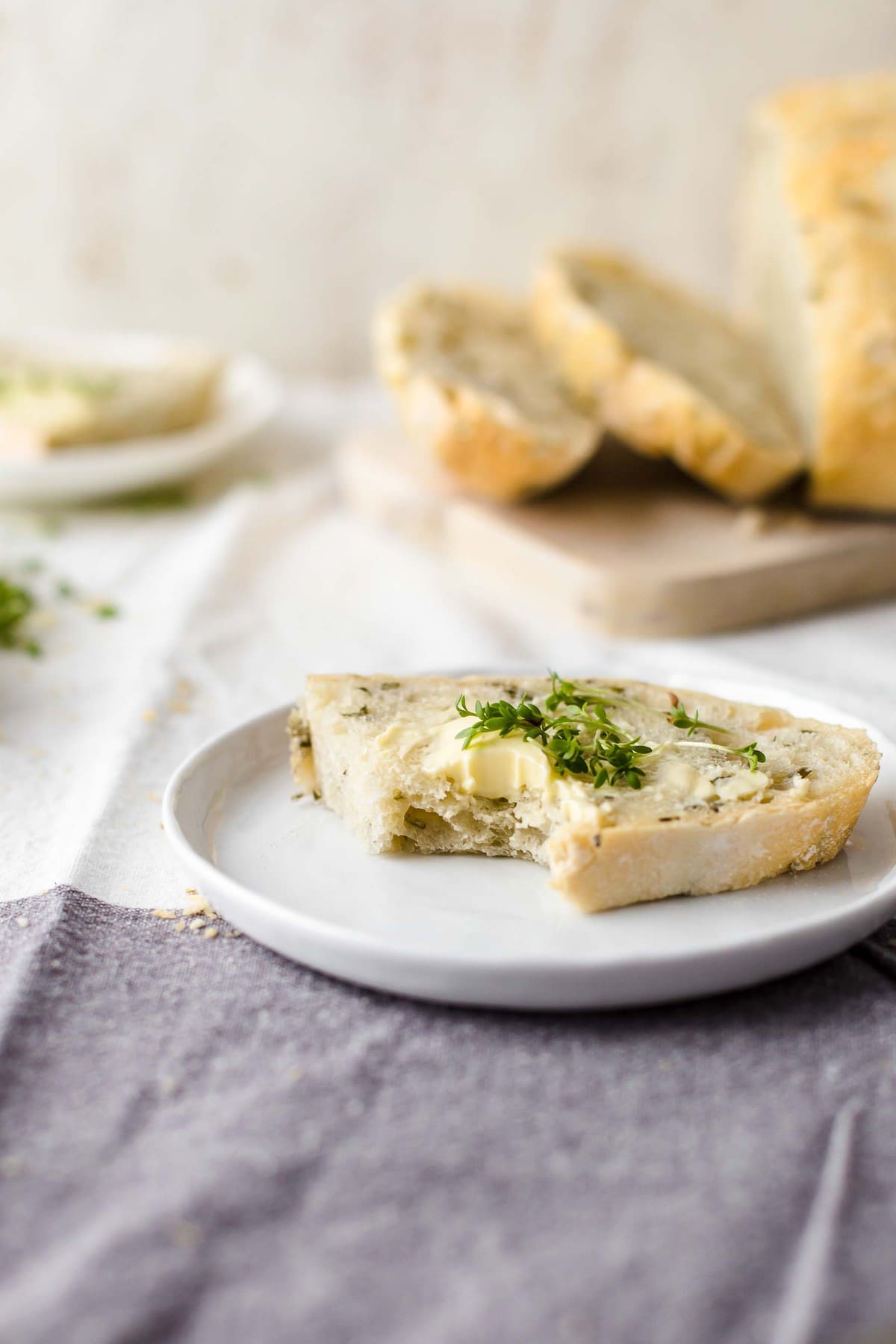 5-Star Review
"I've never made bread before and it turned out amazing! my boyfriends family loved it." – Olivia
More Homemade Bread Recipes We Love