Have you made Dutch Oven Bread? It's AMAZING! Simple and delicious Rosemary Sea Salt Dutch Oven Bread is the only easy bread recipe you'll ever need.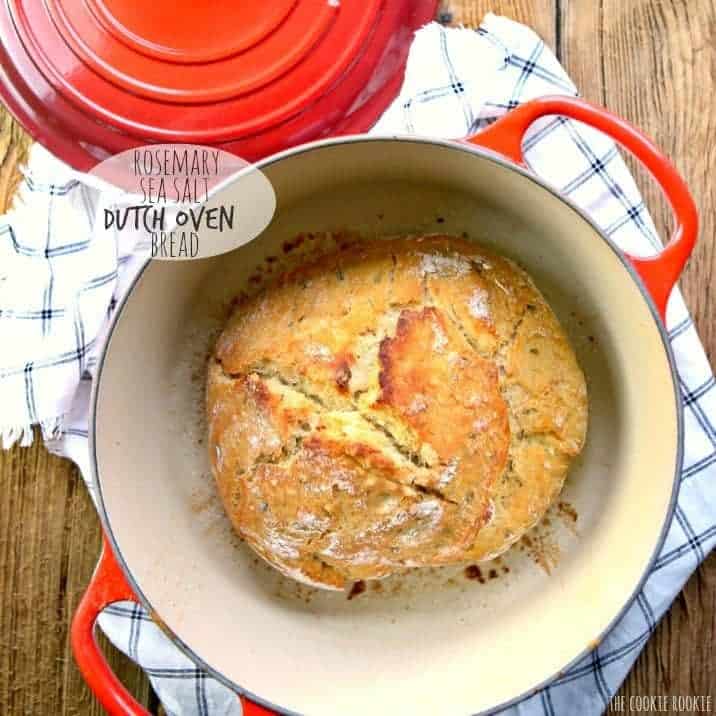 Things have come a long way around here.  I went from being single with only an overweight dog to my name, unable to even make instant coffee…to married, running a food blog as my full-time job, and making bread.  SAY WHAT?! I. Made. Bread.  And it was easy.  And delicious.  And would be SO PERFECT with mom's Creamy Chicken Soup.  Things have come a long way.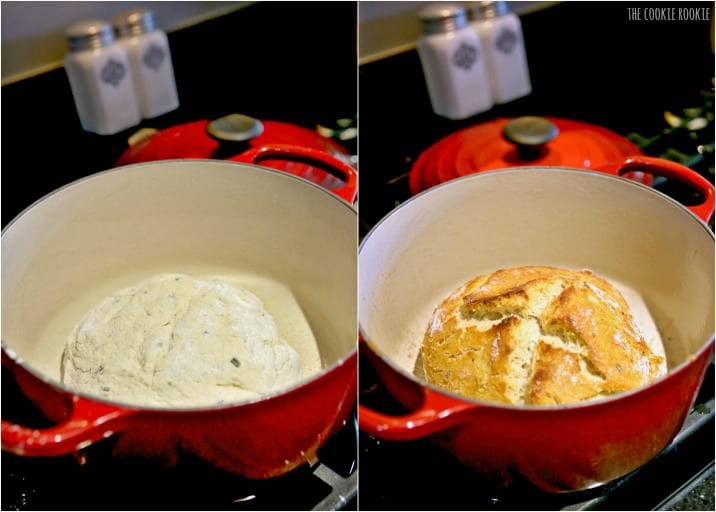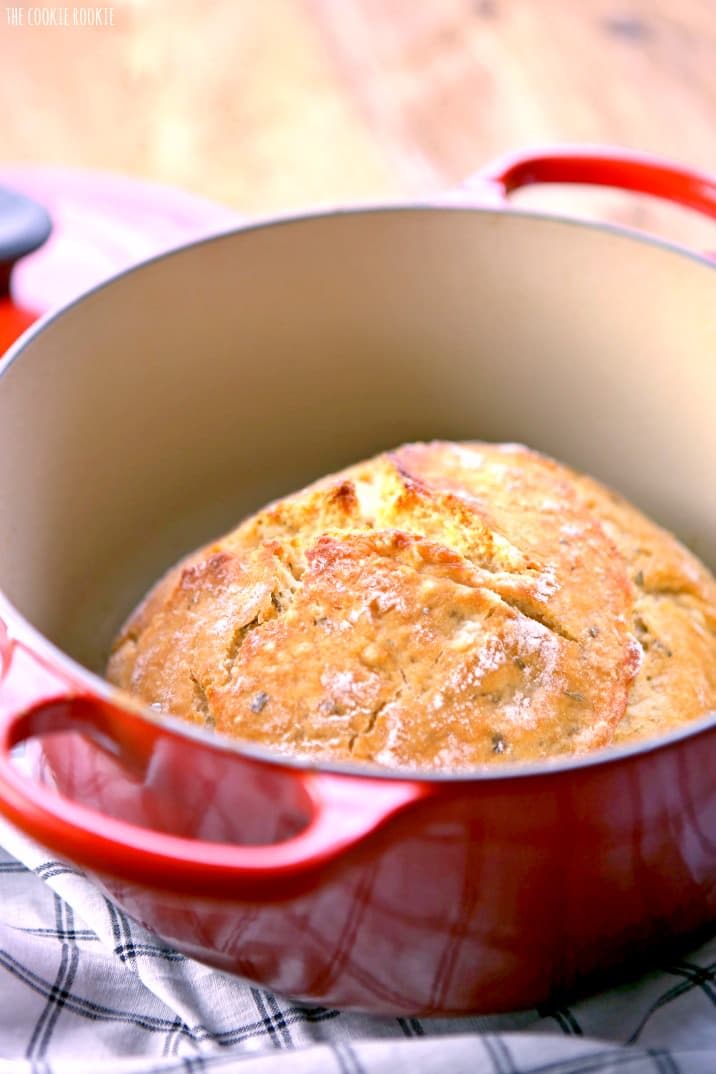 This crazy simple Rosemary Sea Salt Dutch Oven Bread is 100% fool-proof.
Although it does have to sit and rise overnight…the prep is pretty much…nothing.  You can do this.  Impress the masses. Bonus: your house will smell amazing. Holy yum!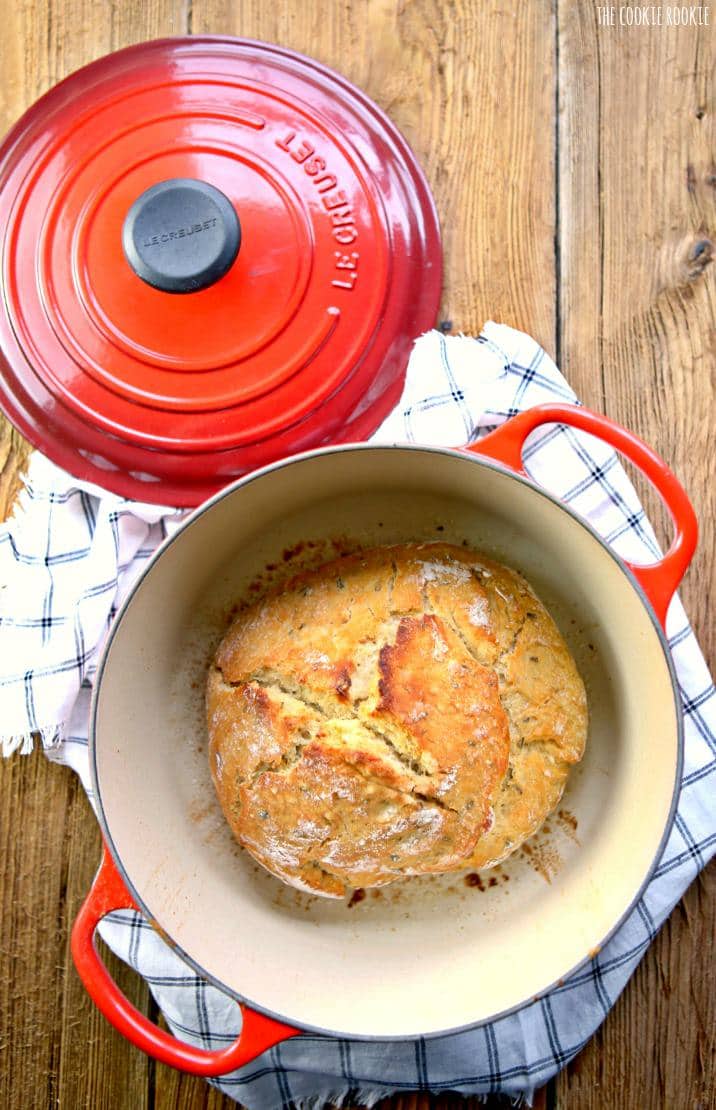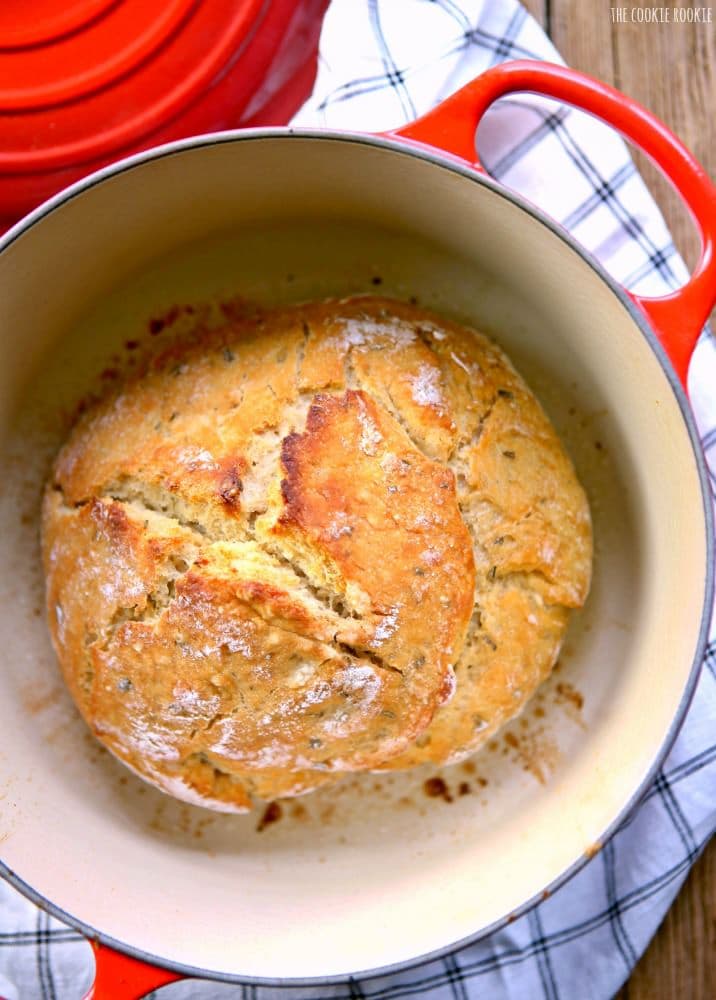 I adapted this recipe from one of my favorite blogs, Jo Cooks! She made this awesome No Knead Dutch Oven Bread (she also has a whole wheat version on her site!) and I knew I had to give it a try.  Be sure to check out her recipe as well! It seriously doesn't get easier than this!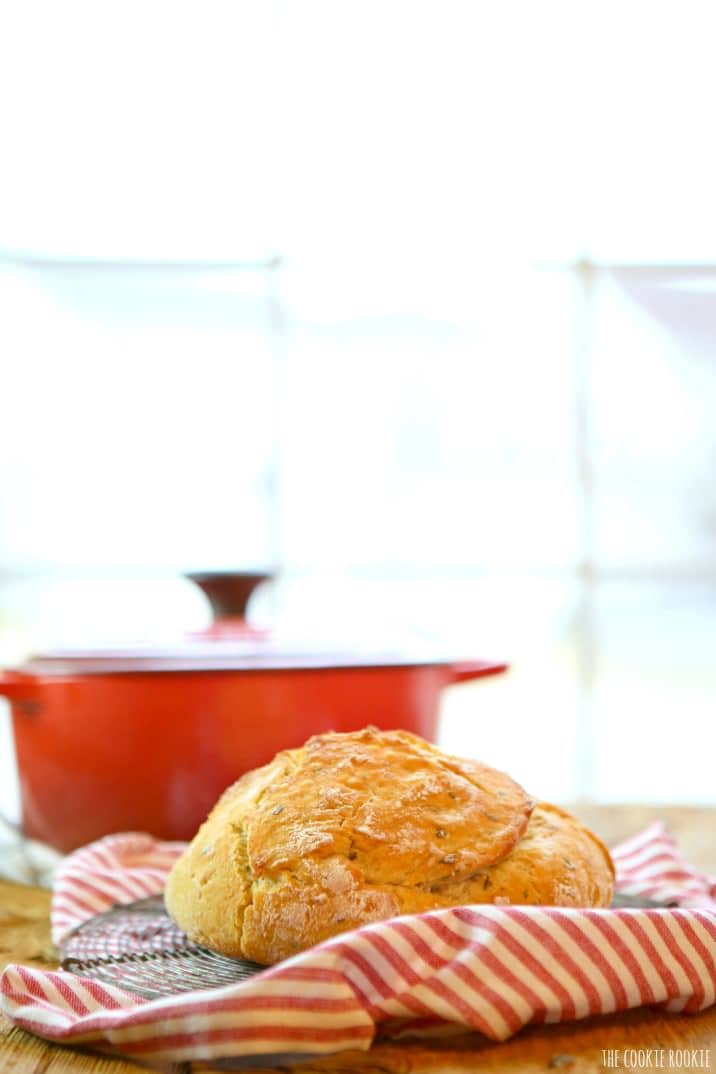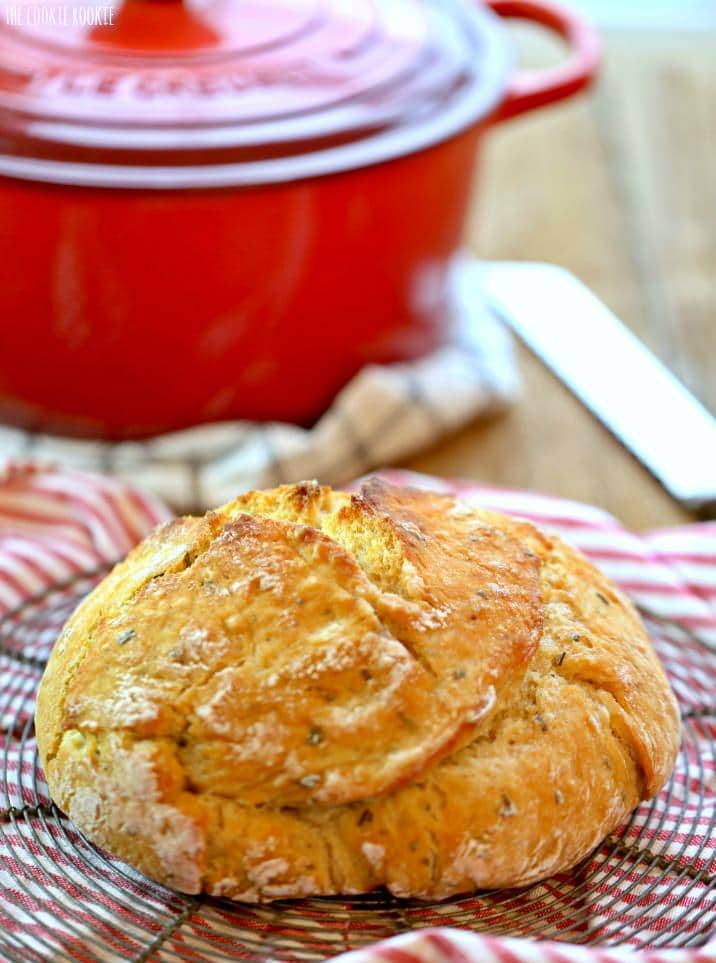 So while this recipe is definitely exciting…I know you're all wondering about the LE CREUSET GIVEAWAY!!!!! I've been SO excited about this for weeks.  My gorgeous Cherry Red Le Creuset 4 1/2 Quart Dutch Oven is one of my very favorite items in my kitchen.  So much personality mixed with so much versatility and craftsmanship.  You can make everything from Roast, to soups, to bread! Everyone needs one…so I'm partnering with Le Creuset to give one away!!! AND you can choose your own color.  Look at all those gorgeous colors!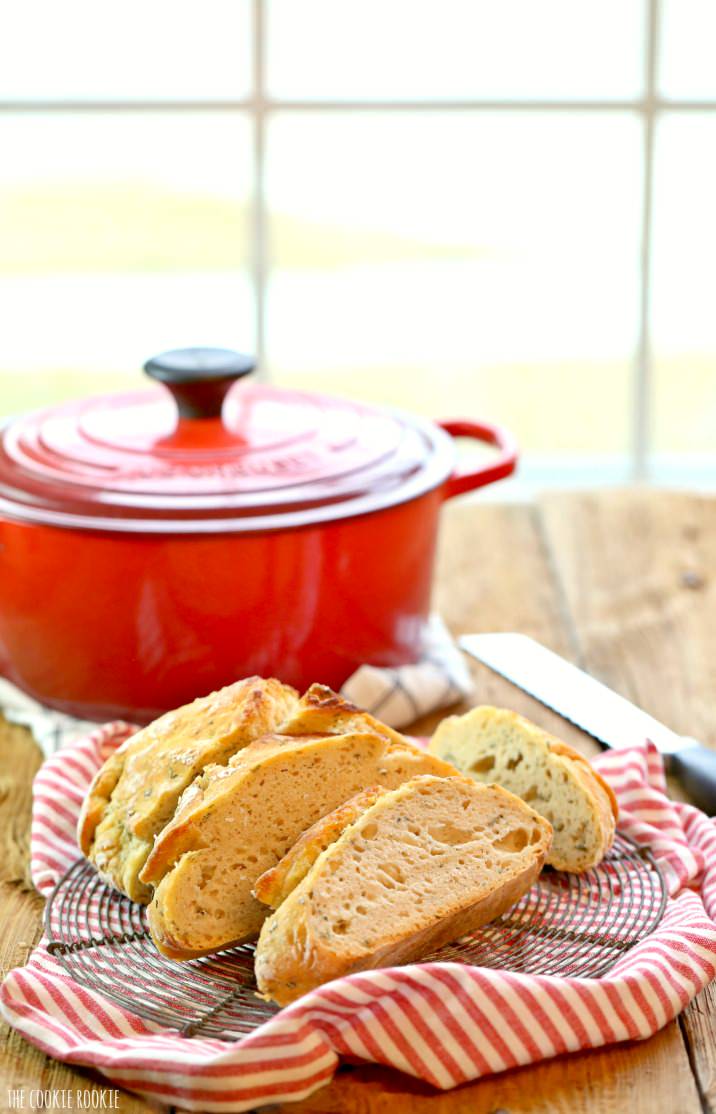 Le Creuset has so many amazing products (including an iphone case…who knew??), and I'm so honored to be partnering with them for this giveaway! Click HERE to see all of their products, and be sure to enter below to win yourself one! Lots of free ways to enter.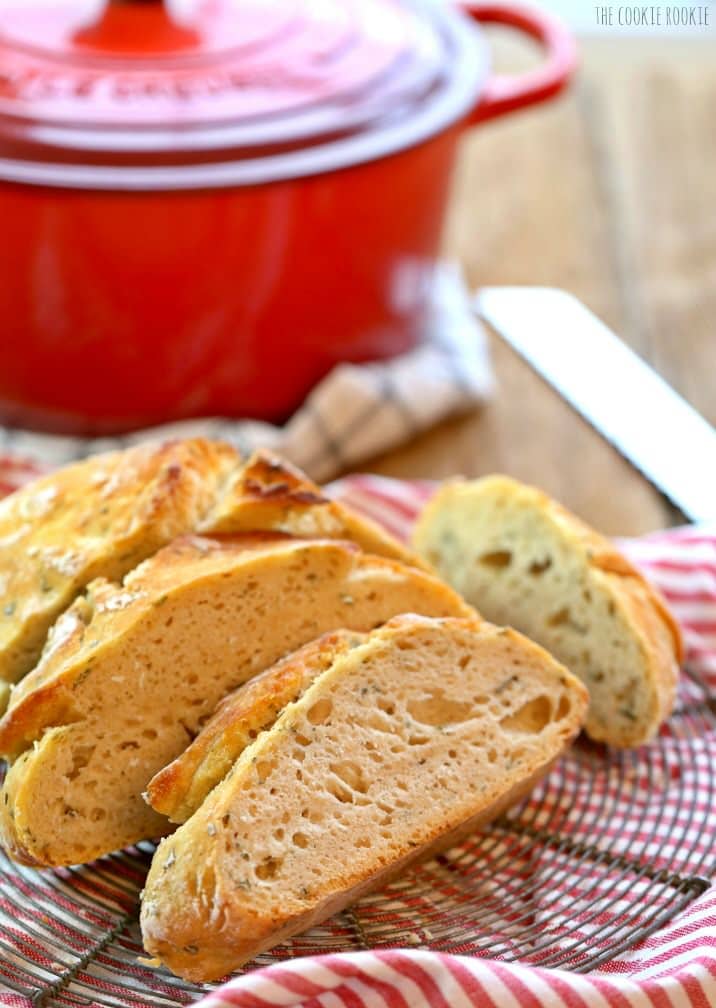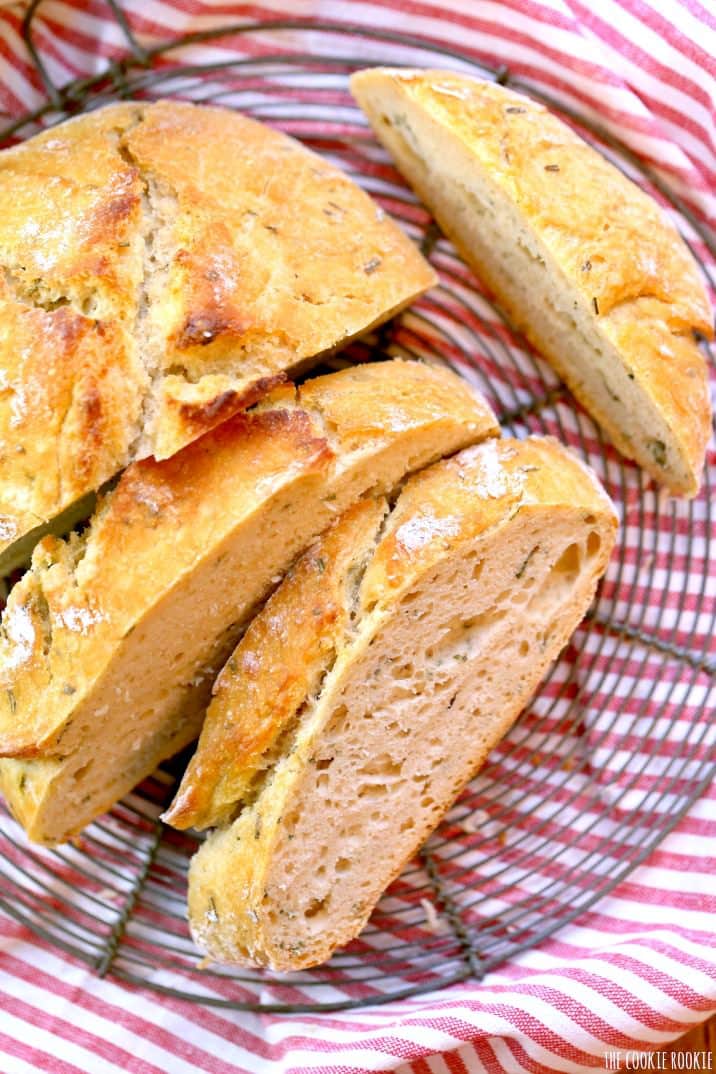 MMMMMMM!!!!!
Rosemary Sea Salt Dutch Oven Bread (PLUS a Le Creuset GIVEAWAY!)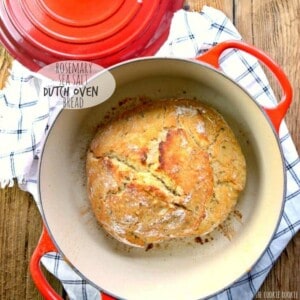 Ingredients
3 cups all purpose flour
1 3/4 tsp sea salt
1/2 tsp active dry yeast
11/2 cups room temperature water
3/4 cup chopped fresh rosemary
Instructions
In a large bowl mix flour, sea salt, rosemary and yeast together. Mix in the water and use a spatula to blend until well combined.
Cover the bowl and allow to sit on the counter overnight, at least 12 hours. (patience is a virtue!)
Preheat oven to 450 F degrees. While oven is heating, place your Dutch Oven in the oven to allow it to preheat as well.
Remove pot from oven and remove the lid from it.
Flour your work surface as well as hands. Remove your dough from the bowl and form into a ball. This is a no knead recipe, but you may have to fold it a couple times to get it to form the shape you want. Place the dough into the bottom of your Dutch Oven (be careful not to burn your hands, the cast iron will be HOT!)
Bake for 30 minutes with the lid on, then remove the lid and bake another 15-20 minutes until the bread is golden brown.
Remove from the oven and allow to cool. Cut and serve! Perfect compliment for soups!
7.8.1.2
1972
https://www.thecookierookie.com/dutch-oven-bread/