Chicken Gnocchi Soup is one of my favorites because it's so creamy and delicious! This copycat Olive Garden Chicken Gnocchi Soup recipe is so easy to make and tastes just like the real thing (maybe even better). I know you're going to love this chicken and gnocchi soup!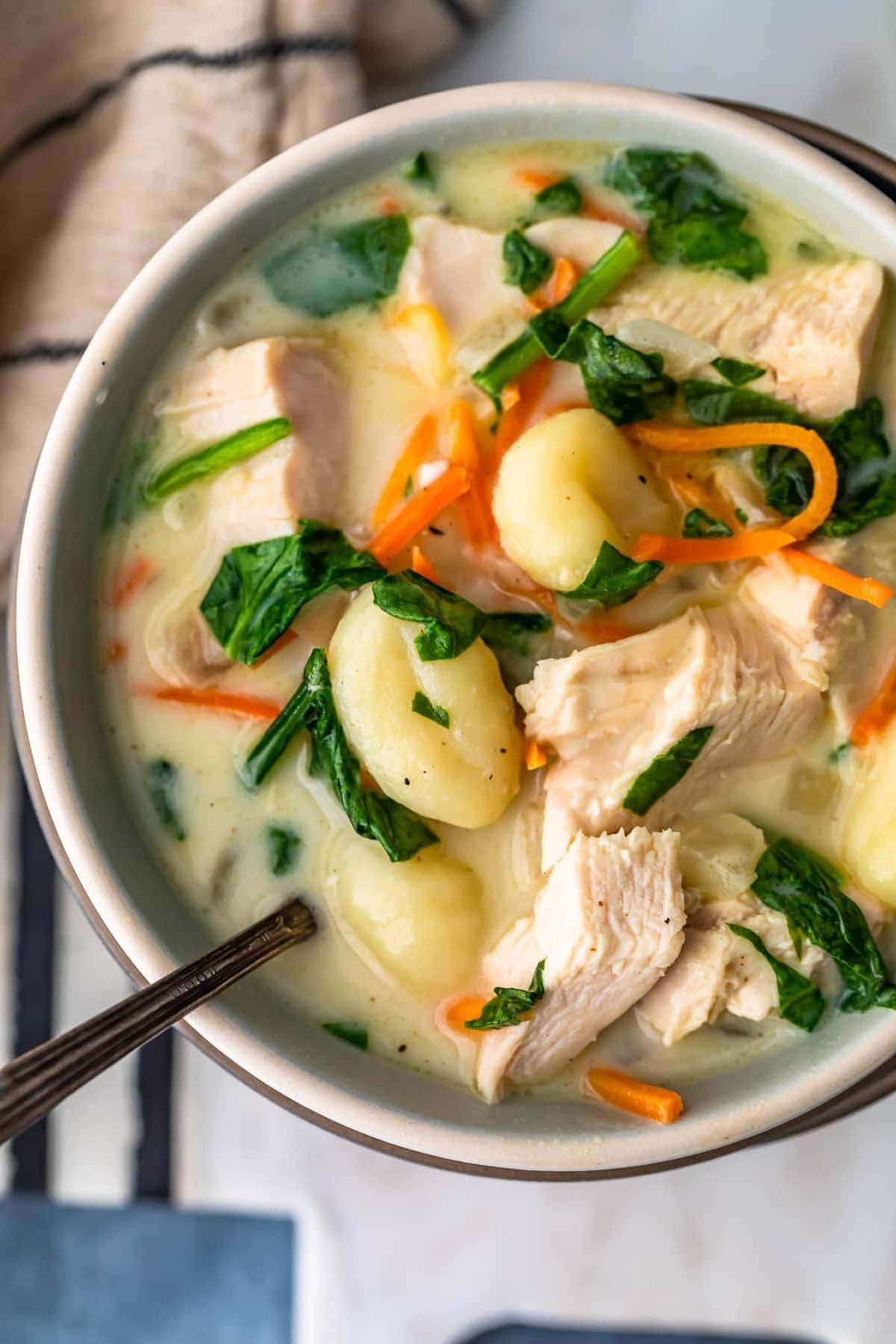 Chicken Gnocchi Soup
Chicken Gnocchi Soup is a super creamy recipe filled with the most delicious little potato gnocchi. This is such an easy soup recipe to make all winter long!
One reason I really enjoy winter (maybe the only reason) is all the comforting winter foods you get to eat. Besides big holiday feasts, my favorite thing to eat this time of year is soup! I have so many easy soup recipes, but there's always room for more.
This Chicken Gnocchi Soup recipe fits right in because it has all my favorite elements: it's creamy, it's filled with chicken, and it tastes amazing. Plus it's got something special: potato gnocchi! This chicken and gnocchi soup is extra comforting, and I could easily eat bowls and bowls of this.
If you like Olive Garden's Chicken Gnocchi Soup, then this recipe will seem pretty familiar to you already. This simple copycat recipe makes it really easy to make this favorite soup at home! (And don't forget that Olive Garden Salad and Dressing to go with it!)
This copycat Olive Garden Chicken Gnocchi Soup recipe is a favorite. It's so creamy and delicious!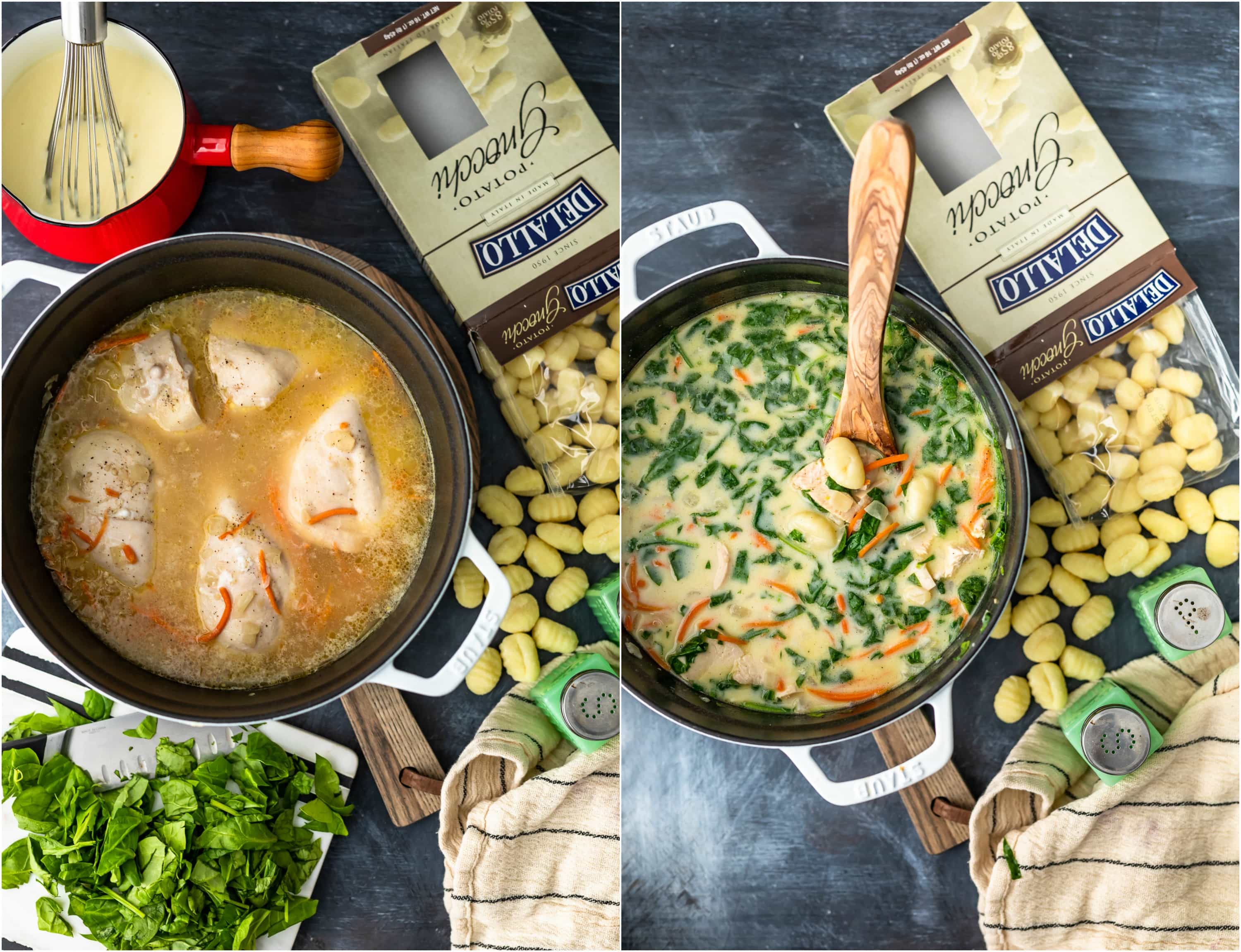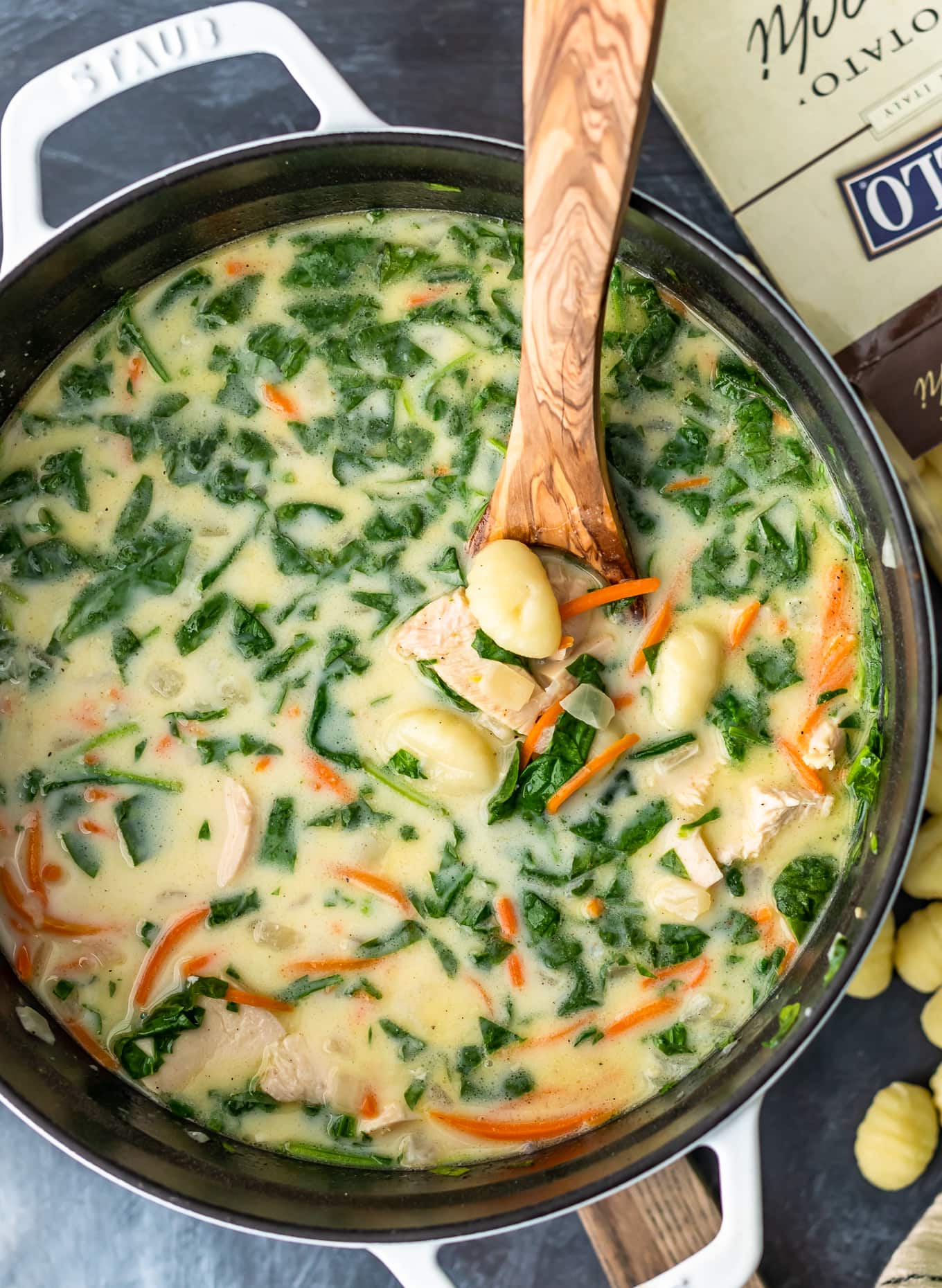 Easy Chicken and Gnocchi Soup
I've SO honored to be working with DeLallo this year because they're a brand I truly trust whole-heartedly. DeLallo Pastas have always been my favorite (duh!), but they also make so many unique and delicious ingredients from Instant Espresso Baking Powder to Sour Cherry Spread! I believe that DeLallo is helping Moms, Dads, Sons, and Daughters across the country to create delicious recipes for their family, while taking out some of the stress from the equation.
I've used one of my very favorite DeLallo ingredients in this Creamy Chicken Gnocchi Soup, their Potato Gnocchi! YOU GUYS. I'm beyond obsessed with this Potato Gnocchi. It tastes homemade and is so darn easy literally anyone can make it.
The great thing about gnocchi is, it tells you when its done. It rises to the top of the pot and floats. Thanks gnocchi, you'll make a chef out of me after all! This Creamy Chicken Gnocchi Soup wouldn't exist without DeLallo, I hope you check them out!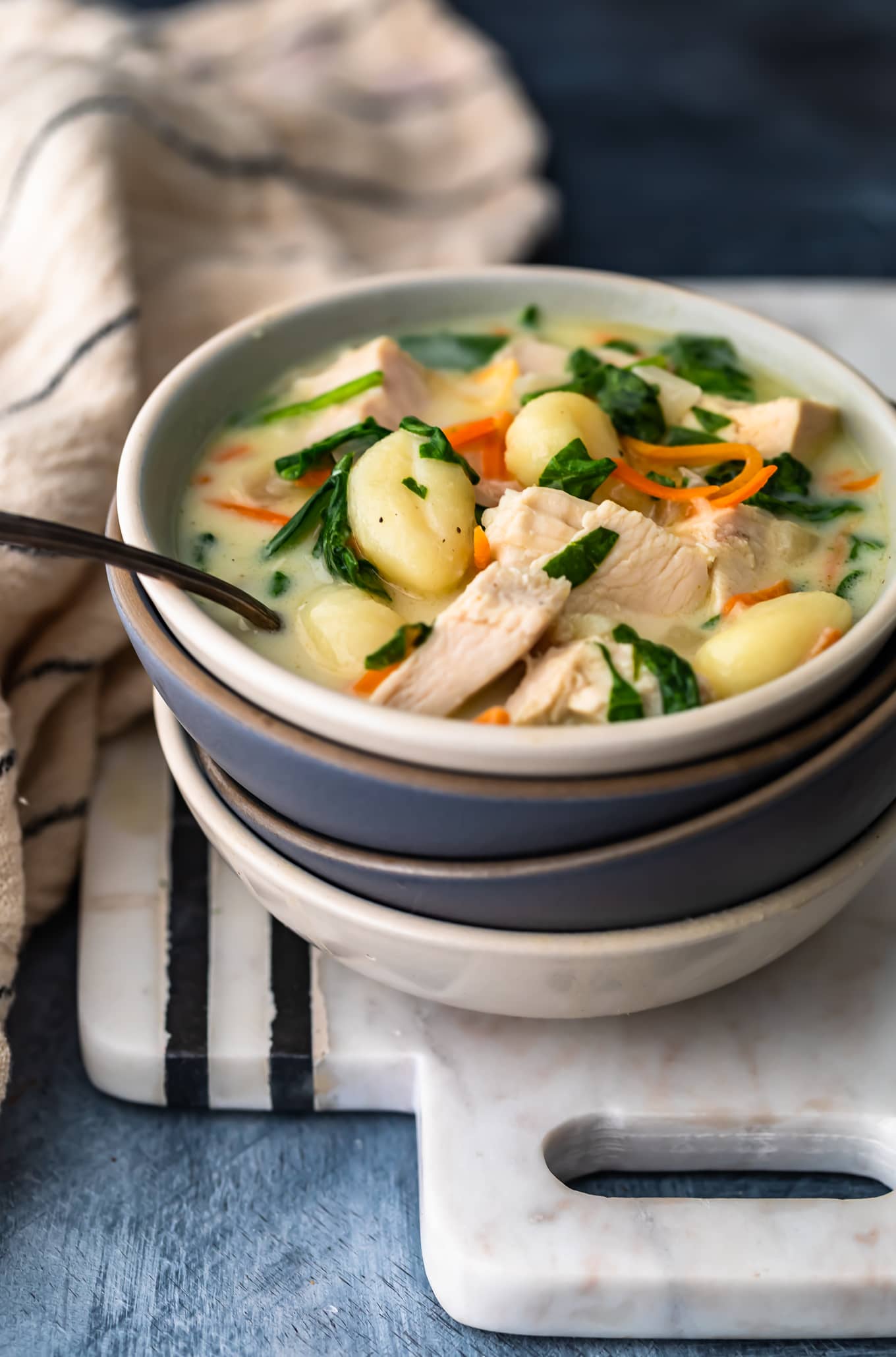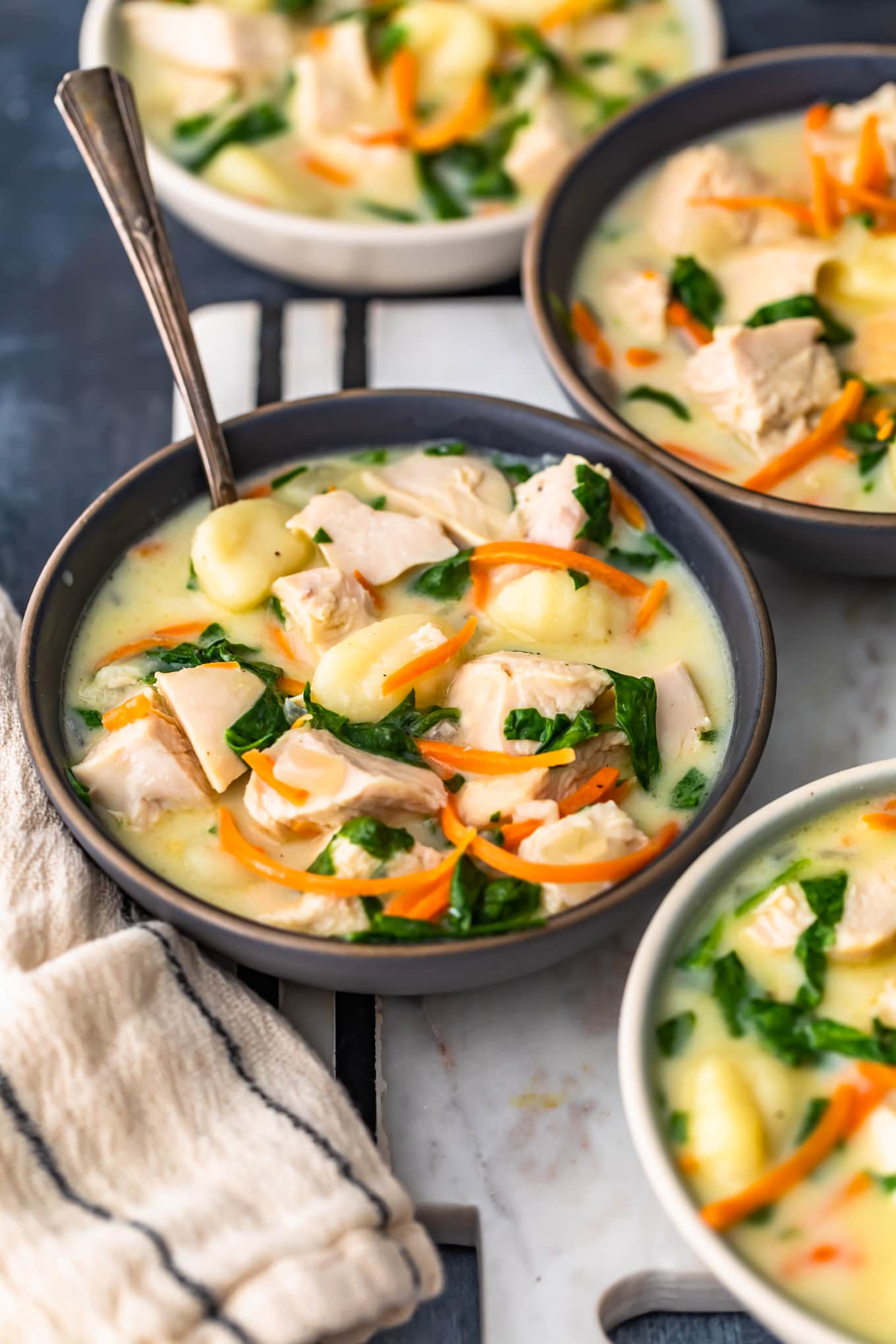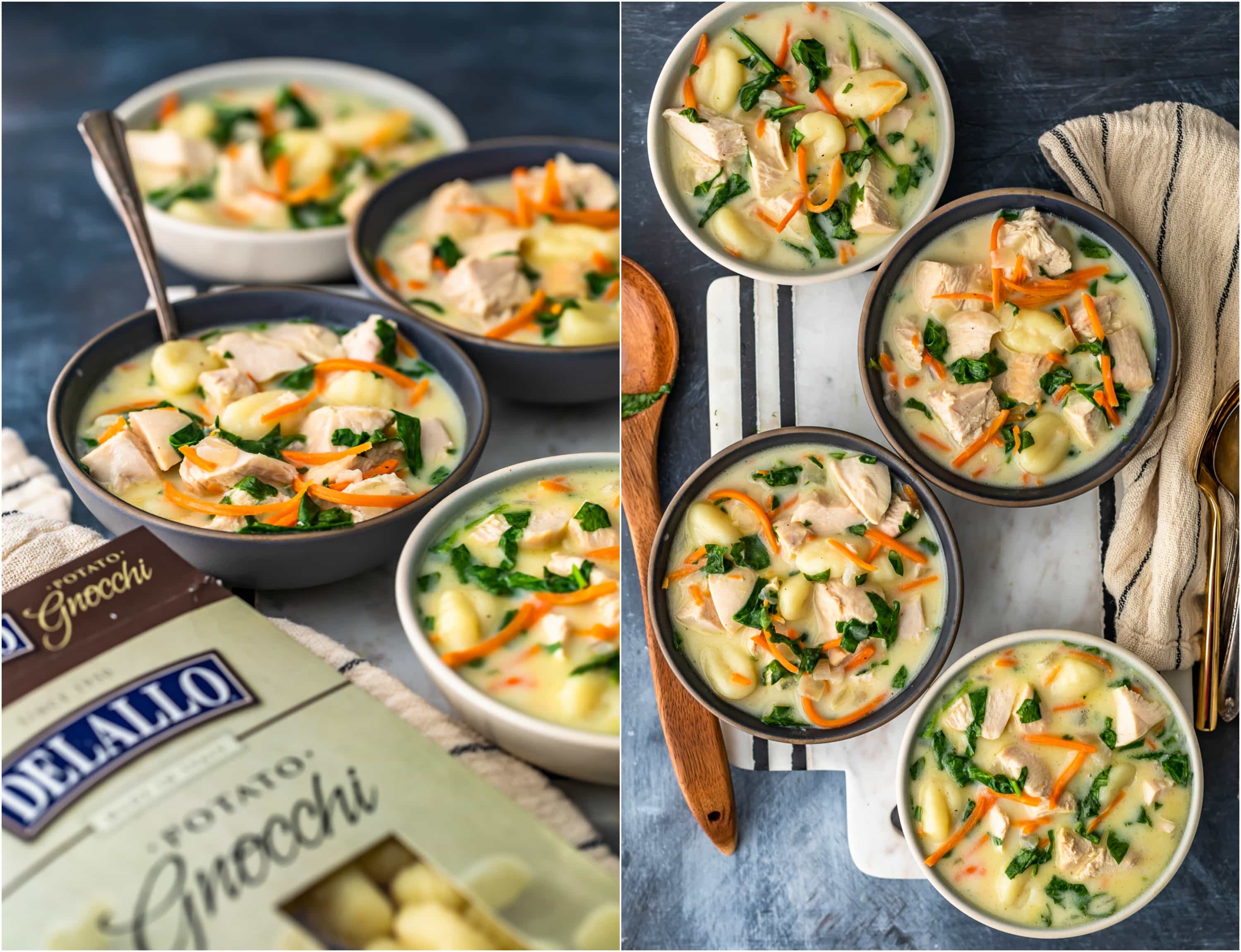 Olive Garden Chicken Gnocchi Soup Recipe (Copycat)
I love going out to eat at restaurants every once in a while (hello, delicious food that you don't have to cook yourself), but it's definitely not an everyday thing. There are so many amazing restaurant dishes that I wish I could eat more than just every once in a while, which is why I love copycat recipes!
One of my favorite dishes at the moment is Olive Garden's Chicken Gnocchi Soup, so of course I had to create a similar recipe that I could make at home. It tastes just like it, except maybe even a little better…because homemade is always better! Well, except for the part where you clean up your own dishes.
Want more restaurant copycat recipes? Try our Bang Bang Shrimp recipe, Carrabba's Sausage and Lentile Soup, and Applebee's Fiesta Lime Chicken!
Creamy Chicken Gnocchi Soup Ingredients:
Chicken Broth
Potato Gnocchi
Chicken Breast
Yellow Onion
Shredded Carrot
Minced Garlic
Half & Half
Heavy Cream
Chopped Spinach
Butter
Flour
Parmesan Cheese
Nutmeg
Dried Thyme
Paprika
Yum! With an ingredients list like that, you can see why I'm obsessed with this soup!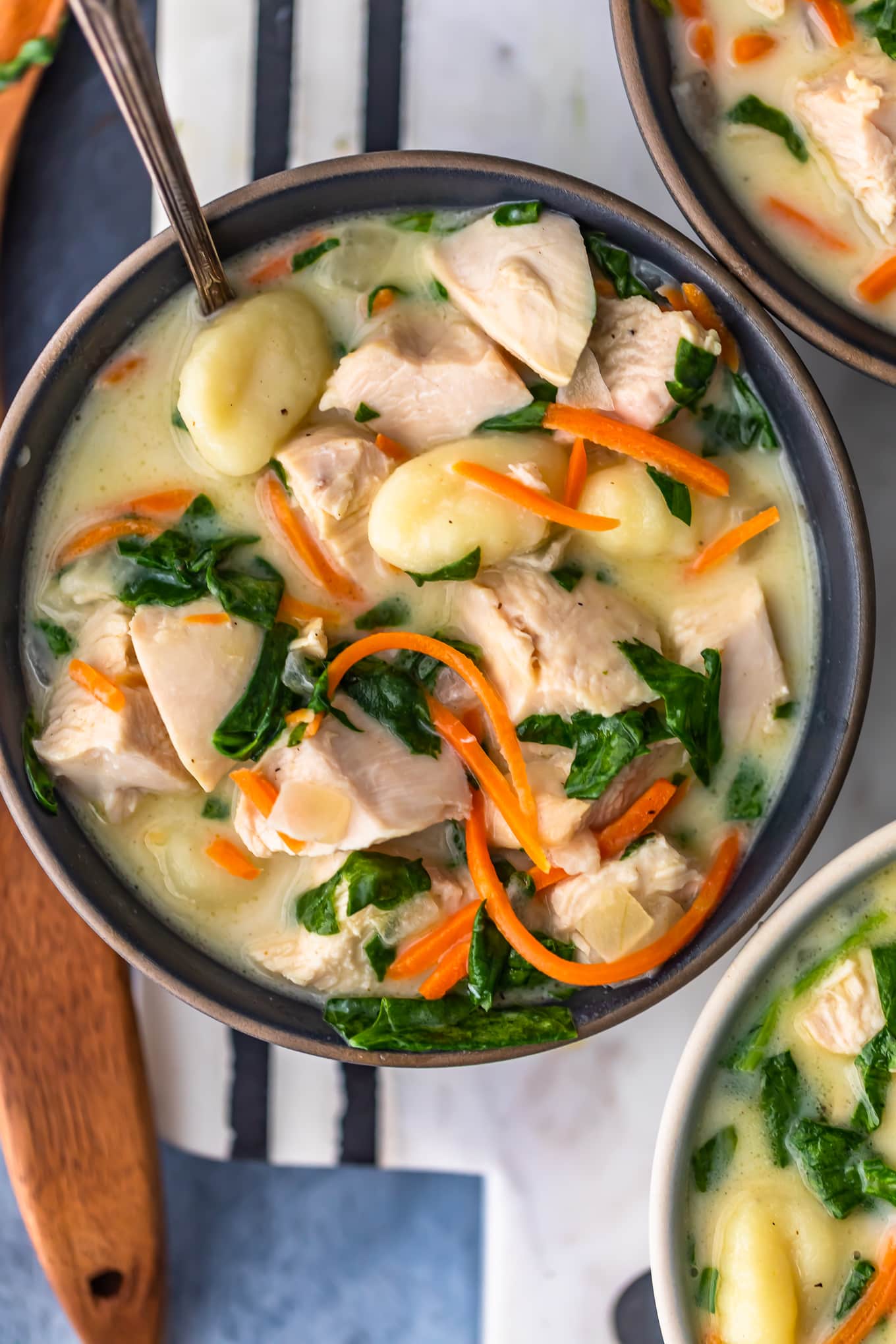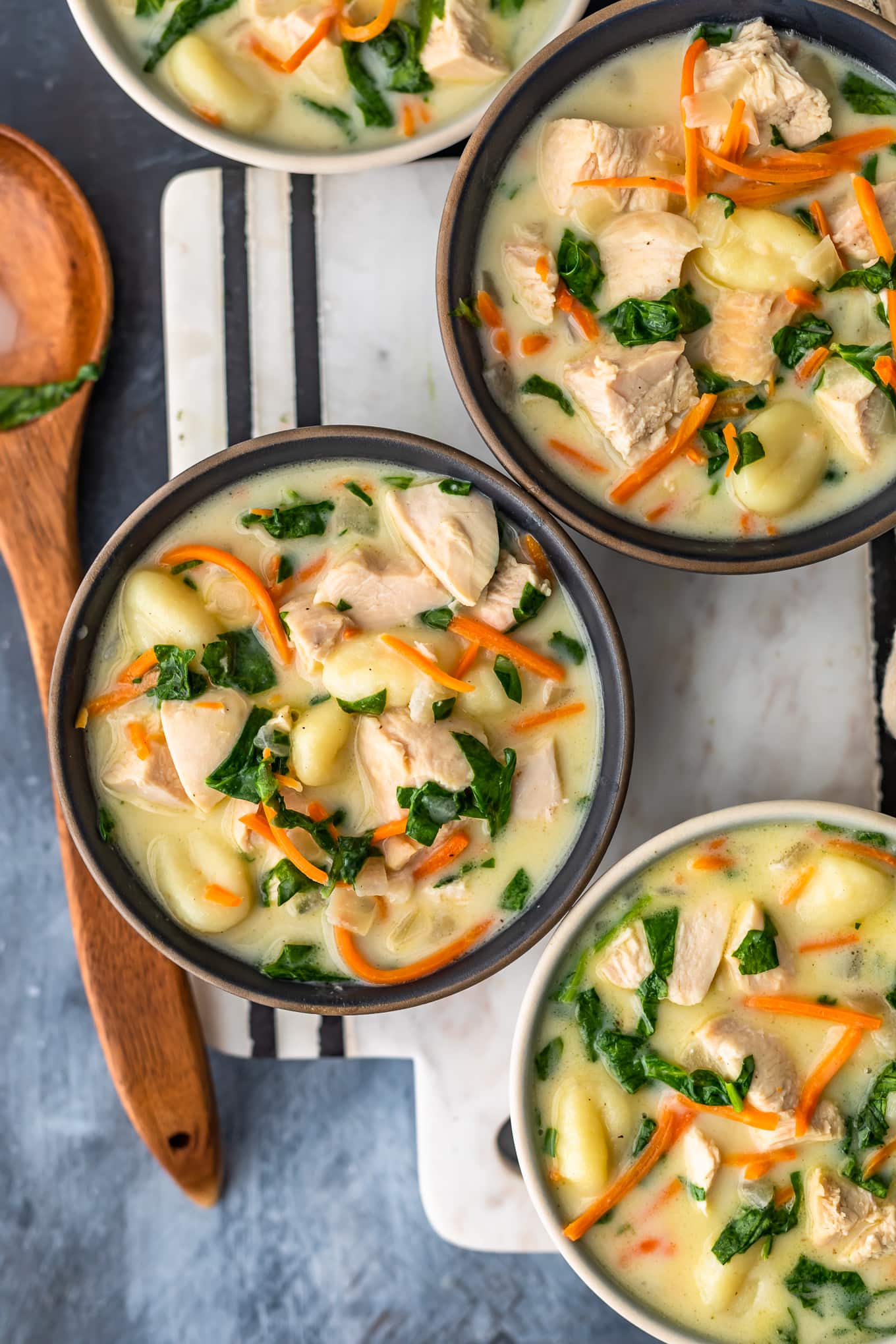 How to Make Chicken Gnocchi Soup
Soups are one of my favorite things to make because they're kind of hard to mess up. Just throw everything in the pot and cook! Plus they always come out soooo delicious.
Start by heating up butter in a dutch oven or stock pot.
Add in the onions and carrots and saute until onions become translucent. Then stir in the garlic and cook a couple more minutes.
Pour in the chicken broth and seasonings, then add the chicken breast and bring to a boil.
When the soup starts to boil, place the lid on the pot and reduce heat, and let it simmer for 8-10 minutes.
While chicken cooks: Melt butter in a small saucepan and whisk in the flour. Then whisk in the half and half, and let it simmer until it thickens. Stir in the parmesan cheese, remove from heat, then whisk in the heavy cream.
Once the chicken is fully cooked through, remove it from the pot and set it aside.
Add the gnocchi into the broth mixture and let it simmer until the gnocchi rises to the top (that's how you know it's cooked through).
Pour the cream mixture from the saucepan into the rest of the soup.
Cube the chicken breast then add it into the soup, along with the chopped spinach, and stir until heated.
I just love how creamy and delicious this chicken gnocchi soup recipe turns out. It's really easy to store leftovers too, either in the refrigerator for a few days, or the freezer for a few months!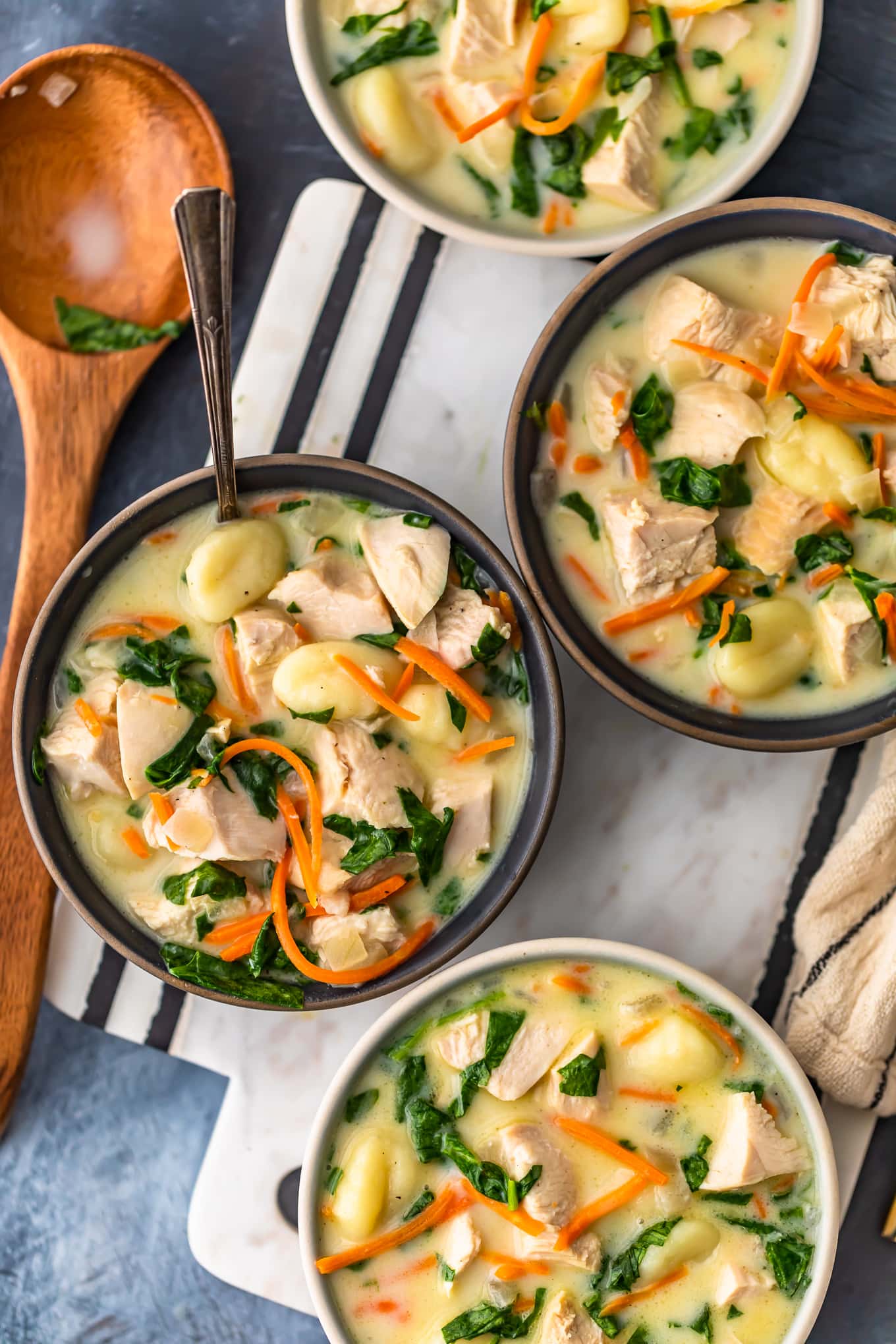 If you like the Olive Garden Chicken Gnocchi Soup, then you're really going to love this homemade recipe too! Make a big batch and enjoy! And don't forget the Olive Garden breadsticks to go with it.
Looking for another way to use gnocchi? Try this Pepperoni Pizza Gnocchi Bake or this Chicken Alfredo Gnocchi Bake.
If you like this chicken and gnocchi soup recipe, try these other delicious soup recipes: