Salted Caramel Puppy Chow is so addicting! If you're a fan of puppy chow snack mix, you're going to love this flavor combo. Chex cereal topped with caramel, chocolate, and powdered sugar. YUM!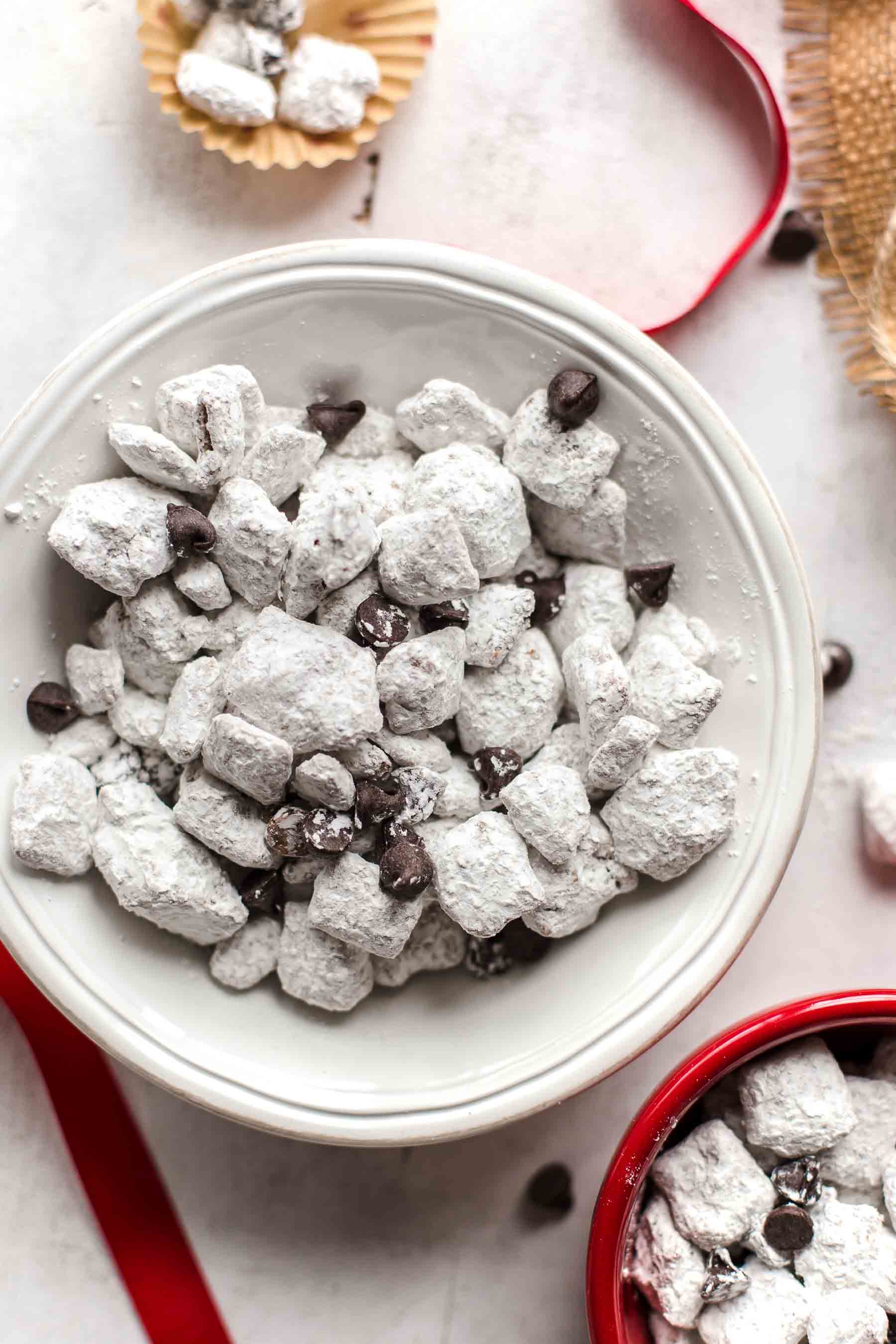 Salted Caramel Puppy Chow Recipe
This salted caramel puppy chow chex recipe was sent straight from heaven to make our lives better. It's the ultimate puppy chow snack mix!
Growing up, my favorite thing (okay, one of my favorite things) my mom would make was Puppy Chow. I could have survived on this stuff FOR DAYS.
I loved my mom's recipe, but when other moms would make it, I just didn't like it as much. Maybe I was just a bit biased, but no one makes it like her!
I think there are two secrets to a really good puppy chow snack mix: MILK CHOCOLATE and LOTS OF POWDERED SUGAR. Yes, milk chocolate wins over dark chocolate every time (or at least when it comes to muddy buddies).
And you really have to pile that powdered sugar on there to get the full effect. This is not a healthy treat, FYI, so you might as well make it as delicious as possible.
I've shared our original flavor recipe AND mint chocolate recipe (both are right here), and now I gotta share our Salted Caramel Puppy Chow recipe too.
It's just as good as the original, something to add into the mix. I love eating this stuff during the holiday season and making it as a fun party snack.
This Salted Caramel Puppy Chow Chex Mix is a holiday favorite. Make a big batch to snack on or serve at your Christmas party!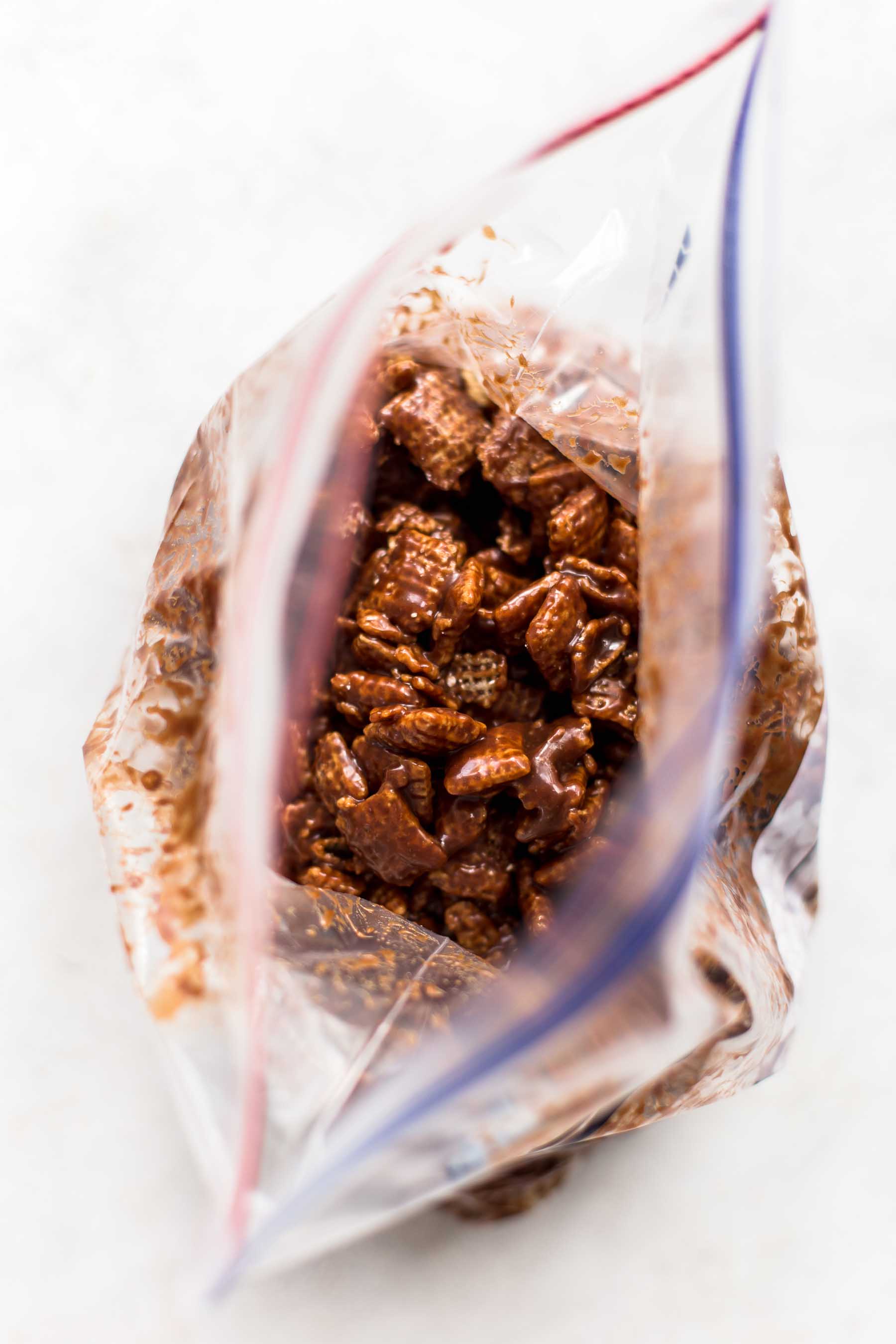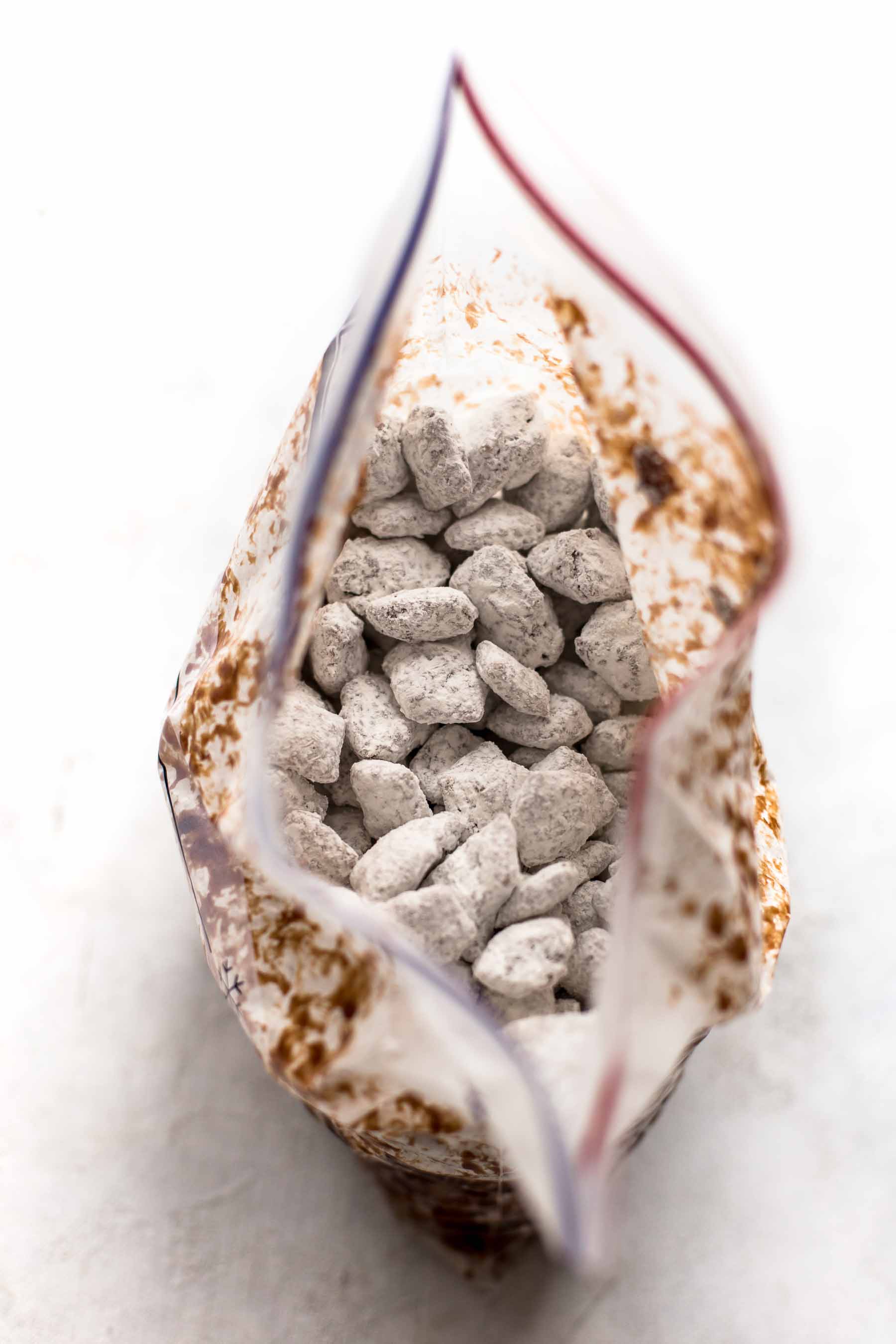 Puppy Chow or Muddy Buddies
Funny story: Back when I was still working in an office, I took this to work in an attempt to be a 5-star employee. Eventually, everyone loved it, but at first…well, based on the name, one of my co-workers actually thought it was for dogs. I guess he had never heard the term Puppy Chow!
It's a common mistake, but I assured him that it IS indeed meant for humans, not for puppies. Don't get me wrong, Scout would love eating this. But no chocolate for dogs!
I guess I should have written "muddy buddies" instead, another common name for this delicious treat. But I've always known it as puppy chow.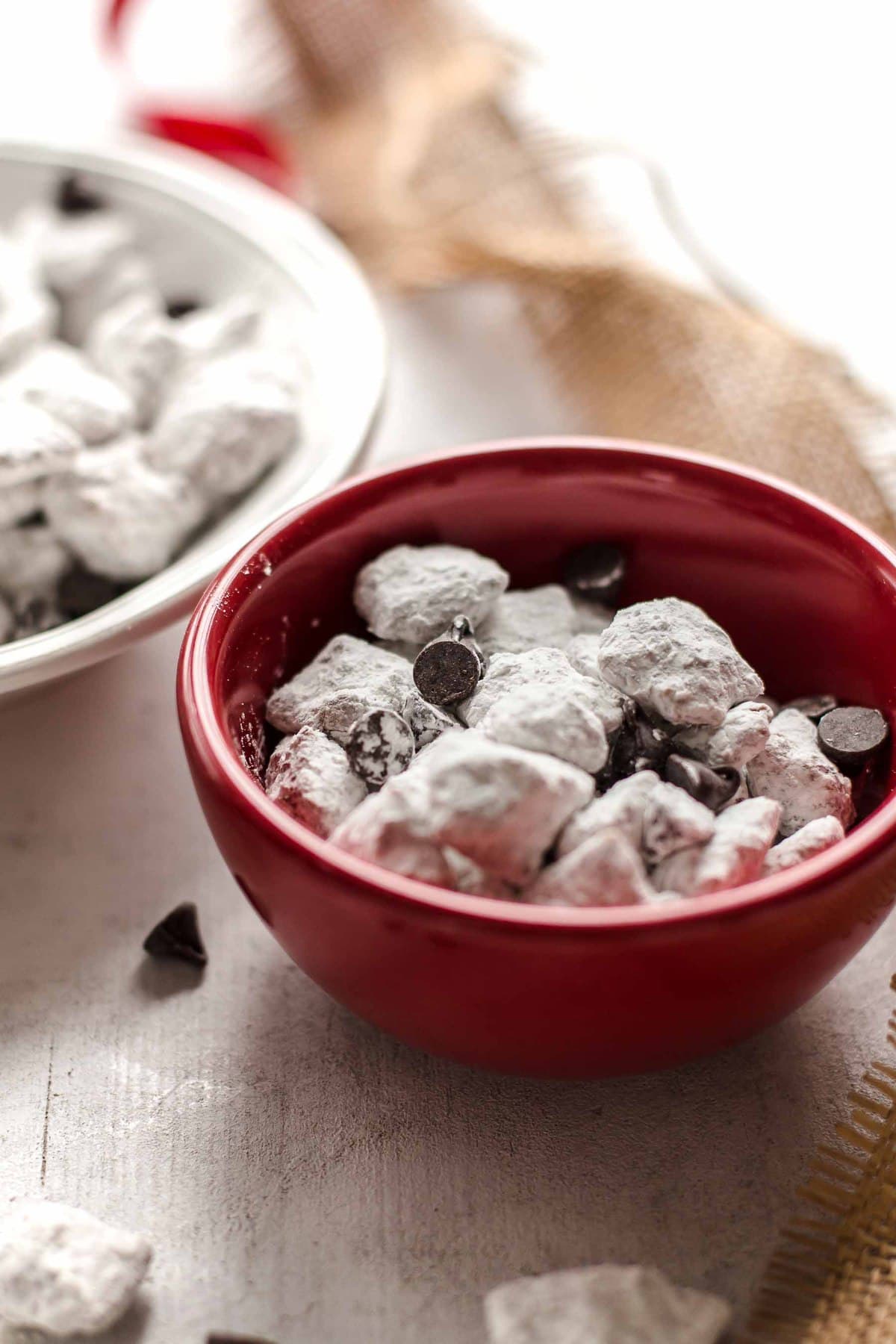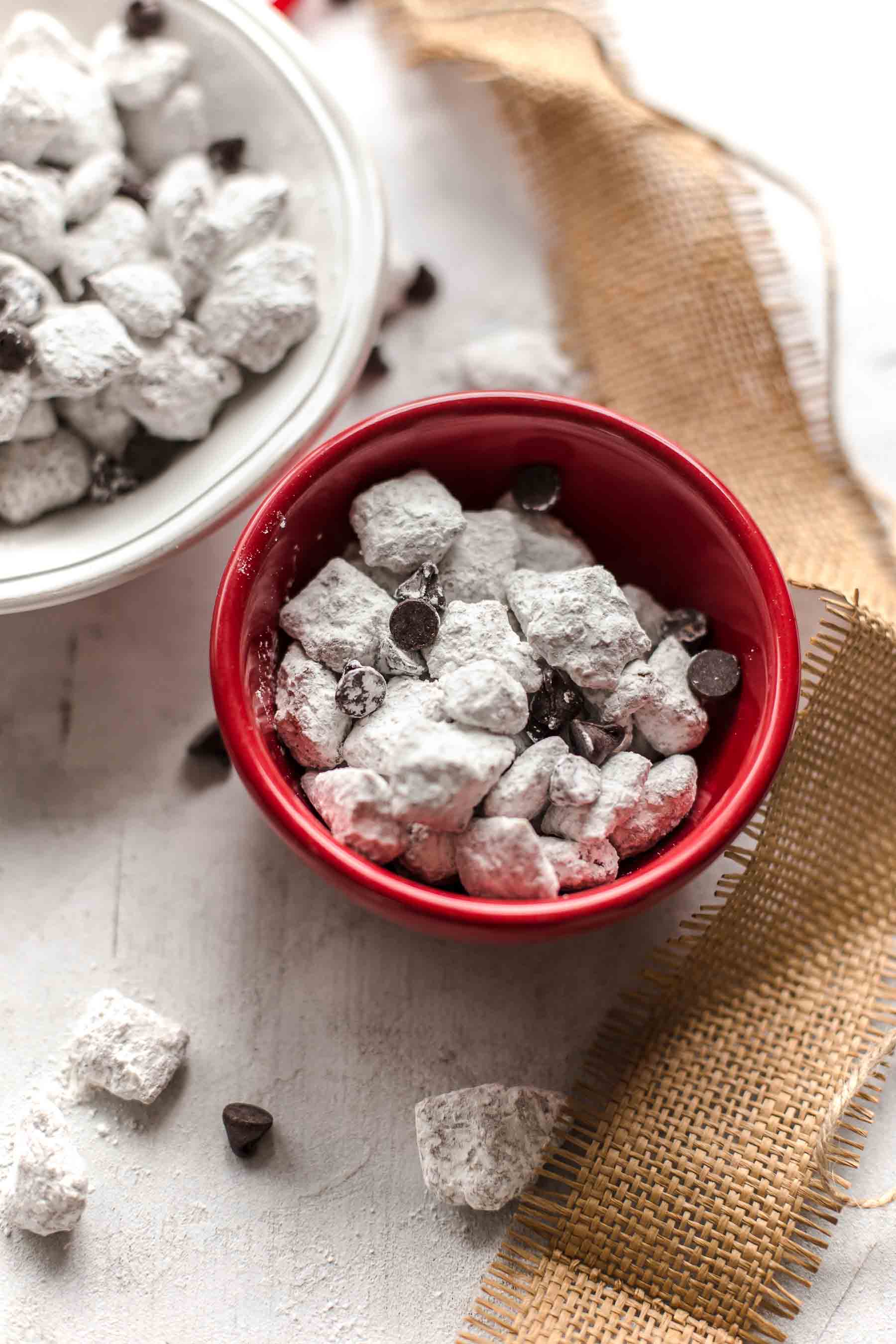 Caramel Puppy Chow Snack Mix
The original Puppy Chow snack mix is wonderful, but it's fun having different flavor variations for this stuff. This time, let's take it up a notch by making Salted Caramel Puppy Chow!
Basically, just replace the peanut butter in the original recipe with salted caramel. Oh, and add some Caramel DelightFulls (not sponsored…but I'm OBSESSED) for good measure.
You could also add in some chopped Rolos for even more chocolate caramel goodness. This mix is meant for those who like to indulge, so let's go all out!
Caramel Puppy Chow Ingredients:
Chex Cereal
Salted Caramel Flavoring (I used an ice cream topping, but syrups and other versions of flavoring work as well)
Milk Chocolate Chips
Powdered Sugar
Caramel chips, extra chocolate chips, or Rolos (optional)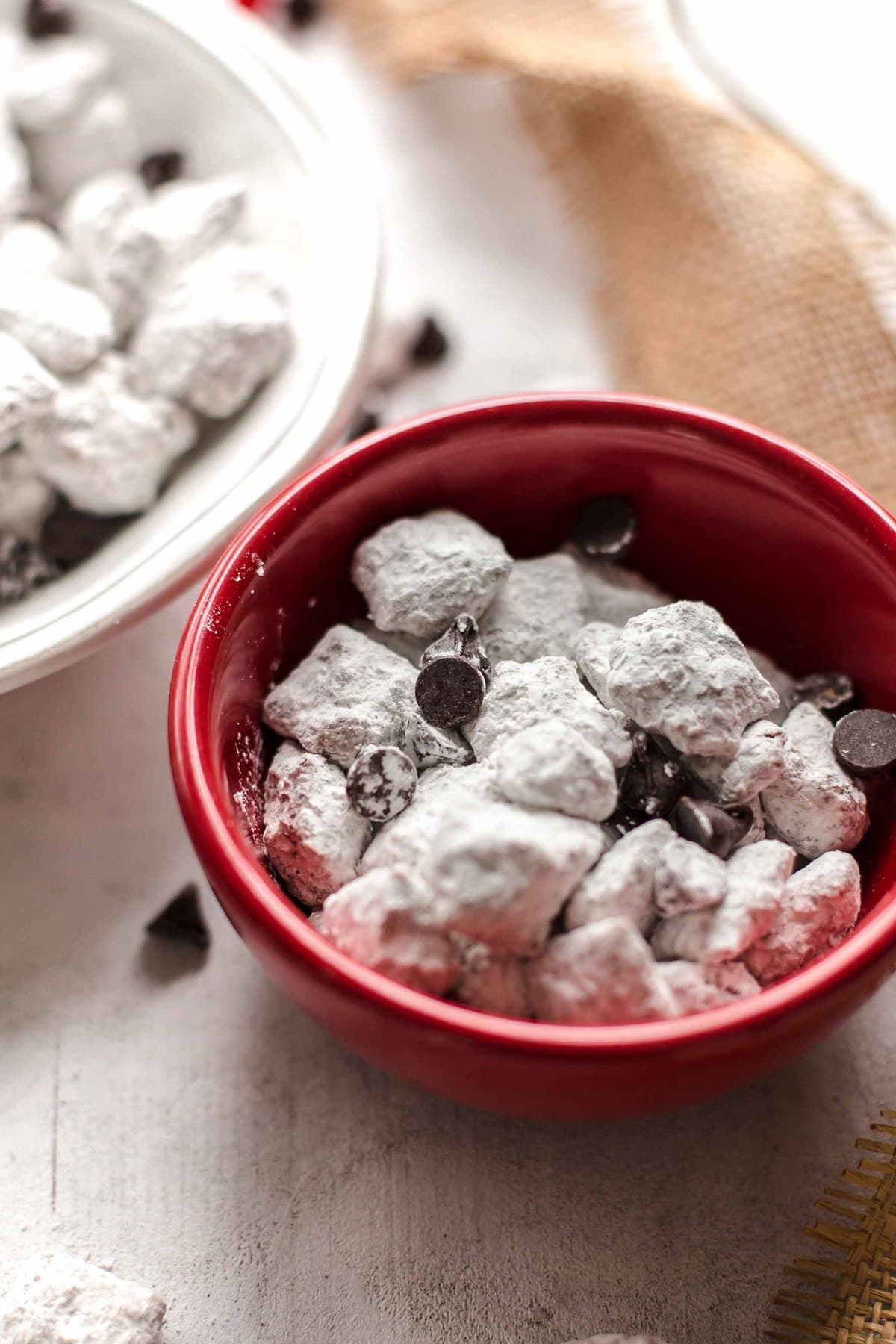 How to Make Salted Caramel Puppy Chow Chex
This puppy chow chex mix is SOOO easy to make. You just combine the ingredients to create the most delicious snack mix, then serve as you please.
Set out a big bowl of it at parties, bag it up for Christmas gifts, or just snack away on the couch while watching TV. There's never a bad time for this stuff!
How to make puppy chow:
Melt chocolate chips in the microwave, stirring every 30 seconds.
Next, melt the caramel topping/syrup in the microwave for about 45-60 seconds. Then combine the melted caramel and chocolate.
Place Chex cereal in a large bowl, and pour the chocolate caramel mixture over it. Stir well, until the chex is fully coated.
Pour the coated cereal into two separate resealable plastic bags. Pour half of the powdered sugar into each bag, then shake until the chex is fully coated.
Once it's done, pour the puppy chow mix into a bowl, and mix in any caramels, chocolate chips, etc. that you want to add in.
This is the perfect puppy chow snack for parties! Store any extra in an airtight container or resealable bag so you can snack away any time.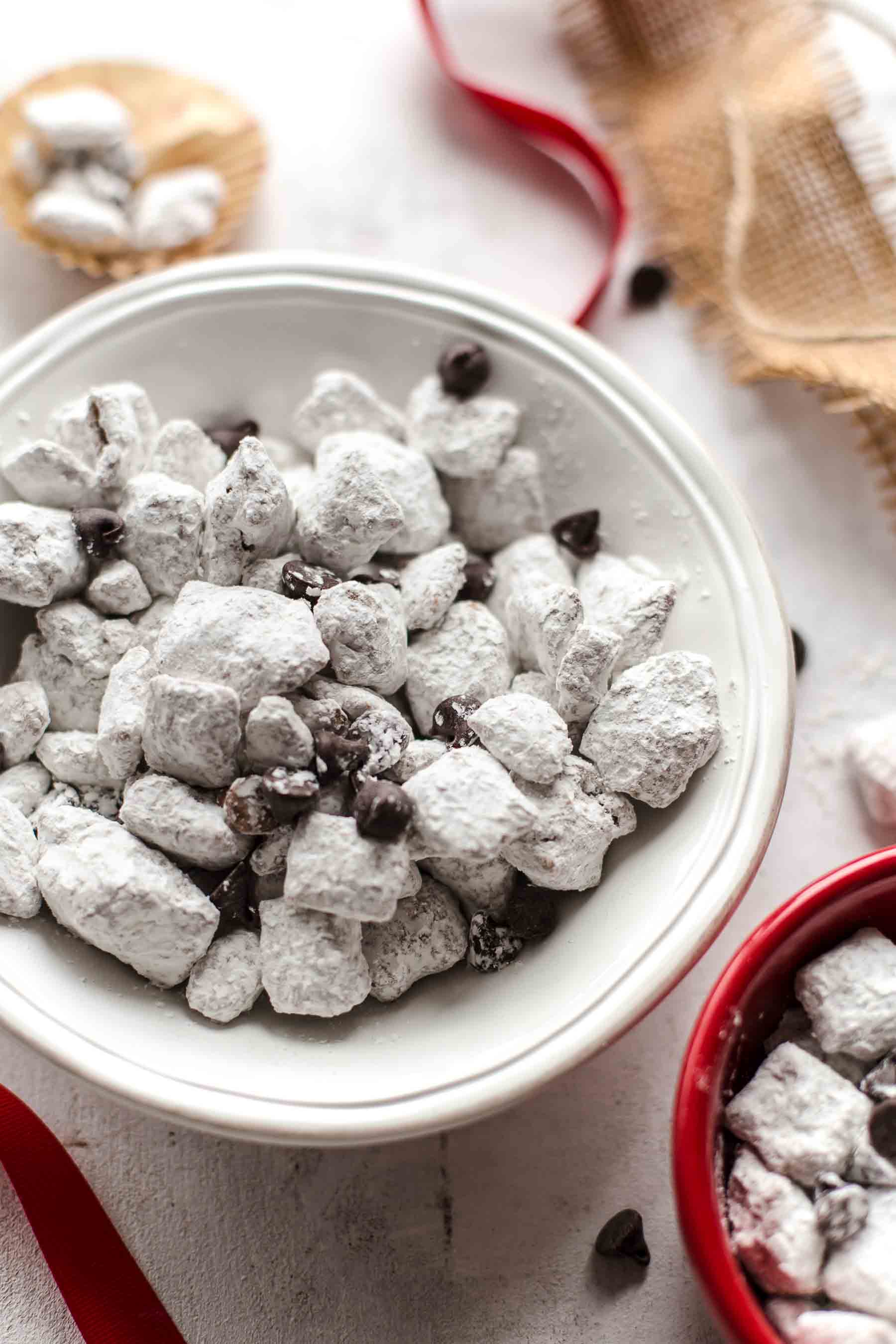 Try these other tasty snack recipes:
If you make this recipe be sure to upload a photo in the comment section below or leave a rating. Enjoy! You can also jump to recipe.