Caramel Apple Dip is a creamy caramel sauce for apples that will leave your sweet tooth satisfied! This Cream Cheese Apple Dip recipe is what every party needs! This apple dip is a lightened up version of our favorite sweet snack, it's easy to make, and it is gone in minutes every time.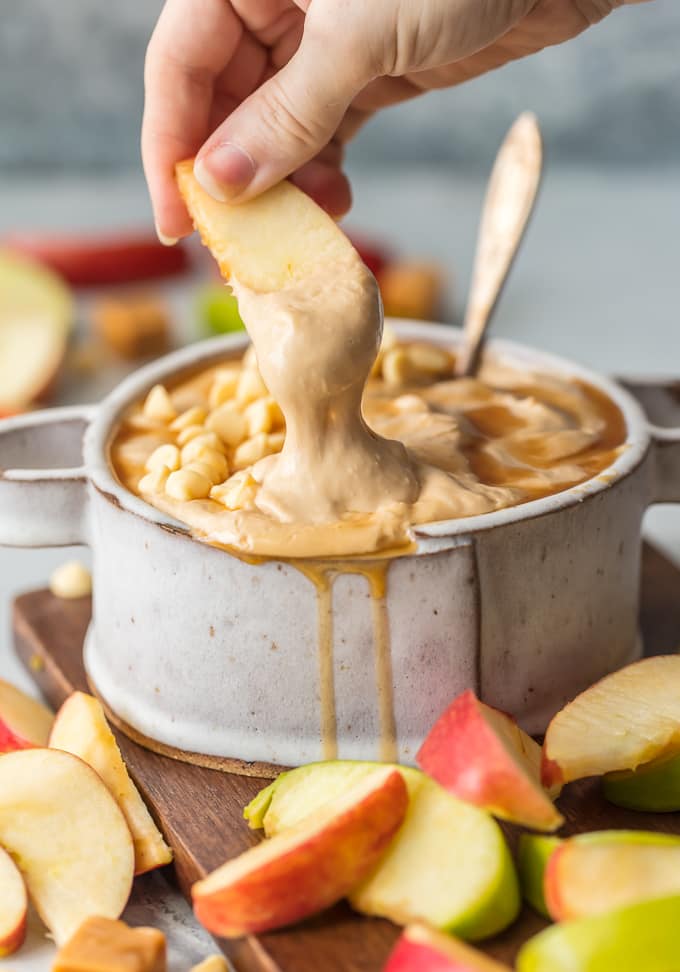 Caramel Apple Dip reminds me of childhood. When I was younger, one of my very favorite after school snacks was caramel sauce for apples.
I could literally lick the container clean because it was so delicious! As an adult, I still love that flavor combination, so I made this super fun (buy guilt-free) version.
This easy Cream Cheese Apple Dip is thrown together in minutes and will please the pickiest eater, adults and kids alike!
Why this is the Best Caramel Apple Dip Recipe
So what makes this recipe so special?
To start, this version is (relatively) light. Meaning, I used sugar free, light, and fat-free versions of ingredients to make sure we could snack with less sugar and calories.
This dip is made with cream cheese to create the creamiest caramel apple dip imaginable!
Optional white chocolate chips on top add the perfect twist for a dessert dip.
This takes just a few minutes to whip together, so it's great for last minute gatherings and parties.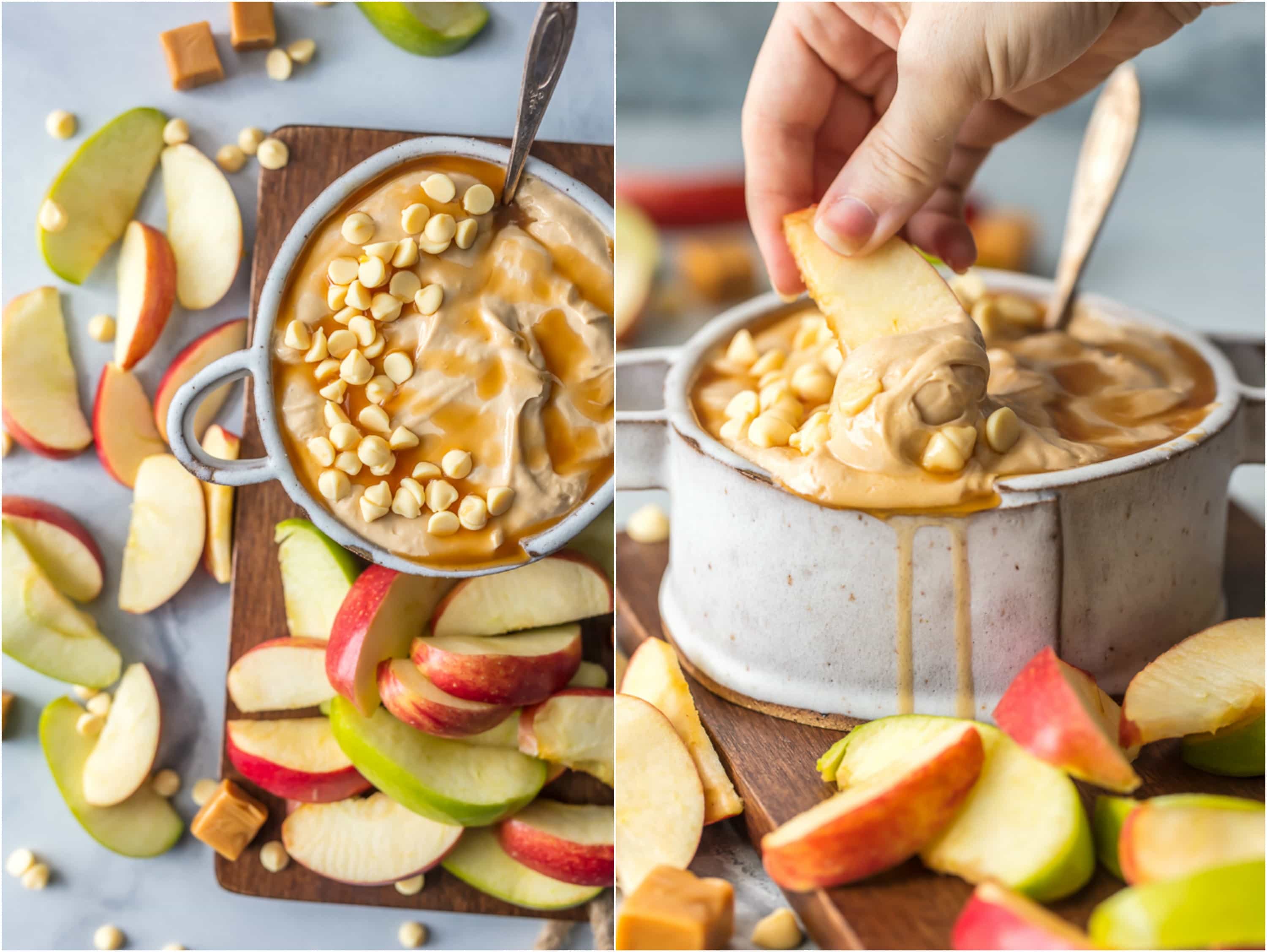 How to Make Caramel Apple Dip
This recipe is made with light cream cheese, cool whip, and sugar free caramel sauce. Making this delicious Caramel Sauce for Apples is as easy as 1, 2, 3!
Blend Caramel Sauce, Cream Cheese, and Cool Whip
Stir in the White Chocolate Chips (Optional, but a total must in my opinion! They make this dip special.)
Refrigerate until ready to serve.
See the recipe card below for full details on how to make Caramel Sauce for Apples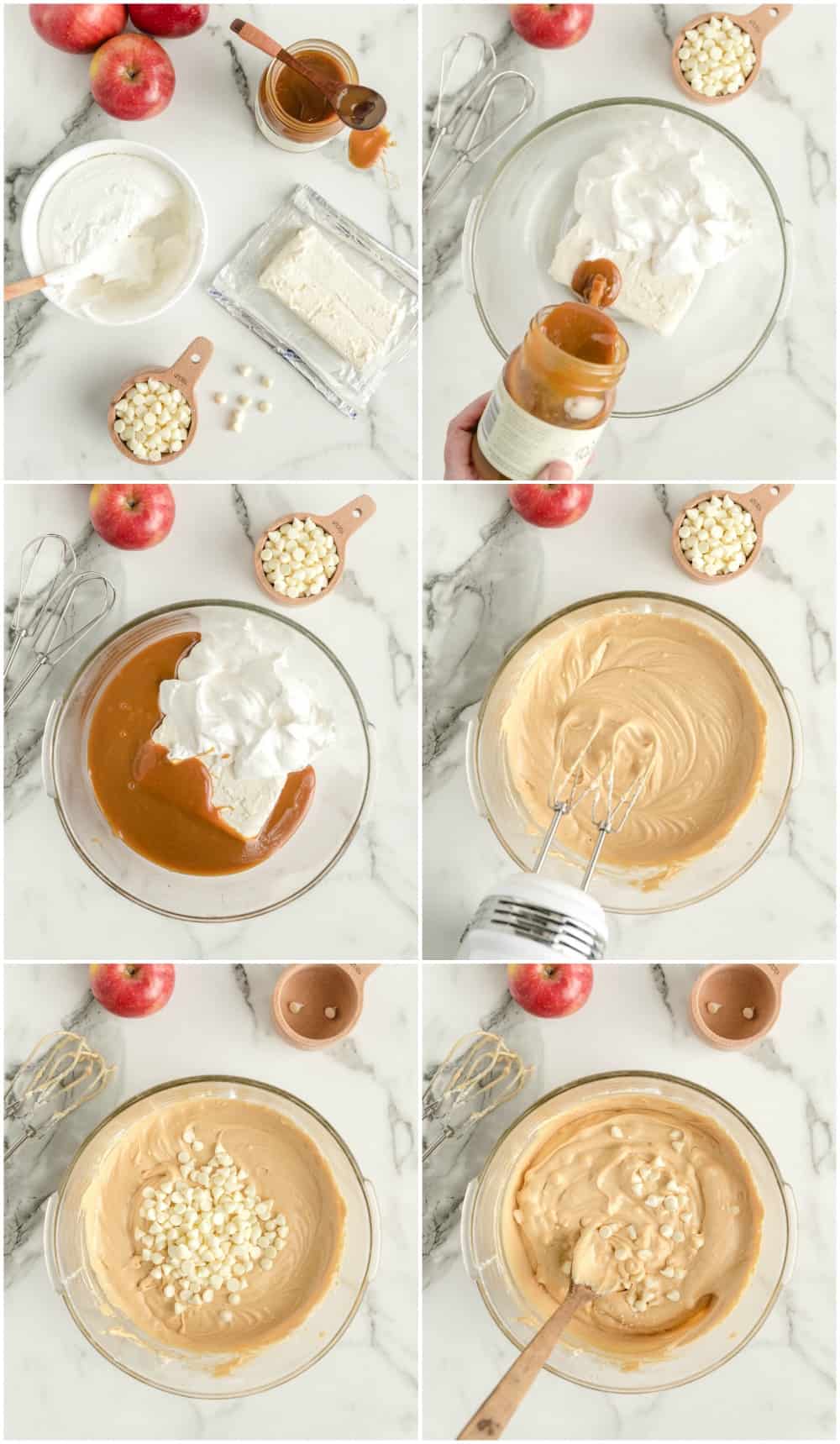 What goes well with caramel dip?
I made this creamy caramel dip with apples in mind, so of course I recommend serving this with apple slices (green or red, whichever you prefer!). But there are plenty of other uses for this recipe.
Try this dip with pretzels, spread it lightly on toast for a special breakfast treat, mix it into a bowl of ice cream, or try it with other fruits (bananas, berries, or pears).
More Serving Suggestions
It would be amazing as a caramel fondue and you can dip to your heart's desire! Cube other goodies and dip in the caramel sauce for a delicious treat! Ideas for other treats to dip in the caramel sauce:
Cheesecake Bites
Strawberries
Graham Crackers




Caramel Apple Everything
This cream cheese caramel apple dip is creamy, dreamy, and just a little lighter on the calories and sugar. This is my EASY go-to appetizer for holiday parties when I'm in a pinch. I hope you'll love it as much as we do! It's always gone in minutes when we make it.
There's just something about caramel and apples together. It's so perfect for autumn! If the weather is getting cool you better believe we are making this dip.
If you love this flavor combo, try these other recipes too:
And try this Apple Cider Sauce to drizzle over desserts or stir into hot drinks!
How long will this caramel dip stay fresh?
This Caramel Sauce for Apples should stay fresh for 3-5 days when properly stored (air tight container) in the fridge. It's great that it lasts a few days, but I always prefer it on the first day or two after making. So delish!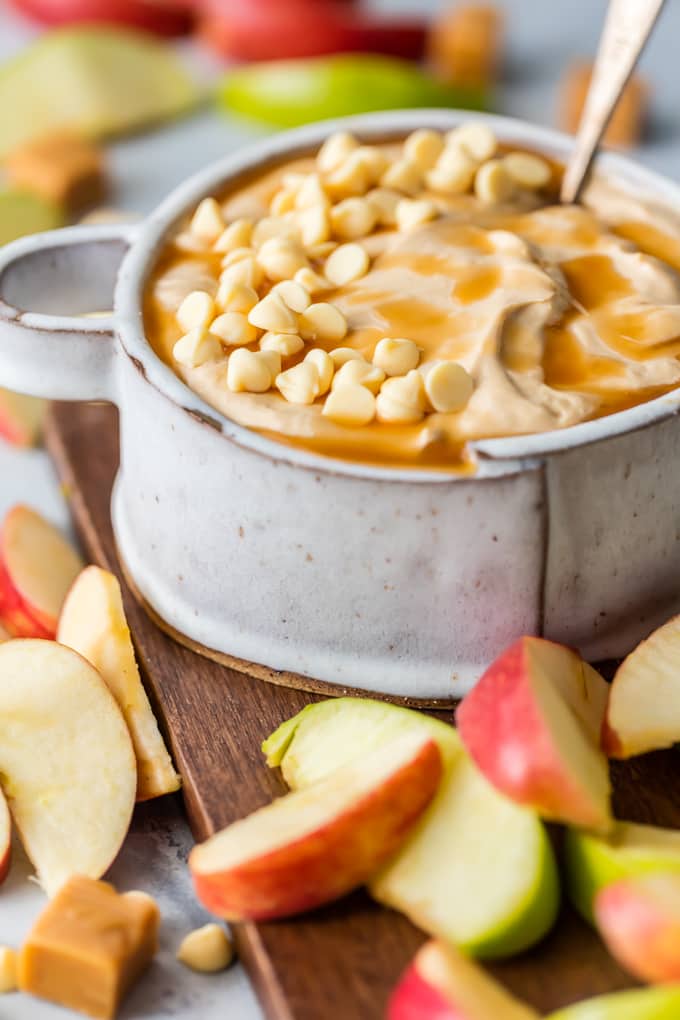 If you love caramel, and you love apples, then you already know that the two are a match made in heaven. And if you love both, then you MUST MAKE this Caramel Cream Cheese Apple Dip.
Here are some other dessert dips we recommend!