Light, crispy and delicious Mini Caprese Tarts are an effortless and incredibly delicious appetizer or light snack. These little tarts have the perfect flavor combo of fresh tomatoes, creamy mozzarella, and crispy, buttery pastry.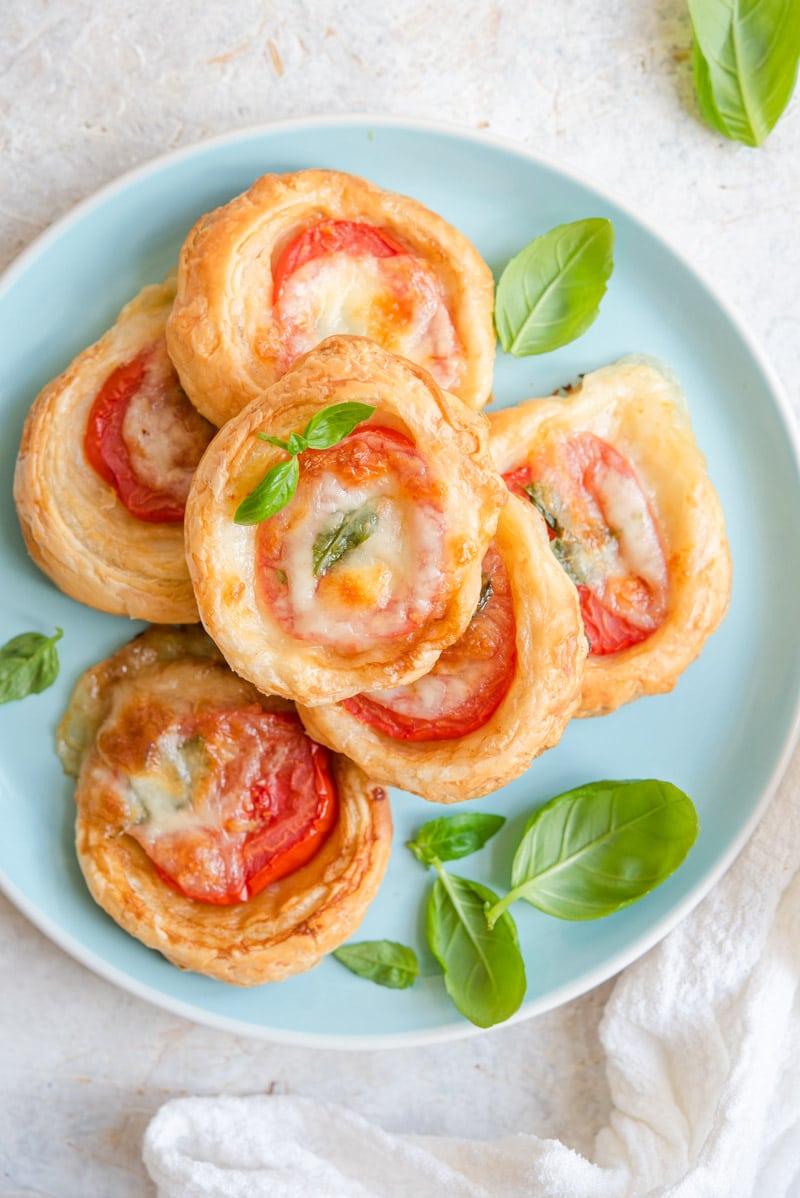 What is Caprese?
Caprese salad is a classic and traditional salad consisting of mozzarella and tomatoes from Capri, Italy.
You really can't go wrong with creamy whole milk mozzarella and juicy fresh tomatoes, it just tastes delicious!
I added a sprinkling of balsamic vinegar for a little zing, fresh basil leaves, and buttery puff pastry.
The end result is a simple yet incredibly flavorful tart everyone is sure to love!
How to Make Mini Caprese Tarts
First, cut out circles from the puff pastry. You can use a glass or cookie cutter (both work just as well).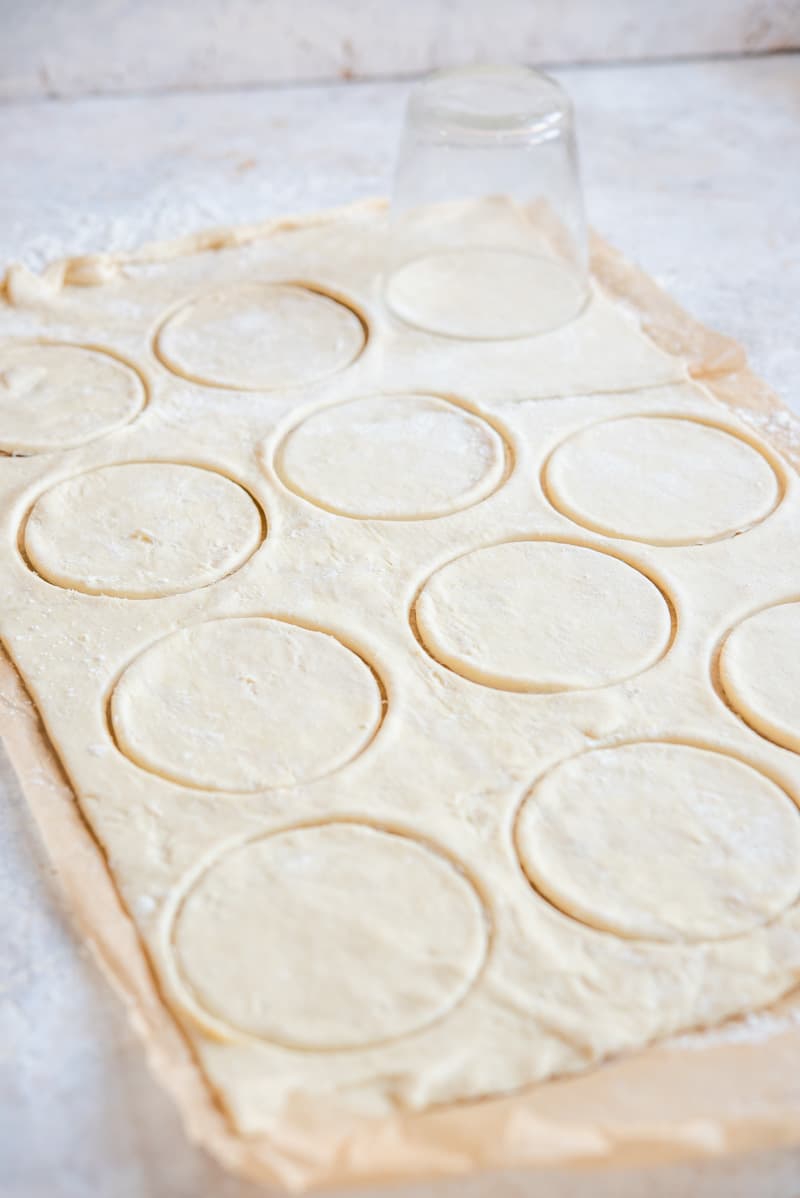 Next place the pastry circles on a lined baking tray.
Using a knife cut a circle outline about 1/4 inch from the edge. Make sure you don't cut the pastry all the way through, you just want to score it.
Using a fork or knife, prick the inside of the circle (see photo below).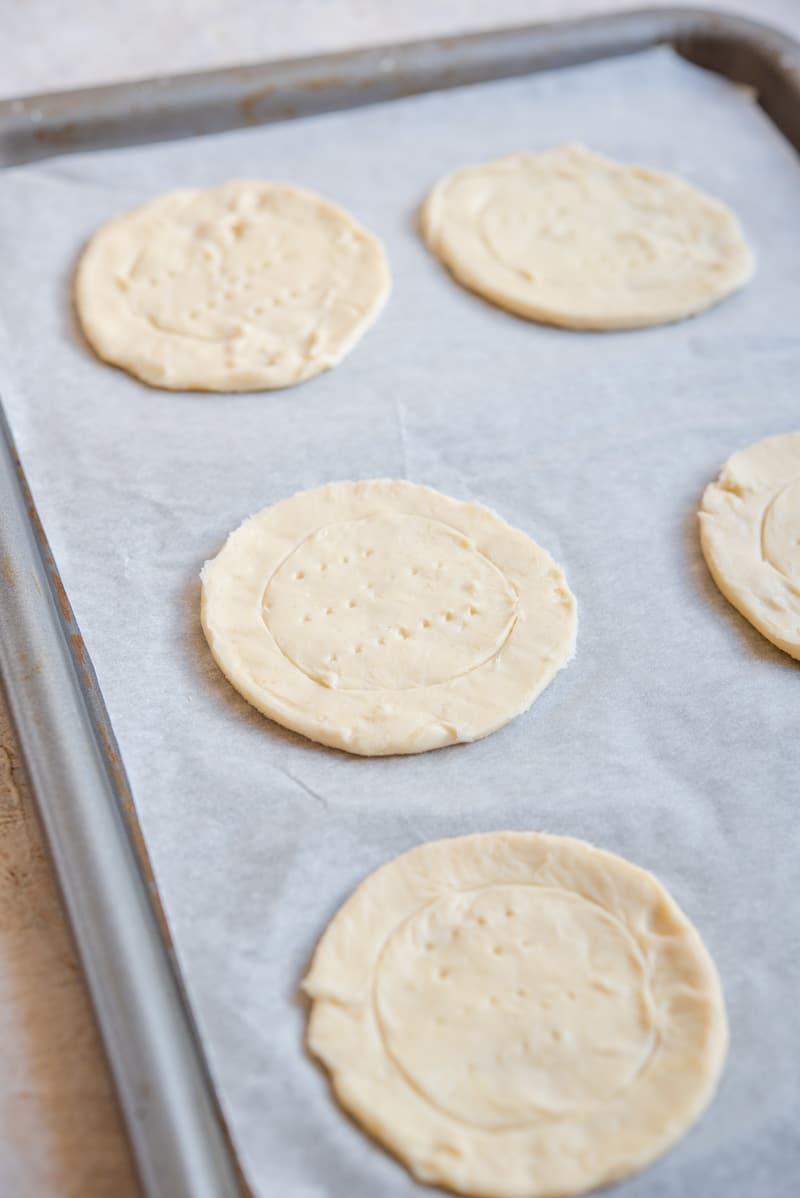 Next place a slice of tomato in the center of each pastry circle followed by a few drops of balsamic vinegar, basil leaf and a slice of mozzarella.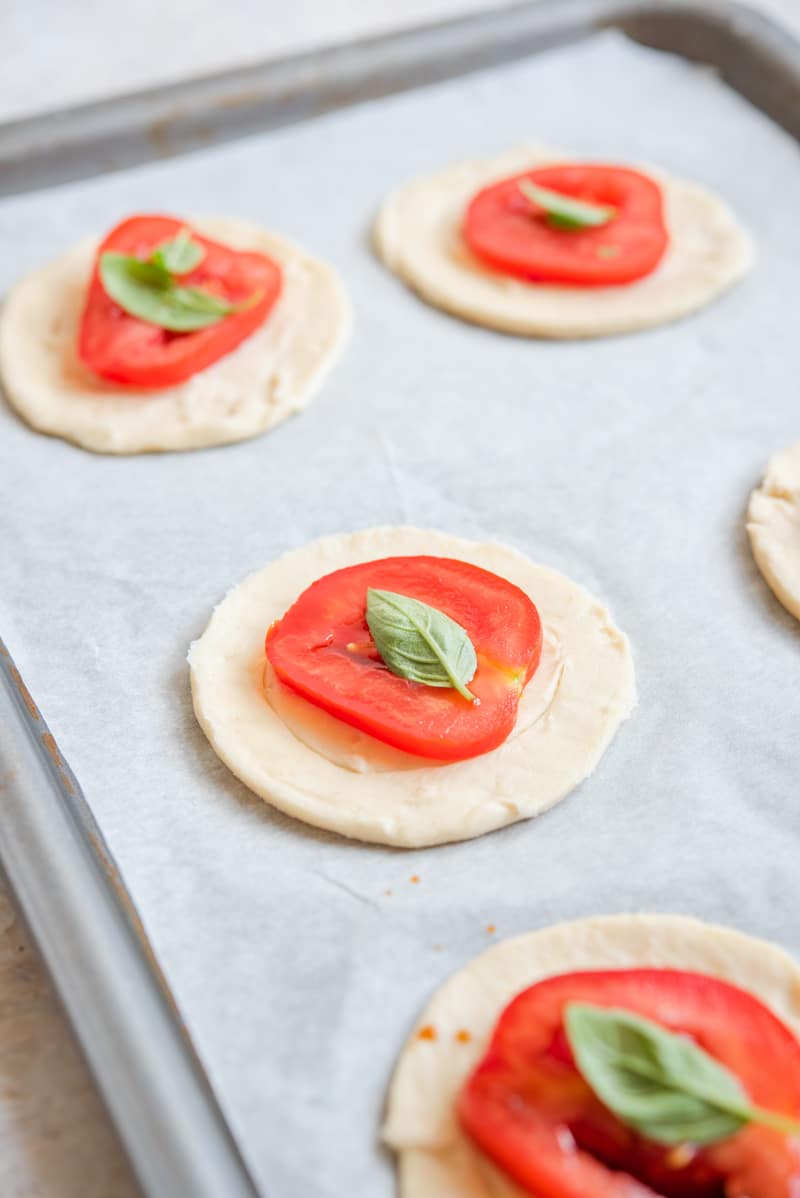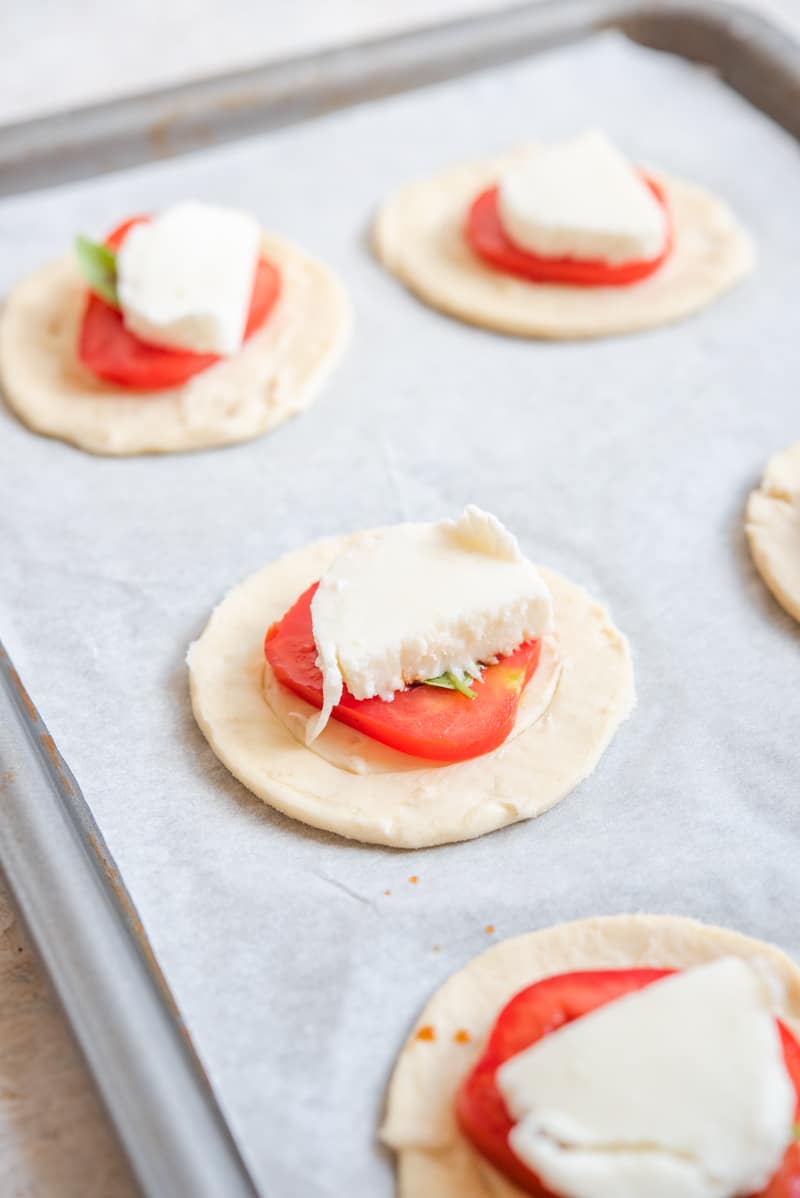 Bake the Caprese tarts in the oven until golden brown and the cheese has melted. Serve immediately or at room temperature.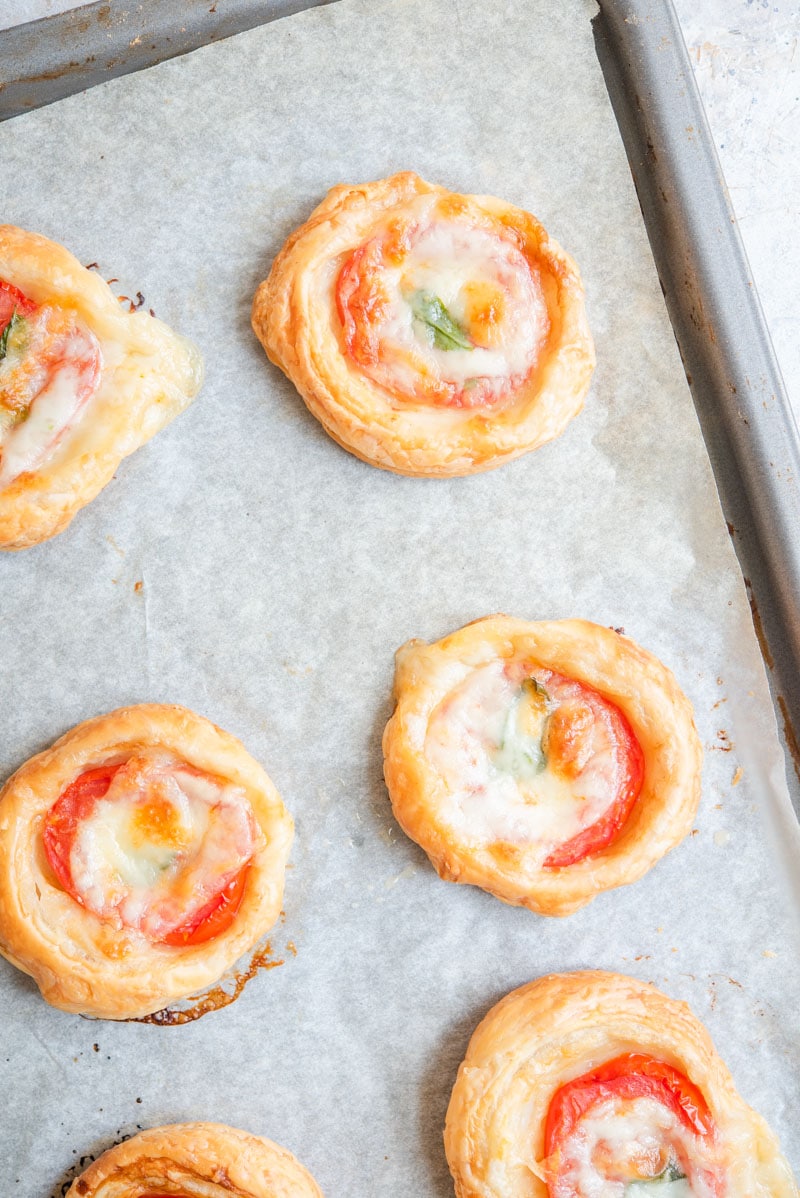 Cooking with Mozzarella
Mozzarella can contain a lot of liquid so to stop the pastry becoming soggy when the tarts bake it's best to dry the mozzarella using kitchen paper.
You just need to pat it dry gently to get rid of any excess moisture.
Top Tips for Making Mini Caprese Tarts
Make sure to buy puff pastry for this recipe (ready rolled makes it even easier).
Roma tomatoes work best for this recipe but you can use any fresh tomatoes you like.
Whole milk mozzarella has the best flavor.
Don't be tempted to use dried basil as it won't give the same fresh flavor.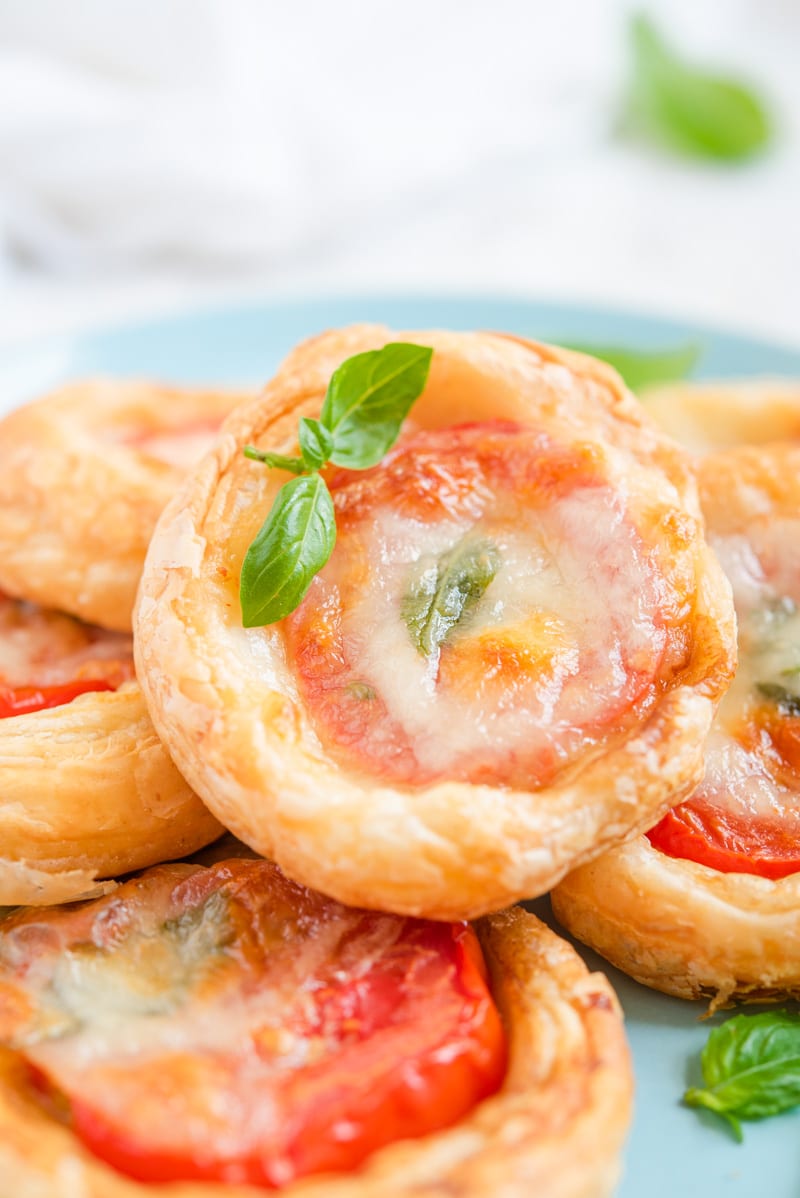 Prepping Ahead
You can easily prep these mini Caprese tarts in advance. They keep well at room temperature for a few hours but can also be made 1-2 days ahead of time and stored in the fridge (in an airtight container).
They can be served at room temperature or reheated in the oven for 5-10 minutes.
Storing Leftover Caprese Tarts
The Caprese tarts will store well in the fridge for 2-3 days although the pastry may turn a little soggy the longer they are left.
Leftovers can also be frozen in suitable containers.
More Fun Appetizers You Might Like;