Soft Pretzel Bites are the perfect party food! ANYONE can make this easy pretzel bite recipe and EVERYONE will love them! I was scared to make these but they turned out o good and were actually super easy. WIN! I love the texture and taste of these homemade pretzel bites, and I really love dipping them in ALL the sauces.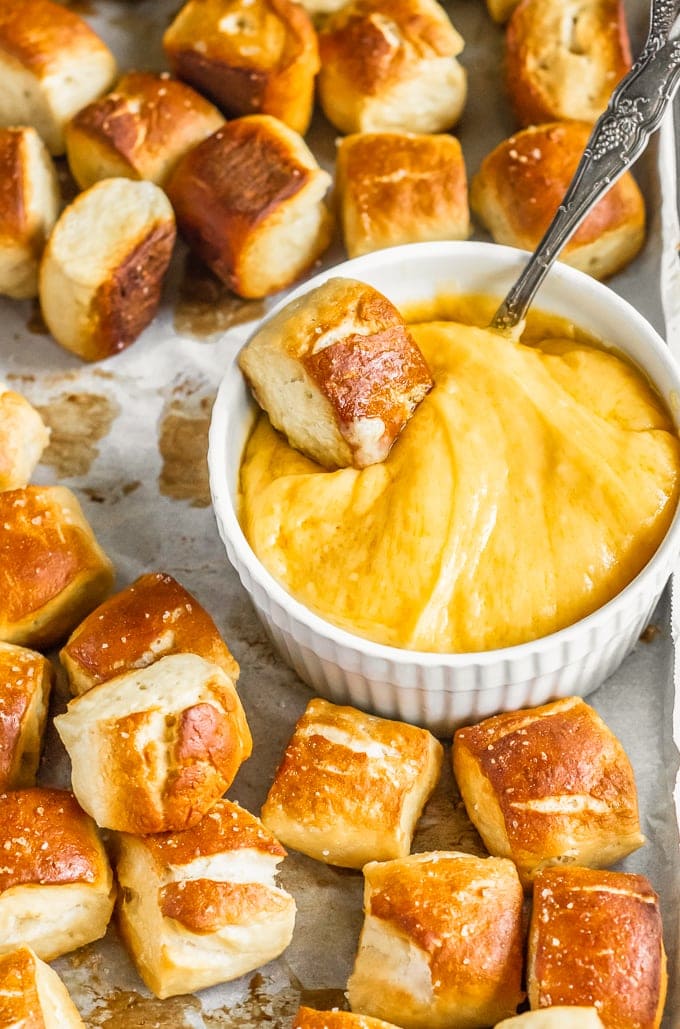 Soft Pretzel Bites
Soft Pretzels are delicious but Soft Pretzel Bites are even more fun. Serve them with all the dipping sauces and cheese dips you can think of!
Pretzel Bites are one of those things that I really love, but always seemed too complicated for me to make myself. But I did it, and I'm so proud of this tasty little Soft Pretzel Bites recipe!
Learning to cook is a process. There are still lots of recipes I look at and think "I bet I can't make that". Just like before I started getting my feet wet in the kitchen, some recipes still intimidate me. I should have learned by now, most recipes are SO MUCH EASIER than you might think, but baking and breads are still the types of things that give me pause. My insecurities get the best of me, and there are still so many times I just don't even try. But like I said, easier than you would think! I never imagined I would be making pretzel bites, but I'm just so glad I tried. EASY, delicious, and fun!
And you can make these delicious soft pretzel bites too! Serve them on game day or at a kid's birthday party. Make all kinds of cheese sauces and dips and dig into these perfectly salty, flavorful bites.
Learn how to make pretzel bites with this EASY Soft Pretzel Bites recipe!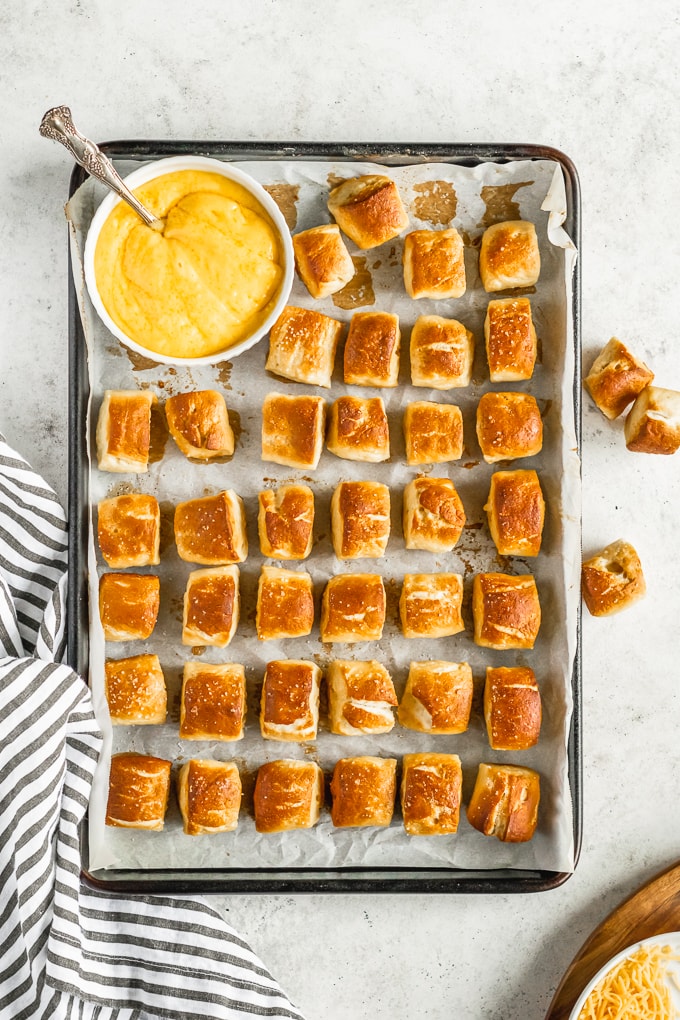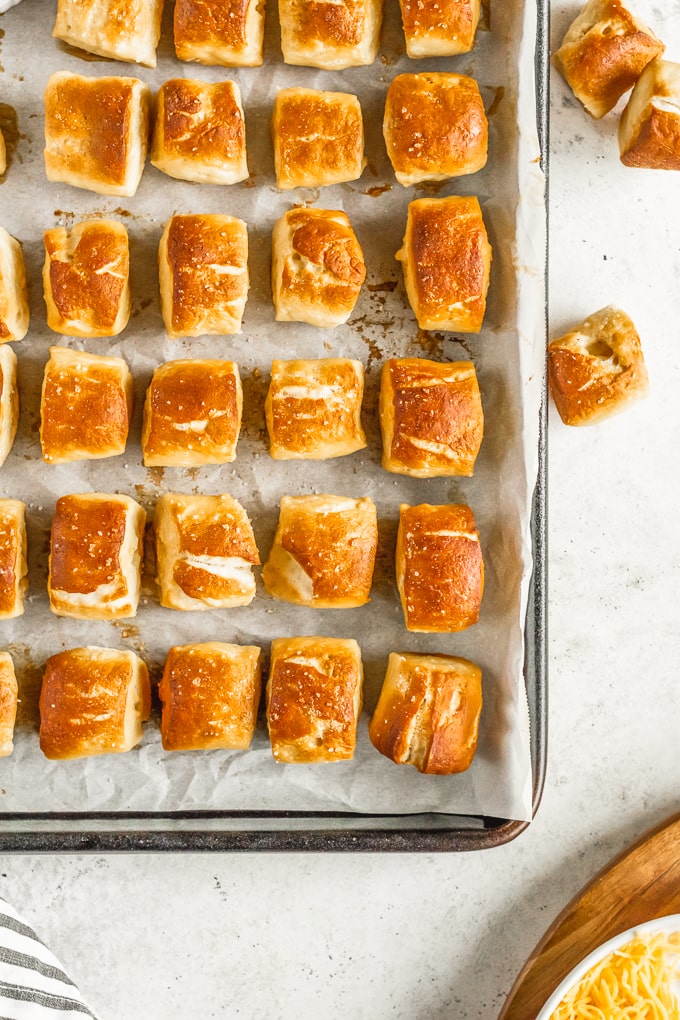 Easy Pretzel Bites Recipe
I absolutely LOVE soft pretzel bites, but the thought of making them myself always seemed a bit tough. Luckily this easy soft pretzel bite recipe exists, and if I can do it, so can you! This is a fun and easy appetizer to serve on game day. And while people will be impressed by these perfect little bite sized pretzels, you'll rest easy knowing it wasn't hard to do.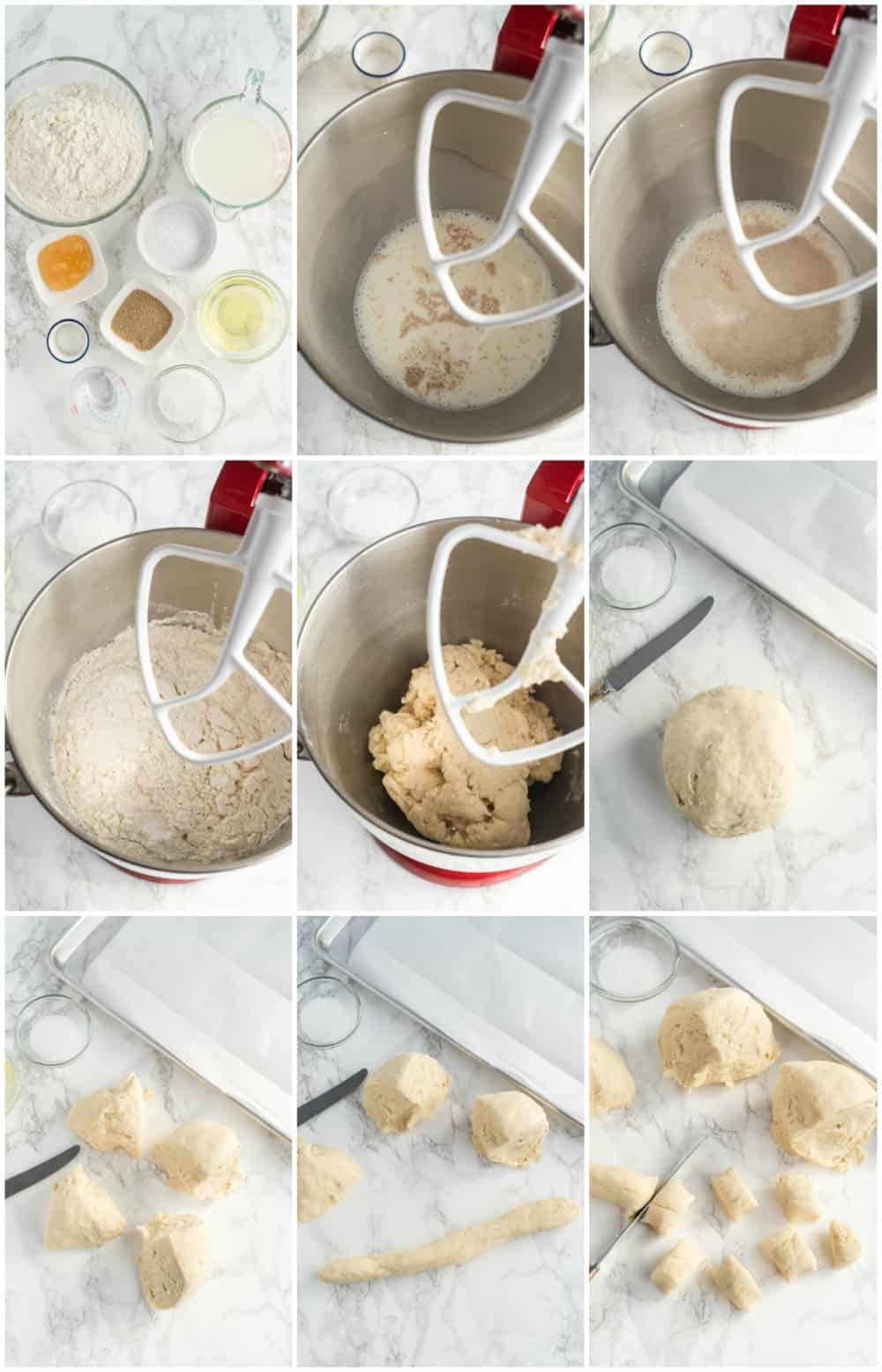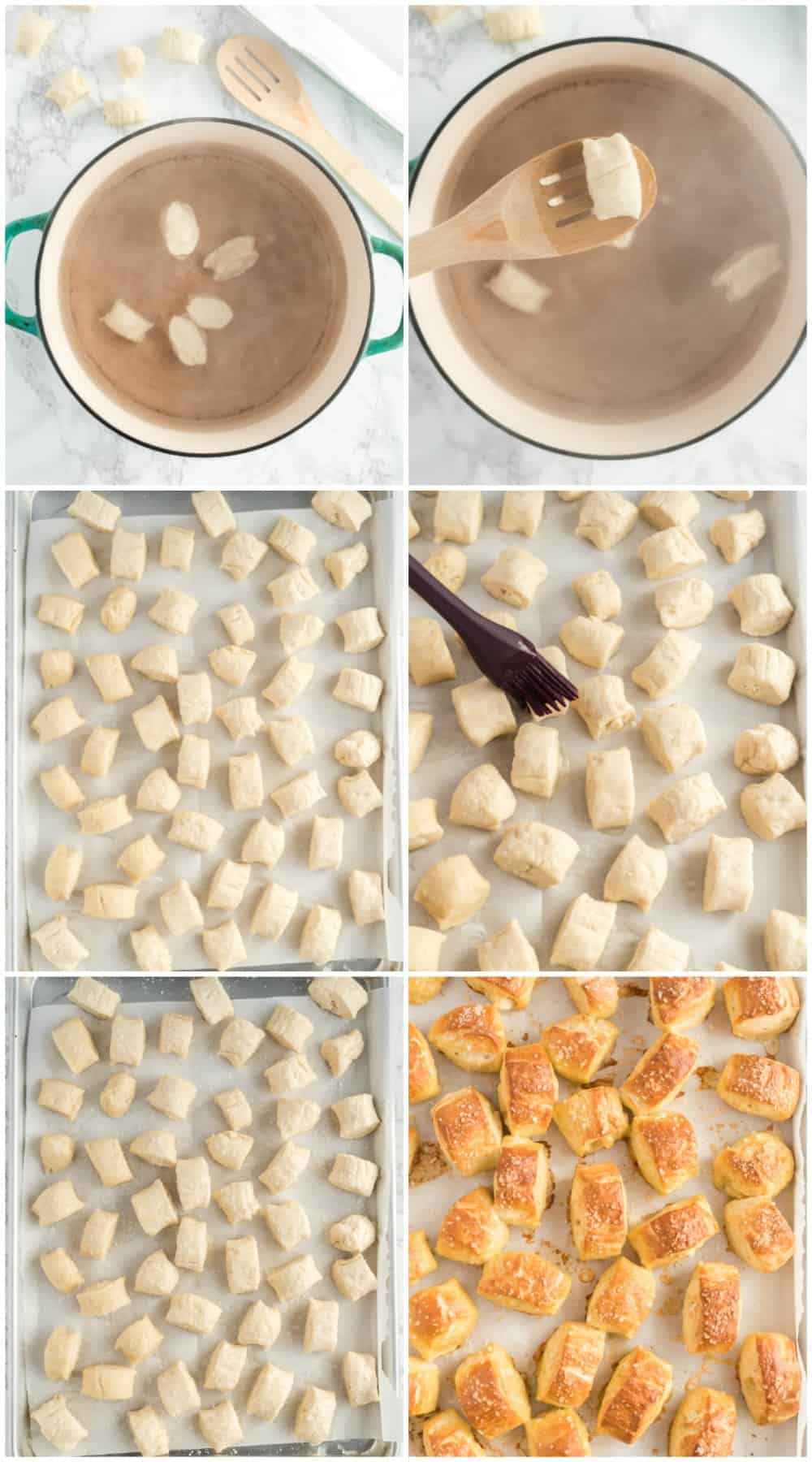 What kind of dip goes with pretzels?
What kind of dip DOESN'T go with pretzels? The dipping sauce is definitely one of the best parts of soft pretzel bites, and it's fun to try different ones and get creative with it. If you're serving these at a party, make up a bunch of different dips and let your guests choose the best!
Try dipping your soft pretzel bites in some of these sauces:
Be sure to try these Garlic Parmesan Soft Pretzels too!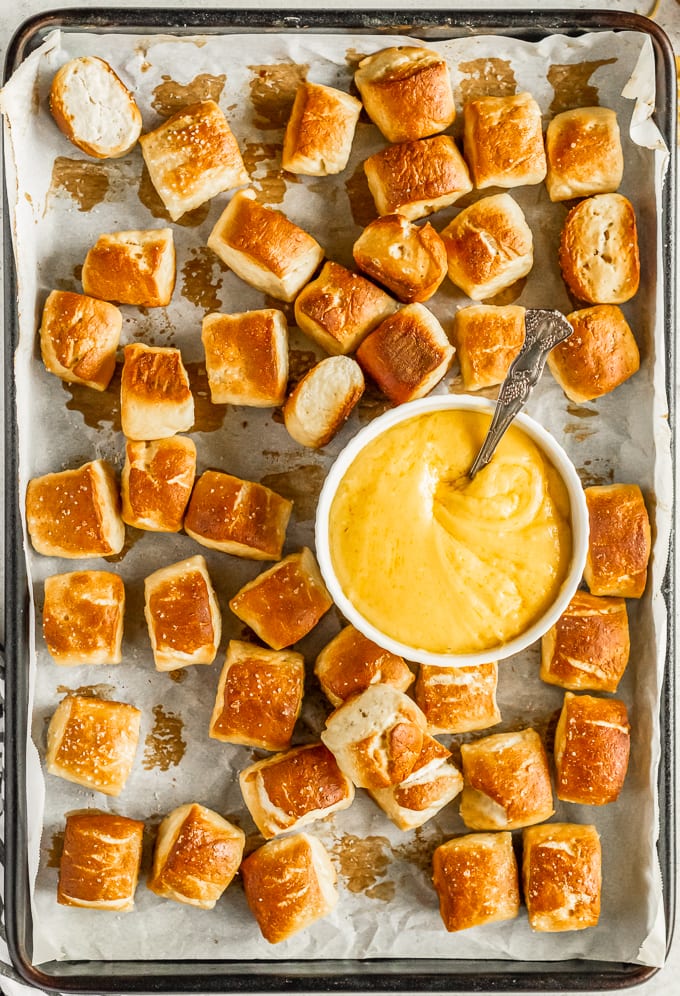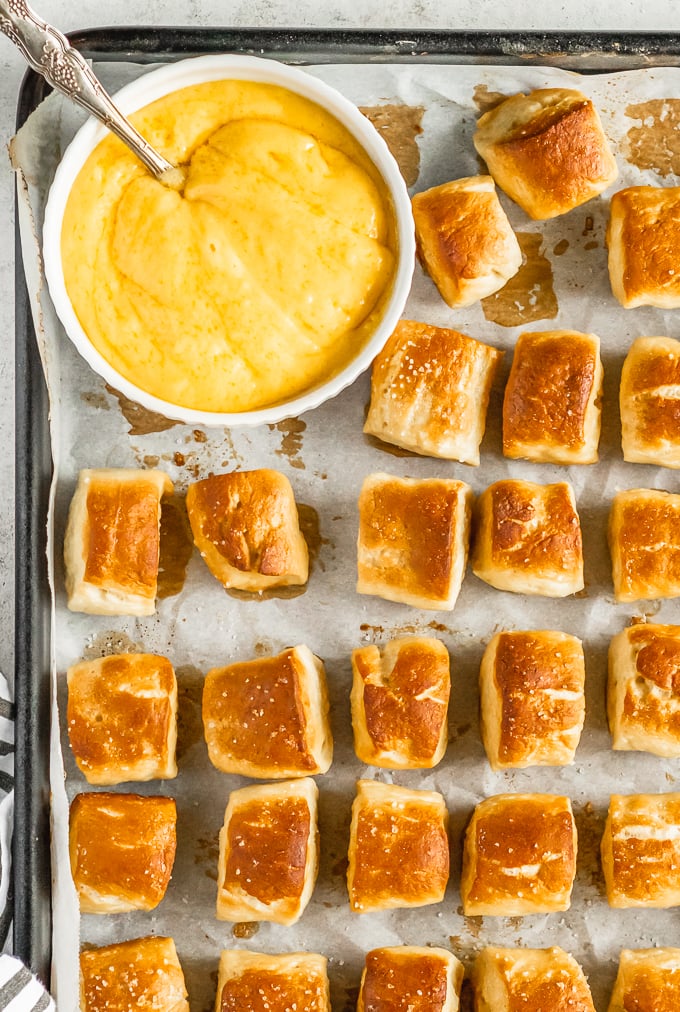 How to Make Pretzel Bites at Home
I was so happy with how these EASY Soft Pretzel Bites turned out. They're so tasty and make a delicious Super Bowl appetizer too. Pretzels always seemed a bit complicated, but I figured if the teens working at Auntie Anne's can make them all day, then so can I!
Tips for making Soft Pretzel Bites:
When preparing the pretzel bite dough, it should stick together but NOT stick to your hands. Add more flour if it needs help forming into dough.
You don't need to flour your counter top before creating the pretzel bites.
Form pretzel dough into long strands, and then cut into "bites". Each strand should form 12-16 pretzel bites.
Boil 10 pretzel bites at a time & use a slotted spoon to remove them.
Full instructions are in the recipe card below!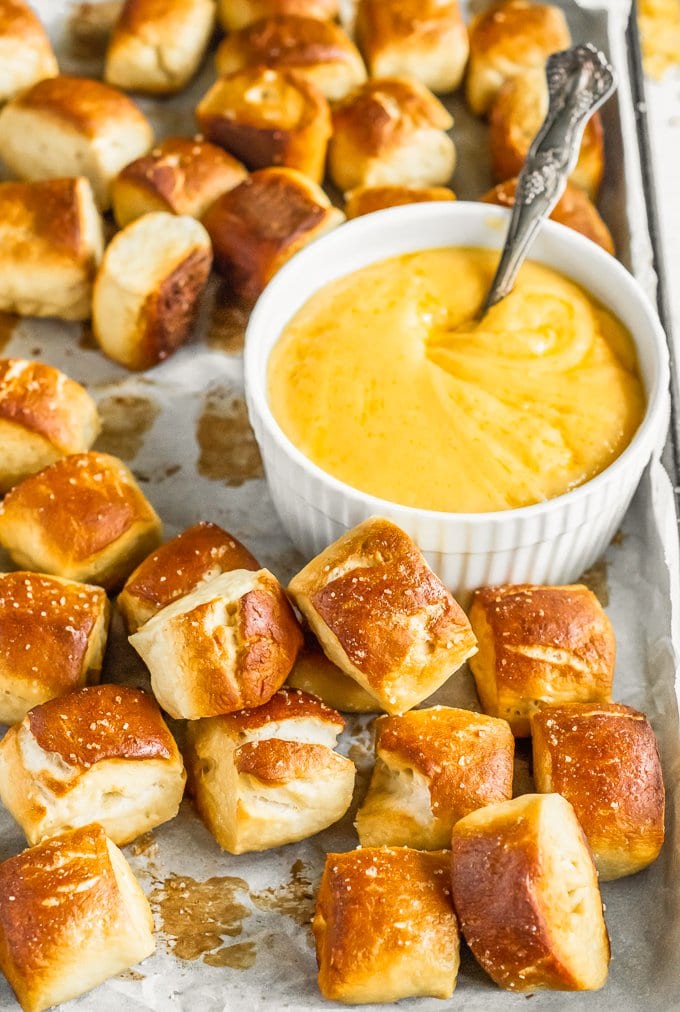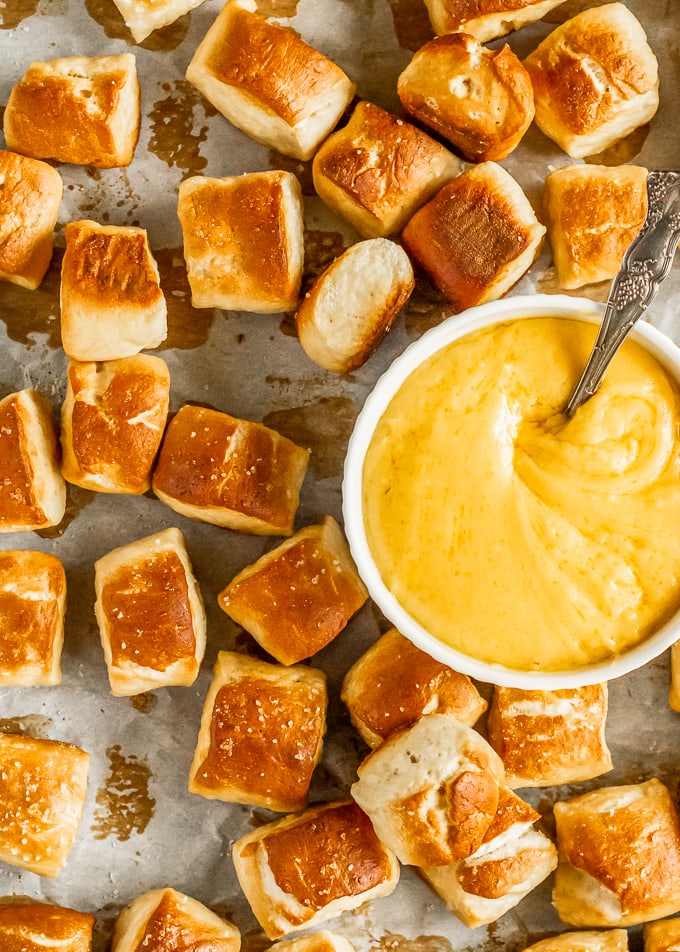 Can you freeze pretzel bites?
If you want to make a large batch of this pretzel bites recipe ahead of time, you can freeze them and reheat them when you're ready to eat. This is especially helpful if you're preparing this fun appetizer for a party or event, OR if you just made too many and want to save them for another time.
Store them properly for up to a couple of months.
Thaw before baking.
Reheat them in the oven for about 10 minutes (or until fully warm).
Do you have to boil pretzels before baking?
Yes! Boiling the soft pretzel bites in baking soda water is an important step to making pretzels at home. Boiling them for a short period (30 seconds), will give them that chewy texture you expect from pretzels. And the baking soda helps turn the outside into a brown crust. So this is how they manage to be soft and chewy on the inside, while staying a bit crispy on the outside.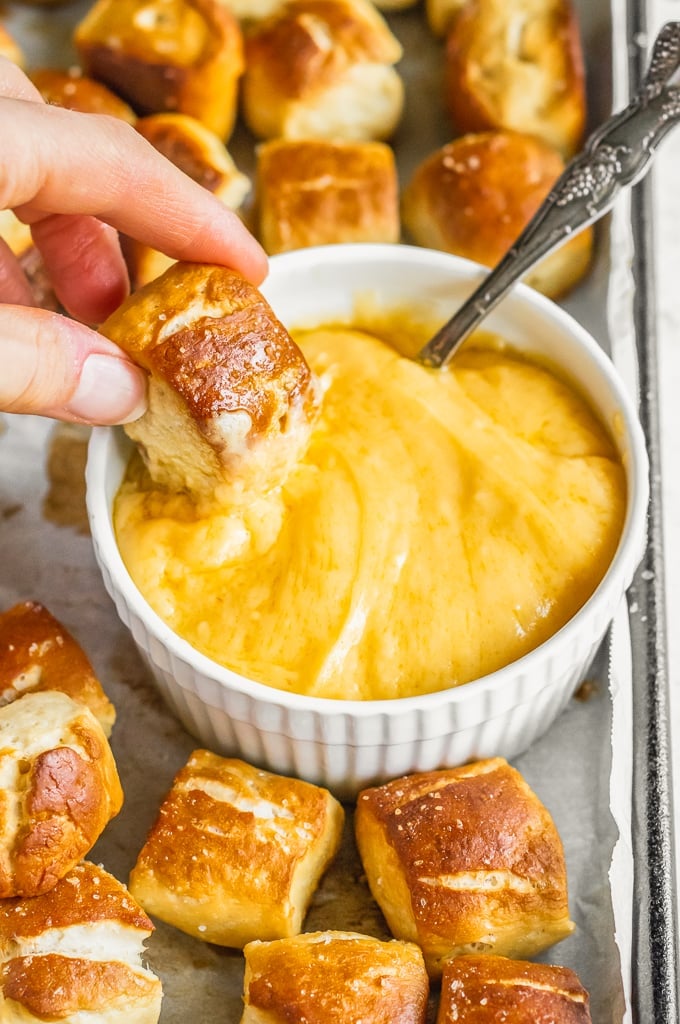 Make these soft pretzel bites for yourself or for a party, and serve them with the best cheese sauce. They're SO GOOD and so easy to make.
See the recipe card for details on how to make this Soft Pretzels Recipe. Enjoy!
If you like this pretzel bites recipe, try these other fun appetizers: