These creamy garlic mushrooms are so easy to make and are on the table in 20 minutes. They make for a great holiday appetizer or side dish that's full of flavor. Creamy and garlicky, this classic dish is always a hit!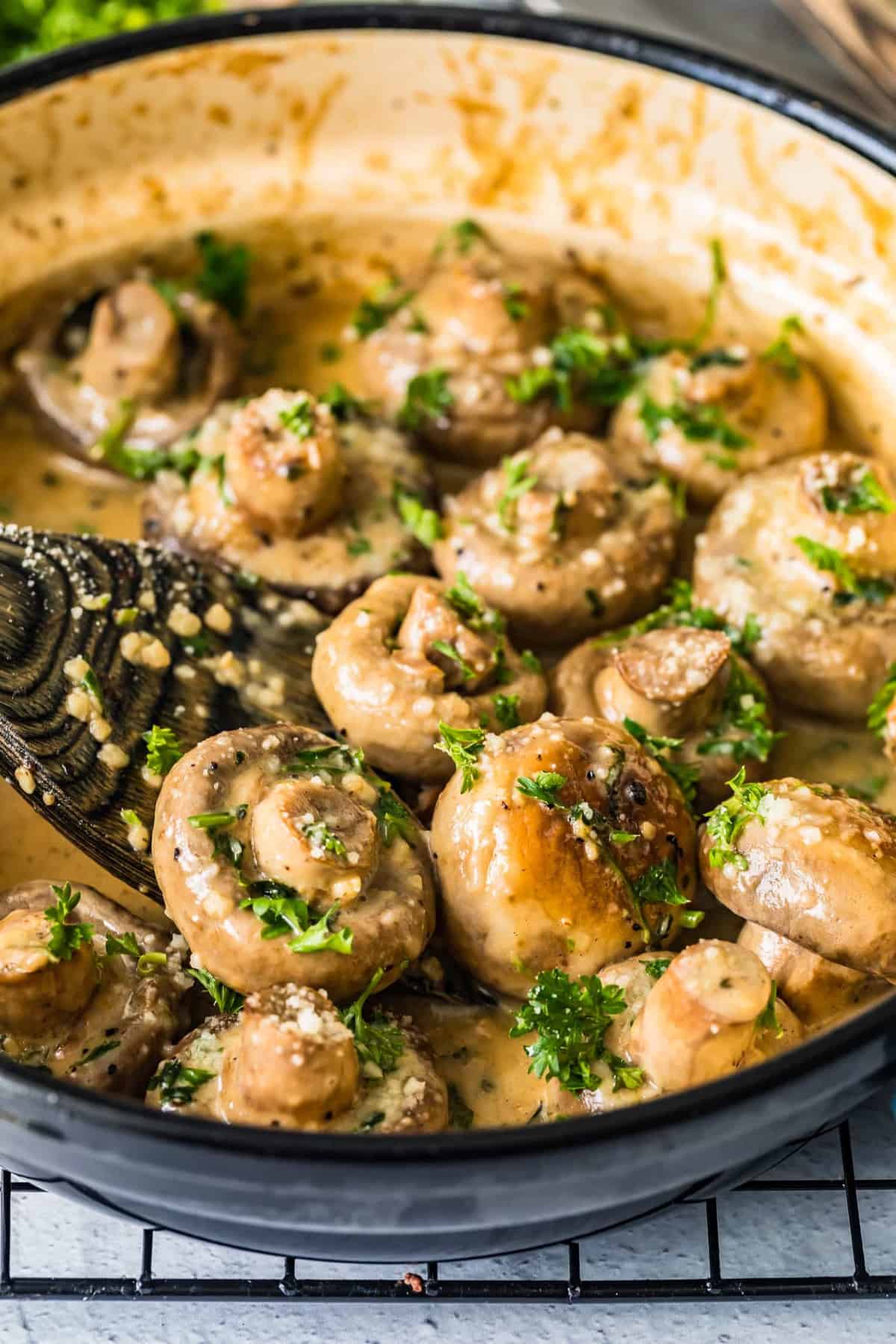 Is it even the festive season without creamy garlic mushrooms?! They are always on our menu at some point during the holidays and they're always a favorite. This is my go-to recipe each year!
How To Make This Creamy Garlic Mushrooms Recipe
Heat butter in a large skillet over medium-high heat.

Add mushrooms and stir to coat in the butter. Cook on medium-high for 2-3 minutes, stirring often. While cooking, season with salt and pepper to taste (a little salt goes a long way since we are using salted butter and adding parm later).

Once browned and slightly seared, add the white wine and stir to coat. Add the parsley and garlic and continue stirring/tossing as you cook.

Cook for 1-2 minutes until garlic is fragrant.

Pour in the heavy cream and add in the grated parmesan cheese. Bring to a boil and then reduce to a simmer for 2-4 minutes or until sauce is reduced a bit. Taste the sauce and add more salt/pepper if needed.

Serve and enjoy!
What To Serve With Creamy Garlic Mushrooms
These mushrooms are so versatile and are much more than a side dish: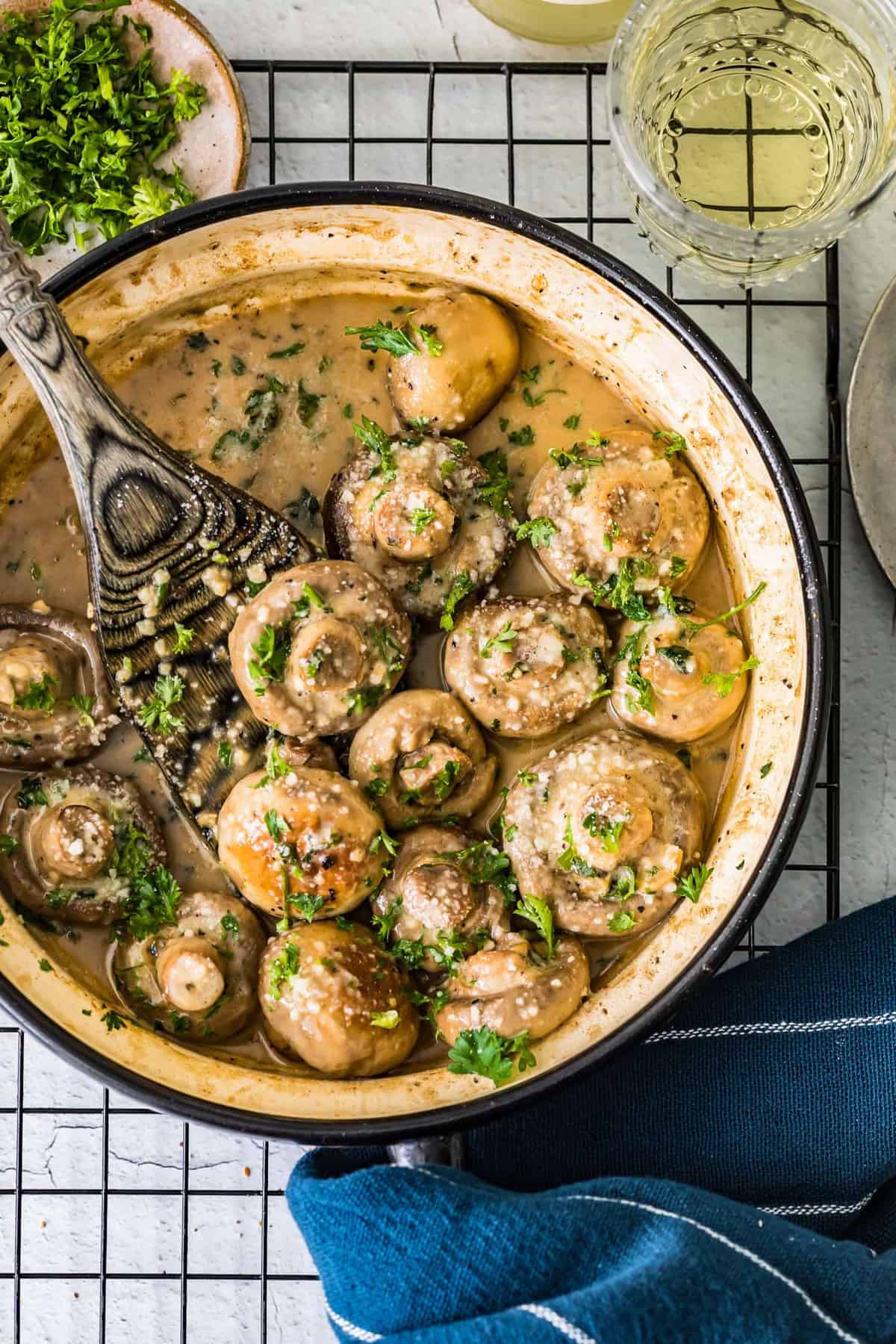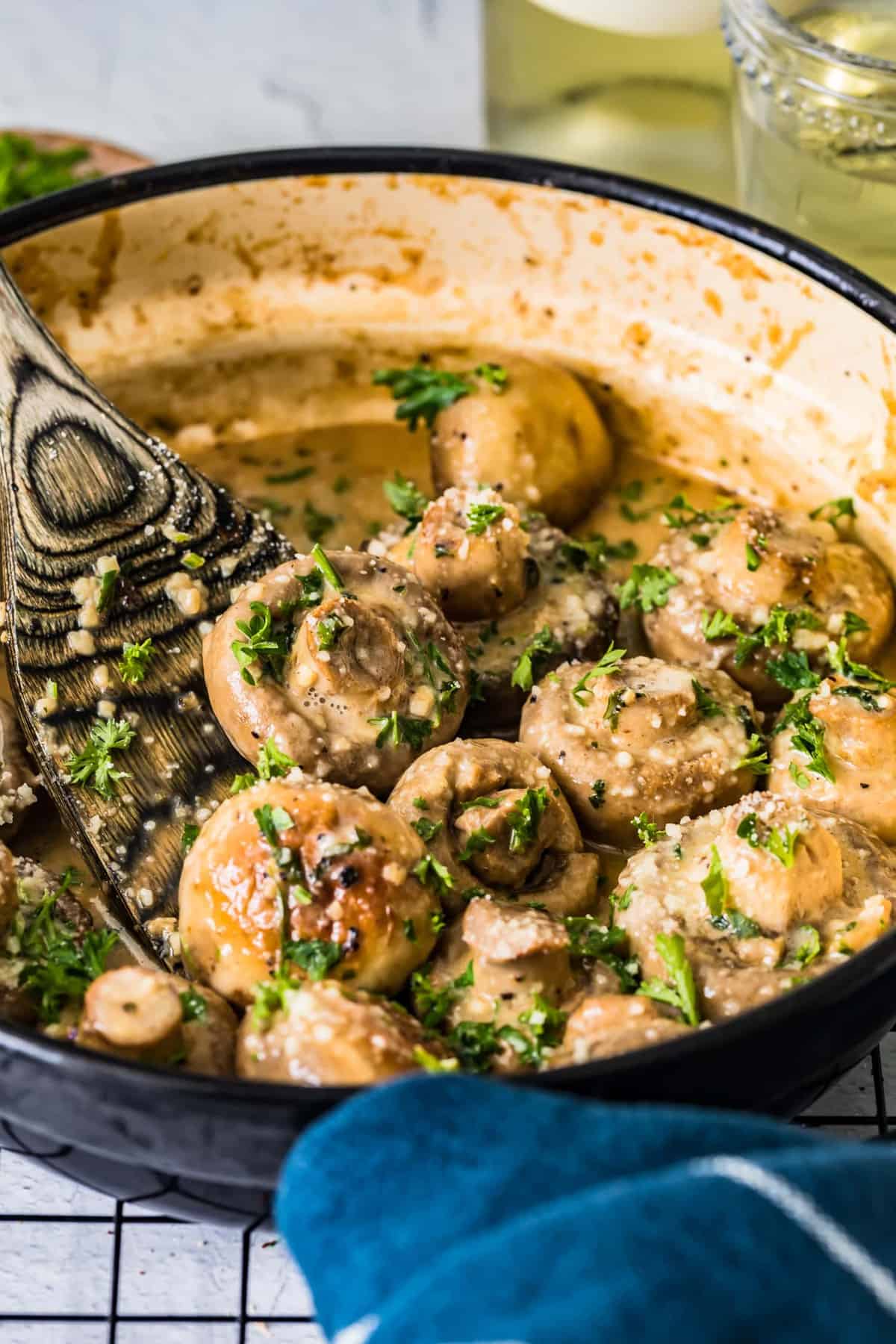 Garlic Butter Mushrooms with Parmesan
You only need a few ingredients for this creamy garlic mushrooms recipe, and it comes together really quickly with little effort. For this recipe, you will need:
Salted butter
White button mushrooms
White wine (or chicken or vegetable broth if you prefer)
Garlic
Parsley
Heavy cream
Parmesan cheese
As always, your ingredients should be as fresh as possible for the best flavors. Use freshly grated parmesan rather than pre-grated and you can use any white wine you like, it doesn't have to be super fancy. I like to finish the dish with a little fresh parsley for color and freshness.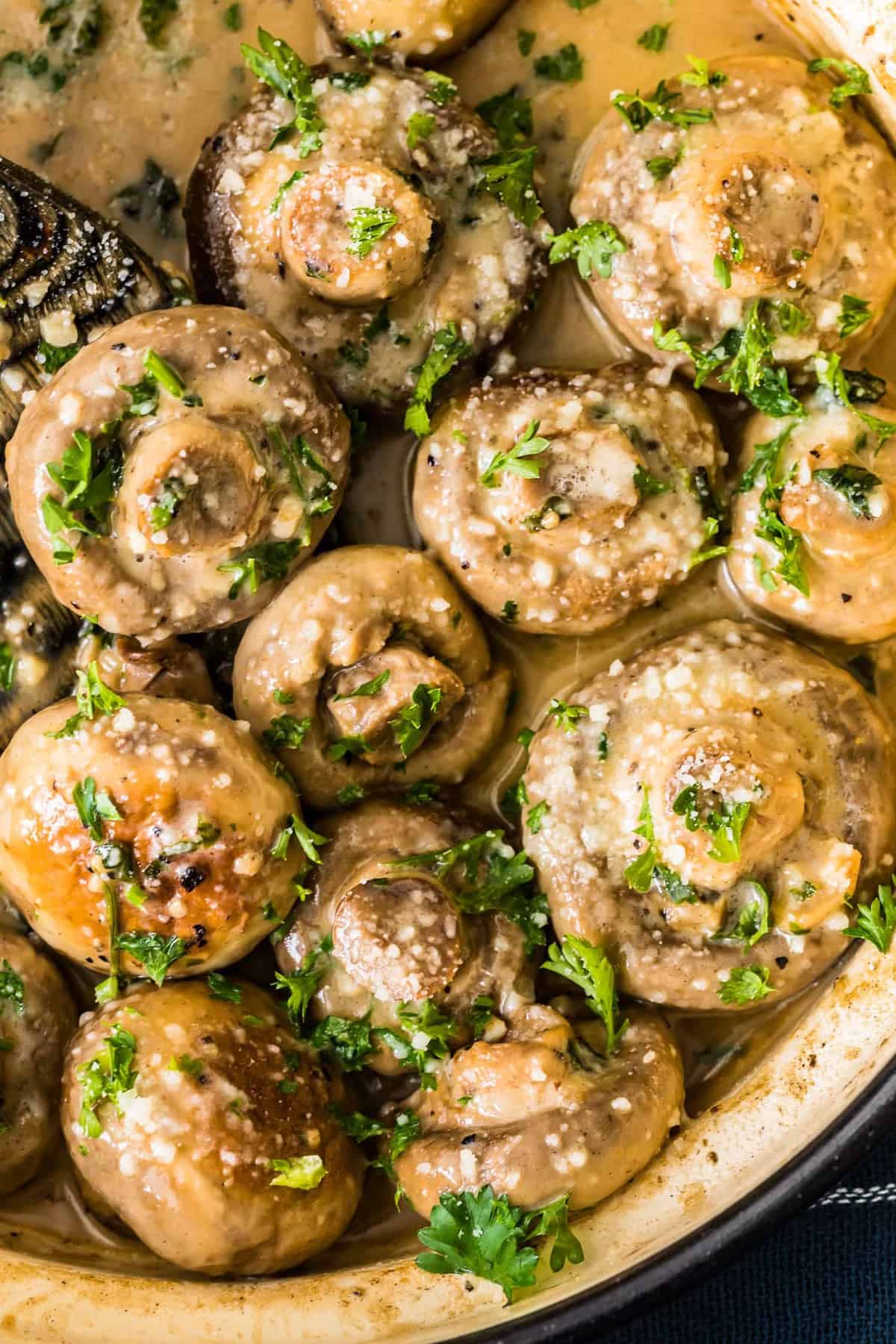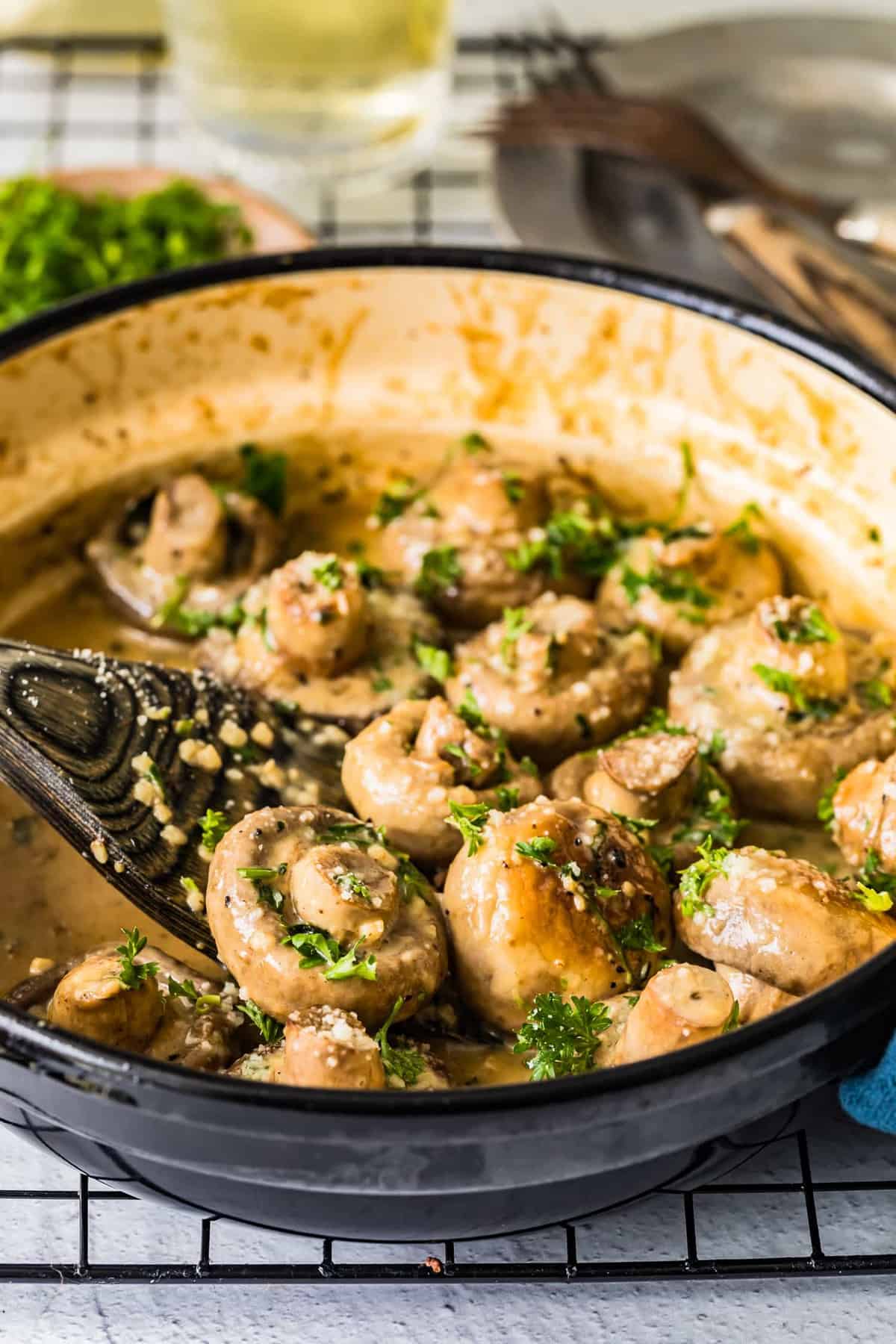 Can You Make This Side Dish Ahead Of Time?
These creamy garlic mushrooms are best served straight away, straight out of the pan. If you are planning to serve them as part of a larger meal, I would suggest that you don't cook them until the last minute. If your timings don't work out (which can often be the case!), you can transfer to an oven-proof dish and keep them in a warm oven until ready to serve.
Easy Garlic Mushrooms
I can't tell you enough how easy and quick these delicious mushrooms are to make and the end result is truly a restaurant-quality dish. They are so packed full of flavor, they really are a family favorite!
Top Tips For Making This Creamy Garlic Mushrooms Recipe
White button mushrooms are the best choice for this dish – keep them whole and they soak up all the flavor.
If you don't want to use white wine in the sauce, you can sub this with vegetable or chicken broth – I suggest you use a low sodium variety.
Serve immediately with a sprinkle of fresh parsley.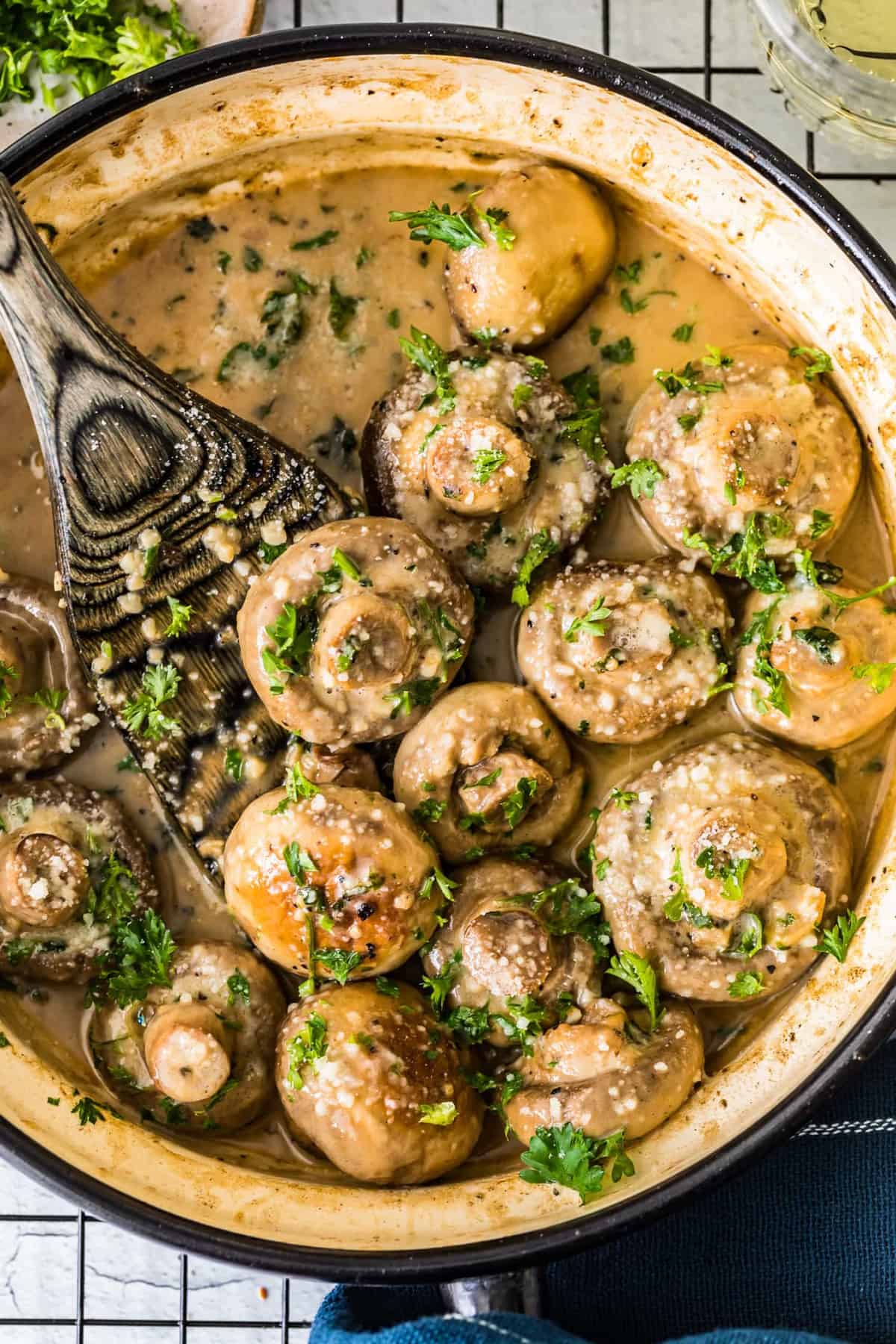 More Side Dish Recipes