Looking for a quick and easy snack that is packed with flavor? These garlic Parmesan pasta chips are so addictive! They are crispy, cheesy, and garlicky. There is just something about them that will make you want to eat them all day!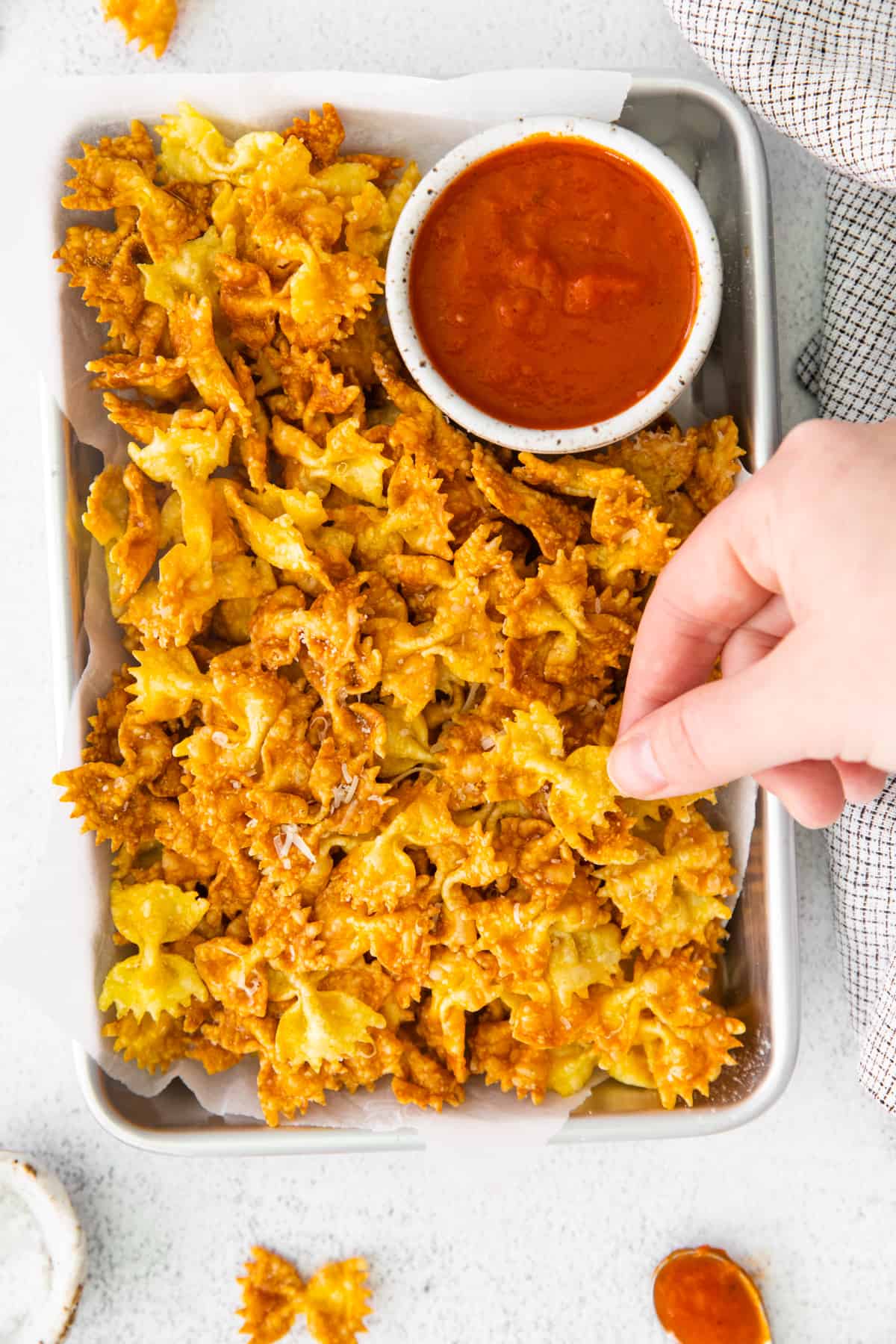 Air Fryer Pasta Chips
You only need a few ingredients to make these delicious garlic Parmesan pasta chips. You'll need some pasta, shredded cheese, butter, and plenty of garlic powder.
These air fried pasta chips have a wonderfully crispy and cheesy texture, with a rich and bold garlic flavor. They're addictive and the perfect snack to satisfy your cravings for something crunchy and savory. Whether you enjoy them on their own or as part of a larger meal, these delicious chips are sure to become a favorite.
Why You'll Love this Pasta Chips Recipe:
CRISPY AND CHEESY: These garlic Parmesan chips are the perfect snack for when you're craving something crunchy and savory.
QUICK AND EASY: Pasta chips are very easy to make and only require a few ingredients.
SNACKABLE: Not only are these delicious snacks, but they are great as a side to a big, juicy burger, too.
If you are looking for a quick and easy snack, side dish or appetizers, you're going to love this super easy recipe.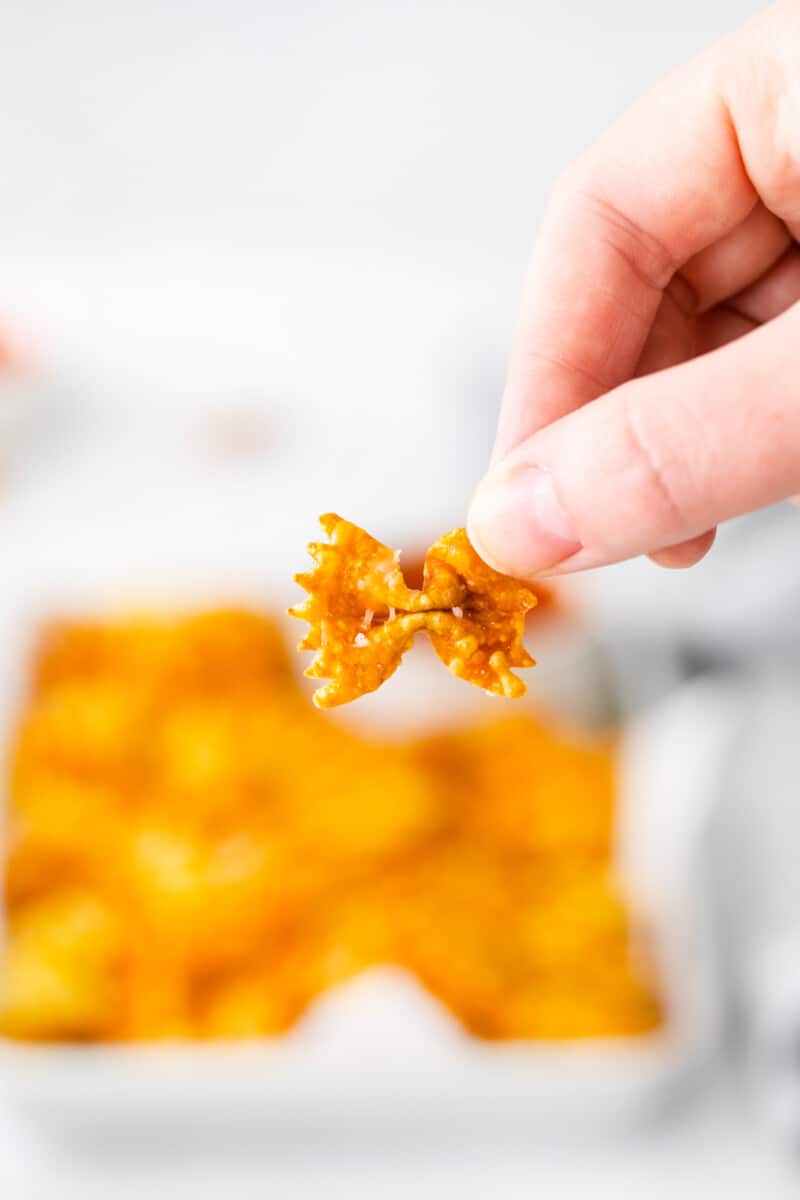 How to Make Garlic Parmesan Pasta Chips
You can jump to the recipe card for full ingredients & instructions!
First, bring a large pot of salted water to a boil.
Cook the pasta al dente.
Drain the pasta and run it under cold water.
Then, spread the pasta out on paper towels and pat them dry.
Add the pasta to a large bowl and spray it with 2 pumps of olive oil spray. Add the salt and toss to combine.
Next, transfer the pasta to the air fryer and cook at 400°F for 10-12 minutes, or until crisp.
Sprinkle the Parmesan cheese and garlic powder over top and toss to combine.
Air Fried Pasta Chips Recipe Notes
Pasta: I used bowtie pasta, but feel free to use any type of shaped pasta you like! Just make sure to cook the pasta al dente following the instructions on the box.
Olive Oil Spray: I opted for an olive oil spray, but any kind of cooking spray will work. Just be sure you're using a cooking oil spray, not a nonstick baking spray.
Cheese: Parmesan cheese is what makes these chips garlic Parmesan flavored. For a dairy-free option, feel free to swap in nutritional yeast or a dairy-free Parmesan substitute.
Garlic: Garlic powder is great in this recipe because it coats the pasta evenly. I don't recommend using fresh garlic as it can be overpowering. You can swap in onion powder for a milder taste.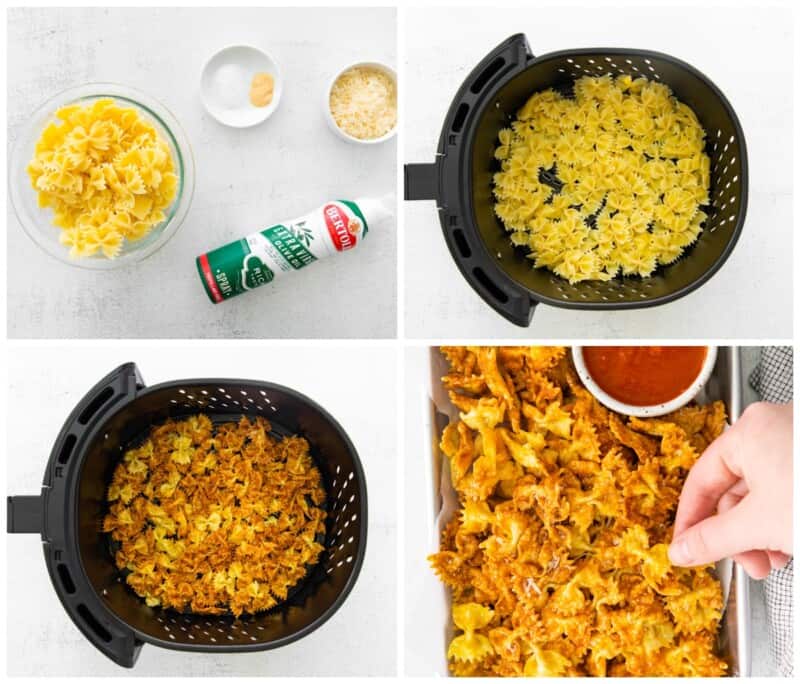 What are pasta chips?
Pasta chips are exactly what they sound like: crunchy chips made out of pasta! Air frying cooked pasta gives these chips their signature crunch.
Are pasta chips healthy?
Pasta chips are not a health food, but they are certainly better for you than many deep fried snacks because air frying uses a lot less oil.
Can I make air fried pasta chips gluten free?
Absolutely! Use your favorite gluten free pasta.
Can I make pasta chips in the oven?
Yes! Preheat the oven to 375°F, spread the pasta pieces out evenly on a lined baking sheet, and bake for 20 minutes or until crispy. You can flip them over halfway through baking for extra crunch.
What other shapes of pasta can I use for garlic Parmesan pasta chips?
Any short shape of pasta will work here, like penne, rotini, elbows, or rigatoni. Avoid any overly smooth shapes, like ziti, or longer pastas like spaghetti.
What other sauces can I dip pasta chips in?
You can dip these chips in any sauce you like! I recommend Alfredo sauce or even ranch!
Serving Suggestions
These pasta chips can be enjoyed as a snack or appetizer, but they make a great side to your entrees as well. They're perfect for burgers and sandwiches!
Serve them with your favorite dipping sauce for an extra special treat.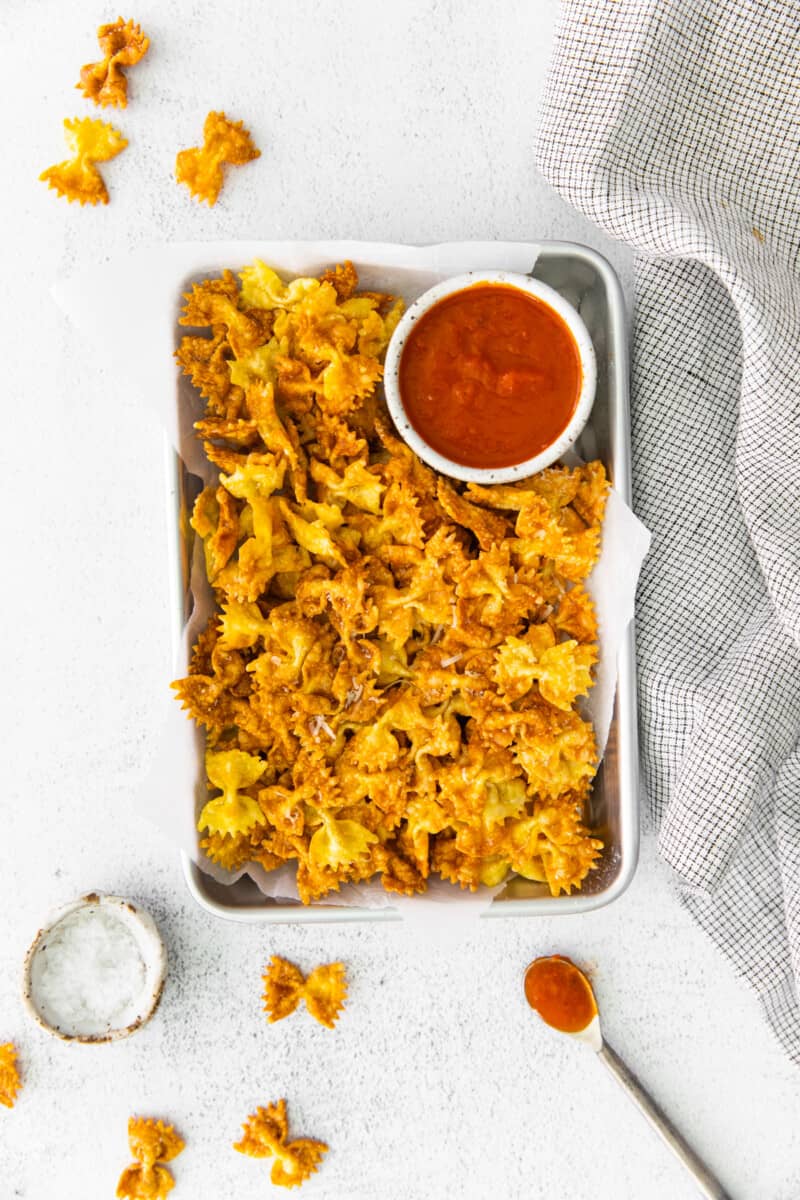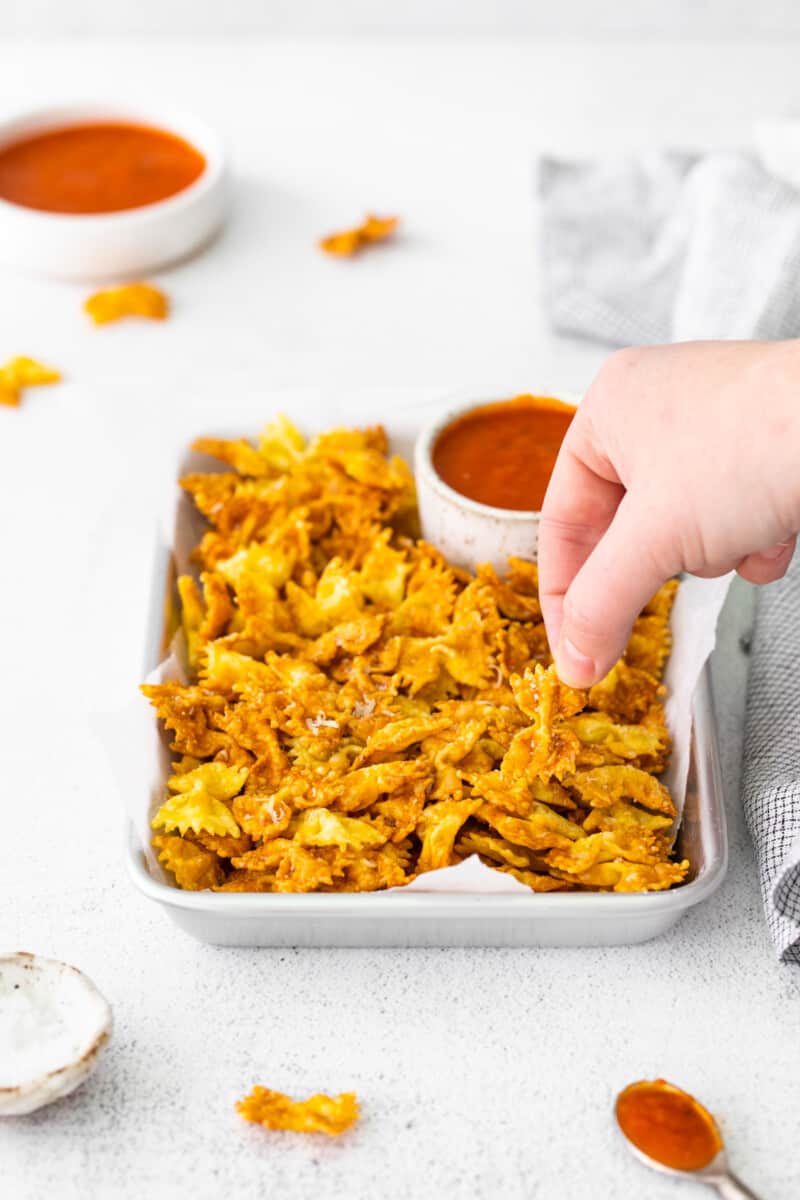 Storage Instructions
Store leftover pasta chips in an airtight container at room temperature for up to 2 days.
Make Ahead
Boil the pasta up to 2 days in advance. Spray with cooking oil spray and store in an airtight container in the refrigerator until you're ready to fry.
Flavor Variations
Italian: Add 1 teaspoon of Italian seasoning to take these to the next level.
Cacio e Pepe: Add some freshly ground black pepper to the mix for cacio e pepe chips. Dip in creamy Alfredo sauce.
Spicy: Add

⅛ teaspoon

crushed red pepper flakes or a pinch of ground cayenne for spicy chips. For even more heat, dip in arrabbiata sauce.
Ranch: Omit the cheese and garlic and add 1-2 teaspoons of ranch seasoning for a zesty kick.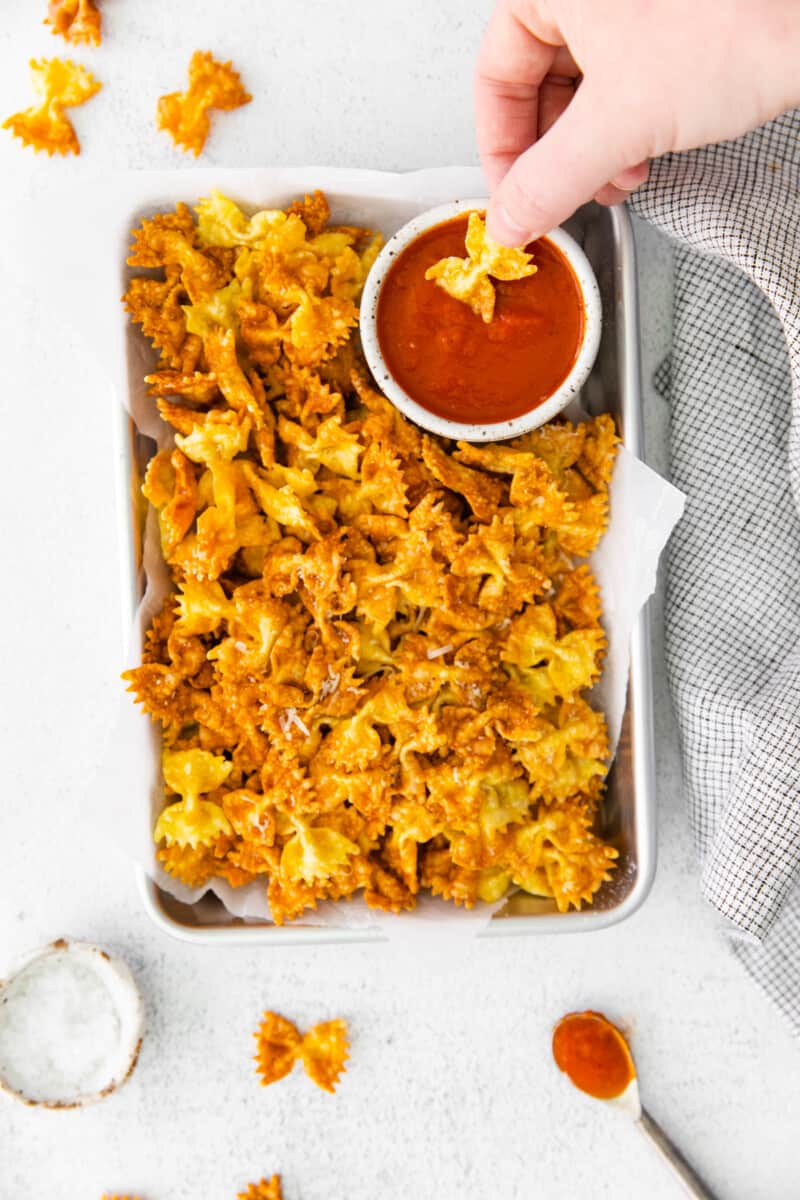 These garlic parmesan pasta chips use simple ingredients and make a great snack! Grab your favorite dipping sauce for these extra crispy chips!
If you make this recipe be sure to upload a photo in the comment section below or leave a rating. Enjoy! You can also jump to recipe.