This recipe for baked mozzarella sticks is a real treat! Crispy on the outside and gooey and stringy in the middle, these are perfect appetizers and great for game days and parties. So much better than store bought, this homemade version of a party food favorite will be a hit with the whole family!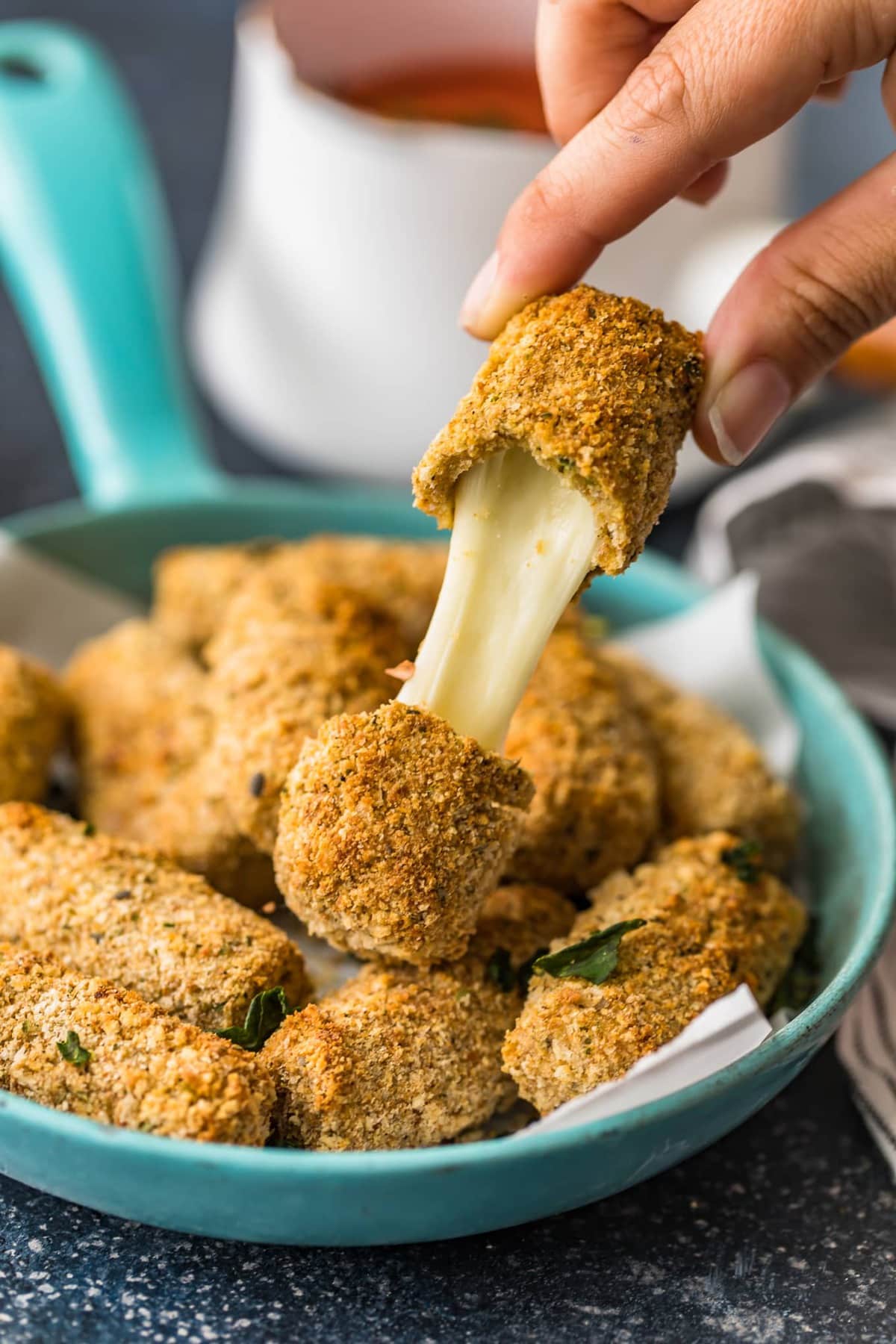 Mozzarella sticks are a staple when it comes to finger food–they're fun to eat and I haven't met many people that don't love them! I find buying them in stores can be really hit and miss though, so many times they've all oozed together to make one big cheesy slab!
That's not going to happen with my baked mozzarella sticks! This recipe is a foolproof way of making your own crispy cheese sticks at home, you have to try them!
On the search for the ultimate Mozzarella Sticks that Henry could also enjoy, I decided to try my hand at BAKED Mozzarella Sticks. Just as cheesy, just as crispy, just as delicious, but better for you!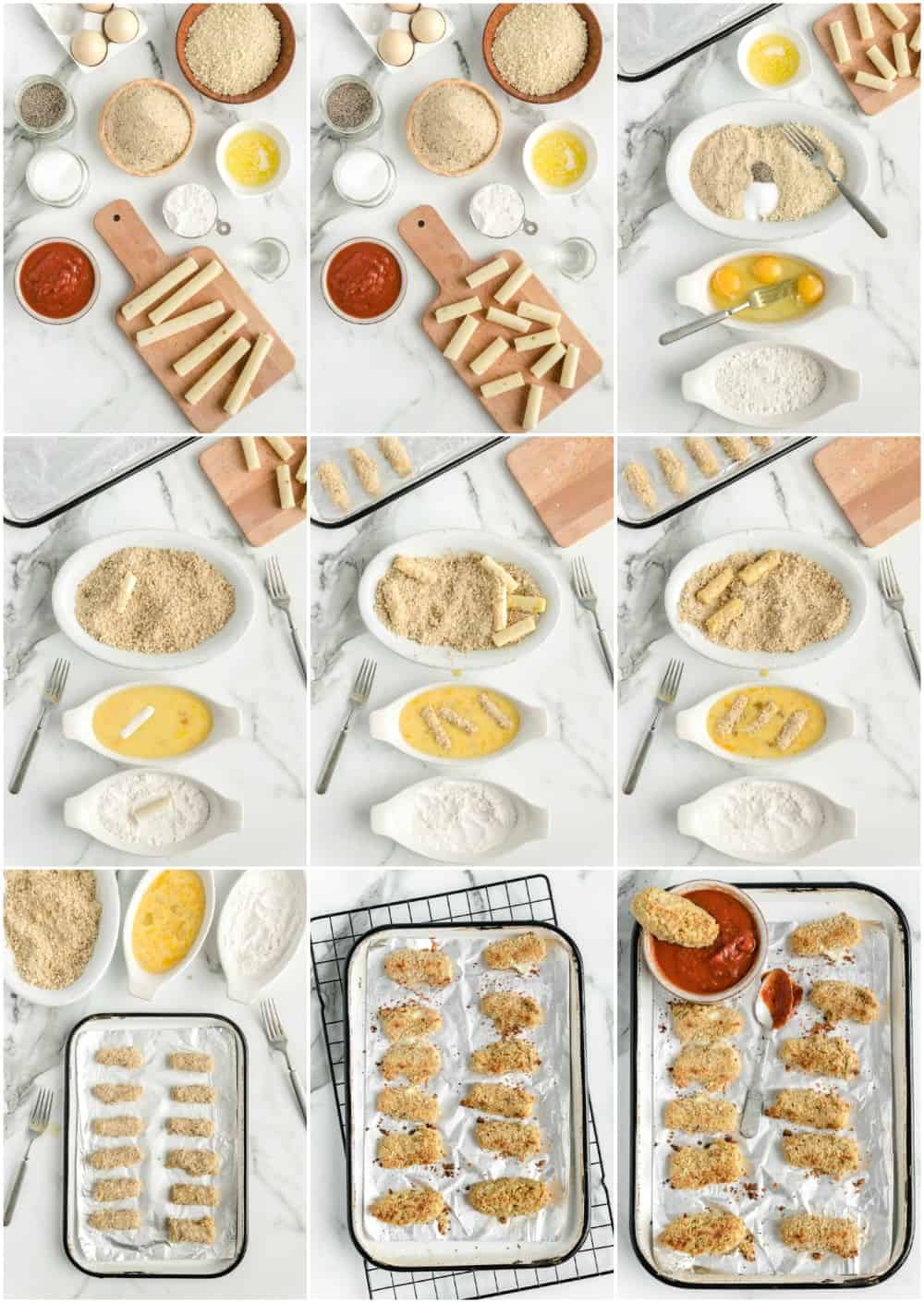 How to Make Baked Mozzarella Sticks at home – step by step
Line a baking sheet with foil, and lightly spray the foil with nonstick cooking spray.
Halve each cheese stick lengthwise.
Place the flour in a shallow bowl. In a second bowl, beat the eggs and water together. In a third shallow bowl, whisk together the seasoned bread crumbs, panko crumbs, melted butter, salt and pepper.
For the dredging process, roll the cheese sticks in flour, roll in the egg mixture and then the breadcrumb mixture. Repeat the egg and breadcrumb coatings, pressing the breadcrumbs into the cheese stick. There will be 5 coatings in all.
Place the dredged cheese sticks on the prepared pan, cover and freeze 30 minutes or up to 24 hours.
When Ready to Bake:
Heat oven to 415°F and set the oven rack to the middle position. Remove the cheese sticks from the freezer while the oven preheats. Bake 10-20 minutes or until heated through, crispy and golden. Turn halfway through baking.
Serve with a side of marinara or spaghetti sauce for dipping.
Enjoy!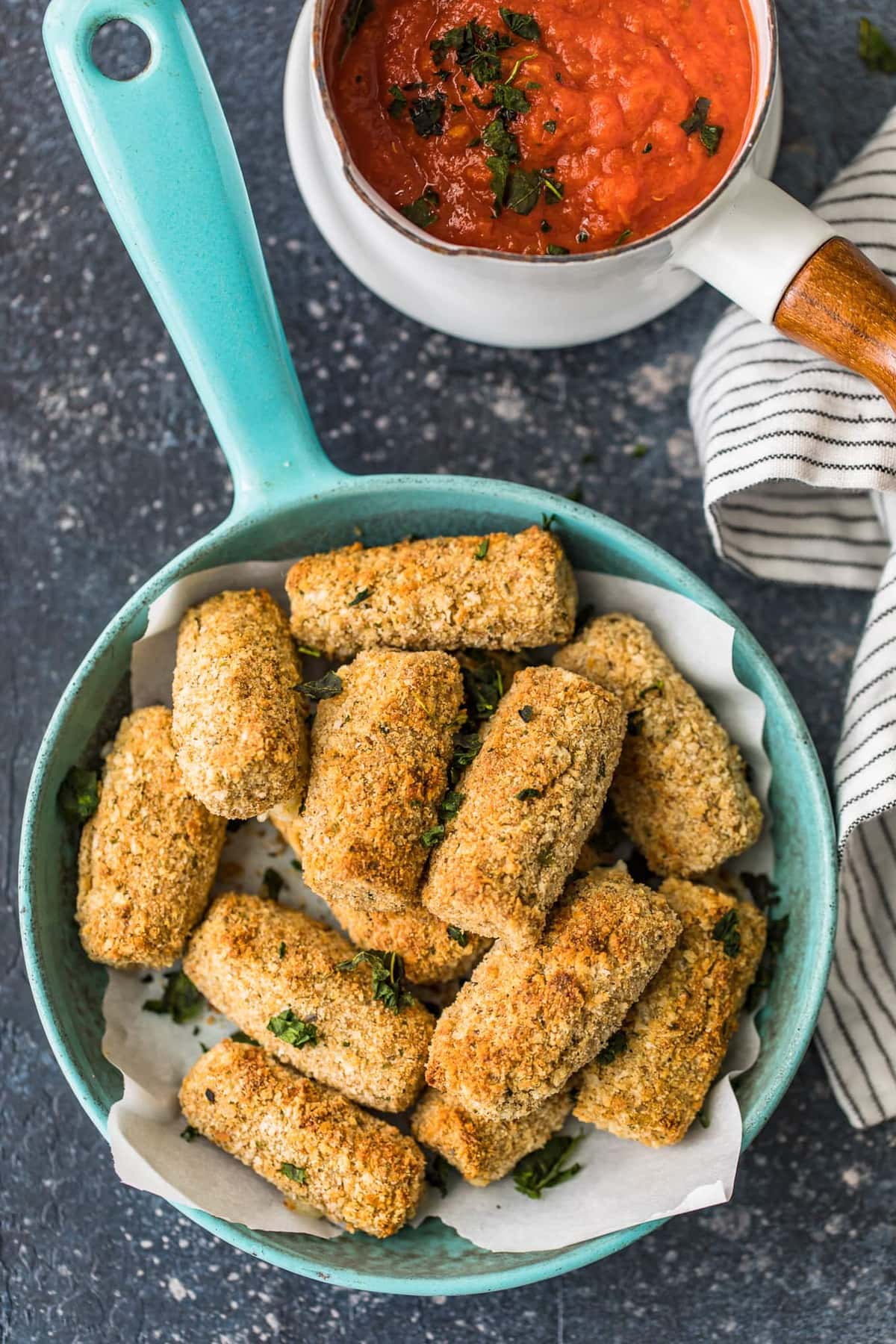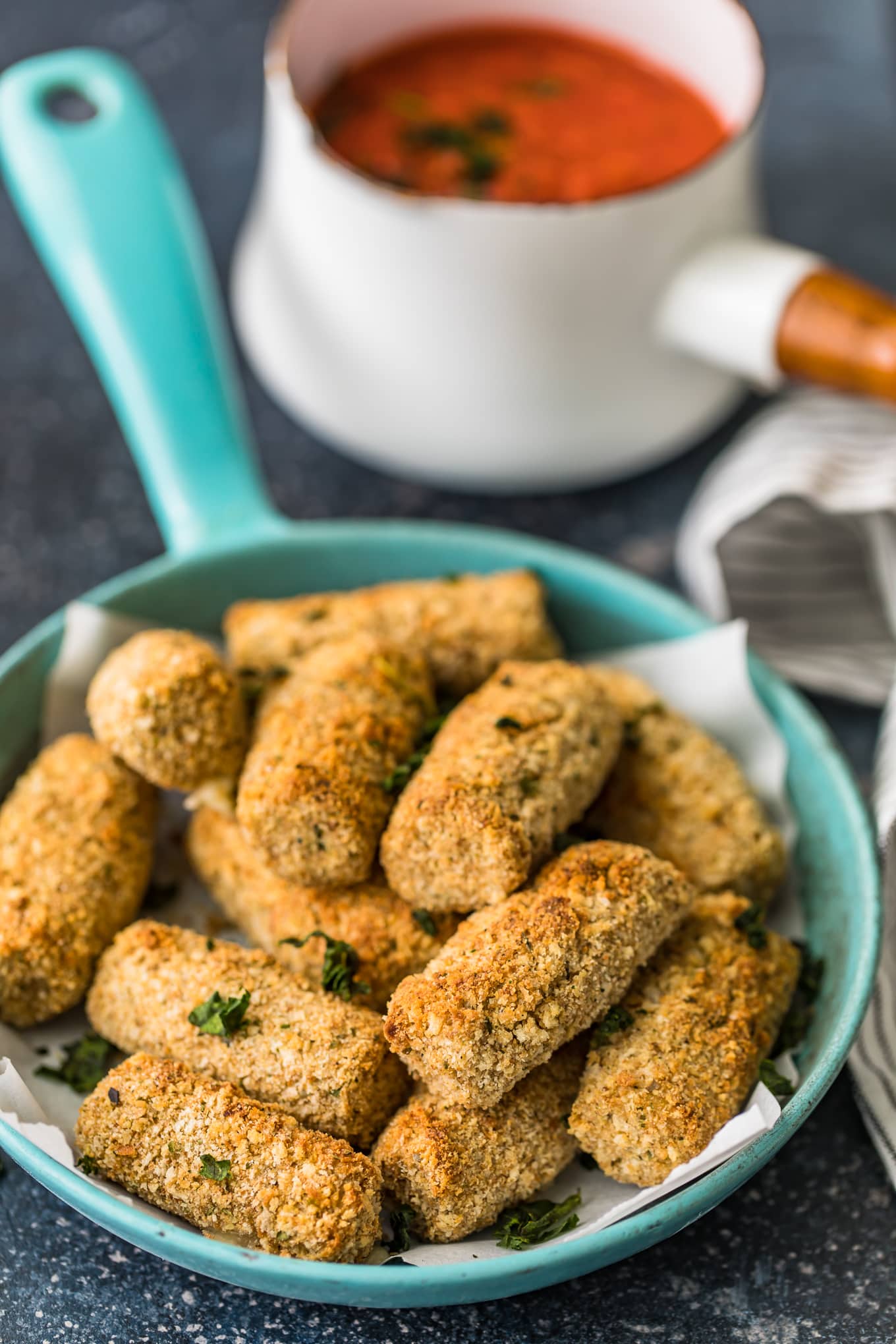 Homemade Baked Mozzarella Sticks Recipe
These awesome bites take just over an hour to make, but 30 minutes of that is chilling time so is inactive. They need to be served straight out of the oven, so only cook them when you are ready to serve, otherwise that gooey cheese won't be so gooey! You can keep the uncooked mozzarella sticks in the freezer for up to 24 hours, so you can do all the prep before your guests arrive.
Easy to Make Finger Food Recipe
These appetizers are really straight forward to make, and it's a great recipe for the kids to help with. When you are breading the cheese sticks, try to keep one hand wet and one hand dry so that you don't end up in too much of a mess! This recipe for baked mozzarella sticks is easily doubled if you are expecting more guests.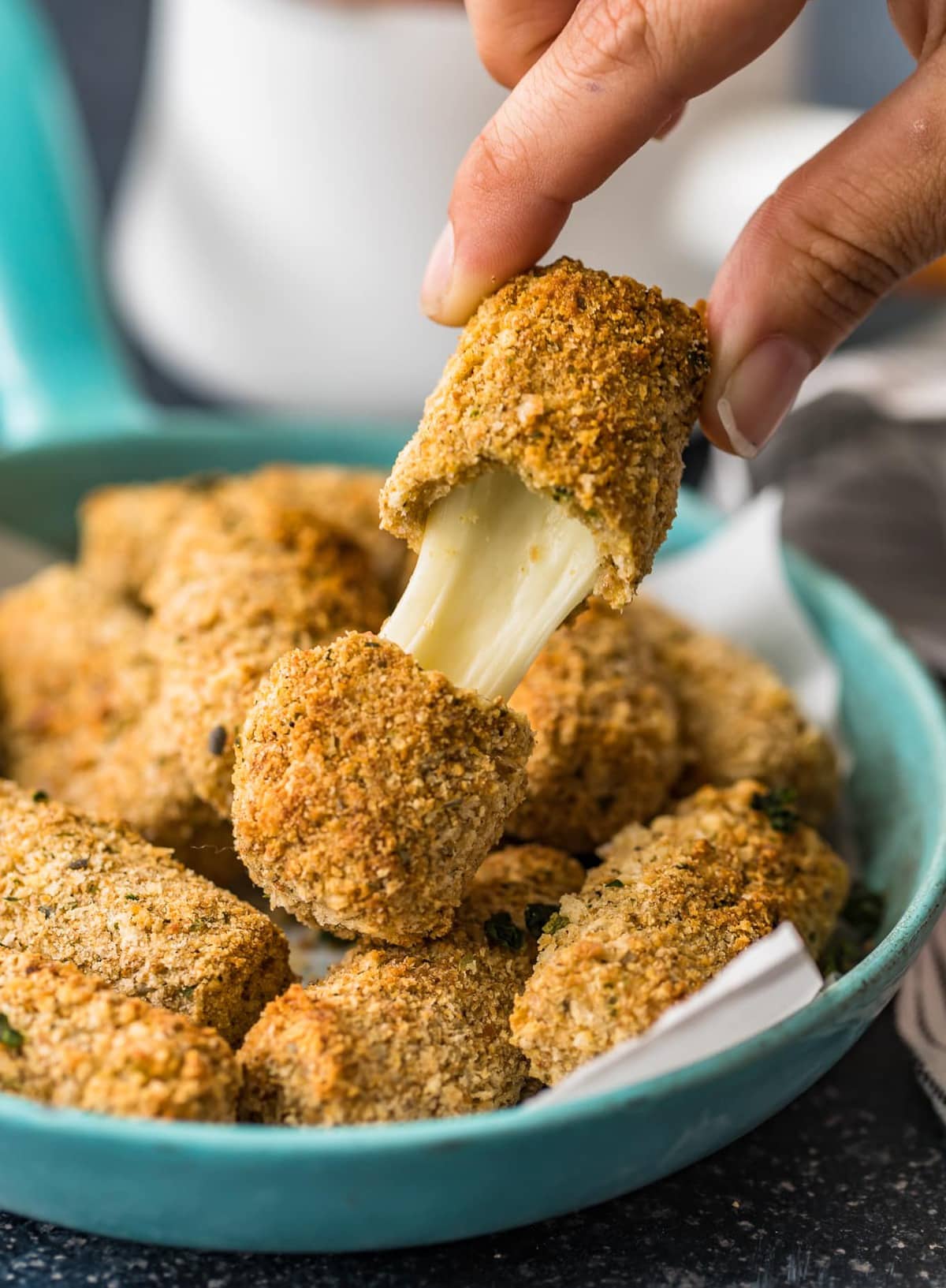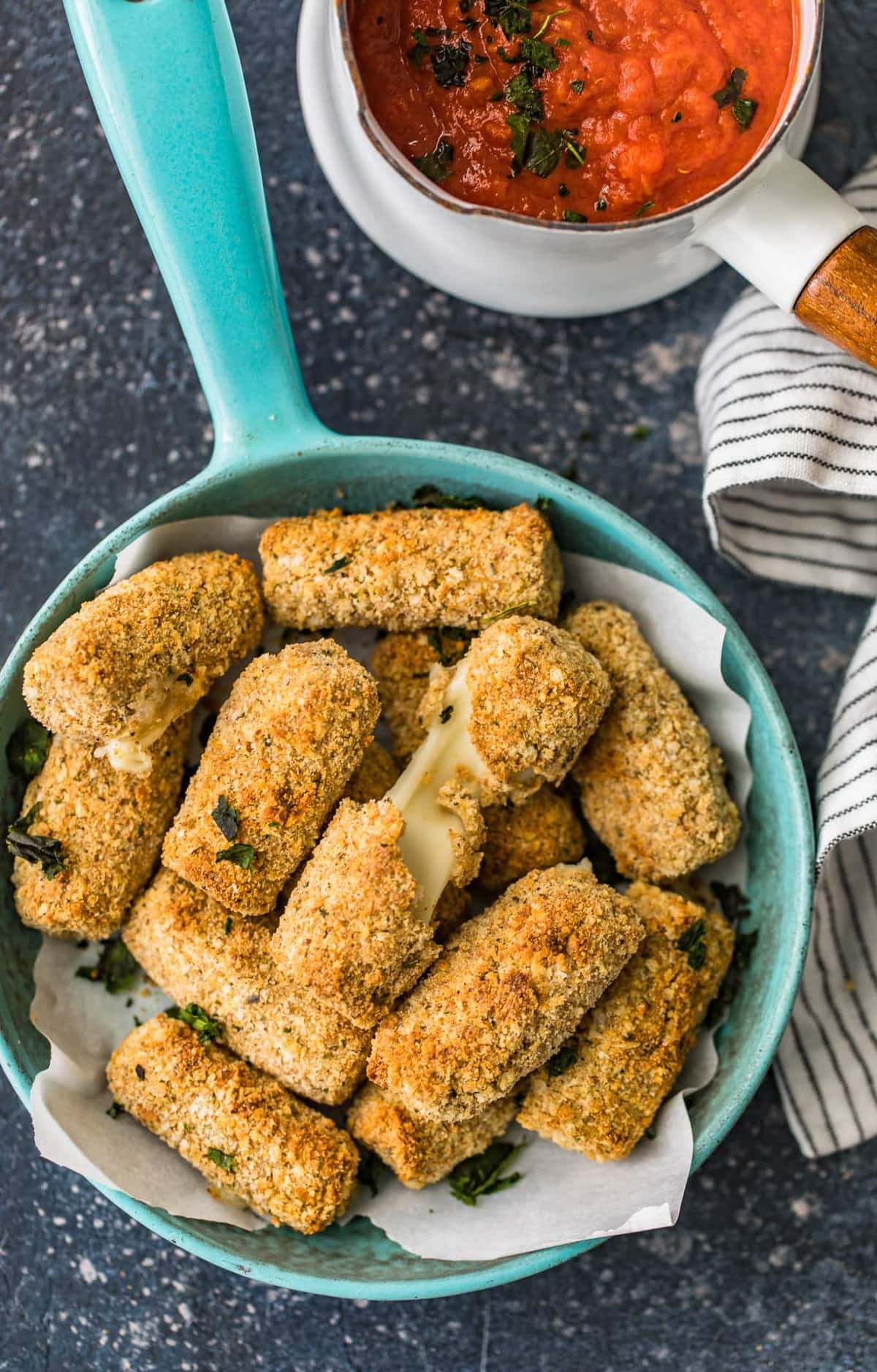 Mozzarella String Cheese Sticks
You can get several flavors of cheese sticks, so have fun with experimenting! I used straight up mozzarella, but jalapeno would add a great spicy kick! The breadcrumbs are a mixture of seasoned and panko. Panko breadcrumbs don't soak up much fat and stay crispy when baking. The seasoned add an extra level of flavor to each bite. Perfect results every time!
Are mozzarella sticks good for you?
Unfortunately, mozzarella cheese sticks are not the picture of health. But fortunately for all of us, this BAKED mozzarella sticks recipe is a much healthier version than the usual fried cheese sticks you find at restaurants. Less grease, less calories, and ultimately just a better option to serve.
Baked is always better than fried! So don't feel guilty about eating these on game day, at parties, or whenever you need a bit of hot cheese in your life.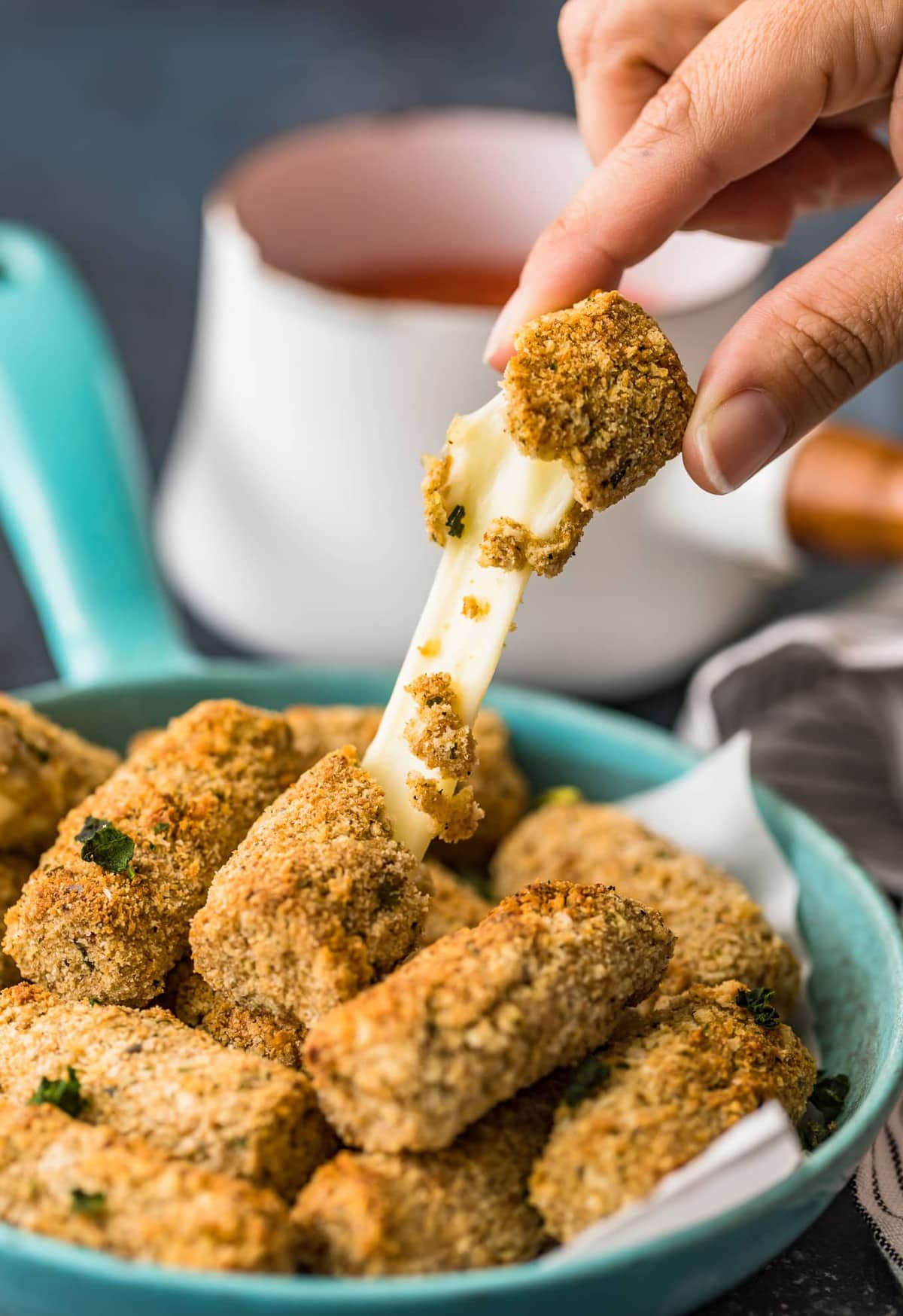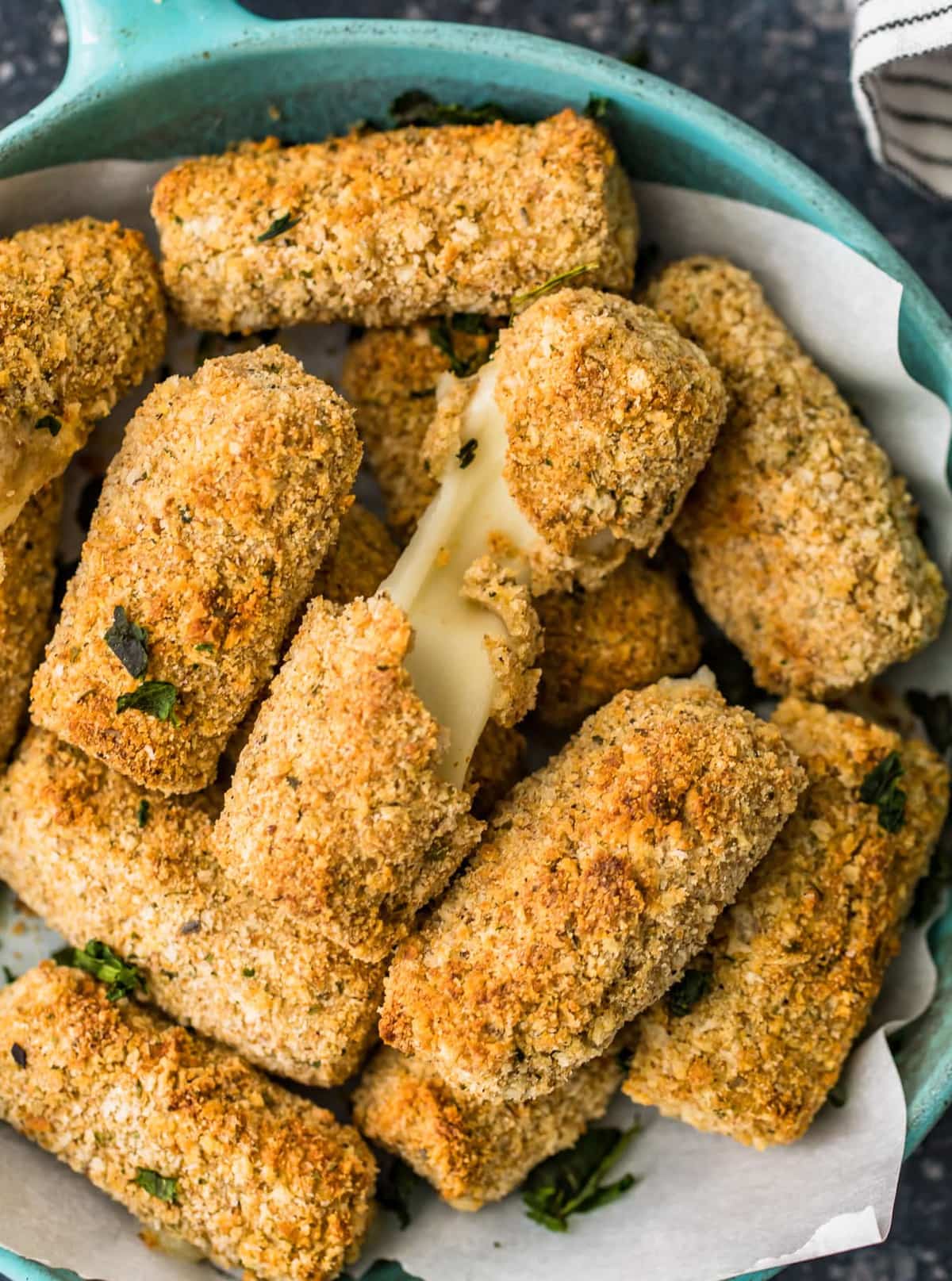 Top tips for making Homemade Baked Mozzarella Sticks
Have fun with different flavors of cheese sticks!
When coating the breadcrumbs, try and keep one hand wet and one hand dry so it doesn't get too messy!
Freeze the unbaked sticks for up to 24 hours before cooking.
Serve immediately for the ultimate gooey sticks.
Serve with a delicious marinara sauce for dipping or how about a Roasted Garlic Aioli?!
Be sure to check out these other delicious finger foods perfect for entertaining!
See the recipe card for details on how to make Baked Mozzarella Sticks. Enjoy!