Jerk Chicken with Mango Salsa is a surprisingly easy dish. Make this One Pan Caribbean Jerk Chicken recipe in just 15 minutes! Pair this flavorful chicken with rice for a delicious and easy weeknight meal!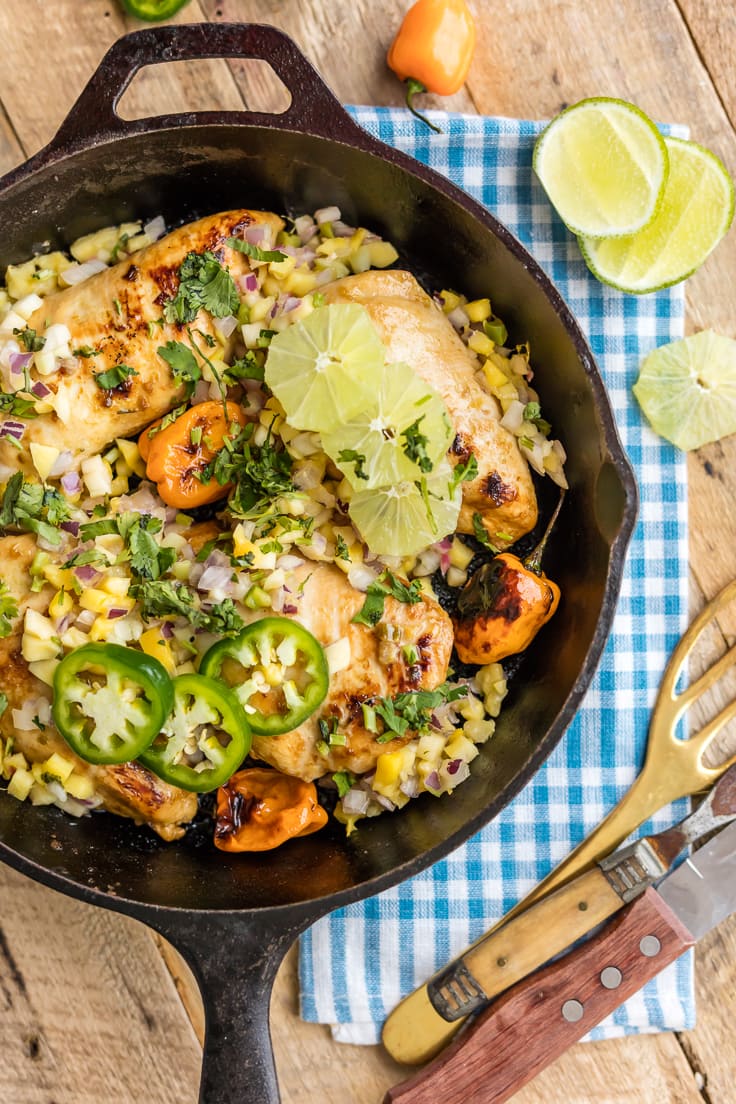 Jerk Chicken Recipe
This EASY jerk chicken recipe is made in one pot, topped with mango salsa, and comes out absolutely delicious!
We went to Jamaica for our honeymoon, and I've been really missing the flavors ever since. Especially the jerk chicken; is there anything better? There's so much spice and flavor, and it pairs so well with pineapple, mango, and other sweet fruit.
I decided to toss all those delicious flavors into one meal…in ONE SKILLET! This Skinny Caribbean Jerk Chicken recipe (that's a delicious mouthful) is just the thing to take me back to our amazing honeymoon, and keep me on track for potentially wearing a swimsuit this summer.
This chicken is unbelievable tasty, it makes a beautiful and healthy weeknight meal, and it's just so simple. I'm always a fan of one pot meals!
Learn how to make jerk chicken in ONE skillet for an easy dinner!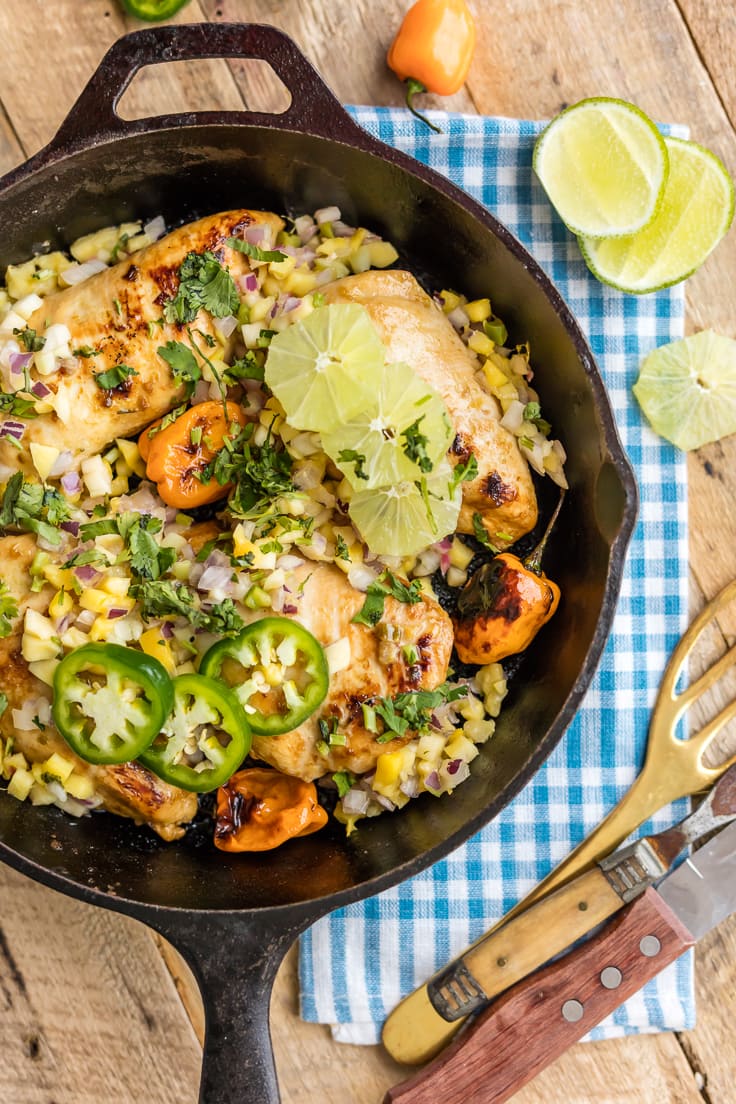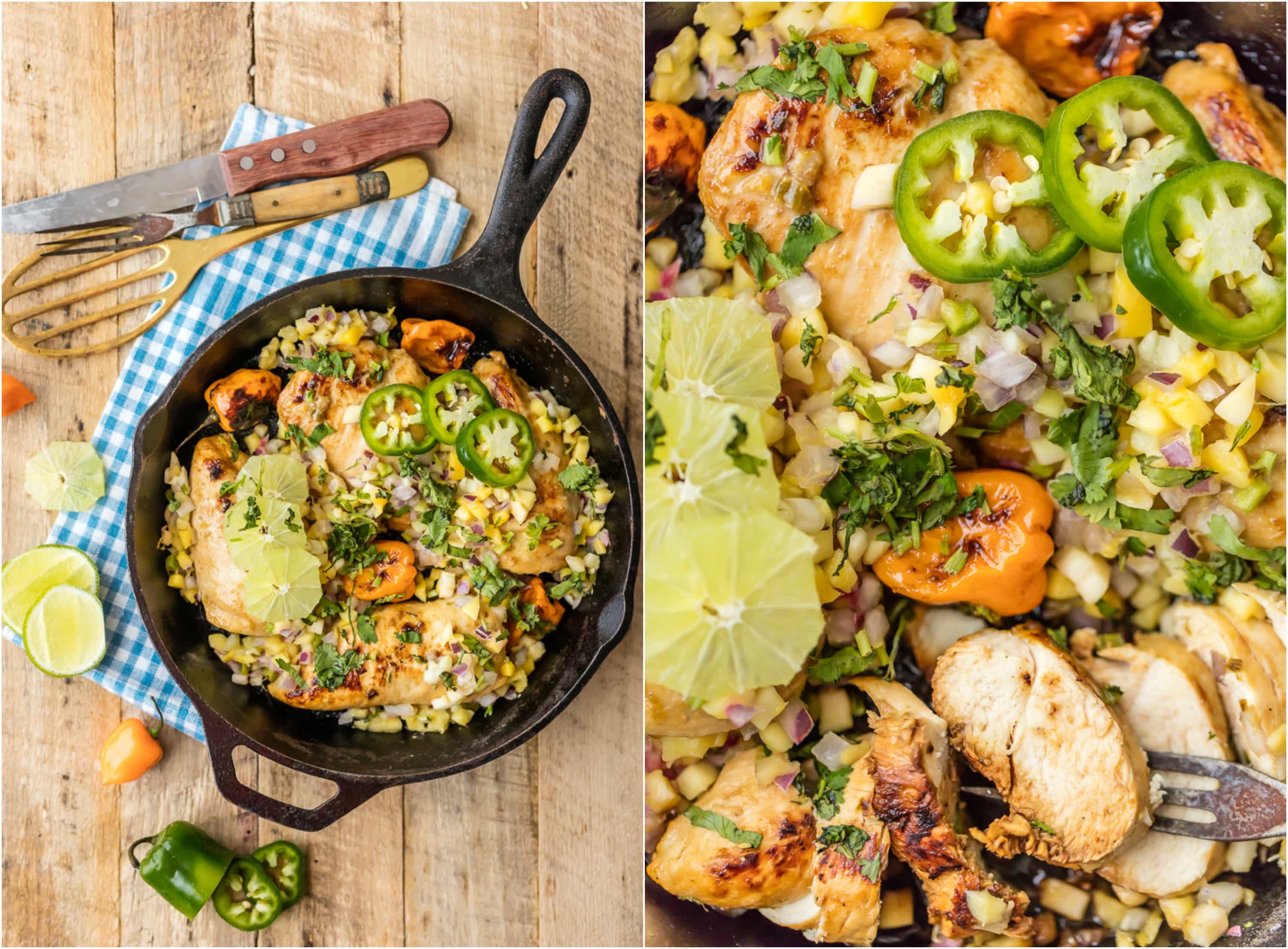 One Pot EASY Jerk Chicken
I love the colors of this dish. I can almost taste it just by looking at it! This jerk chicken recipe really reminds me of the sights and sounds of the Caribbean. So much beauty, personality, and flavor at every turn. TAKE ME BACK!
This One Pan Caribbean Jerk Chicken Skillet is going to have to suffice for now I guess. Maybe I can't be back in Jamaica, but I CAN eat this every week. It's ready in just about 30 minutes, and it only takes one pan to cook an entire dinner.
Caribbean Jerk Chicken Ingredients
Chicken Breast
Green Onions
Garlic
Habanero Chile
Lime Juice
Soy Sauce (low sodium)
Olive Oil
Light Brown Sugar
Cinnamon
So much flavor with those amazing ingredients! Plus we add on the mango salsa, which is made with:
Mangos
Red Bell Peppers
Red Onion
Cilantro
Lime Juice
Jalapeno
It's fresh, it's just a little bit spicy, a nice heat, and everything blends together so perfectly!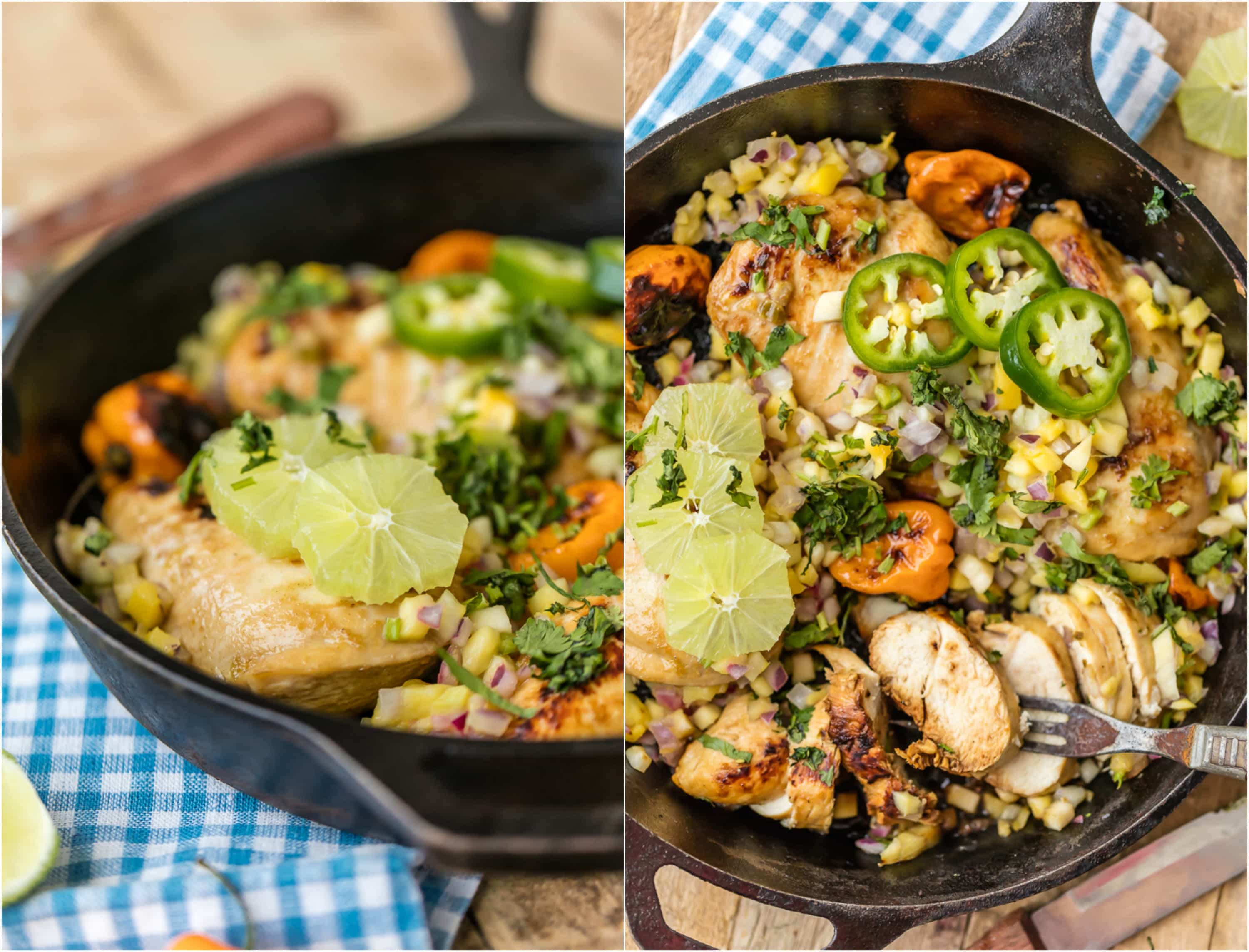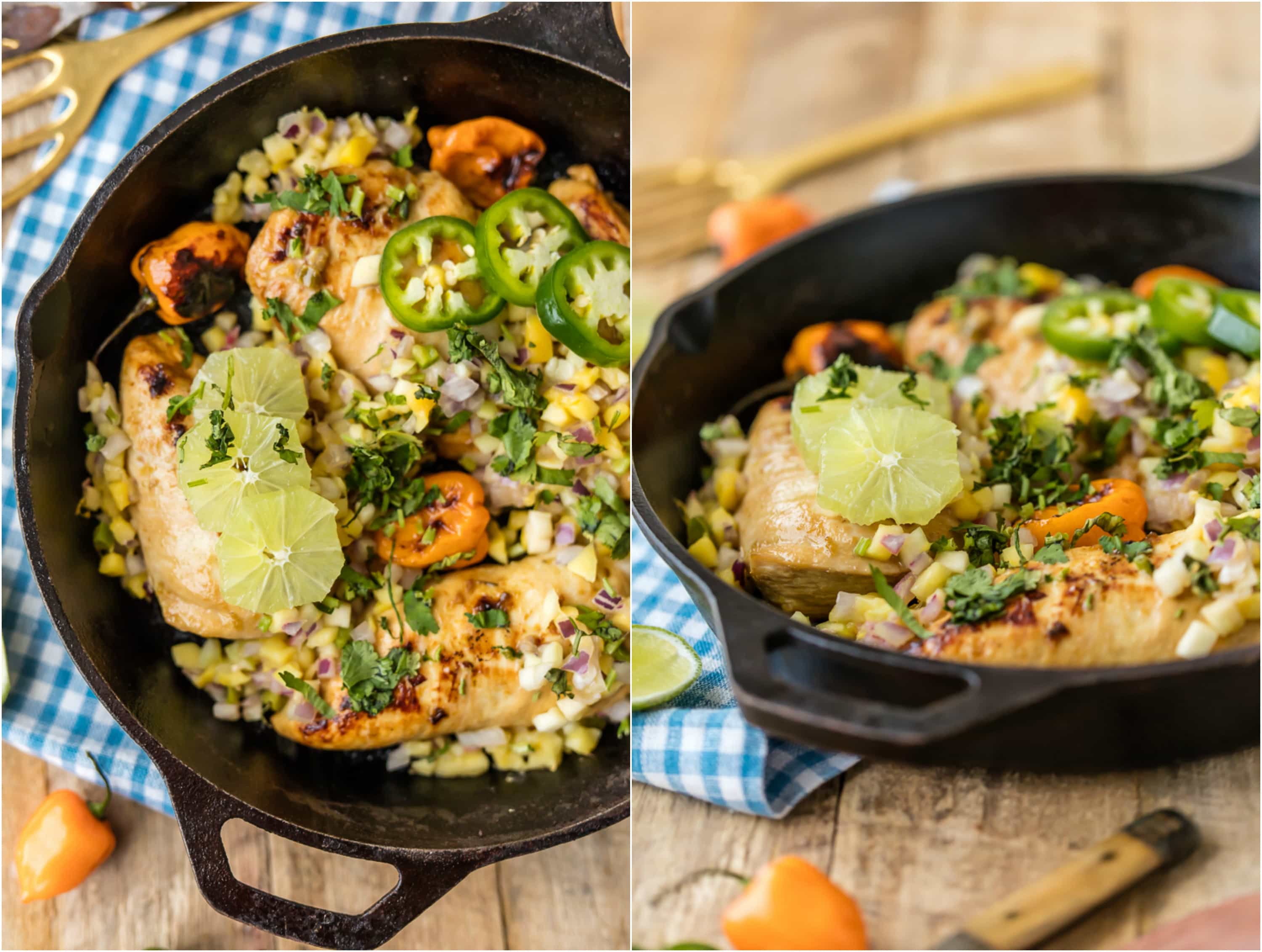 How to Make Jerk Chicken in the Oven
I used to assume that any AMAZING meal I ate must be hard to make. That's the beauty of learning to cook through this site: I realized how simple cooking can be, even delicious dishes like this one! I'm so glad I learned how to make jerk chicken, and I did it in one skillet to really make it easy.
Start by combining all of the jerk chicken marinade/paste ingredients (green onions, chile, lime juice, soy sauce, olive oil, brown sugar, cinnamon, and salt & pepper) in a high powered blender. Combine until smooth.
Coat chicken breasts in this mixture and place in a large resealable bag. Put it in the fridge to marinate for at least 2 hours, but overnight is ideal.
When you're ready to cook, take the chicken out of the refrigerator and preheat the oven to 350°F.
Combine all of the mango salsa ingredients in a bowl, and set it aside.
Heat a large skillet on the stove, then place the chicken in and cook for 5 minutes on each side (this will not completely cook the chicken, just sear).
Next, cover the chicken with the mango salsa, then place it in the oven for 15-20 minutes to fully cook through.
That's it! I love to top it off with extra cilantro and jalapeno slices for an extra kick of flavor. This pairs nicely with a bit of rice to finish off the meal.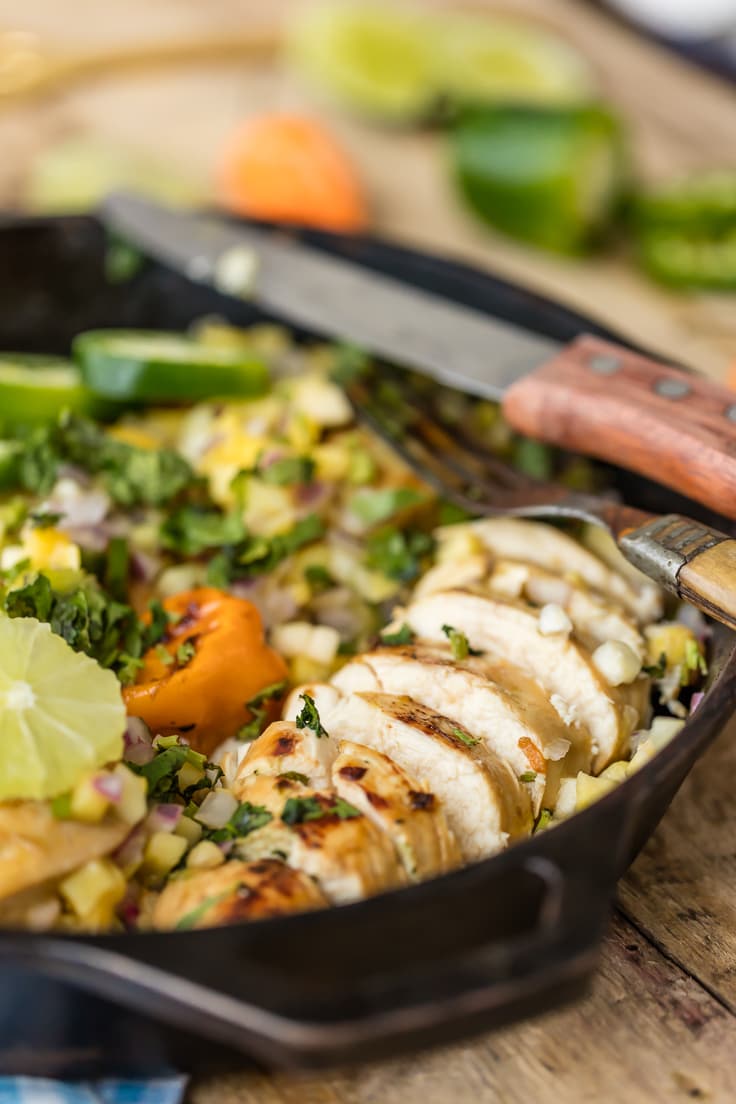 This easy jerk chicken is so simple, delicious, and pretty. What more is there to say than that? If you love spice, you'll LOVE this. And guess what, only one pot to clean up! Gosh I love recipes like this. I cannot get enough. I hope you're not sick of one pan dishes yet, because I feel like I'm just getting started!
See the recipe card for details on how to make Caribbean Jerk Chicken. Enjoy!
Try these other delicious one pot recipes: