One Pot Chicken Alfredo is the easiest dinner recipe ever! This Easy Chicken Alfredo Recipe is so creamy, made in one skillet, and tossed with sun dried tomatoes. Best of all, it only has a handful of ingredients and is made in just 30 minutes.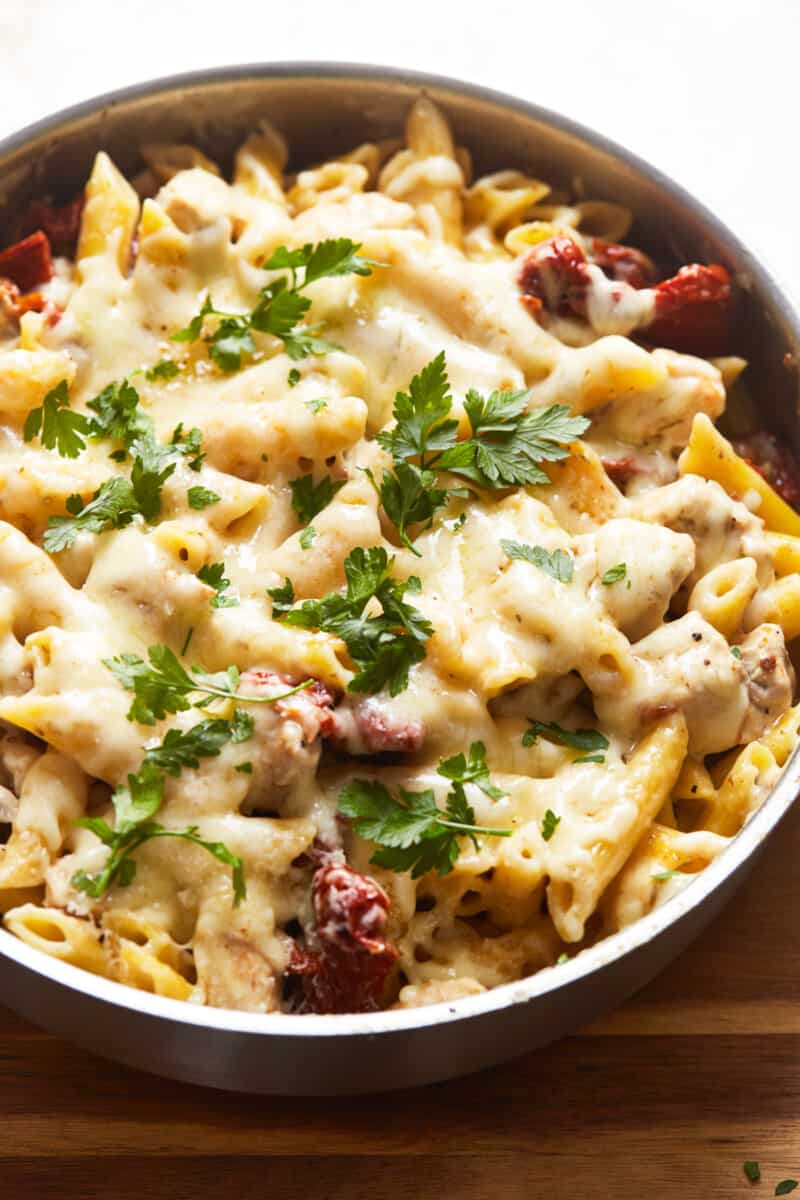 Easy Chicken Alfredo Recipe
This One Pot Chicken Alfredo skillet is one of my favorite weeknight dinners. It's made with chicken, penne, sun-dried tomatoes, and any Alfredo sauce you love!
I cannot get enough of one-pan meals. Less dishes to clean, quicker prep, and an all-around easy recipe. Everything about it is just perfect for me.
This One Pot Chicken Alfredo recipe is incredibly simple, thrown together in under 30 minutes, and sure to please. It's loaded with Alfredo, cheese, chicken, and sun-dried tomatoes. It's everything you need for the perfect dinner at home, any day of the year!
A couple weeks ago I made my Chicken Parmesan Pasta Skillet, and it got me thinking that the same preparation could apply to all sorts of flavor combinations. I see a trend in my future, because I'm addicted to this easy chicken Alfredo. So good!
Why You'll Love this Recipe:
Quick: This one pot pasta is made in under 30 minutes and only has one pot to clean!
Fool-Proof: Literally anyone can master this recipe. Beginners and chefs alike will find it tasty and easy.
Family-Friendly: This recipe is sure to please the entire family, even kids! Add in your favorite ingredients to make it perfect for your family.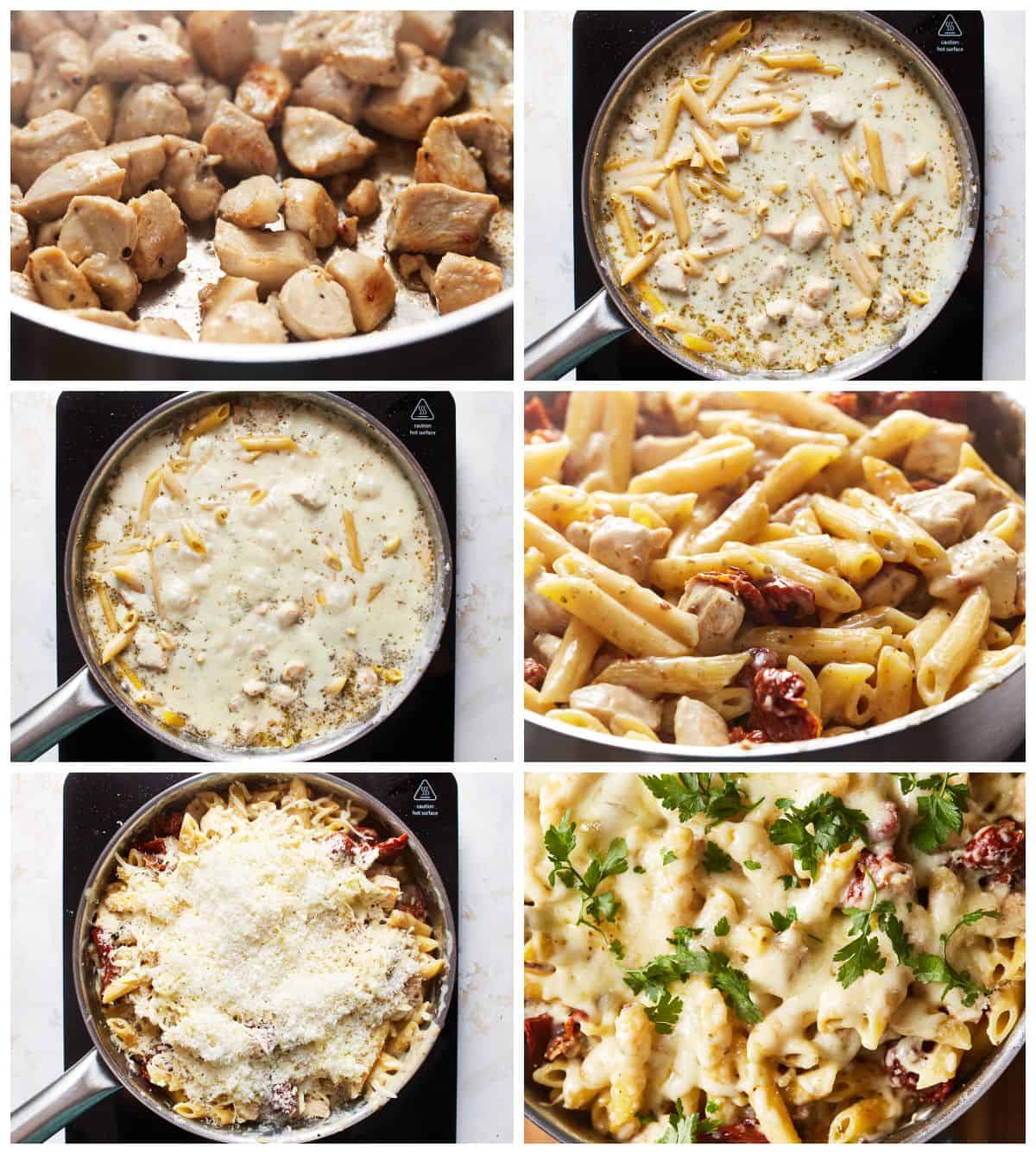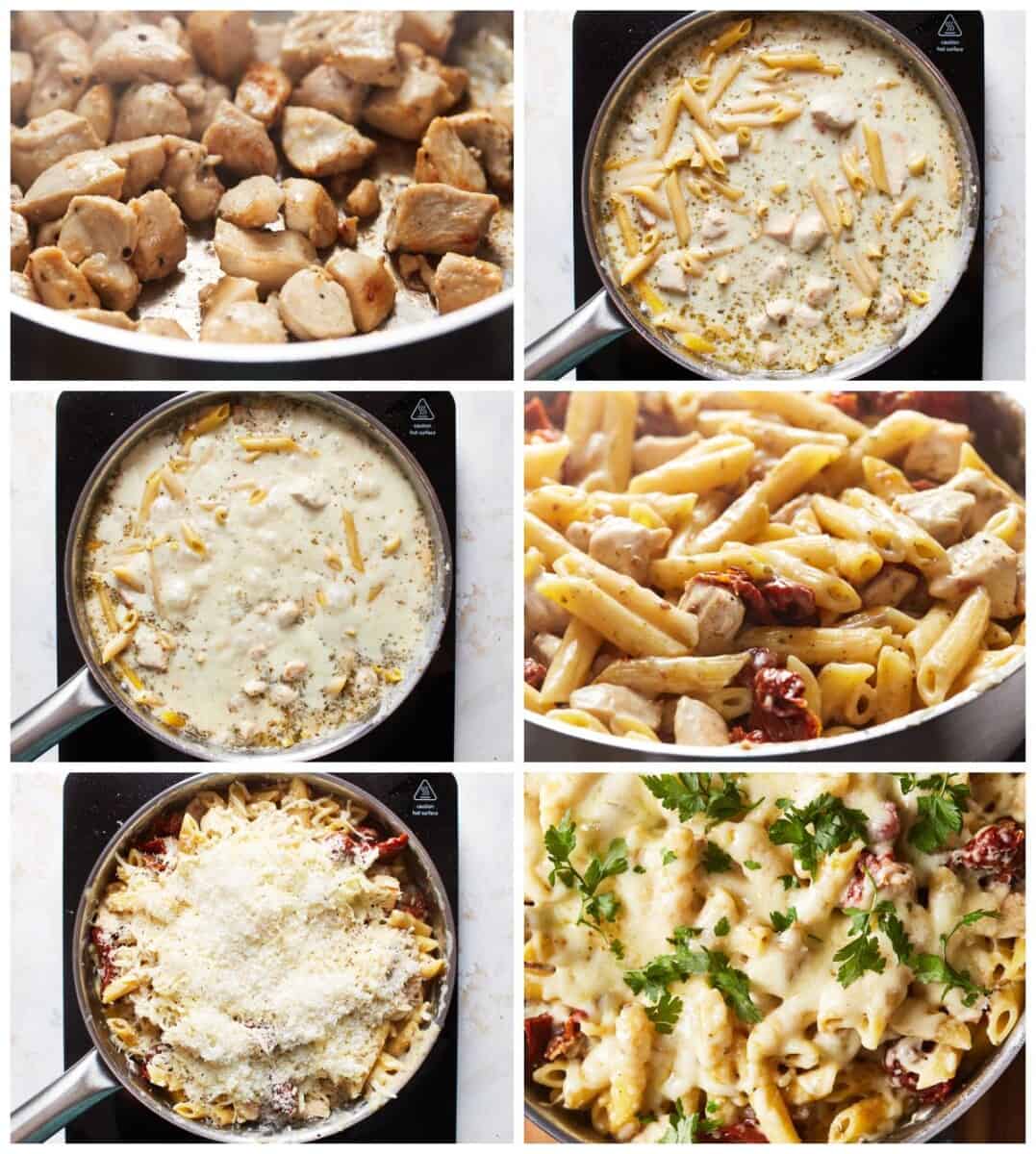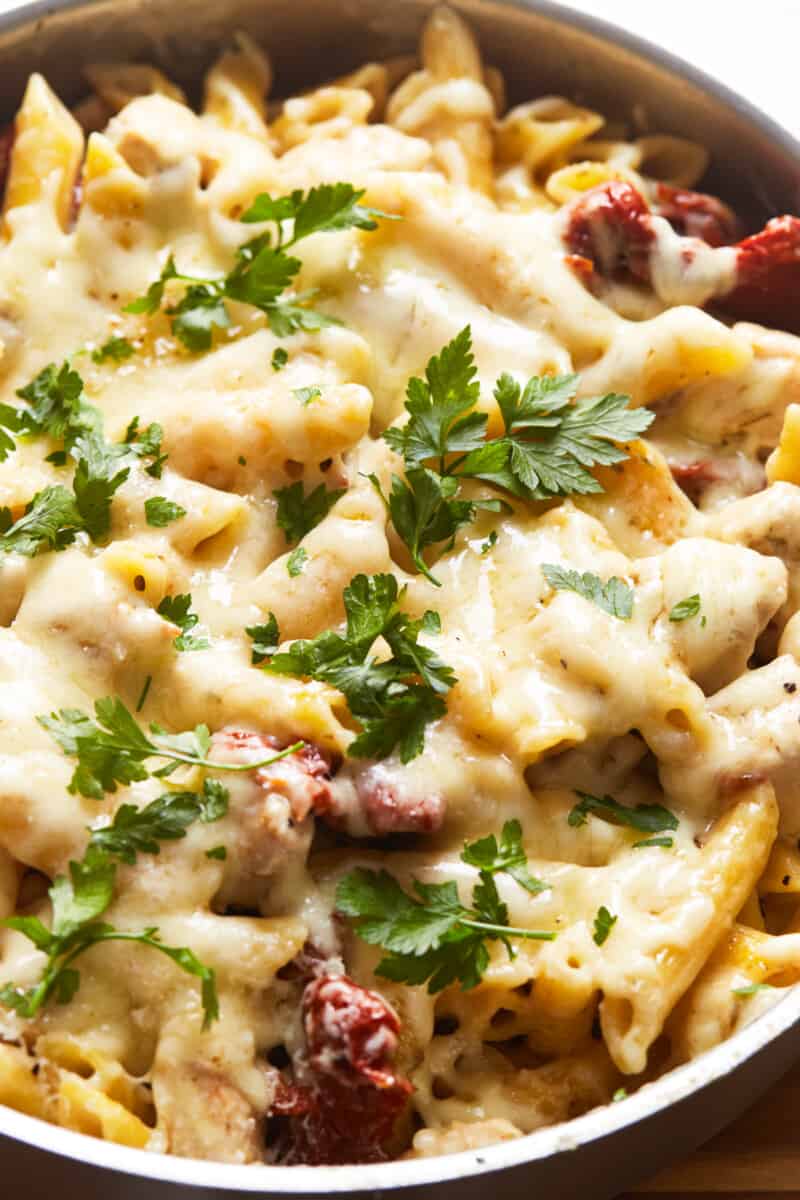 Making Chicken Alfredo at Home
Even though we are using a few pre-made ingredients, you can still make this one-pot homemade Chicken Alfredo your claim to fame.
Of course, you can make your own Alfredo sauce if you prefer.
I love how this easy Chicken Alfredo cooks up in the skillet and is just ready to eat. Almost magic! If you're just learning to cook, this recipe can give you the confidence to try even harder dishes in the future.
New To Cooking
Check out my comprehensive Beginner's Guide to learn how to make easy recipes, see new techniques, and browse my favorite gadgets!
Chicken Alfredo Ingredients
Besides the penne, chicken, and Alfredo sauce, there are a few things in this pasta to make it extra flavorful, like Italian dressing, oregano, and of course cheese. I also added in some sun-dried tomatoes to add color and even more flavor, but you can leave them out of you want.
It's easy to add in other veggies and things to this one-pot chicken alfredo too. Here are some ideas:
Broccoli
Red Peppers
Roma Tomatoes
Peas
Olives
Other types of cheese
Such a versatile recipe! Feel free to make it your own, and be sure to let me know below what you tried and loved.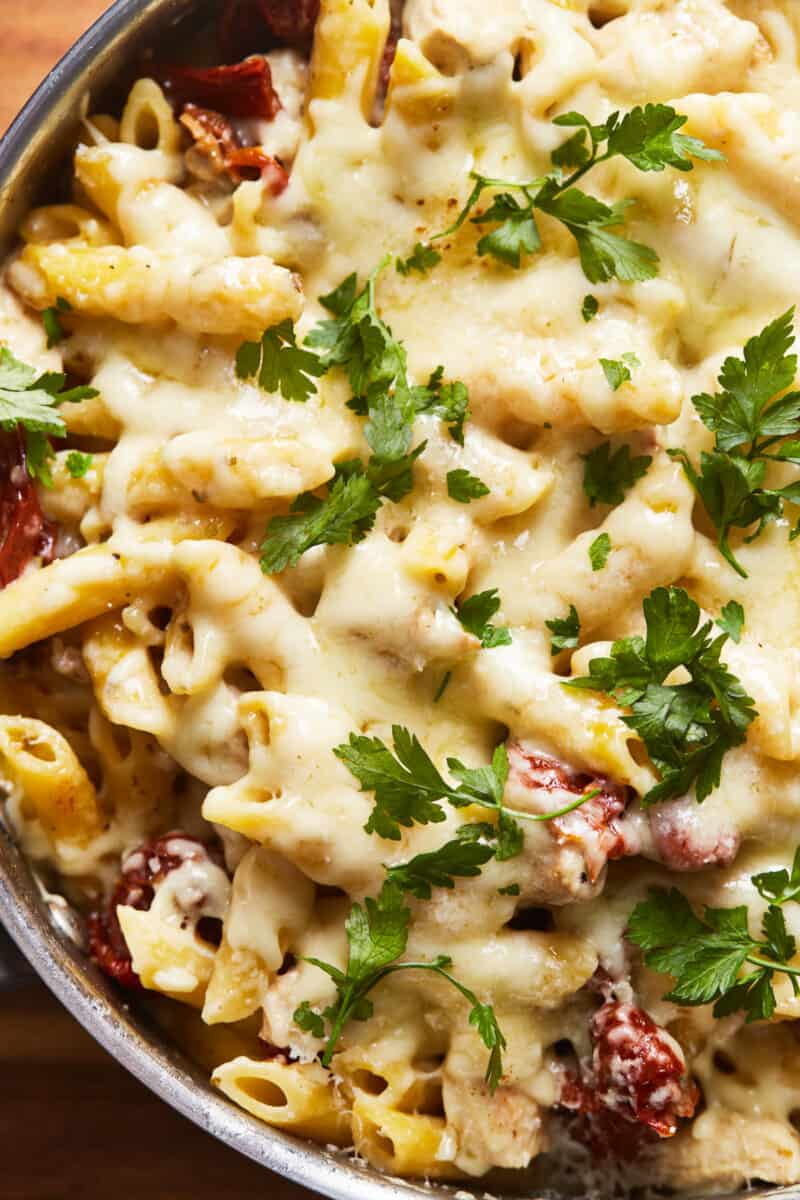 How to make One Pot Chicken Alfredo
You can jump to the recipe card for full ingredients & instructions!
This easy chicken alfredo is a lifesaver on weeknights. It's quick and clean up is easy, plus it just tastes amazing!
Heat the chicken and Italian dressing in a skillet.
Cook chicken for about 5 minutes or until browned and cooked through.
Add the pasta and Alfredo sauce. Add some seasonings.
Boil, then simmer. Cover and allow to cook down.
Stir in the sun-dried tomatoes or your favorite add-ins.
Cover with cheese and continue to cook for 2-3 more minutes or until cheese is fully melted. See the recipe card for full instructions!
Serving Ideas
This dish is so filling, which makes it the perfect quick dinner. I love serving it with a simple salad, some garlic bread, or even a side of veggies if I didn't add them into the pasta. Here are some ideas to get you started:
More Chicken Alfredo Recipes
We love the flavors of Chicken Alfredo in this one-pot recipe. Here are some other favorites.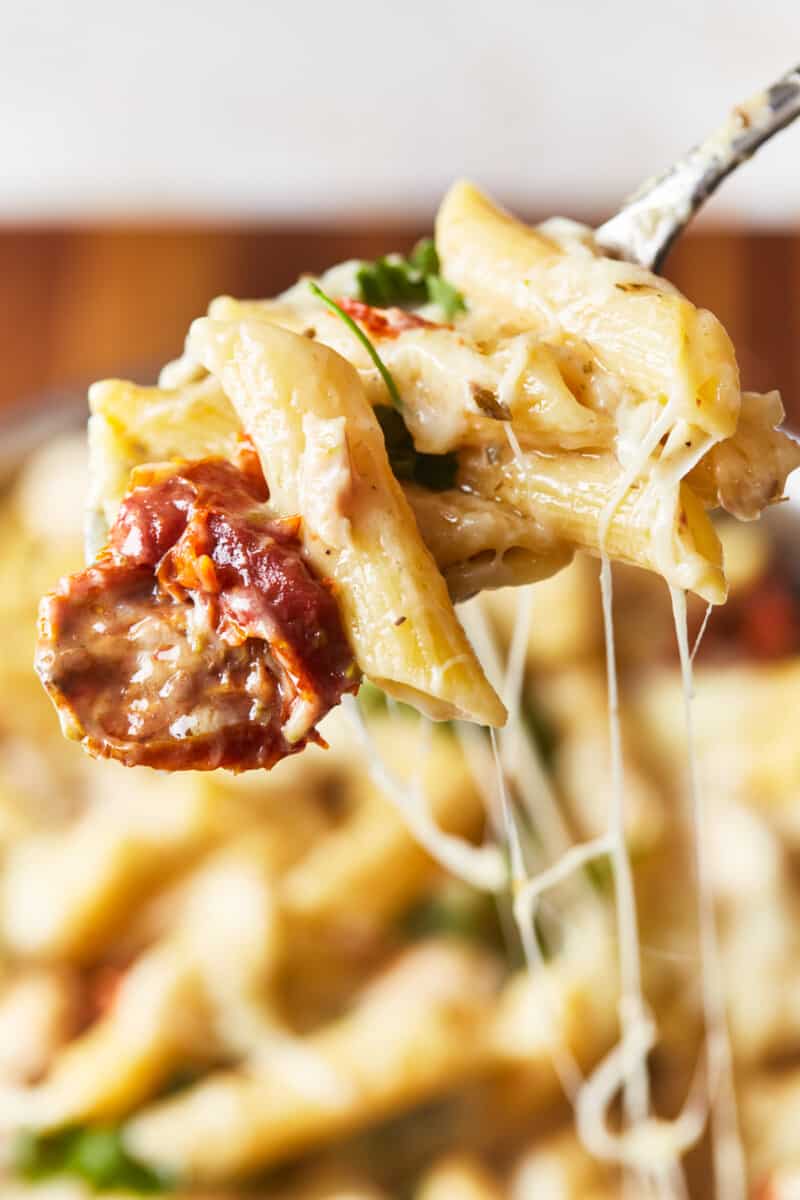 Tips!
The pasta in the middle of the skillet and underneath will be more tender than the outside pasta when done. It's okay if those pieces are a bit toastier and less soft. The inside will be plenty soft.
Feel free to add in more favorite ingredients such as prosciutto, onions, peas, or whatever your family might love.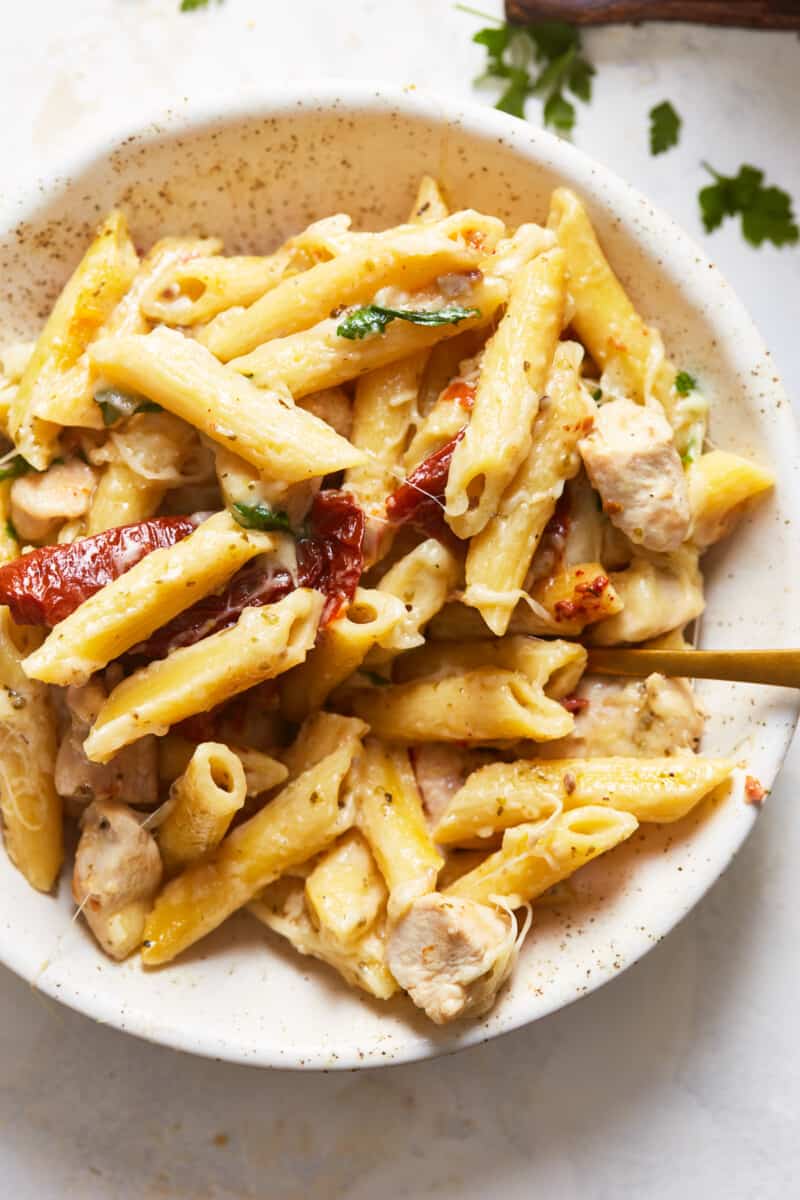 Easy Pasta Recipe
This recipe is just perfect for Mondays. The easier the better if you ask me! And if you like this One Pot Chicken Alfredo Skillet, be sure to check out our Chicken Parmesan Pasta Skillet! Super similar, but with a different flavor profile.
Both are two of my favorite recipes on the site! Can't go wrong with a one-pot recipe.
More One Pot Recipes
If you make this recipe be sure to upload a photo in the comment section below or leave a rating. Enjoy! You can also jump to recipe.