ONE POT CHICKEN ALFREDO SKILLET is the easiest dinner recipe ever! Creamy one pan Chicken Alfredo made in a skillet tossed with sun dried tomatoes. BEST DINNER EVER.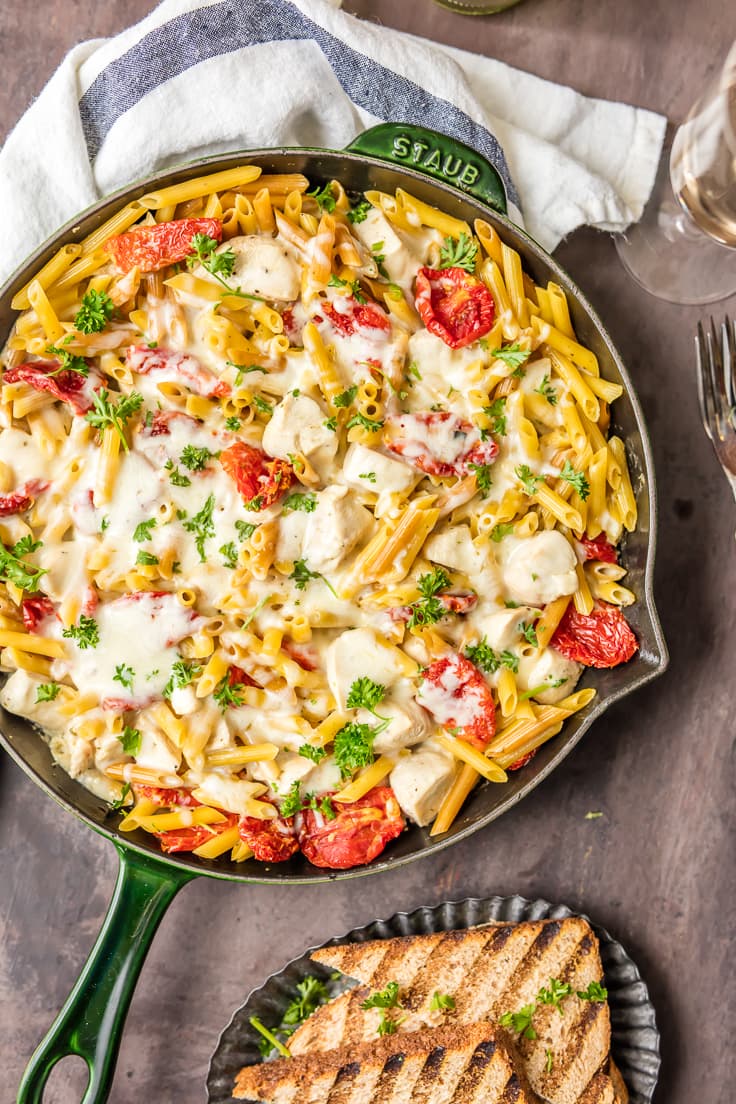 One pan meals. I CANNOT GET ENOUGH. Less dishes to clean, quicker prep, EASY RECIPES. Everything about it is just perfect for me. This ONE POT CHICKEN ALFREDO SKILLET is incredible simple, thrown together in under 30 minutes, and sure to please. It's loaded with alfredo, cheese, and sun dried tomatoes…everything you need for the perfect dinner at home, any day of the year! A couple weeks ago I made my Chicken Parmesan Pasta Skillet, and it got me thinking that the same preparation could apply to all sorts of flavor combinations. I see a trend in my future, because I'm addicted!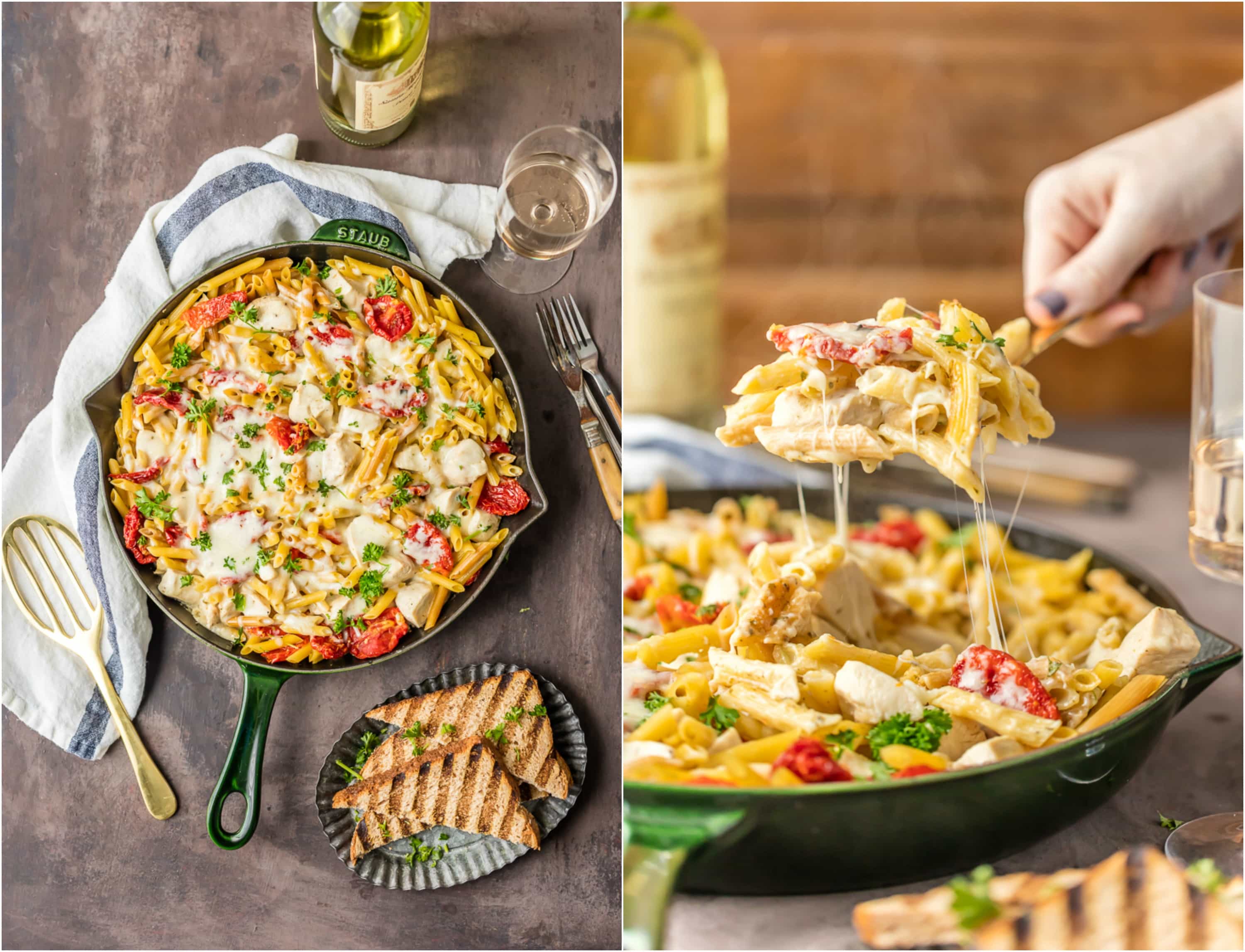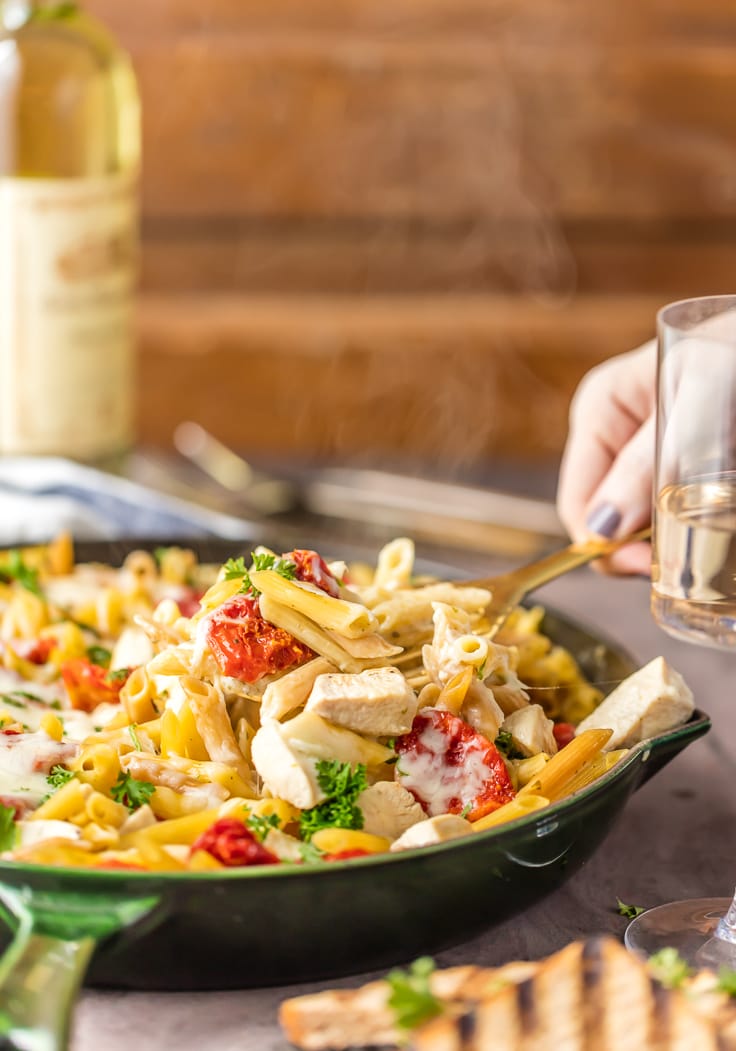 I love how this all bakes up in the skillet and is just ready to eat. Almost magic! I wish I had known recipes like this existed back in the day when I literally thought boiling water was too difficult. This would have been a game changer! You can pretend to be a gourmet chef all the while barely lifting a finger. This one is a winner, folks!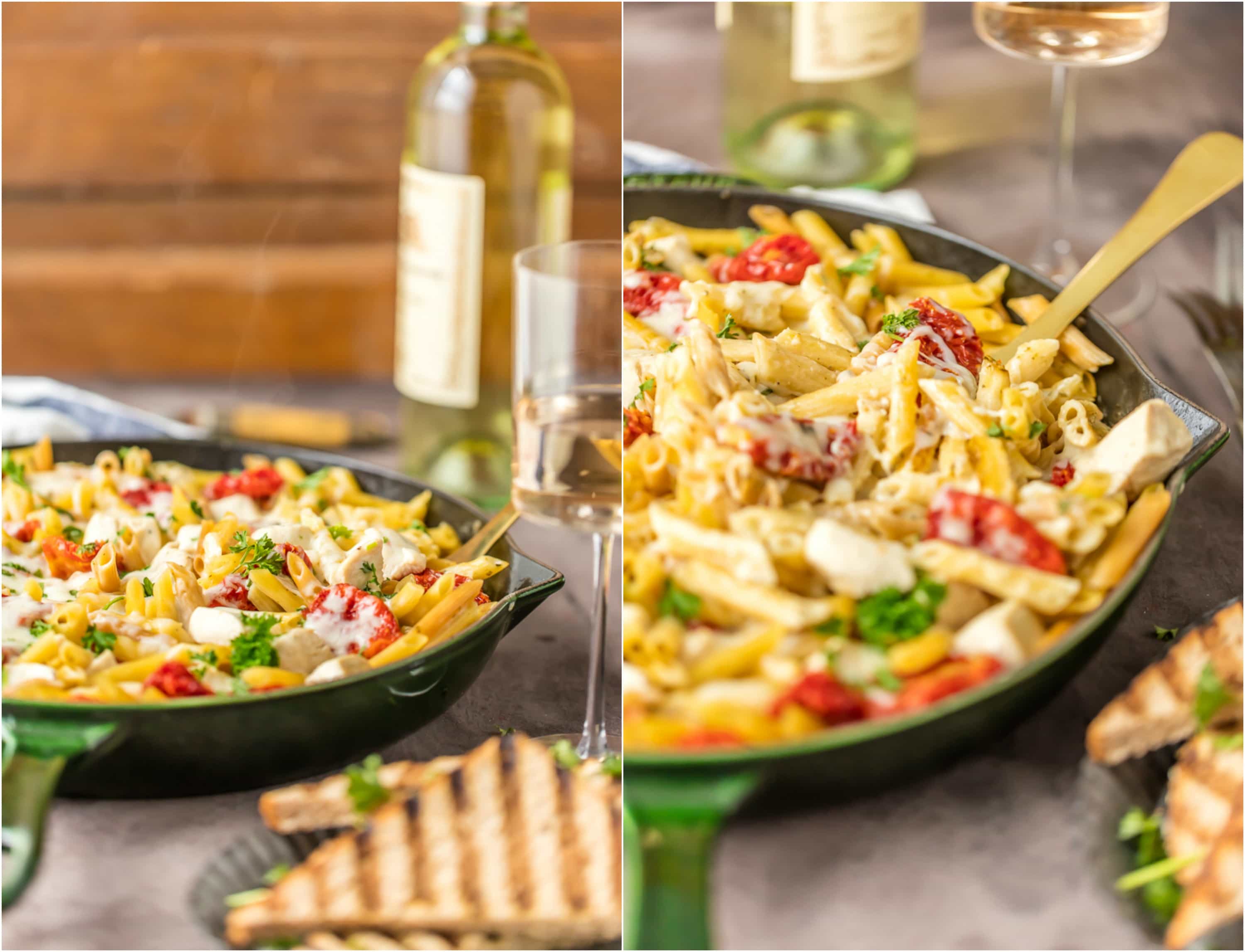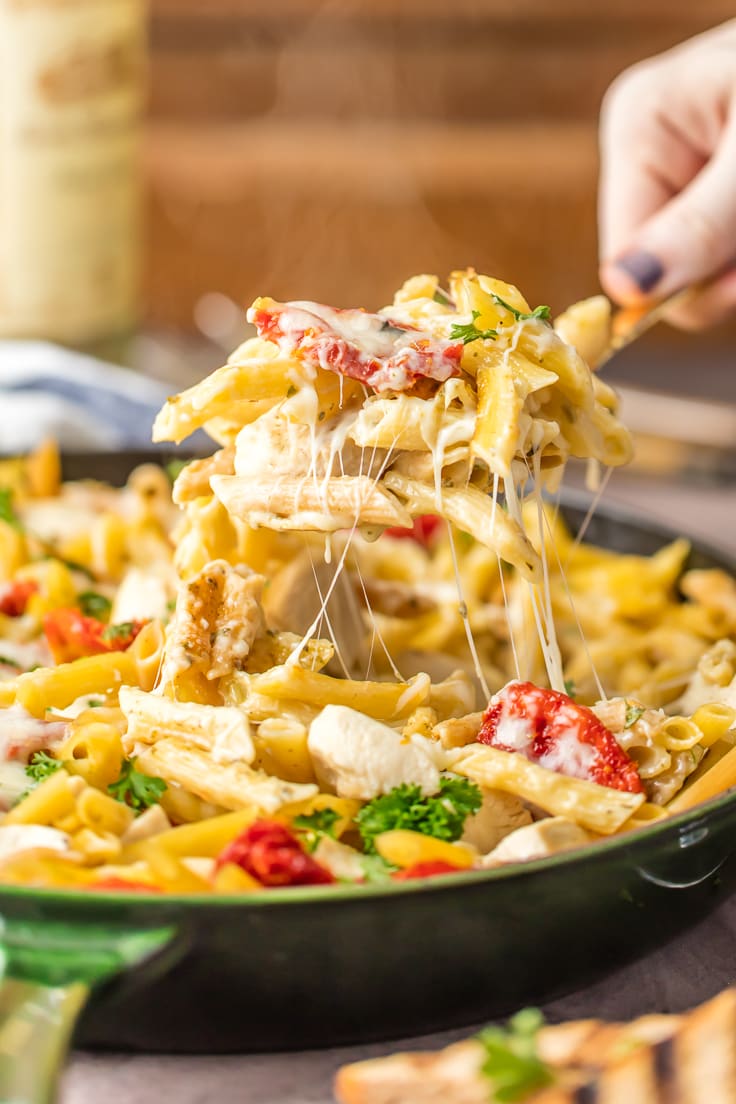 This recipe is just perfect for Mondays. The easier the better if you ask me! And if you like this One Pot Chicken Alfredo Skillet, be sure to check out our Chicken Parmesan Pasta Skillet! Super similar, but with a different flavor profile. Both are two of my favorite recipes on the site! Can't go wrong with a one pot recipe. Maybe one day I'll only make one pot recipes haha. That would be living the dream!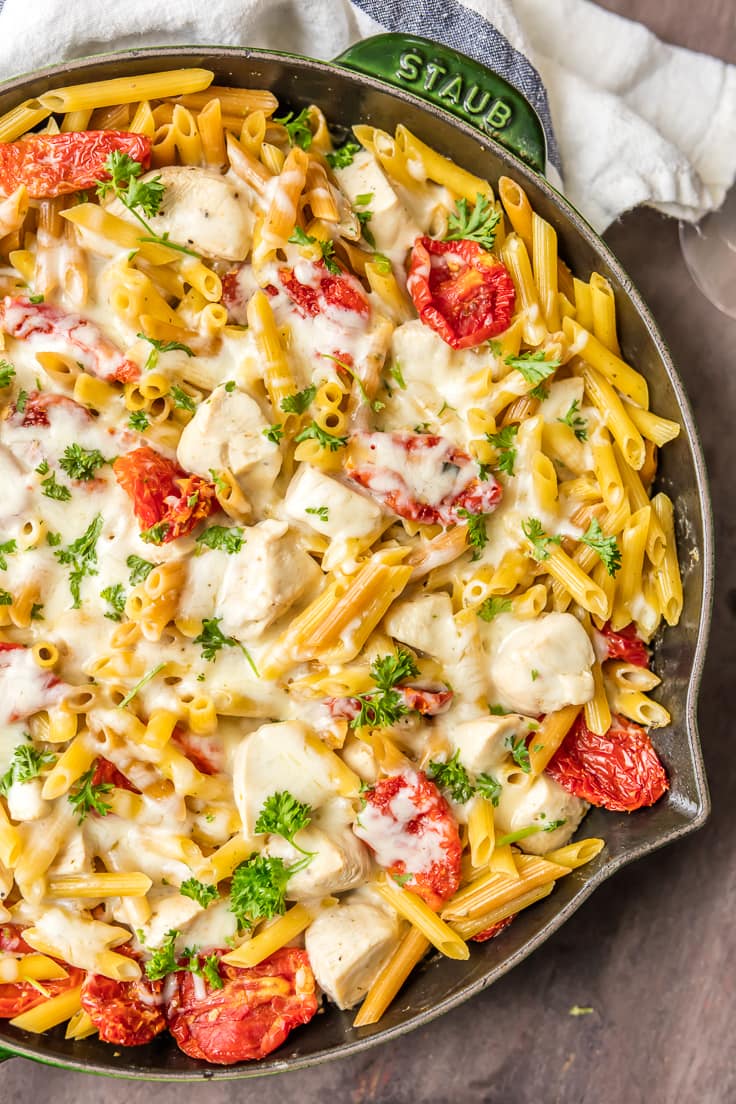 Enjoy this one pot chicken Alfredo skillet recipe!
One Pot Chicken Alfredo Skillet
5 minPrep Time
25 minCook Time
30 minTotal Time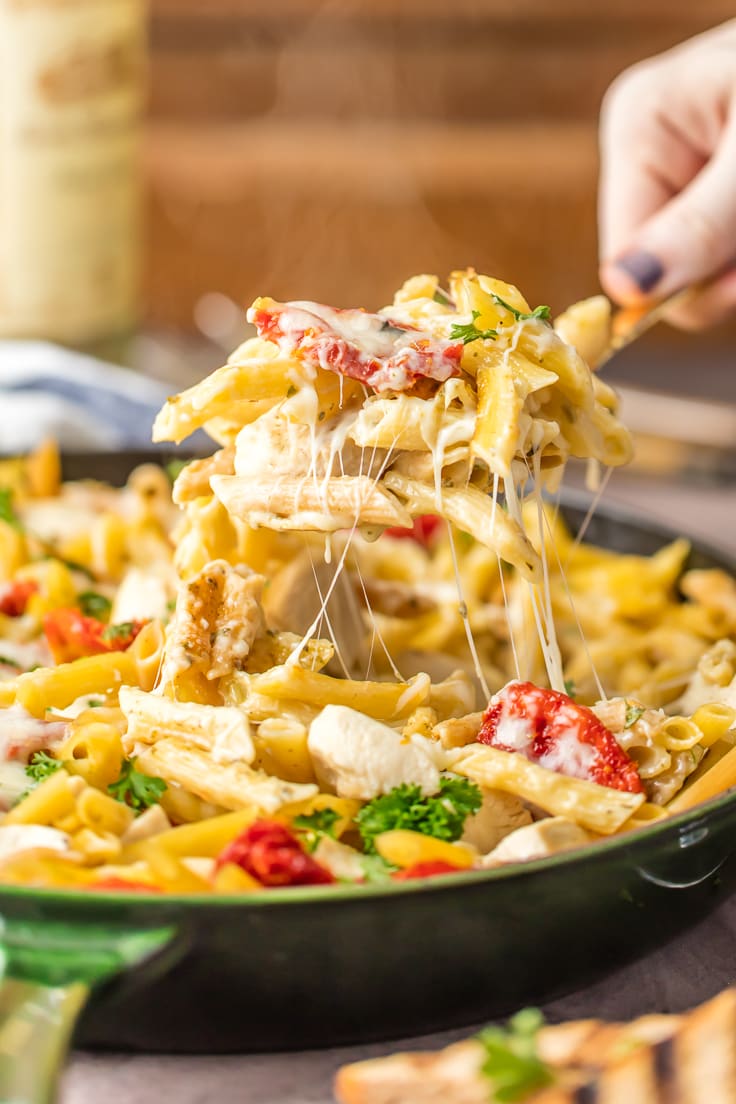 5 based on 7 review(s)
Ingredients
2 tablespoons Italian dressing (not the creamy kind)
3 boneless skinless chicken breasts, cut into cubes
16 ounces small/medium sized penne pasta
1 24-ounce jar of your favorite Alfredo sauce (Or you can make your own. Here is a recipe that I love to use. If making your own, use 3 cups homemade sauce)
1 tablespoon dried oregano
salt and pepper to taste
1/2 cup shredded mozzarella cheese
1/2 cup grated parmesan cheese
1 1/2 cups sun dried tomatoes (optional)***
fresh chopped parsley as garnish
***other add ins that would be great include steamed broccoli, peas, roma tomatoes, red peppers, or your favorite veggies!
Instructions
Heat chicken and Italian dressing in a large 12 inch skillet over medium high heat (If you don't own a large skillet, you can use a stock pot). Season chicken with salt and pepper to taste.
Cook chicken until browned and just cooked through, about 5 minutes depending on thickness of chicken.
Add the box of pasta and the entire jar of alfredo (or 3 cups of homemade alfredo). Fill the empty marinara jar with water and add to the skillet. If using a stockpot, use 2 cups water. Add the salt and pepper to taste and the dried oregano. Lightly stir the mixture to combine.
Bring mixture to a boil and then reduce to a simmer. Cover and cook for 15 minutes or until pasta is tender to your liking. ***
Stir in the sun dried tomatoes.
Cover with grated parmesan and then shredded mozzarella. No need to stir. Continue to cook for 2-3 more minutes or until cheese is fully melted. You can also broil the entire skillet for about 4 minutes to make the cheese extra melty!
Top with chopped parsley and serve! Enjoy!
***The pasta in the middle of the skillet and underneath will be more tender than the outside pasta. It's okay if those pieces are a bit toastier and less soft. The inside will be plenty soft.
7.6.7
2259
https://www.thecookierookie.com/one-pot-chicken-alfredo-skillet/
My friends make some delicious looking one pot meals, too!
Turkey chili cornbread skillet, from It's Yummi.
One pot pizza tortellini bake, from Spend with Pennies.