Butter Baked Chicken and Cream is an easy chicken recipe that everyone will love. This butter and cream chicken recipe is filled with delicious savory flavors that are just perfect! Serve it with rice, potatoes, and asparagus for a full meal!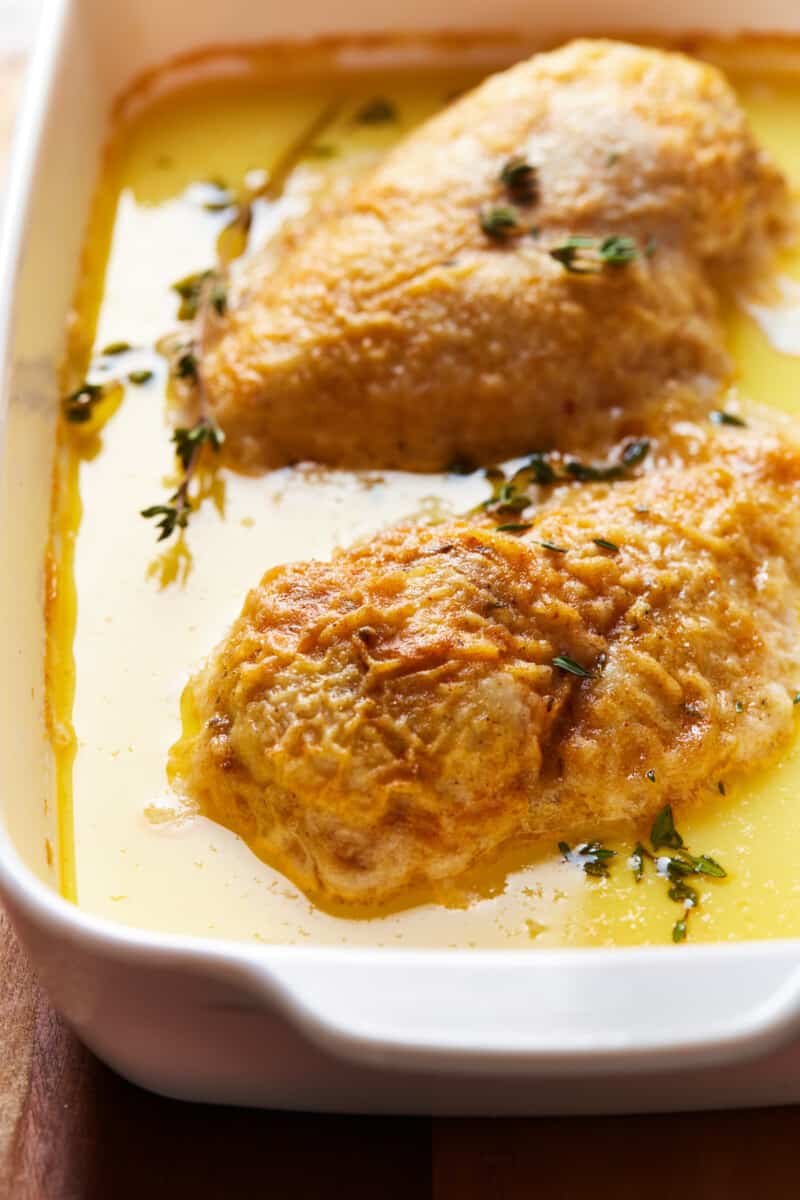 Butter Baked Chicken and Cream
This creamy butter baked chicken recipe is a simple and delicious dish for easy dinners with the family!
This crispy baked chicken with butter is a simple recipe that will knock your socks off. It's so juicy, so tender, and so delicious. Just an all around classic chicken dish with no frills but lots of flavor! I guarantee this will become one of your staple, go-to recipes for your family.
Why You'll Love this Creamy Baked Chicken Recipe:
EASY: You only need a few ingredients and a few steps to make this butter baked chicken!
CREAMY AND CRISPY: Get the best of both worlds with this dish. The skin comes out super crispy, and the creamy butter creates juicy chicken.
WEEKLY DINNER: This is one of those recipes you'll want to add to your weeknight dinner rotation. It's so simple but so delicious!
This butter cream chicken recipe is so yummy and super easy to make! I love when I can create a recipe inspired by restaurants, but eat it at home instead.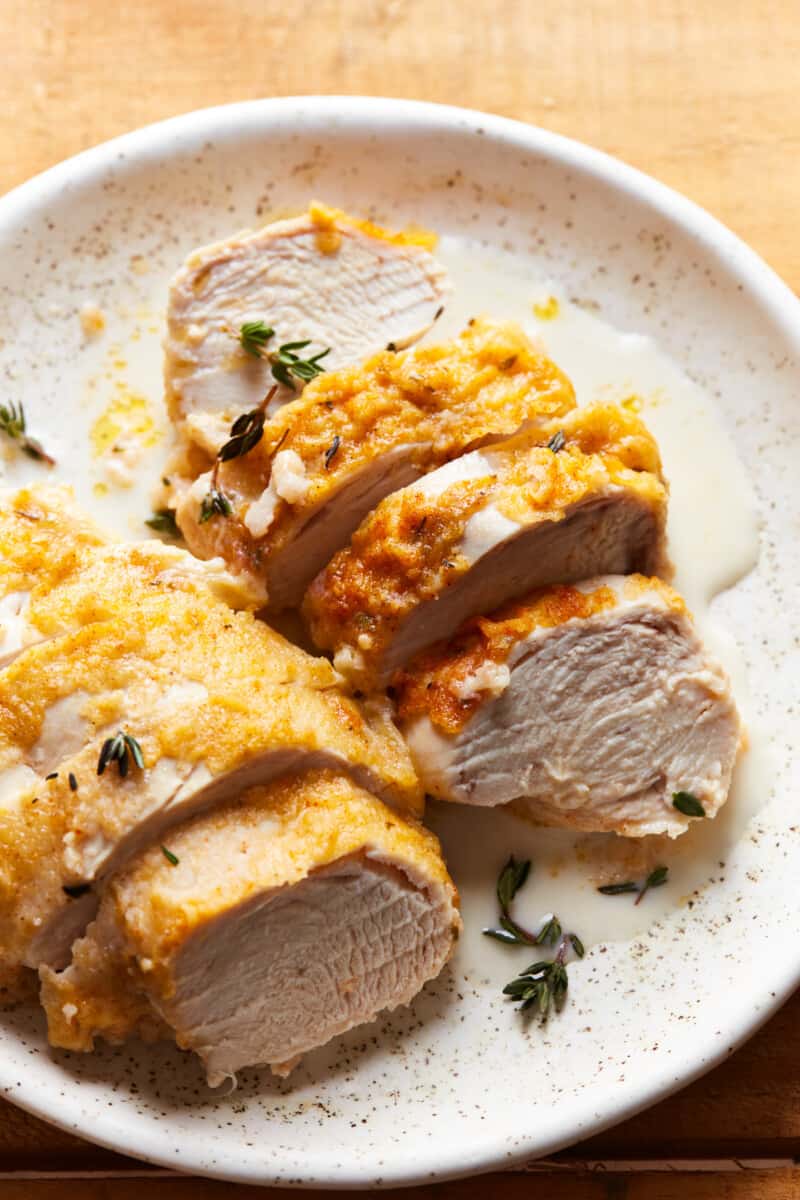 Ingredients
Chicken: Use skin-on chicken breast.
Butter: Use real butter, not margarine. It won't give you the same creamy texture or rich flavor.
Flour: We're using flour to dredge the chicken breast, to crispy up the texture.
Seasonings: Paprika, herbs de Provence, salt & pepper
Dry Milk Powder: Mixed with hot water, this creates a milk to add into the dish.
How to Make Butter Baked Chicken
Be sure to see the recipe card below for full ingredients & instructions!
Preheat oven and grease baking dish.
Dip the chicken breasts in water, then coat with flour and herb mixture.
Place chicken in the baking dish and dot with pats of butter.
Bake for 15 minutes.
Take chicken out of the oven and pour in the milk mixture.
Cover with aluminum foil and bake for 30-40 more minutes.
That's it! Delicious creamy baked chicken ready to eat!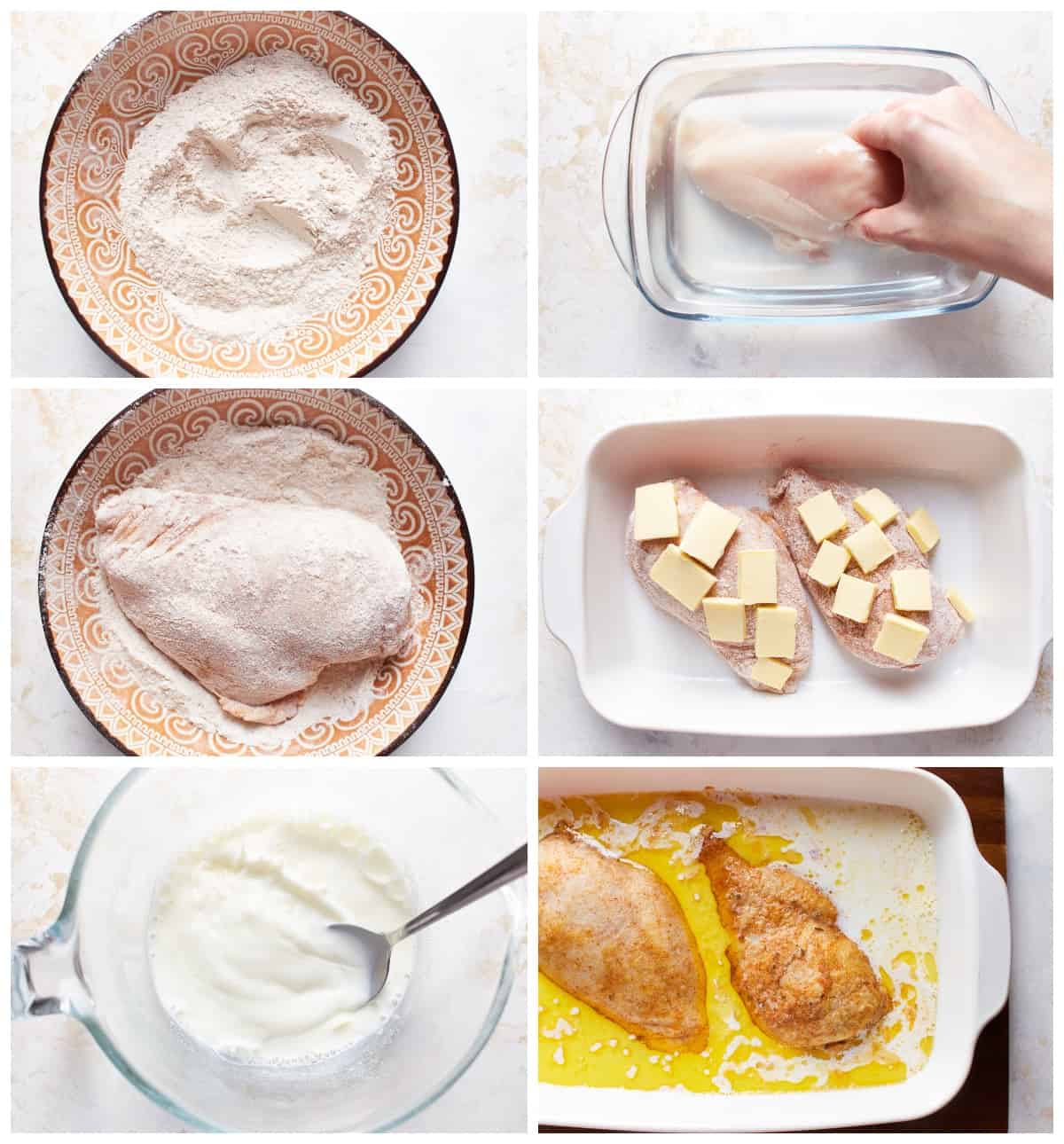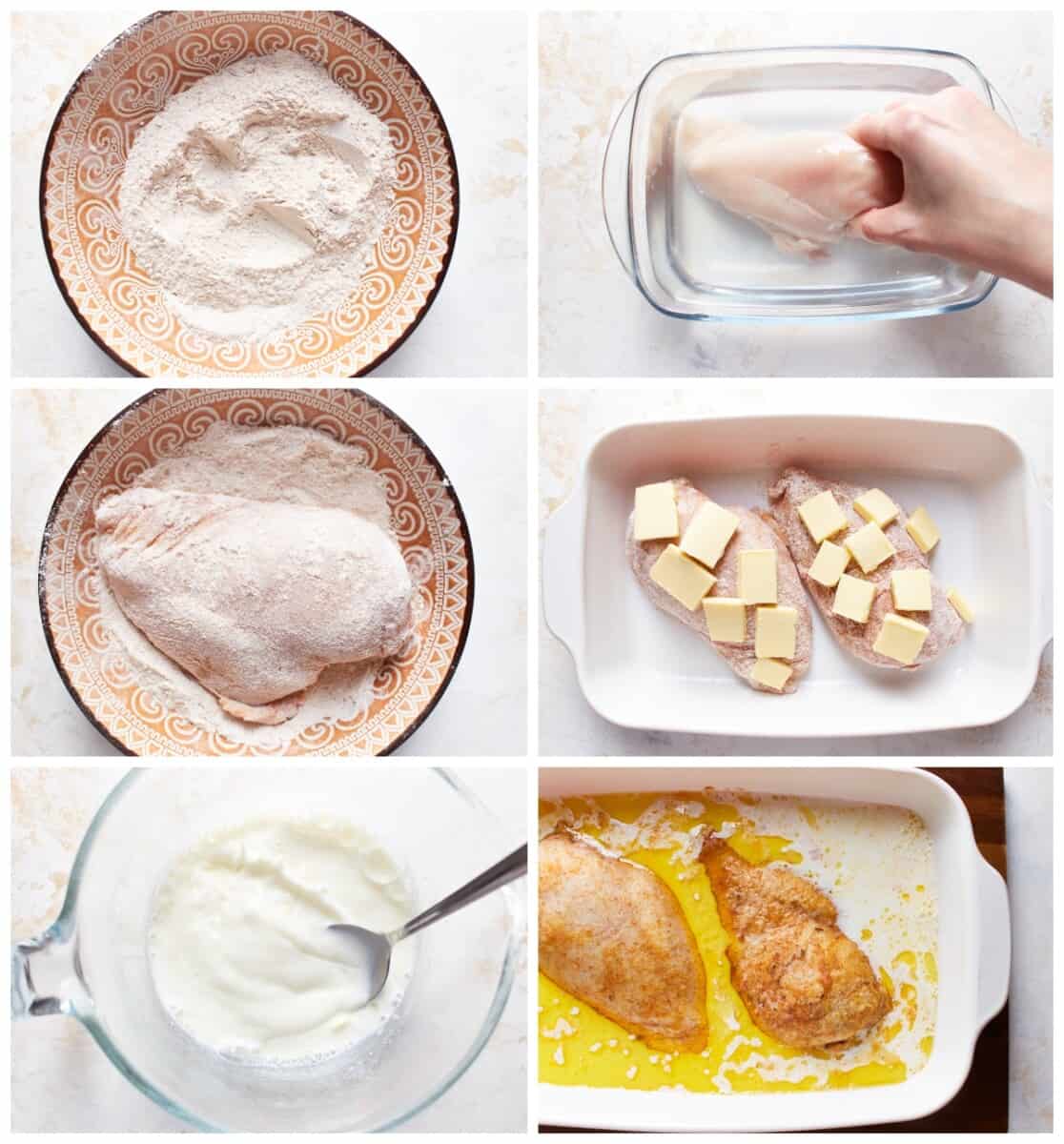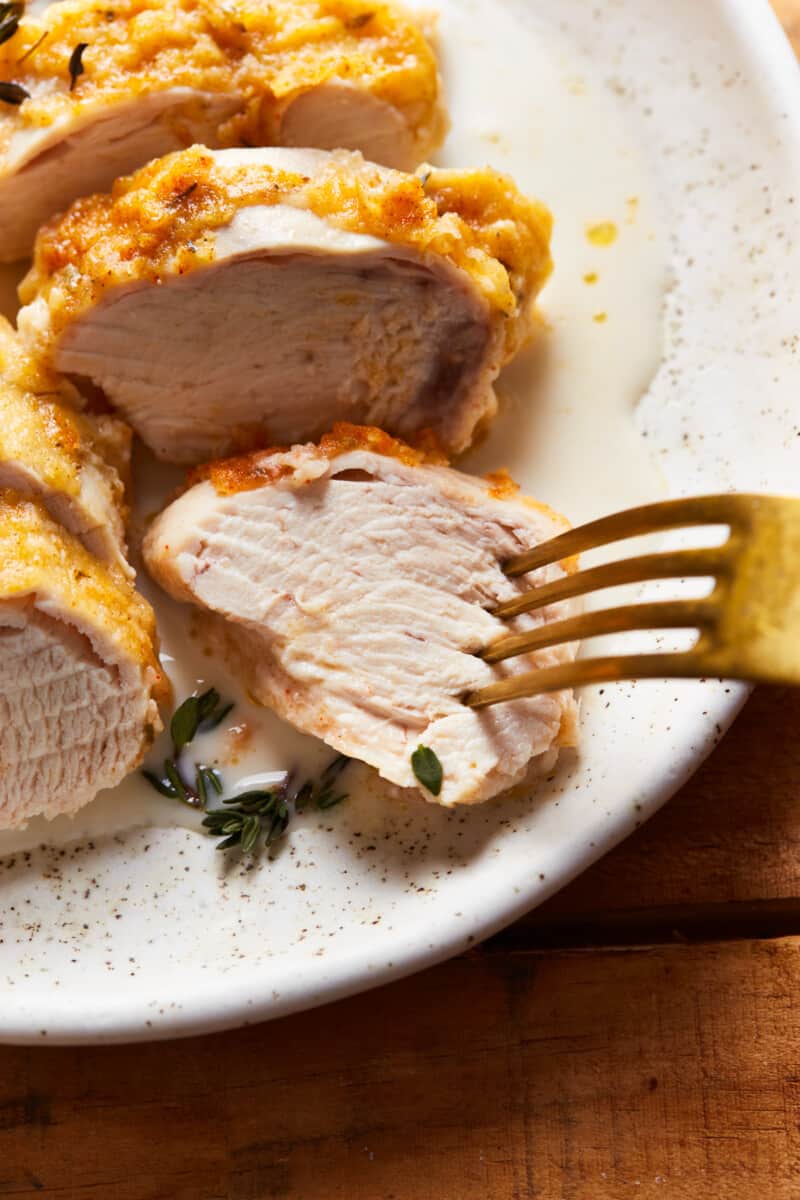 When I say easy chicken recipe, I mean easy! It takes a while to bake, but the process of making it is so simple. Don't confuse with Indian butter chicken though which is also delicious!
What kind of chicken should I use?
This recipe uses chicken breast with skin on–we want it to get crispy! But you can substitute chicken thighs if you prefer. Just adjust the cook time as needed.
Why do you use dry milk powder?
Dry milk powder create a thicker, creamier texture. Using regular liquid milk thins out the consistency too much for my liking, although you can use it instead if needed.
What other seasonings can I add?
I love the mix of parika and herbs de provence for this simple baked chicken. It creates a nice savory flavor. But you could also add garlic, rosemary, Italian seasoning, or chili powder to add heat.
Serving Suggestions
Serve this creamy butter baked chicken with any and all of your favorite meals. It makes a great main with a variety of side dishes. I love serving it with rice, veggies and potatoes. But it really does go with anything.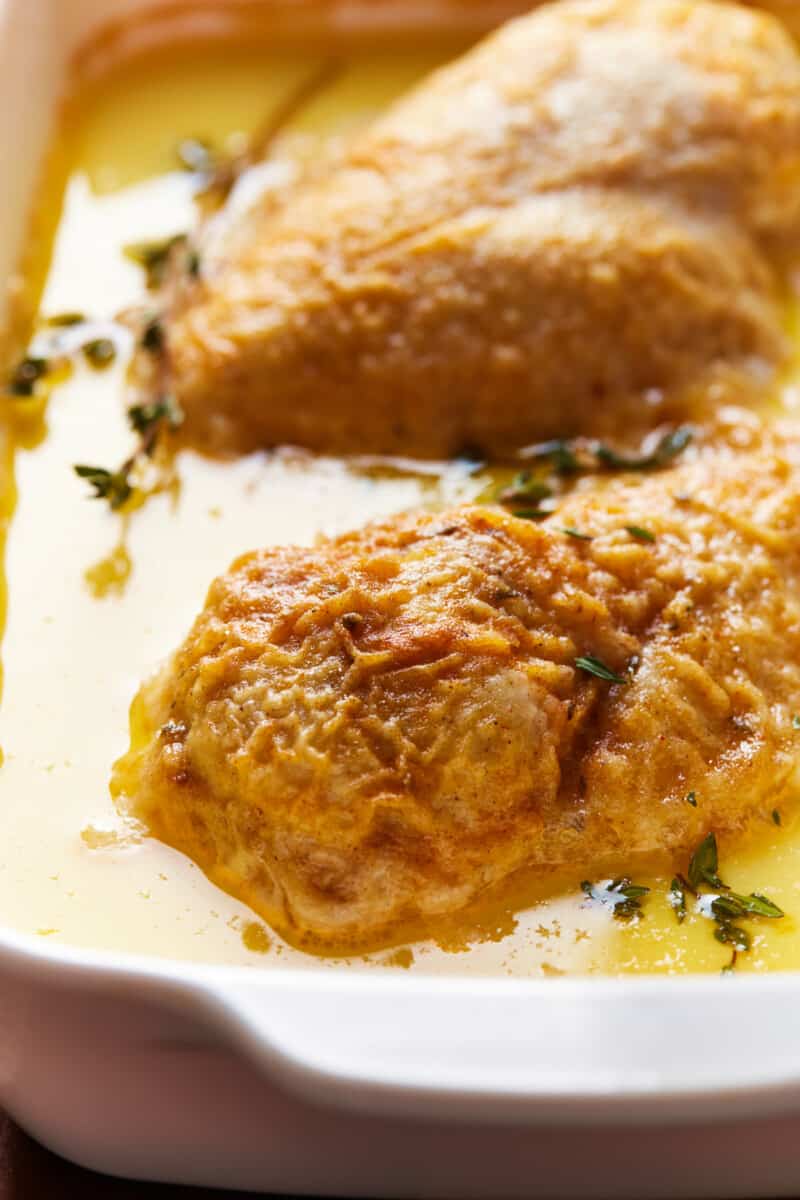 I can't get over how creamy this chicken is. Sometimes simple ingredients really add up to one amazing meal! This butter baked chicken with cream is so flavorful, and so easy to make. The flavors bake to perfection and make the juiciest chicken ever.
Tips!
Be sure to grease the baking dish to prevent sticking or burning.
Keep the dish uncovered for the first 15 minute cook time (before adding the milk). Then cover it for the bulk of baking.
Internal temperature should reach 165F before consuming.
Store leftovers in an airtight container, in the fridge, for 3 days.
Reheat in the oven to get the crispy skin back for the second round.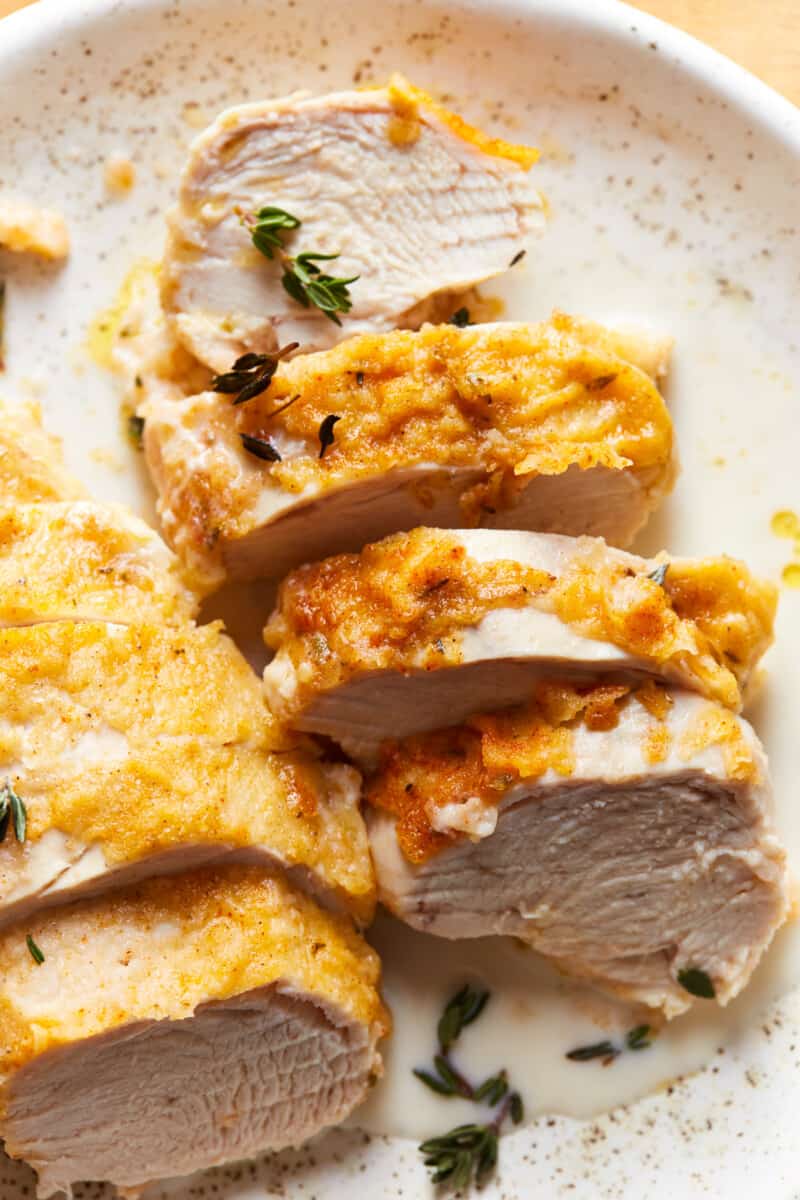 Add this butter baked chicken recipe to your weekly menu ASAP. The whole family will love it, and you'll love making it. It's crispy, creamy, juicy, and so simple, you'll never get tired of it.
If you make this recipe be sure to upload a photo in the comment section below or leave a rating. Enjoy!