French Onion Soup Casserole is the perfect combination of a classic soup and an easy casserole recipe. This delicious French Onion Casserole is filled with caramelized onions, crunchy baguettes, and plenty of cheese. It tastes just like the soup, but in an easy to make weeknight dinner! I love this easy French Onion Soup Casserole!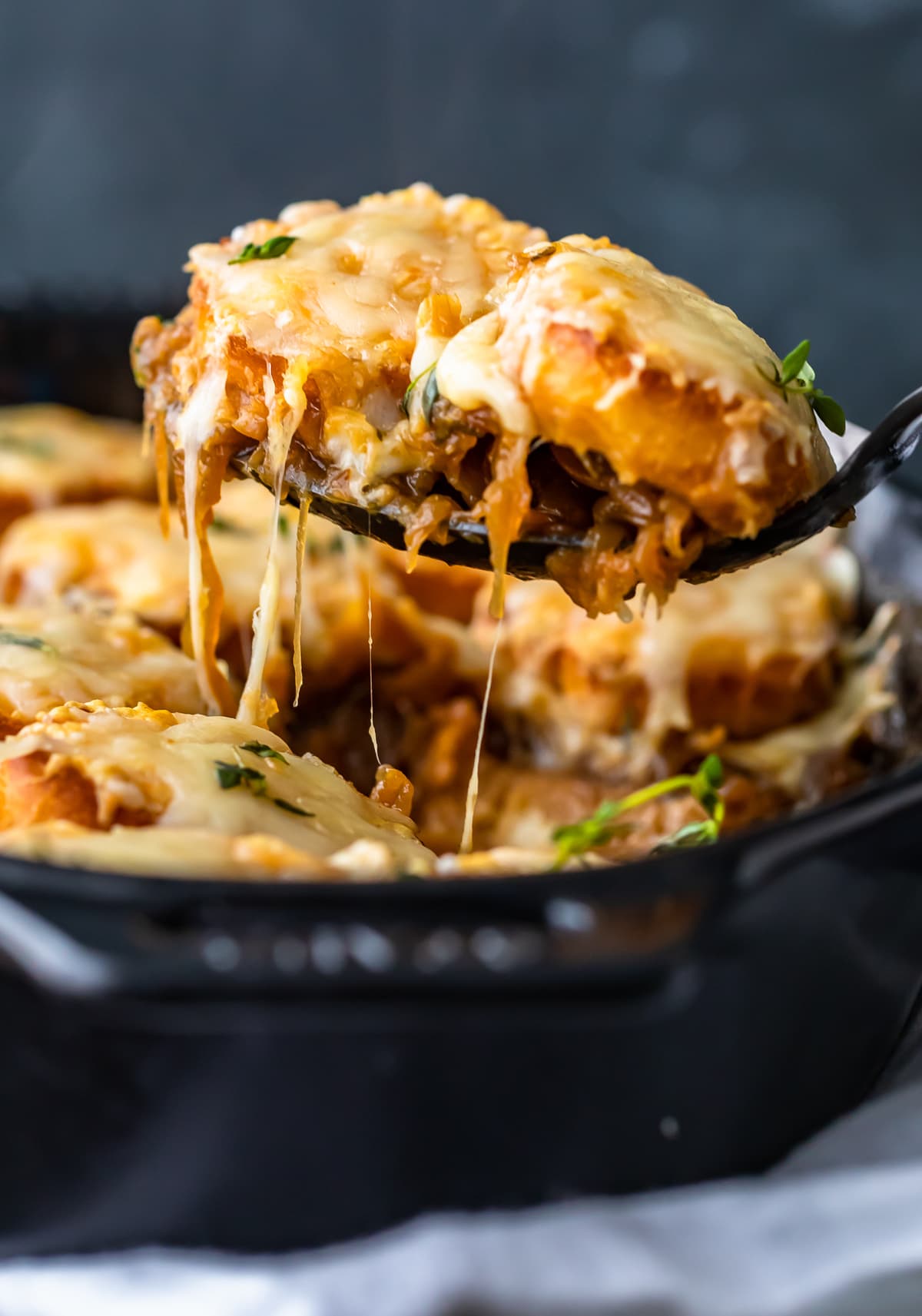 Easy French Onion Soup Casserole
What do you get when you combine classic french onion soup with an easy casserole recipe? Easy French Onion Soup Casserole!
French Onion Soup is such a classic, and for good reason. The mixture of flavors is just perfect, and it always feels like such a special treat. I love the slightly sweet yet savory taste of the soup, with croutons and cheese on top. Yum!
Since I'm a fan of easy meals, of course I'm obsessed with casseroles. I wanted to take those amazing flavors from the soup and turn it into an easy casserole recipe that can be made any night of the week! This Easy French Onion Soup Casserole turned out so perfectly, and I think it's even more crave-worthy than the soup.
You get the delicious caramelized onions, the crispy baguette slices, and lots of cheeeese all mixed together into one dish. I absolutely LOVE this French Onion Casserole!
This easy French Onion Casserole recipe is the perfect blend of flavors!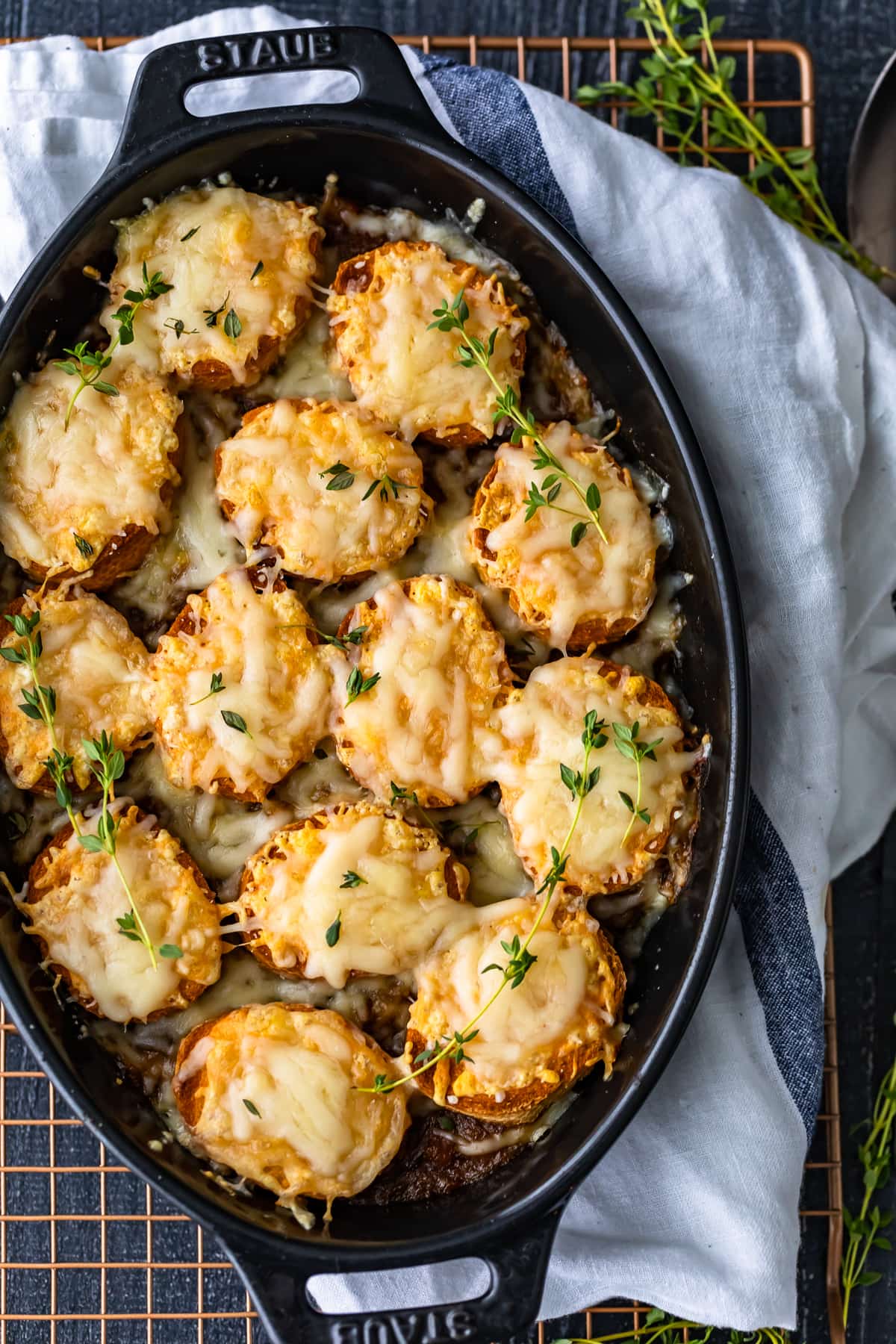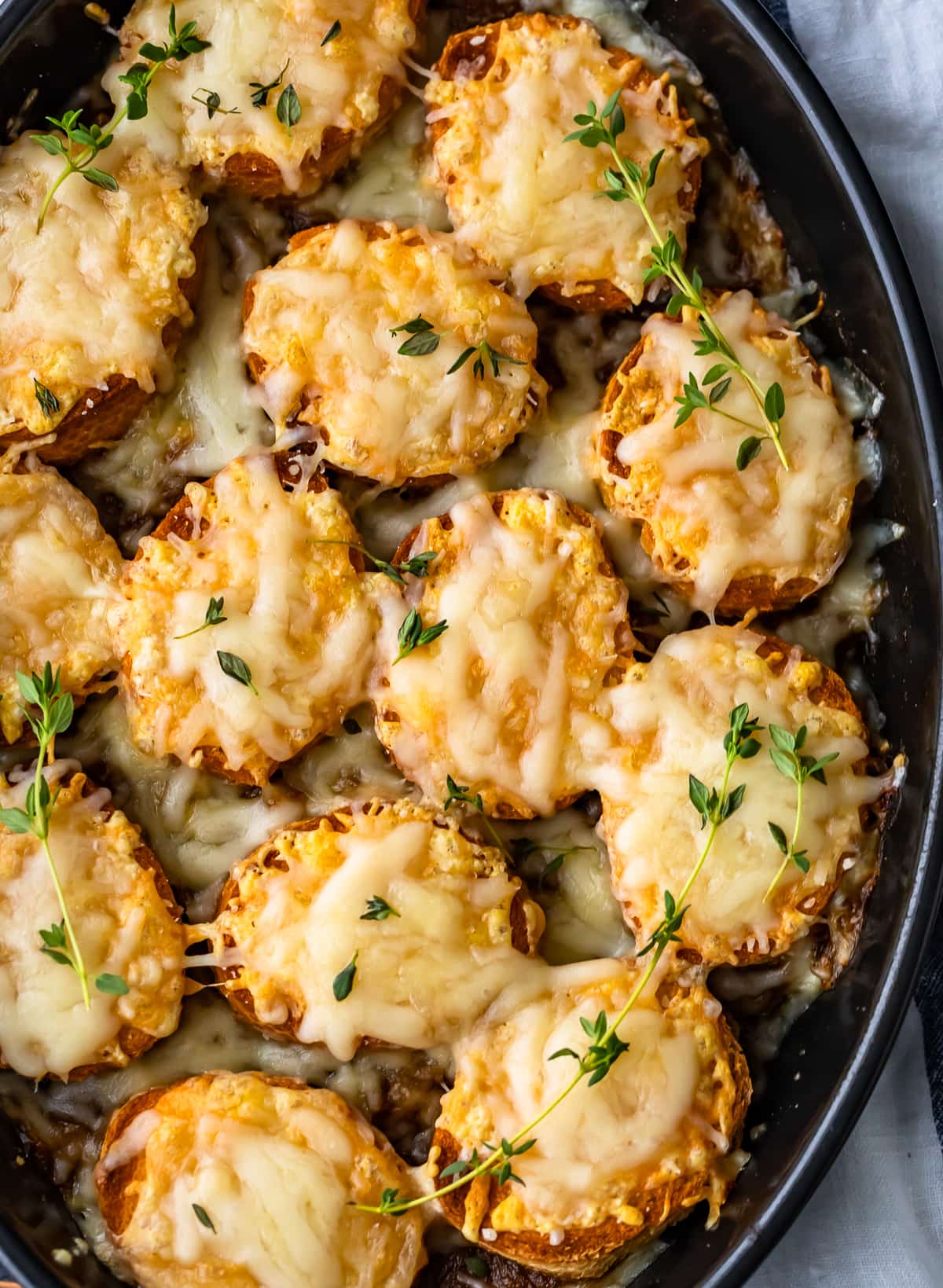 French Onion Casserole Recipe
What's not to love about this recipe? An easy french onion soup recipe in the form of an easy to make casserole dish that the whole family will love! Easy, easy, easy (and SO tasty).
Take all of the ingredients and things you love about French Onion Soup, and put them in thus french onion casserole. You get the onions, the crunch, and the cheese! It's easy to dig in and get the perfect bite with all the flavors melted together.
French Onion Soup Casserole Ingredients:
Vidalia Onions
Yellow Onions
Baguette Slices
Thyme
Bay Leaf
Beef Broth
Chicken Broth
Gruyere Cheese
Dry Sherry
Butter
Salt & Pepper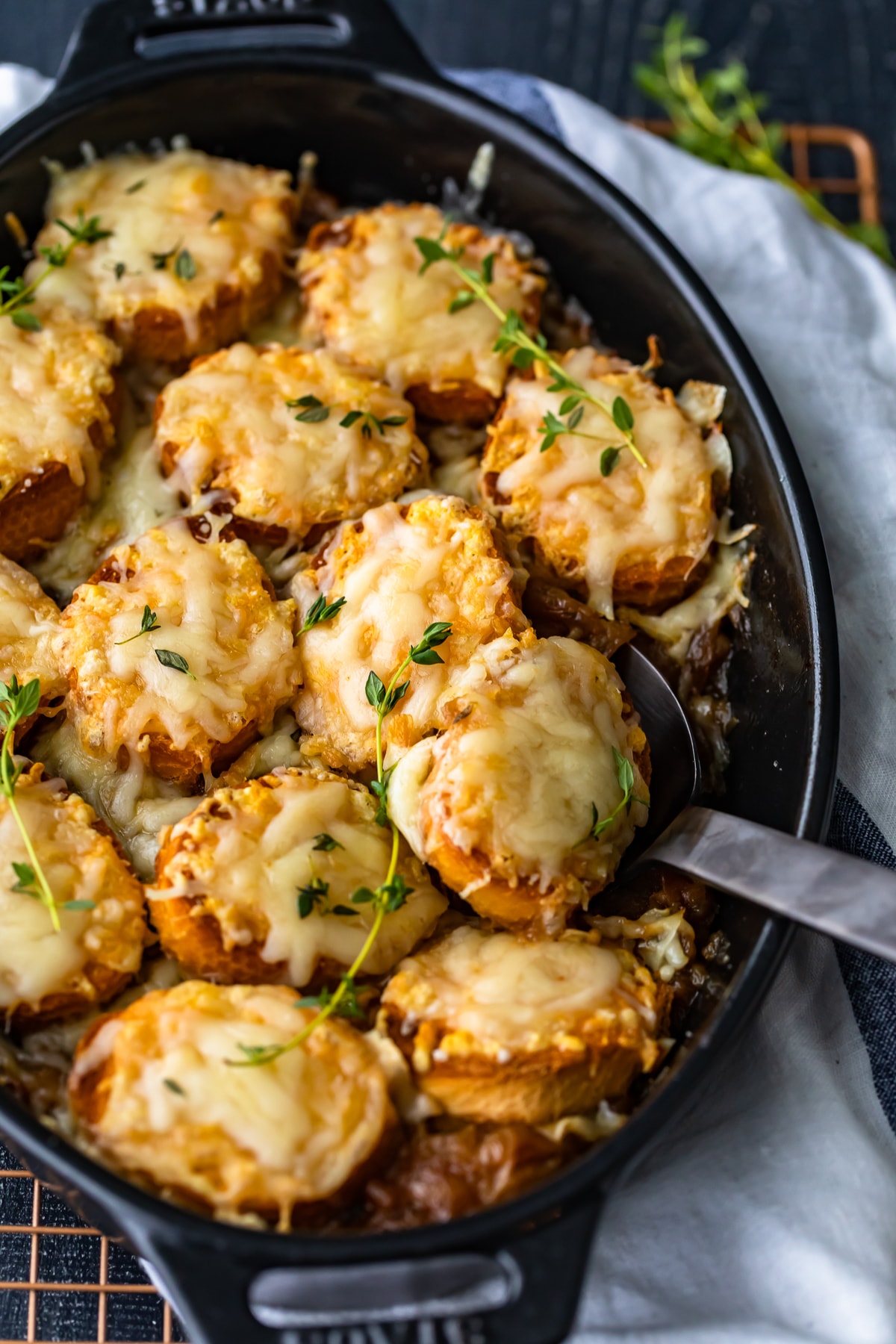 How to Make French Onion Casserole
Gather up your ingredients and start making this amazing French Onion Casserole. You can make parts of this recipe ahead of time to help cut down on cook time. The onions can be made up to 3 days ahead, and the baguette slices can be made up to 5 days ahead. That way you can just jump in and bake the casserole when you get home from work and you're ready to eat!
How to Make French Onion Soup Casserole:
Bake the baguette slices in the oven at 400°F for 8-10 minutes.
While the bread is toasting, add butter, sliced onions, salt & pepper, thyme and bay leaf into a prepared dutch oven. Remove toasted bread from the oven when it's done.
Place the lid on the dutch oven and cook the onions in the oven at 400°F. After 1 hour, stir the onions and then place them back in the oven, with the lid slightly ajar. Cook another hour.
Now removed the onions from the oven and stir. They should be a dark brown. Cook another 30 minutes if they don't seem dark enough. You really want to get a nice caramelized flavor out of them.
Transfer the pot of onions to the stove top, and place over medium high heat. Remove the bay leaf.
Add in the sherry, beef broth, and chicken broth. Bring the mixture to a boil, stirring constantly, for about 4-5 minutes until it has thickened.
To make the casserole, layer half of the baguette slices into the casserole dish. Then spoon the onions over each bread slice, and top with the remaining slices. Sprinkle the cheese over everything.
Cover the casserole dish with foil, and bake for 30 minutes at 400°F.
After that, remove the foil, switch the oven to broil, and broil the casserole for about 3 minutes to make the cheese bubbly and golden brown.
Be sure to check the recipe card below for more detailed instructions and the full recipe.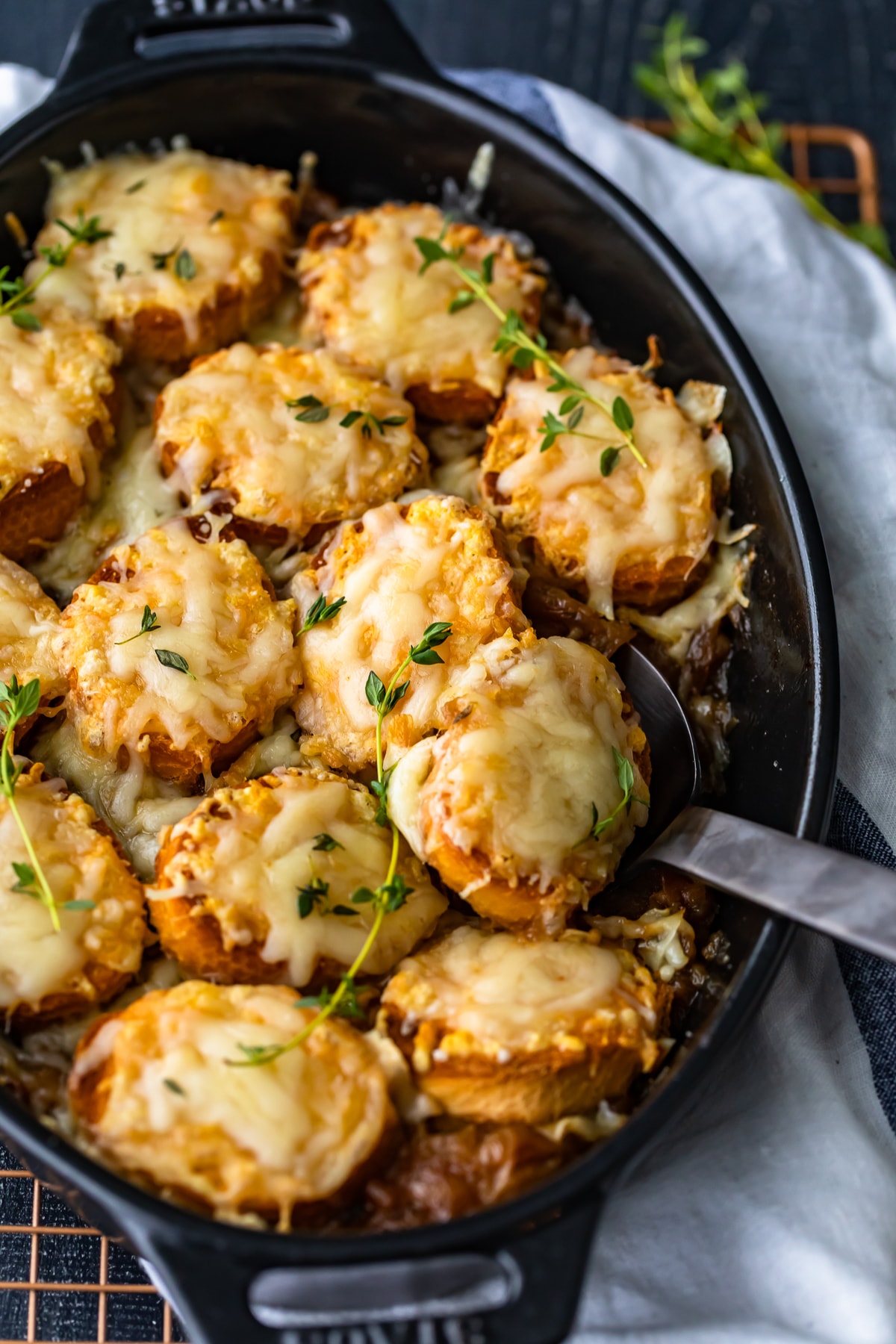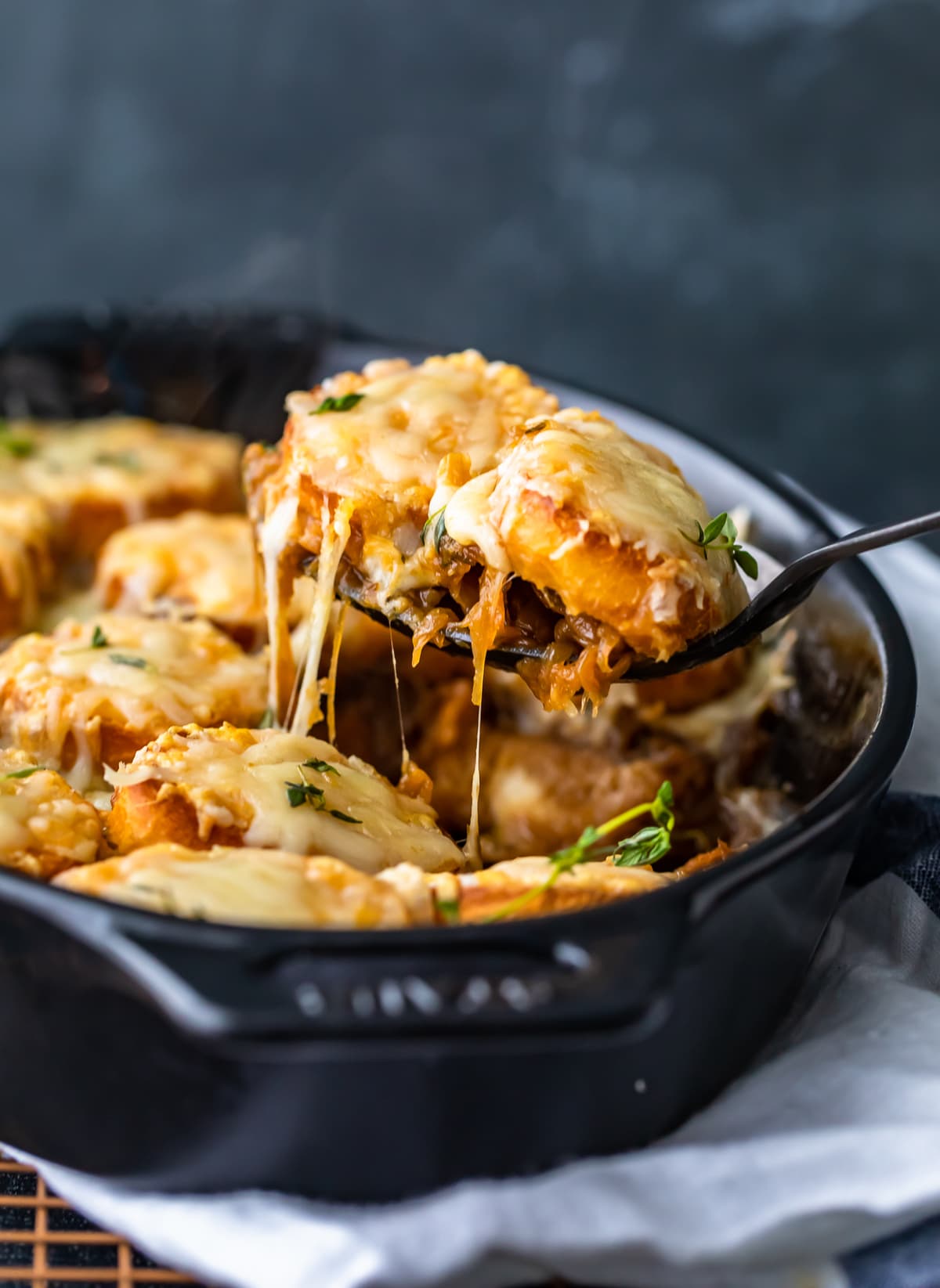 Easy French Onion Recipes
French Onion Soup is good, but I'm a fan of french onion everything. This French Onion Casserole is a new favorite, but I've got plenty of other recipes with these amazing flavors! Try my One Pan French Onion Chicken Skillet for the perfect easy chicken recipe. Or make these Mini French Onion Dip Bread Bowl for a fun party appetizer.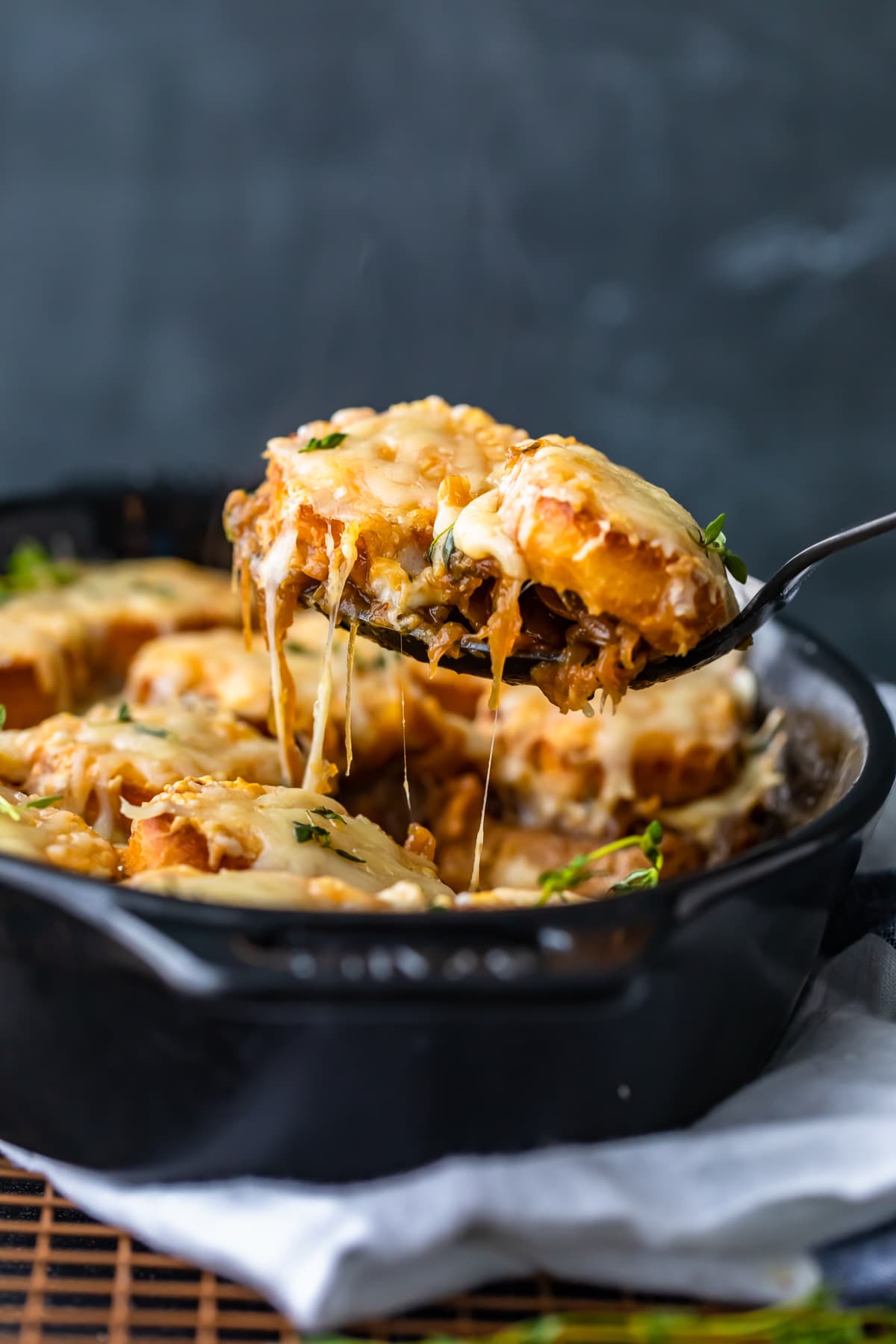 I can't wait for you to try this easy French Onion Soup Casserole because I just know you'll love it! Make this French Onion Casserole for a delicious dinner and enjoy!
See the recipe card below for details on how to make French Onion Casserole. Enjoy!
If you like this recipe, try these other easy casserole recipes!