Spinach Stuffed Chicken Breast is a 3 ingredient chicken recipe that's healthy (around 400 calories), made in under 30 minutes, and done in just one pan! This Spinach Stuffed Chicken Breast is one of our all-time favorite Stuffed Chicken Breast Recipes. Cheesy, delicious goodness.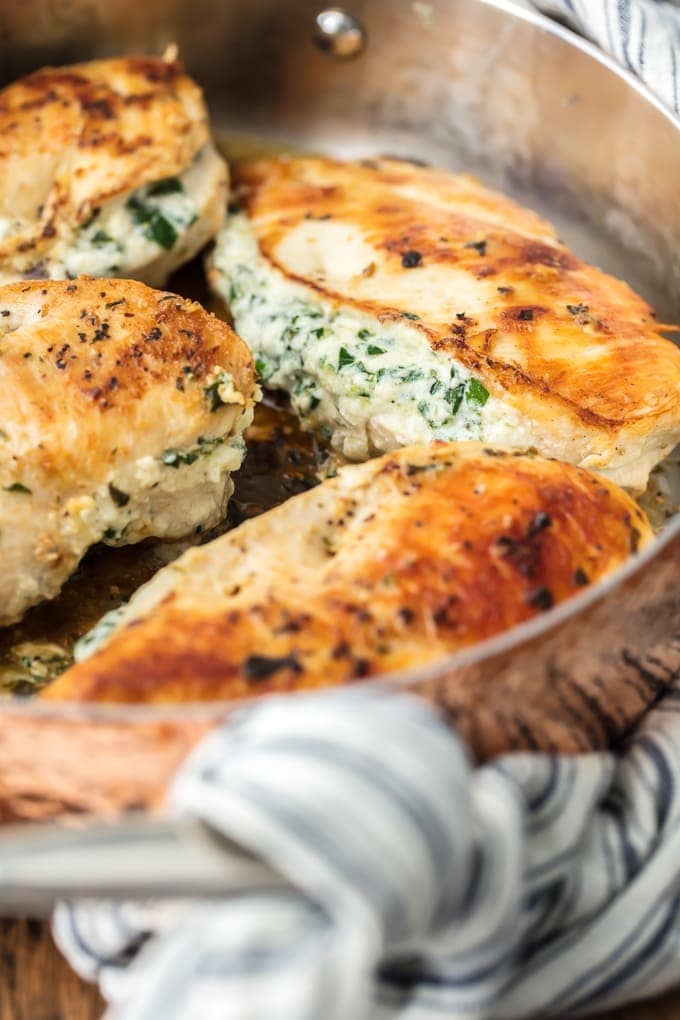 Spinach Stuffed Chicken Breast
Spinach Stuffed Chicken Breast has quickly become one of my all-time favorite recipes. I had a feeling that this would become a reader favorite too, and I was right!
This easy chicken recipe is stuffed with a mix of sautéed spinach mixed with Boursin Cheese, giving it the taste of spinach dip. This Stuffed Chicken Breast Recipe made me so excited when planning it because I knew it would be simple, flavorful, CHEESY, easy…all the best things. You only have one pot to clean up and it works like a dream for leftovers. What's not to love? Let's dig in.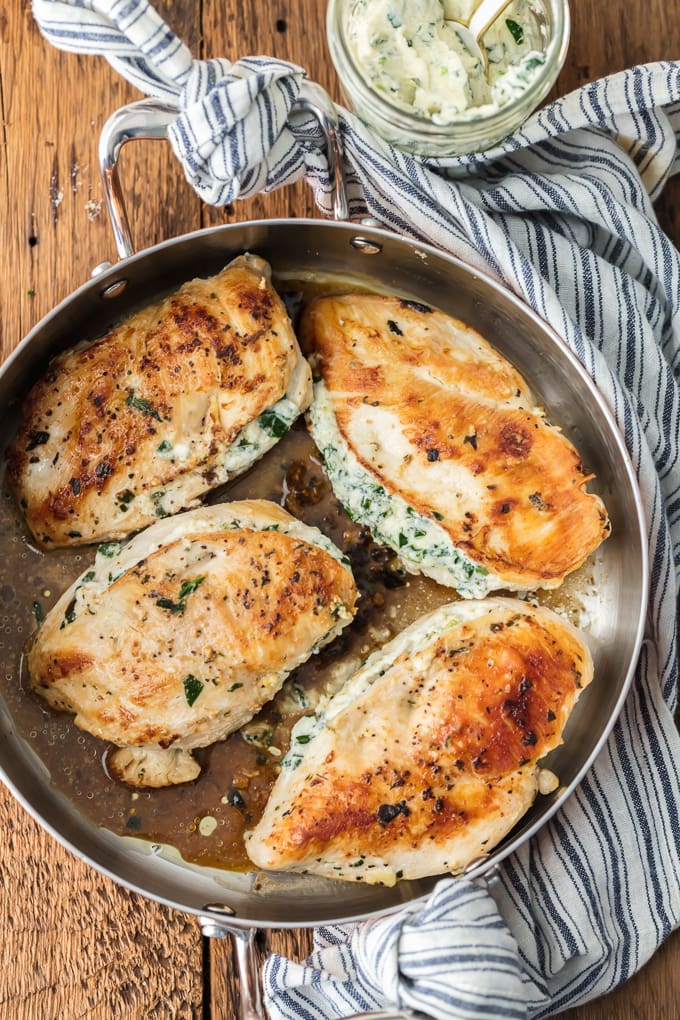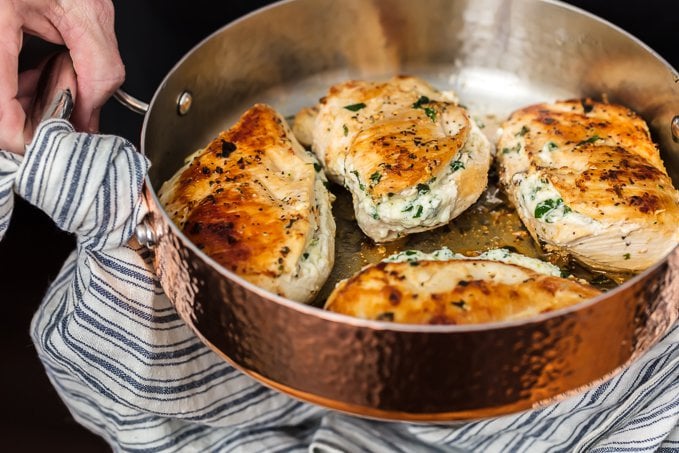 Tips for Making Spinach Stuffed Chicken Breast
The hack part of this Spinach Stuffed Chicken Breast Recipe comes in when making the "spinach dip". I realized that you could pretty much make spinach dip with just some Boursin cheese and sautéed spinach!
Spinach Dip is the perfect compliment to chicken and you can use as little or as much as you'd like. If you buy a pre-made spinach dip it comes with all sorts of additives we don't need. Making our own with just baby spinach and herbed cream cheese is the way to go!
This is one of the best Stuffed Chicken Breast Recipes I have ever tried! (Second only to our Enchilada Stuffed Chicken Skillet!)
Make it healthier
If you want to keep this Spinach Stuffed Chicken dish relatively healthy, you can use just a bit of the Boursin mixture and still have a creamy amazing dinner. You could also make Homemade Boursin Cheese using non-fat cream cheese and have even less calories!
If you want to spoil yourself (and you know this is how I hope you enjoy it) you should really lather it on and let it ooze out while cooking…creating an amazing cheesy buttery sauce at the bottom of the skillet. Serve this bad boy over rice and you're in business!
Even when using over 1 tablespoon per chicken breast this recipe is still around 400 calories per serving. Winning! Most Stuffed Chicken Breast Recipes aren't this low in calories!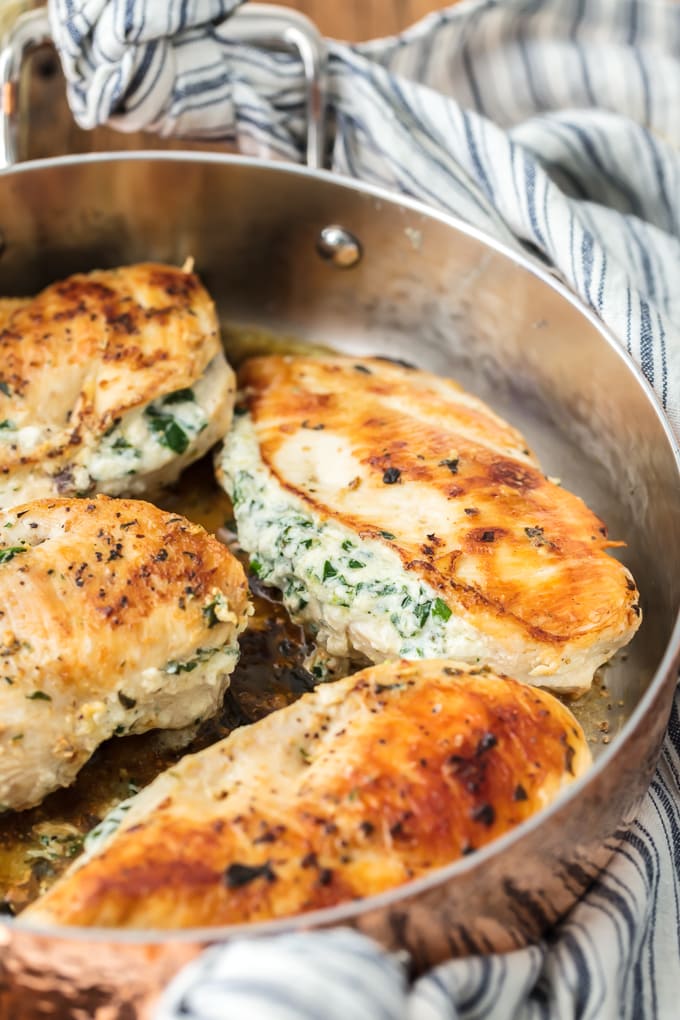 What is the internal temperature for stuffed chicken breasts?
Your chicken is fully cooked when it reaches an internal temperature of 165°F. On this Stuffed Chicken Breast Recipe, be sure you are testing the temp of the actual meat, not the spinach dip stuffing.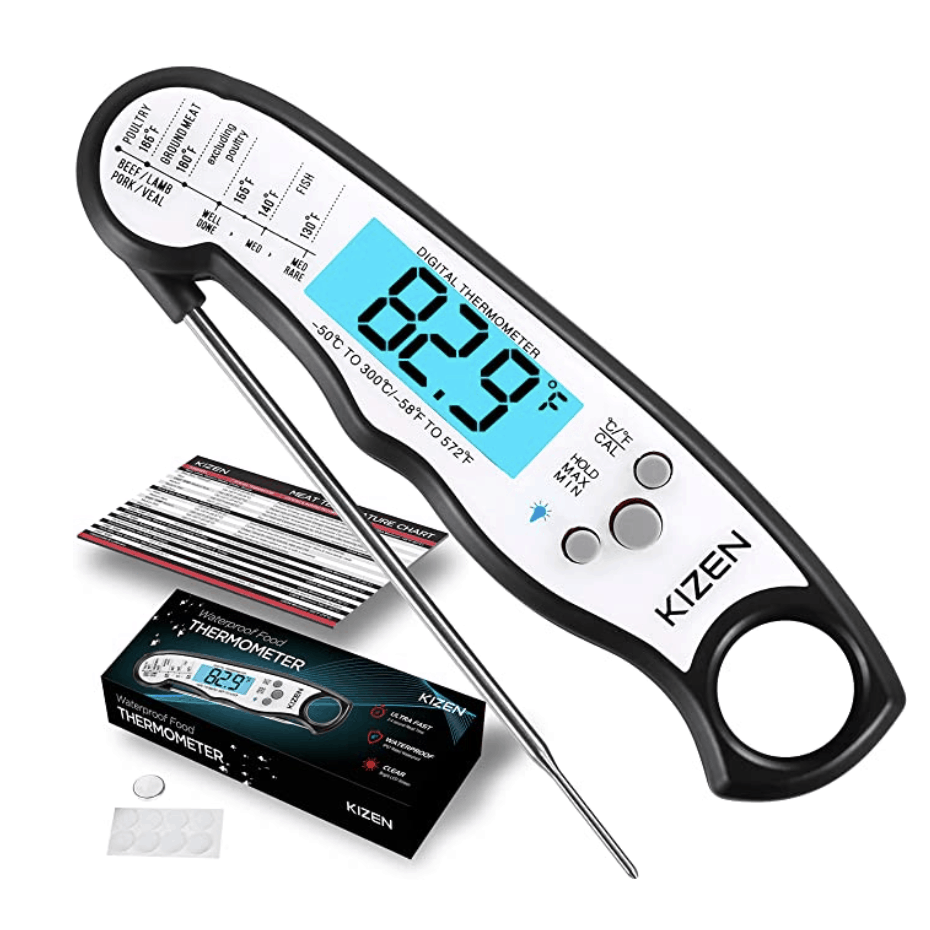 The Best meat thermometer!
I love using this meat thermometer for making sure the meat is at 165 degrees! Easy for beginners & totally worth the $10 cost!
Do stuffed chicken breasts cook quickly?
Since you are cutting in half and stuffing with cheese, each side of chicken is relatively thin. This means each side will cook at a shorter time than you might be used to.
We found each side took about 3-4 minutes to cook all the way through (zero pink) but it's good to check your internal temperature as referenced above.
What is Boursin Cheese?
Boursin cheese is one of my favorite cheeses ever! It is a garlic and herb cream cheese style spread that can be found in your local grocer's gourmet cheese section, or usually by the cream cheese. If you haven't tried it, today is the day!
We use it all the time in recipes like Basil Cream Chicken, Garlic Herb Scalloped Potatoes, and Pancetta Wrapped Chicken Roll Ups. Boursin Cheese makes this Spinach Stuffed Chicken one of the BEST Stuffed Chicken Breast Recipes we have ever tried.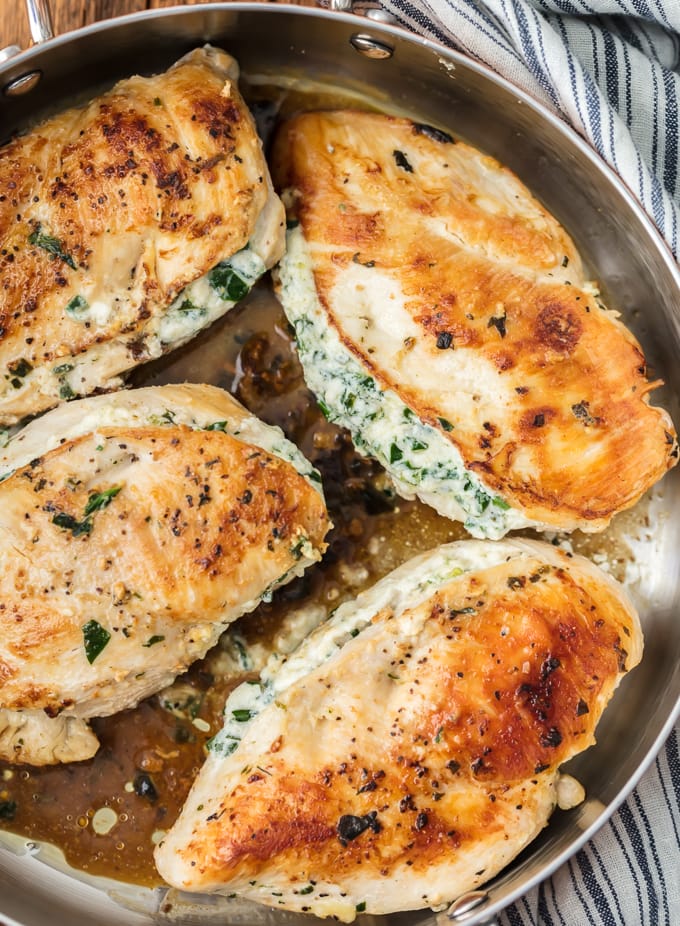 This Spinach Stuffed Chicken Breast has quickly become one of our favorite 30 minute recipes because it is easy, flavorful, quick, and fool-proof. I just can't get over that.
Try these other chicken breast recipes: