Strawberry Cookies are my favorite Strawberry Cake Mix Cookies! These White Chocolate Strawberry Cake Mix Cookies are so fun and delicious, and so super easy! Fun, festive, and SUPER SIMPLE! Strawberry Cookies with White Chocolate Chips are the perfect Pink Cookies for Valentine's Day, Easter, baby and wedding showers, and beyond! This Cake Mix Cookies Recipe will blow your mind.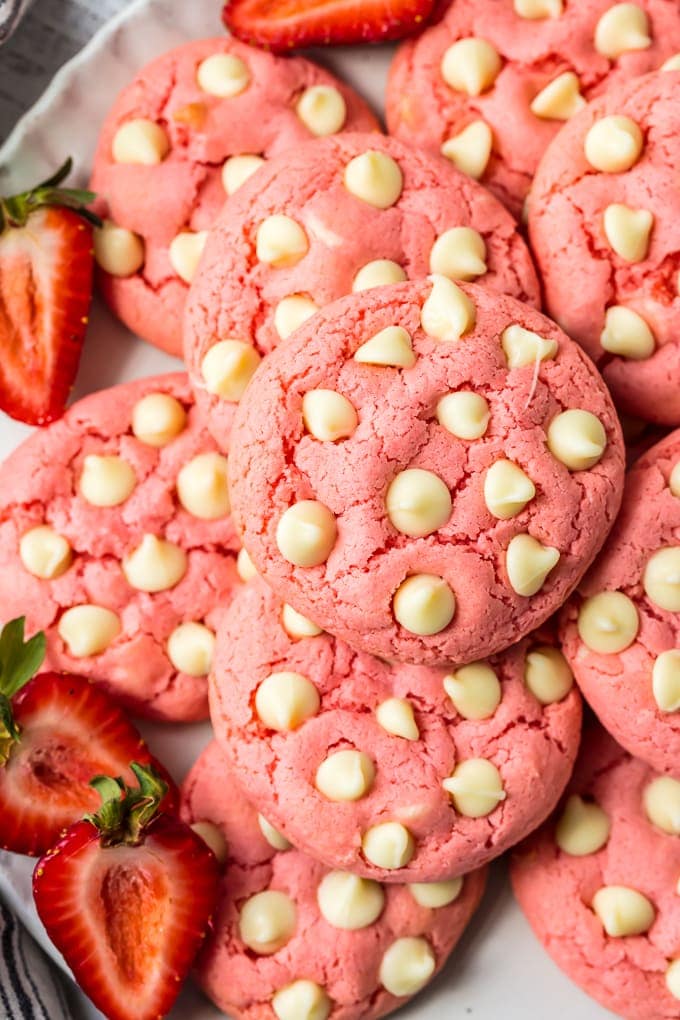 Strawberry Cake Mix Cookies (The BEST Strawberry Cookies)
These Strawberry Cake Mix Cookies are my GO-TO easy strawberry cookie recipe. I am so excited about these Cake Mix Cookies. Strawberry Cookies with White Chocolate Chips are a recipe I have made time and time again for everything from Valentine's Day, to Easter, to baby showers. I'm new to baking, so using cake mix in cookies is such an easy hack to creating a delicious cookie!
The accomplished bakers out there are going to think I'm a loser, but these are made with Strawberry Cake Mix!!! Be still my heart! These are so easy, fun, and delicious, my new favorite Valentine's dessert! Really, I love strawberry year-round, so these will be in my kitchen a lot longer than this holiday, but they sure are cute in pink and white.
If you're a big strawberry fan, or have a child that would love snacking on adorable Pink Cookies, this Cake Mix Cookie Recipe is for you!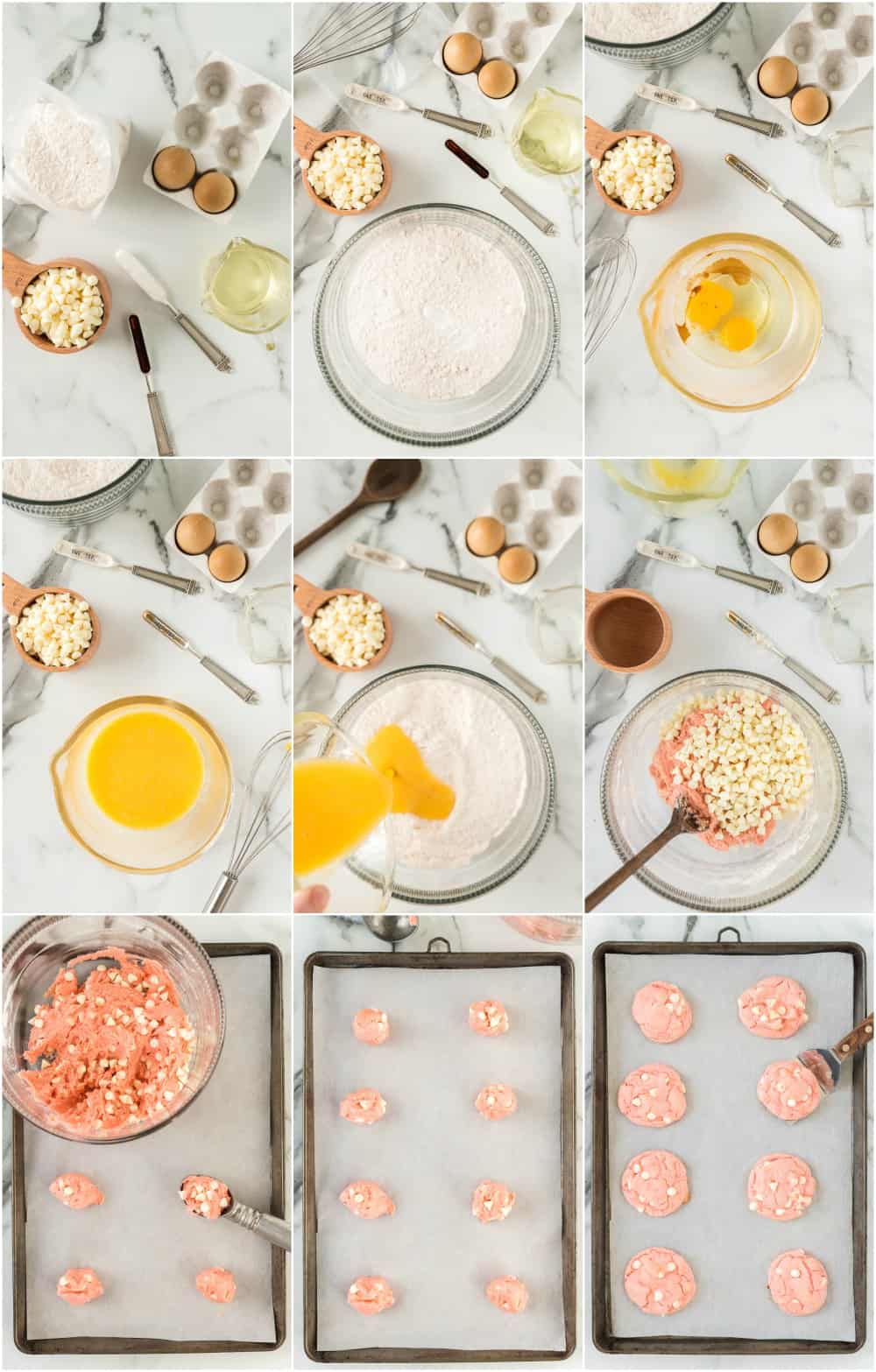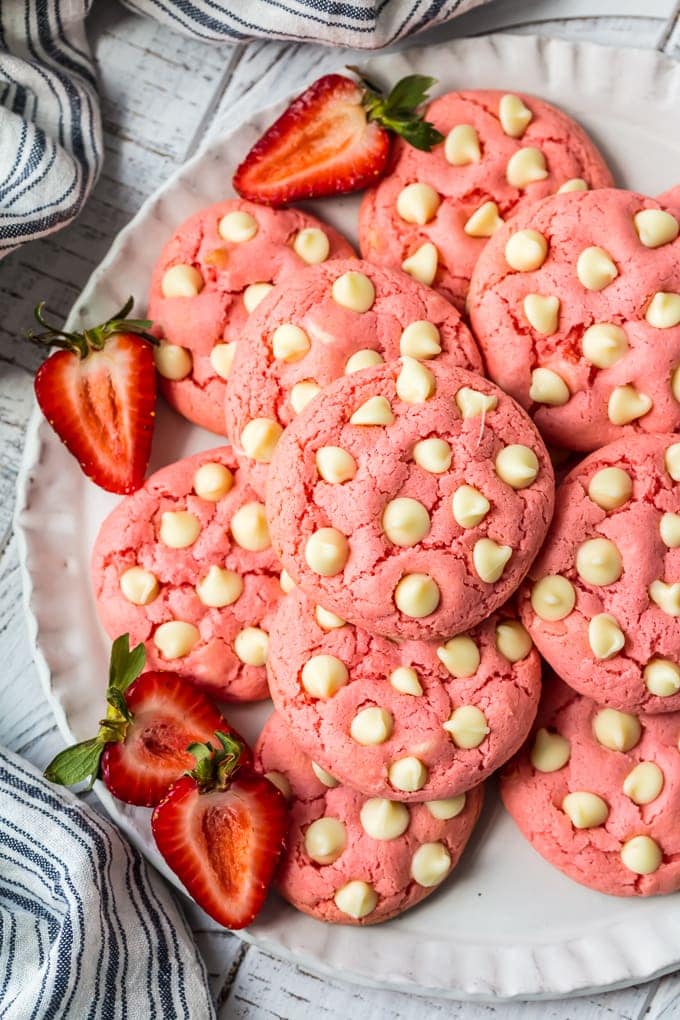 Tips for making Cake Mix Cookies:
Don't overbake the cookies. I made this mistake a few times! I like these a little bit gooey on the inside and slightly browned on the outside. When you see the pink begin to brown, get them out of the oven stat!
Add more white chocolate chips after you bake. That's right, this is the oldest blogger food pic trick in the book! Once you take the cookies out of the oven and place them on a cooling rack, add more fresh white chocolate chips to the top. It will make your Pink Cookies look LOADED with chocolate chips and you'll look like an experienced baker. High fives!
If you want to make variations of this recipe, you can use any type of cake mix! The sky is the limit.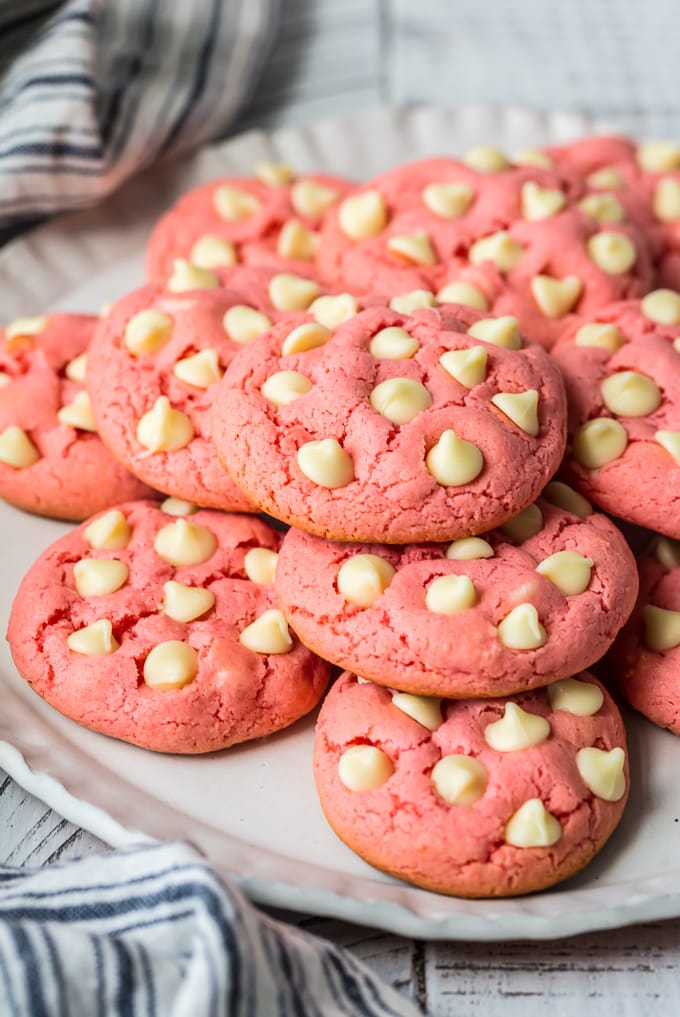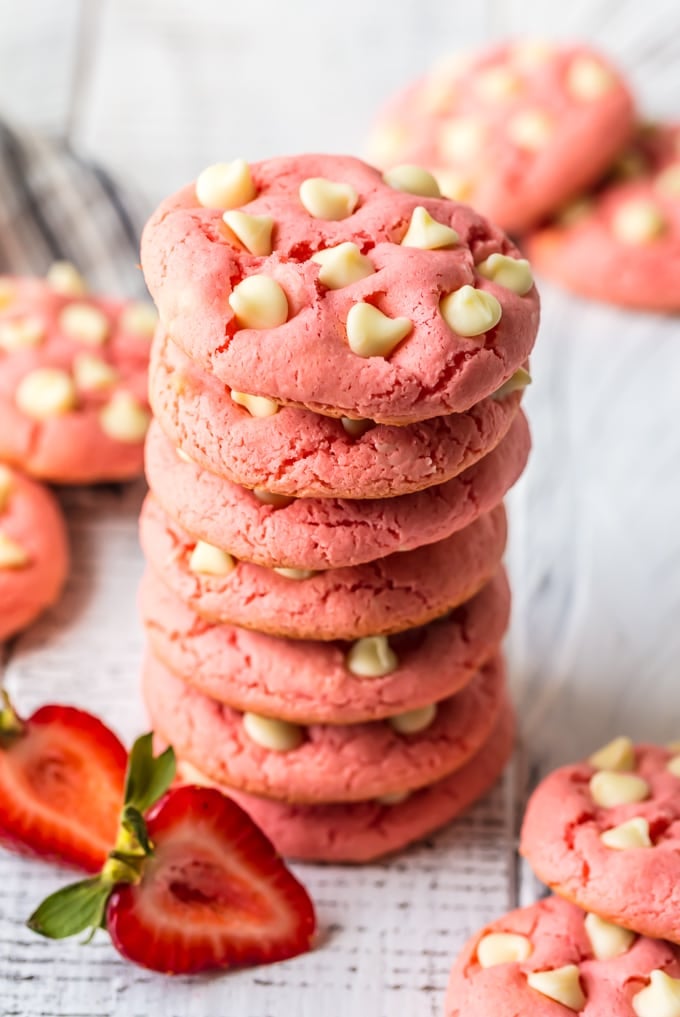 Strawberry Cookies for Valentine's Day
I love these White Chocolate Chip Strawberry Cookies for Valentine's Day (or a girl's baby shower!!), but I also love that the recipe could be made with any flavor cake mix!
Cake Mix Cookies…such an amazing idea. I'm trying lemon next. I think they will be so good! After that I plan to try some variation of chocolate…maybe devil's food cake cookies? Such a fun and super easy way to whip up a quick batch of cookies for any occasion. I think I'm addicted!!!
I have always loved easy dessert recipes, and this Cake Mix Cookies Recipe is quickly topping my list. Some other favorites include Easy Angel Food Cake (no, it's REALLY easy), Easy French Silk Pie, and Easy Carrot Cake Bars.
It's literally my JOB to try to find easy versions of your favorite classic recipes. If you have suggestions on recipes to adapt, please let me know in the comments below! I love new ideas.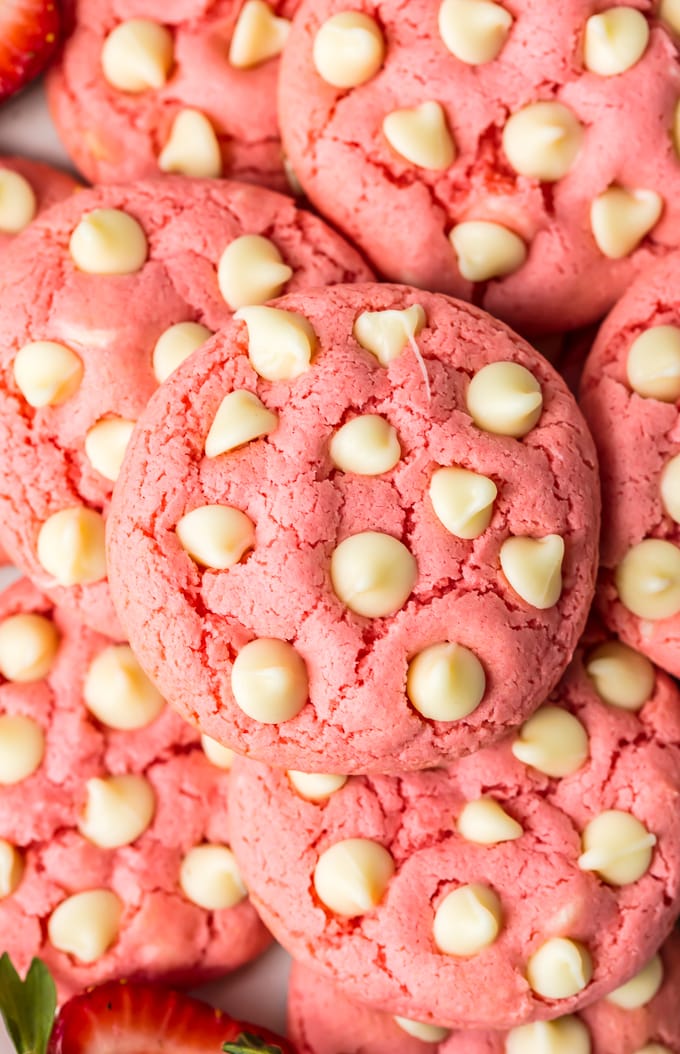 Strawberry Pink Cookies
Strawberry Cookies have been one of the most popular recipes on The Cookie Rookie. Fun, easy, cute, and delicious.
These pink cookies are great for this site because I love a good and EASY dessert recipe that's absolutely sure to please. These are a party favorite each and every time.
I can't believe I had never tried a Cake Mix Cookies Recipe before. I was missing out! These Strawberry Cookies are just too cute not to make for your next celebration.
If you're looking for more fun cookie recipes, be sure to check out our Easy S'more Cookies, Chocolate Gooey Butter Cookies, Fluffy Chocolate Sugar Cookies, and Soft Gingerbread Cookies.
If you're in the mood for strawberries and want to try more, these are some of our favorite Strawberry Recipes:
If you make this recipe be sure to upload a photo in the comment section below or leave a rating. Enjoy!