These easy Strawberry Cookies are made with a box of cake mix and some white chocolate chips. It's a quick and easy way to make soft, fluffy cookies for any occasion. The bright pink color makes them perfect for holidays like Valentine's Day or Easter cookies! Everyone always asks for the recipe when I bring out these strawberry cake mix cookies, but the real secret is how simple it is!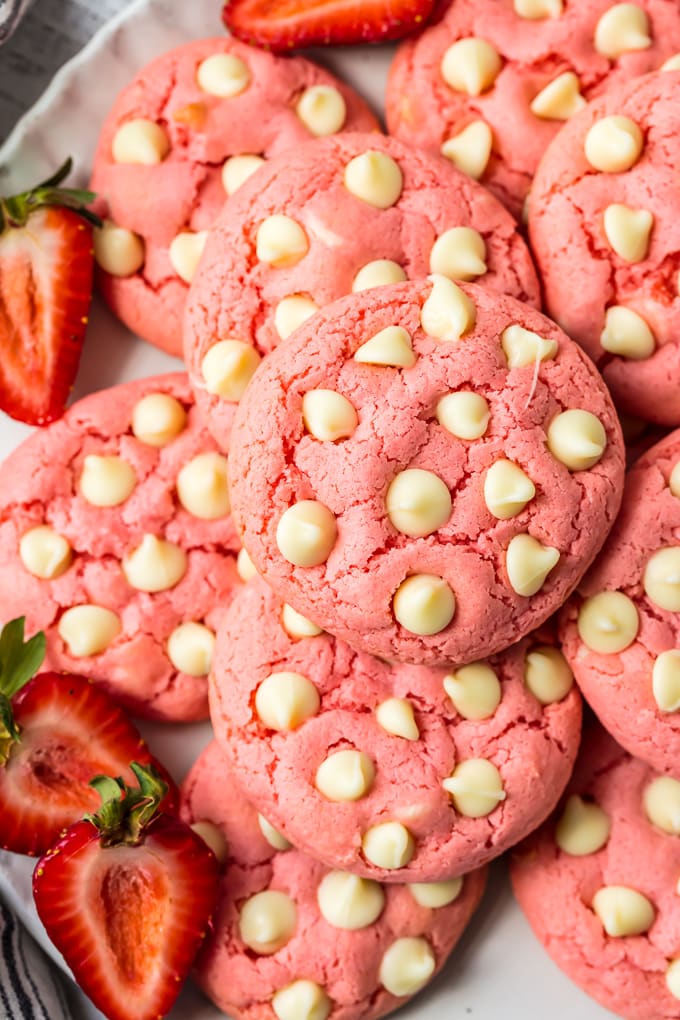 What's in Strawberry Cake Mix Cookies?
You can turn a box of cake mix into the most delicious strawberry cookies with just a few ingredients, most of which will already be in your pantry.
Strawberry Cake Mix: Use any brand of cake mix you like.
White Chocolate Chips: White chocolate complements the strawberry flavor perfectly.
Baking Powder: Be sure to use fresh baking powder for best results. This helps to create a fluffier texture.
Eggs: Eggs bind ingredients to build structure in any baked good. Without them, your cookies would end up dry, dense, or crumbly.
Vegetable Oil: Oil adds moisture to the cake mix.
Vanilla Extract: This adds just a bit more flavor.
Pro Tip: For chocolate strawberry cake mix cookies, swap the white chocolate chips for milk, semisweet, or dark chocolate chips!
Variations on Strawberry Cake Cookies
You can make cake mix cookies with any flavor you like by following the same basic instructions. If you don't want strawberry cookies, try chocolate cake mix cookies, vanilla, red velvet, or yellow cake mix instead. You can make these confetti cake mix cookies with funfetti mix, chocolate chip cake mix cookies, and other specialty flavors too.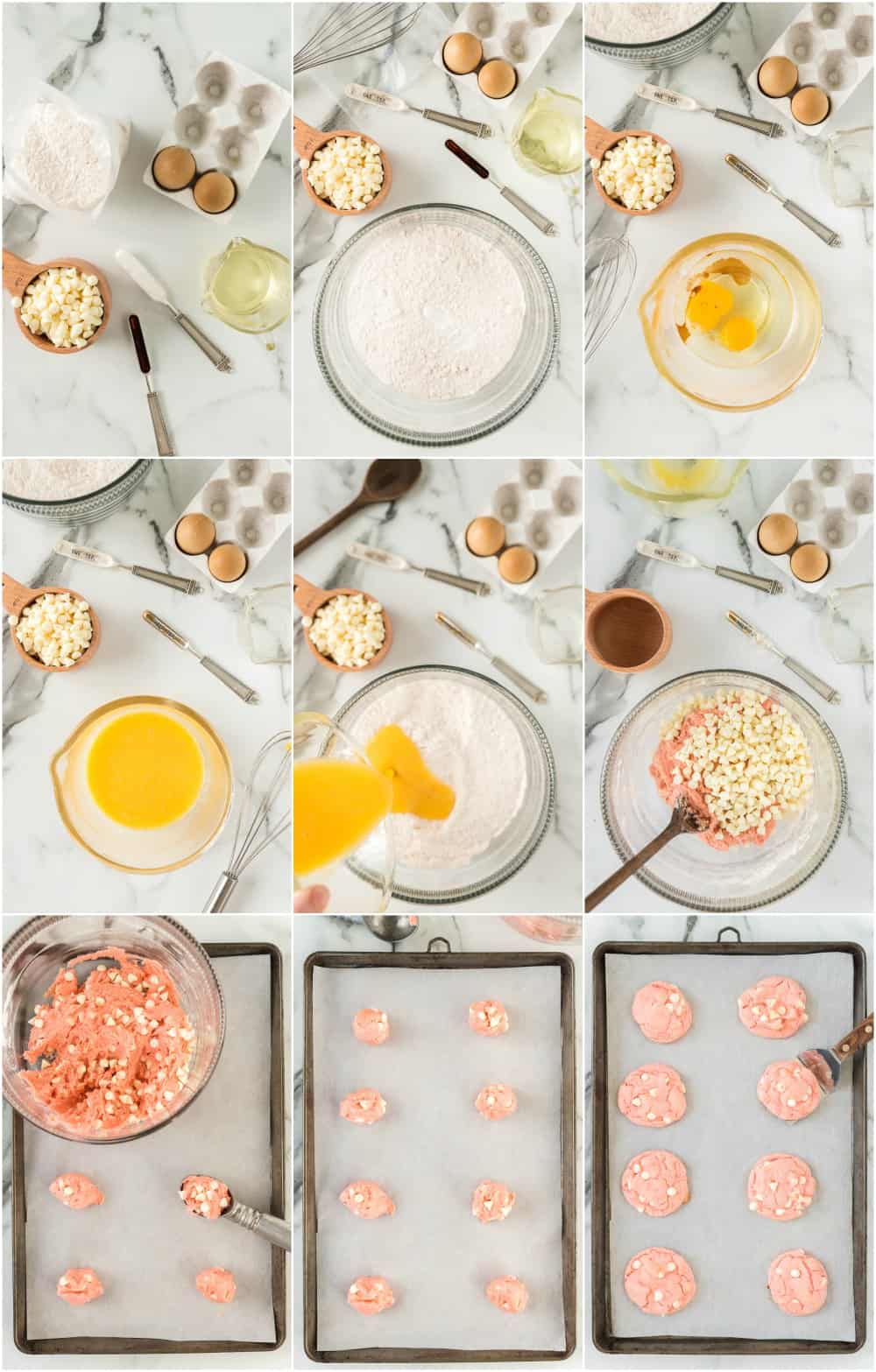 What's the difference between cake mix and cookie mix?
Cake mix and cookie mix generally contain the same ingredients, but in different proportions. The real difference here, though, is in the ingredients we add. For example, if you were making a cake, you'd need more liquid in the recipe, but since we're making cookies, we want a doughy consistency instead of a runny batter. So no water or milk needed.
What temperature should I bake cake mix cookies?
Preheat the oven to 350°F to bake these cookies.
How long do you bake cake mix cookies?
You only need about 9-10 minutes to fully bake these. they might look slightly underdone when you take them out of the oven, but that's a good sign. It's important not to overtake them, which happens quickly.
How can I decorate strawberry cookies for Valentine's Day?
These pink cookies can be topped with pink and white sprinkles, powdered sugar, or heart sprinkles. You can skip the chocolate chips if you prefer, but they add extra flavor. You could also use a cream cheese frosting or buttercream to finish them, and they'd taste just like a cupcake.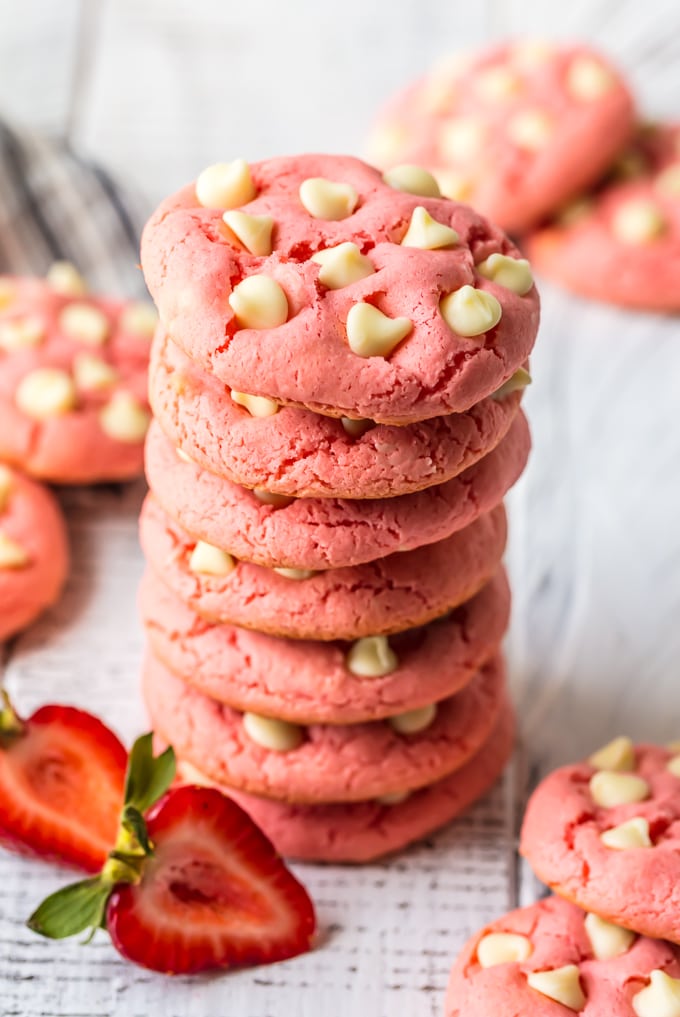 How to Store Strawberry Cookies from Cake Mix
Let the cookies cool completely before storing. Place them in an airtight container or resealable bag, and keep at room temperature up to 3 days. If you want to keep them a little longer, you can move them to the refrigerator for a couple more days, and let them come to room temp before eating.
How to Freeze Strawberry Cookies with Cake Mix
To freeze these strawberry cookies, place them in flat layers in a freezer-safe resealable bag, and place sheets of parchment paper between layers to prevent sticking. Once they're frozen, you can rearrange them as needed. Freeze up to 1 month, then thaw in the fridge before serving.
What to Serve with Strawberry Cookies from a Cake Mix
Serve these easy cake mix cookies as part of a Valentine's Day dessert display, including chocolate truffles, strawberry fudge, chocolate popcorn, and brownie cookies. They're also delicious as cookie sandwiches filled with vanilla frosting, chocolate buttercream, or red velvet ice cream.
Some of my favorite drink pairings include oat milk, chocolate coffee, or a Starbucks pink drink. For a boozy pairing, opt for a frozen mudslide, raspberry sorbet champagne float, or love potion martini. Cheers!
More Cake Mix Cookie Recipes We Love