This blue rock candy was inspired from the TV show, Breaking Bad. It is super easy and a great candy for a season finale party! This was my first attempt at making candy and definitely a keeper!
earlier this week i posted how to make the perfect stove-top burger. we made them last weekend for our breaking bad finale party (and called them heisenburgers :). with tomorrow being friday, i'm already getting sad that there will be no breaking bad on sunday…or ever again. it feels like a break-up. a break-up from an evil, selfish, prideful, and incredibly entertaining boyfriend. sigh. i'll say it again, if you haven't seen the show…get netflix TODAY. start watching it today. sadly, i think its the best television series i will ever watch. my brother has written a couple good articles about the show over at his blog, www.theschoolofathens.org. his thoughts on the finale are here. (spoilers! don't read it until you've bought netflix and watched all five seasons!!!)
the other themed food we made (besides buying a bag of funyuns in honor of Jesse) for the finale was blue-raspberry flavored rock candy. this was my favorite, and was so fun. lovers of the show will know the rock candy was inspired by the blue crystal meth made in the show. its a fun candy to make for breaking bad halloween costumes, or just a fun candy to make in general. it could be made in any color and hundreds of flavors. basically you can make your own jolly ranchers…and its super easy.
this is another pinterest inspired recipe, you can find the one i liked the best here.
its very very easy. mix together all of the ingredients, heat on a stove, boiling (and not stirring) until the temperature reaches 300 degrees, and then pour onto a covered cooking sheet until cool. once it is all the way cool and hardened (about 30 minutes), you can break apart and enjoy!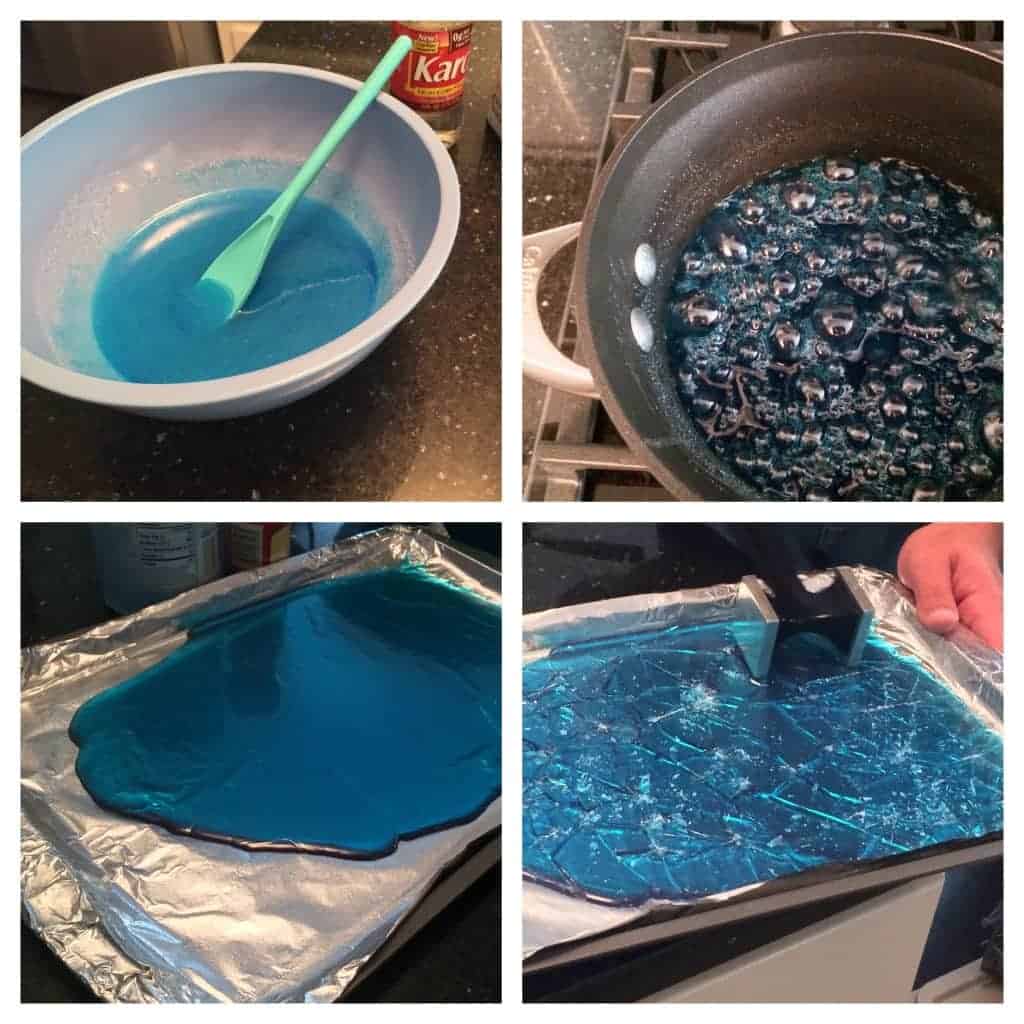 if making this candy with breaking bad in mind, you can place in baggies and crush into smaller pieces with a rolling pin. it looks very cute and would be perfect for all those thousands of people planning on breaking bad halloween costumes :)
we had so much fun watching our favorite show go out with a bang. loved the finale, and loved learning how to make candy for the first time! see
the detailed recipe below. enjoy!