Cake Mix Cookies are an easy way to enjoy fresh bakery-style cookies in your own home with practically zero effort. Making cookies from cake mix means you don't have to do any measuring and you simply can't mess up. You'll get soft, fluffy, flavorful, amazing cookies every time. Learn how to make cookies from cake mix in any flavor combination, and find even more box cake recipes to try.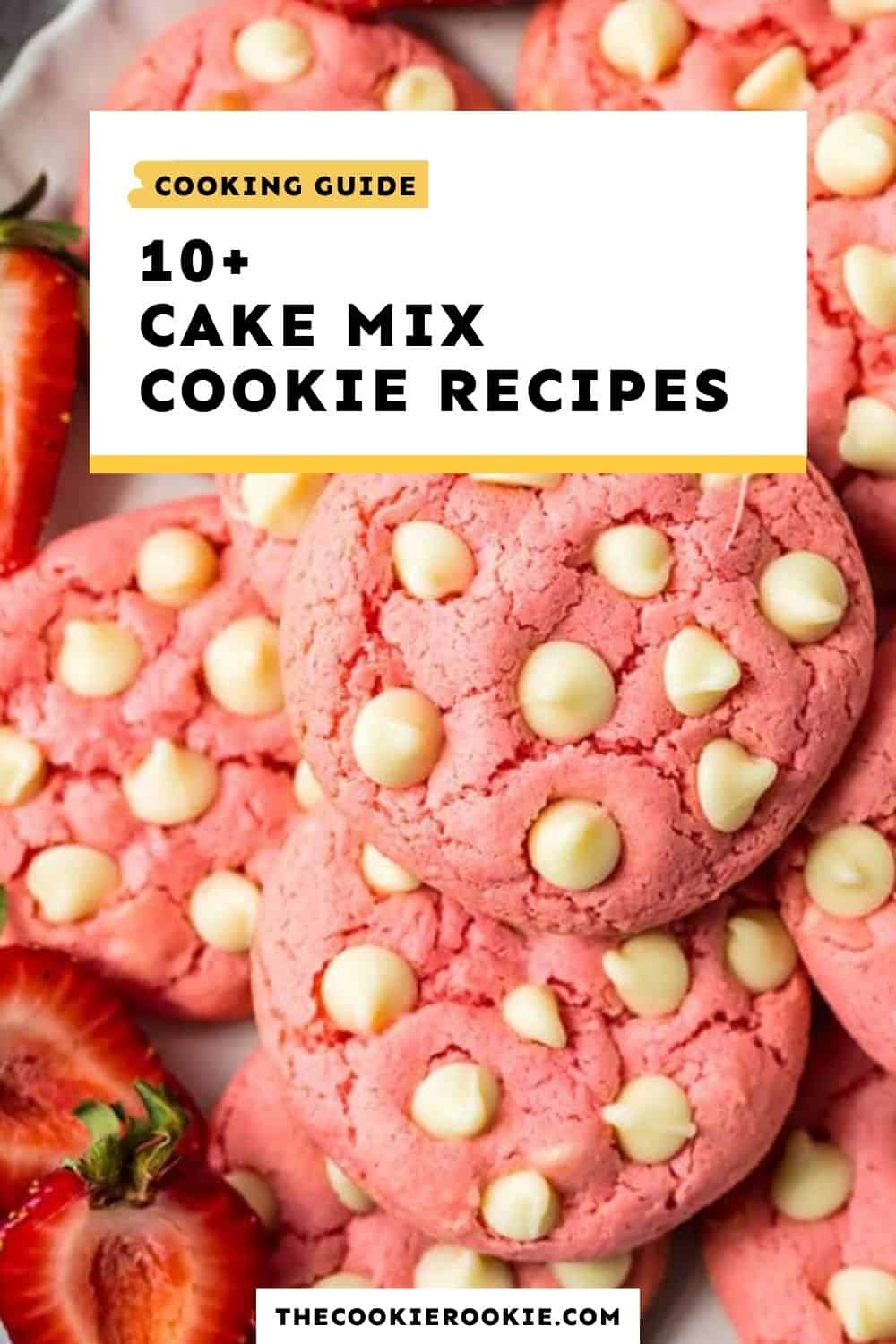 The Easiest Cookies You'll Ever Make!
These cookies are one of my favorite box cake mix hacks, and I'm going to show you exactly how to make cookies from cake mix too. Spoiler alert: it's the easiest baking recipe you'll ever make!
I'm also sharing some of my favorite easy cake mix cookie recipes for you to try, along with more flavor variations and ideas. I love how creative you can get with these. Start with your preferred flavor of cake mix (chocolate, yellow, vanilla, strawberry, etc), and the sky is the limit!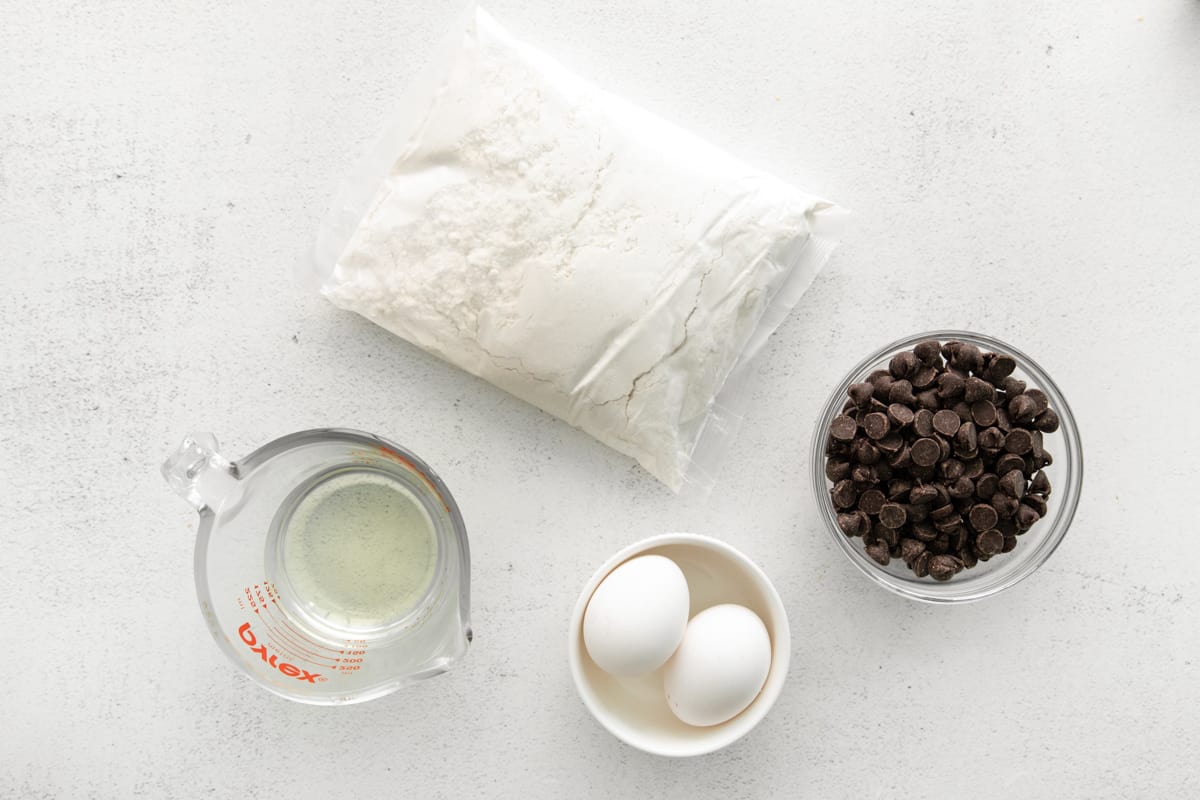 3 Ingredients to Make Cake Mix Cookies
Box of Cake Mix: Use any type of mix you like, any brand and any flavor. Grab a standard size box mix (15.25 ounces) for these recipes.
Eggs: Use 2 eggs (a cake mix will call for 3, but only use 2 when making cookies).
Oil: Vegetable oil works best here. You'll need ½ cup of oil per standard box of cake mix. You can substitute the same amount of melted butter if you prefer.
Add-ins & Toppings (optional): chocolate chips, caramel, powdered sugar, flavor extracts, food coloring, nuts, candies, cinnamon, etc.
I've made a few cake mix cookie recipes now and all I want to do is come up with more recipes using this simple hack. I love making them for Superbowl, Valentine's Day treats, Easter cookies, Christmas, or any other holiday. It's such an easy dessert!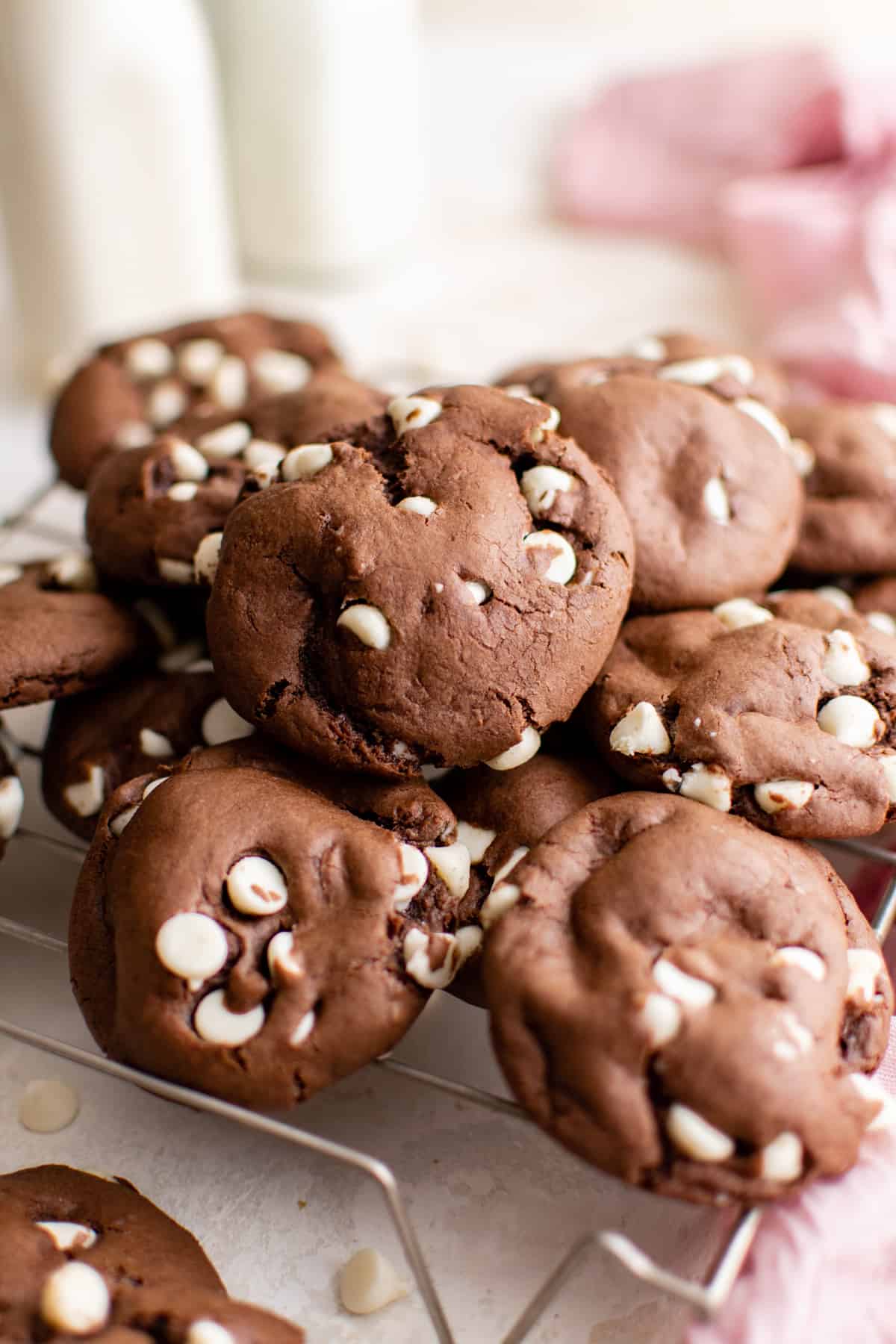 Follow the recipe card below for a basic recipe of How to Make Cookies from Cake Mix. Then scroll down to see our favorite cake mix cookie recipes, variations, and tips.
Cake Box Cookies Variations
The best thing about these cookies is how easy it is to make your own flavor variations. Just grab any flavor of boxed cake mix you like, pick your mix-ins and toppings, and you can have a unique cookie with a cake-y, fluffy texture. Here are some ideas!
S'mores: Use chocolate cake mix and mix in (or top with) mini marshmallows and crumbled graham crackers.
Chocolate Dipped Strawberry: Use a strawberry cake mix, then dip cooled cookies in melted chocolate. Refrigerate to harden the chocolate, then serve.
M&M Cookies: Use any cake flavor you like for this one (I like a yellow cake mix) and top with M&Ms before baking.
Pumpkin Spice: In the fall, it's pretty easy to find pumpkin cake mixes at the store, so take full advantage and turn it into cookies! Sprinkle with extra pumpkin spice and/or a simple cream cheese frosting.
Mocha: Mix espresso powder into a box of chocolate cake mix to infuse it with an extra rich flavor. You can add espresso baking chips too!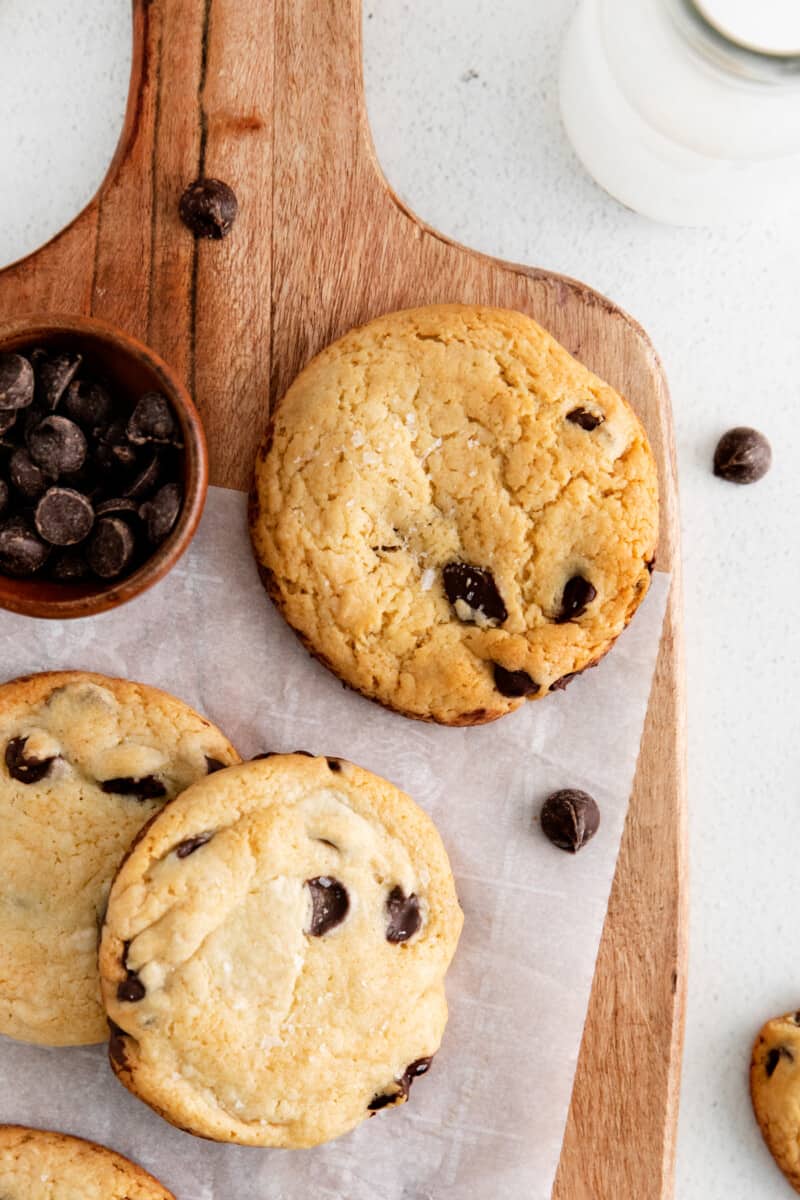 Tips for the Best Cakey Cookies
Chill your cookie dough. After placing scoops of dough onto the baking sheet, place it in the refrigerator for 5-15 minutes (however much time you have). This will help the cookies keep their shape instead of going flat in the oven. I especially recommend this step if you're baking in a warm kitchen.
Use butter instead of oil. Either one works and they both lead to delicious cookies. Oil will give you a slightly crisper result (like traditional cookies), while butter should give you extra rich, cake-y and fluffy cookies.
Sift the dry cake mix. This will help remove clumps, and add a little more airiness to the texture.
Don't over-mix the batter. Just mix until the dry ingredients are fully moistened. Overmixing can lead to tough cookies!
Add more flour. If you feel like your cookies still spread too much, come out thin and flat, or are too crispy, try adding more all-purpose flour into the mix next time (I go 1 tablespoon at a time). This will thicken the dough and make it less sticky as well.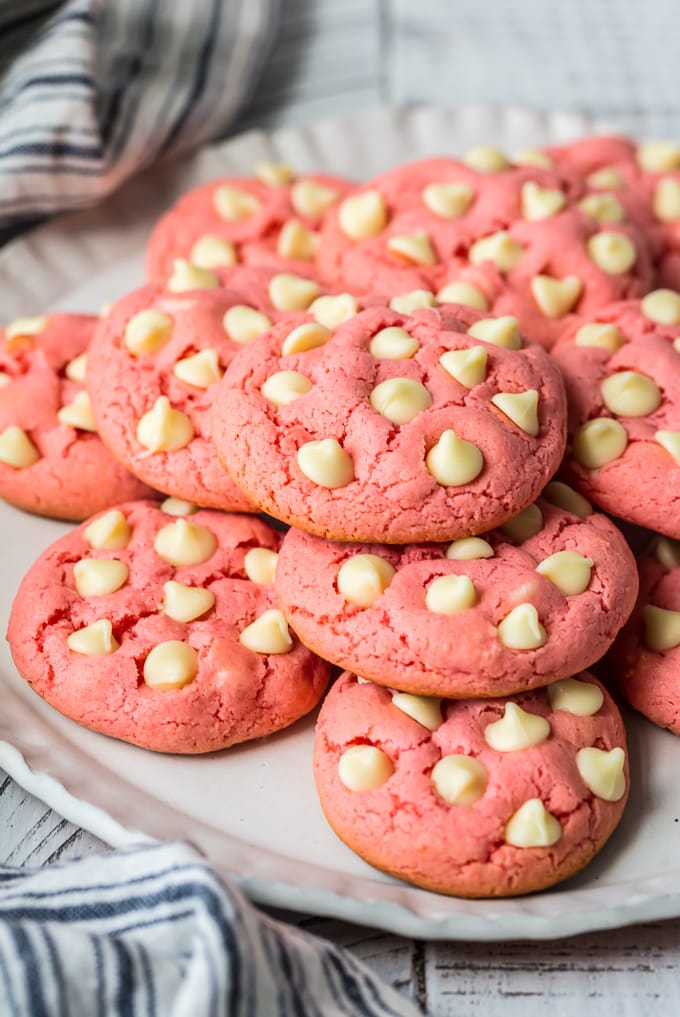 What's in a box of cake mix?
Most boxed mixes will contain all of the dry ingredients you'd need to make a cake, measured and portioned out. Specific ingredients will vary, but it should contain flour, sugar, and a leavening agent (baking soda and/or powder).
What's the best cake mix for cookies?
You can really use any kind you like, so pick your favorite brand and/or flavor.
Can I use butter instead of oil?
Yes! You can use the same amount of melted butter in place of the vegetable oil.
Can I use an old box of cake mix?
The main issue with an older box of mix is that the leavening agent may not work well. To fix this, add in fresh baking powder/soda and the rest of the mix should be fine. (That being said, if it's more than 1 year past its expiration date, you might want to throw it out to be on the safe side.)
How to Store Cake Mix Cookies
Let the cookies cool on the parchment-lined pan for 5 minutes before moving them to a cooling rack. Let them cool fully to room temperature, then store them in an airtight container or resealable bag. Keep them on the counter or pantry (room temp) up to 3-4 days for best quality.
To freeze, lay them flat on a sheet pan and freeze for about 30 minutes to harden (this prevents them from sticking together). Then place them in a freezer-safe bag and freeze for up to 3 months. Thaw them at room temperature before serving, and warm them up if you like!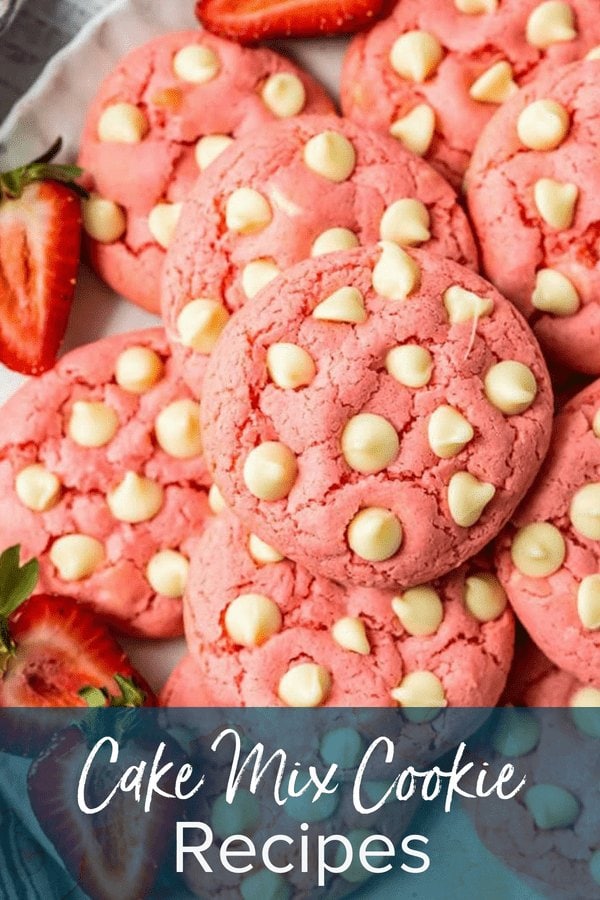 15 Easy Cake Mix Cookie Recipes
These are some of my favorite cake mix cookie recipes from The Cookie Rookie and from other bloggers. Some of them are more simple and straightforward, while other recipes really take cake mix cookies to the next level. But they're all delicious and so easy to make!
Chocolate Cake Mix Cookies – The Cookie Rookie
Cake Mix Chocolate Chip Cookies – The Cookie Rookie
Chocolate Gooey Butter Cookies – The Cookie Rookie
Strawberry Cake Mix Cookies – The Cookie Rookie
Confetti Cake Cookies – Easy Dessert Recipes
Salted Caramel Brownie Mix Cookies – The Cookie Rookie
Chocolate Chip Cherry Cookies – Inside BruCrew Life
White Cake Batter Cookies – Easy Dessert Recipes
Rainbow Sprinkle-Fetti Cookies – Frugal Foodie Mama
Red Velvet Cake Crinkle Cookies – Easy Dessert Recipes
Lemon Cake Mix Cookies – Beyond Frosting
Eggnog Cake Mix Cookies – Dessert for Two
Fudge Marble Cookies – Persnickety Plates
Easy Butterfinger Brownie Cookies – Blackberry Babe
Rolo Stuffed Chocolate Cookies – Mom on Timeout
I hope this guide helped you learn How to Make Cookies from Cake Mix! I just love coming up with fun recipes, so don't be surprised if you see a few more here in the future. These are so easy to make, and a fun recipe to bake with the kids too!
Please let me know in the comments what you did with your cake mix cookies! I'd love to hear what flavors and add-ins you tried.
Baking Tips & Recipes
Find more baking tips and hacks to help you in the kitchen, and get more baking and dessert ideas to try out!
More Baking Recipes