CINNAMON BITES are the perfect breakfast, dessert, or snack for any time of day! These crispy Cinnamon Sugar Biscuit Bites are easy, delicious, and so fun. Making a sweet breakfast treat just doesn't get simpler than these tasty cinnamon biscuit bites!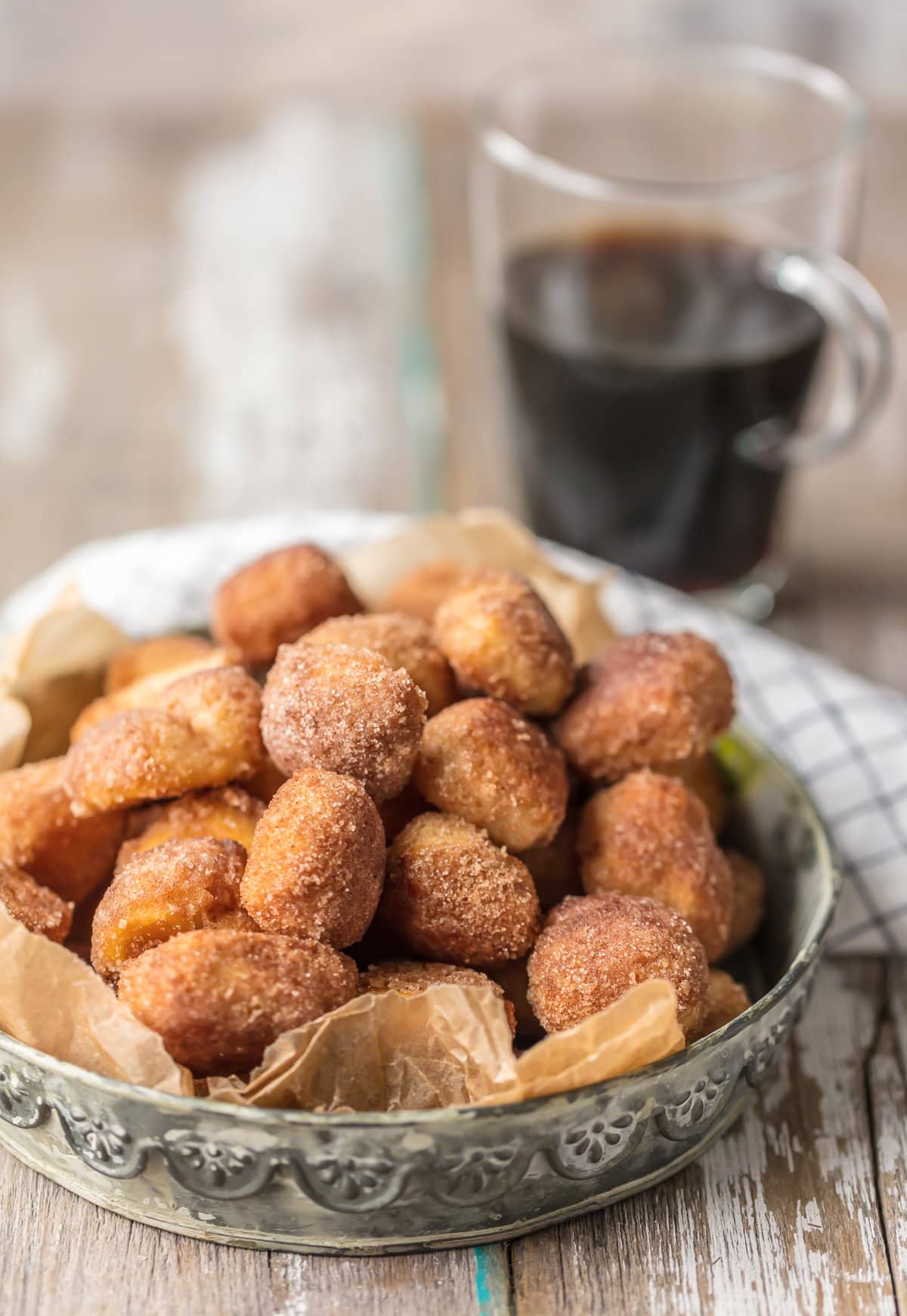 Cinnamon Bites Recipe – Cinnamon Sugar Biscuits
Cinnamon Bites are a tasty sweet treat for breakfast, dessert, or any time of day. These cinnamon sugar biscuits are the perfect size for snacking!
These little cinnamon bites are the perfect breakfast dessert recipe. You know those days where you just crave something sweet in the mornings? Those days where donuts or dessert sound delicious any time of day? Those days where you want a sweet snack…but don't want to bake all day to accomplish your dreams? These CRISPY SUGAR CINNAMON BISCUIT BITES are exactly what you need!
These Cinnamon Sugar Bites couldn't be easier. We're using premade dough of course (I'm the ROOKIE after all) to make this recipe super simple. Just a few minutes in the oven, dip 'em in a homemade cinnamon sugar recipe, and they're done!
These crispy cinnamon biscuits couldn't be more crave-worthy. Pop a couple in your mouth for breakfast, snack on them throughout the day, or heat some up and top with ice cream for the ultimate dessert after dinner. JUST TOO GOOD! I'm obsessed. These are perfect for Christmas breakfast too. Grab a handful and open those gifts!
These Crispy Cinnamon Sugar Biscuit Bites are so sweet and crave-worthy. Perfect for a sweet breakfast or a fun dessert!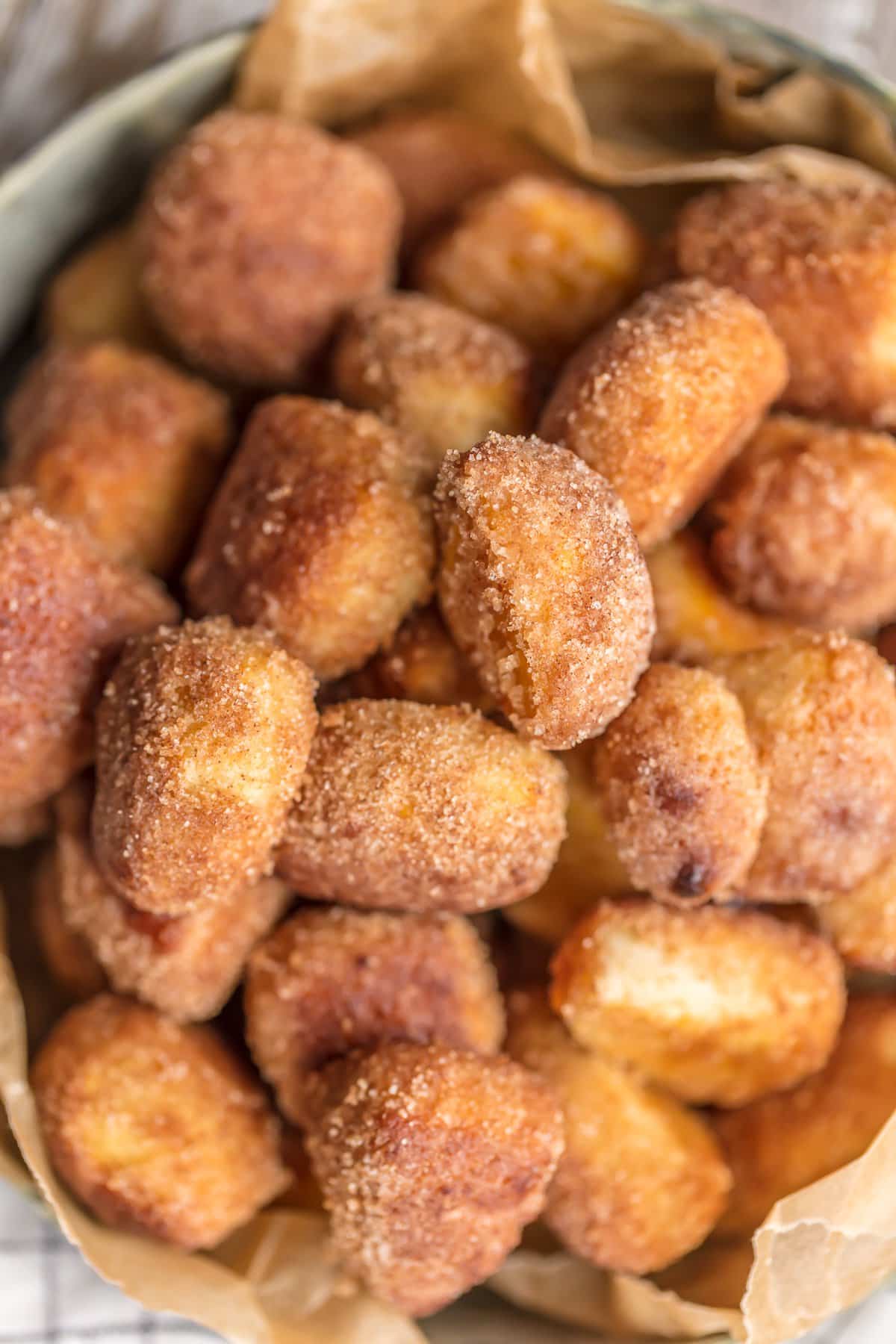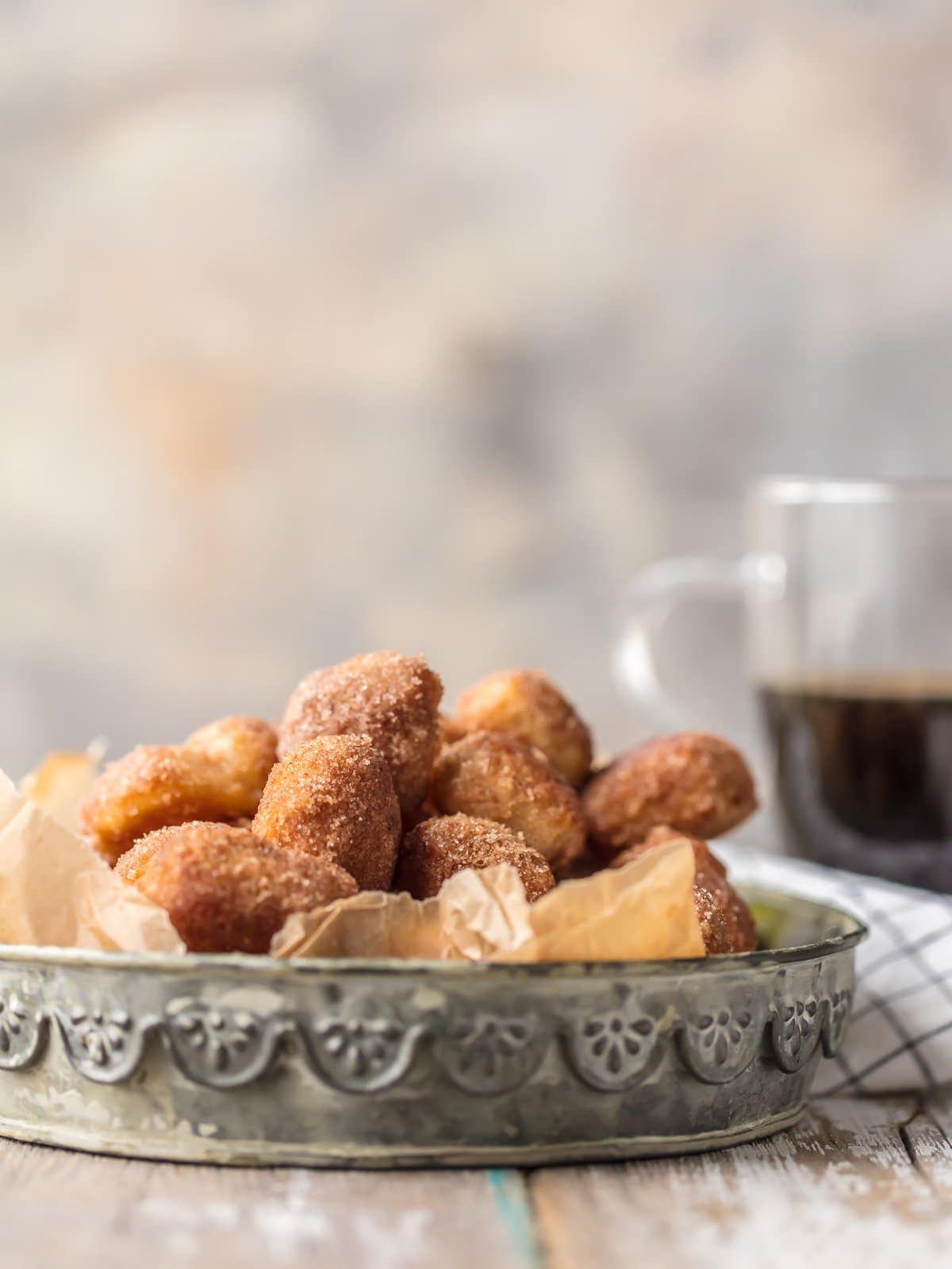 Easy Cinnamon Biscuit Bites
These Cinnamon Bites only have four ingredients. It's as simple as cutting store-bought biscuit dough into fourths, baking, dipping in butter, cinnamon, and sugar, and then broiling until crispy and divine. I mean….right?! How could it be easier?
I have a feeling I'll be making a fresh batch of these bite-sized cinnamon biscuits every single week from now on. They're a lot like those fun Ranch Dip Biscuits I posted last week. Simple is always best in my book. No one needs to know you didn't bake these sweet treats from scratch.
Sweet Breakfast Desserts
Any time I'm craving something sweet in the mornings, I go straight for these cinnamon sugar bites. My favorite way to eat these is to zap a plate of 3 or 4 bites for 10 seconds in the microwave, and then eat them while they're nice and warm. A cup of coffee or glass of milk on the side takes them from great to AMAZING in just seconds.
They're just the right size to eat a few, but not feel overwhelmed by the sweetness. Can you tell how much I love this breakfast dessert recipe?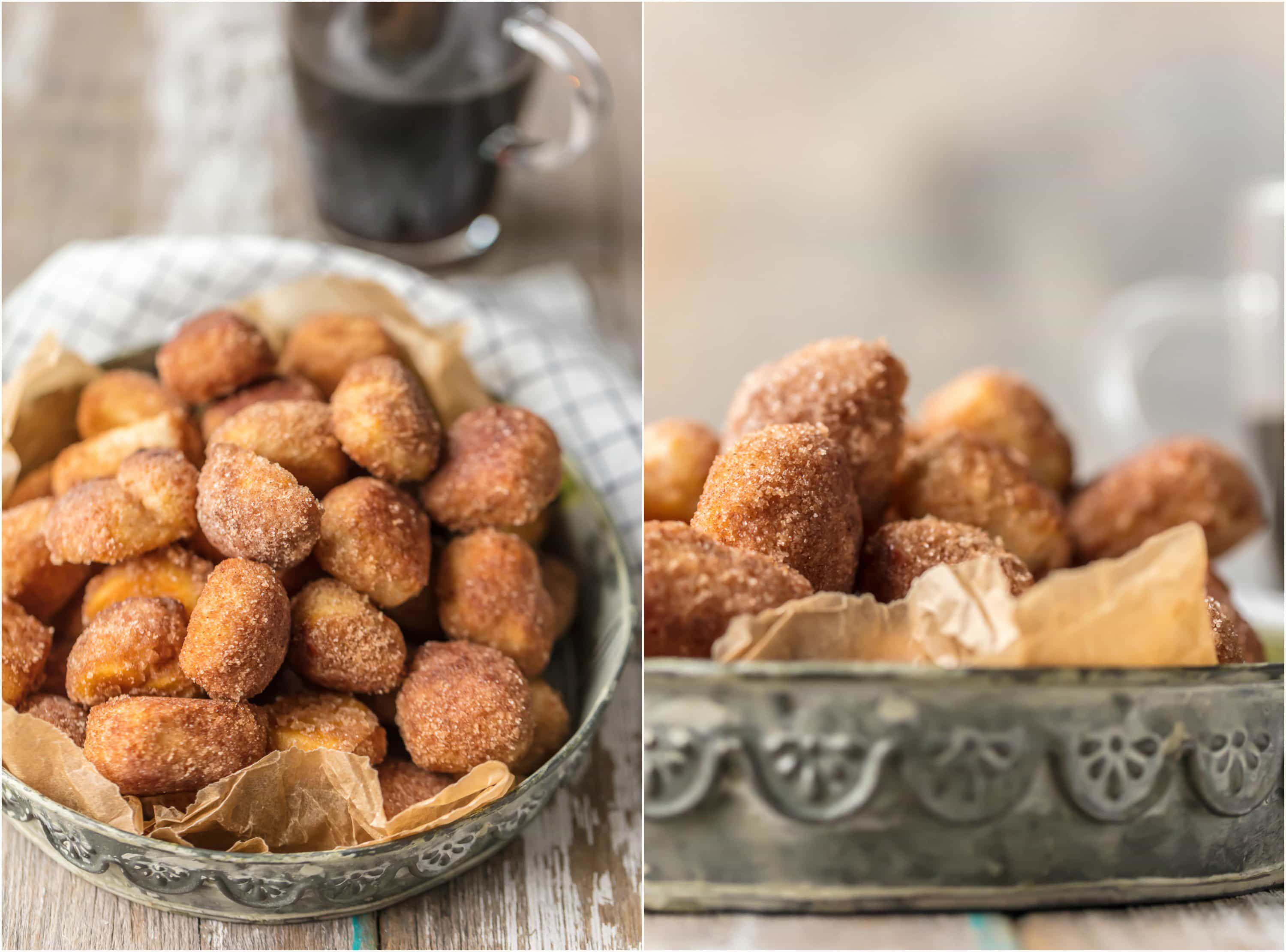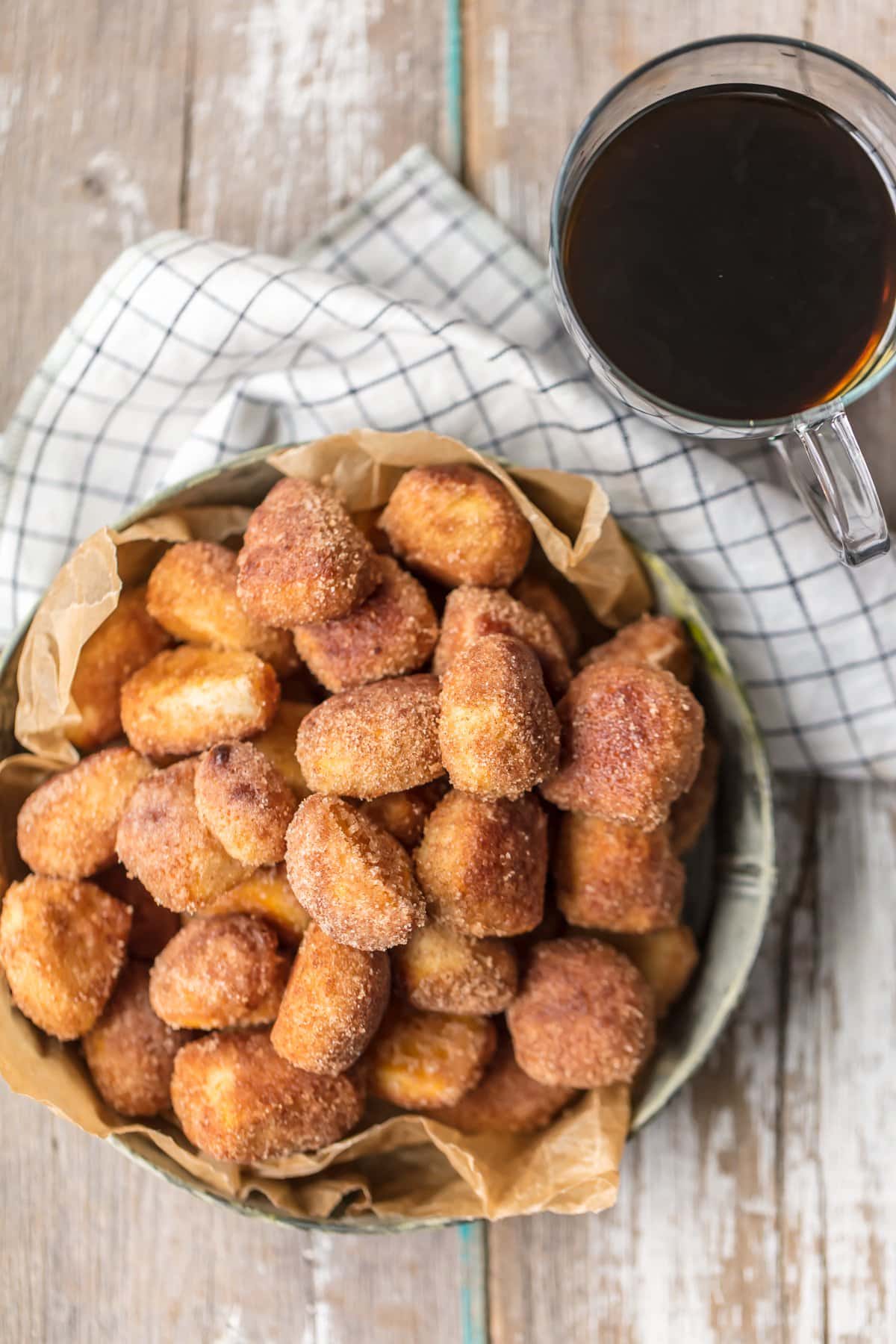 How to Make Cinnamon Sugar Bites
Like I said earlier, these Cinnamon Bites are really easy to make. Just 4 ingredients and 15-20 minutes of your time is all it takes to make a sweet and tasty breakfast, dessert, or snack!
How to make cinnamon bites:
Using pre-made biscuit dough, cut each biscuit into fourths and place on a baking sheet lined with parchment paper
Bake 7-10 minutes at 350°F
Melt butter in a bowl, and mix cinnamon & sugar in another bowl (do this while biscuits are in the oven)
Remove biscuits from oven and let them cool slightly
Dip each biscuit bite into the butter & then into the cinnamon sugar, and return to baking sheet
Return biscuits to oven to broil for 1-2 minutes until cinnamon sugar starts to caramelize
These crispy cinnamon bites taste like sweet mini donuts and they are so good dipped in milk or coffee. It's the perfect sweet breakfast or dessert! If you don't eat them all at once, you can easily store them to eat later. Just put them in an airtight storage container and keep them in the pantry or somewhere at room temperature. They reheat really well!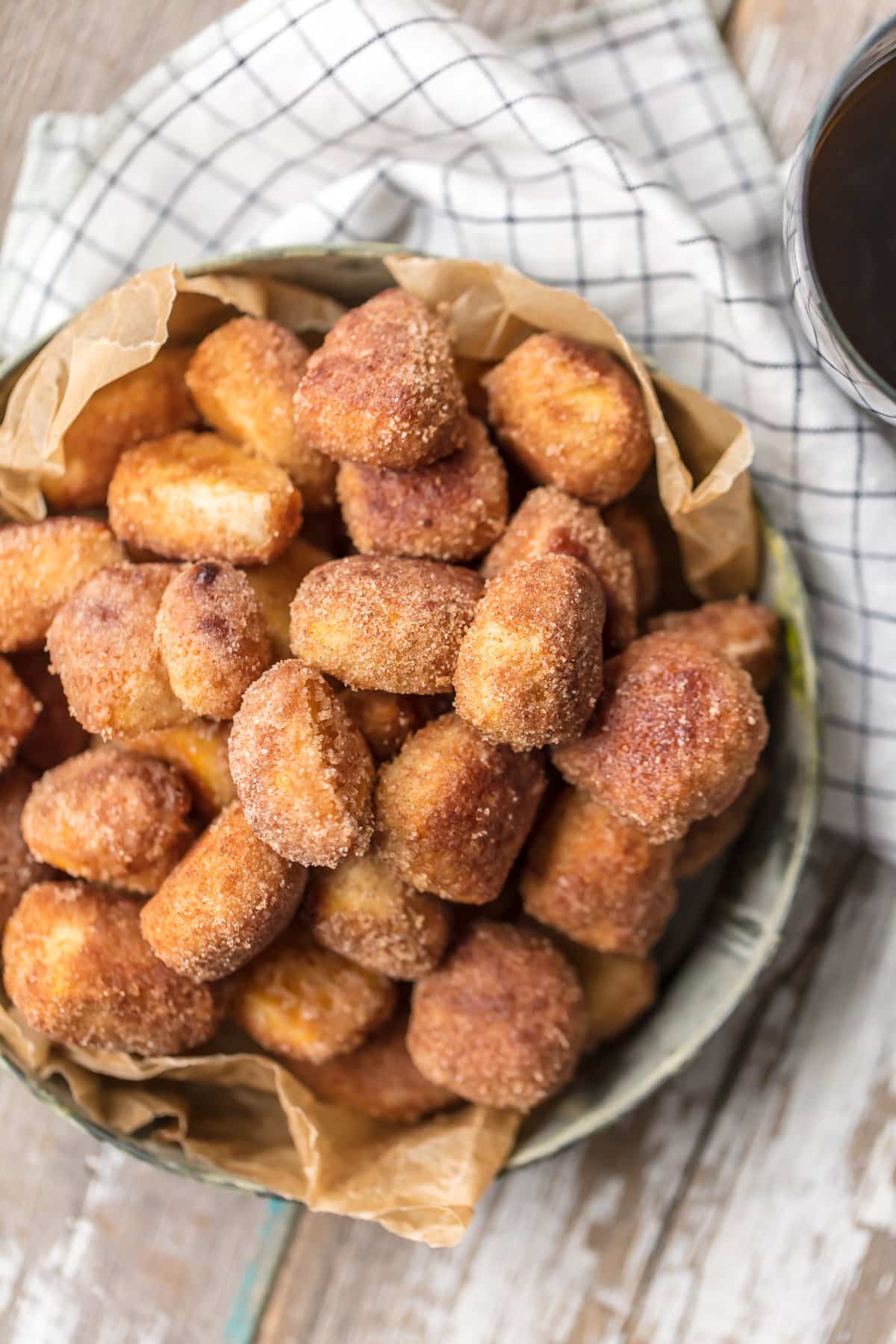 I hope you love these bite-sized cinnamon biscuits as much as we do! Everybody deserves a little bite of sweetness every single day. These Crispy Cinnamon Sugar Bites are the perfect way to start your day.
Watch the Video and See the recipe card for details on How to Make Cinnamon Sugar Biscuit Bites. Enjoy!