These crispy cinnamon bites are made with canned biscuit dough and cinnamon sugar. Just 4 ingredients to make these easy cinnamon sugar biscuit bites! They're the perfect sweet breakfast, after-school snack, or dessert. Like bite-sized cinnamon rolls, everyone will devour these.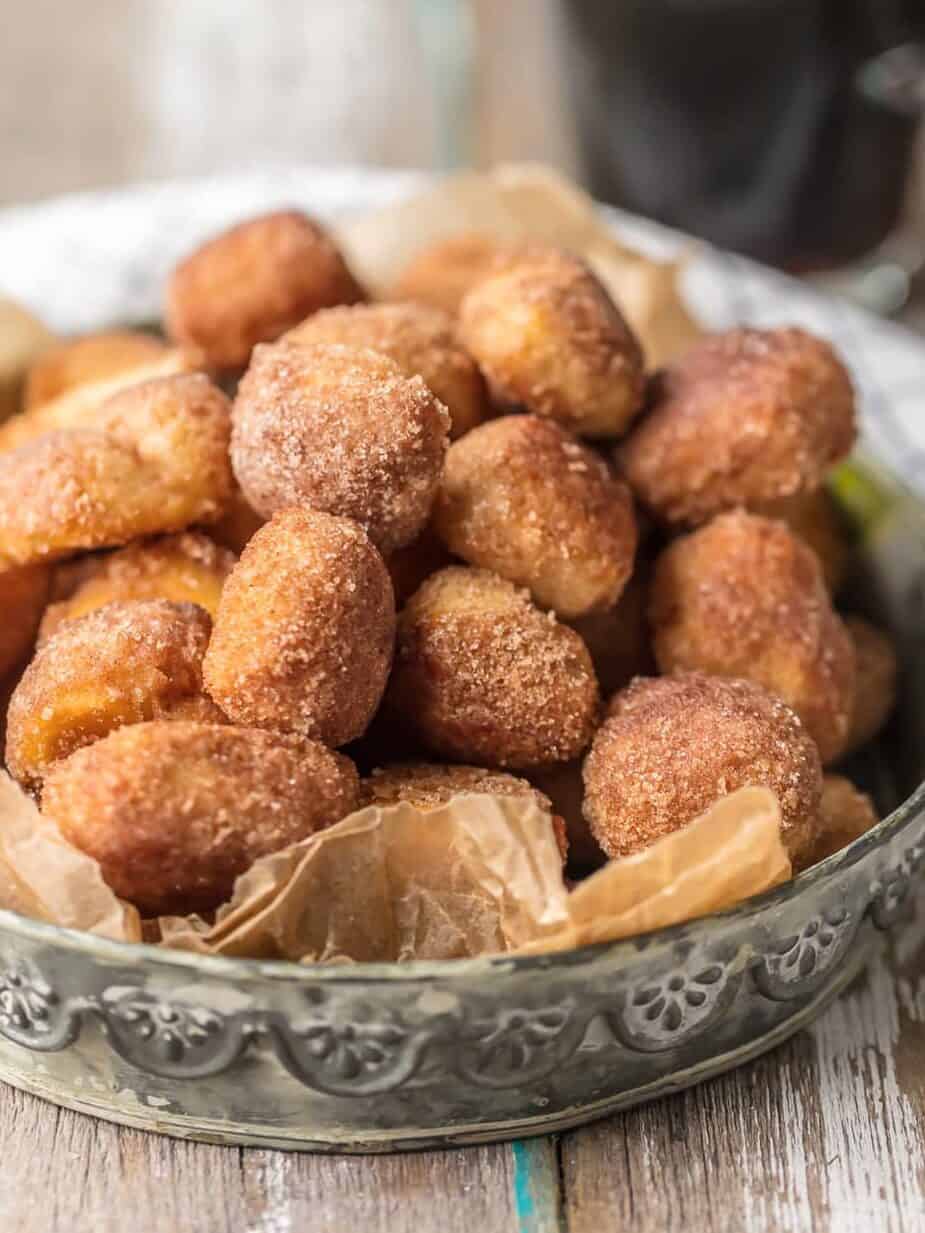 What's in Cinnamon Roll Bites
Gather 4 simple ingredients to make these quick and easy cinnamon bites with biscuits. Whether you're making these for a sweet breakfast or dessert, they'll be ready fast!
Biscuit Dough: Use a can of refrigerated biscuit dough for this recipe.
Butter: Use 1 stick of salted butter, fully melted. This helps coat the biscuit bites in the cinnamon sugar mixture.
Sugar: I recommend using granulated white sugar, but you can use brown sugar if you prefer.
Cinnamon: Use ground cinnamon.
Use a cream cheese frosting or sweet icing for dipping or glazing!
Can I make these sweet biscuit bites in an Air Fryer?
Yes, you can follow the same instructions, using the Air Fryer instead of the oven. Place the biscuit dough pieces in an Air Fryer at 350F, and cook for about 6-9 minutes. Keep an eye on them because the dough will cook slightly faster than the oven.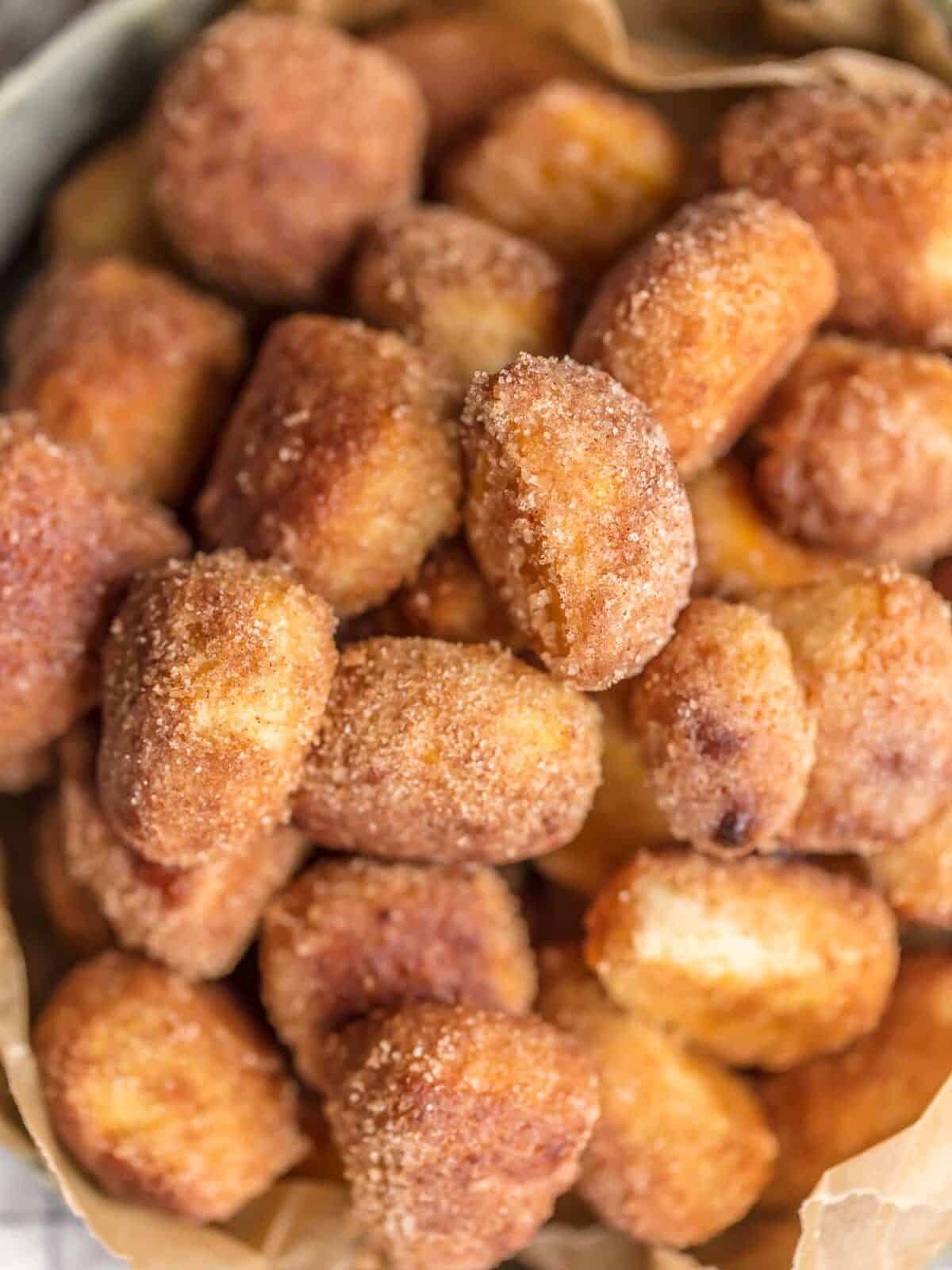 Can I use refrigerated cinnamon rolls instead of biscuits?
You can use a can of cinnamon rolls instead of biscuit dough if you like, but you will get slightly different results. The biscuits will get crispy and chewy, while the cinnamon rolls will be more gooey and doughy. You might also need to adjust the cooking time.
How can I tell when the biscuit bites are done?
You want to bake the biscuit dough just until cooked, so they will still be pale in color. But they shouldn't look doughy, wet, or soft–that means they're done quite done yet.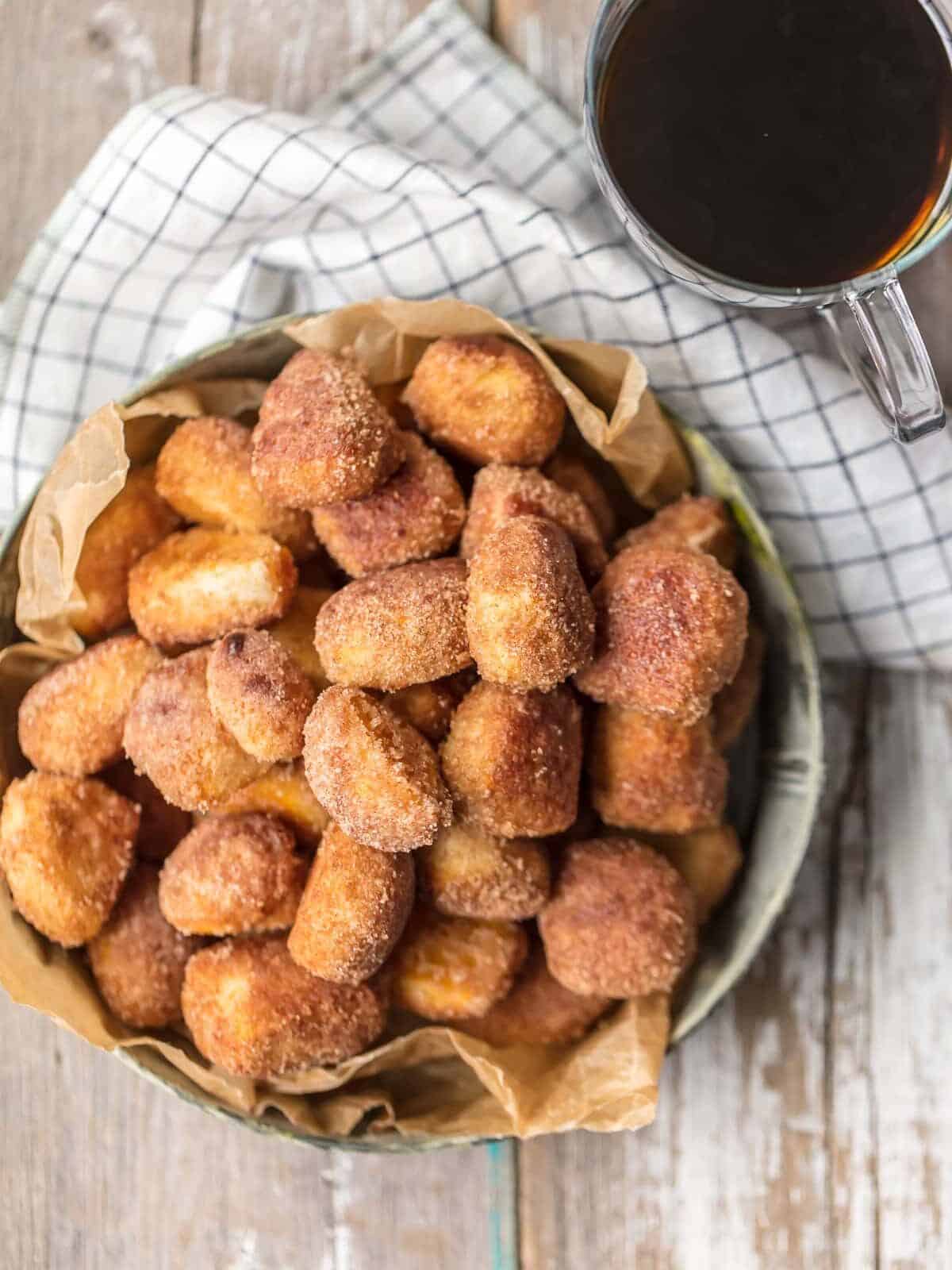 How to Store Cinnamon Sugar Bites
Store cinnamon sugar biscuit bites in an airtight container at room temperature for up to 2 days. If you want to keep them longer, store them in the refrigerator for up to 1 week.
If you want to warm them up, pop them under the broiler, in the Air Fryer, or in the microwave.
How to Freeze Crispy Cinnabites
For best results, wrap a handful of bites in aluminum foil, then place them all in a freezer-safe bag. Freeze up to 3 months. Thaw them before eating or reheating.
What to Serve with Cinnamon Biscuit Bites
These sweet cinnamon roll bites are made to be served with a cup of coffee or a cold glass of milk. They taste amazing with this iced honey cinnamon latte! This combo makes a great breakfast or afternoon snack.
If you're making these for a dessert, drizzle them with a sweet icing, or serve them with ice cream.
More Sweet Breakfast Desserts We Love