This Cilantro Lime Shrimp Scampi recipe takes the classic shrimp scampi up a notch. Turn this quick and easy dish into the most delicious shrimp pasta, or eat it alone as a tasty appetizer!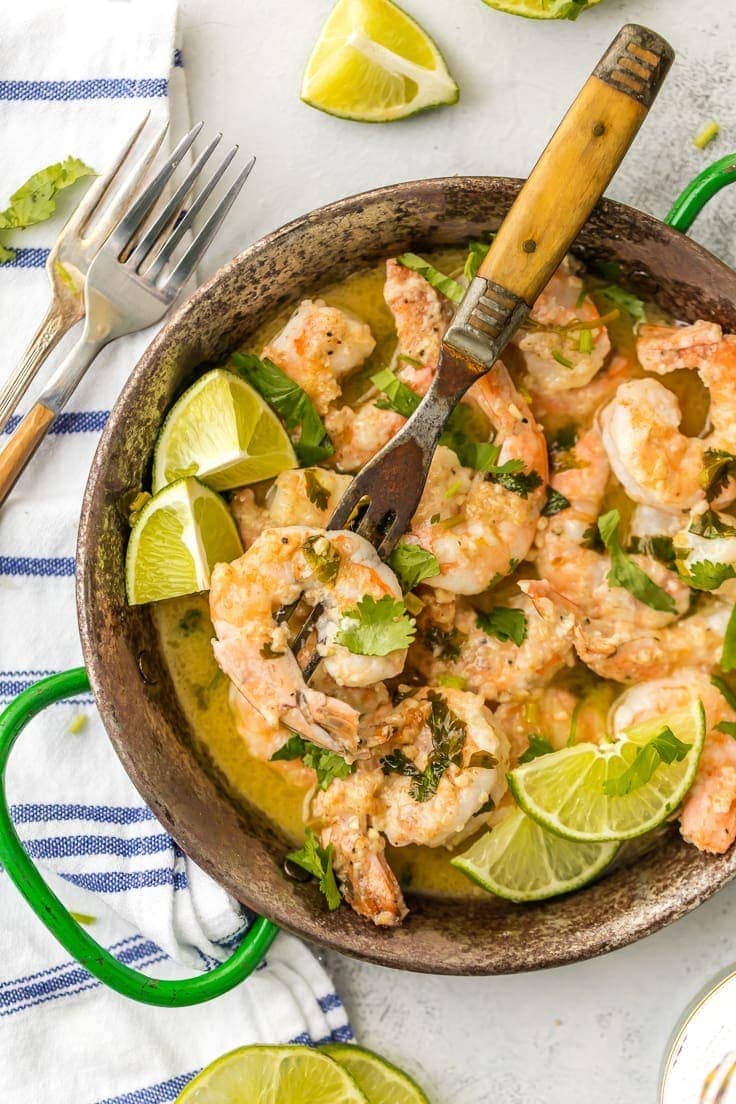 Lime Shrimp Scampi Recipe
This easy shrimp scampi recipe has a cilantro lime twist! Eat it as an appetizer or turn it into cilantro lime shrimp pasta!
It's shrimp time! Sometimes you just want to refuel, eat something good, and get a good night's sleep. I mean, I'll still watch reality TV, but we all have our vices.
This One Pot Cilantro Lime Shrimp Scampi is one of my favorite quick and easy recipes. It's filled with so much flavor while still being relatively healthy, and MAN is it easy! Ready and on your table in minutes. Win Win Win!
Make this super simple Cilantro Lime Shrimp recipe for an easy dinner. Make it a shrimp scampi pasta and you're golden!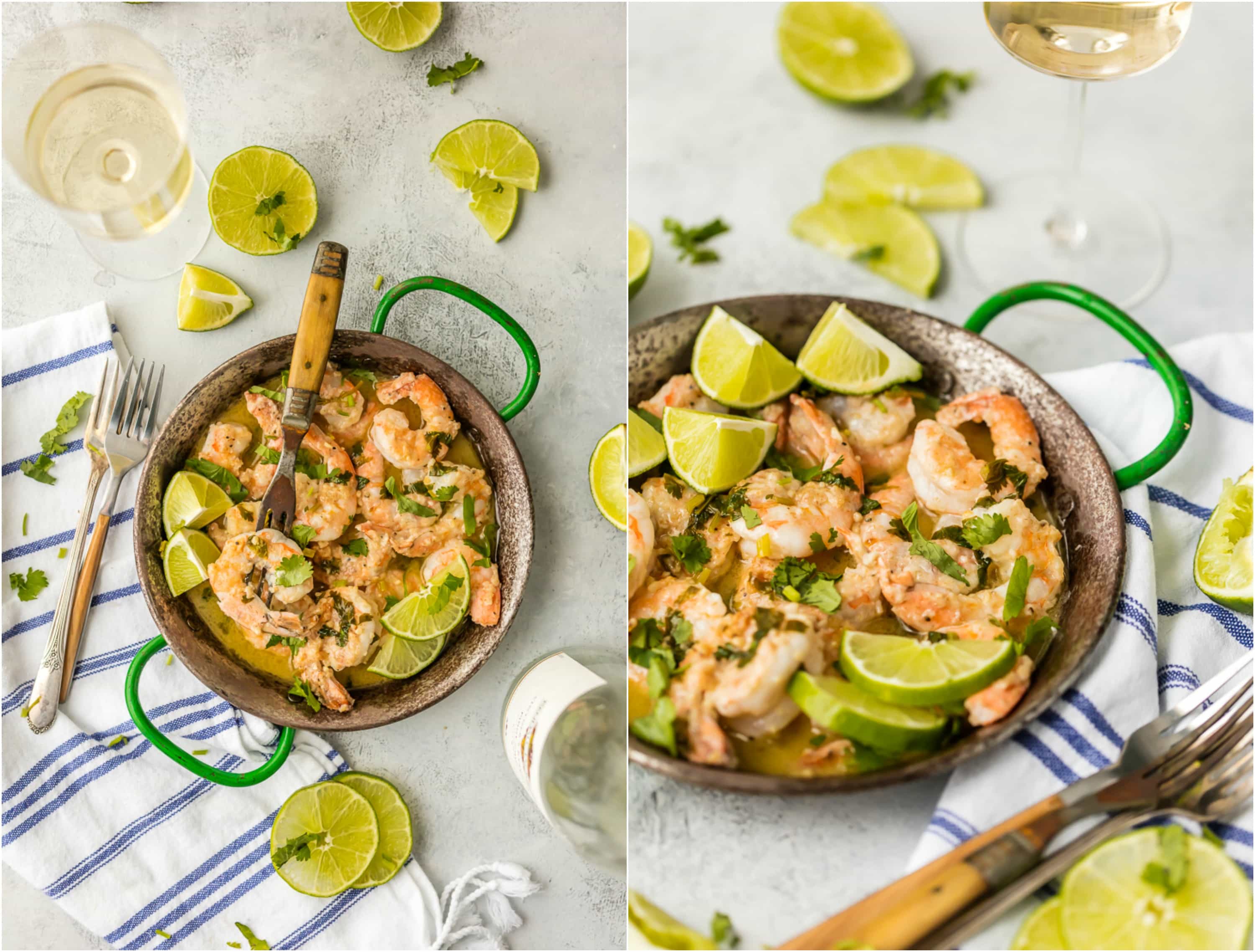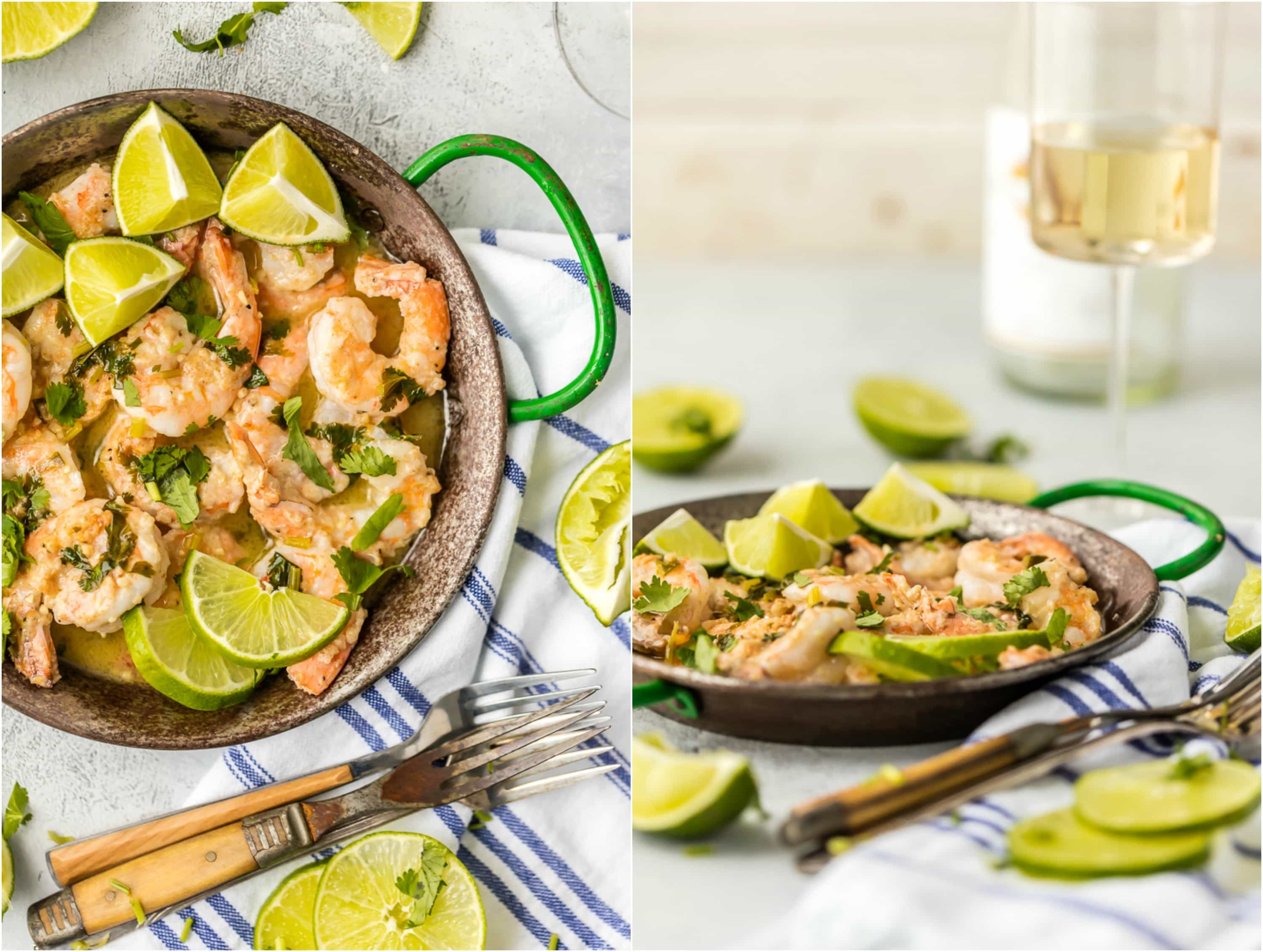 Cilantro Lime Shrimp
The name alone (Cilantro Lime Shrimp) gives you a pretty good idea of what this delicious dish tastes like. There's just something about how the lime juice compliments the cilantro in this dish.
I know there are some cilantro haters out there, and I just don't understand it! I read an article once that said you're either obsessed with cilantro and want it on EVERYTHING (that's me), or you think it tastes like soap. Is that true? How do you cilantro haters feel?
All I know is that I love it so much. Favorite herb alert! And paired with the tart citrus in this shrimp scampi, it's just perfect. If loving cilantro is wrong, I don't want to be right.
(If you ARE one of those cilantro haters, switch it our for parsley.)
What is Shrimp Scampi?
Traditional scampi isn't actually shrimp at all (it's a different kind of crustacean), but here in the U.S., Italians switched the recipe to shrimp and a classic was born! Typical shrimp scampi is made with garlic, butter, lemon, and white wine. I switched things up a bit for this recipe, because cooking is all about making changes, right?
I think using lime instead of lemon adds a super fresh twist, and cilantro is just one of my favorite herbs. Other than that, the recipe is pretty true to the traditional.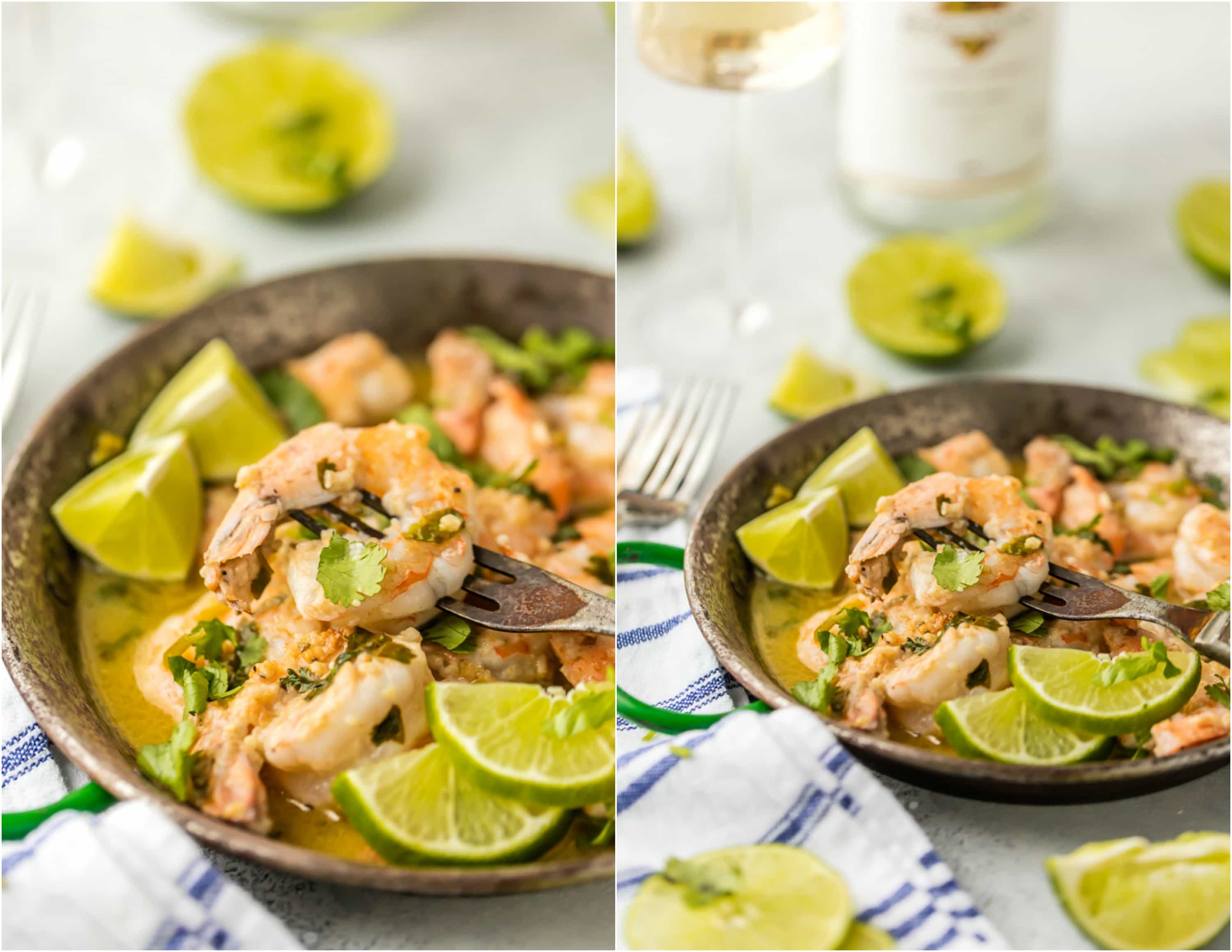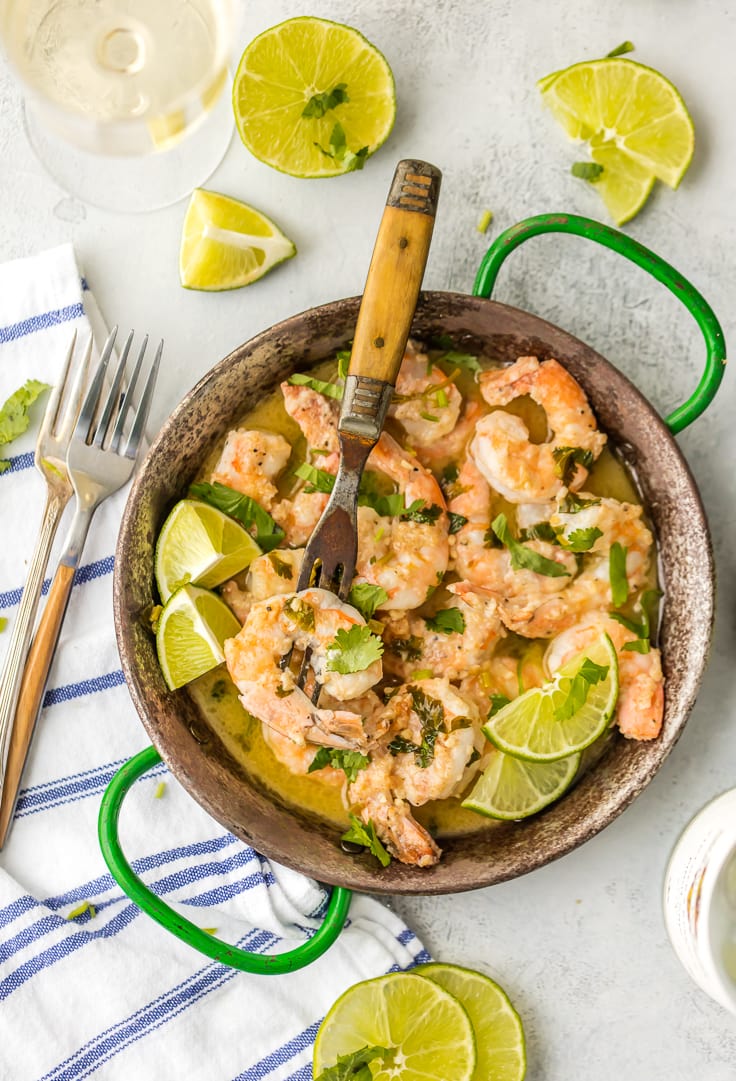 How to Make
In a shallow bowl, stir together the flour with a pinch salt and pepper. Set aside.

Heat a large frying pan over medium/high heat. Add the olive oil and allow to heat up.

Toss the shrimp in the flour mixture and add to the pan in batches. Cook for approximately 2-3 minutes, turning/tossing occasionally. When opaque/cooked through, transfer to a plate and set aside.

Reduce heat to medium and add in two tablespoons butter. When the butter has melted, add the garlic and sauté for 2-3 minutes or until translucent and fragrant.

Slowly add in the wine, lime juice, and cilantro. Bring to a boil and then reduce to a simmer and allow to cook for 2 full minutes, stirring occasionally.

Whisk in the remaining butter a bit at a time, allowing it to melt before adding more.

add the shrimp back into the skillet and coat completely with the sauce. Sprinkle with more cilantro and garnish with lime wedges.

Serve hot served with rice, toasted bread, or pasta.

Enjoy!
Cilantro Lime Shrimp Scampi Pasta
I love this cilantro lime shrimp on its own as an appetizer, but it's also the perfect thing to add to pasta for a full meal. The buttery sauce pairs perfectly with linguine noodles, and creates an AMAZING shrimp scampi pasta dish. I'd eat this up any night of the week, and I especially love it for nice date nights at home. It's simple, delicious, and super easy to make!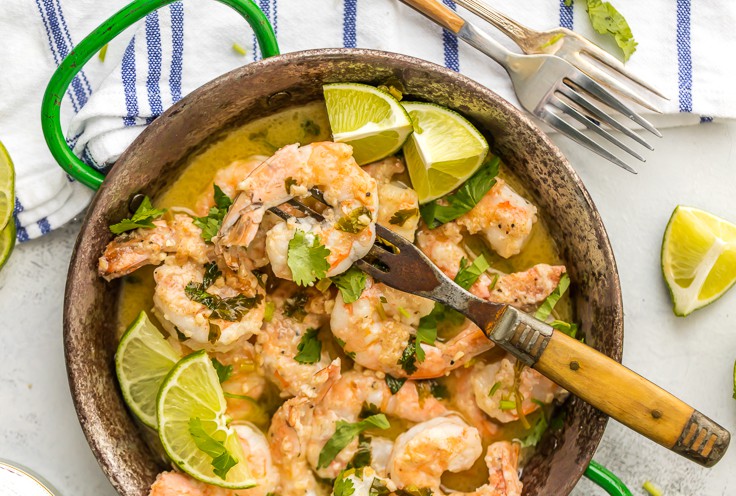 On those busy nights when all you want to do is eat semi-healthy but not skimp on flavor, this Cilantro Lime Shrimp Scampi is for you. Did I mention it's made in one pan and in minutes? You won't believe the ease of this recipe. You will be as obsessed with it as I am with cilantro!
See the recipe card for details on how to make Shrimp Scampi. Enjoy!
Be sure to try our other shrimp recipes too: