Creamy Garlic Shrimp is an easy to make recipe that doubles as an entree or appetizer! You only need about 10 minutes to whip up this flavor-packed shrimp recipe. It's simple and always yields tender shrimp in the best cream sauce that has a light touch of spice to seriously make your mouth water.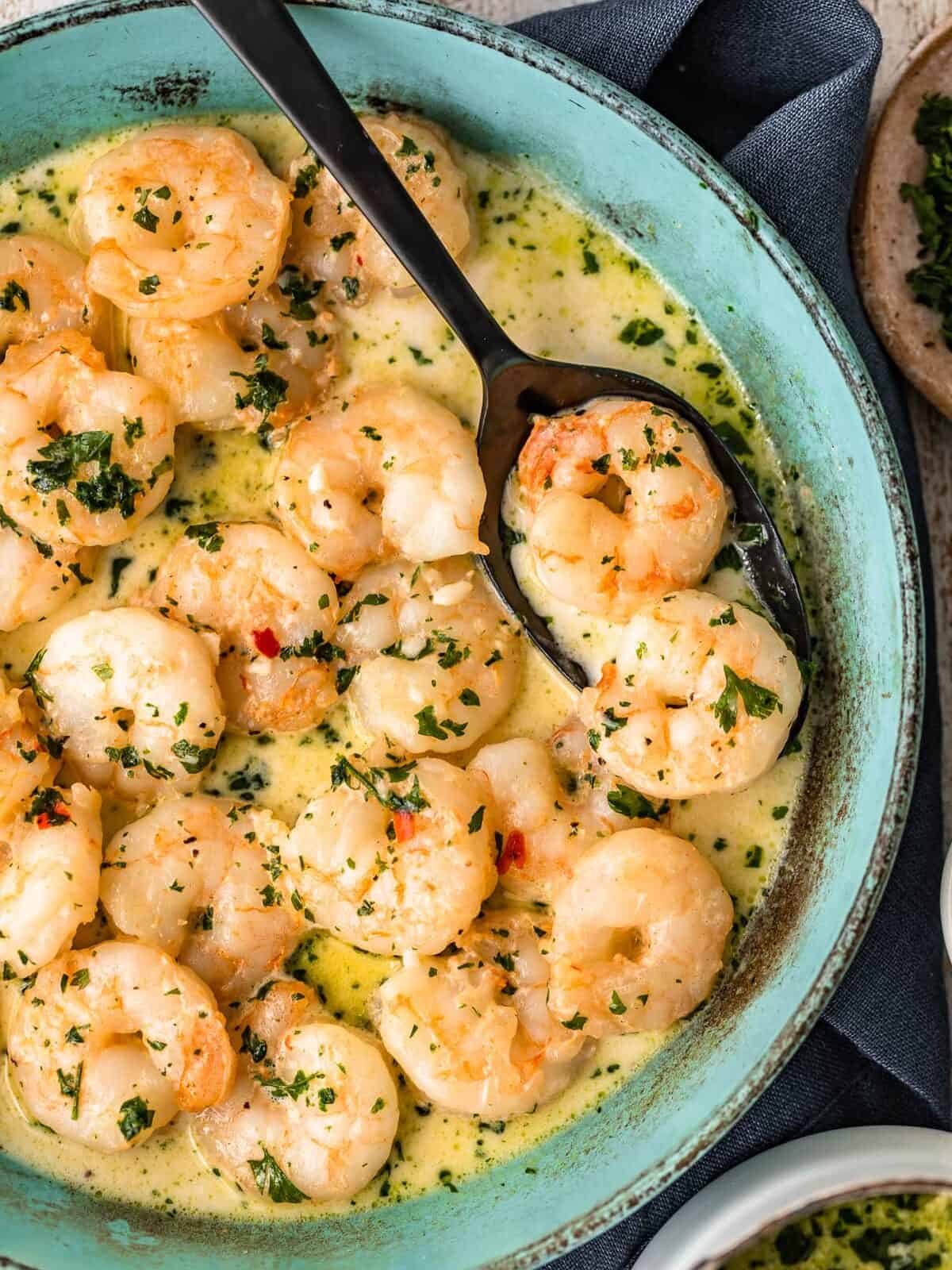 What's in this Creamy Garlic Shrimp Recipe
Creamy, slightly spicy shrimp are served in a simple cream sauce that's so good you might just be licking your plate! Let's take a look at what's in it:
Salt and Pepper: Go light with your salt! It's very easy to make shrimp too salty. As for your pepper, freshly cracked will yield the best flavor.
Shrimp: It'll need to be peeled and de-veined. If you're using frozen shrimp, allow it to fully thaw prior to seasoning and cooking.
Butter: I like to use salted butter for an added touch of flavor. You can use unsalted if you'd prefer.
Garlic Paste and Chili Paste: I like to use the Gourmet brand for these products! They're available at most grocery stores and always create the very best flavor.
Lemon Juice: Freshly squeezed lemon juice is preferred over bottled for the best flavor.
White Wine: Learn all about the best wines to cook with HERE!
Heavy Cream: You can use half and half instead if you'd like, but your cream sauce won't be as thick.
Parmesan Cheese: For the BEST flavor and consistency, use parmesan cheese grated fresh off the block.
Parsley: The very best garnish!
Fettuccine: If you plan on serving this creamy shrimp recipe as an entree, it should be with some tender fettuccine pasta.
PRO TIP: Ask the person working at the seafood counter if they have shrimp that's already peeled and de-veined to save you some time!
Is this recipe spicy?
The chili paste definitely lends some heat to the dish. However, I wouldn't say that this recipe is overly spicy – you won't necessarily be breaking a sweat! Plus, you can always adjust the heat factor by halving the amount of chili paste or omitting it entirely. On the flip side, you can sprinkle in some crushed red pepper flakes to enhance the spice.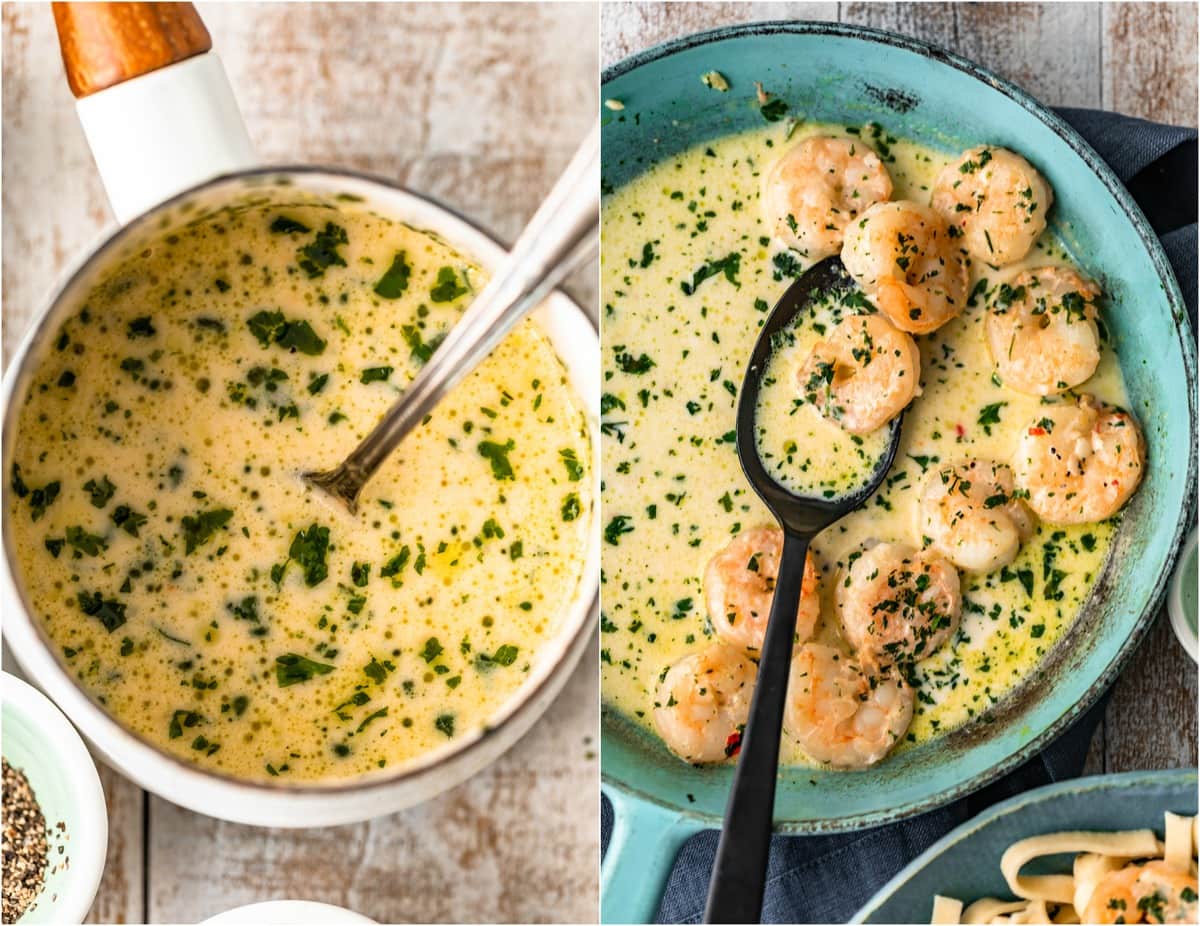 How do I know when shrimp are done cooking?
Look at the shape and the color of your shrimp. Once the shrimp have formed a C shape with the tails curled in and they're opaque in color, they're cooked and ready to eat. Be careful not to over-cook your shrimp or they'll become rubbery and tough.
Can I use frozen shrimp?
Yes! Just make sure that they're fully thawed prior to cooking. I like to let my frozen shrimp slowly thaw in the fridge for a few hours before cooking them.
Do I have to use white wine?
Nope! While I love the flavor that the wine provides here, you can swap it with an equal amount of chicken broth if needed.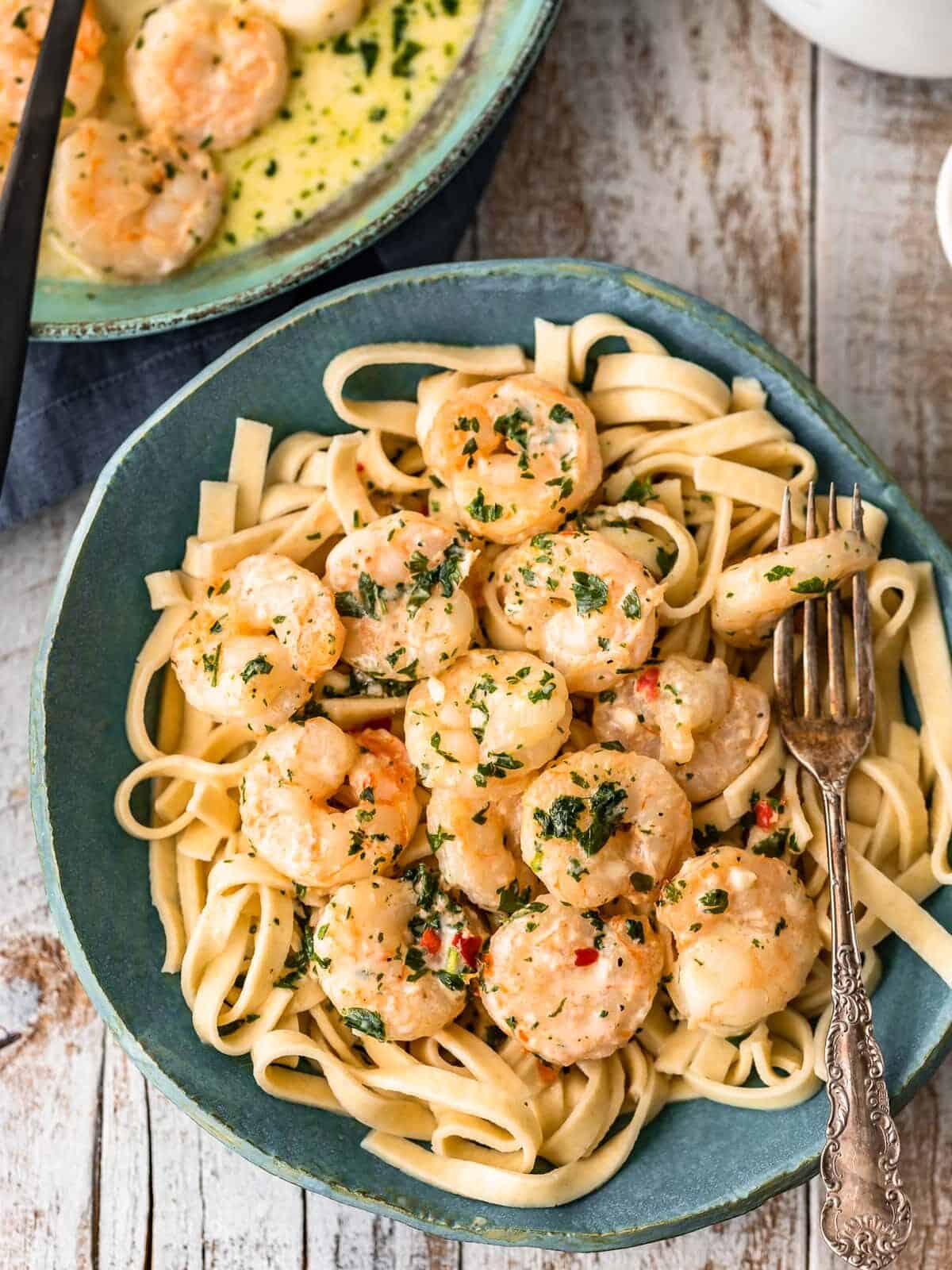 How to Store and Reheat
Once cooled to room temperature, any left over shrimp in cream sauce that you may have will stay fresh in an airtight container in the fridge for up to 3 days. Reheat in the microwave, or for even better results, in a pan over low heat until warmed through.
I do not recommend freezing this garlic shrimp with cream sauce recipe as the cream sauce won't thaw well.
Serving Suggestions
If you plan on serving this shrimp over pasta as an entree, fettuccine is my favorite pasta of choice! It pairs fabulously with the cream sauce. You can also present this shrimp with some toothpicks as an easy party appetizer.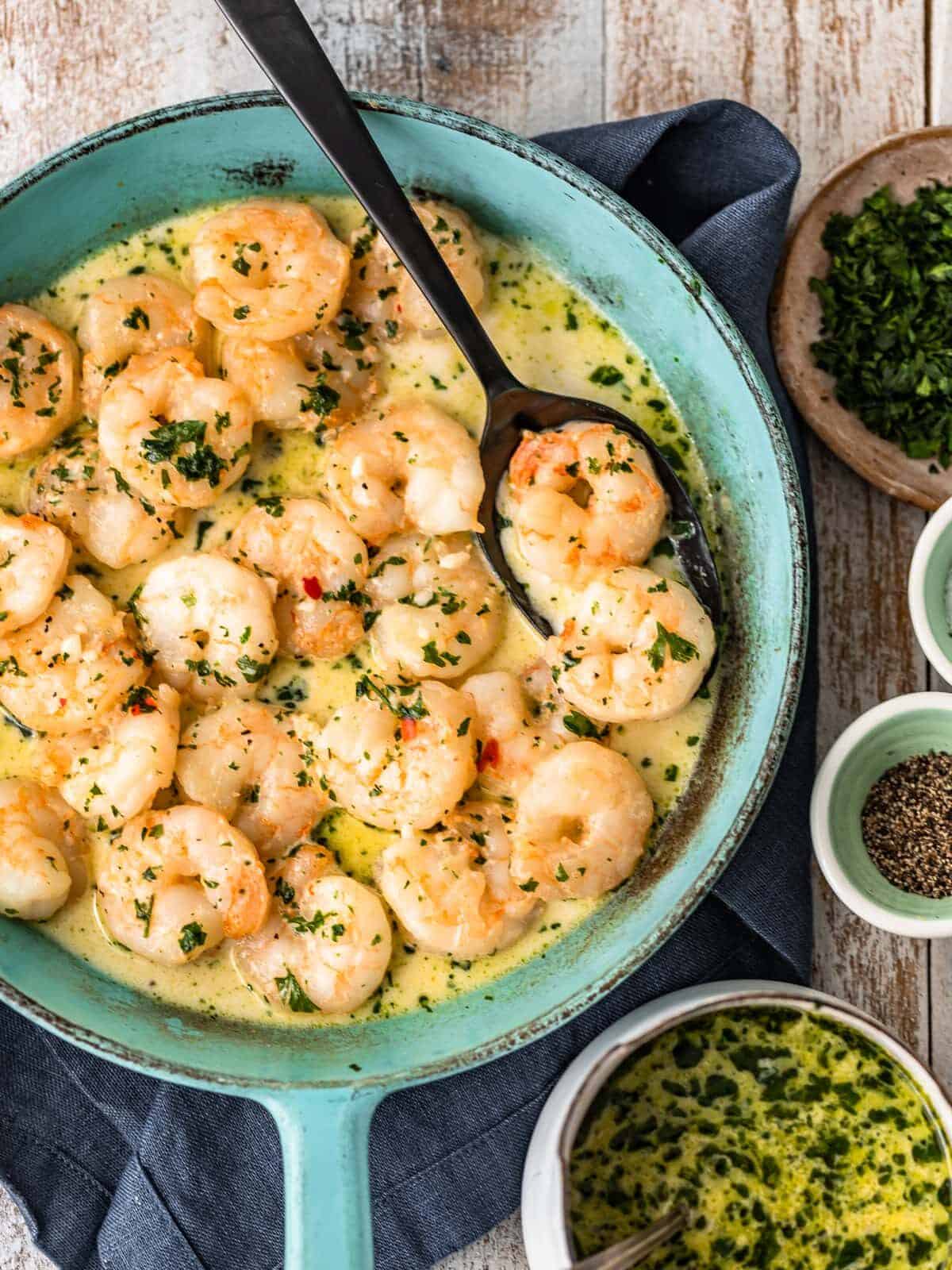 More Easy Shrimp Recipes We Love