Shrimp Tacos (made with creamy Buffalo Shrimp) are one of my favorite taco recipes. This Buffalo Shrimp Tacos Recipe is tossed in a finger licking good shrimp taco sauce you're going to love. This easy shrimp tacos recipe is perfect for Cinco De Mayo, family night in, or game night with friends! Nothing is better than spicy crispy buffalo shrimp topped with all the fixings and wrapped in a corn tortilla. I'm obsessed!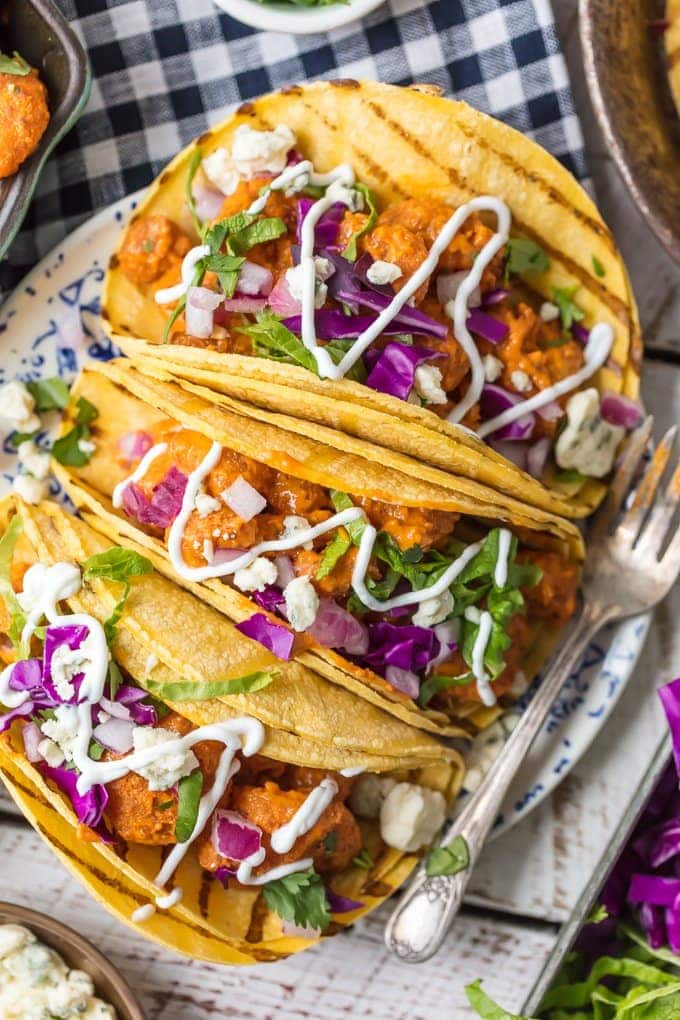 Shrimp Tacos Recipe (Buffalo Shrimp)
This buffalo shrimp taco recipe is one of my favorite taco recipes for easy dinners or fun party food. The creamy shrimp taco sauce gives these babies so much flavor!
Buffalo Shrimp Tacos…What more do I need to say?
This easy shrimp tacos recipe is second to none, and it's just so easy. The secret? We're using POPCORN SHRIMP! Toss those babies in the ultimate buffalo shrimp taco sauce and call it a day. Creamy, just a bit of heat, and so much flavorful.
When it comes to easy recipes, I want to be your spirit guide. It's my mission to make finding your way around a kitchen something you not only can do on the regular, but also feel GREAT about. I avoided cooking for far too long but now that I've realized how simple it can be, I can't stop won't stop. These Buffalo Shrimp Tacos are the perfect example that cooking can be EASY and DELICIOUS.
Make the most amazing shrimp tacos for a fun and easy dinner!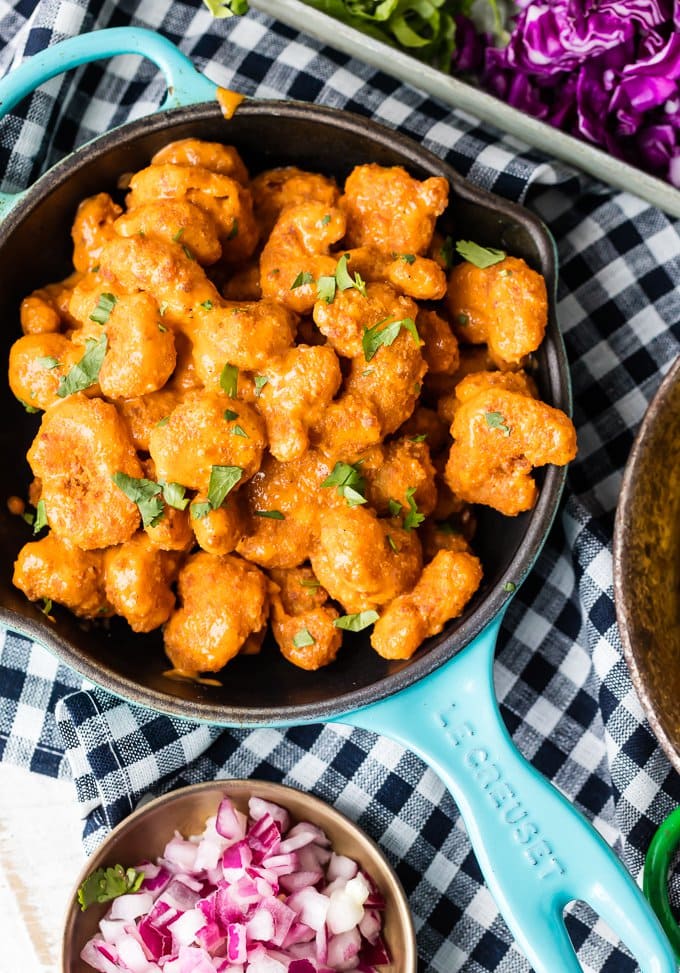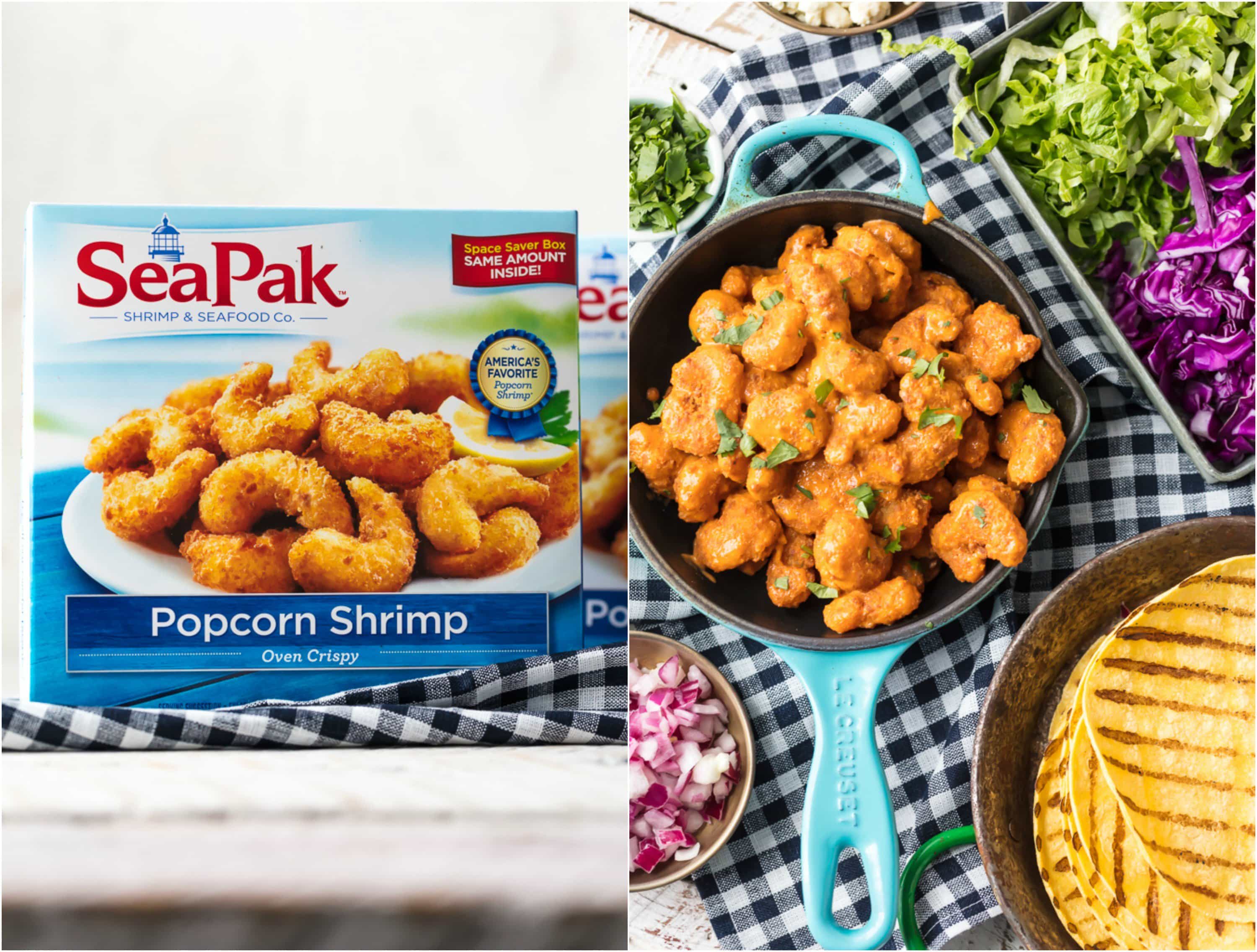 The Secret to Buffalo Shrimp Tacos
I have to be totally honest…handling raw shrimp isn't my favorite thing in this world. But I LOVE eating shrimp and even more importantly, Pat is OBSESSED with it! When he saw the freezer stocked with SeaPak Popcorn Shrimp, he was so excited. He basically shadowed my every move while I made these shrimp tacos, waiting (impatiently) for me to finish. Needless to say, he's a huge fan.
SeaPak makes it easy to own the kitchen, and that makes me love them even more. I love all the possibilities with their popcorn shrimp. You won't believe how crispy they get in the oven. SO CRUNCHY and delicious.
We love them on their own, tossed into salads, or grilled onto flatbread, but we are especially excited about eating them in this Creamy Buffalo Shrimp Tacos recipe!
I cannot wait for you to try these. You can find out where they're sold near you HERE.
How to Make Shrimp Tacos
This shrimp taco recipe is so simple. There's almost nothing to it, thanks to the popcorn shrimp.
Bake the shrimp in the oven according to package instructions.
Combine butter, buffalo sauce, and ranch in a saucepan and heat it up to make the shrimp taco sauce.
When the shrimp is done cooking, toss them into the pan with the sauce, and stir to fully coat.
Now just assemble those tacos, with buffalo shrimp, cabbage, cilantro, onion, blue cheese, taco sauce, and anything you want for toppings.
It's seriously the easiest recipe, and they're just so good!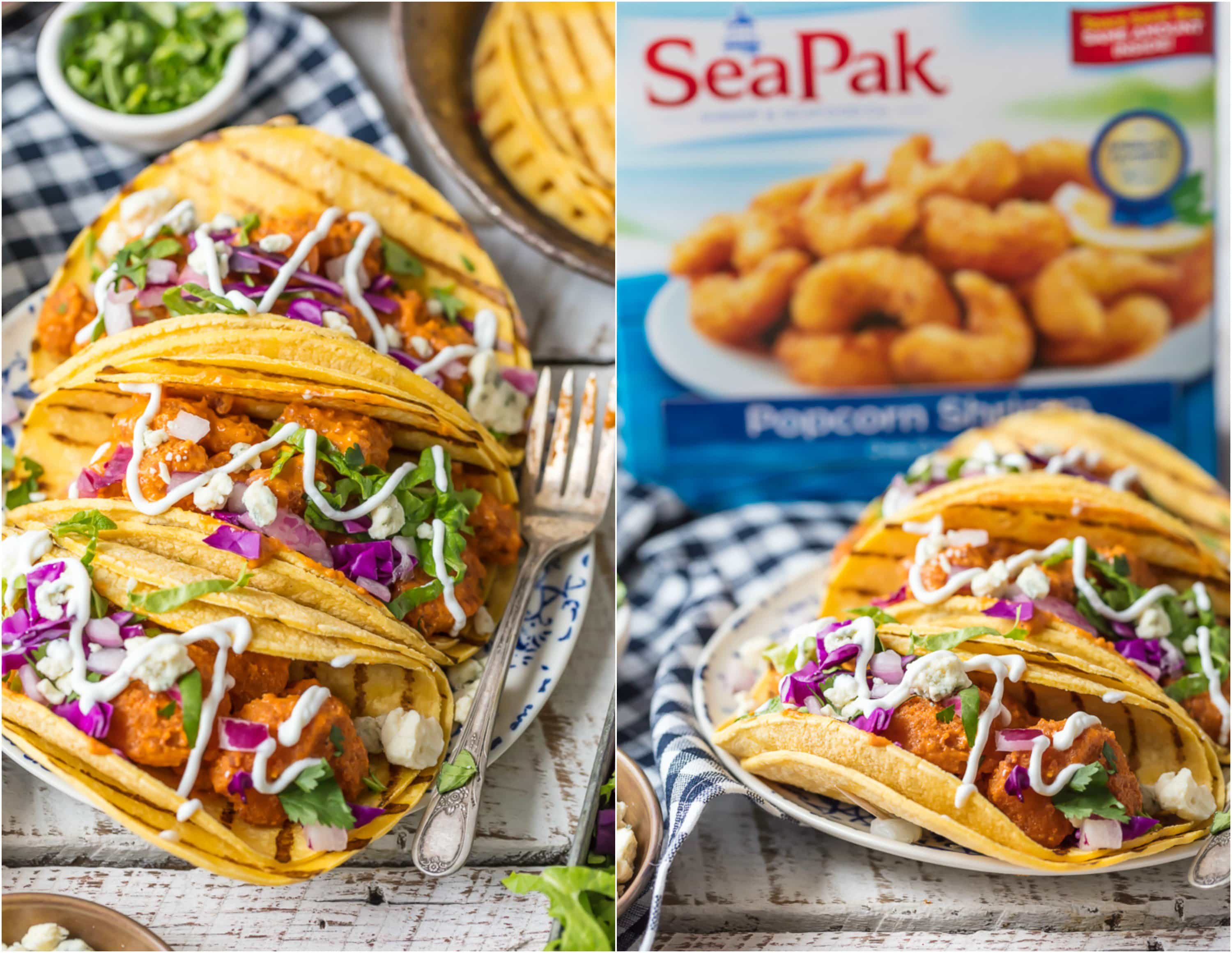 What's a good side dish for tacos?
SO MANY THINGS would be great with these buffalo shrimp tacos! Give me some cilantro rice, black beans, tortilla chips, Mexican style slaw, and so much more! Get creative and trust your gut. You've got this!
Are these healthy?
Yes and no. The popcorn shrimp are only 230 calories for 14 shrimp. I only used about 7 per taco. But of course they're tossed in a buttery and creamy buffalo sauce so…there's that. But you can make these as decadent or healthy as you choose! All the toppings are light and fresh. Everything in moderation. I love all the colors and flavors!
Do you like ranch or blue cheese with your buffalo shrimp?
GOOD NEWS, I used BOTH! There's ranch dressing in the creamy buffalo shrimp taco sauce, and the tacos are topped with crumbled blue cheese. I like to live with the best of both worlds. No shame in my game!
How to Make Buffalo Shrimp Taco Sauce
These wouldn't be Buffalo Shrimp Tacos without the buffalo shrimp taco sauce. You better believe we've got you covered on this! You can always buy Buffalo Sauce at the store for this recipe, or you can make your own with our easy recipe. Here is our favorite Homemade Buffalo Sauce Recipe. Creamy and delicious.
Make these Buffalo Shrimp Tacos for Taco Night! Check out the full Taco Tuesday Guide for more tips, ideas, and recipes.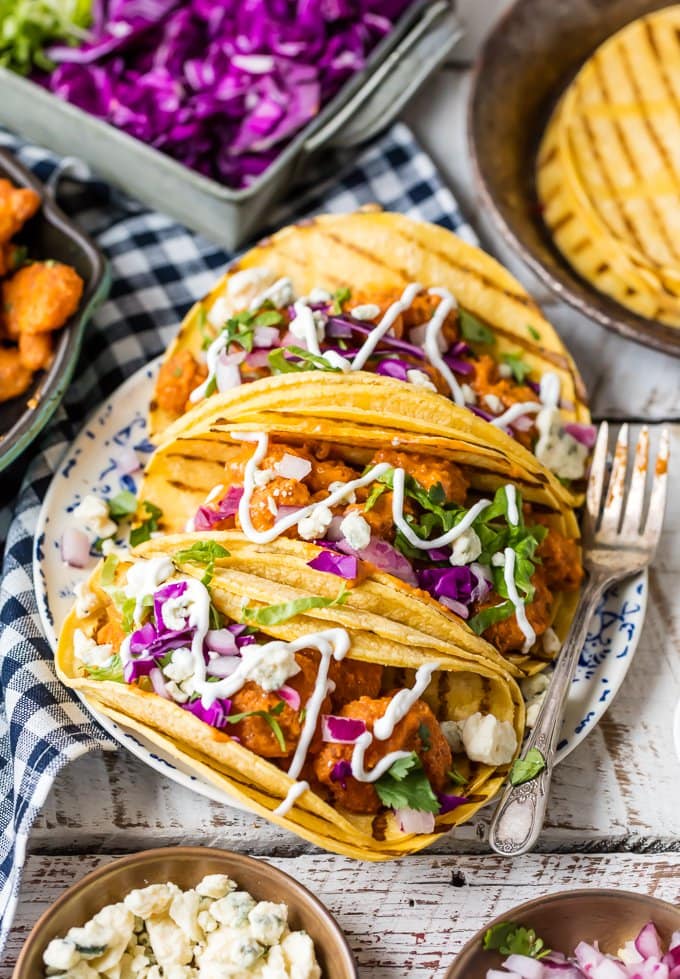 What are you waiting for? This easy Buffalo Shrimp Taco Recipe is ready and waiting! I hope you love it as much as we do. Be sure to try these Air Fryer Fish Tacos and the rest of my delicious taco recipes.
See the recipe card below for full details on How to Make Buffalo Shrimp Tacos. Enjoy!
After you make these tacos, be sure to try our other easy shrimp recipes: