This Bang Bang Shrimp recipe is loaded with flavor but low on calories! It's a skinny copycat version of the popular Bonefish Grill appetizer. You get all the flavor (thanks to the spicy but creamy bang bang sauce) with fewer calories. Delicious, easy, and crave-worthy! This makes a great appetizer or easy dinner.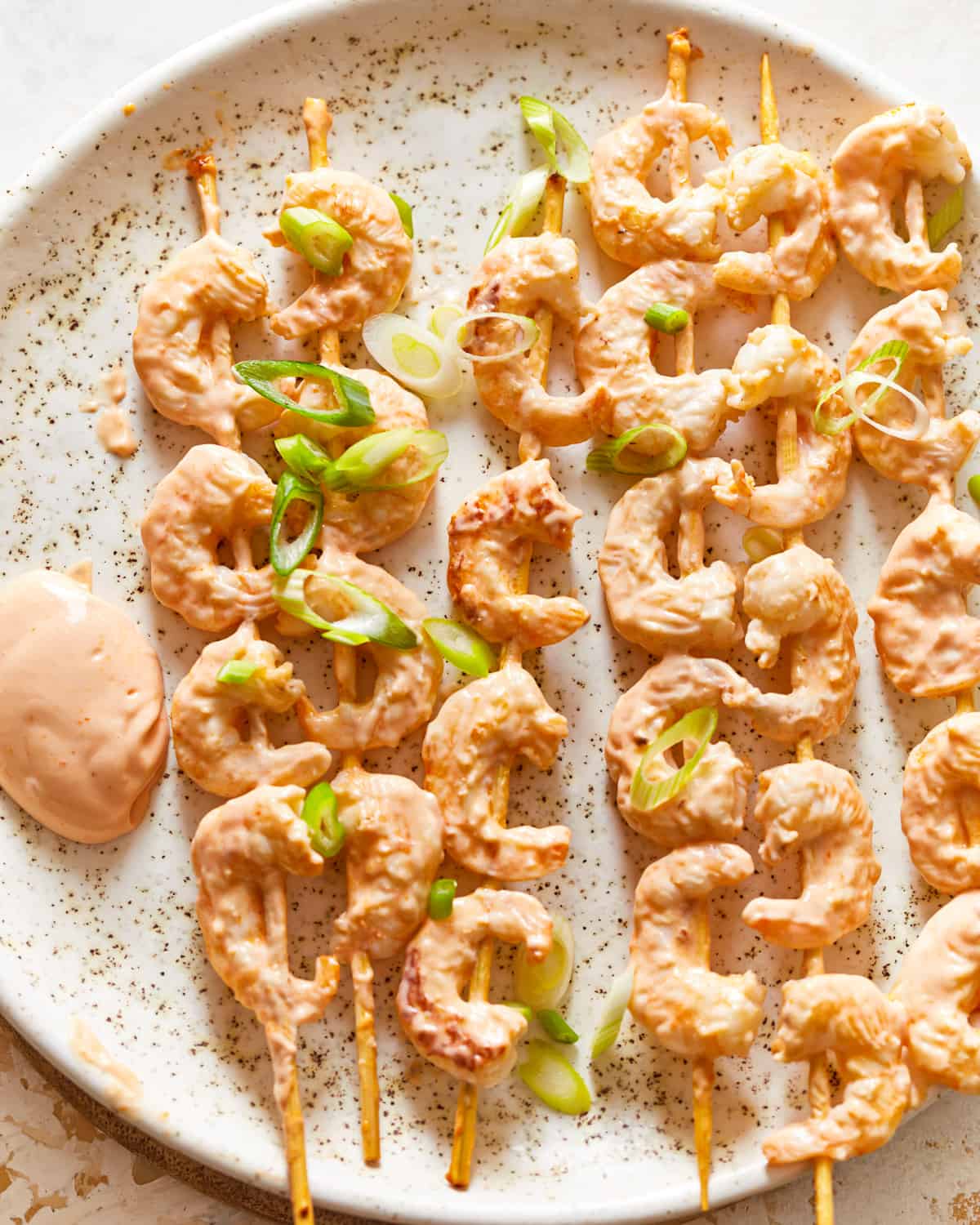 What's in this Bang Bang Shrimp Recipe?
This Bang Bang Shrimp Recipe is a Bonefish Grill copycat recipe but made to be a little bit healthier. I just love lighter versions of restaurant favorites! The shrimp is grilled instead of fried, plus we lightened up the sauce even more by using Greek yogurt as the base. You get all the flavor but non of the fat– my favorite kind of dish!
Shrimp: Any size of shrimp will work. Your cooking time will vary depending on how large your shrimp are, so keep a close eye on them.
Bang Bang Sauce: The secret healthy ingredient in the sauce is Greek yogurt. It adds all the creaminess you need without the added fats. Greek Yogurt can be a cooking substitute in SO many dishes, and it worked like a charm for this sauce.
Green Onions: Add a pop of color, freshness, and oniony flavor.
Pro Tip: If your shrimp are frozen, make sure to thaw them overnight in the refrigerator before starting the recipe!
Variations on Bonefish Grill Bang Bang Shrimp
This sauce is crazy delicious, and I'm here to tell you you don't have to limit yourself to just shrimp. Pour this sauce over chunks of chicken, tofu, or steak; cauliflower florets; scallops, or salmon fillets. You can even enjoy it with french fries or mozzarella sticks!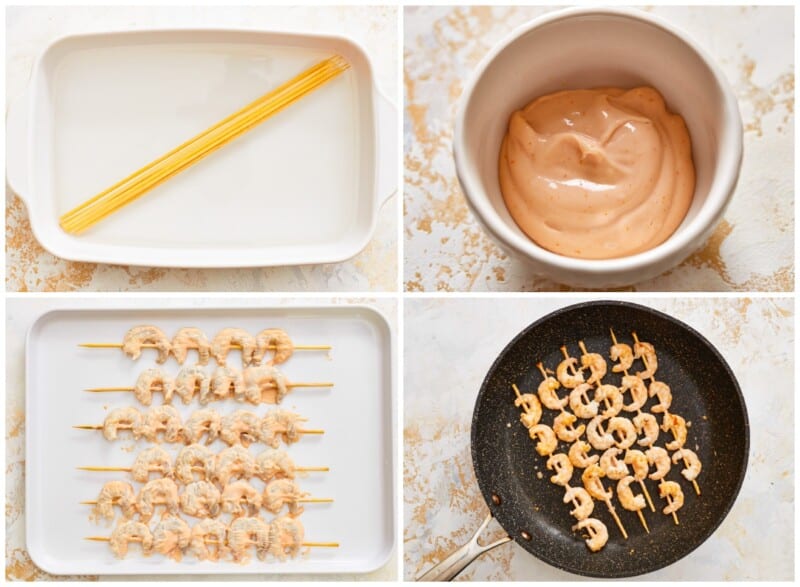 What is bang bang shrimp?
Bonefish Grill describes it as "crispy shrimp tossed in our signature creamy, spicy sauce." Our version skips the crispy fried element and doubles down on the creamy, slightly spicy sauce.
What is bang bang sauce made of?
Typically the sauce is made with mayo, sweet chili sauce, hot sauce, and lots of spices. We have substituted Greek yogurt for the mayo, saving a ton of calories. You'll never notice the difference (or might I say you'll like this version better!)
What is the origin of bang bang shrimp?
The name refers to the sweet Thai chili sauce that gives the shrimp a kick! The dish was created and named by the head chefs of Bonefish Grill.
How spicy is this recipe?
It's not very hot at all. There's a mild spice with a bit of a bite, but I wouldn't consider it to be the kind of hot that sits in your mouth after eating. If you prefer a spicier version, you can add in some red pepper flakes or go with a more spicy hot sauce. I like that kids and adults can both enjoy the milder version I made
Is bang bang sauce like Yum Yum sauce?
Not really. While they are both mayo-based sauces, bang bang is sweet, while yum yum sauce is more savory and tomatoey.
How many calories are in bang bang shrimp?
Each skewer of 4-5 shrimp is under 100 calories. We usually eat 2-3 skewers per person. Is this heaven? Bonefish Grill reports that their fried version is over 800 calories so I'll count this as a win!
How to Store and Reheat
Store leftover bang bang shrimp in an airtight container in the refrigerator for up to 3 days. Reheat in a pan with a little bit of olive oil set over medium-low heat until warmed through.
How to Freeze
Freeze shrimp in an airtight container for up to 3 months. Let thaw overnight in the refrigerator before reheating.
Serving Suggestions
I always ordered this dish as an appetizer, and I think it's just the perfect amount of food to serve before a meal. I especially love this as a romantic appetizer for a date night meal at home.
If you want to make this bang bang shrimp into a meal, make these bang bang shrimp bowls. Or cook up the shrimp and cover it in the sauce as directed, and serve it with basmati rice or mashed cauliflower and roasted veggies, fresh pasta, or turn it into shrimp tacos! Finish things off with a round of Skinny Margaritas!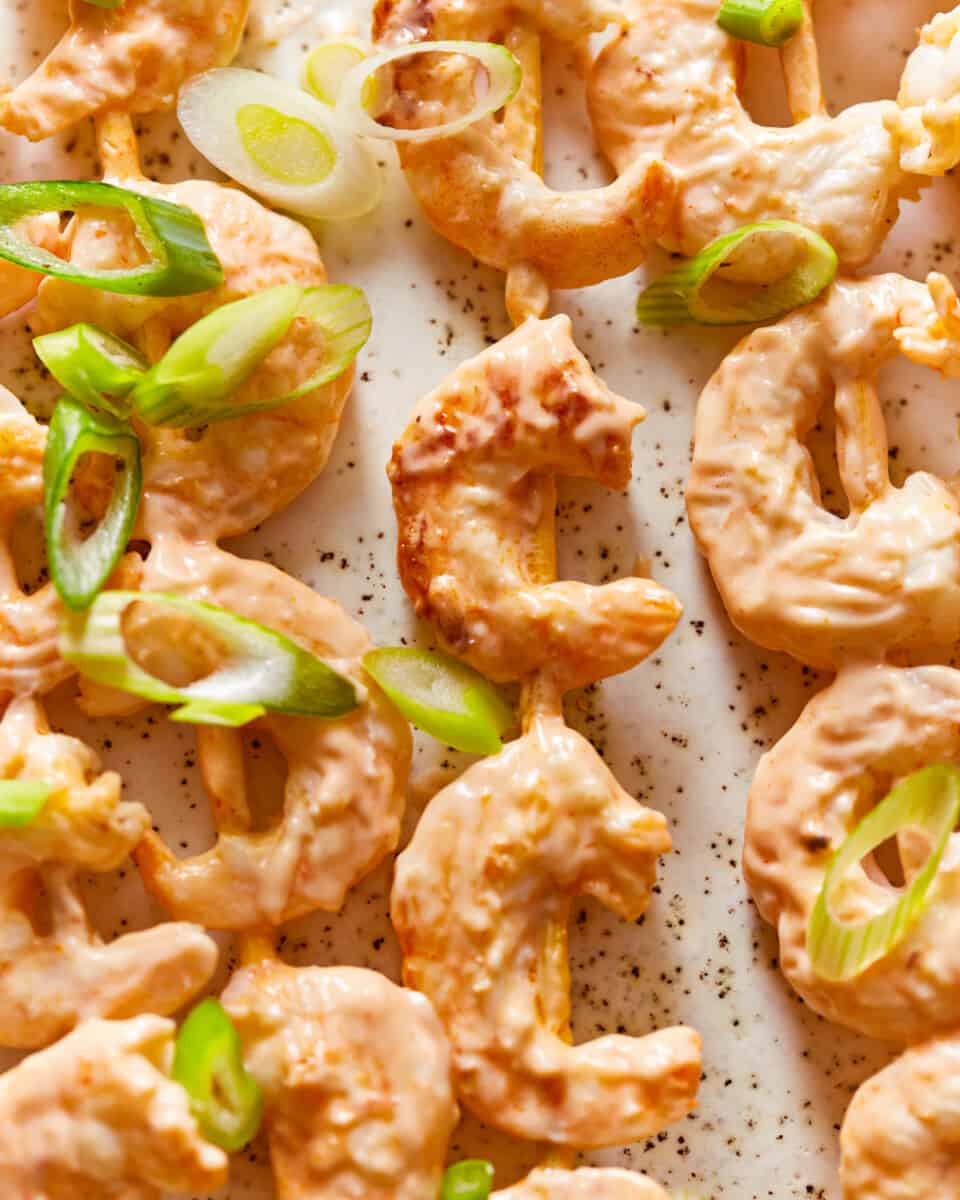 5-Star Review
"Shrimps are my passion. I can't survive without them just like without any of the seafood. Your recipe is a treasure for me. And the sauce I often make for other dishes. How good that your recipe is both healthy and delicious." – Sam Roberts
More Shrimp Recipes We Love