This Bang Bang Shrimp recipe is loaded with flavor but low on calories! It's a skinny copycat version of the popular Bonefish Grill appetizer. You get all the flavor (thanks to the spicy but creamy bang bang sauce) with less calories. Delicious, easy, and crave worthy! This makes a great appetizer or easy dinner.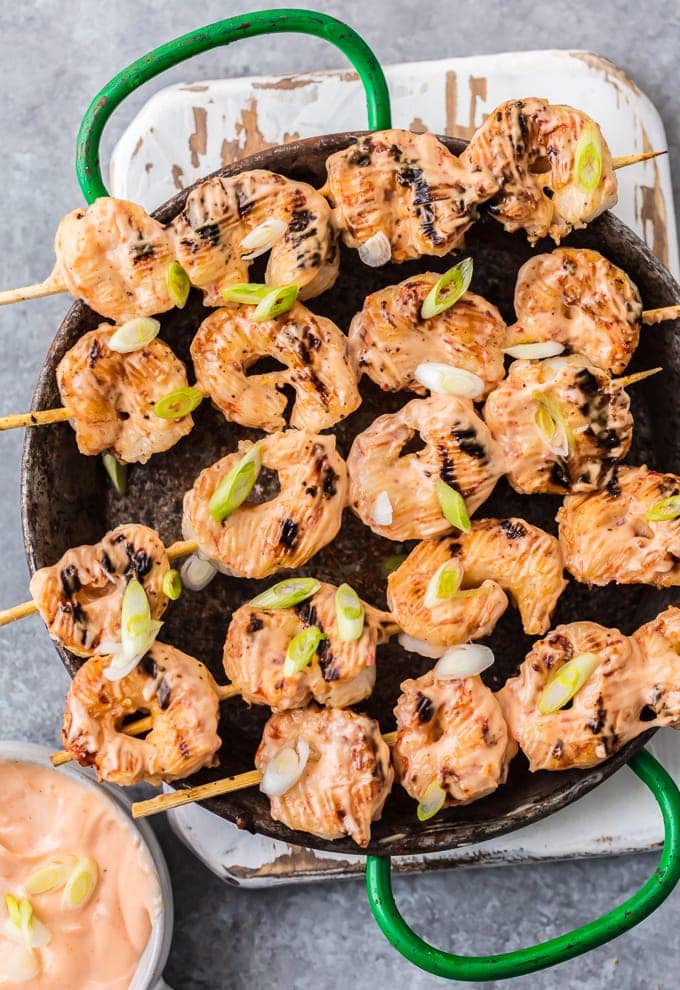 Healthy Bang Bang Shrimp
This Bang Bang Shrimp Recipe is a Bonefish Grill copycat recipe, but made to be a little bit healthier. I just love lighter versions of restaurant favorites!
The shrimp is grilled instead of fried, plus we lightened up the sauce even more by using greek yogurt as the base. You get all the flavor but non of the fat–my favorite kind of dish!
I've been trying to make some healthier versions of favorite recipes lately, and I'm so happy with the results of this one. They've become some of our go-to dinner recipes at home because it feels so much better to indulge in something you can feel good about.
The weekends are usually the time Pat and I go crazy on the calories, so making some skinnier recipes to love instead will help us get back on track with a healthy lifestyle. Let me tell you, it's HARD to have a food blog and not eat, eat, eat everything. But this bang bang shrimp recipe makes things a little easier.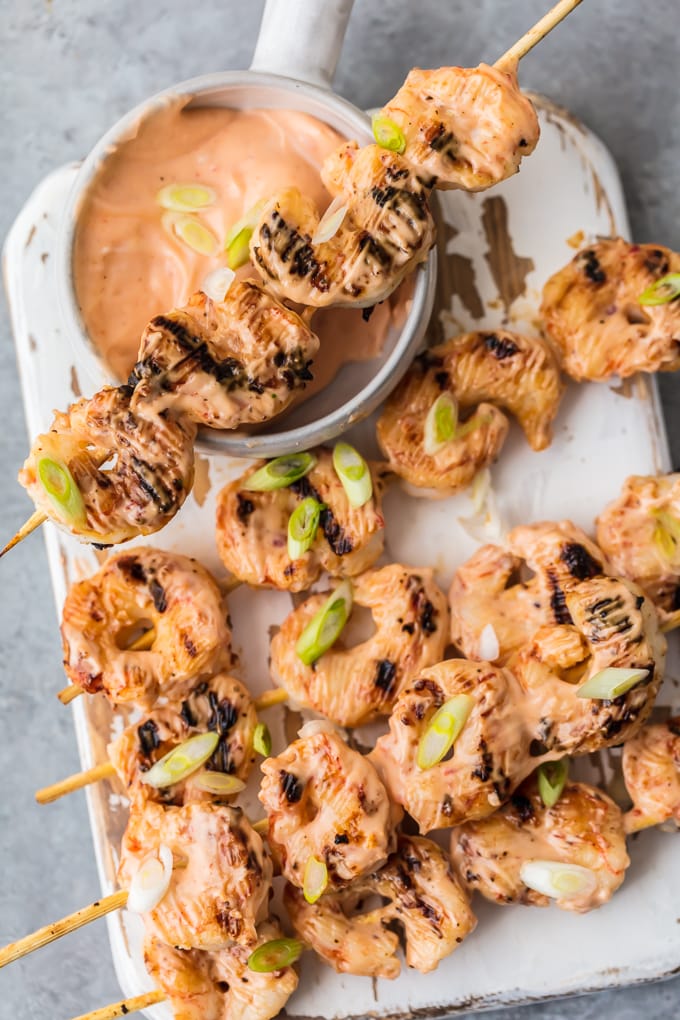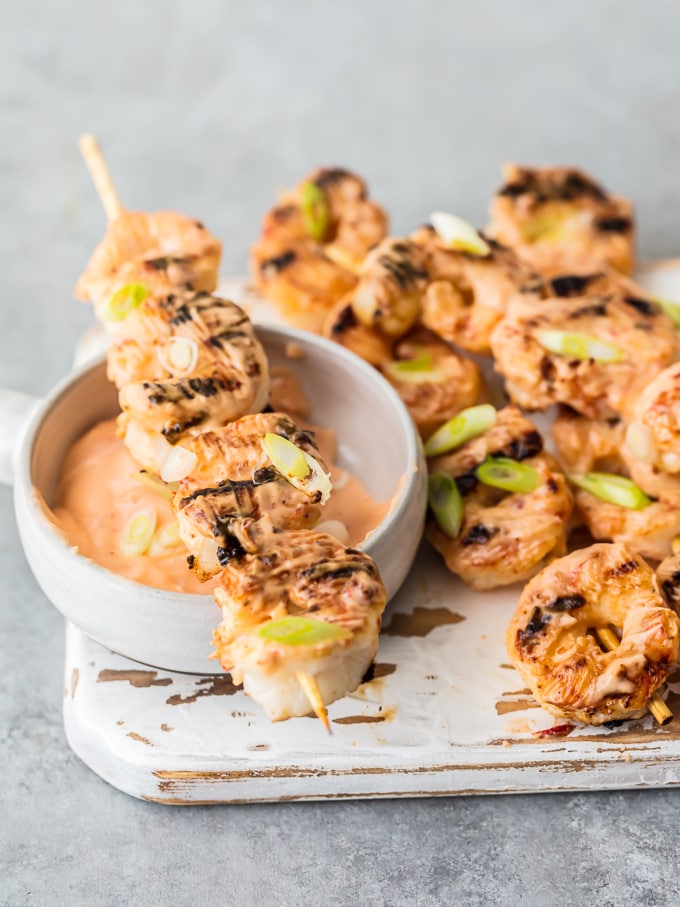 How to Make Bang Bang Shrimp at Home
This recipe is so quick and easy! It's 3 ingredients and takes around 20 minutes to prep and cook. You'll need a few more ingredients to make the bang bang sauce from scratch, but that can also be done ahead of time.
See the recipe card below for full ingredients and step by step recipe, and check out these process shots and the video to see how it's done.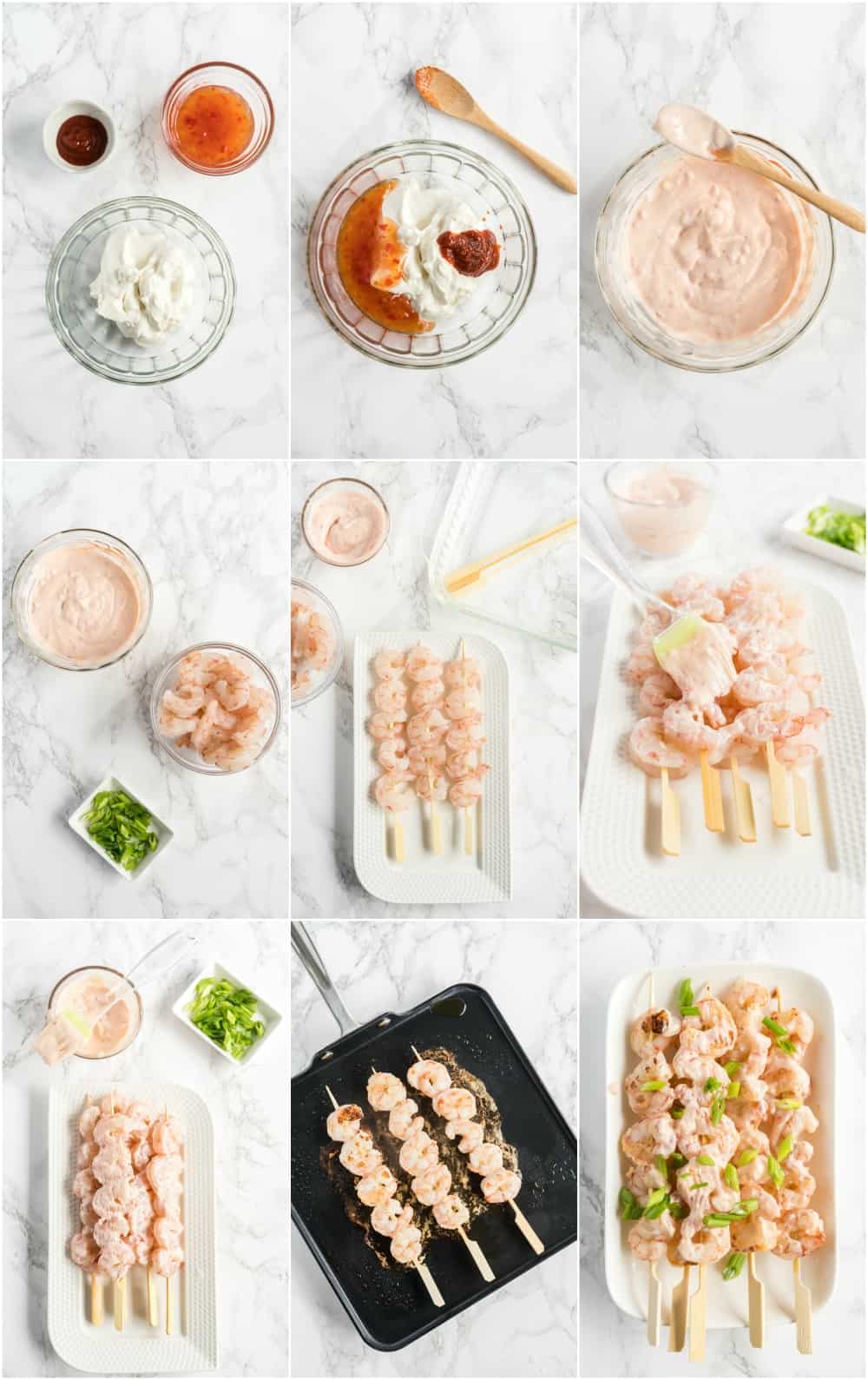 Top Recipe Tips
Be sure the shrimp is peeled and deveined before cooking.
The shrimp cooks really quickly, so you just need to grill about 1-2 minutes on each side (cook just until opaque)
If you use bamboo skewers, be sure to soak them in water before starting.
How We Made it Healthier
This healthy and spicy shrimp was an absolute success. Pat pretty much licked these skewers clean. You would never know that each skewer of 5 shrimp is only around 50 calories. Amazing!
Shrimp is a low-calorie food, but the bang bang shrimp sauce is what usually makes this dish heavier, plus it's usually fried. So we grilled the shrimp to cook it up without the added calories of oils and breading.
The secret healthy ingredient in the sauce is greek yogurt. It adds all the creaminess you need without the added fats. Greek Yogurt can be a cooking substitute in SO many dishes, and it worked like a charm for this sauce.
It's made for shrimp, but this sauce would also be great on chicken. I actually doubled the recipe so I can try it with some other dishes tomorrow.
(FYI: use the dip for some fries if you want a flavor explosion!)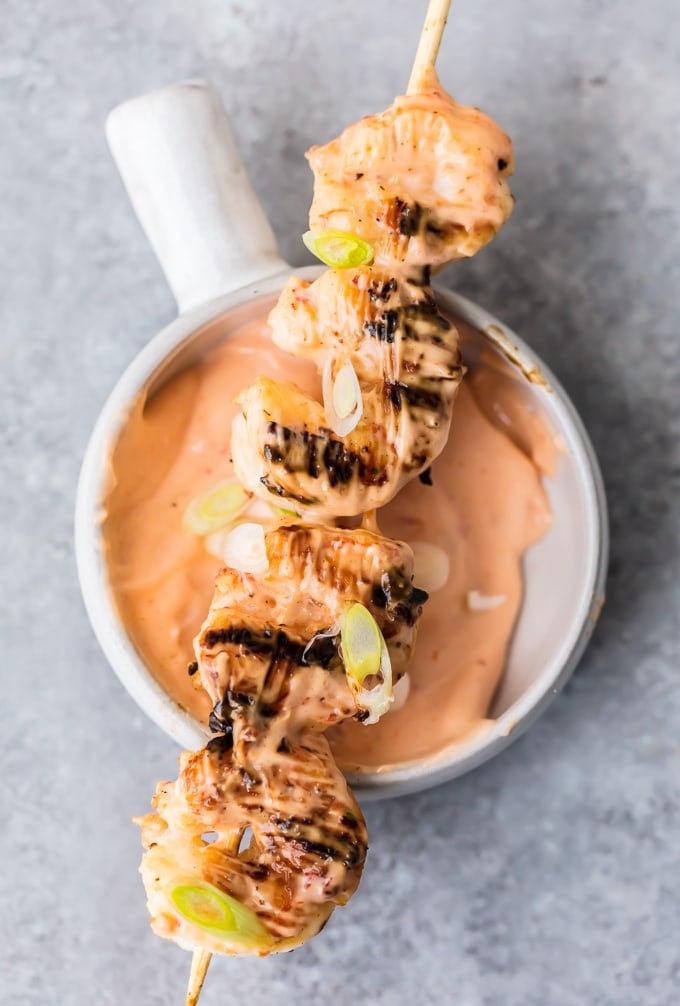 How many calories are in this healthy Bang Bang Shrimp?
Each skewer of 4-5 shrimp is under 50 calories according to My Fitness Pal. We usually eat 2-3 skewers per person. Is this heaven? Bonefish Grill reports that their fried version is over 800 calories so I'll count this as a win!
What ingredients are in bang bang sauce?
Typically the sauce is made with mayo, sweet chili sauce, hot sauce, and lots of spices. We have substituted greek yogurt for the mayo, saving a TON of calories. You'll never notice the difference (or might I say you'll like this version better!)
How spicy is this recipe?
It's not very hot at all. There's a mild spice with a bit of a bite, but I wouldn't consider it to be the kind of hot that sits in your mouth after eating.
If you prefer a spicier version, you can add in some red pepper flakes or go with a more spicy hot sauce. I like that kids and adults can both enjoy the milder version I made.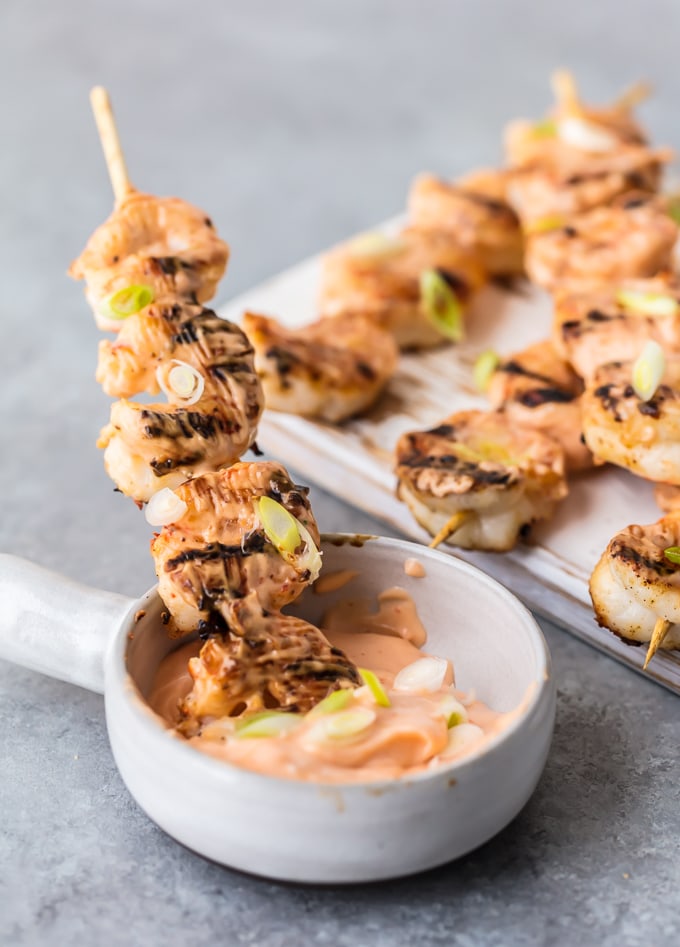 Spicy Bang Bang Shrimp with the Best Sauce
This dish is proof that you can make healthy substitutions to a favorite recipe without sacrificing flavor. And shrimp is so easy to cook, which makes this recipe a winner!
Bang Bang Shrimp used to be my very favorite appetizer to get at Bonefish Grill when I lived in Jacksonville. I always felt guilty getting it after I made the mistake of looking up the nutritional information (830 calories…yikes). Now, I'm all for a calorie splurge once in a while, but if you can create a delicious copycat meal at home that's actually healthy…well that's a win, win.
Serving Suggestions
I always ordered this dish as an appetizer, and I think it's just the perfect amount of food to serve before a meal. I especially love this as a romantic appetizer for a date night meal at home.
If you want to make this bang bang shrimp into a meal, it makes the perfect center piece. Cook up the shrimp and cover it in the sauce as directed, then follow these serving ideas:
serve it along with brown rice and some steamed veggies for a simple healthy meal.
turn it into a bang bang pasta dish. I recommend serving it with linguini or bucatini.
Use the shrimp to make tacos! You just need some tortillas and a few toppings (purple cabbage and more green onions would taste great!)
However you serve it, be sure to cover absolutely everything in the sauce (veggies and all) and prepare for the most delicious dinner!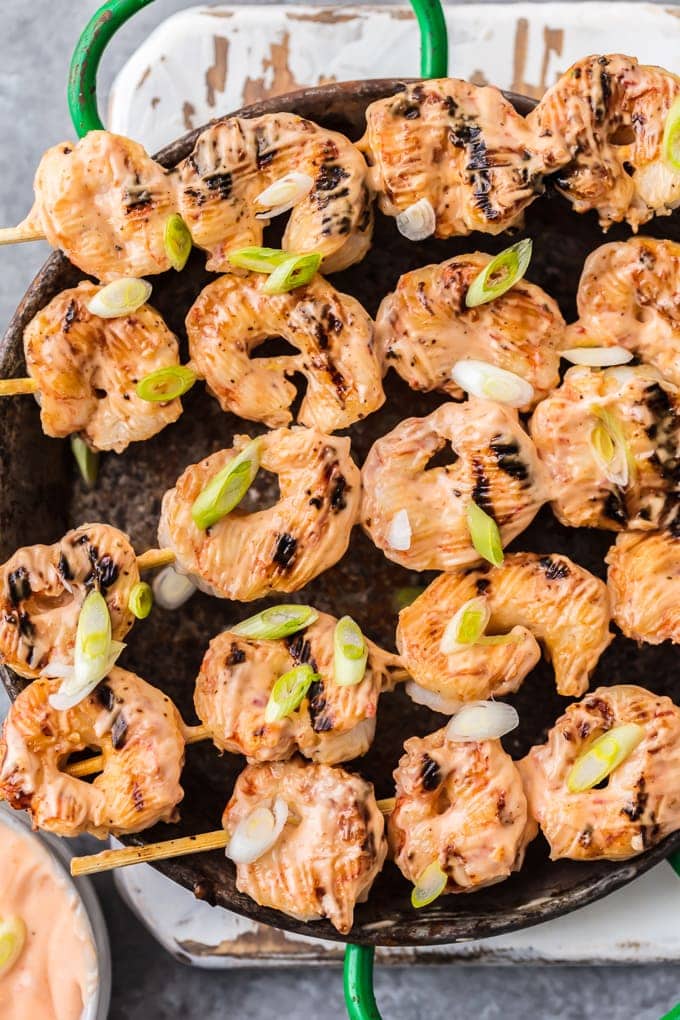 Healthier Recipes
If you have any suggestions for good and healthy recipes, I would love for you to shoot them my way! Some other favorites include our Skinny Margaritas, Sweet Potato Chips, Mashed Cauliflower, Parmesan Crusted Tilapia, and Mexican Grilled Corn, and our Garlic Butter Salmon.
Watch the Video and See the recipe card below for details on How to Make Bang Bang Shrimp. Enjoy!
More shrimp recipes we love: