Shrimp Scampi is cooked up in a creamy, buttery garlic sauce with white wine and lemon, then served over pasta for an easy yet beautiful seafood dinner. It's classic, flavorful, healthy, and made in just 20 minutes!
What's in this Shrimp Scampi Recipe?
Garlicky, lemon-y shrimp and pasta makes the perfect seafood dinner for summer nights on the patio!
Pasta: Any long-shaped pasta, like spaghetti, linguine, angel hair, bucatini, or fettuccine will work in this recipe.
Olive Oil: Helps the shrimp sear without burning.
Shrimp: Medium peeled and deveined shrimp work perfectly here. I left the tails on mine, but you can remove them if you prefer. When buying shrimp, look for those that are firm to the touch and have a translucent color with no signs of discoloration or odor.
Unsalted Butter: Adds a rich flavor and creamy texture to the sauce.
Garlic: Adds an earthy flavor that enhances the flavor of the shrimp.
White Wine: Adds a refreshing, subtle fruitiness to the scampi. Choose a wine that's not too sweet and not too buttery–a white Burgundy or unoaked Chardonnay would be great options.
Lemon: Adds acidity to balance the creaminess.
Kosher Salt: Enhances the flavors. If you use salted butter, omit this.
Red Pepper Flakes: Add just a kiss of spice.
Parsley: Adds a pop of color and freshness.
Pro Tip: For an even creamier scampi, add about ¼ cup of heavy cream or half-and-half off the heat at the end of cooking and stir until incorporated.
Variations on Shrimp Scampi Pasta
While I love this garlic shrimp scampi as is, there are many ways to change it up. Try some of these fun ideas:
Tomato Basil: Add diced tomatoes and fresh basil for a burst of freshness and color.
Parmesan: Add grated Parmesan cheese for a savory, cheesy flavor.
Cilantro Lime Scampi: Swap the lemon for lime and the parsley for cilantro for a Mexican-inspired twist.
Pesto: Stir in a dollop of pesto for a burst of fresh herb and nutty flavor.
Coconut: Swap out the butter for coconut oil and add coconut flakes for a tropical twist.
Cajun: Use Cajun seasoning instead of the traditional herbs for a spicy, Southern twist.
Asian: Add soy sauce, ginger, and garlic for an Asian-inspired twist on the classic dish.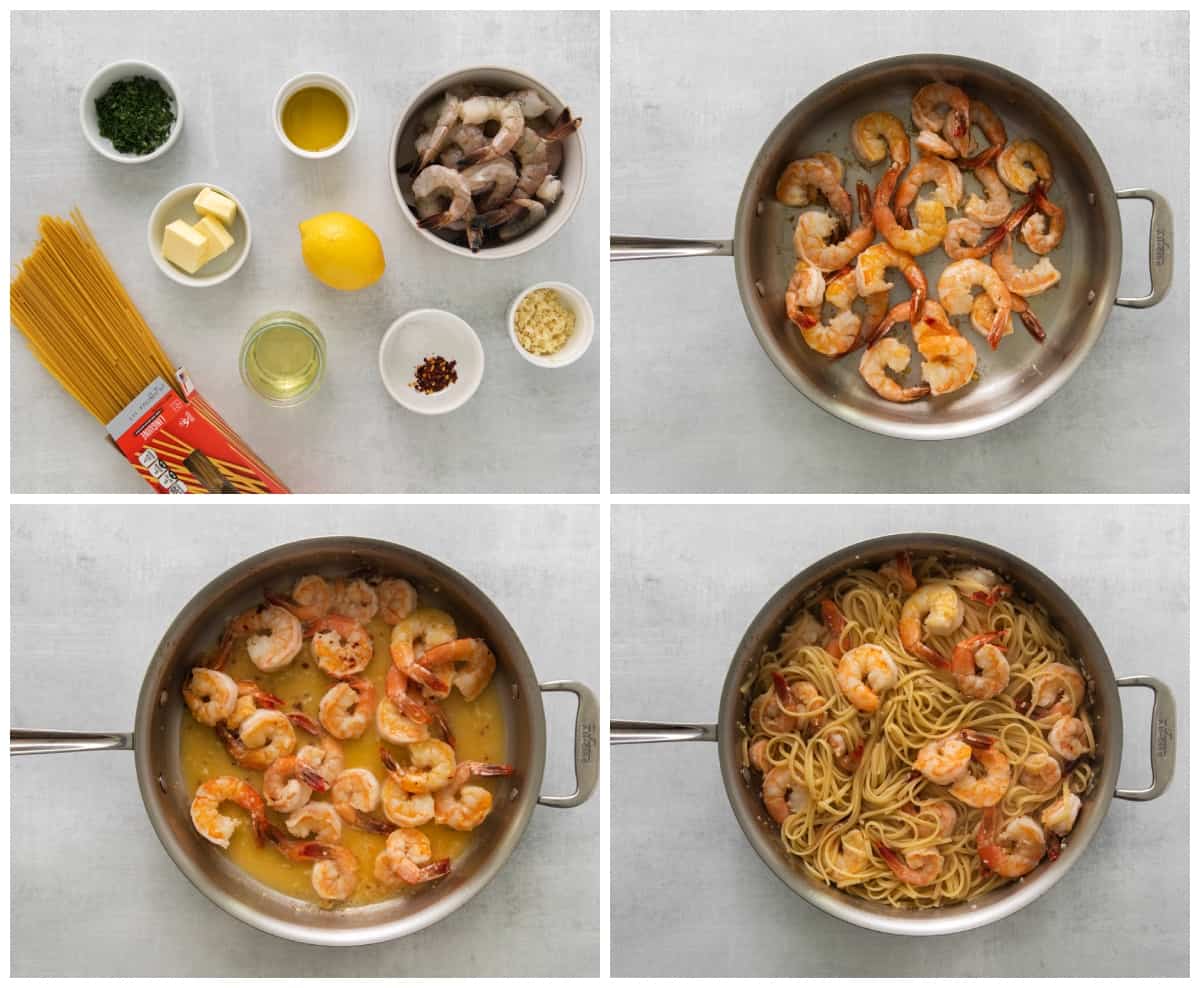 What kind of shrimp should I use for shrimp scampi?
The best type of shrimp to use for shrimp scampi is raw, peeled, and deveined shrimp. I used medium, but large also work. Avoid small shrimp, as they are not as meaty in texture. It's important to use raw shrimp because they cook very quickly, and you don't want them to become overcooked or tough.
Can I use frozen shrimp?
Frozen shrimp can be used, but they should be defrosted completely before use, and any excess moisture should be removed to prevent the shrimp from becoming watery when cooked.
How do I devein shrimp?
To devein shrimp, use a pair of kitchen scissors or a sharp knife to cut along the back of the shrimp. Start from the top, where the head used to be, and cut down towards the tail. Once you've made the initial cut, use a pairing knife or your fingers to pull out the vein. The vein will be dark and may be visible on the surface or inside the shrimp. Rinse the shrimp under cold running water to remove any leftover debris.
Can I use a different type of protein instead of shrimp?
Absolutely! This scampi recipe is also delicious with diced chicken breast!
Can I make it without wine?
You sure can! If you're not a wine drinker, you can use chicken broth or vegetable broth instead.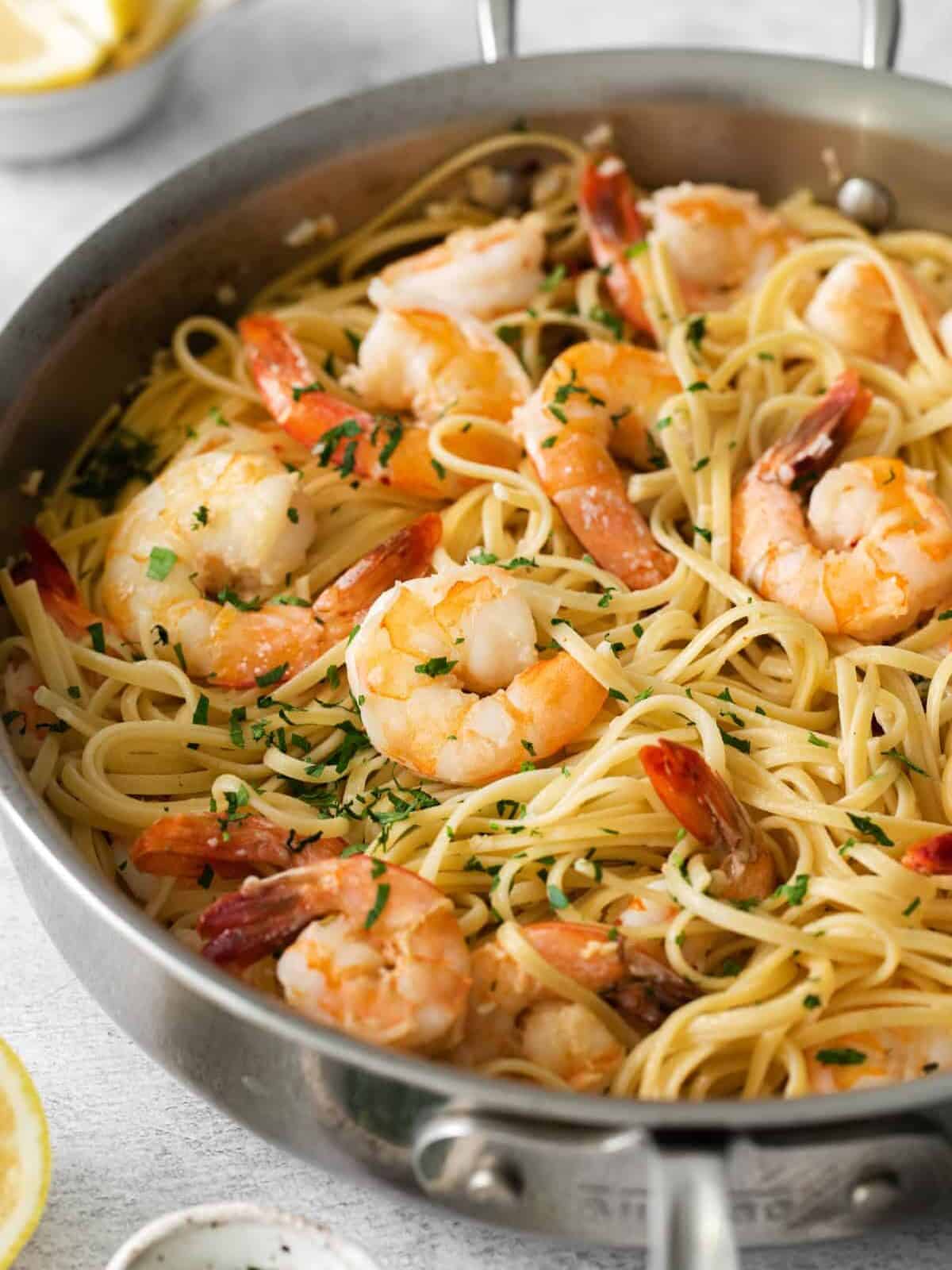 How to Store and Reheat
Shrimp scampi is best served fresh, but you can store leftovers in an airtight container in the refrigerator for up to 3 days. Reheat quickly on the stovetop over medium-low heat until just warmed through. Shrimp reheated in the microwave can be tough and rubbery.
How to Freeze
I do not recommend freezing this shrimp scampi recipe with pasta, but you can freeze the cooked shrimp (without pasta) in an airtight container for up to 3 months. Let thaw overnight in the refrigerator before reheating, and toss with freshly cooked pasta.
Serving Suggestions
This garlicky shrimp pairs perfectly with pasta and garlic bread, or you can serve it over Instant Pot rice instead. Add a side of lemon parmesan broccoli, garlic roasted asparagus, or an Italian salad for a balanced meal. If you have any leftover shrimp, make this grilled shrimp salad.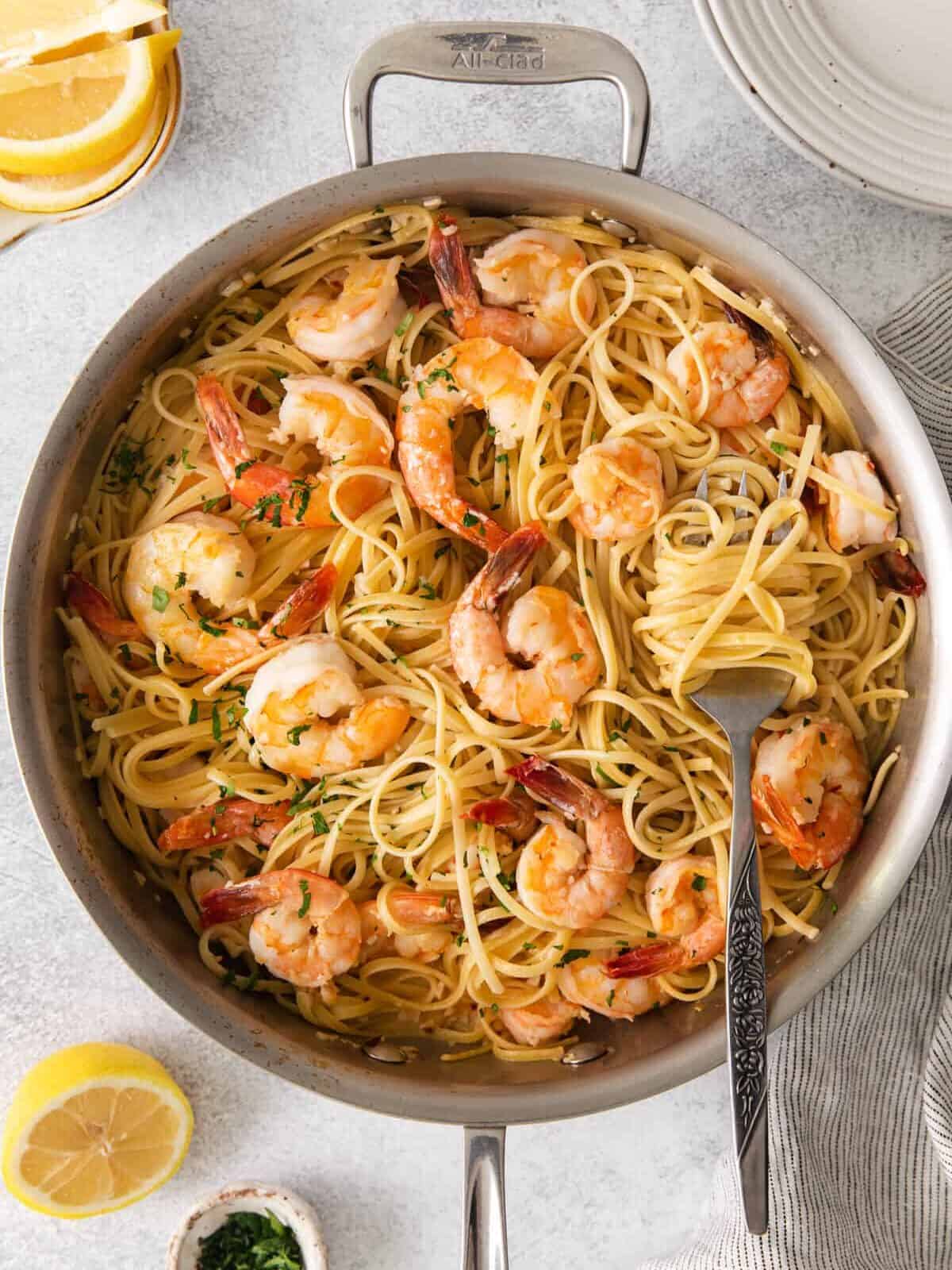 More Garlic Shrimp Recipes We Love