Coconut Shrimp is a crispy, crave-worthy appetizer that everyone will love. It's especially delicious when paired with the perfect coconut shrimp sauce: a Spicy Pina Colada Dipping Sauce! The two go hand in hand, a match made in heaven. And this coconut shrimp recipe is just as good as a main dish as it is as a party appetizer!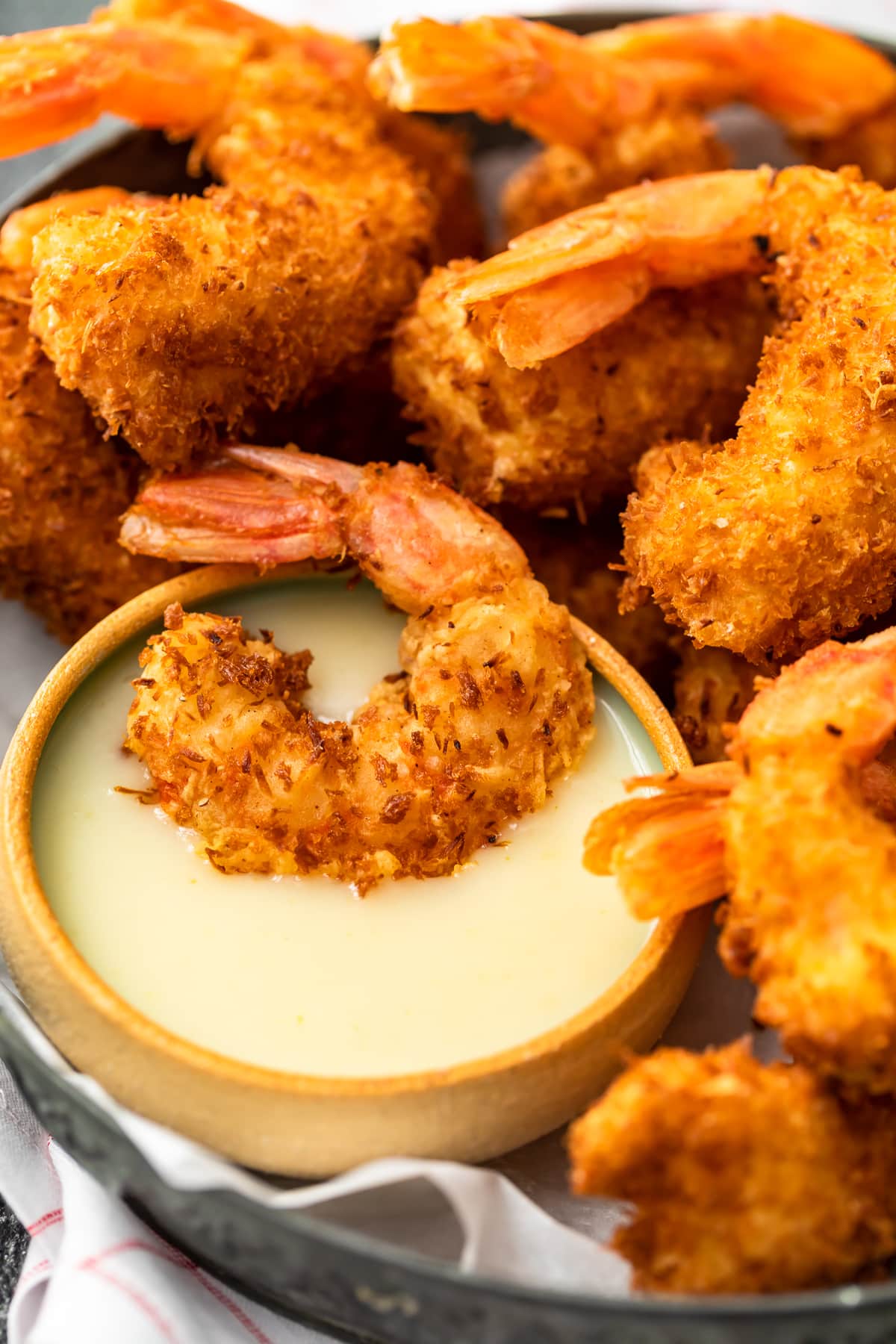 Coconut Shrimp Recipe
This coconut shrimp recipe is super crispy and full of flavor. Matched with the Pina Colada coconut shrimp sauce, it's absolutely irresistible!
Crispy, battered, deep-fried, and delicious…this Coconut Shrimp Recipe is just so tasty! This shrimp appetizer is perfect for parties (especially New Year's Eve), and it's just as good when eaten as a main dish. When eaten with the most amazing coconut shrimp sauce…watch out, because you won't be able to stop eating!
These crispy little shrimp are covered in the most delicious coconut-flavored batter, then fried to perfection on the stove top. They're surprisingly easy to make! I always love ordering shrimp at restaurants, so it's nice to know I can make it at home too.
Plus we've got a super delicious coconut shrimp sauce for dipping, because no appetizer is complete without a little dip. It's a Spicy Pina Colada dipping sauce, which pairs so well with the coconut flavor.
Fry up some coconut shrimp next time you have a seafood craving, or any time you need an appetizer for a special occasion!
This Crispy Coconut Shrimp recipe is beyond crave-worthy. Dip the shrimp in this Pina Colada shrimp sauce and you'll be in heaven!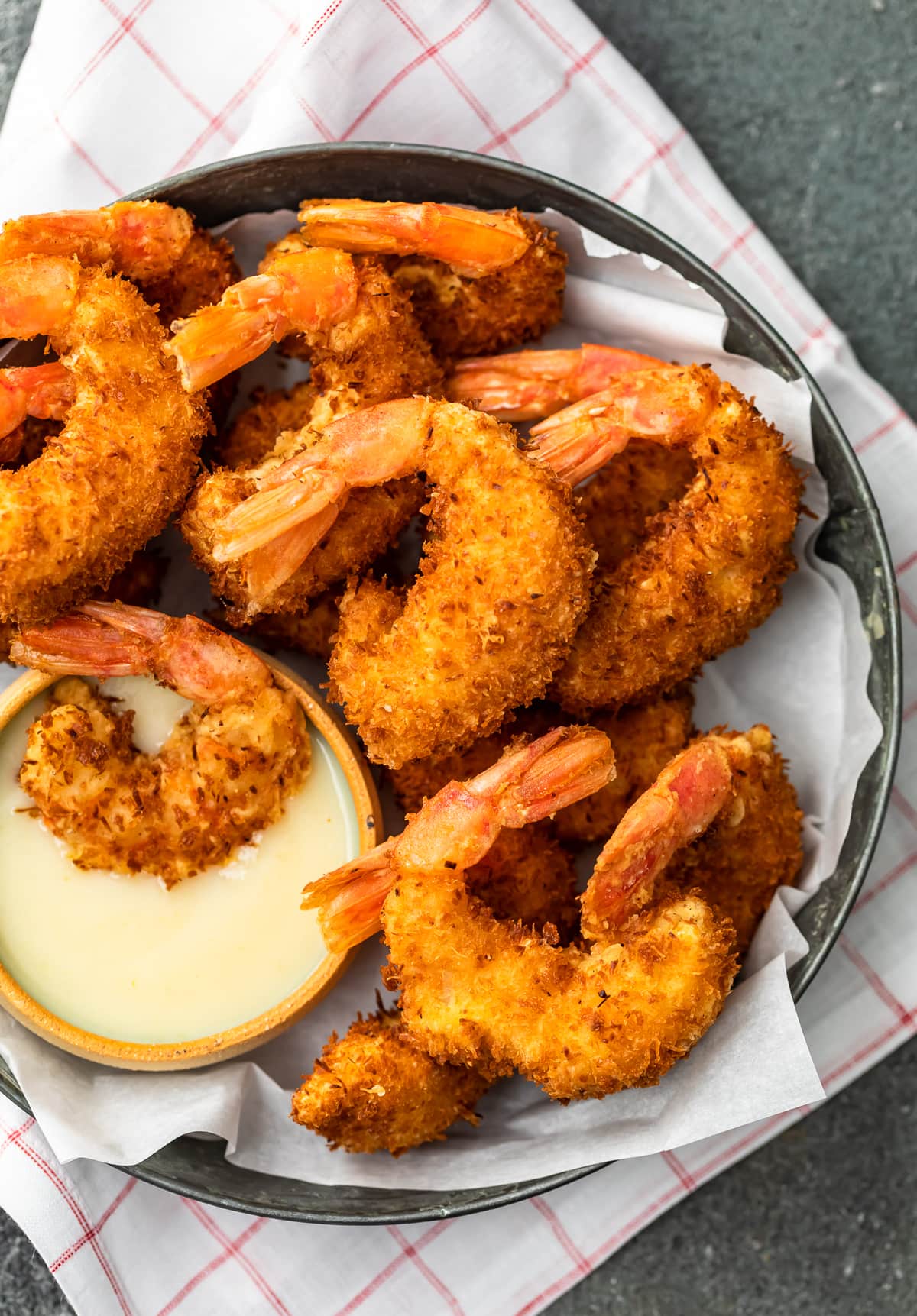 How to Make Coconut Shrimp
Frying shrimp at home is actually really easy. You can make this crispy battered coconut shrimp recipe stress-free, in just about half an hour! All you need is a deep pot/pan to heat the oil, then drop the battered shrimp in. And speaking of batter, that coconut batter is what makes it so good.
Coconut Shrimp Batter:
Panko Breadcrumbs
Shredded Coconut
Flour
Paprika
Cayenne Pepper
Salt & Pepper
Eggs
Water
How to Make Coconut Shrimp:
Heat oil in a dutch oven or deep-sided pot/pan. Oil should heat to 340°F before frying.
Lay out the shrimp, pat dry, and season.
Set up three shallow bowls for the dredging process: one with flour, paprika, cayenne pepper, white pepper, & salt; a second with eggs and water whisked together; and a third with breadcrumbs and shredded coconut.
Dip the shrimp in the flour mixture, then the eggs, then the breadcrumb/coconut mixture. And then dip it a second time in the eggs, and again in the breadcrumbs. Then place it in the hot oil to fry.
Let the shrimp fry about 1 minute on each side (2-2 1/2 minutes total). Remove them carefully and place them on a paper towel lined plate while you finish the others.
Serve them up hot along with the dipping sauce and enjoy! Check the recipe card below for more detailed instructions.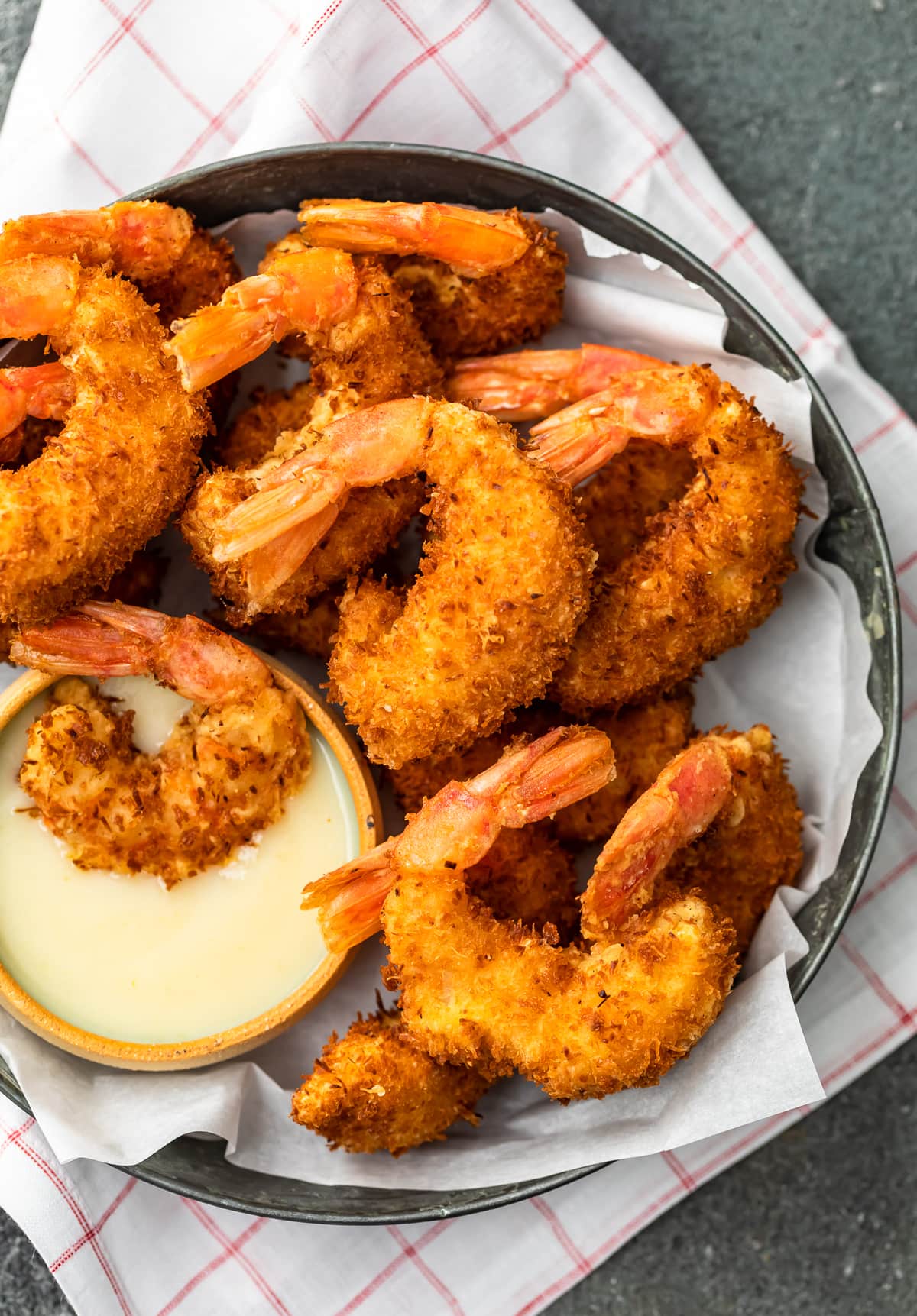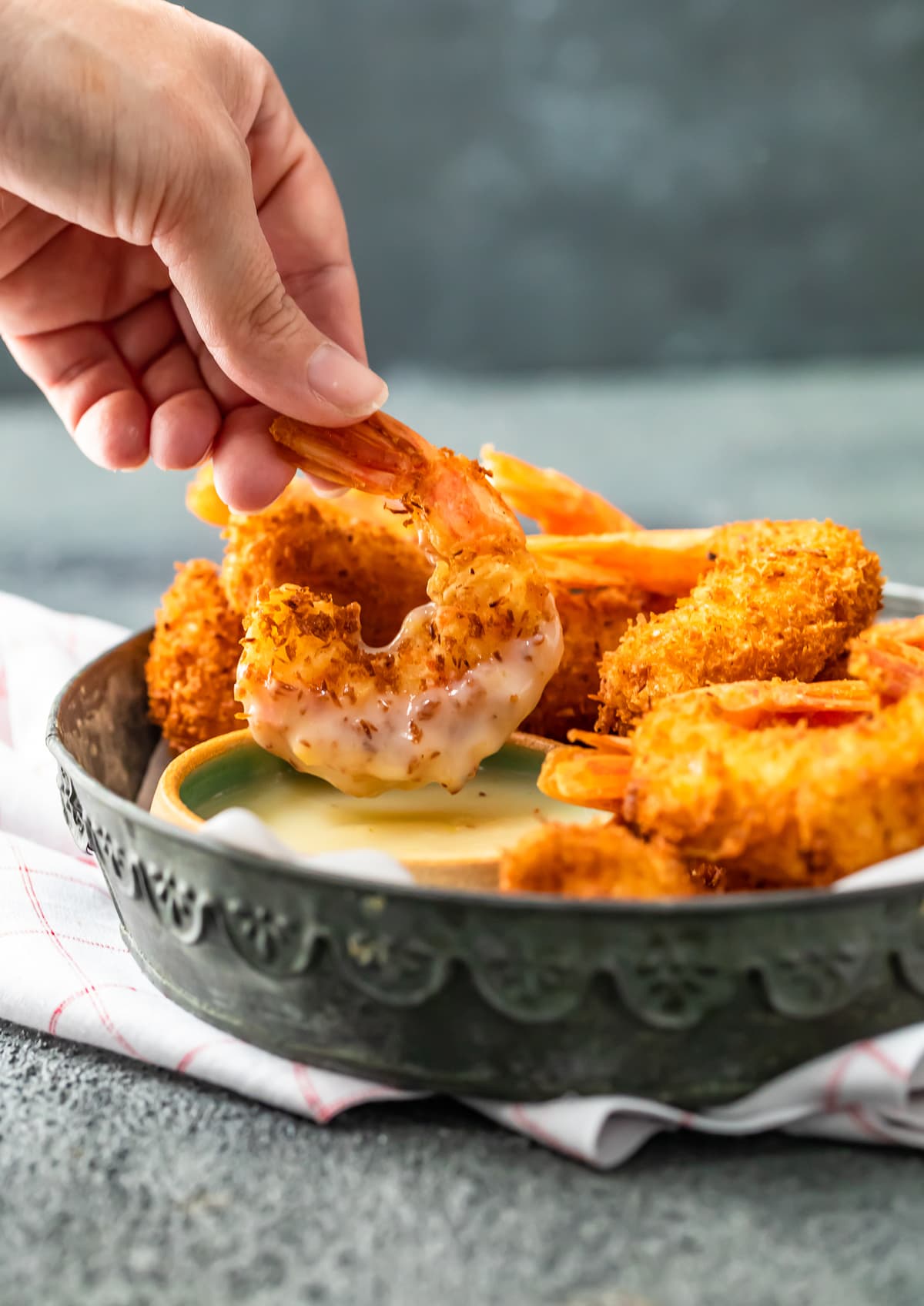 Pina Colada Coconut Shrimp Sauce
There's nothing better than biting into a crispy battered shrimp, except maybe a crispy shrimp dipped in Pina Colada coconut shrimp sauce. The dipping sauce always makes the dish for me, because it just adds a whole new level of flavor. It's a sweet coconut pineapple mix, with just a hint of spice from the red pepper flakes. So good!
Coconut Shrimp Dipping Sauce Ingredients:
Pina Colada Mix
Crushed Pineapple
Sweetened Coconut Flakes
Water
Red Pepper Flakes
Cornstarch
Salt
Lime Juice
Lime Zest
Basically, all you have to do is mix the ingredients together, let the sauce simmer to thicken up, and then serve it with the shrimp. Check the recipe card for detailed instructions.
You should prepare the sauce before making the shrimp. It can easily be made ahead of time (up to 4 days) and stored in the refrigerator until you need it.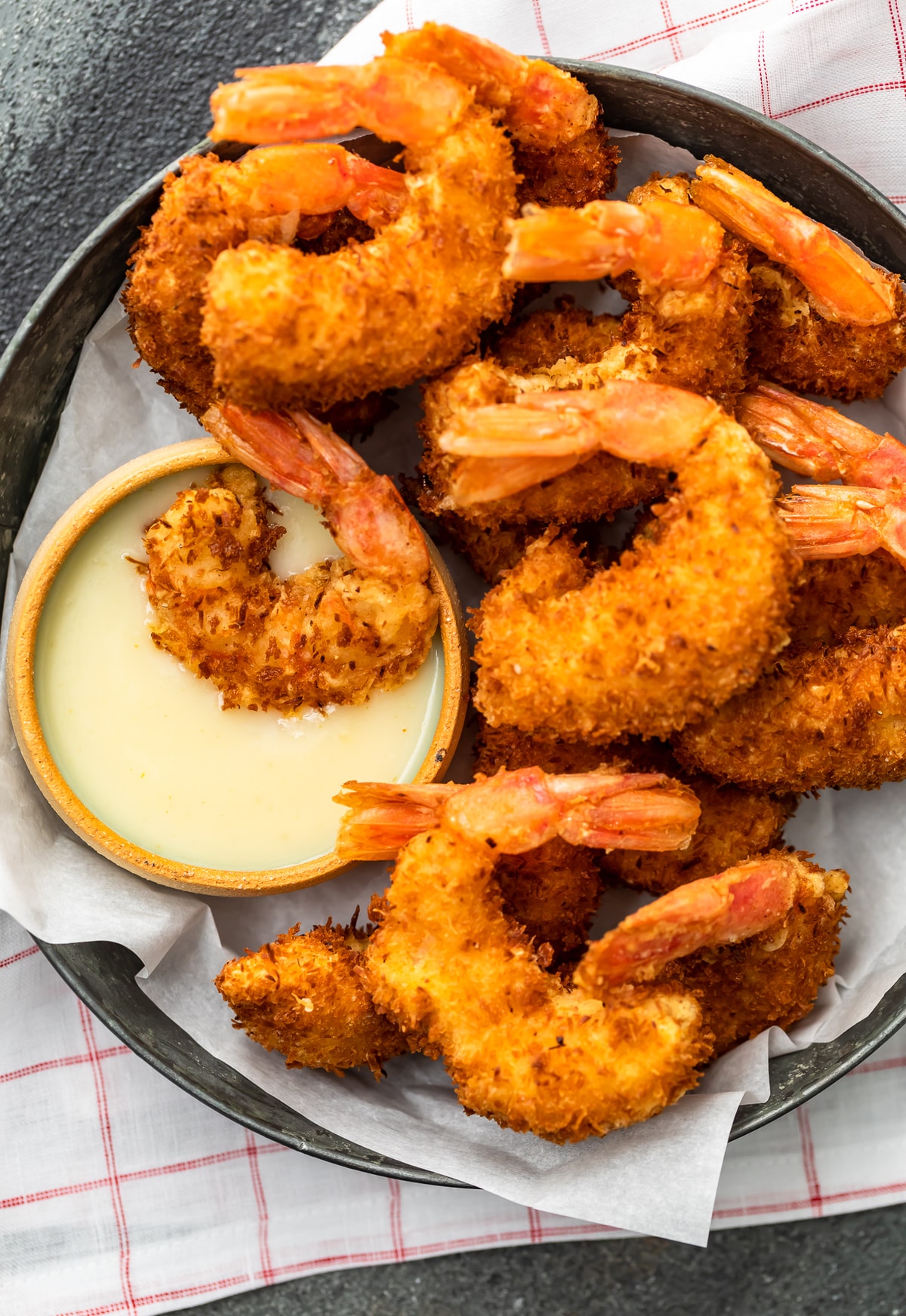 Best Shrimp Appetizers
Shrimp makes such a great appetizer. I don't know what it is about it, but shrimp in any form, any flavor, cooked in any way, with any dipping sauce…it just always turns out SO GOOD. I love shrimp appetizers for parties and for an extra dish pre-dinner. They're the perfect (almost) bite-sized little treat, easy to grab, easy to dip, and just so tasty.
This coconut shrimp is a favorite, but we have plenty of other shrimp recipes to share!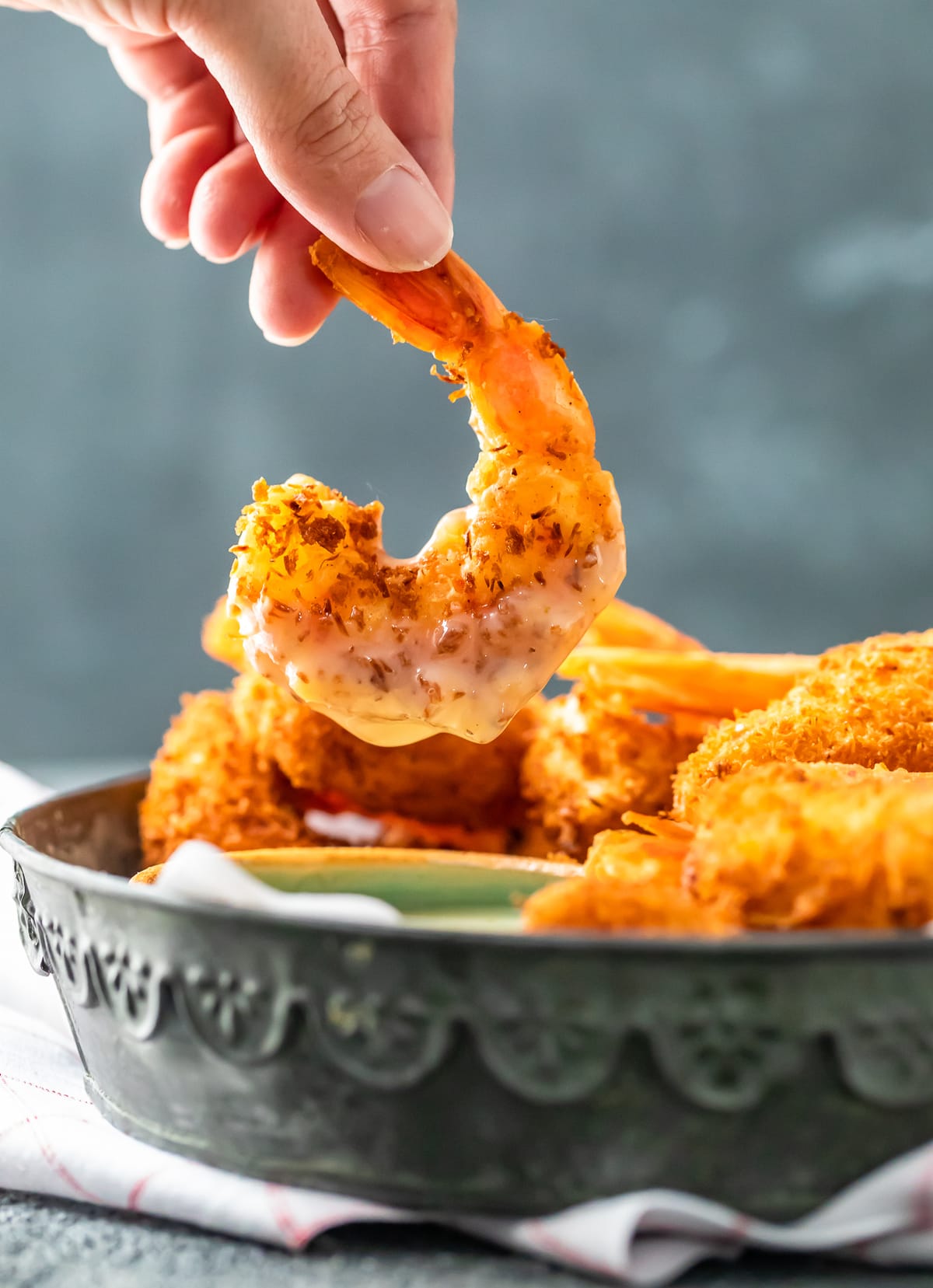 You are going to LOVE this coconut shrimp recipe for any occasion. And don't forget the Pina Colada dipping sauce!
See the recipe card below for details on how to make Coconut Shrimp & Dipping Sauce. Enjoy!
If you like this recipe, try these other easy appetizers: