Garlic Butter Shrimp is tasty, spicy, and delicious. This is one of my favorite shrimp recipes, and it makes a great appetizer before dinner or to serve at a party, but can also be the perfect main dish!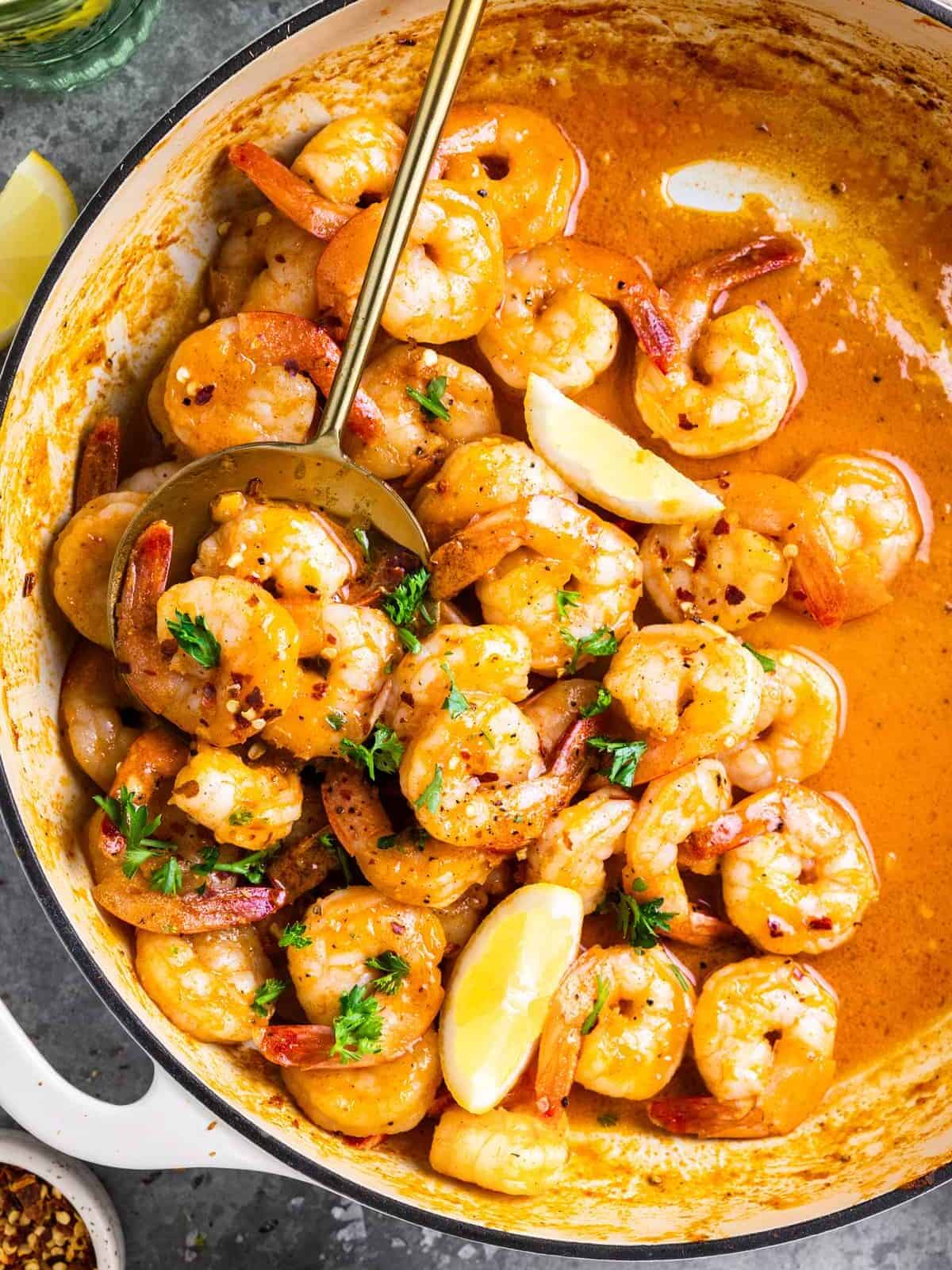 What's in this Garlic Butter Shrimp Recipe?
This easy Garlic Butter Shrimp recipe is so delicious! It's got garlic, it's got lemon juice, it's got a chili pepper paste to give it some spice…it's got it all! And it's such an easy thing to make since the garlic shrimp cooks so fast.
Unsalted Butter: Adds richness and a slight creaminess to the dish.
Shrimp: Any size of shrimp will work. Your cooking time will vary depending on how large your shrimp are, so keep a close eye on them.
Salt + Pepper: Enhances the natural flavor of the shrimp.
Garlic Paste: Adds a pungent and earthy flavor to the shrimp.
Chili Pepper Paste: Any kind works. I used Italian chili pepper paste, but Harissa or gochujang will also work.
Lemon Juice: Adds a pop of freshness and acidity.
Dried Parsley: Adds a pop of color and an herbal flavor.
Crushed Red Pepper Flakes: Enhances the spiciness of this dish. Feel free to adjust to your personal tastes.
Pro Tip: If you prefer to use frozen, cooked shrimp, you'll want to cook just long enough to heat through, about 1 minute.
Variations on Butter Garlic Shrimp
If you absolutely love that buttery flavor, you can definitely add more butter as you see fit toward the end of cooking. You can also adjust the spice level by using more or less chili pepper paste and red pepper flakes. If you're not in the mood for spicy, you can omit the chili pepper paste and just use garlic.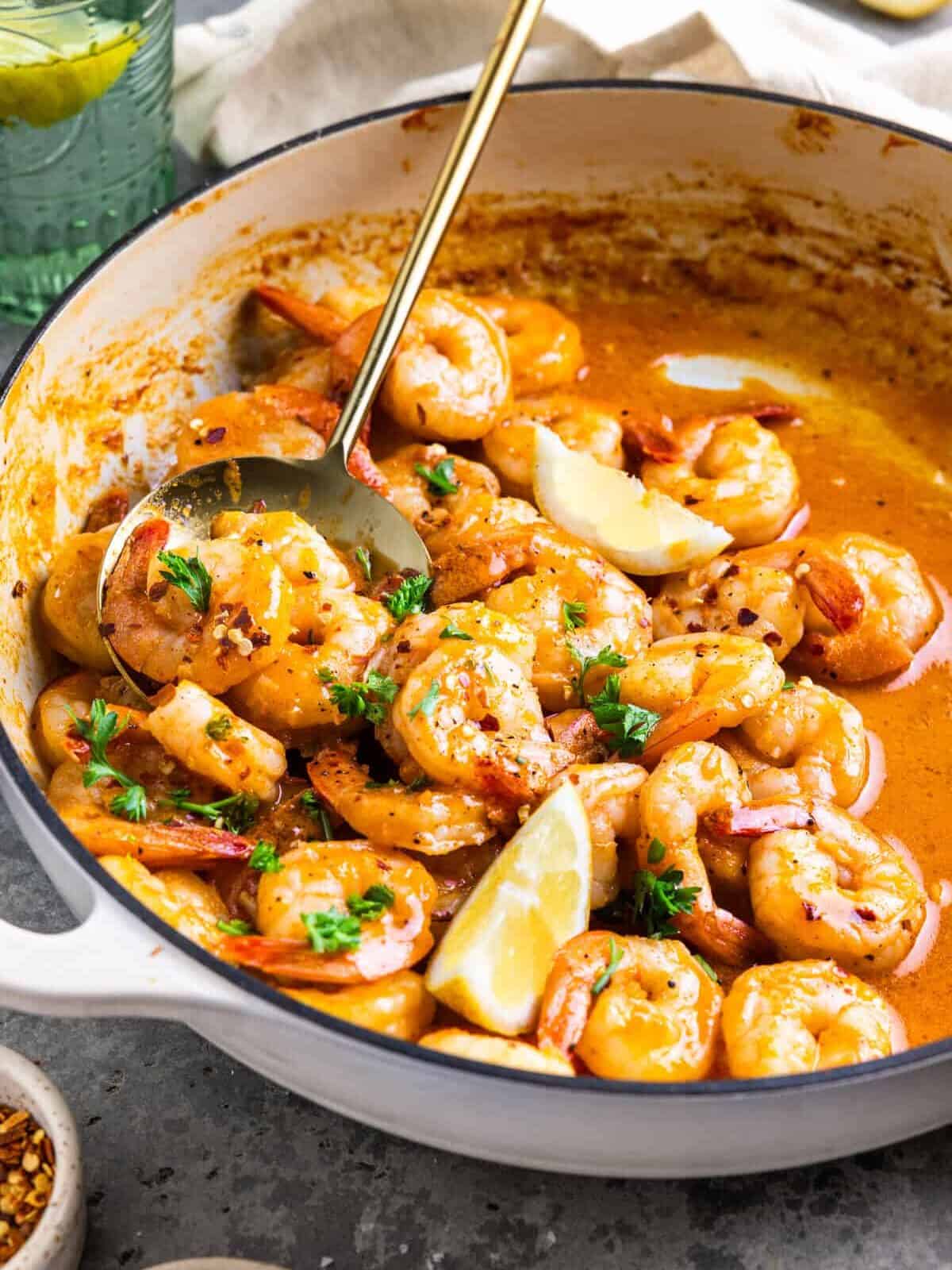 How long does it take to cook shrimp in a skillet?
Shrimp will turn pink and become quite opaque when cooked. It should take about 4-5 minutes to fully cook shrimp in a skillet.
Can I use frozen shrimp?
Yes, but make sure to thaw the shrimp overnight in the refrigerator and pat them dry before using them. If using frozen already-cooked shrimp, you'll want to reduce the total cooking time to about a minute.
Do I season shrimp before or after cooking?
I recommend seasoning the shrimp before cooking them so that they absorb the most flavor.
How do I know when shrimp are done cooking?
Look at the shape and color of your shrimp. Once the shrimp have formed a C shape with the tails curled in and they're opaque in color, they're cooked and ready to eat. Be careful not to overcook your shrimp or they'll become rubbery and tough.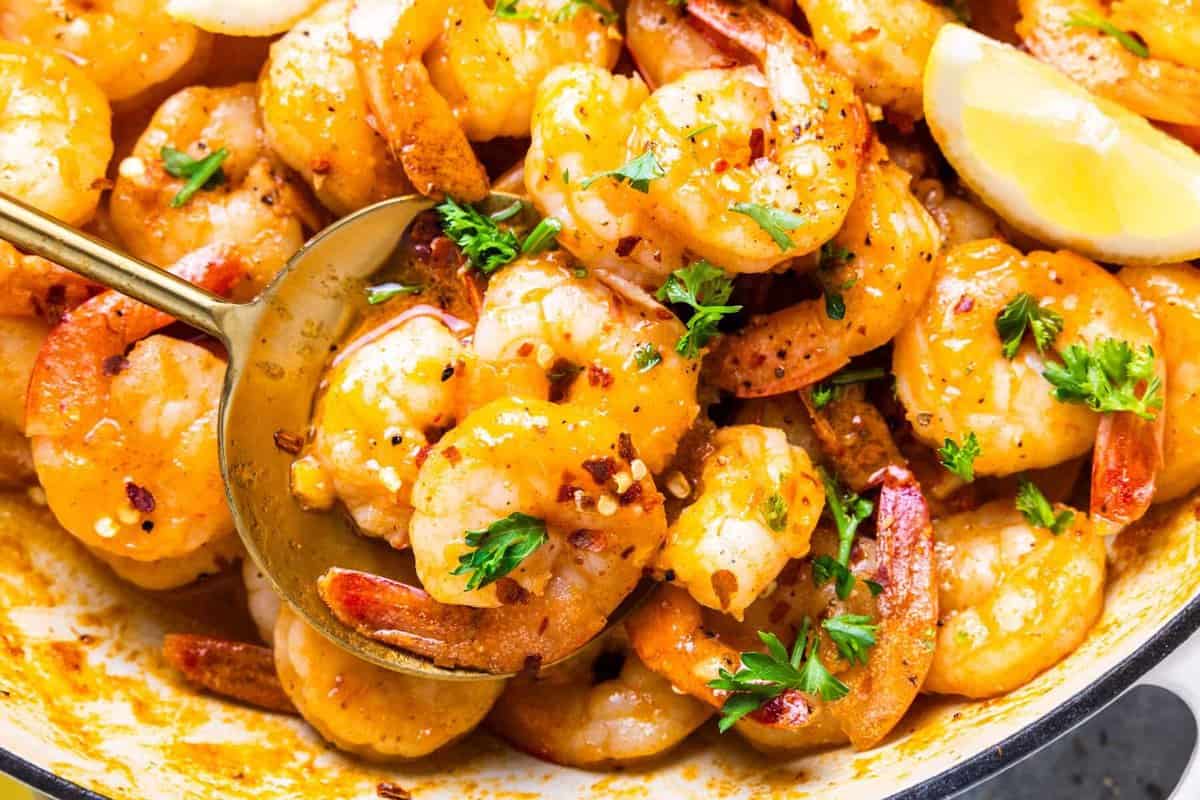 How to Store and Reheat
Store leftover garlic butter shrimp in an airtight container in the refrigerator for up to 3 days. Reheat in a pan with a little bit of butter set over medium-low heat until warmed through.
How to Freeze
Freeze shrimp in an airtight container for up to 3 months. Let thaw overnight in the refrigerator before reheating.
Serving Suggestions
There are so many things you can do with this spicy shrimp. You could use it in this shrimp and grits appetizer cup or these shrimp tacos for a spicy kick. Or serve it simply with white rice, homemade pasta, or a salad.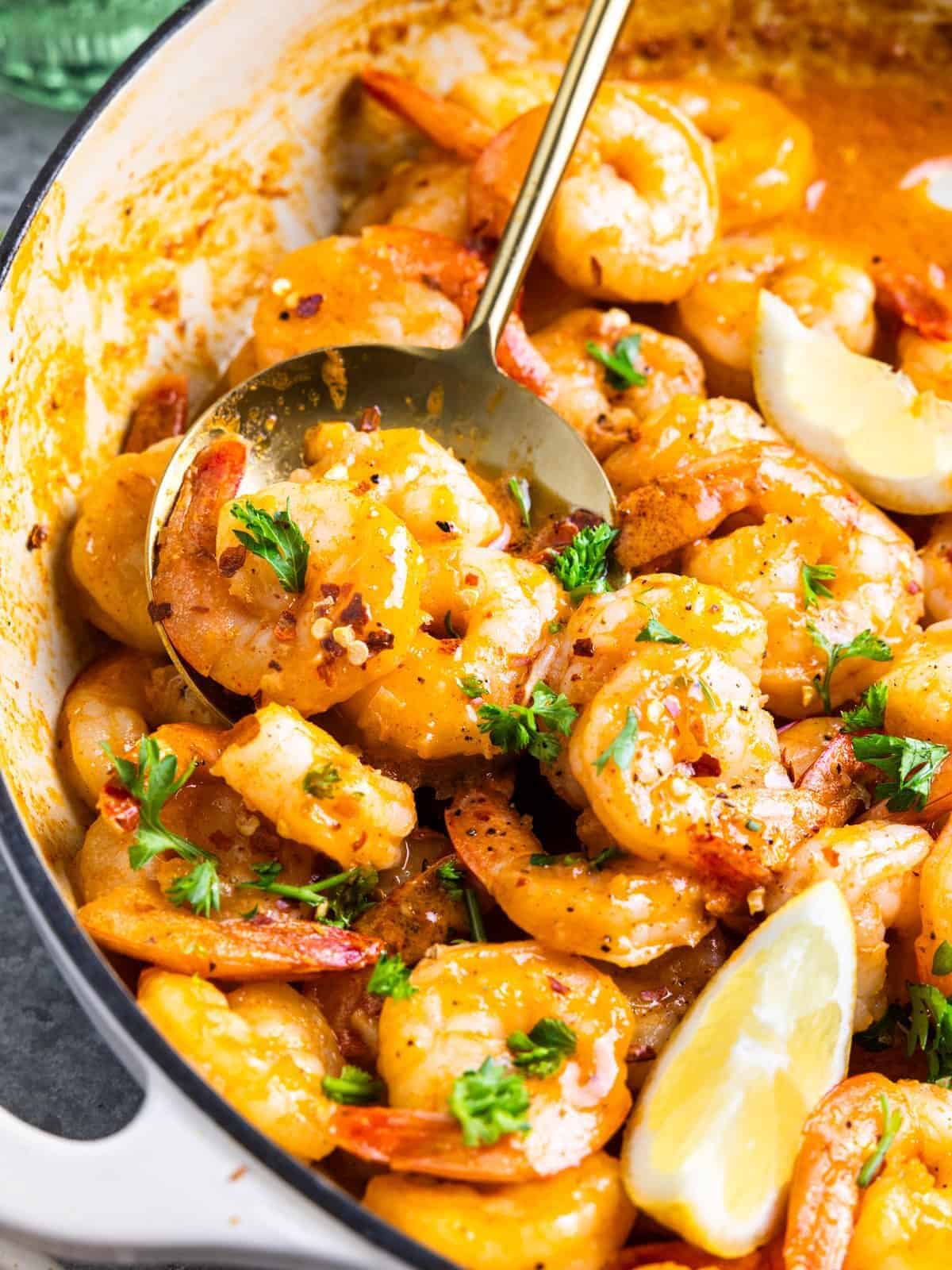 More Shrimp Recipes We Love