Garlic Butter Shrimp is tasty, spicy, and delicious. This is one of my favorite shrimp recipes, and it makes a great appetizer before dinner or to serve at a party, but but can also be the perfect main dish!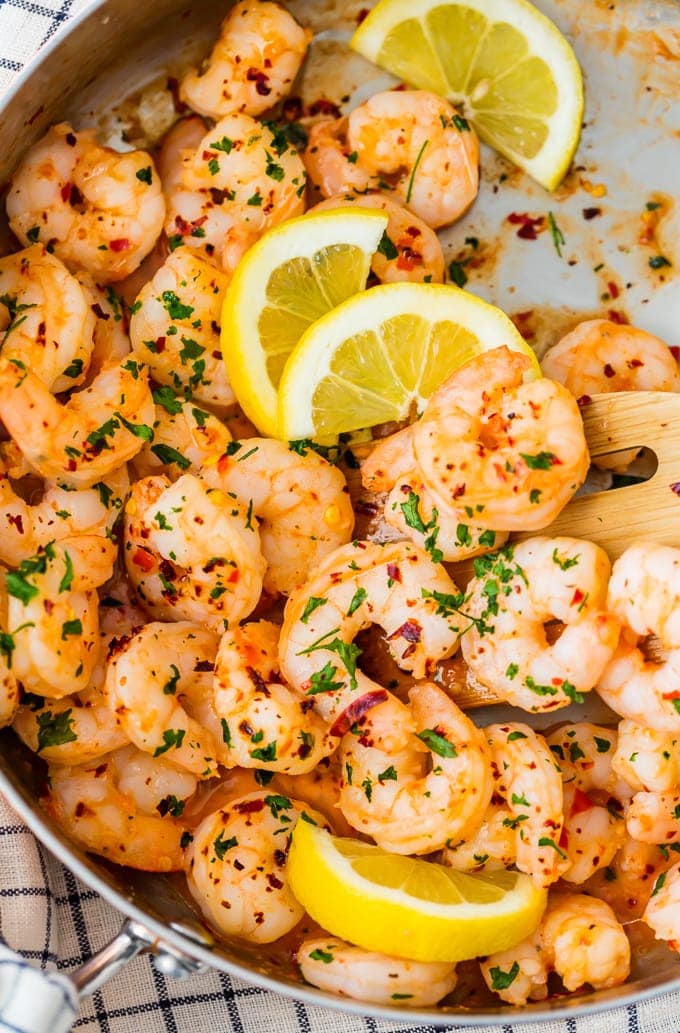 Lemon Garlic Butter Shrimp Recipe
Garlic butter shrimp can be a delicious appetizer or a main dish. This sauteed shrimp recipe is spicy, with a hint of lemon and plenty of garlic!
This easy Garlic Butter Shrimp recipe is so delicious! It's got garlic, it's got lemon juice, it's got a chili pepper paste to give it some spice…it's got it all! And it's such an easy thing to make since the garlic shrimp cooks so fast.
This shrimp recipe makes a tasty appetizer to serve before dinner, or it can be the main dish! Serve it with rice and veggies for a full, healthy, well-balanced meal.
It also makes a good party appetizer that your guests will devour in no time. You can even toss a few of these garlic shrimp onto a bed of greens for a flavorful salad. There are just so many ways to eat this lemon garlic butter shrimp.
Toss the shrimp in a skillet, saute, add in the rest of the ingredients for flavor, and you're done! Amazing garlic shrimp appetizer or dinner recipe.
Make this Garlic Butter Shrimp recipe for an appetizer or for dinner. Either way, it's spicy, easy to make, and so delicious!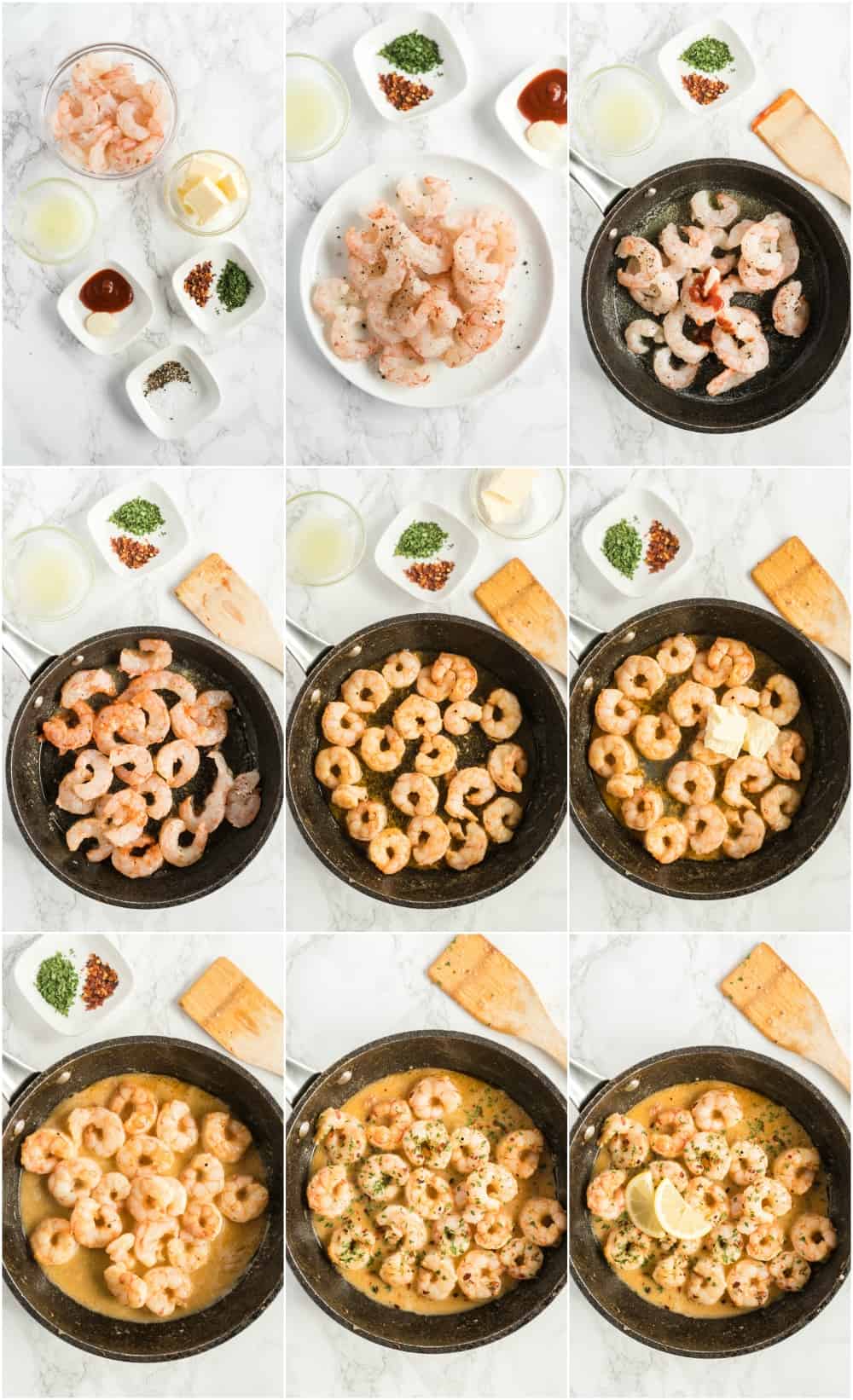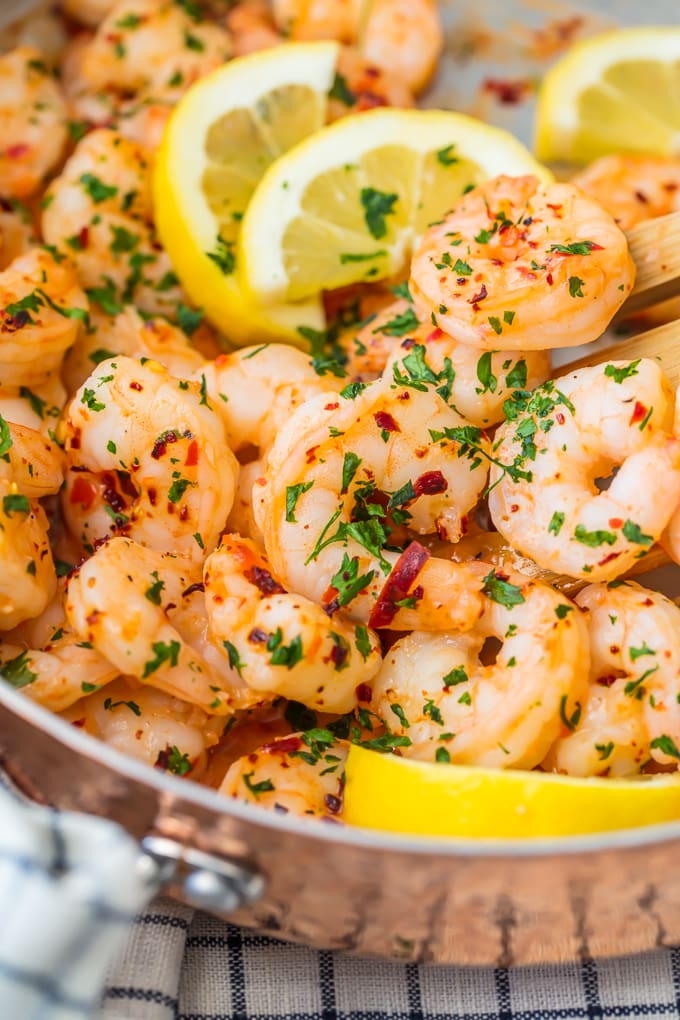 Easy and Spicy Garlic Shrimp Recipe
A little bit of spice is good for the soul…or at least that's what I believe. I love the bold flavor of these garlic shrimp, and the chili pepper paste adds the perfect amount of spiciness to kick it up a notch.
Plus the red pepper flakes added at the end and the fresh lemon juice all combine to create the most amazing flavor.
This easy shrimp recipe is spicy, but not too spicy. You can adjust the spice level to fit your taste. This Lemon Garlic Butter Shrimp recipe is definitely a seafood favorite!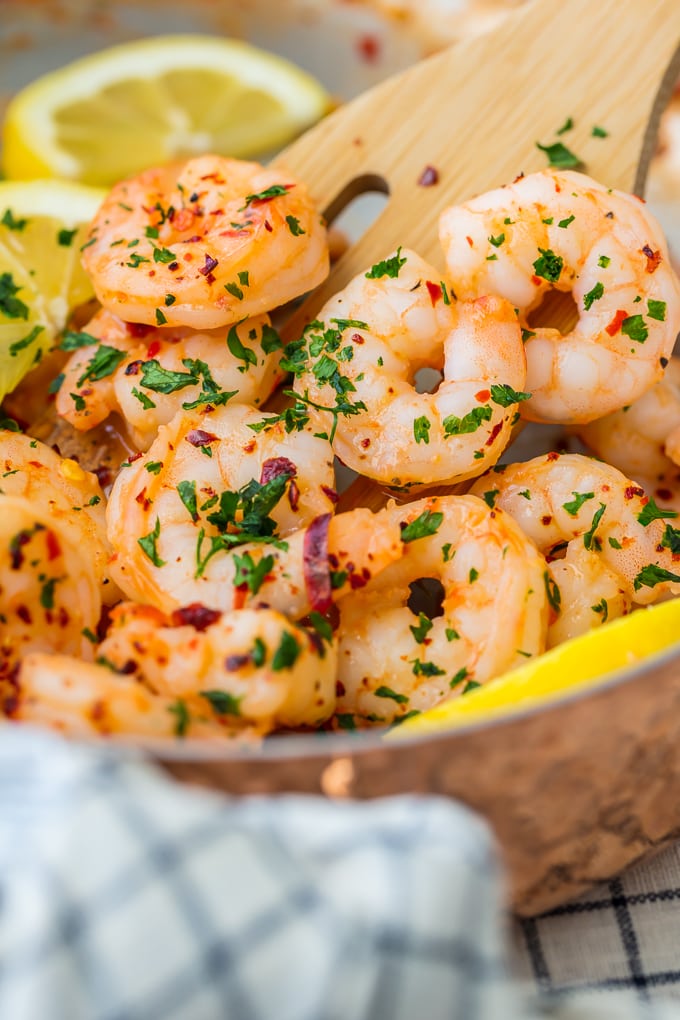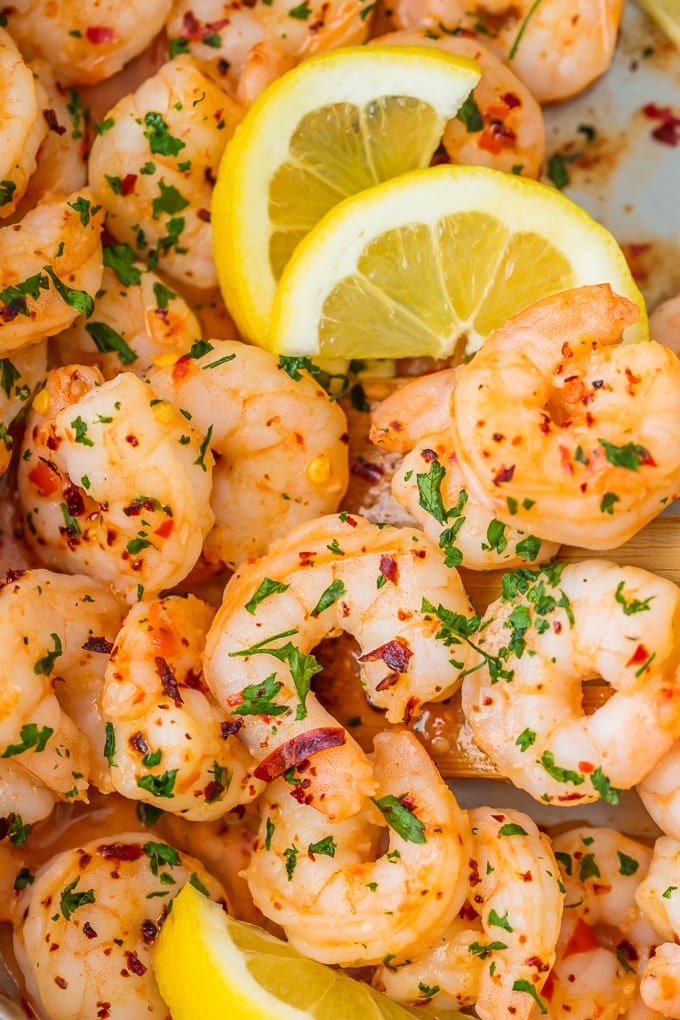 How to Make Lemon Garlic Shrimp
This easy seafood recipe is one of those recipes that makes me wonder why it took me so long to start cooking.
If you can make something this good with just a skillet, some shrimp, and less than 30 minutes, then anyone can cook! This lemon garlic butter shrimp recipe is amazing.
Heat olive oil in a skillet over high heat
Season the shrimp with salt & pepper, then add to skillet
Saute shrimp for about 4-5 minutes until cooked
Stir in garlic paste, chili paste, and lemon juice until combined
Sprinkle with dried herbs
Yup, that's all it takes to make spicy garlic shrimp! A little bit of prep and no more than 10 minutes of actual cooking.
Be sure to watch the video to see the step by step recipe!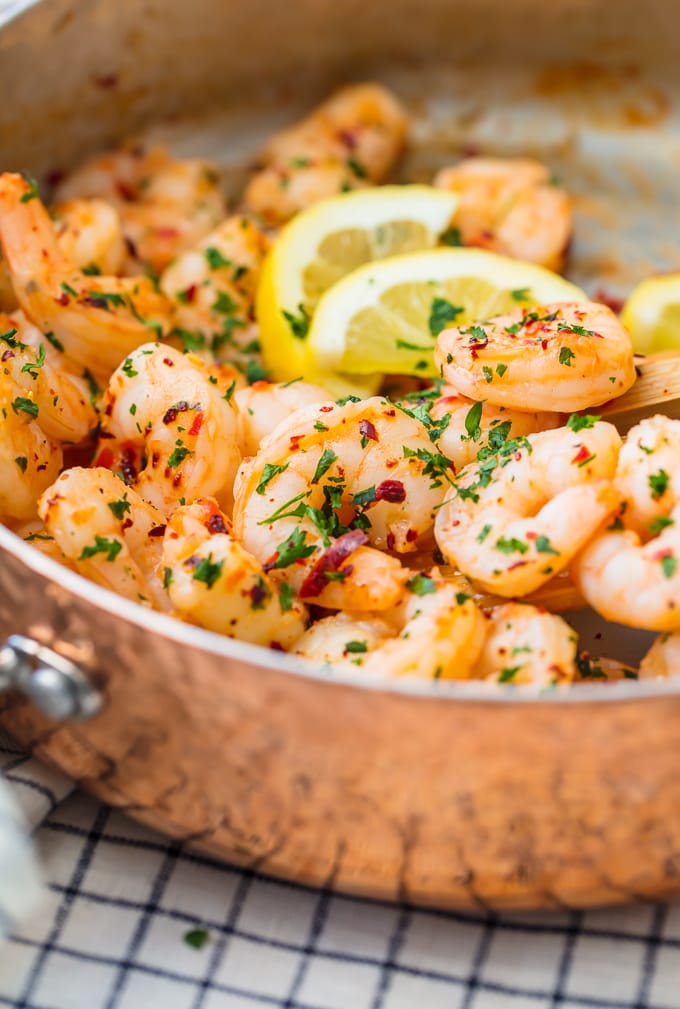 How long does it take for cook shrimp in a skillet?
Shrimp will turn pink and become quite opaque when cooked. It should take about 4-5 minutes to fully cook shrimp in a skillet.
What to serve with garlic butter shrimp?
I love that you can eat this seafood recipe on its own as an appetizer, but it makes for a really good main dish too! There are so many different ways to eat this lemon garlic shrimp, you could add it in to so many dishes.
For a healthy dinner, serve it with rice or couscous and grilled vegetables. You could use it as a topping for a salad (hot or cold), or you could make tacos with it.
Here are some recipe ideas: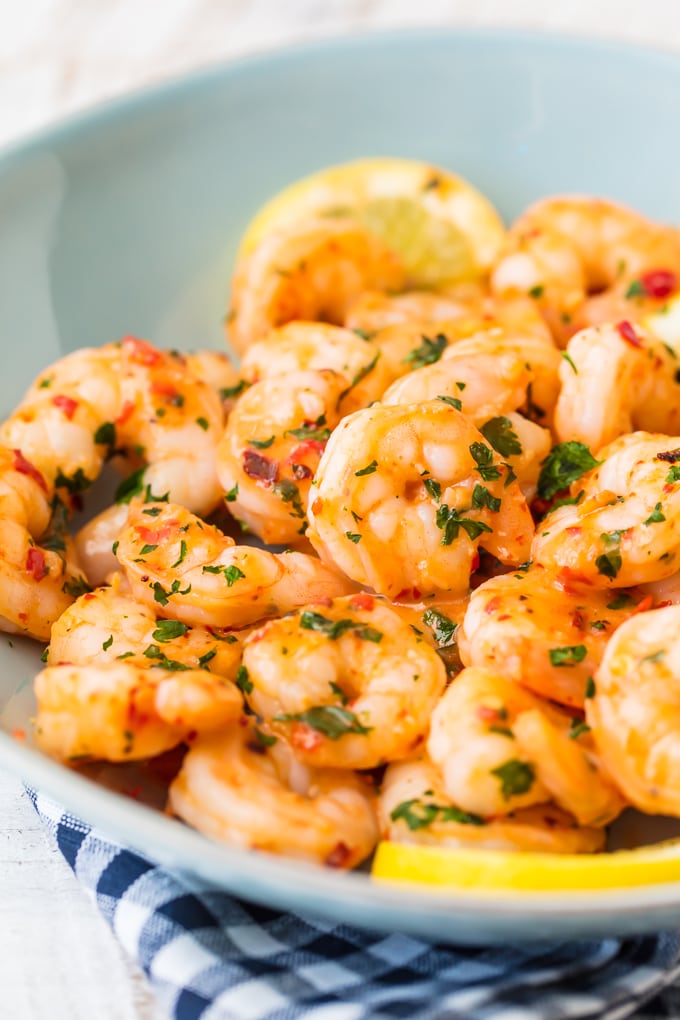 You are going to love this spicy shrimp recipe! Whether you use it as an appetizer, a main dish, a taco filling, or a salad topping, you're going to want to make this easy shrimp recipe over and over again. I know I will be.
More Shrimp Recipes to Try
You can jump to the recipe card for full ingredients & instructions!