This SKILLET CHIPOTLE SHRIMP is our favorite easy shrimp recipe! Smokey, spicy, and so flavorful! This chipotle skillet shrimp is perfect over pasta or rice for a simple and healthy dinner at home.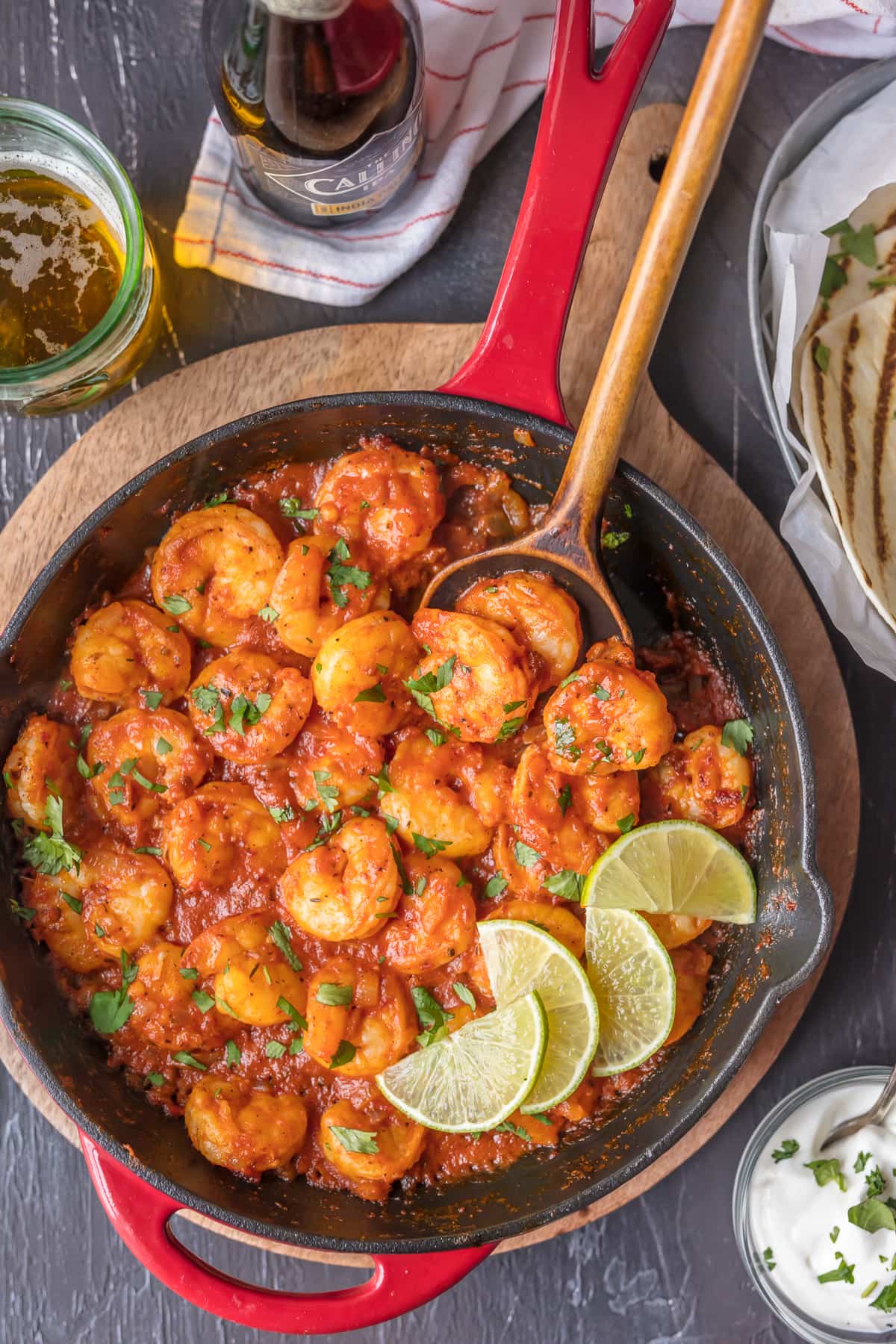 Chipotle Shrimp Recipe
This spicy skillet shrimp recipe is so easy to make, and you can eat it in so many different ways. Use this chipotle shrimp to make tacos, pasta, or rice and veggies!
I love eating seafood in the Summer. There's something light and airy about a spicy shrimp recipe, and this Skillet Chipotle Shrimp is a favorite! It's so quick and easy, and it's a really versatile dish too. This skillet shrimp recipe is just perfect on its own, but it also can be made into tacos, or even placed on top of chicken or steak for the ultimate fancy dinner!
The spicy fans out there will just LOVE this one, and even if you're not a spicy fan, I think you might like it as well. It's more of a smokey kind of spicy rather than hot spicy, and topped with some sour cream it's extra creamy and delicious!
Not gonna lie, trying to cook and photograph recipes all day is challenging with a newborn. Luckily my mom (check out her site, Simply Sated!) has come over more times than I can count to help me cook and to sit with the baby while I photograph. She actually helped me get a bunch of posts done while I was hobbling around very pregnant and complaining about my back 24/7. Without her the site would be shuttered by now! This was one that we talked about and came up with together, and if I'm honest she came up with it way more than me. So thank you Mom, this chipotle skillet shrimp is a total winner!
Make this easy, spicy Chiptole Skillet Shrimp recipe for dinner. You can eat it with rice and veggies, set it on a bed of pasta, or you can make shrimp tacos!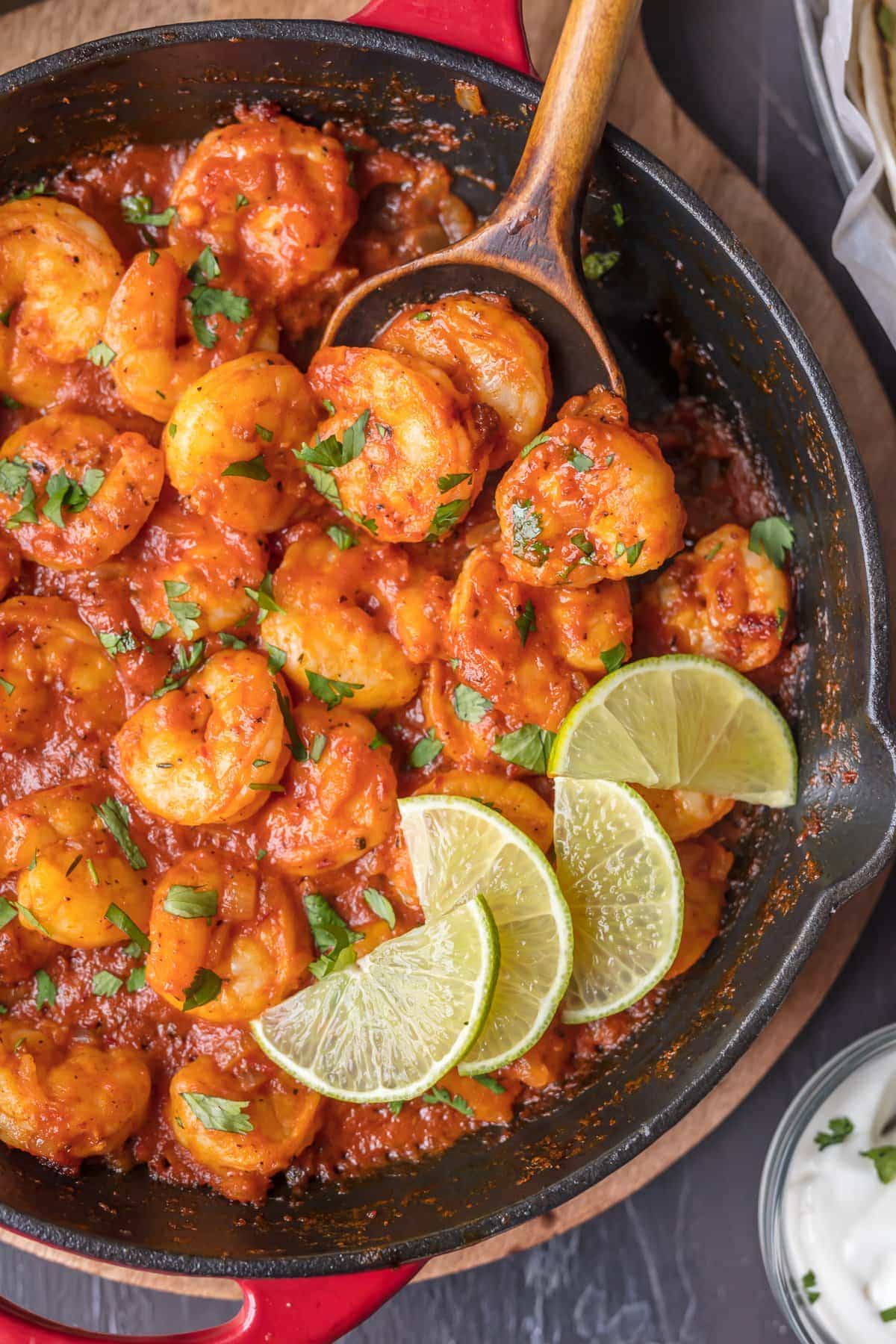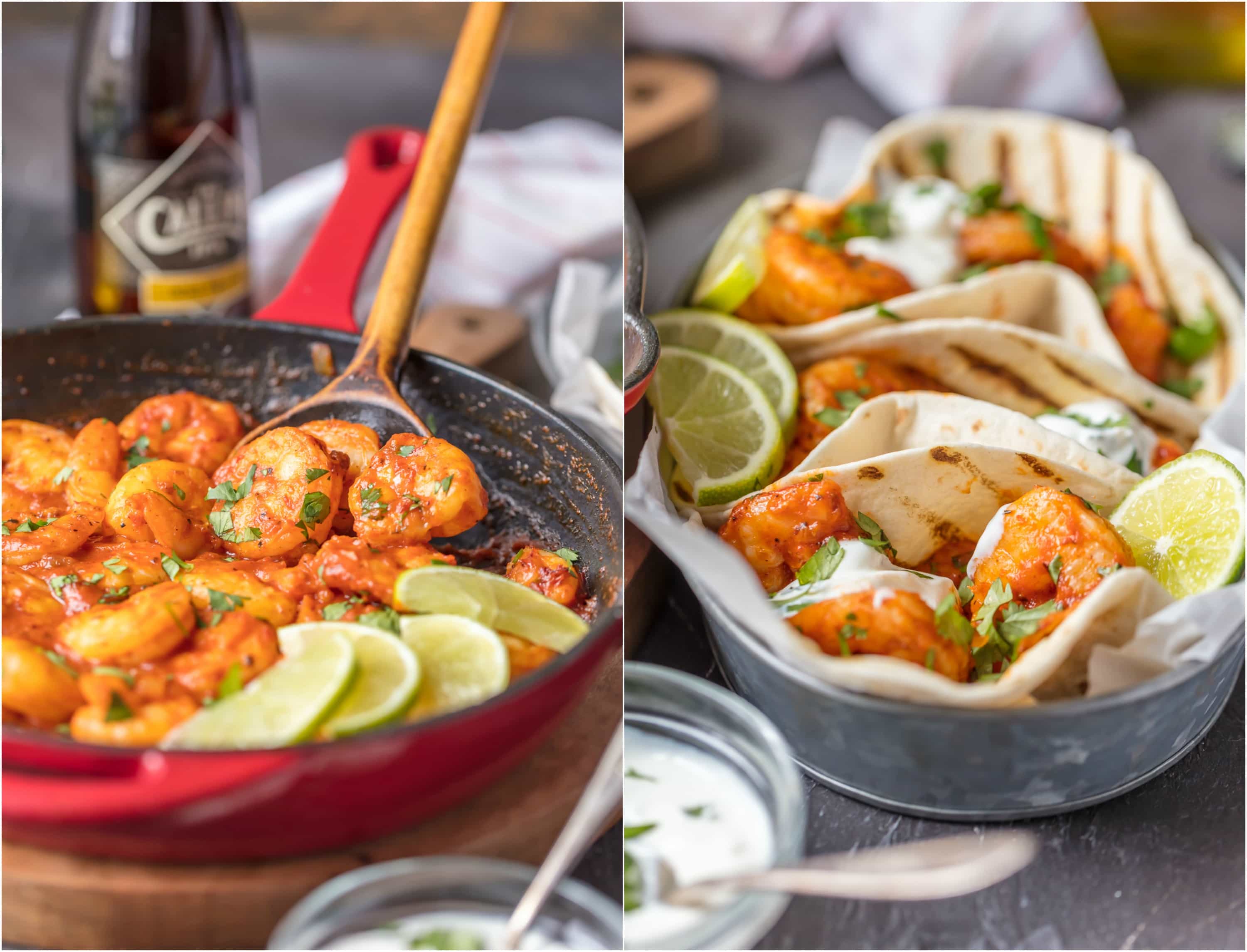 Healthy Skillet Shrimp Recipe
Not only is this Chipotle Skillet Shrimp recipe full of flavor, but it's also a healthy option. Shrimp is a really great food add to your dishes! If you really want to keep it light, add these shrimp to a bed of greens,whole grains, and veggies for a well-balance (and delicous) meal. Making skillet shrimp is so easy and makes the best meal ever!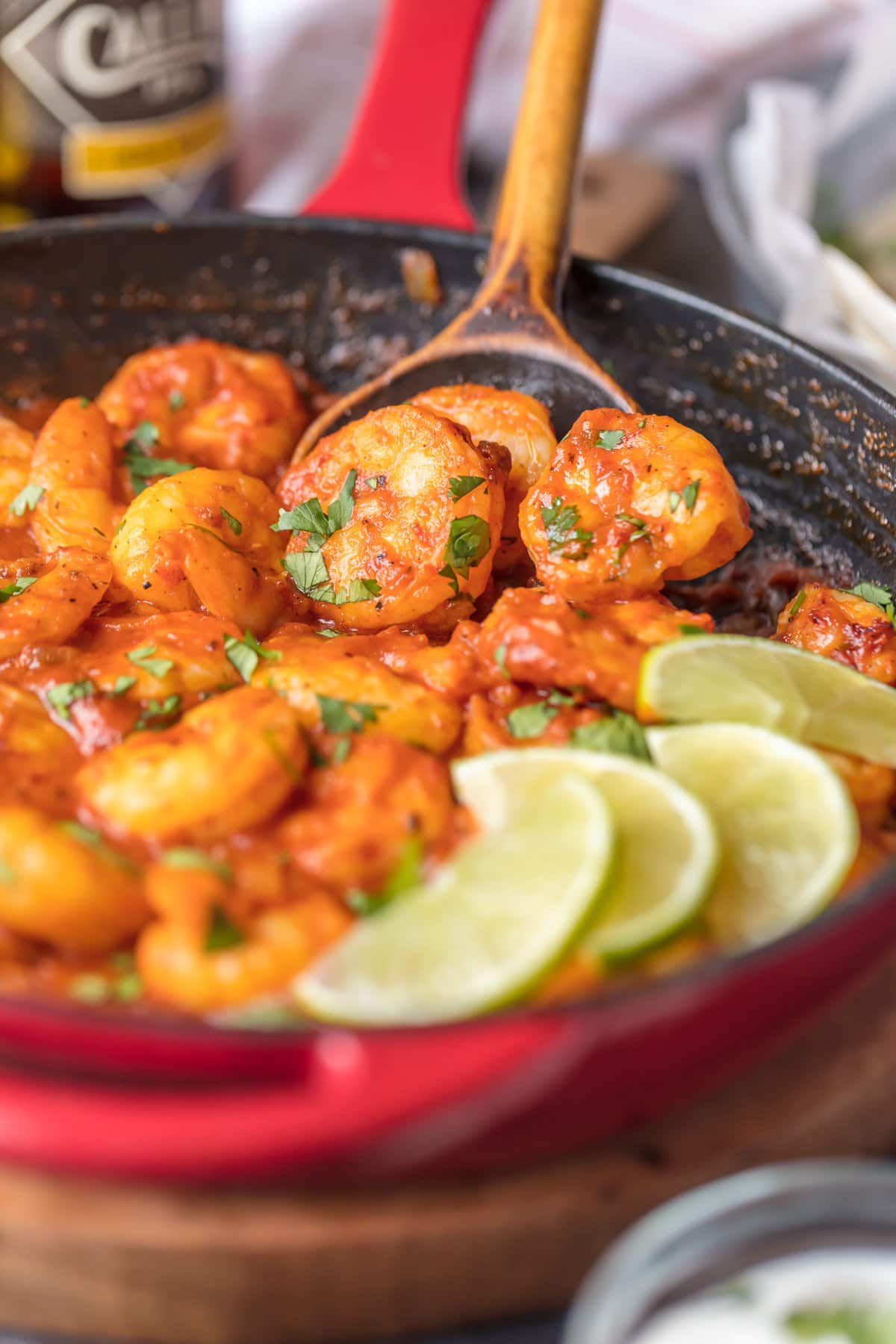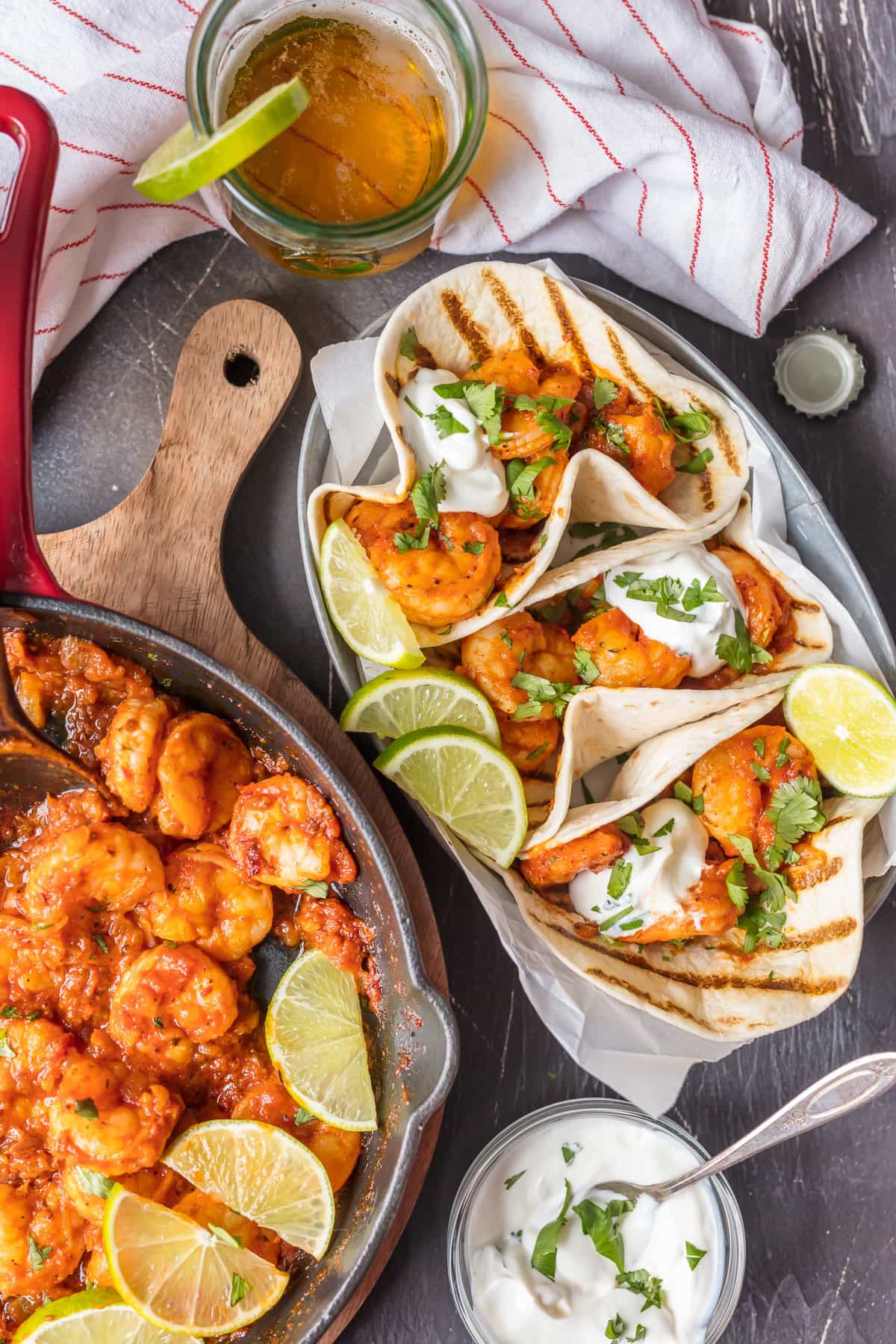 Easy Spicy Shrimp Tacos
This Skillet Chipotle Shrimp recipe makes the absolute best tacos! All you need is a little lime crema, some cilantro, and some slaw and you've got easy spicy shrimp tacos. Squeeze some fresh lime juice over them and you're in business. You can keep it super simple and they'll still be some of the best chipotle shrimp tacos.
There is SO much flavor packed in these. Pat was in heaven and I would have been too had I not been overheated from being 9 months pregnant. This recipe is definitely going to be a part of my next Taco Tuesday feast!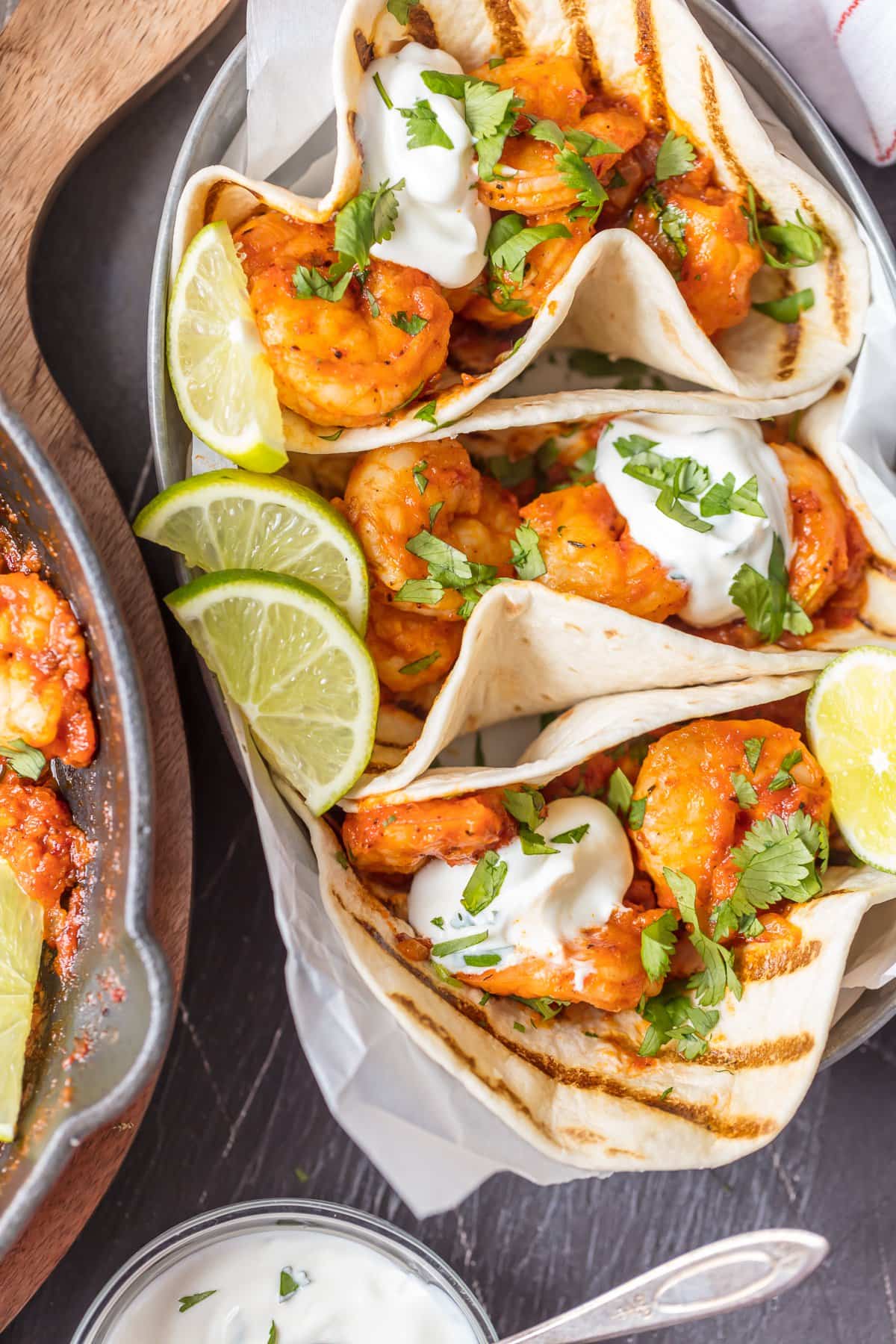 I have a feeling this chipotle skillet shrimp will become one of my favorite recipes on the site. Healthy, utterly delicious, and pretty to boot. This spicy shrimp recipe is such a quick and easy dinner that anyone can make and everyone will love. Just perfect for the site!
Watch the Video & See the recipe card for details on how to make Chipotle Skillet Shrimp. Enjoy!
If you like this chipotle shrimp, you'll love these other shrimp recipes too: