Cincinnati Chili is loaded with ground beef, beans, and onions in the most unique chili sauce, and served on a pillow of spaghetti. Both savory and sweet, this chili and spaghetti recipe is a must for any chili lover!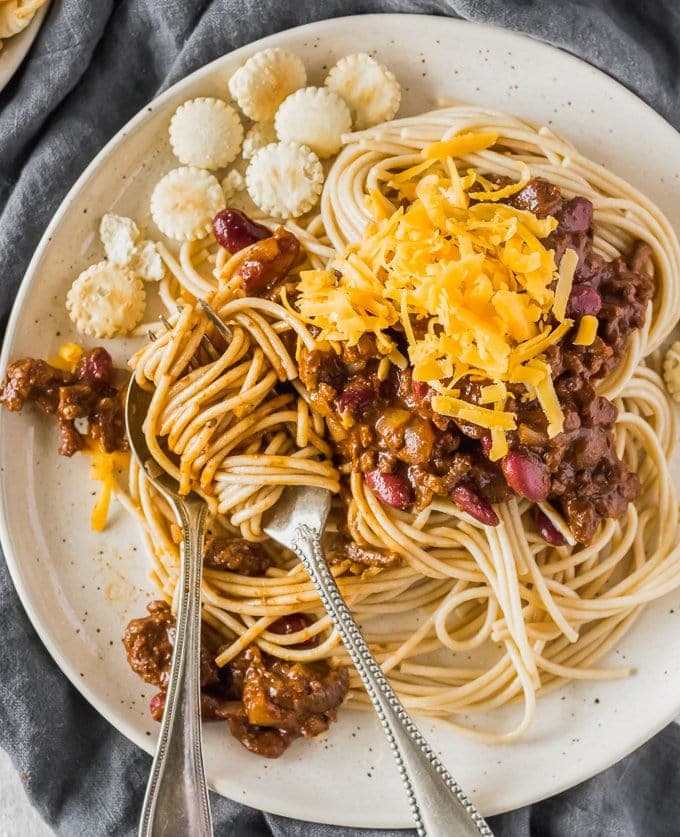 Cincinnati Chili
This Cincinnati Chili Recipe is one of my Mom's specialties. If you've never tried it, you're truly in for a treat! It's a little bit sweet (from sugar and yes, even cocoa powder!), a little bit savory (beef, cheese, beans…the good stuff), and a whole lotta yummy.

Cincinnati Style Chili is something I grew up on. My Mom would make it and we would always ask for seconds. If you haven't tried it before, today is the day! It's slightly sweet, and SO flavorful. The ingredients make it a really unique type of chili, and serving it with spaghetti is the only way to do it!
It's an awesome comfort food for these cold winter nights. Once you try it, you'll be hooked. It is both unique and delicious, it makes the best lunch or dinner!
Chili Spaghetti is a unique alternative to traditional chili recipes. It's a family favorite!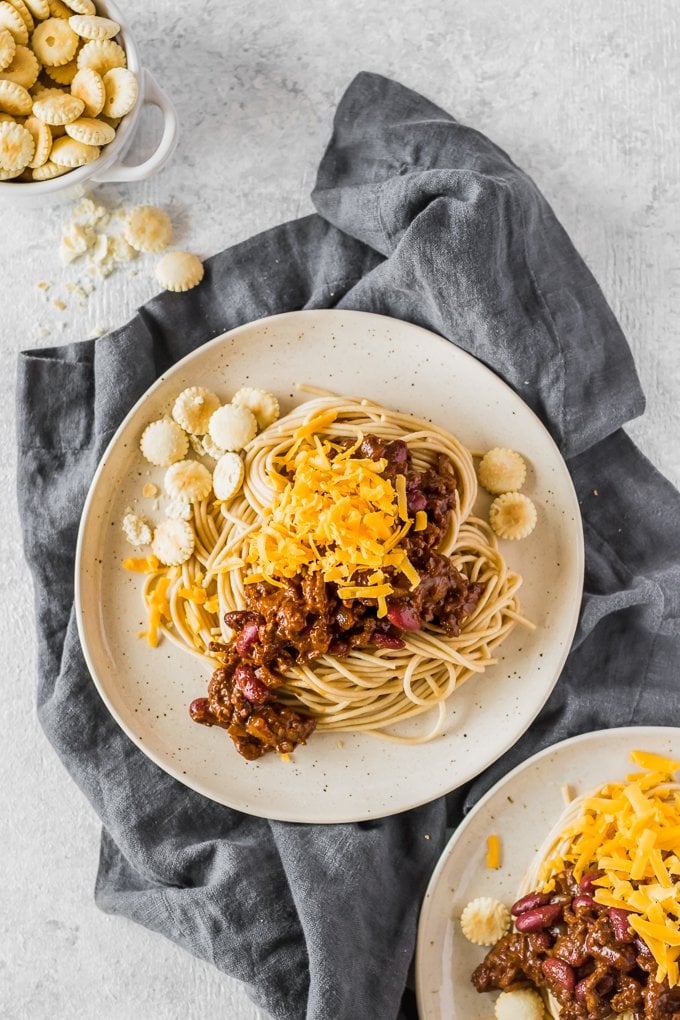 What is Cincinnati Chili?
Cincinnati Chili was first served in Cincinnati, Ohio in 1922. It is traditionally served on a bed of spaghetti piled high with cheese, beans, ground beef, onions, and oyster crackers. It is sweetened up with very unique flavors to chili like chocolate, cinnamon, cloves and allspice.
YOU MUST TRY IT!
Try This Chili Spaghetti
Chili and spaghetti? In one meal?
Yup! Everyone eats their chili a little differently, and if you've never heard of this combination, it might seem…interesting. But trust me, it is so good!
The Cincinnati style chili really acts as a hearty spaghetti sauce, and boy is it good! It's one of my favorite forms of chili, and it always makes me a little nostalgic.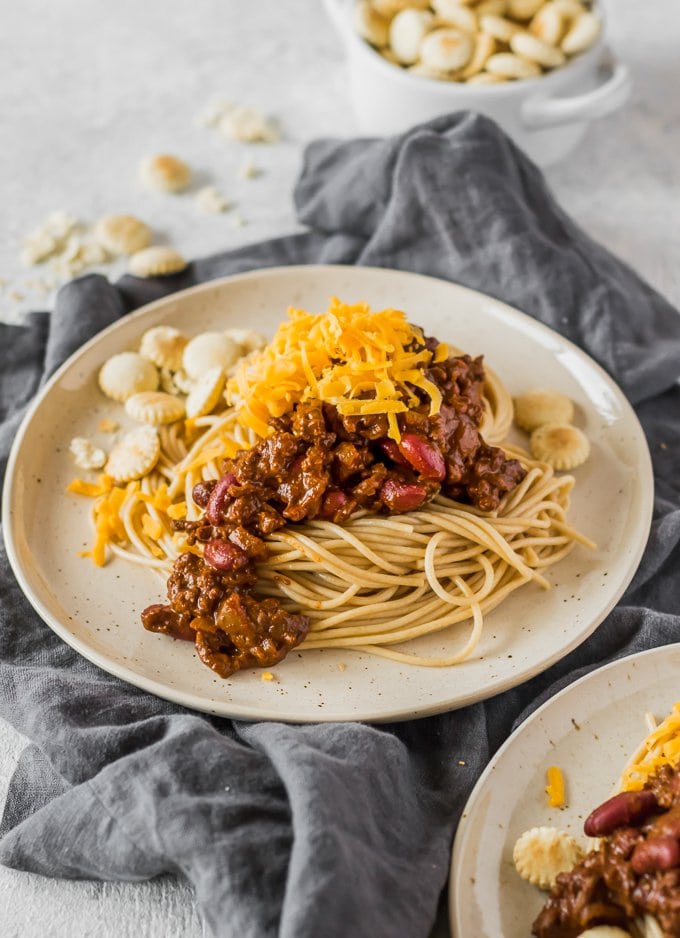 Cincinnati Chili Ingredients
This Cincinnati Chili recipe has so many delicious ingredients! It's a very uniquely-spiced style of chili, which is what makes it so delicious.
Here's what's in it:
Ground Chuck
Tomato Paste
Onions
Garlic
Cider Vinegar
Worcestershire Sauce
Cloves
Cayenne (or Red Pepper Flakes)
Chili Powder
Sugar
Cinnamon
Allspice
Unsweetened Cocoa
Molasses
Some of these ingredients seem like they belong in a pie, not chili. But this special type of sweetened chili has to be tasted to believed! Once it's piled onto spaghetti and covered in cheese, you'll see what I mean. Yum!
Is this chili spicy?
It's not particularly SPICY, but it is filled with spices. It has a sweet and savory flavor, but I wouldn't say it's the hot kind of spicy like some other chili recipes.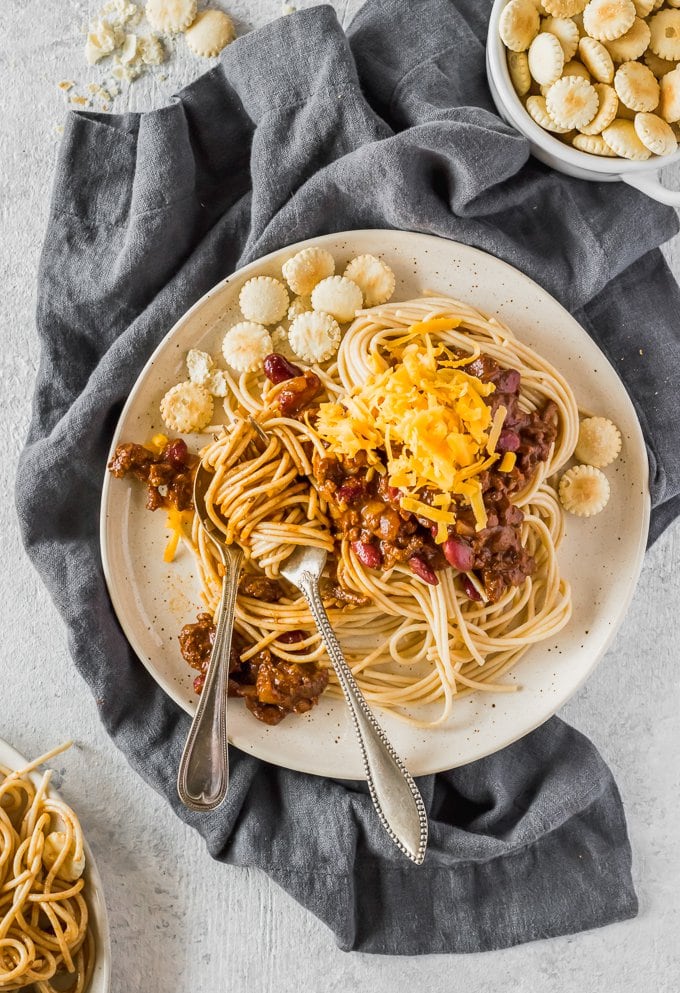 Tips for Making Cincinnati Style Chili
There are lots of Cincinnati Chili recipes out there – and this is my mom's (Susie's). Here's what makes hers different:
First, the ground chuck is boiled and drained. Boiling ground beef is an easy way to make sure the beef comes out into evenly cooked, small crumbles. I don't do that for every recipe, but it's great for this chili recipe.
Also, onions and garlic for the chili mixture should be sautéd first. Cook them in a skillet with 1 tablespoon butter or olive oil until fragrant and translucent.
Then, always include the cinnamon, cocoa, cloves and allspice even if you choose to not use other ingredients. My mom uses molasses as well as 2 different kinds of Williams chili seasoning to give a rich, full flavor.
Watch the video to see the step by step recipe in action. And check the recipe card below for the full instructions and details.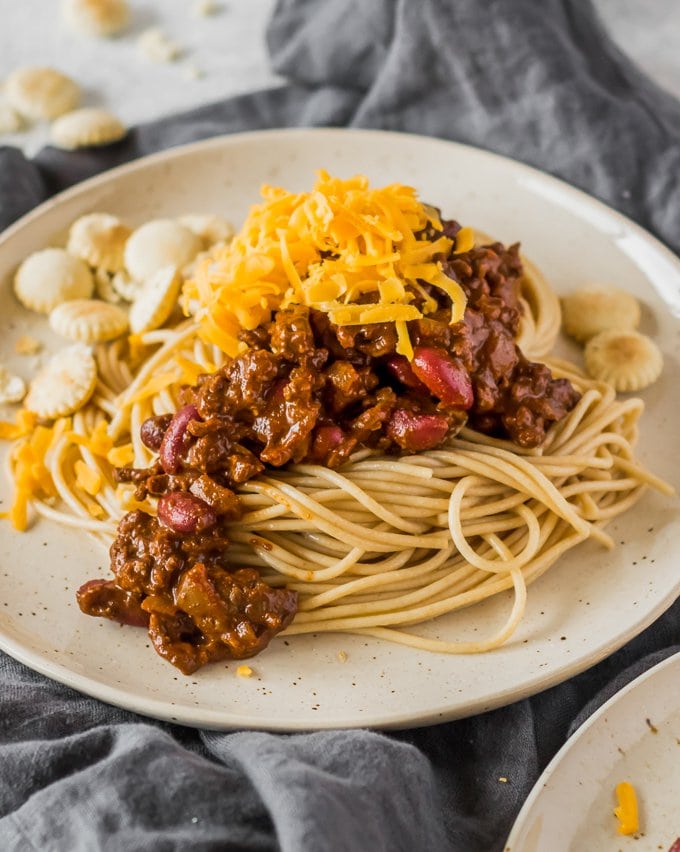 How do you eat Cincinnati Chili?
Different members of our family like their Cincinnati style chili garnished different ways! Some like it dressed to the nines (topped with beans, cheese, onions, and oyster crackers), but you can also keep things simple and just top with cheese.
I like to top it with ALL the goodness. I'm a huge fan of toppings, and eating this chili atop a bed of cooked spaghetti is simply a must. I KNOW it sounds weird, but I promise you will love it!
Here's the real how-to if you ask me:
Serve the chili over spaghetti.
Load it up with shredded cheese, extra onions, and LOTS of oyster crackers.
It's served on spaghetti, so eat it like spaghetti. You're gonna need a fork!
Can this be frozen or saved for leftovers?
Yes! This chili is even better the next day. The flavors all have time to mix together for the ultimate combination of savory and sweet. It's pure heaven.
Place it in an airtight container and it should keep in the fridge for 3-4 days. The chili can also be frozen for 3-4 months.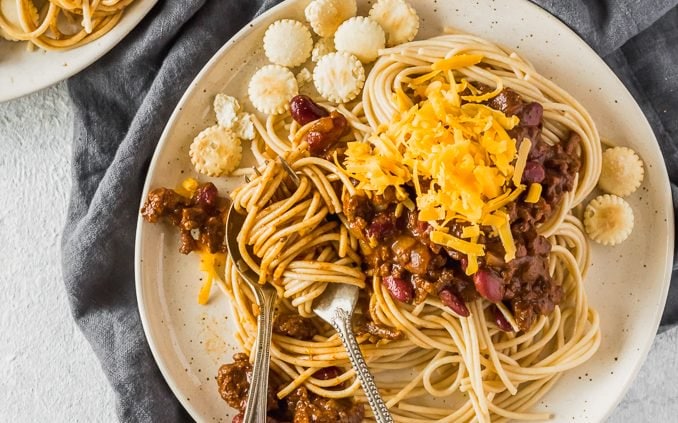 Best Chili Recipes
This Cincinnati Chili recipe is just one of MANY favorites. If you're as big of a chili fan as I am, then one recipe just isn't enough to get through the winter. I need a few different types to keep me going! Try a few of these amazing options: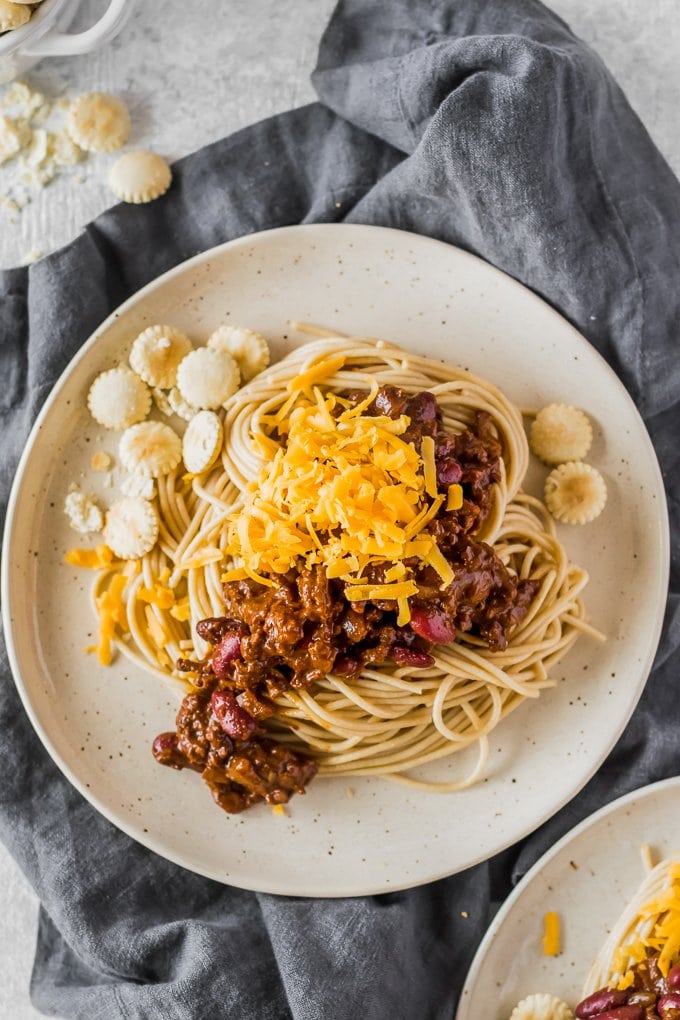 Watch the Video and See the recipe card below for full details. Enjoy!
Looking for more comfort food? These soups will keep you warm and full!