This INSTANT POT CHILI VERDE is made in minutes, full of flavor, and sure to warm your soul this Winter. All the spice in all the right places! We love to fry tortillas and lay them at the bottom of the bowl for extra crunch and texture.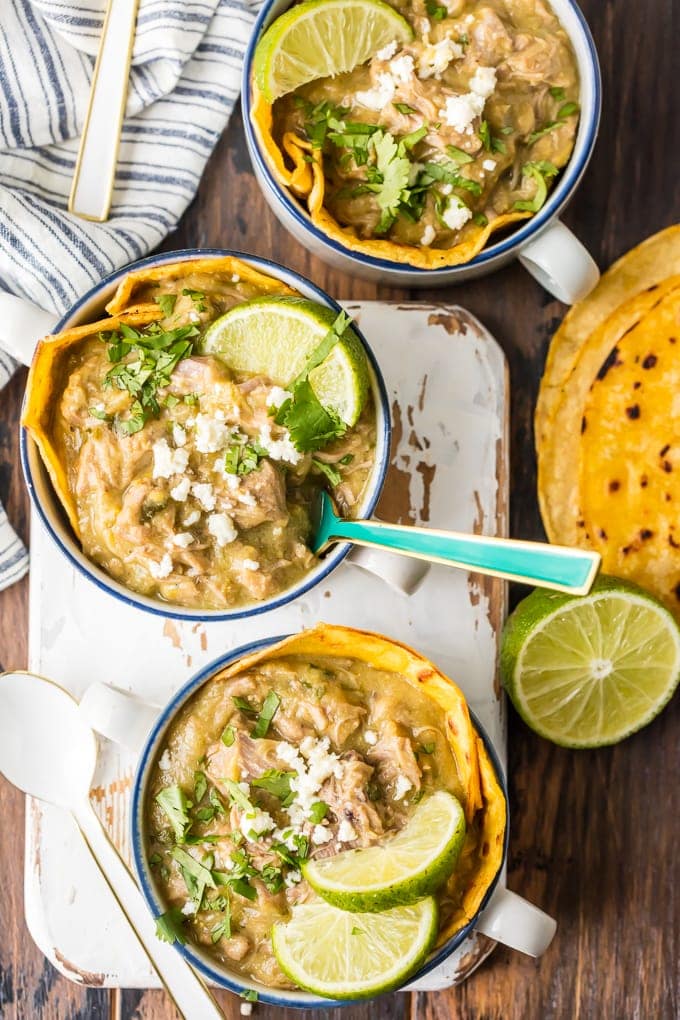 Easy Chili Verde Recipe
When I don't have time to make traditional Chile verde, this INSTANT POT CHILI VERDE checks all the boxes for me:
Under 30 minutes? CHECK.
One Pot? CHECK.
Spicy enough but won't melt your mouth off? CHECK.
Perfect for chilly nights? CHECK.
It may not be the prettiest soup known to man (that color is super hard to photograph!) but it sure it extra delicious. And that's all that really matters around here!
You guys know I love a good Tex Mex recipe. If I had to eat one type of food for the rest of my days…that would be it. And that's why I can't get enough of this Instant Pot Chili Verde recipe. I love the spices, the ease of cooking, the cheese…all of it!
I love a recipe that let's you layer on all the toppings. I added cilantro, cheese, limes, tortillas…the works. That's what makes comfort food to me.
This Instant Pot Chili Verde recipe is a quick & easy Tex Mex favorite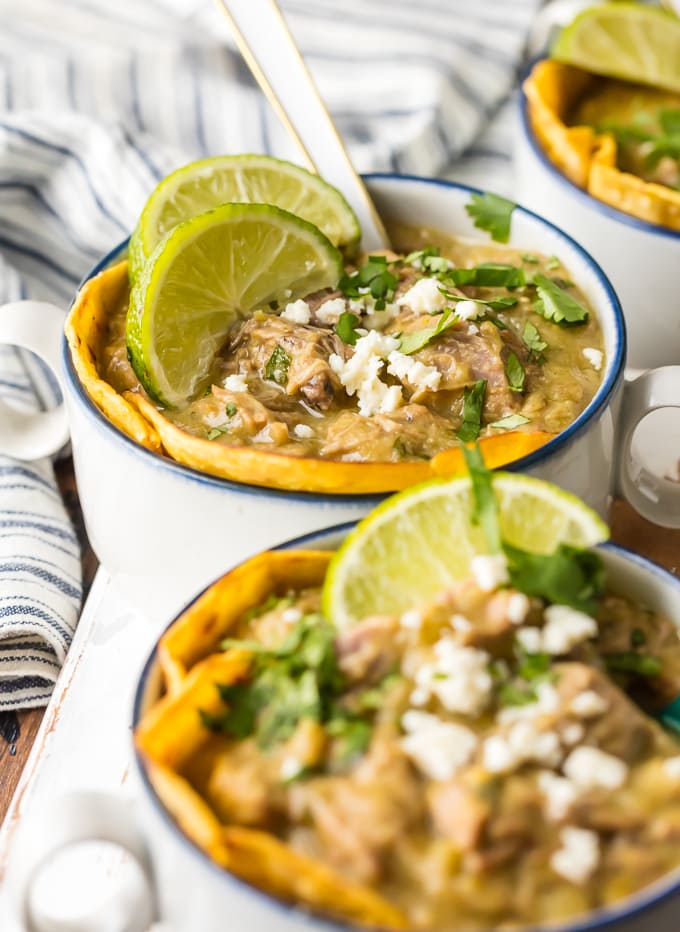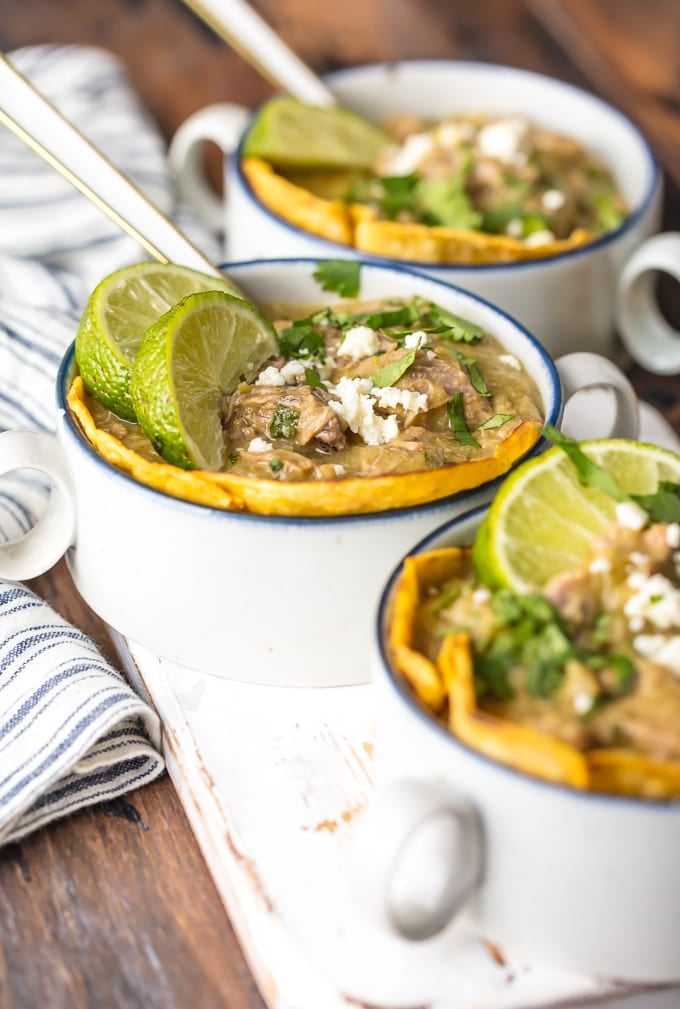 What is Chili Verde?
Chili Verde literally translates to green chili, but in this case, it is a Mexican-American dish you'll find in many Tex-Mex restaurants. Chili Verde is a pork stew flavored with a mix of green peppers, like green chilis and jalapenos.
This Instant Pot Chili Verde recipe keeps to the traditional dish, but I love how much easier it is to make in an Instant Pot!
Instant Pot Recipes
The more I use the pressure cooker, the more I'm completely enamored. It's INCREDIBLE you guys. So far I've used it to make Apple Pie Oatmeal, Thanksgiving Turkey (we actually made our holiday turkey in an Instant Pot and it got RAVE reviews!), Holiday Honey Baked Ham, and 5 Spice Beef Stew.
Every recipe has been a hit and has taken way less time than I could have imagined. Once you get the hang of it (which doesn't take long at all) you'll be hooked. I've linked my favorite Instant Pot below in the "shop this post" section.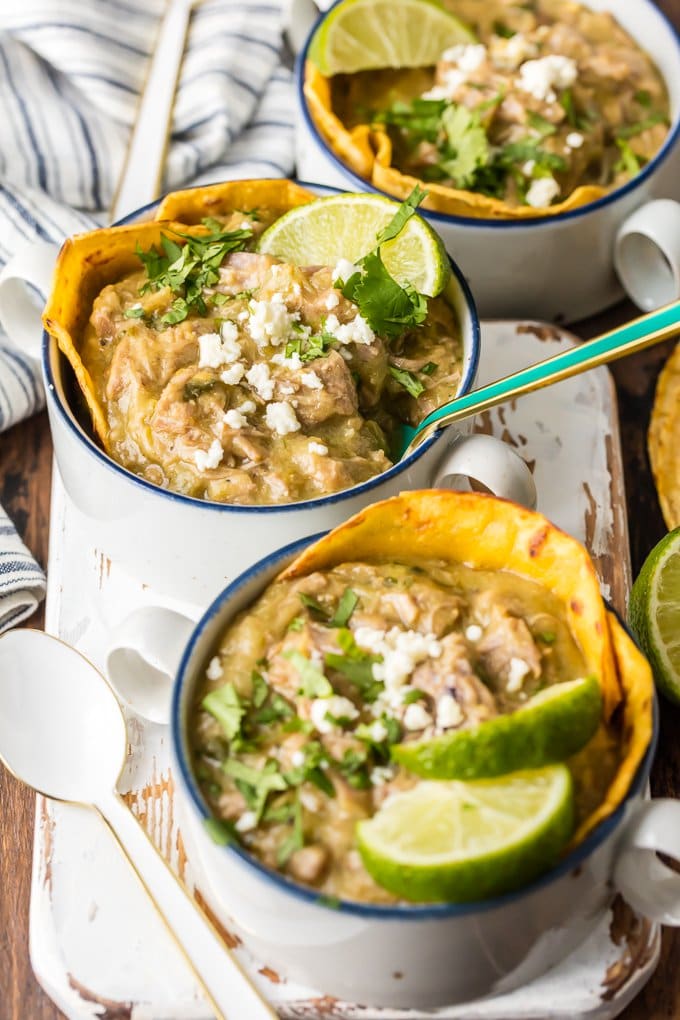 Is Chili Verde spicy?
Tex-Mex is one of my favorite cuisines, and it usually includes quite a bit of spice! This recipe contains a flavorful mix of chilis, jalapenos, and Poblano peppers, so you should expect some heat.
But what I love about this Instant Pot Chili Verde recipe is that it's just spicy enough without being too hot.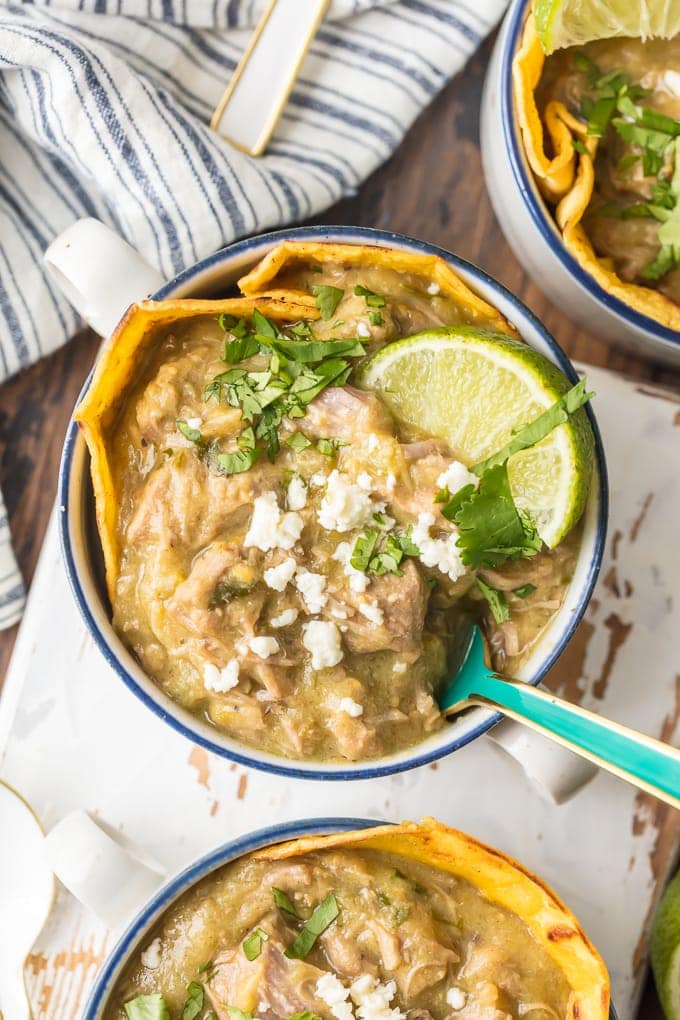 If you're new to the Instant Pot, this Instant Pot Chili Verde recipe is a great entry recipe to try. It's super simple and is sure to please.
We made ours a little cozier by frying up some tortillas and placing them at the bottom of each bowl. It's the little things that make all the difference! You're gonna love this chili verde recipe, I just know it!
Love this Instant Pot Chili Verde? Try these other Instant Pot Recipes:
See the recipe card below for details on how to make this Instant Pot Chili Verde recipe. Enjoy!