Butterscotch Pie is the most decadent dessert you'll have on your holiday table. This Butterscotch Pie Recipe is so rich and amazing everyone will be asking for the recipe. It's just like your Grandma's Butterscotch Pie from years ago. This classic pie is perfect for easy holiday baking, especially perfect for Thanksgiving, Christmas, and Easter!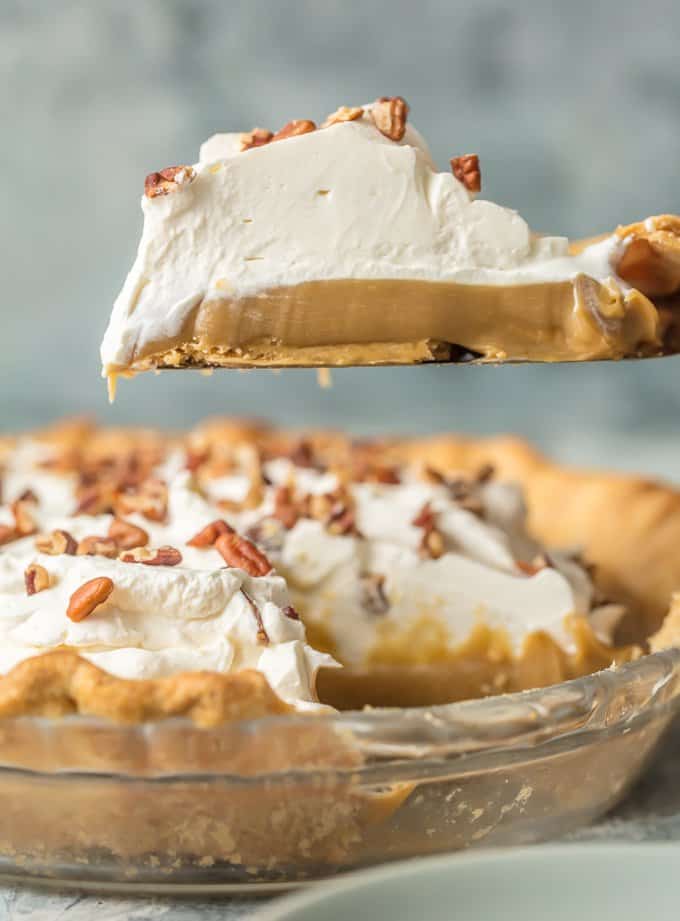 Best Butterscotch Pie Recipe
Growing up, my Grandma always had butterscotch candies on hand for every visit. I knew where to find them, and I loved them. As an adult, I haven't tasted one in years, but I still know it's one of my very favorite flavors. Transforming a delicious and comforting butterscotch candy into a Classic Butterscotch Pie seems like the right thing to do, and the result is a delicious, creamy, rich, FABULOUS pie just begging to be on your Thanksgiving, Christmas, or Easter table.
This Butterscotch Pie is simple to make, loaded with fresh whipped cream, and features a store bought crust. What's not to love?!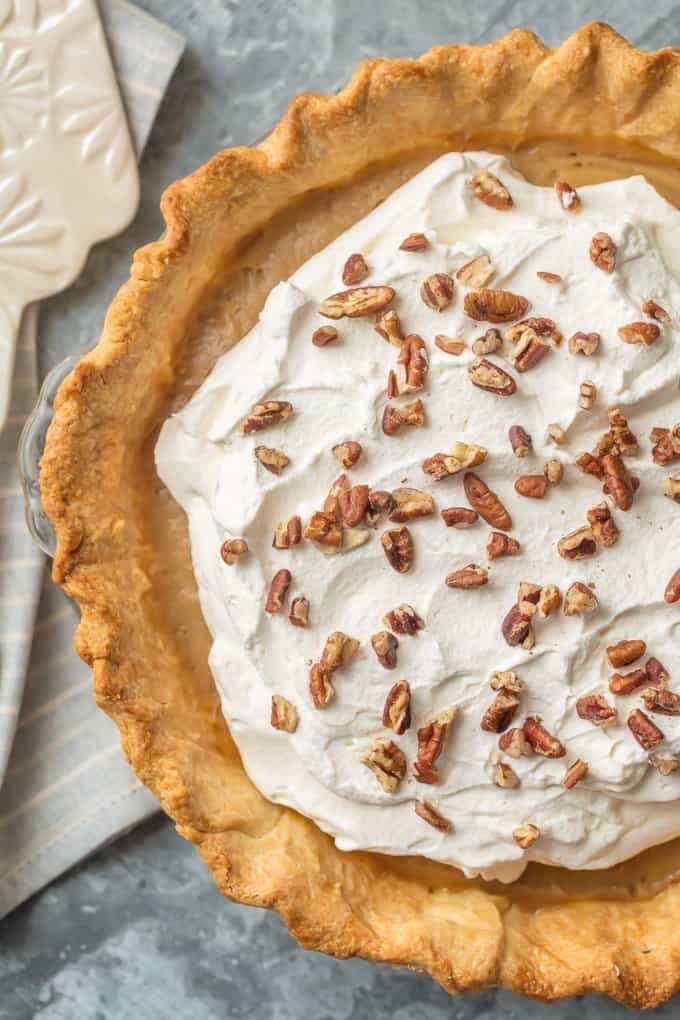 If tasting this pie doesn't immediately make you feel at home, I'd be shocked. A little goes a long way, because it is RICH, but that's how I like it. It's the perfect sweet treat to end any family meal, especially around the holidays. We topped ours with toasted pecans and it added just the right amount of crunch and balanced the sweetness of the butterscotch. Just looking at these pictures has me needing to make another pie!
How long does Butterscotch Pie last?
This pie should be great for 3-5 days in the fridge when properly stored. I know it won't last that long because you'll eat it all IMMEDIATELY.
How thick should Butterscotch Pie be?
You want the filling of this Butterscotch Pie Recipe to be pretty firm, like a thick custard pudding. It should hold its form when cut.
What does Butterscotch taste like?
Butterscotch tastes a lot like toffee. That's because toffee is actually butterscotch, just cooked longer. It also tastes like caramel. The main difference between caramel and butterscotch is that butterscotch has a brown sugar base and caramel has a white sugar base. Learn something new every day!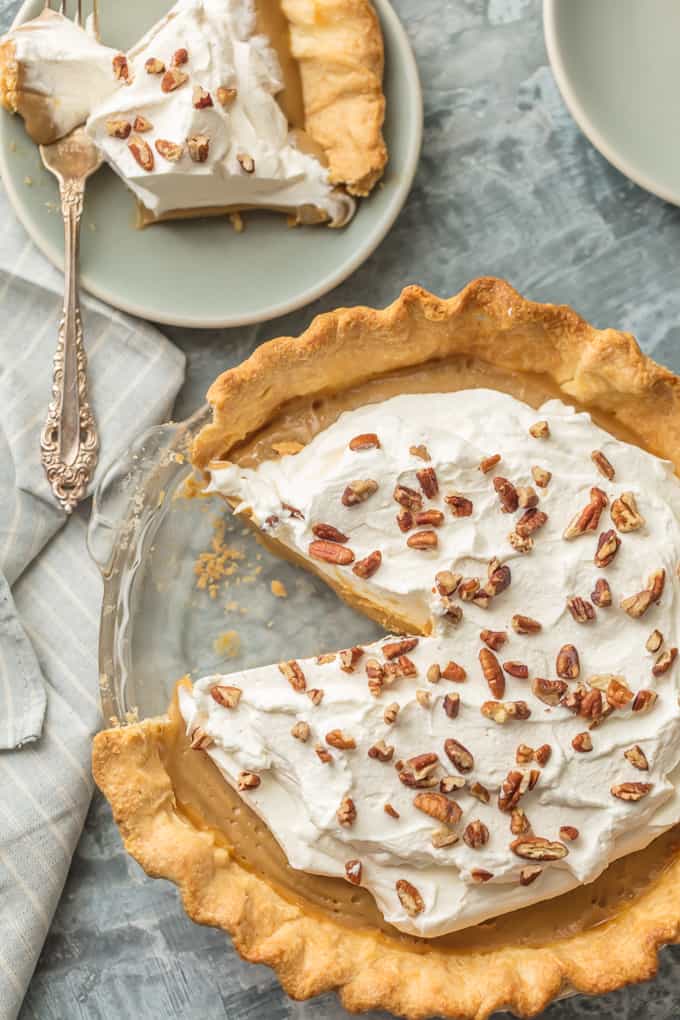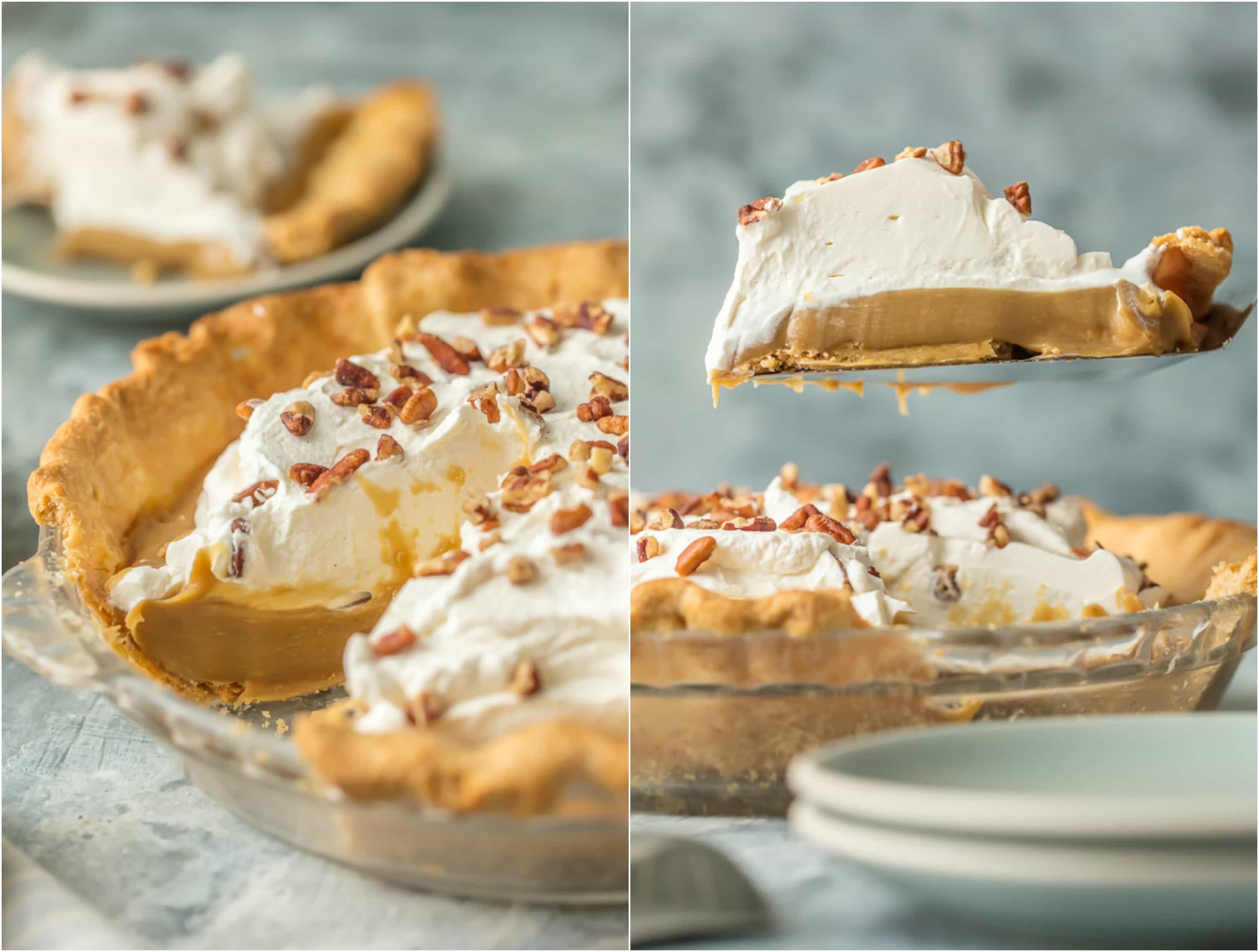 An alternative to Pumpkin Pie for Holiday Entertaining
I know everything Thanksgiving needs a pumpkin pie, but I'd argue this Classic Butterscotch Pie is the ultimate companion. I'll take a slice of both please! SO DARN GOOD. It's not just for holidays, although it's a great pie for celebrating. It's also an amazing pie to take to bake sales, Summer BBQ's, or a regular Tuesday night if you end up loving it as much as we do.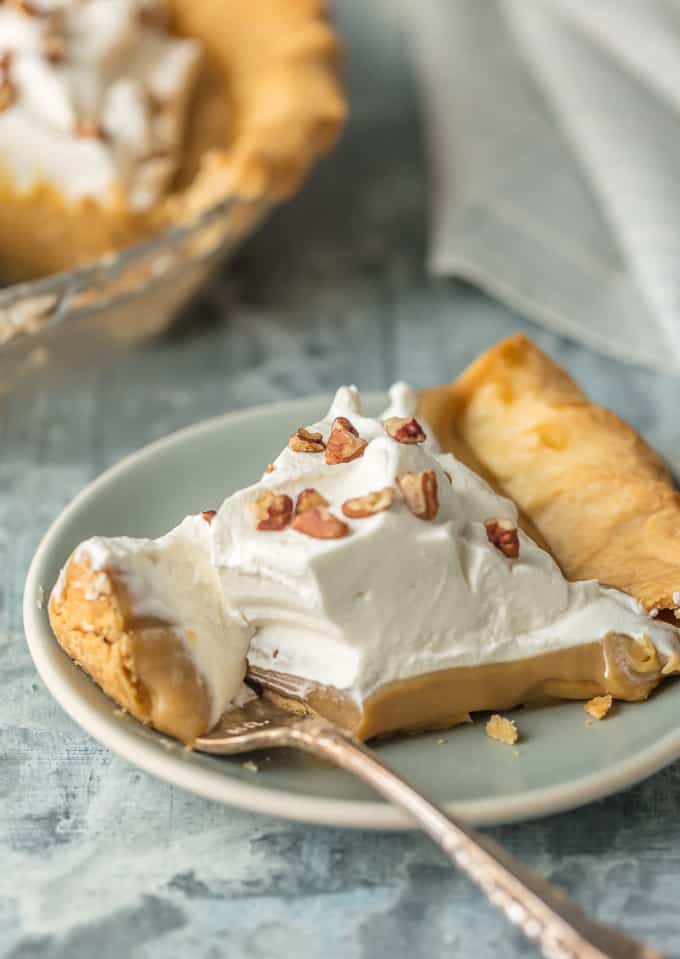 As I'm learning to cook, baking is still something I struggle with. Every time I learn a new amazing dessert recipe, I feel that much more confident. This Classic Butterscotch Pie has me patting myself on the back left and right. It's just so darn good and…classic. Butterscotch Pie for the ultimate sweet treat win! Make this as your Thanksgiving Pie, or make it for any occasion.
See below for full details on how to make this Classic Butterscotch Pie Recipe. Enjoy!
Other favorite dessert recipes: