This Pumpkin Pie recipe is the only one you'll ever need. Homemade pie crust is topped with sweet spiced pumpkin pie filling, and each slice is served with a dollop of maple whipped cream. Thanksgiving just got so much more delicious with this rustic recipe!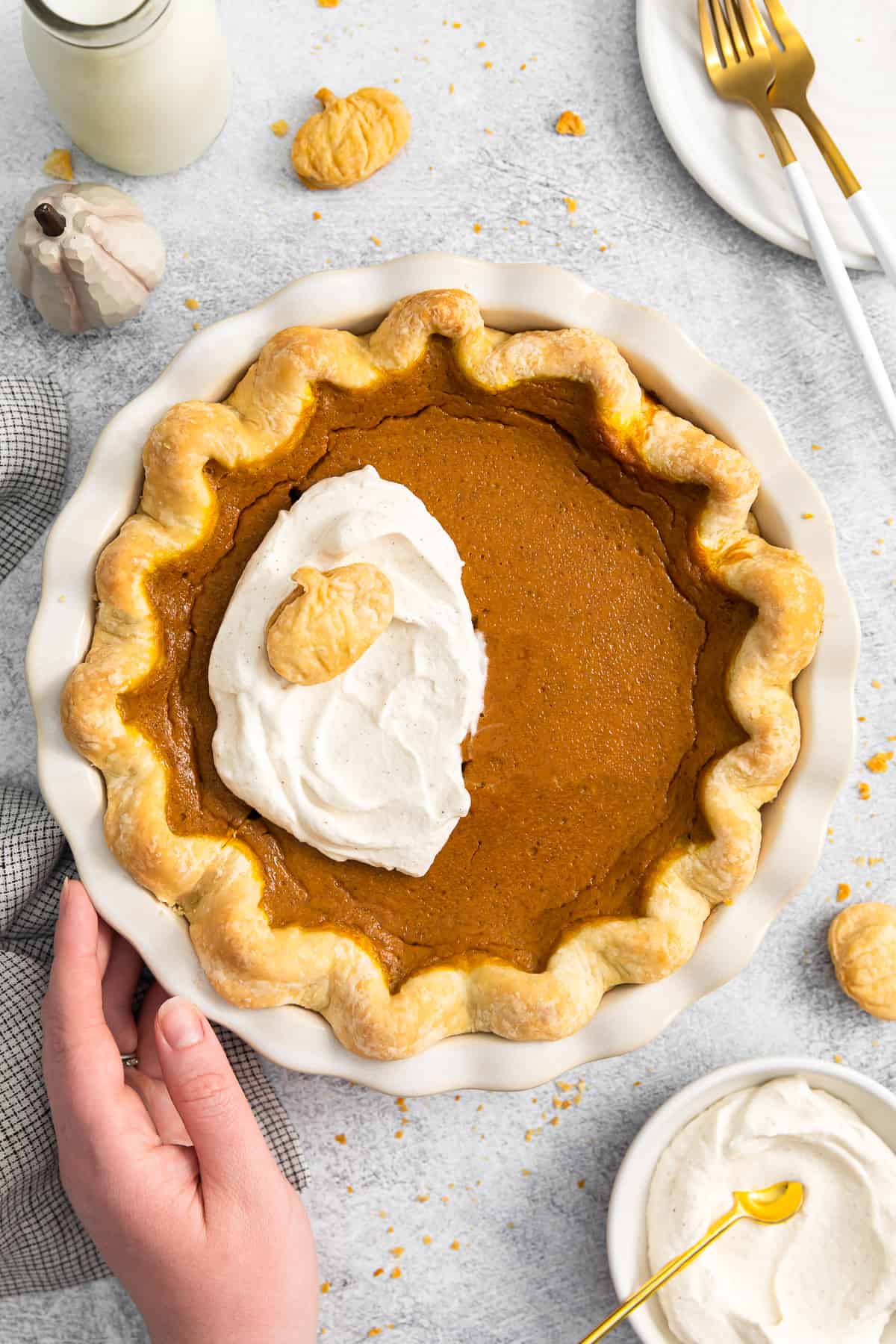 Homemade Pumpkin Pie
Let's be honest: pumpkin pie is the best part of Thanksgiving! However, far too many people rely on store-bought pies to do the trick. While I agree that most of those pies aren't half bad, none of them can hold a candle to something homemade!
This recipe for Pumpkin Pie is made 100% from scratch with lots of love. The homemade pie crust is perfectly buttery, the creamy filling is so rich with pumpkin flavor, and the maple whipped cream on top is the best little extra touch of fall flavor. From top to bottom, this pie cannot be bested!
Why You'll Love this Pumpkin Pie Recipe:
Homemade: The holidays are the best time to show off your skills. This dessert made from scratch is the best way to impress your guests!
Classic: Pumpkin Pie is the most classic Thanksgiving dessert you can serve. This recipe has no unnecessary frills or trendy ingredients – just all of the timeless flavors you love.
Easy: Yes, this pie is homemade, but that doesn't mean it's a challenge! Just follow the easy step-by-step instructions and read through the FAQs to help guide you.
Yes, you can serve this pie without the maple whipped cream, but why would you want to? That extra creamy dollop on top sends the whole slice right over the top.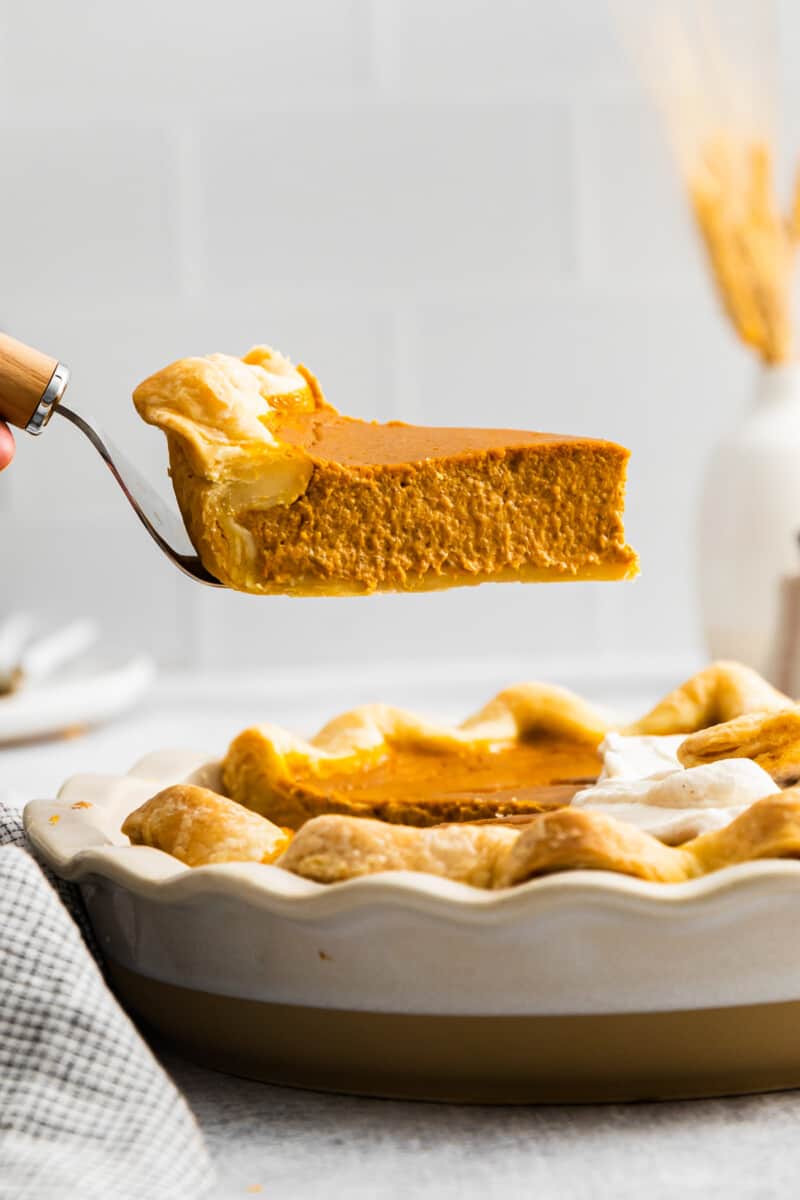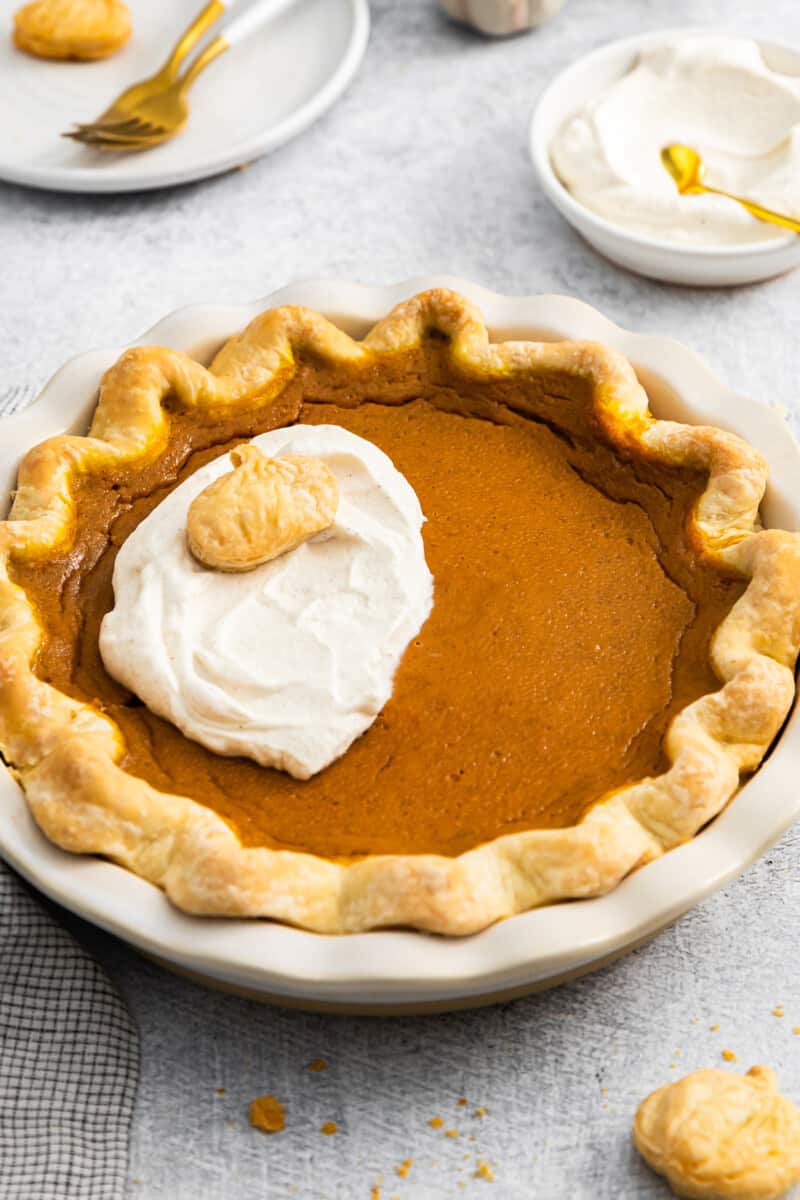 How to Make Pumpkin Pie
You can jump to the recipe card for full ingredients & instructions!
Make the pie crust first.
Combine the flour, cornstarch, and salt. Use a pastry blender to add the butter.
Add water to the mixture until a dough forms.
Roll the dough into a disc and refrigerate.
Roll the dough again and place it in the pie pan. Poke with a fork a few times. Keep in the freezer.
Next, make the filling and bake.
Whisk the pumpkin puree and brown sugar together.
Add in the eggs, vanilla, and pumpkin pie spice.
Stir in the heavy cream. Pour the filling into the pie crust and bake.
Make the maple whipped cream.
Beat together the heavy cream, maple syrup, and pumpkin pie spice until fluffy.
Recipe Notes
Flour: The base of our crust. Make sure to measure using the spoon and level method as adding too much flour can alter the texture of the crust.
Cornstarch: Lightens the flour a bit resulting in a deliciously light and flaky pie crust.
Salt: Adds a bit of flavor to the crust so it really tastes delicious. If you use salted butter, feel free to skip the additional salt.
Cold butter: The key to light and flaky pie crust. I cube the butter and then place it in the freezer to chill while I prepare the other ingredients.
Water: Helps bring the dough together. We're using ice water to keep the butter cold– just make sure not to get any ice in the dough.
Pumpkin Puree: The base of the filling, it adds the pumpkin flavor and orange color.
Light Brown Sugar: Sweetens the pie.
Eggs: Add richness and help hold the pie filling together.
Vanilla: Enhances the sweetness and spice in the pie.
Pumpkin Pie Spice: Really gives us that warm, cozy pumpkin flavor.
Heavy Cream: Adds richness and helps thin the filling so it isn't too dense. Heavy cream is also used to make our maple whipped cream.
Maple Syrup: I'm sweetening the whipped cream with maple syrup but you could use powdered sugar if you don't want a maple flavor.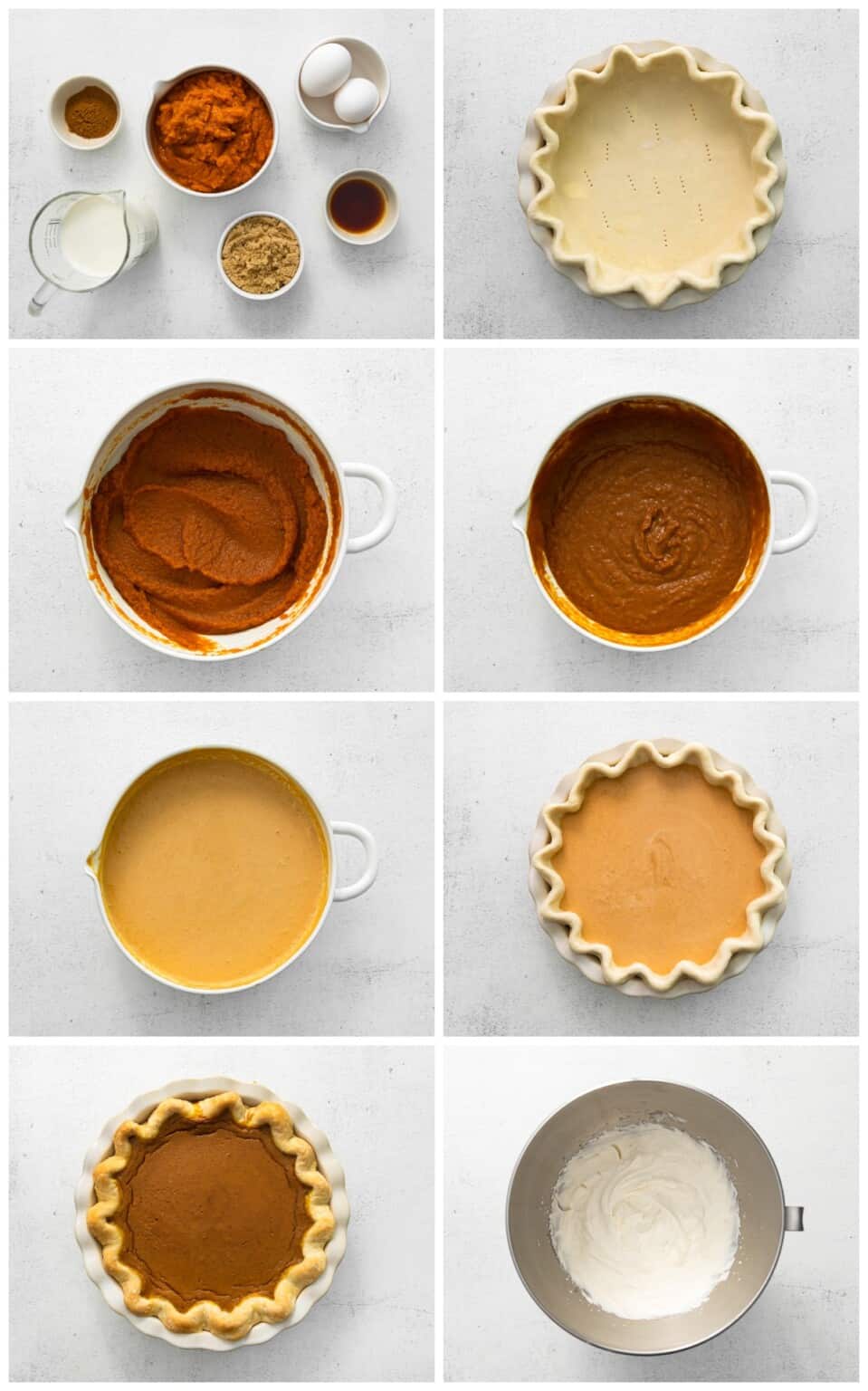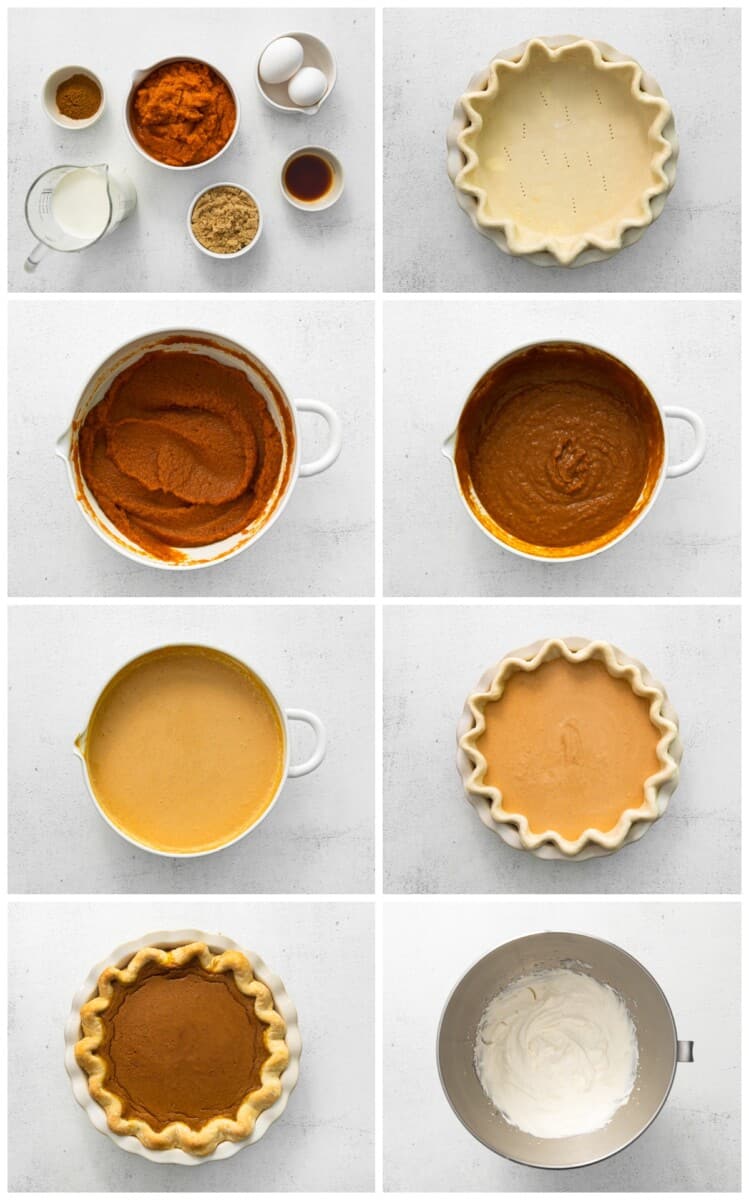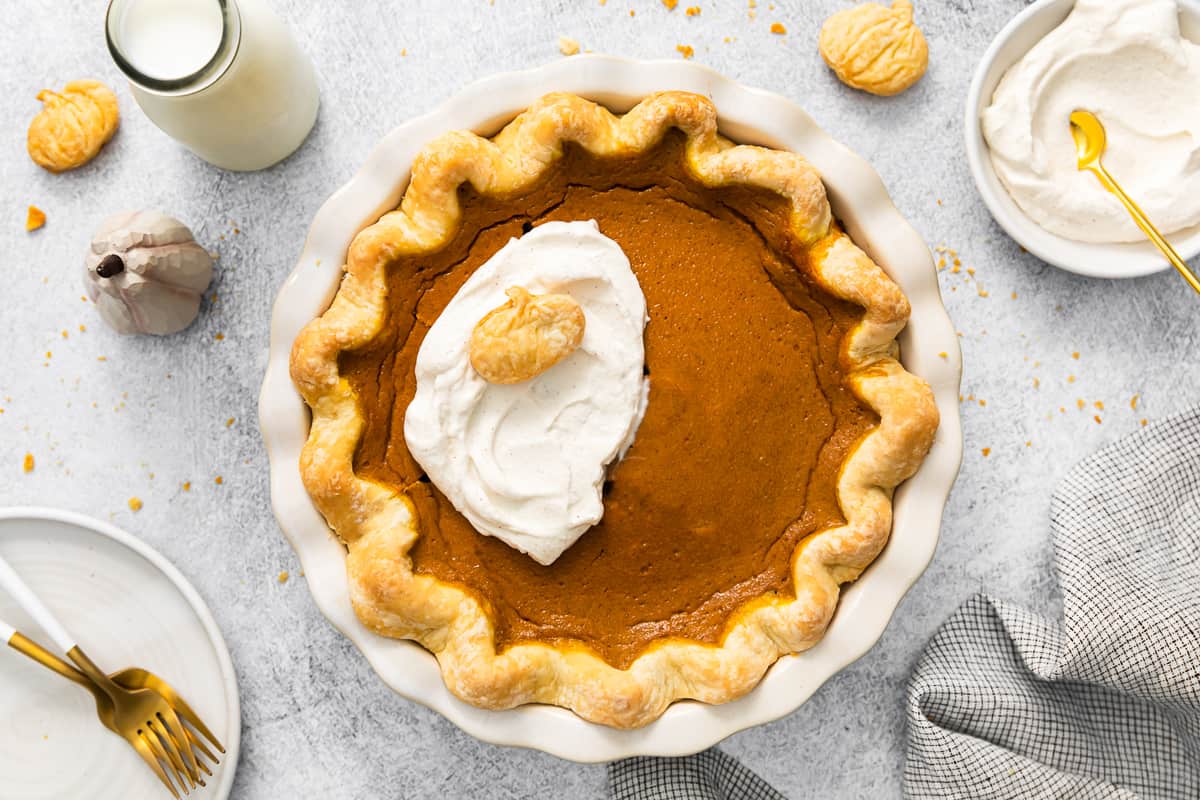 Is pumpkin pie healthy?
Pumpkin contains vitamin A, protein, carbs, fiber, Vitamin C, potassium, and fats, which are all pretty healthy. Plus, it is a single-crust pie, so it is lower-carb than double-crust pies. However, pumpkin pie does still contain a lot of sugar and should be enjoyed in moderation!
Can I make pumpkin pie with fresh pumpkin instead of canned?
Absolutely! To make fresh pumpkin puree, halve a medium sugar pumpkin, scrape out the insides, and place the halves cut-side-down on a lined baking sheet. Bake at 400°F until easily pierced with a fork, about 30-45 minutes. Let cool, then scoop out the pulp to use.
What is in pumpkin pie spice?
Pumpkin pie spice contains cinnamon, allspice, nutmeg, ginger, mace, and cloves. If you do not have any pie spice on hand you can make your own pumpkin pie spice!
How can I tell when pumpkin pie is done baking?
Pumpkin pie is done baking when the center is almost set but still wobbles slightly. The center of the pie will finish cooking as the pie cools.
Does pumpkin pie need to be refrigerated?
Yes, this pie needs to be refrigerated!
How long does pumpkin pie last in the fridge?
Pumpkin pie will last for up to 3 days tightly wrapped in the refrigerator.
Can you freeze pumpkin pie?
Absolutely! Let the pie cool completely, then tightly wrap it in 2 layers of plastic wrap and 1 layer of aluminum foil to store for up to 3 months. You can also wrap individual slices of pie for easier defrosting.
Can dogs eat pumpkin pie?
No! Although dogs can eat plain 100% pumpkin puree, they cannot eat pumpkin pie. It contains too much sugar and additives, and it is not healthy for them to have!
This is definitely everyone's favorite Thanksgiving pie. When you enjoy your first perfect forkful of buttery crust, pumpkin pie filling and dreamy maple whipped cream, you'll never go back to a store-bought pie again!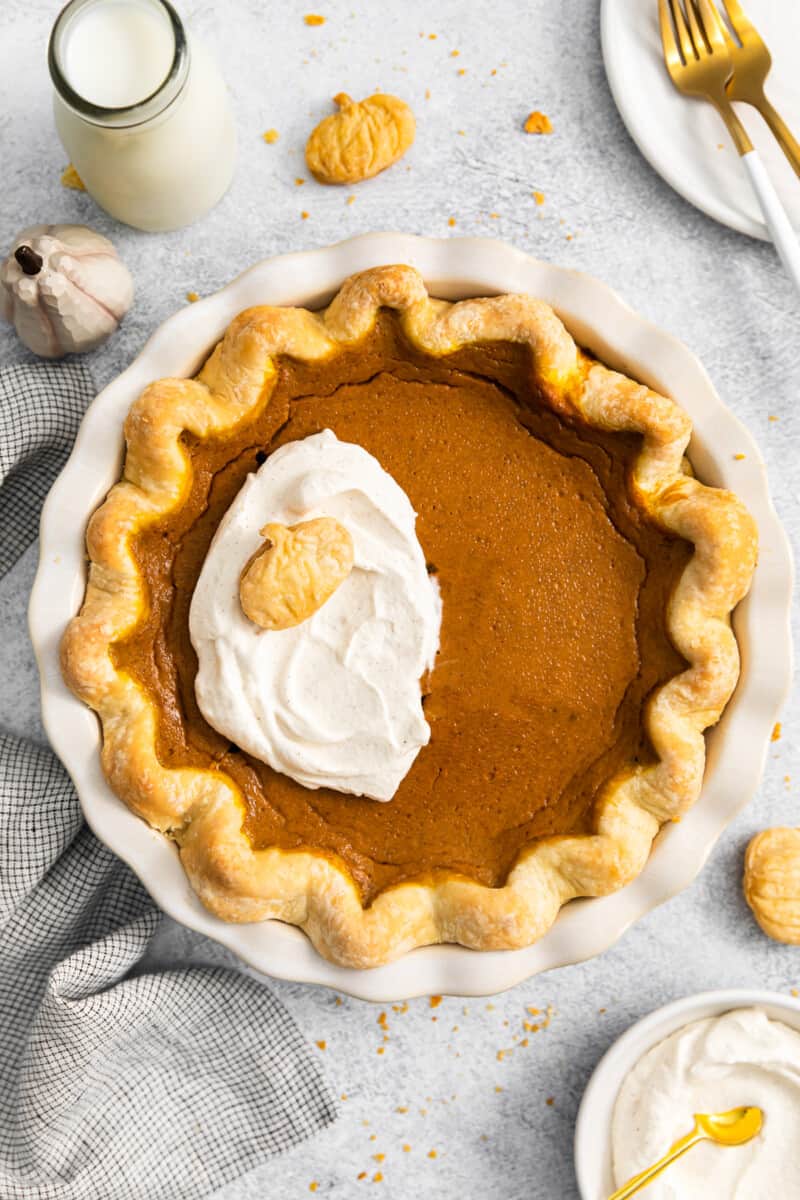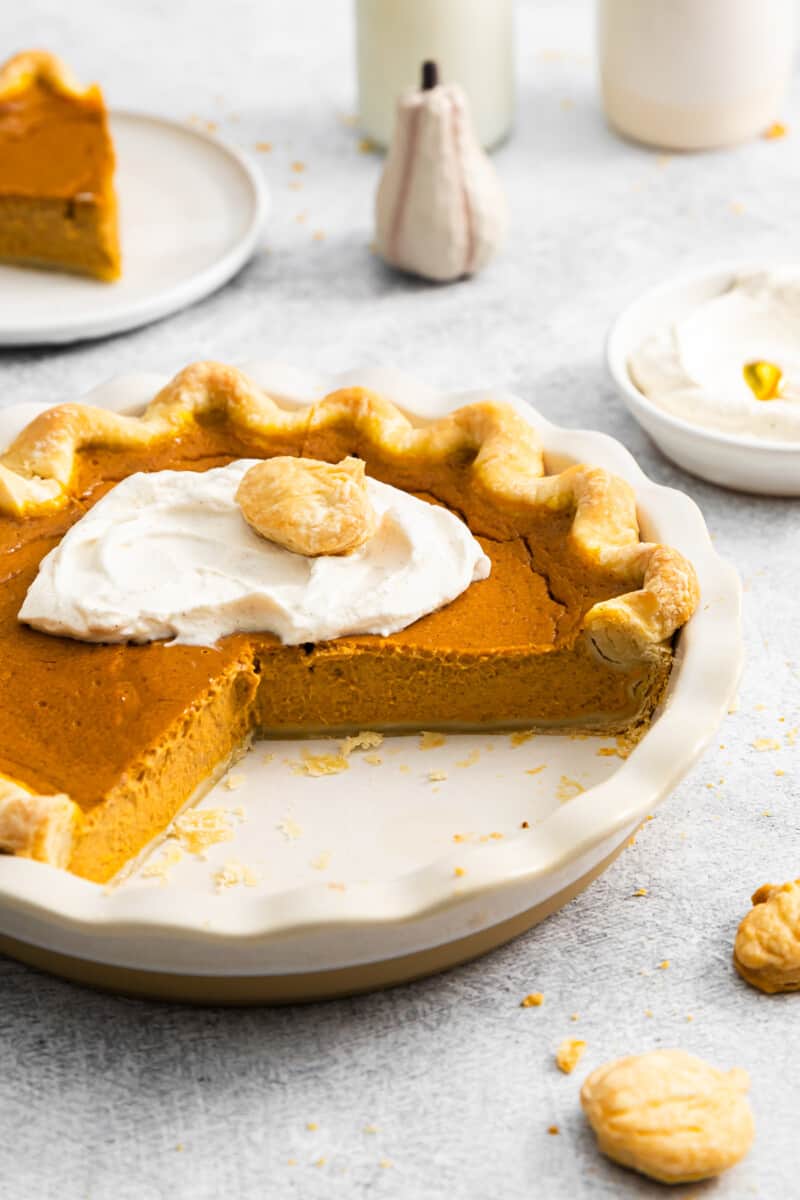 Make Ahead Instructions
You can make the pie crust through step 4 and refrigerate it for up to 3 days before rolling it out and shaping it. You can also shape the dough and store it in the refrigerator for up to 3 days.
Storage Instructions
Store leftover pumpkin pie covered in the refrigerator for up to 3 days. Store whipped cream separately in an airtight container in the refrigerator for up to 24 hours. Enjoy cold or at room temperature.
Freezing Instructions
Freeze pumpkin pie whole or in individual slices tightly wrapped in 2 layers of plastic wrap and 1 layer of aluminum foil for up to 3 months.
Substitutions
For gluten-free pumpkin pie, replace the all-purpose flour with an equal amount of gluten-free 1:1 baking flour.
If using salted butter, omit the salt.
In place of canned pumpkin puree, you can use fresh, homemade pumpkin puree.
For a richer flavor, use dark brown sugar instead of light.
In the pie only, you can use an equal amount of evaporated milk in place of the heavy cream.
In place of the maple syrup, you can use powdered sugar.
Decorating Ideas
Top this pie with leftover pie crust pieces cut into fun, autumnal shapes.
Dust the pie with cinnamon or pumpkin pie spice.
Top each slice with a sugared cranberry.
Tips for the Best Pumpkin Pie
If you're short on time, you can use a pre-made store-bought pie crust!
Using canned pumpkin puree will produce consistent pies. If using homemade pumpkin puree, the water content will vary, leading to mixed results.
Fresh pumpkin puree has a richer, earthier flavor; whereas, canned pumpkin provides a more neutral base.
Bake the pie in the lower third of the oven or on top of a pizza stone to avoid a soggy crust.
To keep the crust from getting too browned, cover the edges with strips of foil about halfway through baking.
Take care not to overcook the pie or you could end up with cracks.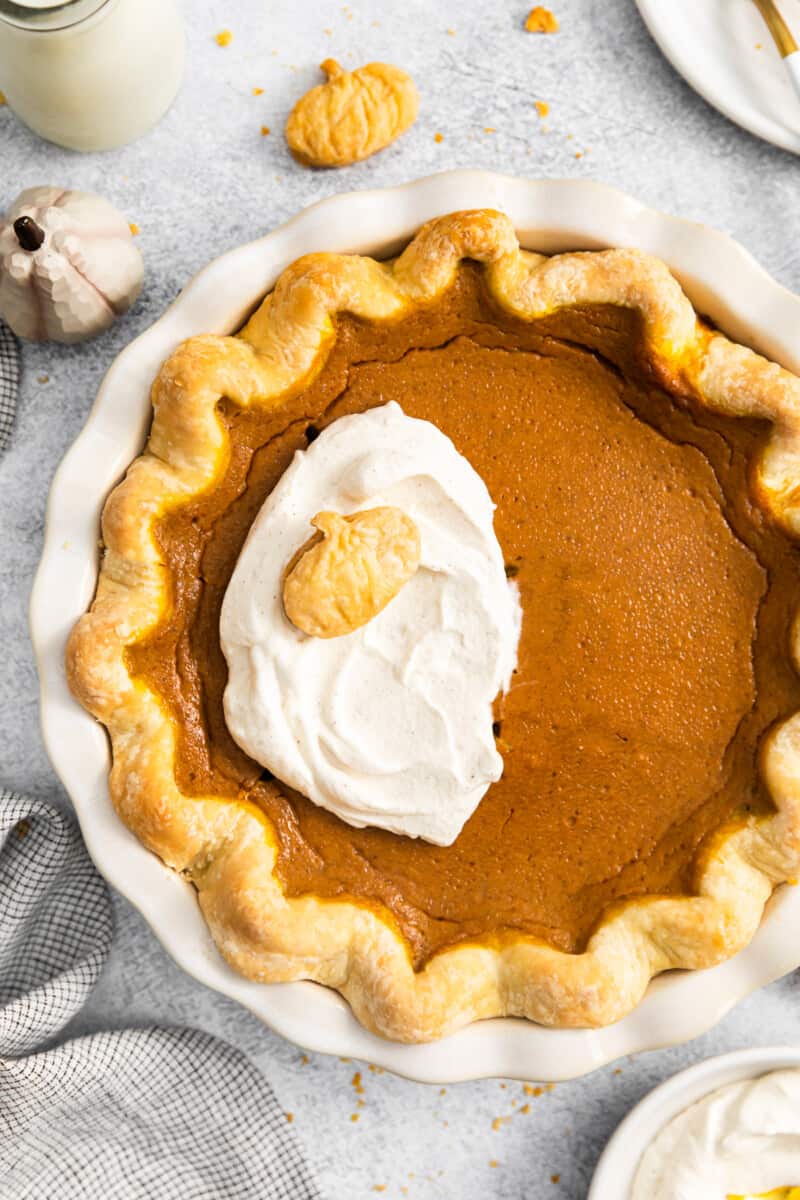 Feel like a real rustic home chef when you bake this homemade Pumpkin Pie. While it's made from scratch, it's also SO easy and always yields the best results. Your friends and family will beg for it year after year!
If you make this recipe be sure to upload a photo in the comment section below or leave a rating. Enjoy! You can also jump to recipe.