Homemade Apple Pie is one of the coziest, homiest desserts I can think of! Fresh, warm, and made from scratch (with homemade apple pie crust), making it the ideal dessert. This easy apple pie recipe makes it simple to bake a fresh pie for any occasion!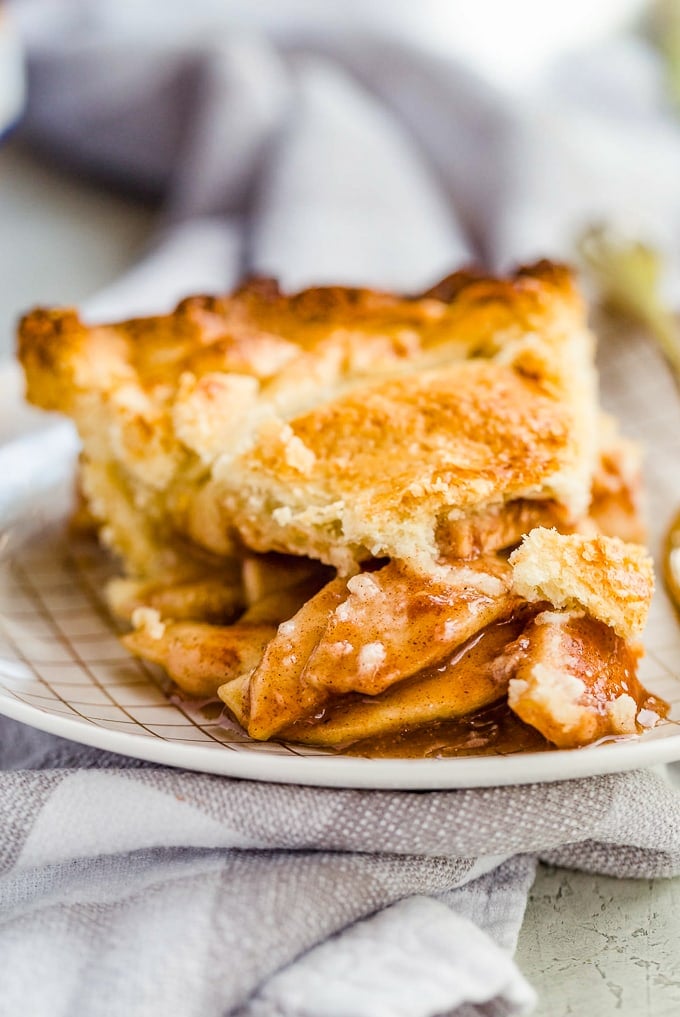 Homemade Apple Pie
Is there anything that says home better than apple pie made from scratch? It's one of my very favorite things, which is why I'm so excited to share this EASY Homemade Pie recipe with you. It's simple, it's delicious, and it's the perfect recipe to make for the holiday season.
My sister in law, Anna, makes such good pies. The recipes have been passed down in her family, and she was gracious enough to share her delicious pie recipes with us! Anna made this double crust apple pie, as well as a delicious pumpkin pie, for Thanksgiving–and she makes her own homemade pie crust too!
She's broken down the recipes to make them super easy for people like me, and added lots of great tips for the novice chef in all of us. Thanks for showing us how to make apple pie, Anna!
With this homemade filling and pie crust, we've got one seriously fresh and delicious pie ready for the fall season. I can't believe how easy it is, either. So perfect for the chaos of the holiday season!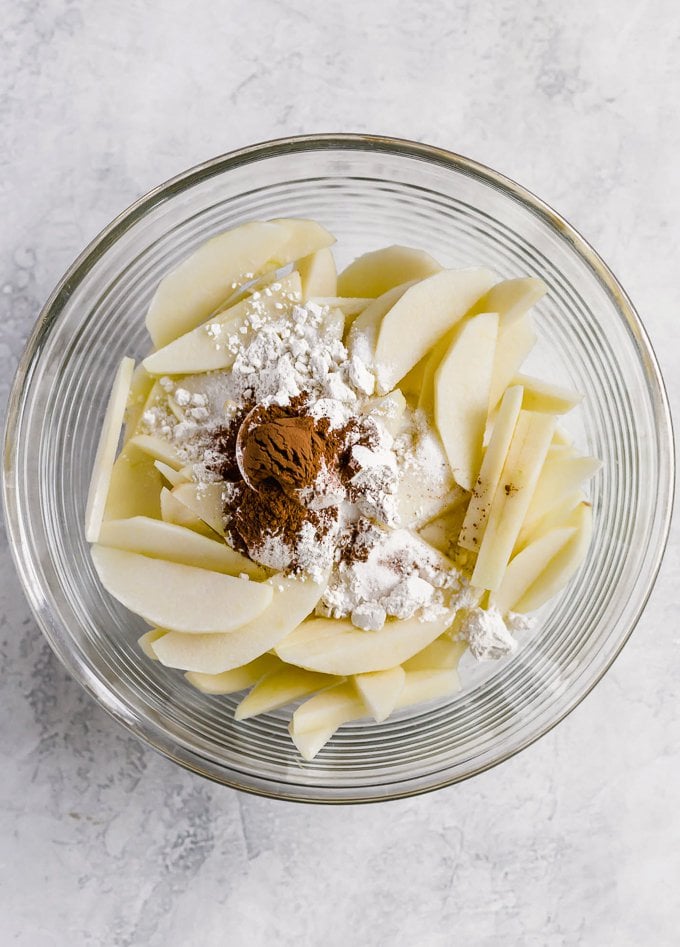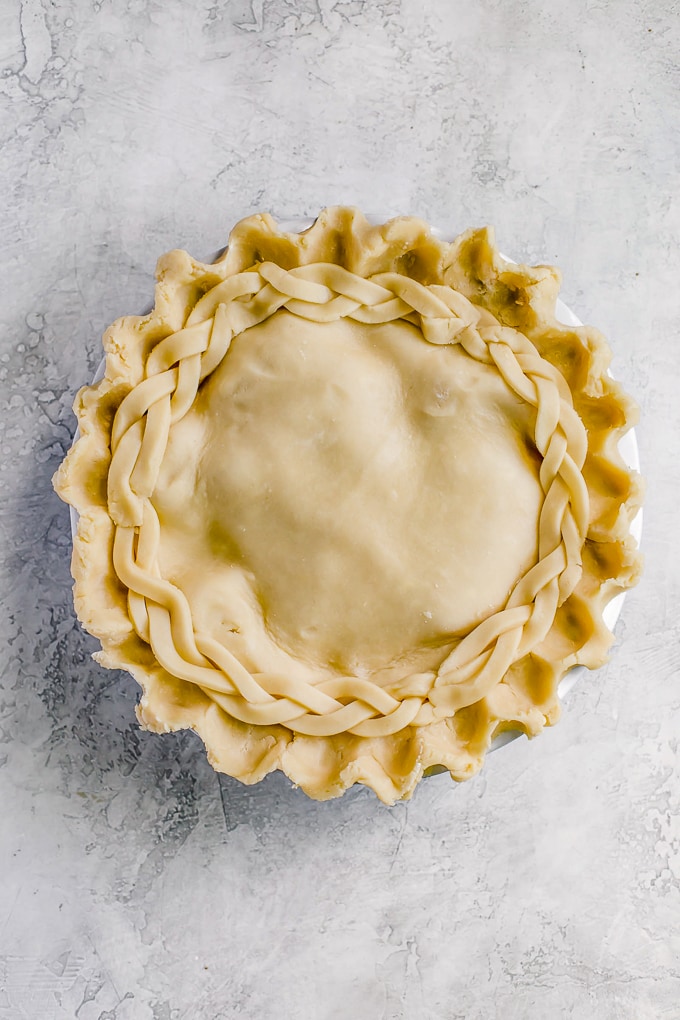 Our favorite pie for the holidays
Easy as pie! Now I know that saying is totally true. Making apple pie from scratch really is simple. No need to stress about holidays and Thanksgiving desserts when you've got this easy homemade apple pie recipe to help you out.
This pie will bring such a cozy, homey feeling along with it, and the taste is amazing. Everyone will love it and will probably go back for seconds! Its great for Thanksgiving, Christmas, but also the 4th of July. Summer isn't complete without a slice.
Want more delicious and easy apple desserts? Try our Easy Apple Crisp, Easy Apple Dumplings, Sheet Pan Apple Crisp, and our Easy Fried Apples.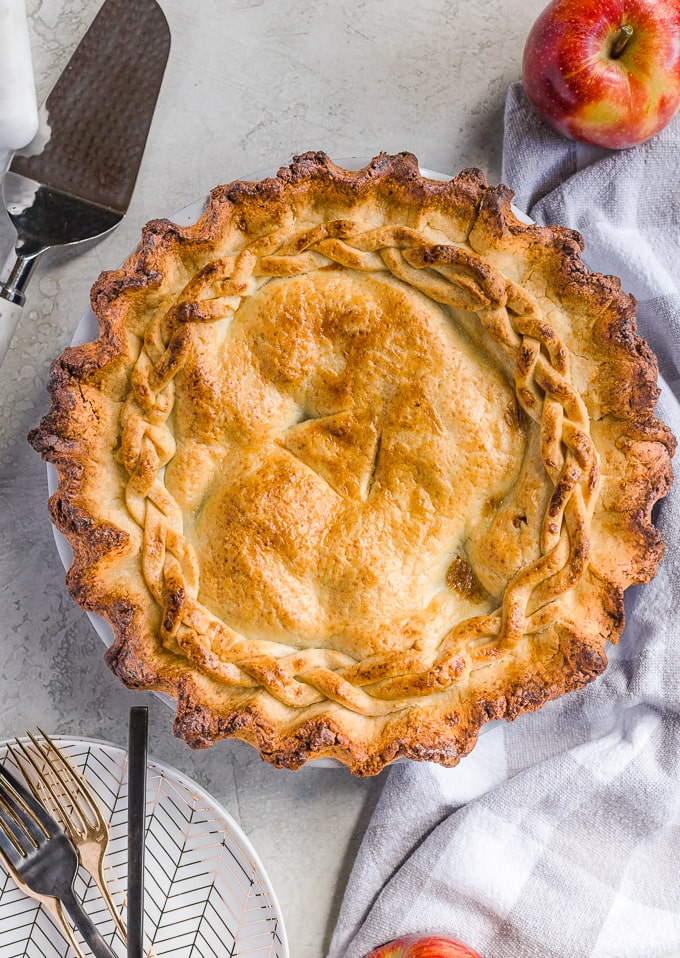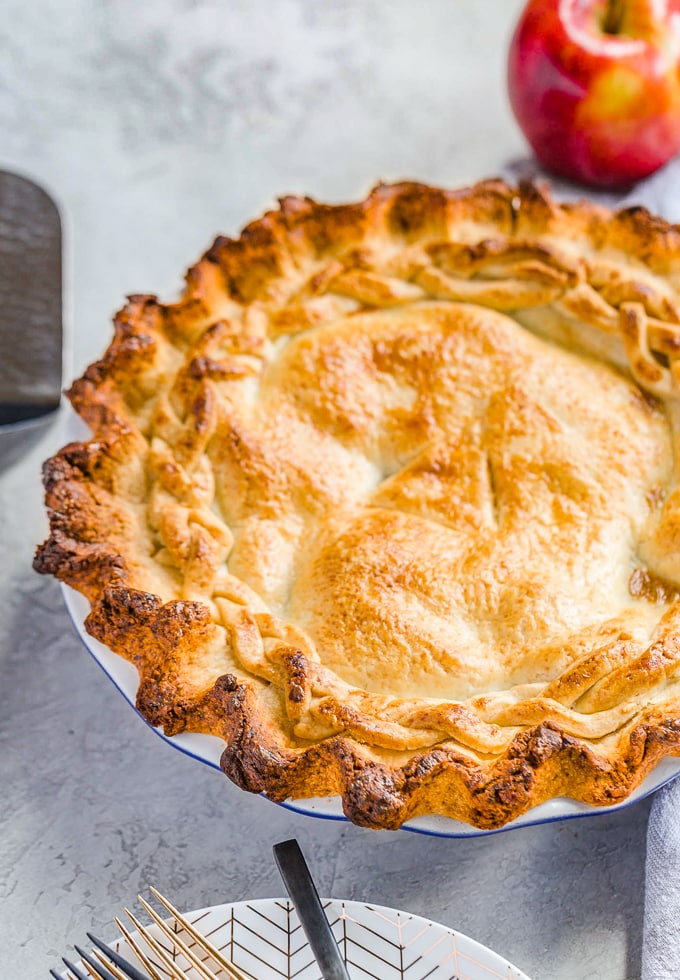 Homemade Pie Crust
I often use pre-made crusts when baking pies, simply because it makes the process so much shorter and simpler. But making pie crust from scratch isn't all that difficult either! I'm all about easy baking, and this homemade apple pie crust actually fits in with that.
All you need to make the pie crust is flour, salt, shortening, and a bit of water. Just mix ingredients together to make the dough, roll it out, then mold it into the pie dish. Get full details and instructions for the homemade pie crust here. You can use that recipe for all kinds of pies too, not just apple!
Homemade Apple Pie Filling
When you make a pie, there are essentially two components: the pie crust and the pie filling. Both are equally important! Now that we've gone over the homemade apple pie crust, let's talk about the homemade filling. You don't need much to make this, which is what I love this pie. It's delicious in its simplicity, just pure apple flavor with a bit of sugar, cinnamon, and flour mixed in to make the filling. YUM!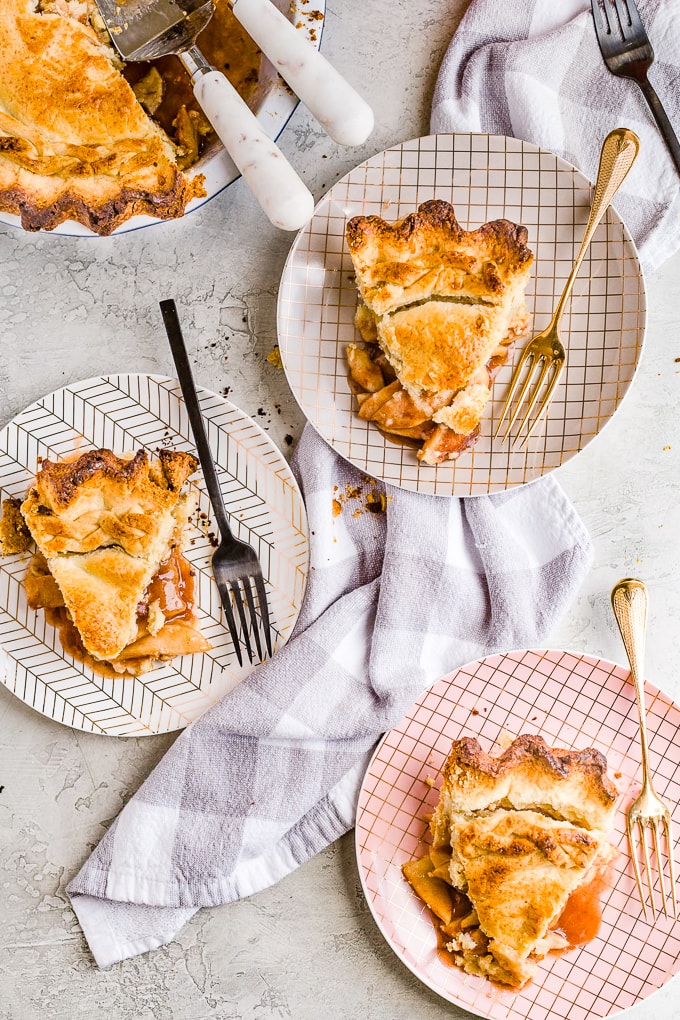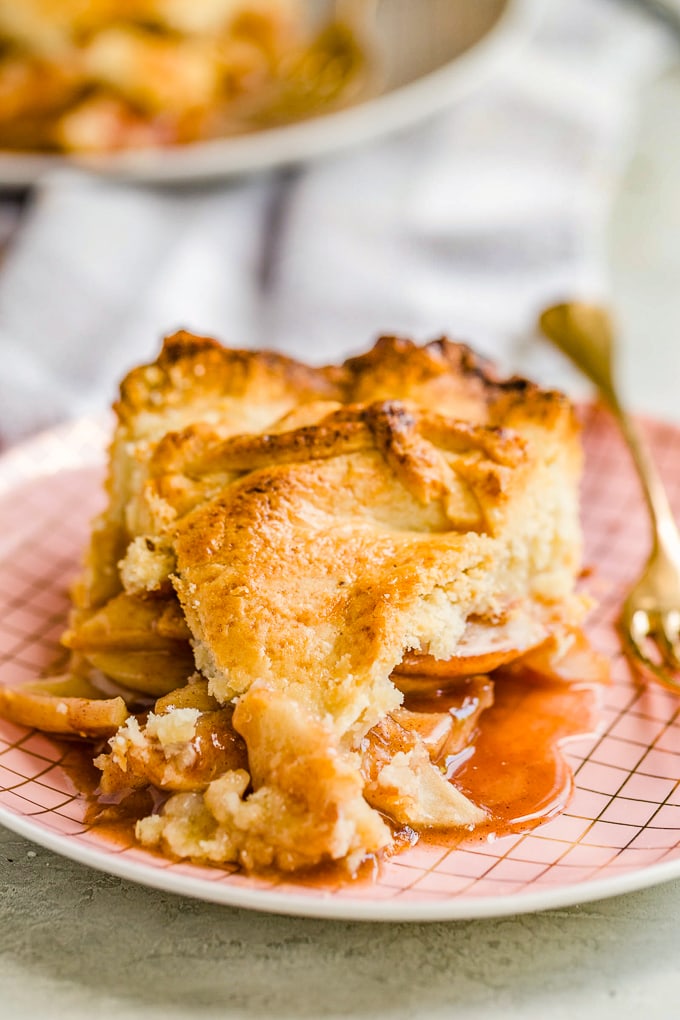 Baking homemade pies was always something that intimidated me in the past. They seem so complicated, but the reality is that they can be pretty simple. This easy recipe is proof of that! If I can manage to make a pie crust and bake a fruit pie from scratch, then trust me, you all can too.
How to Make Apple Pie
Be sure to see the recipe card below for full ingredients & instructions!
Hop over to this pie crust recipe to learn how to make apple pie crust, then come back here to continue on with the recipe.
Combine sugar, flour, & cinnamon with the apples (peeled and sliced) to make the apple pie filling.
Place the pie crust into the pie dish, then pour in the apple filling.
Dot the pie with 1/2 teaspoon sized pats of butter.
Place the second crust on top of the apple filling, and cut a few slits in the crust for steam vents.
Spread a very small amount of milk on top of the pie crust, then sprinkle with sugar.
Bake the pie for 50 minutes at 400°F.
That's one EASY homemade recipe if you ask me. Nothing complicated, just a few simple steps! Be sure to watch the video to see the recipe in action!
What apples should I use?
You can use any type of apples you like. Fall is a great time to go apple picking and get super fresh ones for a homemade pie like this.
We use gala apples in this recipe, and I think they cook really well and have great flavor.
Some people prefer Granny Smith apples for their firmness and tart flavor.
Again, ultimately you can use whichever type you prefer.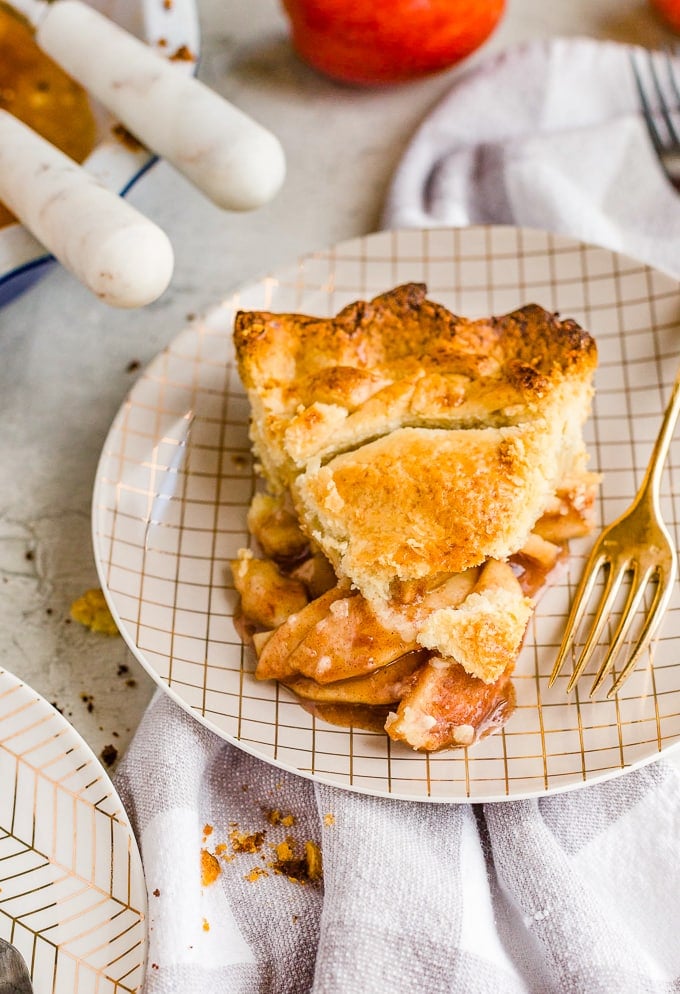 I'm so in love with this easy apple pie recipe, and I know you guys will love it too! Top with a scoop of vanilla ice cream…is there really anything better than that? It's the perfect Thanksgiving pie!
If you like this recipe, try some more of our favorite pie recipes:
If you make this recipe be sure to upload a photo in the comment section below or leave a rating. Enjoy!