With each bite of this sweet potato pie, you'll taste notes of vanilla, cinnamon, brown sugar, and nutmeg! The sweet filling is rich and creamy, giving you the classic flavor of this holiday favorite.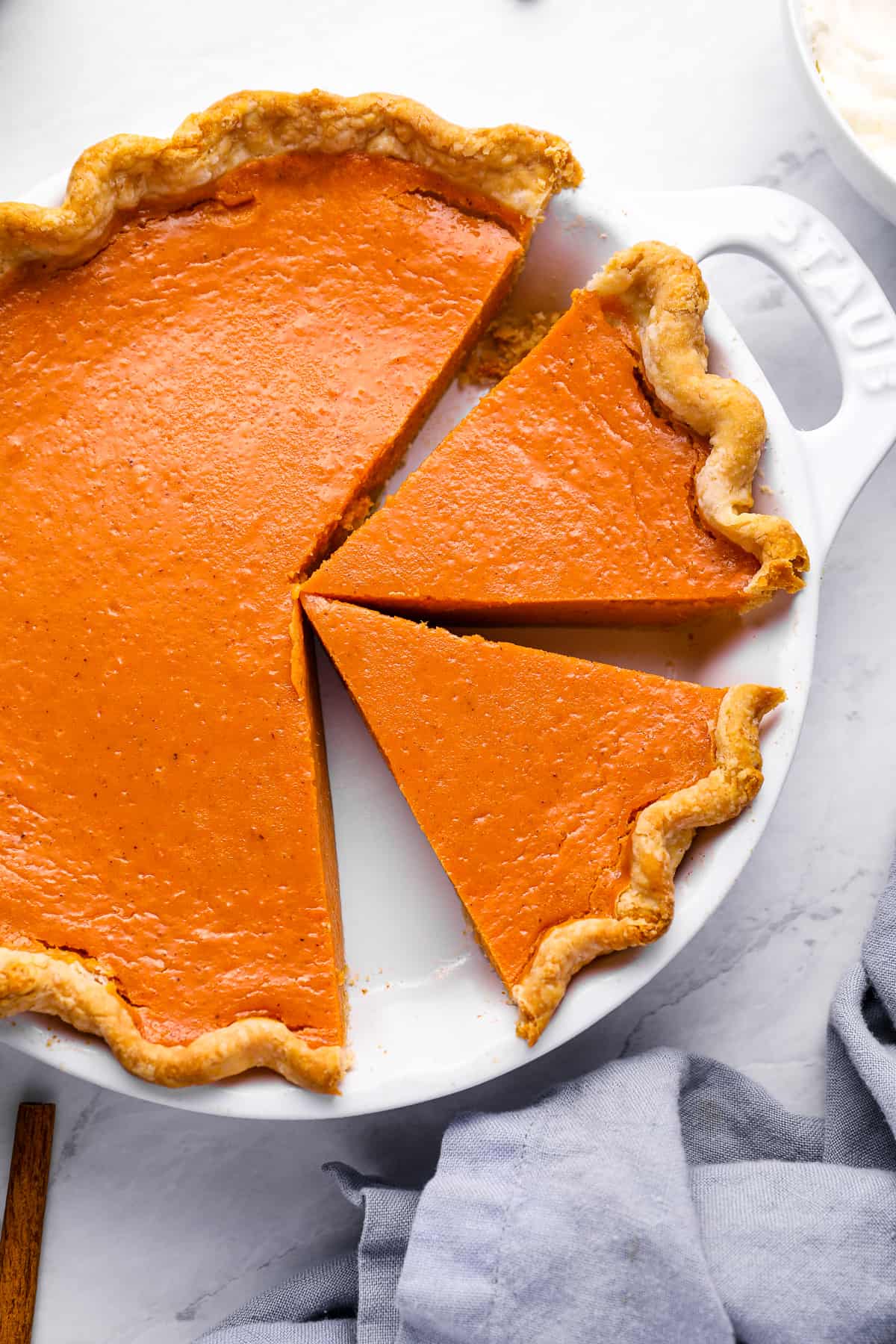 Southern Sweet Potato Pie
This is the best sweet potato pie recipe because it's so full of flavor and super soft and creamy! The vanilla, cinnamon, brown sugar, and nutmeg bring forward a classic fall flavor perfect for Thanksgiving.
The only thing this recipe doesn't include is whipped cream—that's an optional topping (but I'd opt-in if I were you)!
Why You'll Love this Sweet Potato Pie Recipe:
Thanksgiving favorite: This delicious Thanksgiving pie is full of flavorful sweet potato filling, and it's a classic holiday favorite all will love!
Easy-to-make: If it's your first time making this pie, there's no need to worry. It's super simple to make, and my thorough instructions should help guide you through like a pro!
If you're still trying to decide if you should make this, just know that it's great for beginners and super easy for more experienced bakers. Who doesn't love a homemade sweet potato pie recipe? Happy baking!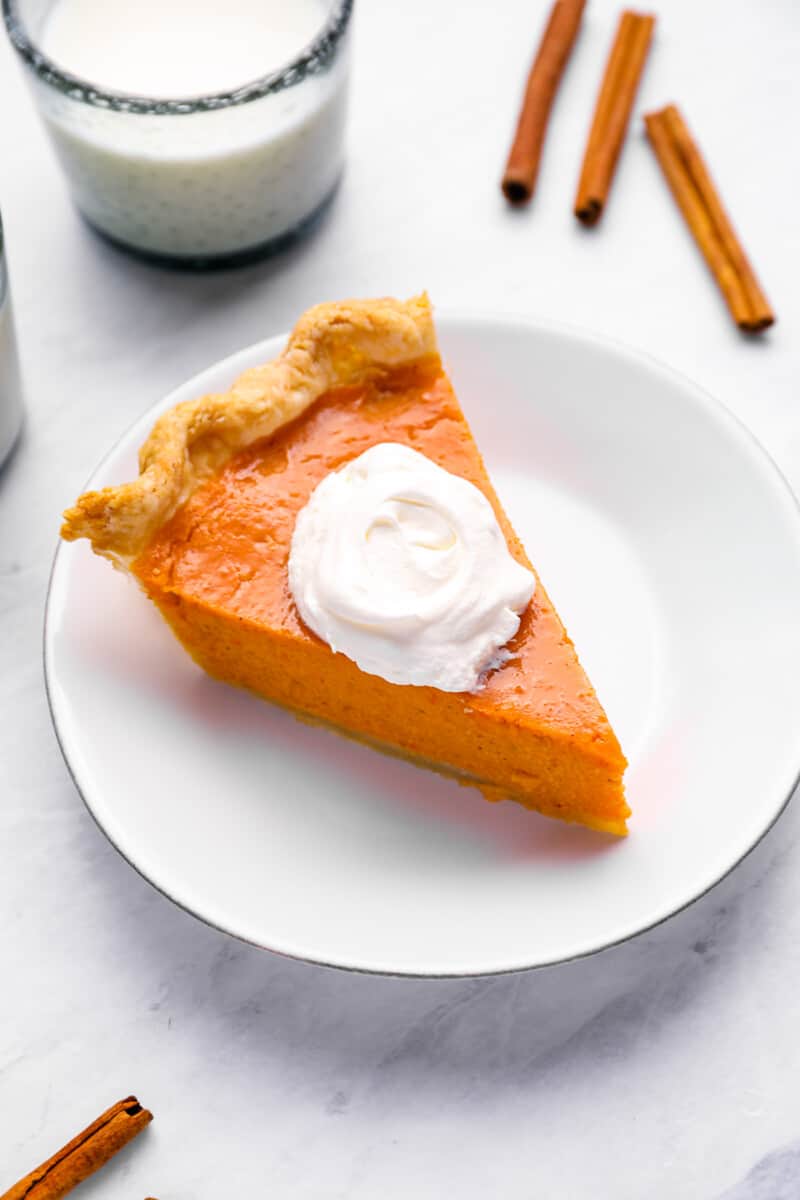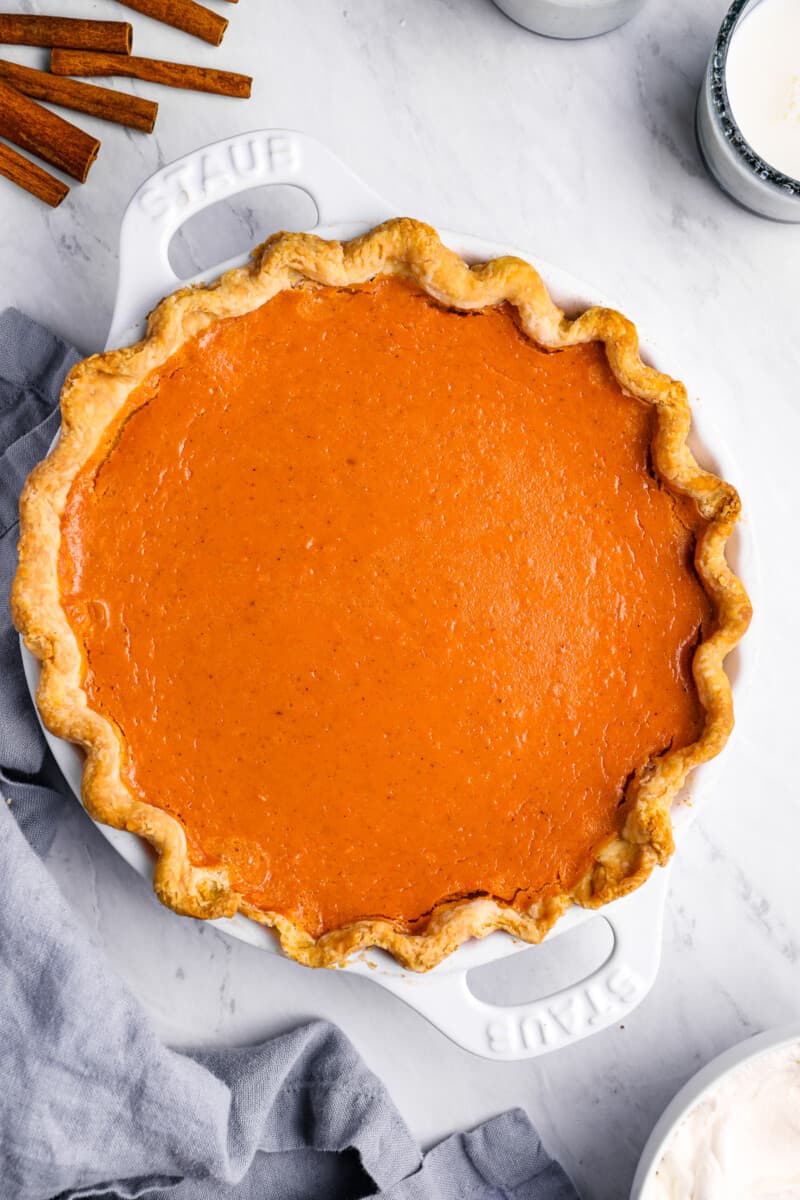 How to Make Sweet Potato Pie
You can jump to the recipe card for full ingredients & instructions!
Combine ingredients to make the pie crust dough, wrap it, and let it chill in the fridge.
Bake the sweet potatoes until tender.
Roll out the dough into a pie plate.
Mash the potatoes and combine with other ingredients to make the filling.
Pour filling into the crust, bake, and let it cool.
Recipe Notes
If you don't have a pastry cutter, use two forks to cut the butter and shortening into the flour.
Once your crust is made, you can refrigerate it for up to 5 days.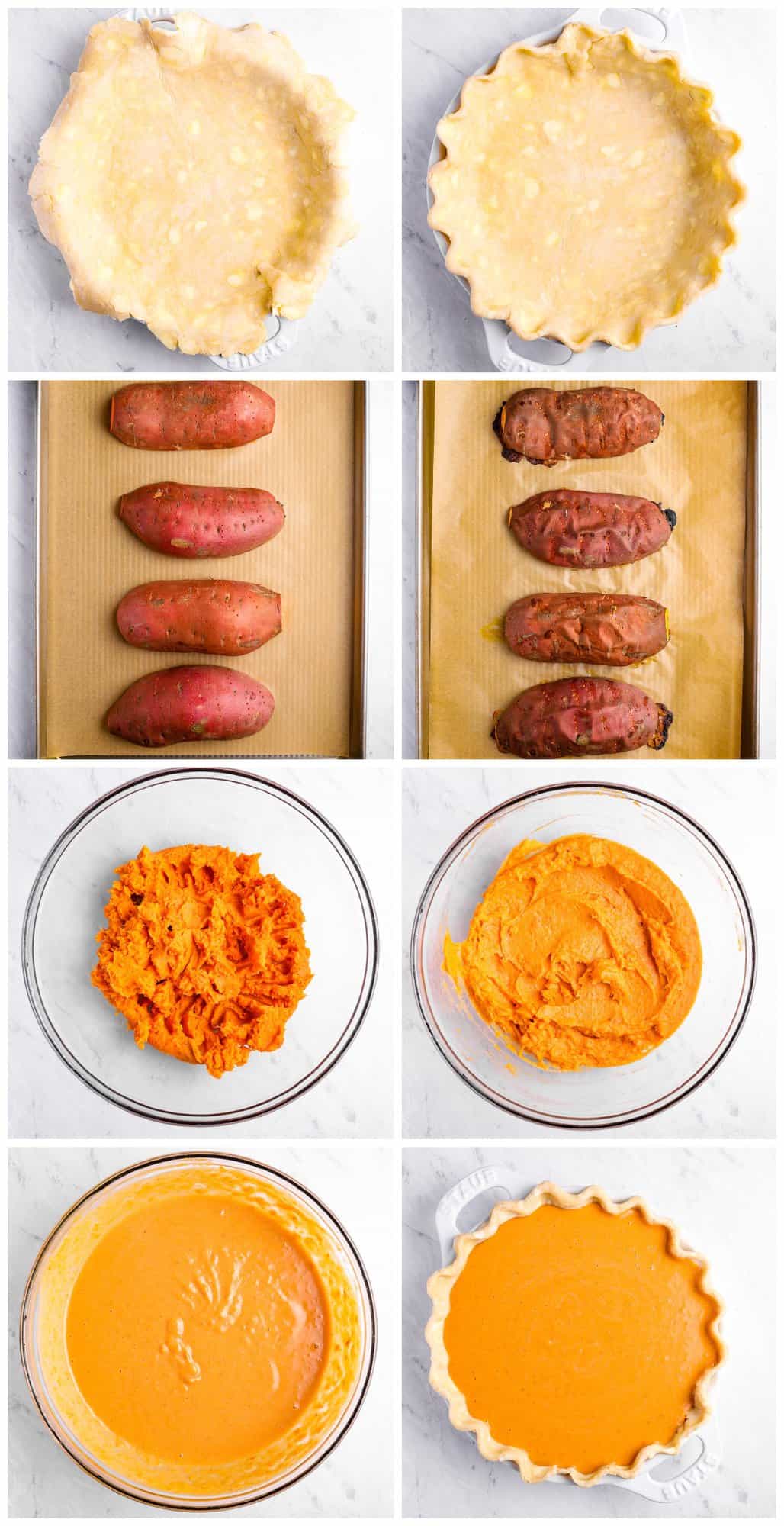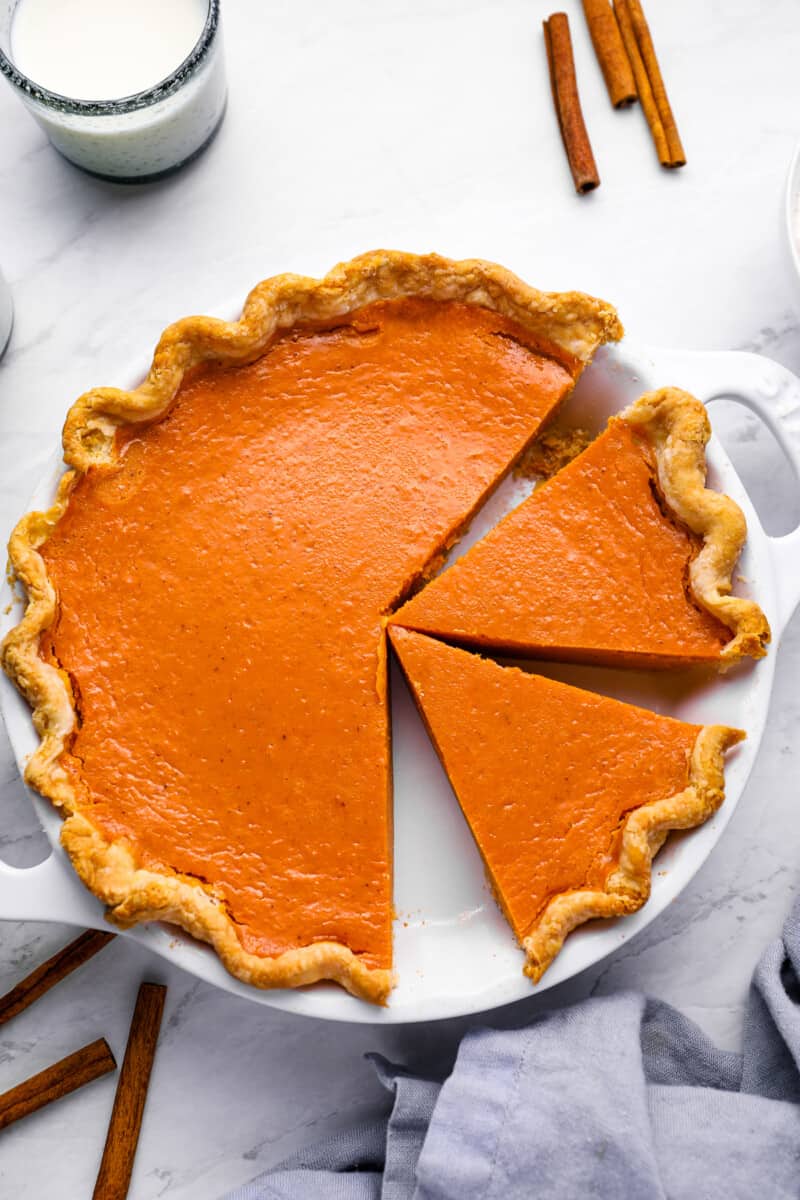 Is sweet potato pie healthy?
Sweet potato pie is relatively healthy when compared to other pies. Sweet potatoes are chock full of fiber, iron, and vitamins B, C, and D. However, this pie still contains quite a bit of sugar and should be enjoyed in moderation!
What's the difference between pumpkin pie and sweet potato pie?
While pumpkin pie and sweet potato pie have a somewhat similar taste, they differ in texture. Pumpkin pie is more custardy, dense, and spice-forward; while sweet potato pie has a lighter, airier texture, is milder in flavor, and is more naturally sweet.
Can I make sweet potato pie with store-bought pie crust?
Absolutely! To save time, skip making the crust and use a single store-bought pie crust. If using a store-bought crust, you can skip steps 1-5 and 8. Simply press the crust into a pie pan if it didn't come in a disposable one!
How long do you bake a sweet potato pie?
This sweet potato pie bakes for about 15 minutes at a high temperature (425°F) to prevent a soggy bottom crust. Then, we turn down the temperature to 350°F and bake it for another 35-40 minutes, for a total bake time of 50-55 minutes!
Why is my sweet potato pie runny?
If your sweet potato pie is runny, it is probably underbaked. Place it back into the oven for 5 minutes, then check for doneness, repeating until the filling is firm and the center is slightly puffed.
Does sweet potato pie need to be refrigerated?
Yes! This pie contains eggs, which means it needs to be stored in the refrigerator!
Can dogs eat sweet potato pie?
No! While dogs can eat baked plain sweet potatoes, sweet potato pie contains too much sugar and added spices that could make them sick. If after roasting your potatoes, you have more than 2 cups of mashed potatoes, you can definitely give some of the leftover plain mash to your pup, though!
How long does sweet potato pie last?
Sweet potato pie will keep fresh in the refrigerator for up to 5 days!
Perfect For Holiday Gatherings
Bring this delicious sweet potato pie to family gatherings or Friendsgiving this holiday season! Everyone will love the sweet, creamy filling and a dollop of whipped cream on top!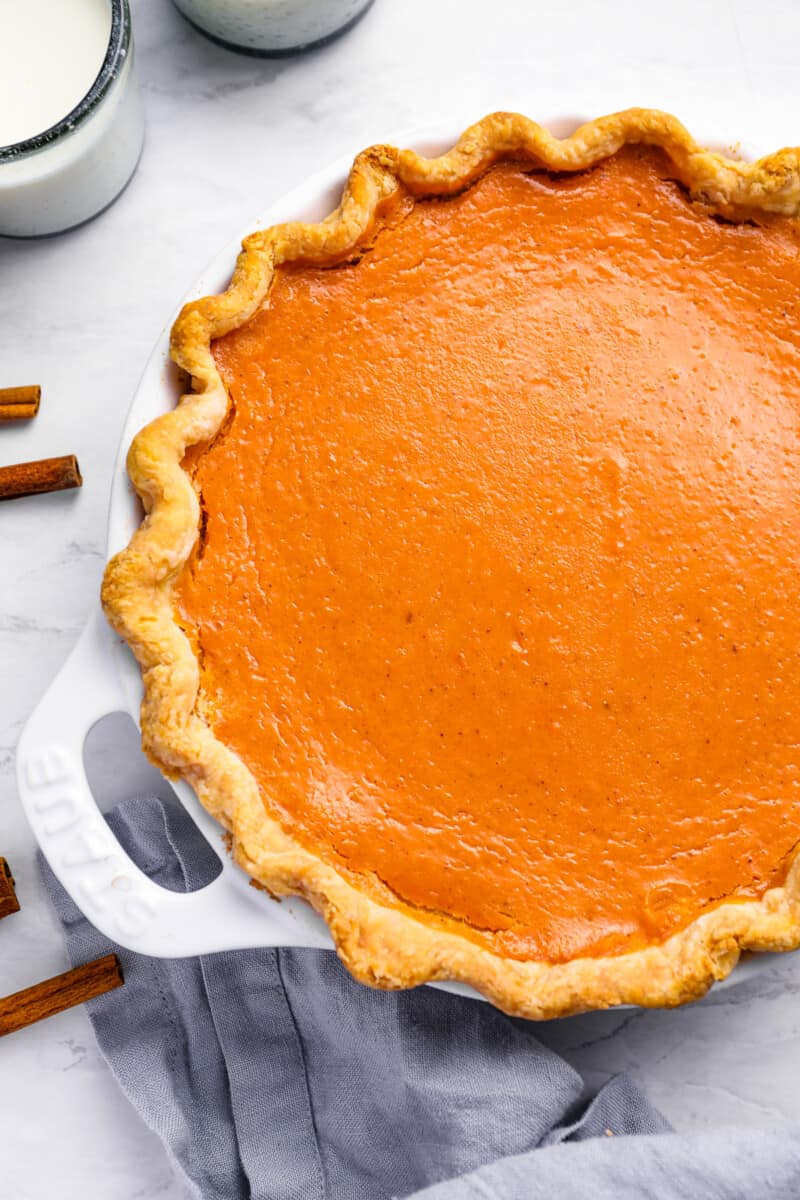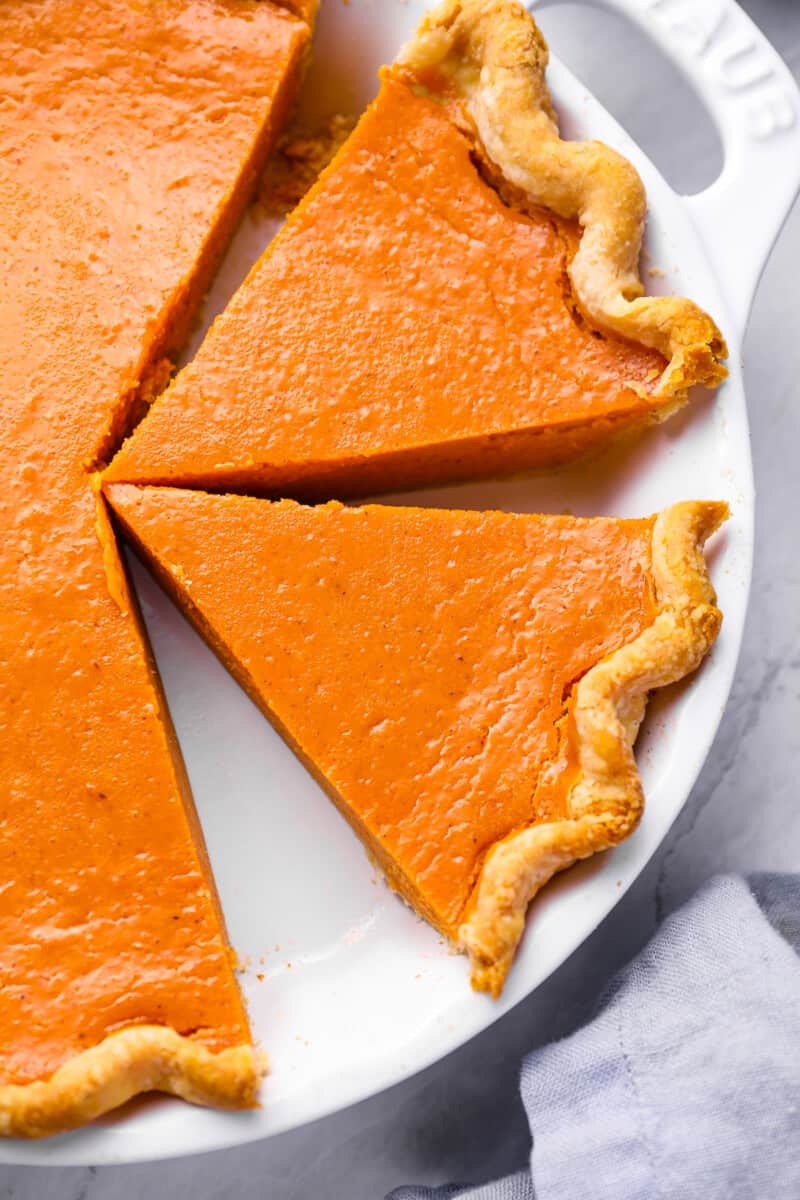 Make Ahead Instructions
The pie crust can be made, wrapped, and stored in the refrigerator for up to 5 days before baking, or roll it out into a pie pan and freeze it wrapped in 2 layers of plastic wrap and 1 layer of foil for up to 3 months. Let thaw in the refrigerator overnight before using.
You can bake the potatoes, make the filling, and store it tightly covered in plastic wrap in the refrigerator up to 3 days before baking.
Storage Instructions
Store leftover sweet potato pie tightly wrapped in plastic wrap in the refrigerator for up to 5 days. Bring to room temperature before serving and/or reheat in a 350°F oven for about 10 minutes to crisp up the crust.
Freezing Instructions
Freeze sweet potato pie whole or in individual slices tightly wrapped in 2 layers of plastic wrap and 1 layer of aluminum foil for up to 3 months. Let thaw overnight in the refrigerator before enjoying.
Substitutions
While I highly recommend making your own pie crust, you can use a store-bought crust in a pinch.
For a gluten-free sweet potato pie, swap the all-purpose flour for an equal amount of gluten-free 1:1 baking flour.
You can use all butter in the crust if you don't have shortening.
While fresh baked sweet potatoes lend the best flavor, you can use canned in a pinch.
For a funky-colored sweet potato pie, swap standard sweet potatoes for purple sweet potatoes!
For a brown sugar sweet potato pie, swap the granulated sugar for more brown sugar.
You can use half-and-half in place of the evaporated milk, but it won't be as rich.
In place of the cinnamon and nutmeg, you can use pumpkin pie spice.
Try adding a few tablespoons of bourbon or rum for an interesting depth of flavor.
Tips for the Best Sweet Potato Pie
If you have leftover pie dough, cut out cute shapes and place them on top of the pie before baking.
For a lighter pie, leave your sweet potato mash a little bit chunky.
If the crust begins to brown, cover it with aluminum foil for the remainder of the baking time to keep it from burning.
When the pie is finished baking, it should puff up a bit and jiggle slightly in the center. If it jiggles too much, it needs more time!
For the cleanest cuts, chill the pie completely in the refrigerator and wipe off the knife with a damp cloth between cuts.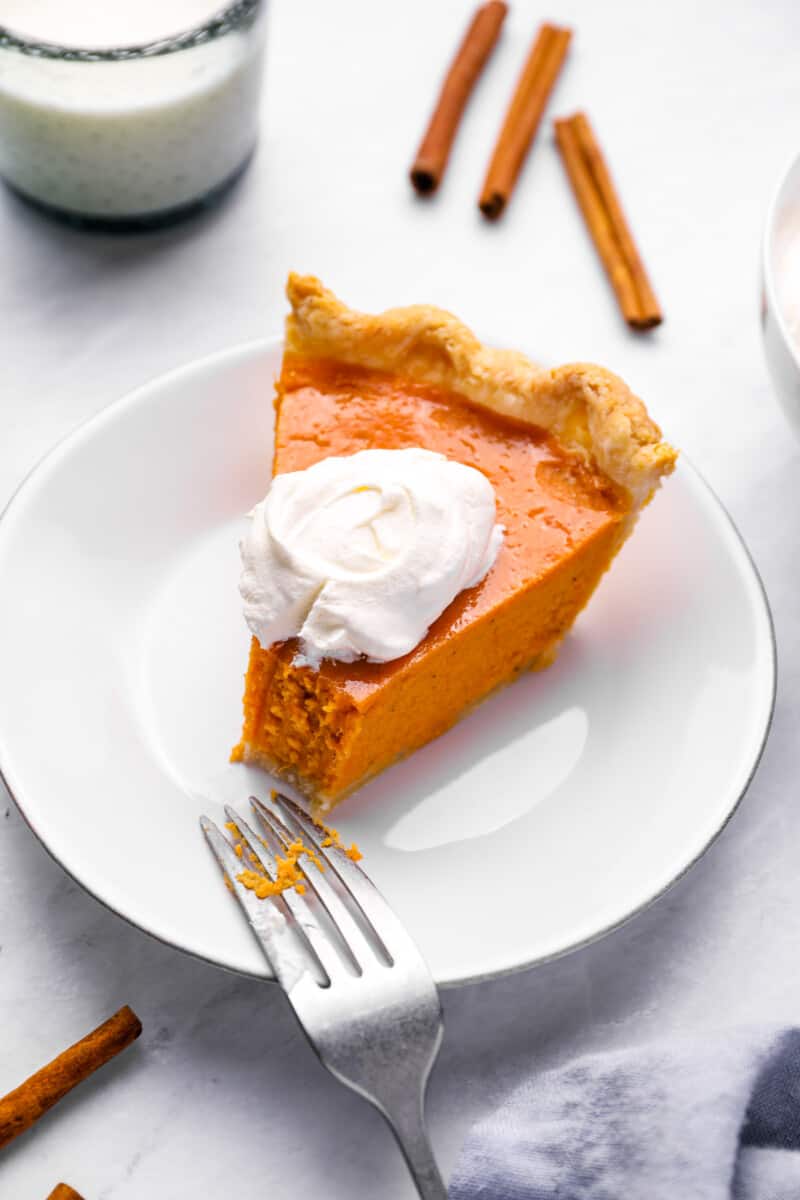 If you can't get enough of this homemade sweet potato pie, try one of the many other holiday desserts listed below!
If you make this recipe be sure to upload a photo in the comment section below or leave a rating. Enjoy! You can also jump to recipe.