This easy Shoofly Pie recipe is so delicious, I just know you are going to love it! Simple to make, this molasses pie is wonderfully rich and is definitely a must-try!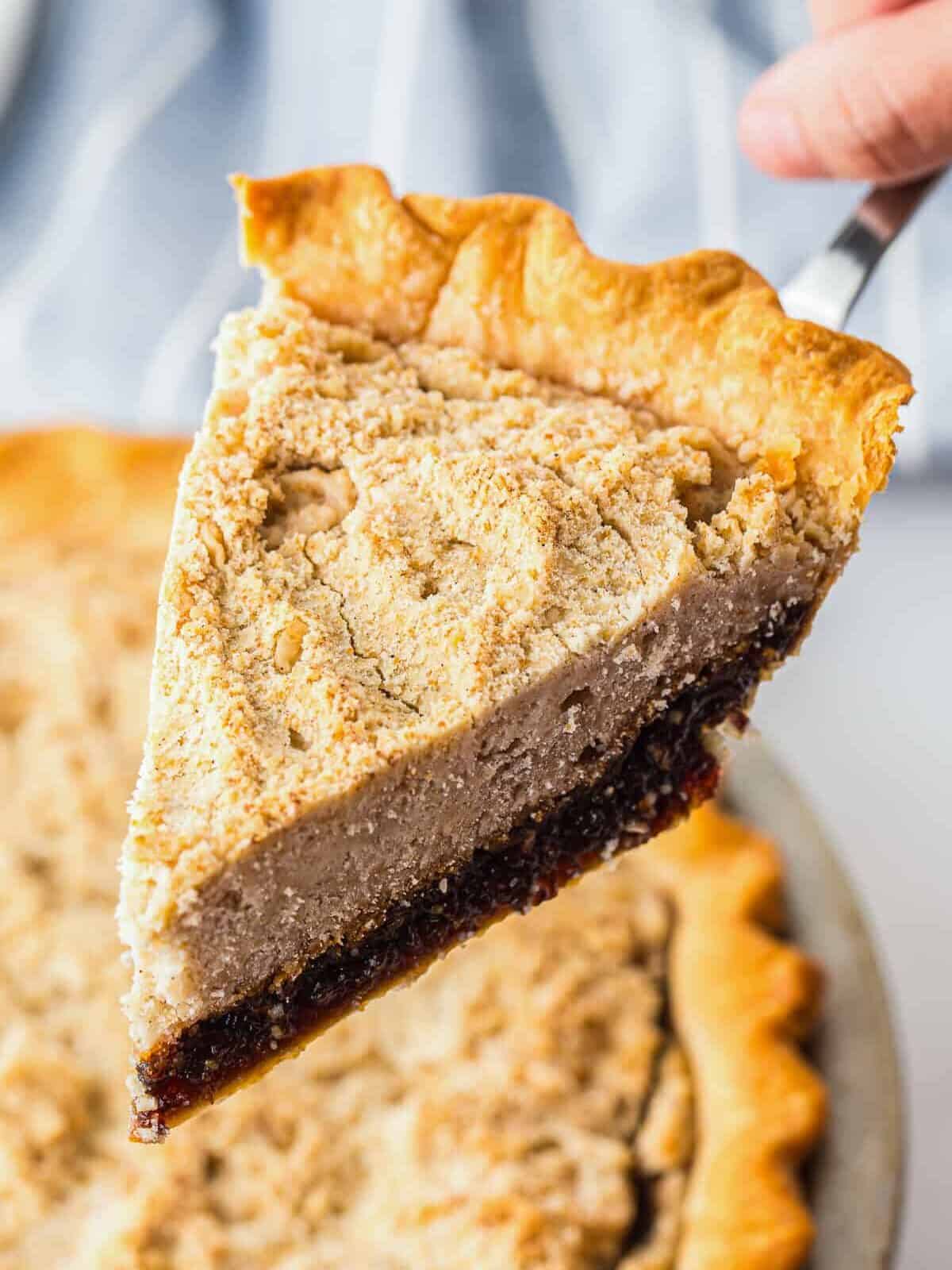 What's in this Shoofly Pie Recipe?
Have you had shoofly pie before? It's hands down a favorite for our family! Super easy to make with a store-bought pie crust, its rich chocolate and molasses filling makes it perfect to serve up for Easter, Thanksgiving, and Christmas.
Pie Crust: Provides the base for this pie recipe.
All-Purpose Flour: Used in the crumb topping to help absorb moisture and create a crumbly texture.
Brown Sugar: Sweetens the filling and the crumb topping. It also contributes to the caramel-like flavor of the pie.
Ginger + Allspice: Give this pie a warm, spicy flavor.
Unsalted Butter: Used in the crumb topping and the filling to add richness and flavor.
Water: Help dissolve the molasses and sugar and create a thick, syrupy consistency.
Unsulphured Molasses: Sweetens the pie. It has a distinctive, rich flavor that contributes to the overall taste of the pie.
Instant Chocolate Pudding Mix: Adds a chocolatey flavor and helps the pie to thicken and set.
Vanilla Extract: Enhances the flavor and aroma of the pie.
Baking Soda: Help neutralize the acidity of the molasses and create a more balanced flavor.
Egg: Helps to thicken and set the pie.
Pro Tip: Lightly spray your measuring cup with nonstick cooking spray before measuring the molasses to help it slide out more easily.
Variations on Shoo Fly Pie
This pie is so indulgent and delicious all on its own, but you can also change up the flavor subtly to create a whole new dessert. Try swapping out the molasses for a different sweetener, or add different flavorings and spices to enhance the molasses! The possibilities are endless!
Honey: Replace the molasses in the filling with honey for a milder, sweeter flavor.
Maple: Replace the molasses in the filling with maple syrup for a unique, sweet flavor.
Bourbon: Add a splash of bourbon to the filling for a boozy flavor.
Apple: Add sliced apples along the crust or to the filling.
Peanut Butter: Add peanut butter to the filling for a nutty, sweet flavor.
Gingerbread: Add gingerbread spices, such as cinnamon, ginger, and nutmeg, to the filling for a warm, spicy flavor.
Lemon: Add lemon zest and juice to the filling for a tangy, citrusy flavor.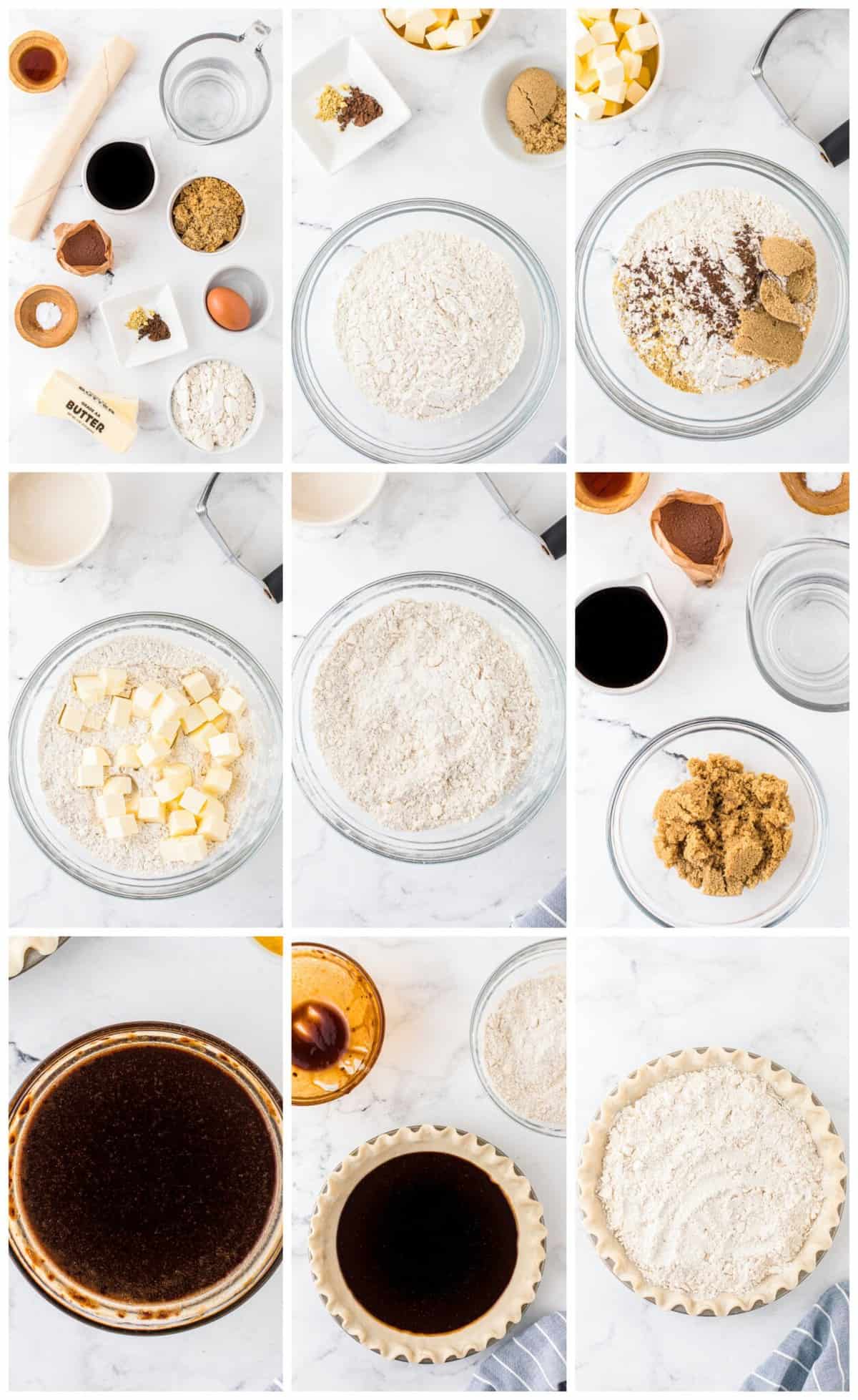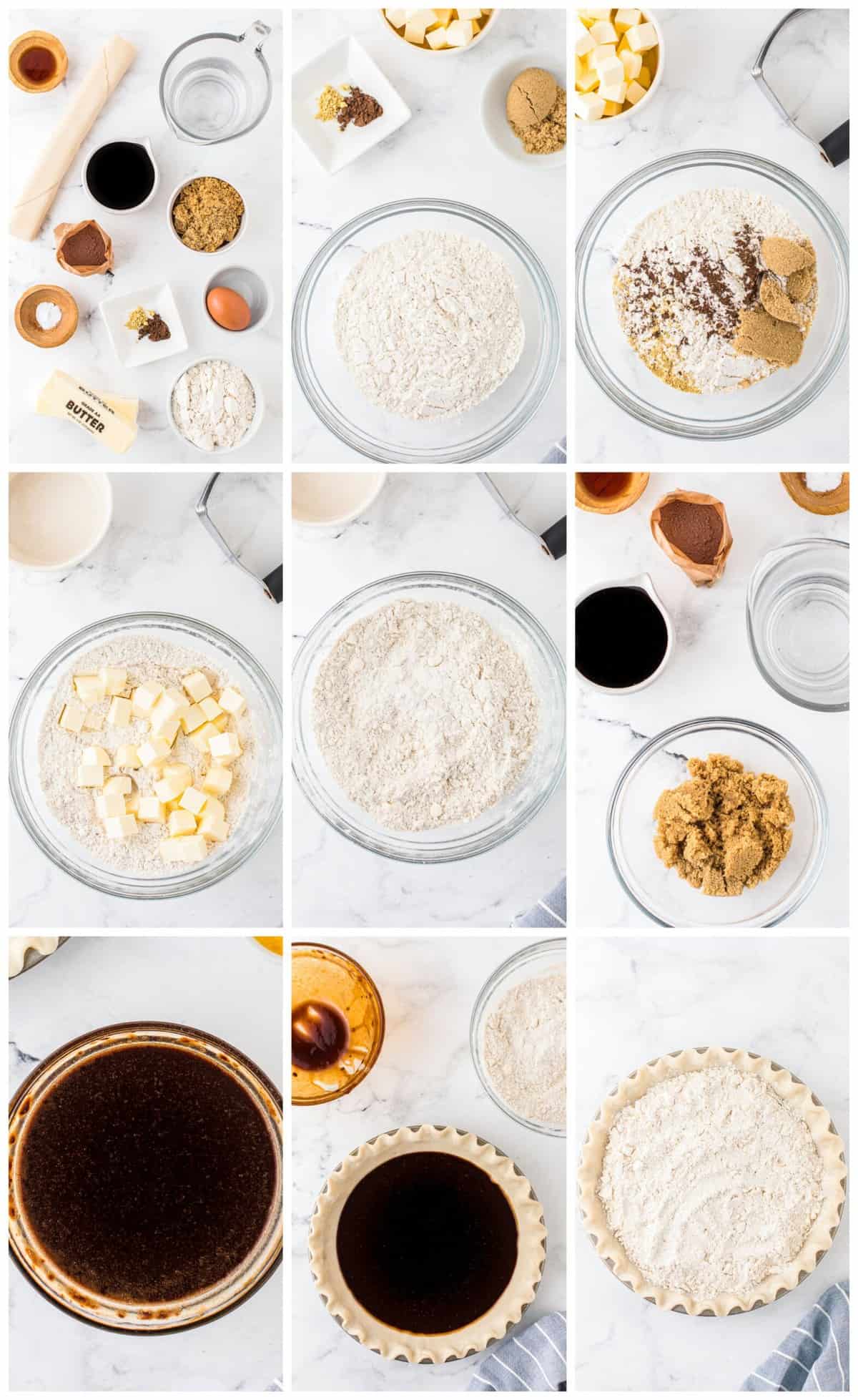 Why is it called shoofly pie?
The name "shoofly" is believed to have originated from the fact that the pie attracted flies when it was cooling on the windowsill. "Shoo fly" was a phrase that people used to chase the flies away.
What is the difference between wet-bottom and dry-bottom shoofly pie?
Wet-bottom shoofly pie has a gooey, custard-like filling on the bottom and a crumbly topping on the top. Dry-bottom shoofly pie has a more solid, cake-like texture throughout.
Is shoofly pie gluten-free?
Traditional shoofly pie is not gluten-free because it contains flour in the topping and the crust. However, there are gluten-free versions of shoofly pie that use alternative flours, such as almond or coconut flour.
What's the best molasses to use?
Molasses comes in different flavors, light, regular, dark, and blackstrap. In all cases I like to use unsulfured molasses which has less of a chemically taste. I like to use light molasses in this recipe which has the mildest flavor. If you love the flavor, then regular and dark will both work great and have a slightly bolder taste to them. Avoid blackstrap molasses which can be very bitter and quite overwhelming in this pie.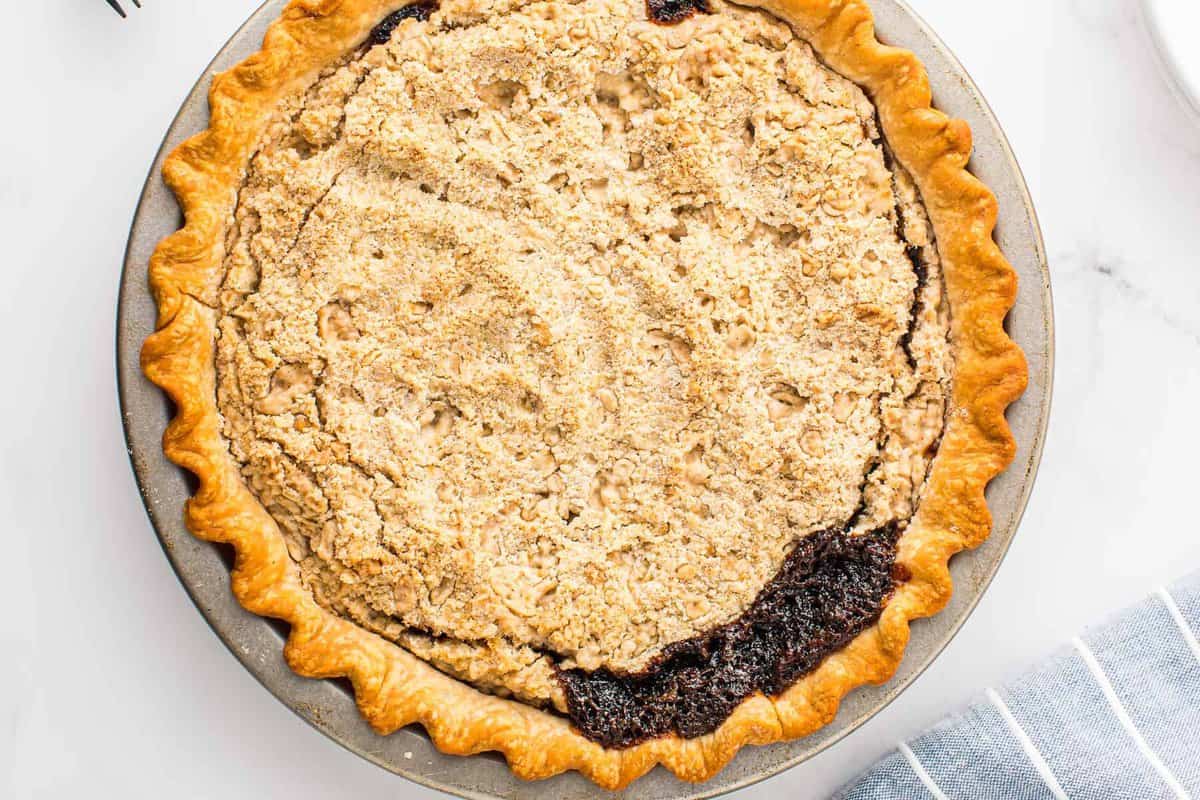 How to Store
Shoofly pie will keep well for up to 5 days at room temperature or in the fridge. Keep it in a large airtight container, or cover it with plastic wrap once it has cooled to keep it as fresh as possible. Enjoy at room temperature, chilled, or warmed in the microwave for a few seconds.
How to Freeze
This pie can easily be frozen and will keep well for up to 3 months. The crumble topping will be a little less crisp once it is thawed, but it will still be delicious.
Wrap the cooled pie in plastic wrap or foil and place it into a freezer bag. Thaw at room temperature for a couple of hours to serve.
Serving Suggestions
Shoofly pie is typically served warm with a dollop of whipped cream or a scoop of vanilla ice cream on top. A drizzle of caramel sauce never hurt, either! To keep that molasses flavor going, serve yours with a gingerbread martini! It's also tasty with an iced coffee, chai tea, or hot chocolate.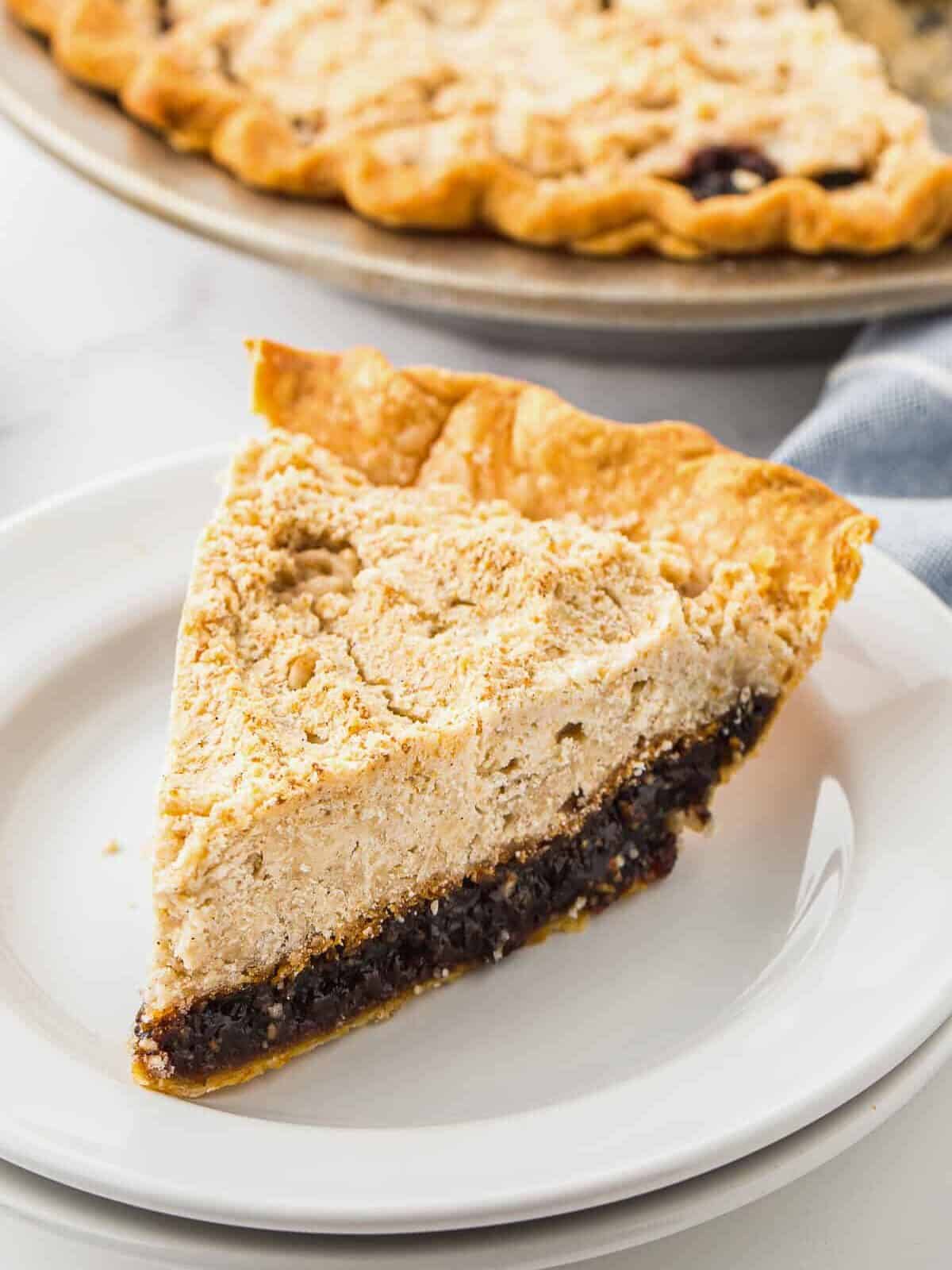 More Pie Recipes We Love