Coconut Fudge is a white chocolate concoction that's made delicious with plenty of toasted coconut! This homemade white chocolate fudge is oh so rich, creamy, sweet, and easy to make with basic pantry staples. Make some for your next holiday party and watch it disappear like magic!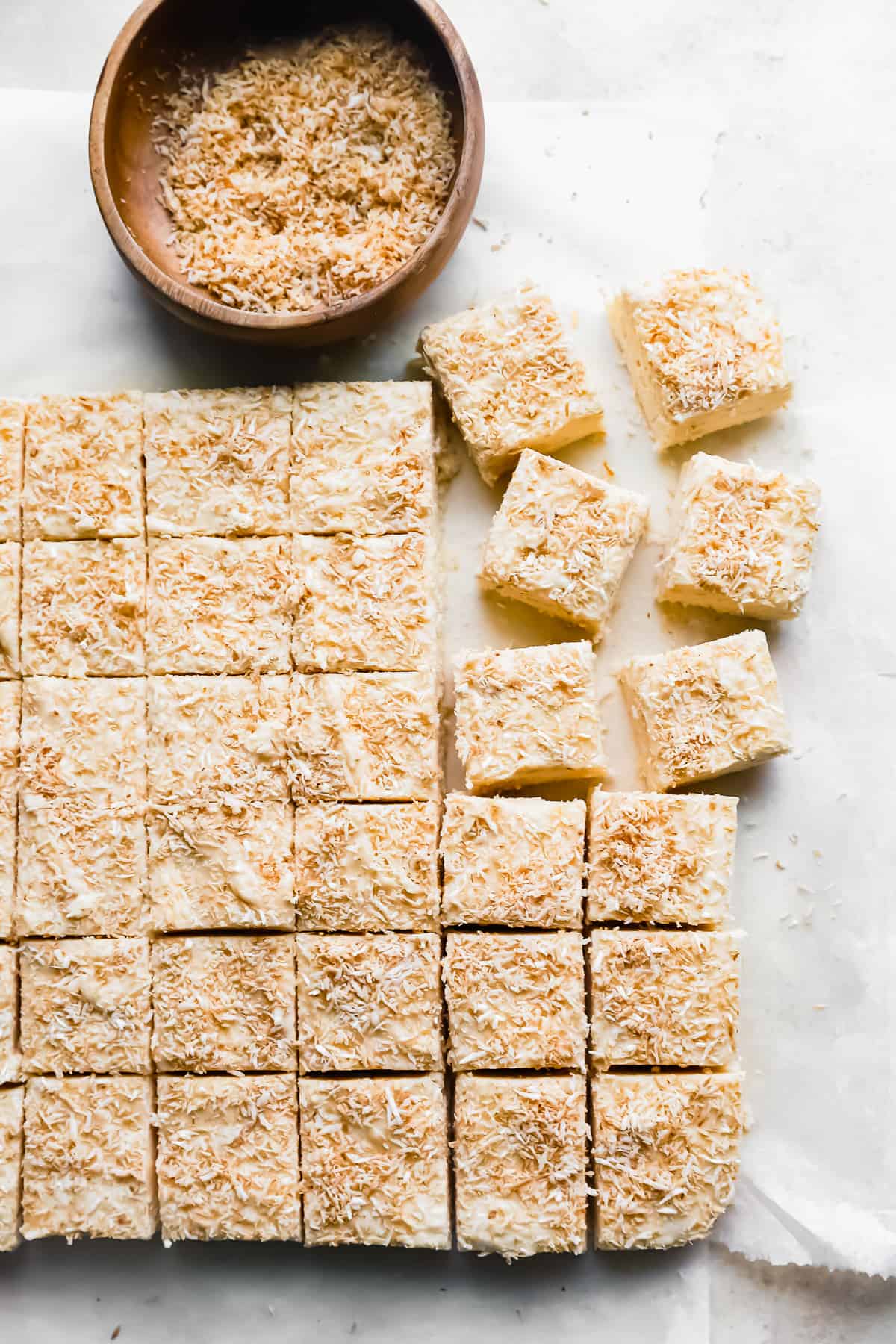 Coconut Butter Fudge
Picture this – you're at a holiday party just at the end of December. All around you is the same flavors you've been treating yourself to all season long, like eggnog, peppermint, and gingerbread. While all of those are tasty, you're looking for something to break up the routine…That's where Coconut Fudge makes a grand entrance!
And don't worry, Coconut Fudge is delicious all year round, so you don't have to wait for the holiday season to get your fix. This homemade fudge has a creamy white chocolate base and is made flavorful with toasted coconut both all throughout it and on top as a garnish! While it tastes like it's from a fancy candy shop, this fudge recipe couldn't be easier to make with only a handful of inexpensive pantry staples.
Why You'll Love this Coconut Fudge Recipe:
Easy to Make: Essentially, you just have to stir some ingredients together over your stove-top, pour the mixture into a pan, let it cool, and dig in. It's so easy!
Coconut: Calling all coconut lovers! There's just enough toasted coconut in this recipe to help you satisfy that tropical craving.
Budget-Friendly: This is a great holiday dessert recipe that won't break the bank. Saving money around Christmas? Yes, please!
Coconut Fudge makes a great gift to hand out to neighbors, friends, teachers, and anyone else who deserves a sweet treat!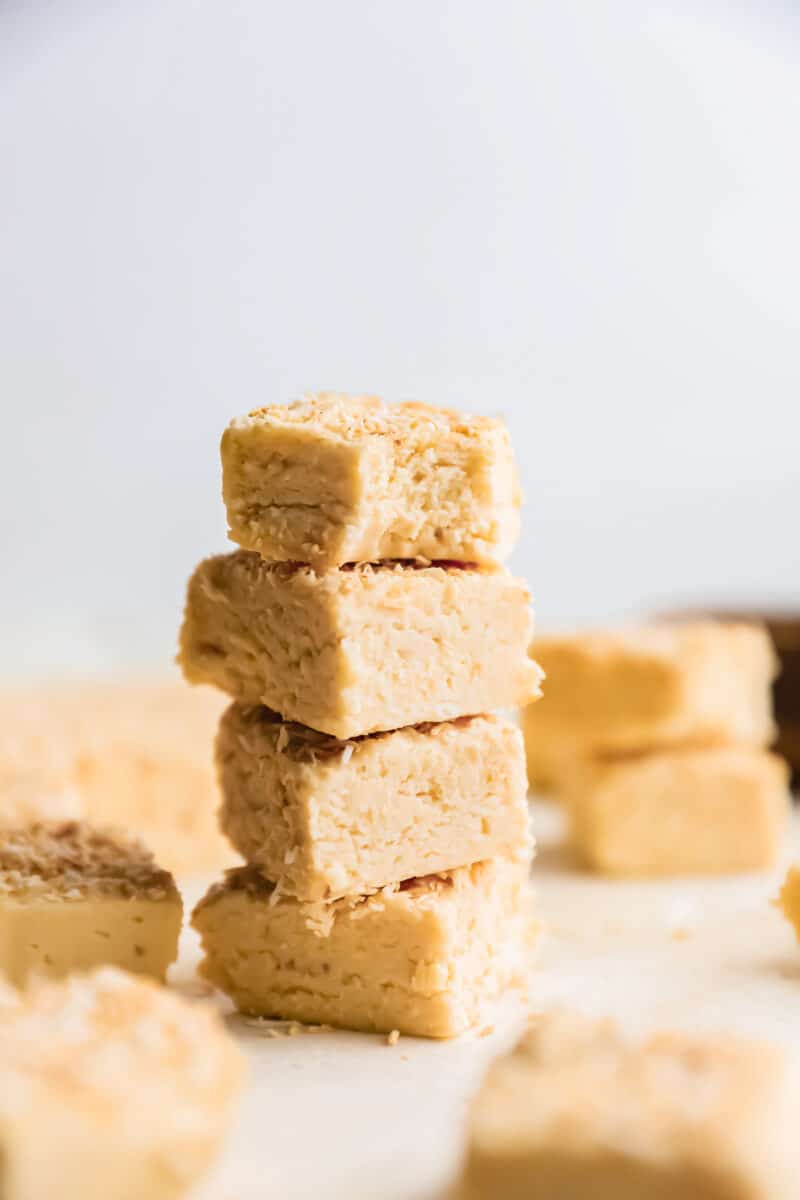 How to Make Coconut Fudge
You can jump to the recipe card for full ingredients & instructions!
Toast the coconut until golden brown. Set aside.
Prepare a baking dish with non-stick spray and parchment paper.
Melt the butter and coconut oil in a skillet over medium heat.
Stir in the evaporated milk and sugar. Stir as it bubbles.
Continue to stir until the mixture reaches 230°F.
Remove the skillet from the heat.
Stir in the white chocolate chips and marshmallow cream.
Stir in the remaining coconut.
Pour the mixture into the pan.
Top with more toasted coconut.
Chill until firm, then slice and enjoy!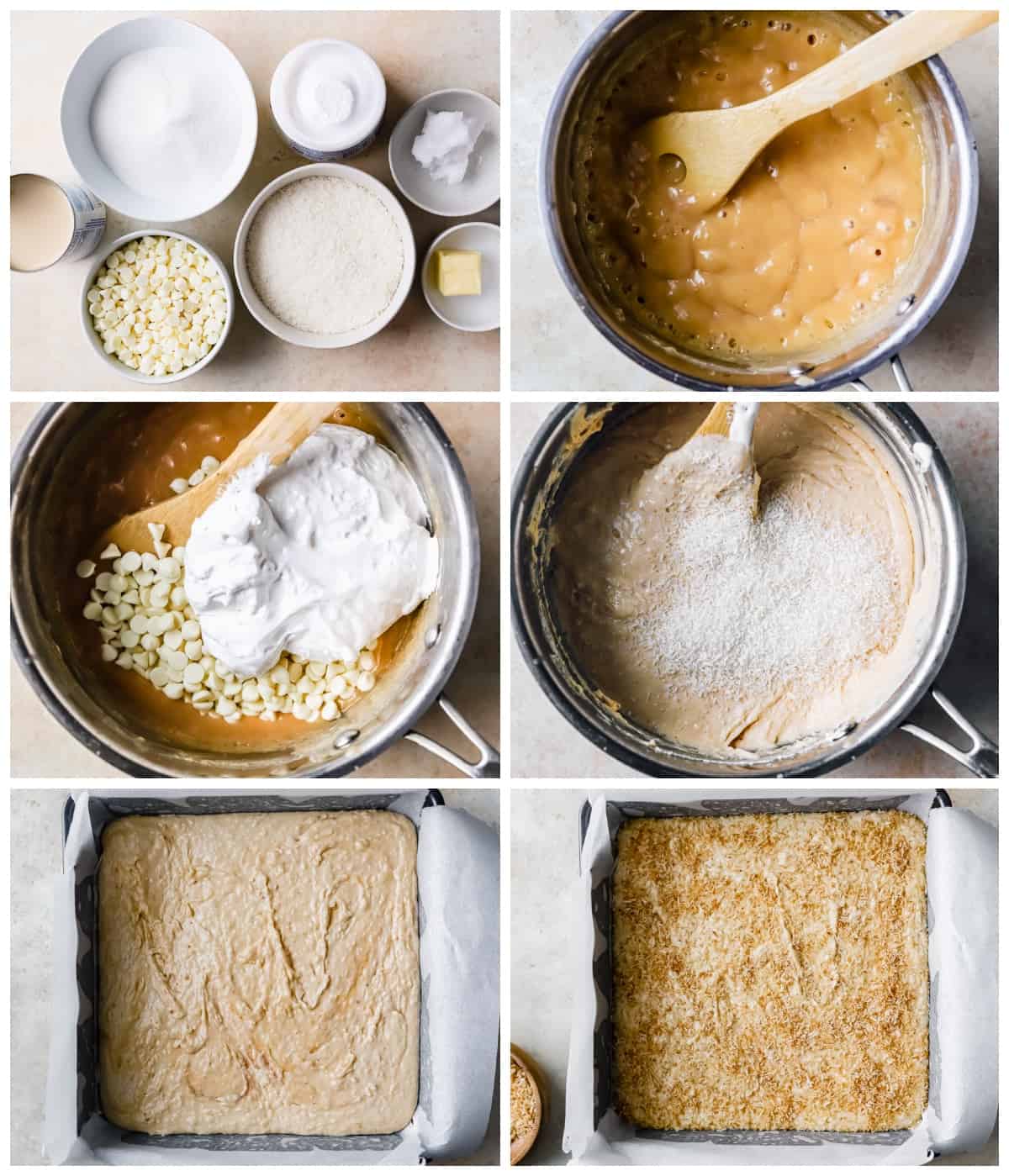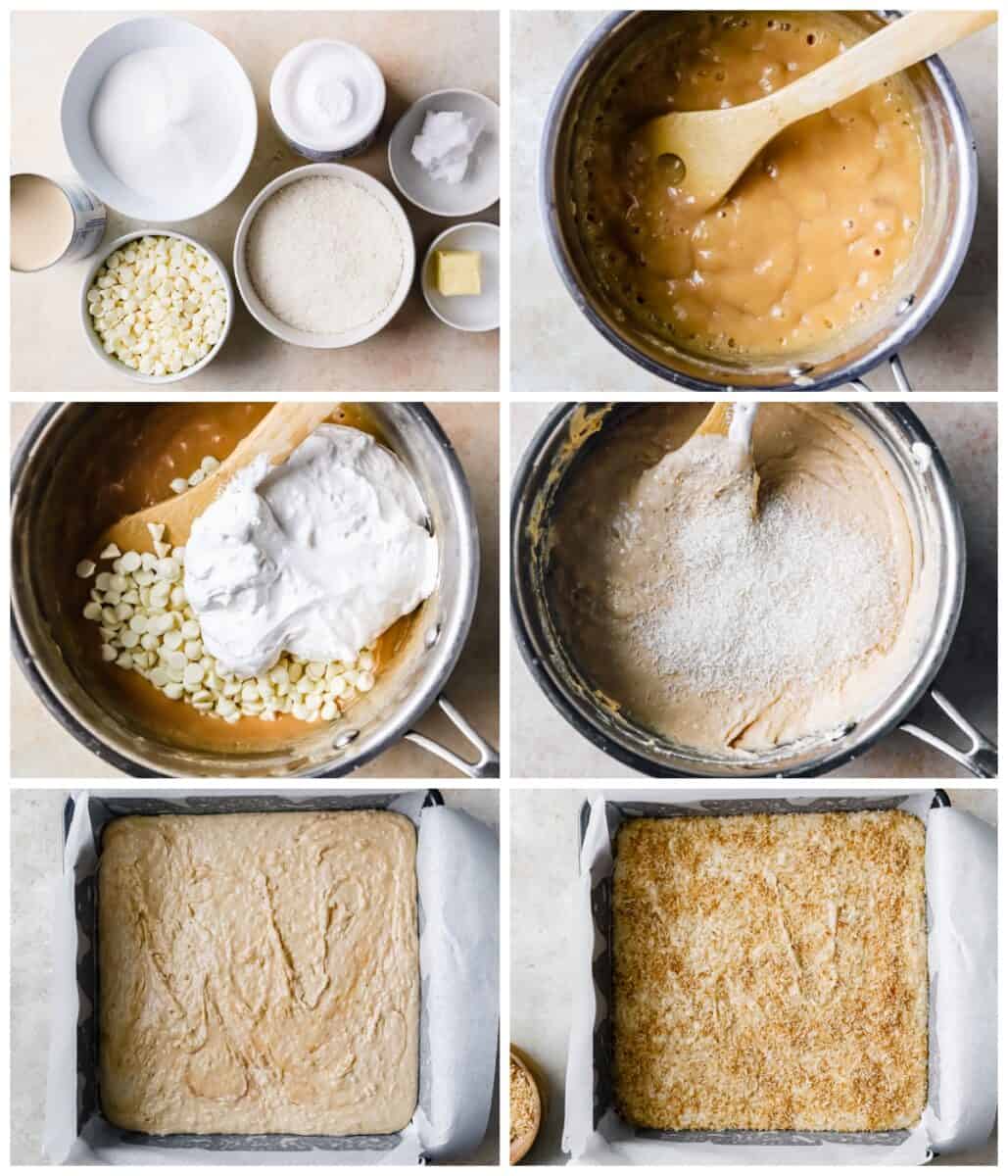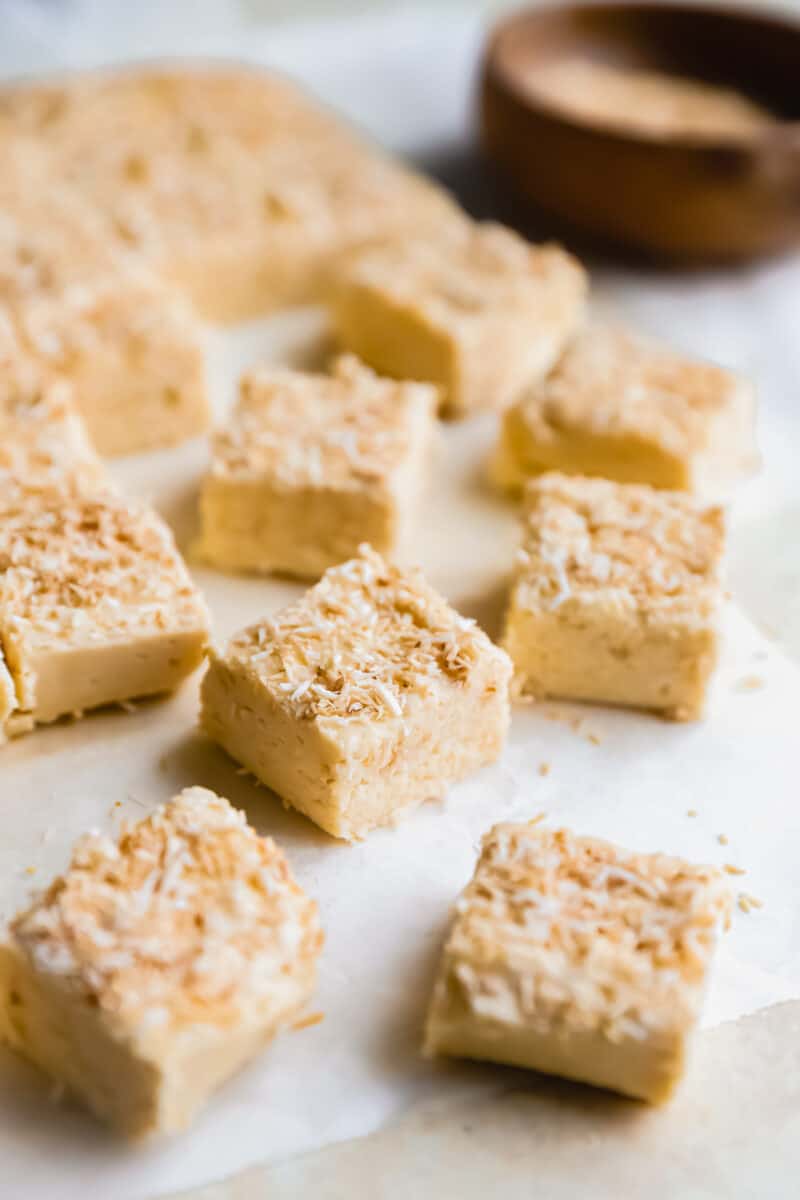 What is coconut fudge?
Coconut fudge is a rich, white chocolate-based fudge with toasted coconut throughout and on top. It is creamy and delicious!
What's the best coconut for coconut fudge?
It is best to use unsweetened coconut, as this fudge is already very sweet on its own. You can use shredded or large flakes, or a mix of both. It's up to your personal preference.
How long does homemade fudge keep?
Once your homemade fudge has set, cut it into squares and store it in an airtight container, with the layers separated with parchment. It will keep well for around 2 weeks at room temperature and up to 1 month when kept in the refrigerator.
Can I freeze coconut fudge?
Yes, you can freeze fudge for up to 1 year. It's important to store and thaw it correctly so that the texture isn't altered. Cut the fudge into squares, wrap individually in plastic wrap, and place into a Ziplock bag, removing as much air as possible. To thaw, remove from the freezer, but keep the fudge in the plastic bag, and leave at room temperature for a couple of hours until it's ready to eat.
What's the secret to perfect fudge?
To make the best fudge, you will want to make sure your white chocolate is completely melted and smooth. Quickly transfer it to your baking dish before it starts to harden and crack. Allow to chill before slicing into squares.
Why is my coconut fudge grainy?
If you overcook the sugar mixture, it can cause the fudge to turn out grainy. Make sure to watch the temperature carefully!
Be sure to follow all of my helpful tips and tricks to make sure you have the BEST Coconut Fudge every single time!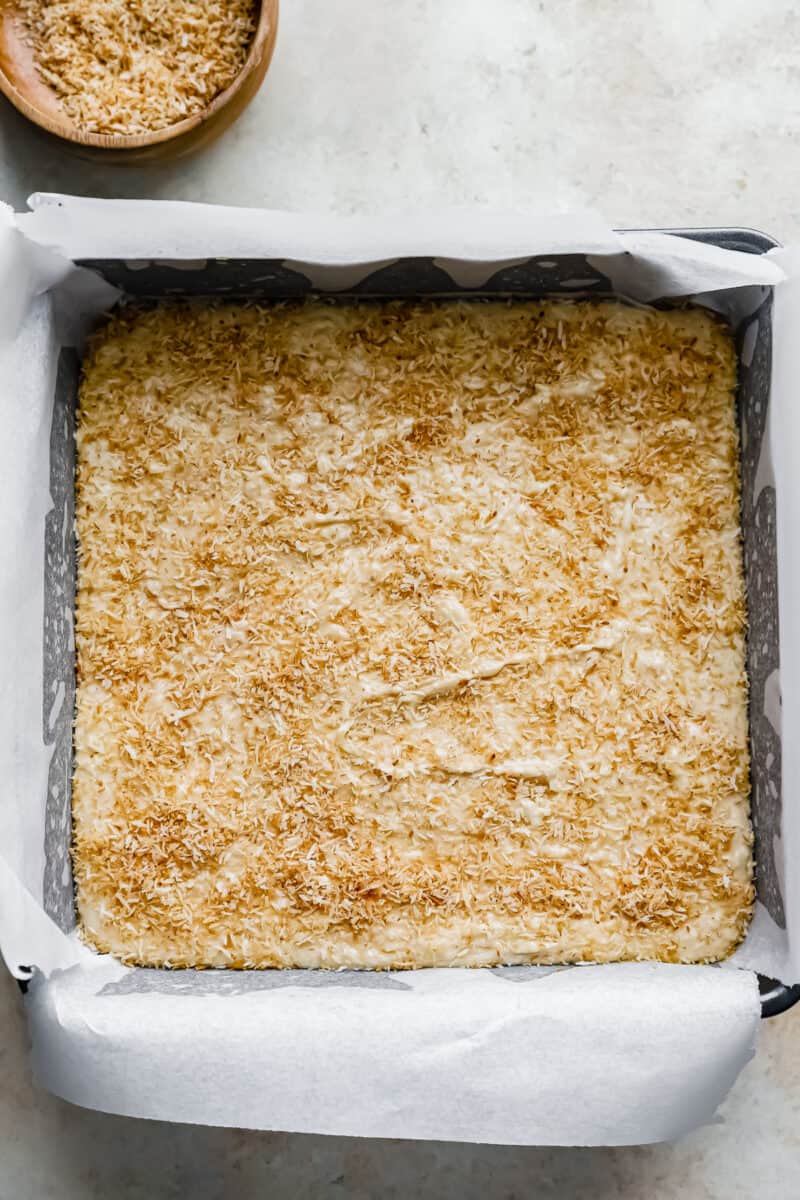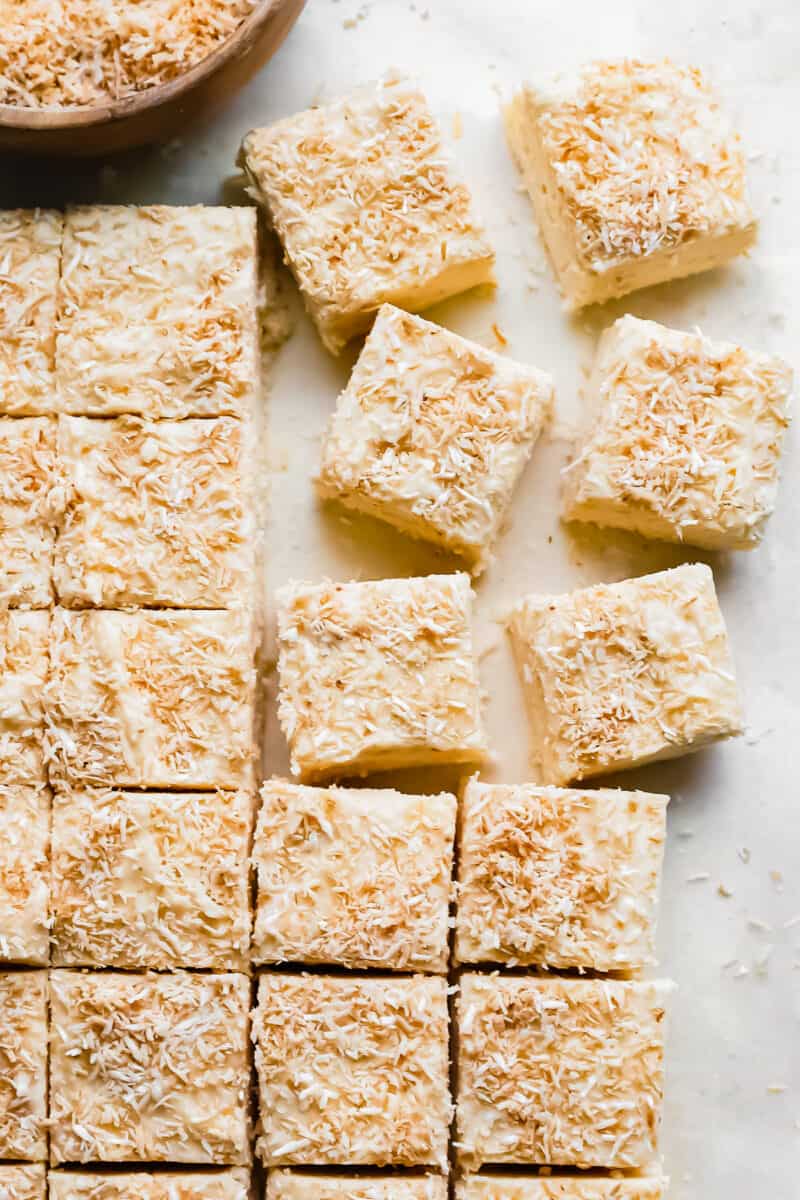 Make Ahead Instructions
This coconut fudge is a great make-ahead recipe, as it lasts for up to 2 weeks at room temperature. Make a big batch ahead of time to share with friends and family for the holidays!
Storage Instructions
Store leftover coconut fudge in an airtight container at room temperature for up to 2 weeks or in the refrigerator for up to 1 month. Enjoy cold or at room temperature.
Freezing Instructions
Freeze coconut fudge in individual slices tightly wrapped in plastic wrap in a Ziplock bag for up to 1 year. Let thaw at room temperature before enjoying.
Substitutions
You can use shredded or flaked coconut in this recipe.
In place of the coconut oil, you can use more butter.
In place of the white chocolate chips, you can use an equal amount (9 ounces) of white chocolate melting wafers or vanilla almond bark.
For chocolate coconut fudge, swap the white chocolate chips for milk, semisweet, or dark chocolate chips or melting wafers.
Add 1 teaspoon of almond or vanilla extract to enhance the flavors!
Drizzle melted dark chocolate over the top or crushed almonds for almond joy fudge!
Tips for the Best Coconut Fudge
Leave a bit of parchment overhang in the pan for easy removal.
You can also toast the coconut flakes in a 300°F oven for about 10 minutes, stirring halfway through.
Use a candy thermometer to ensure the sugar reaches the proper temperature.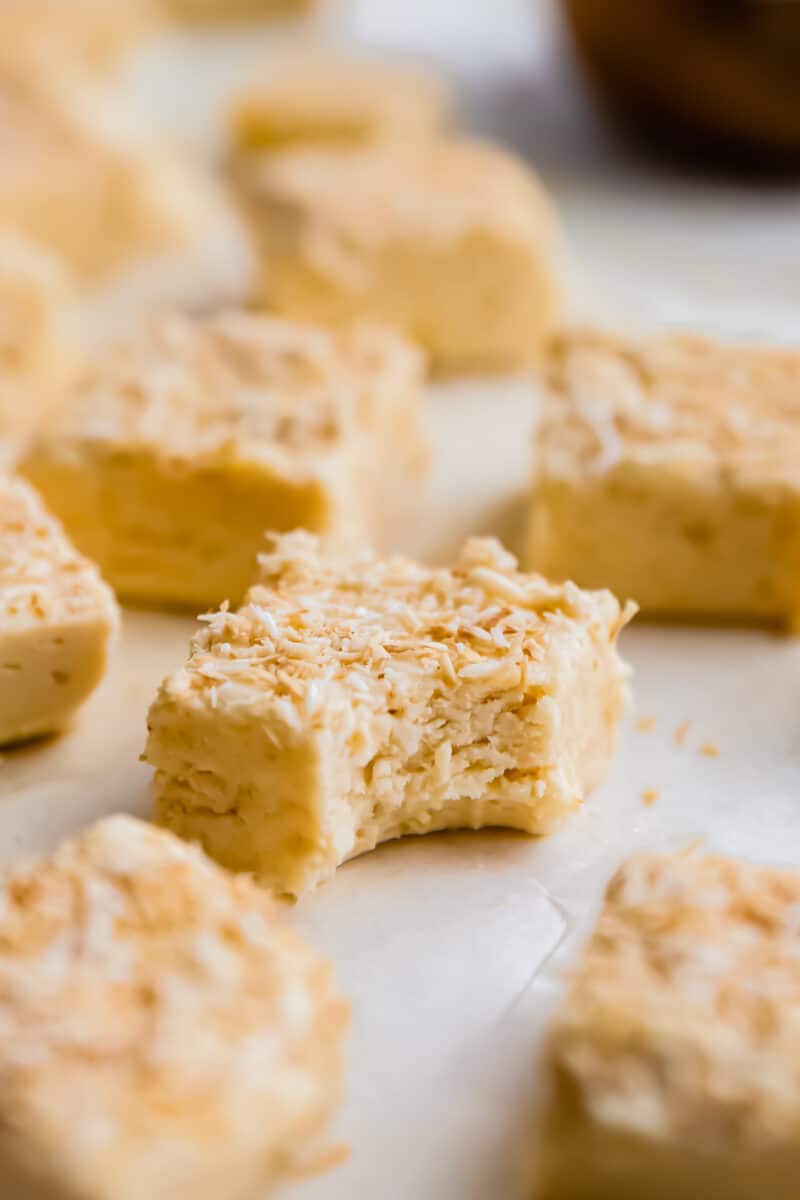 Sweet white chocolate fudge is rich, creamy, and made unforgettably good with the best amount of toasted coconut. It's perfect to make for holiday parties, potlucks, and so much more!
If you make this recipe be sure to upload a photo in the comment section below or leave a rating. Enjoy! You can also jump to recipe.